2019-06-14/15/16 Nav. weekend, Blekinge, Sverige - Nav. weekend, archipelago - Sweden
Danish / English:
3 dage med navigation i den Sydsvenske skærgård
/
3 days of navigation course in the south Swedish archipelago
- De 3 kommende dage skulle bruges i den Sydsvenske skærgård i Blekinge, så bilen var blevet pakket med alt hvad der skulle bruges til weekenden og gruppen. Gruppen bestod af deltager uden erfaring, eller lidt erfaring, i at læse kort, og forstå kort.
- The next three days were to be spent in the southern Swedish archipelago in Blekinge, so the car had been packed with everything needed for the weekend and the group. The group consisted of participant with no experience, or little experience, in reading maps, understanding the map.
- Flot tur gennem Sydsvenske landskaber, forude venter vores mødested, og Blekinge skærgård.
- Nice drive through the south Swedish countryside, on the way to our meeting place , and the archipelago of Blekinge.
- Dejligt vejr, godt humør og fulde af forventninger kommer kajakker af bilerne.
- Nice weather, good mood and full of expectations, kayaks are unloaded.
- Kajakkerne pakkes, og fælles gruppe-grej deles ud mellem alle deltager.
- The kayaks are packed and the group-camping gear is beeing shared among all participants.
- På vandet i dejligt sommervejr.
- Getting on the water in nice summer weather.
- På vej til den lille skærgårdsø, der skulle være vores overnatnings plads første nat.
- On the way to the small archipelago island that was to be our campsite for the first night.
- Skærgårdsidyl.
- Idyllic archipelago.
- Smukt sceneri, lærerige muligheder og udfordrende navigation.
- Beautiful scenery, educational opportunities and challenging navigation.
- En anden gruppe havde også fundet den lille bugt hvor jeg havde tænkt vi skulle gå i land.
- Another group had also found the small bay where I had thought we should have landed.
- Vi ror et ganske kort stykke rundt om øen og gå i land i bugten på den anden side.
- We paddle a short distance around the island and go ashore in the bay on the other side.
- Forskellen på den ene bugt og den anden, er stenene i vandkanten.
- The difference between one bay and the other is the stones at the water's edge.
- 
- Vi lander omkring kl. 16:30 med eftermiddagssolen i ryggen.
- We land about 16:30 with the afternoon sun in the back.
- Teltene bliver sat op, og mens der laves aftensmad, bliver der kigget på kort, positionsbestemt, pejlet osv.
- The tents are set up, and while dinner is being prepared, we look at cards, location, made bearings etc.
- Mens solen går ned tales om dagens oplevelser, og de erfaringer der er gjort på dagen inden vi går til ro.
 - As the sun sets, we talk about the day and the experiences that have been made, before going to sleep.
- Dagen starter med morgenmad.
- The day starts with breakfast.
- Eftet morgenmad, og tale om dagens program og opgaver, bliver kajakkerne pakket.
- After breakfast, and talk about today's program and exercises, the kayaks are packed.
- Vi kommer i kajakkerne, klar til dagens tur.
- We get in the kayaks, ready for today's trip.
- Leder efter en smal passage mellem øerne.
- Looking for a narrow passage between the islands.
 - At finde en lille passage kan være udfordrende mellem de små øer og skær.
- Finding a small passage can be challenging between the small islands and skerries.
- Udenskærs oplever vi dønninger, som ikke kunne mærkes indenskærs. 
- In the open water we experience swells, that could not be felt inside.
- Vi navigere, ud fra vores kort, til sten og skær i den ydre skærgård.
- We navigate, using our maps, to rocks and skerries, on the outside of the archipelago.
- Sværhedsgraden i at læse kort, pejle og finde punktet hvortil man skal, på fladt vand, og vand i bevægelser, er større men man udmidelbart lige skull tro.
- The difficulty in reading maps, taking a bearing andlocating the point to go to, on flat water, and inmoving water, is bigger than many might think.
- Frokosten nærmere sig, så vi søger inde mellem øerne, og fladt vand, for at se om vi har læst kortet rigtigt, og kan holde pause på det sted der er udset på kortet.
- At lunchtime, we paddle back in between the islands again, to flat water, to find out whether we have read the map correctly, and can do your lunch break, at the place seen on the map.
- Vi lander på et lille strand ved et grønt område - virkeligheden passer med det der blev forstået og læst ud fra kortet. Altid berigende når man kan glæde folk med gode oplevelser.
- We land on a small beach next to a green area - reality fits with what was understood and read from the map. Alwaysenriching when giving people good experiences.
- Tilbage på vandet efter frokost, hvor der blev talt om forskellige mådet at kontrolere position under vejs - hvordan men kommer tilbage på rette spor hvis man misser et fikspunkt, tilbagelagt distance mellem fikspunkter ect. ect. - det skulle nu afprøves i praktis.
- Back to the water after lunch, where we talked about different ways of checking position along the way - how to get back on track if missing a fixed point, distance traveled between fixed points ect. Ect. -  now be tested in practice.
- Nogle navigere, andre fulgte ikke med på kort - og så skiftes der roller, hvor var vi, hvor havde vi roet, osv. osv.
- Some navigate, others did not look at the map - and then roles change, where were we, where had we paddled, etc., etc.
- Endnu en af de små passager der kan være svær at finde.
- One of the small passages that can be difficult to find.
- Eftermiddagen byder på div. navigationsøvelser og udfordringer. 
- The afternoon offers various navigation exercises and challenges.
- Billedet opsummere, på en rigtig fin og dejlige måde, dagens oplevelser på vandet.
- - This picturesum up, in a really nice way, the experiences on the water of the day.
- Planen var en tur udenskærs for at overnatte på en ø lidt længere op langs kysten, men en tvivlsom vejrudsigt for den kommende dag, betød en ændring af dette.
- The plan was a trip in to open water to make camp on an island, a little further up the coast, but adoubtful weather forecast for the next day, meant a change in my plan.
- Vi lander på samme ø, som vi overnattede på natten før. Her ville vi kunne finde læ for vinden, og ikke tænke på hvordan vi skulle komme tilbage til bilerne næste dag, hvis det ikke skulle være en mulighed at ro tilbage.
- We land on the same island that we stayed on the night before. Here we would be able to find shelter from the wind, and not think about how to get back to the cars the next day, should it not be an opportunity to paddle back.
- Teltene slået op i læ af buske og træer.
- The tents sheltered by shrubs and trees.
- Ved hjælp af træet, tarpstænger og reb får vi lavet en fin overdækning på vores "alrum".
- We use the wood, tarp rods and rope we get a nice cover on our "family room".
- Eftermiddagskaffe, kage, fælles madlavning og hygge, mens dagen tales igennem i læ for vind og regn.
- Afternoon coffee, cake, joint cooking and enjoying the company, while reflecting on the day shelter from wind and rain.
- Regnen aftog i midt på aftenen, så endnu en gang kunne vi nyde en fantastisk solnedgang.
- The rain easy off in the middle of the evening, so once again we could enjoy a fantastic sunset.
- Læ i bugten, mens vi kunne høre vinden og bølgerne slå mod øen på den anden side.
- Shelter in the bay while we could hear the wind and the waves hitting the island on the other side.
- Morgen på dag 3.
- Morning on day 3.
- Morgen aktivitet i teltene inden morgenmaden.
- Morning activity in the tents before breakfast.
- Dyrene der er sat ud på øen for af holde vegatationen nede, havde flyttet deres "lejer" i løbet af natte, så beslutningen om ikke at overnatte på den planlagte ø, var god.
- The animals put out on the island by the grassy vegetation had moved their "camp" during the night, so the decision not to spend the night on the planned island, was a good on.
- Vi slår lejren ned og begynder at pakke kajakker.
- We break down the camp and start packing the kayaks.
- Planen for dagen havde vi lavet mens vi spiste morgenmad, så nu på vandet igen, klar til sidste dags øvelser og opgaver.
- The plan for the day we had made while having breakfast, back on the water again, ready for last days exercises and cases.
- Der navigeres mellem små øer og skær, mens der følges med på kort og sceneriet nydes.
- Navigate between small islands andskerries, while following on maps and enjoy the scenery.
- Vi finder, ud fra kortet, frem til mulige exit points.
- From the map, we find possible exit points.
- Muligheden for at komme i land, er ikke lige nemt alle steder.
- The opportunity to land is not easy everywhere.
- Der kigges kort, tages pejlinger og position bestemmes.
- Look at maps, take bearings and confirm position.
- En af de sidste "hjørner" inden vi kan se havnen hvorfra vi startede for 3 dage siden.
- One of the last "corners" before we can see the port from which we started 3 days ago.
- Indsejling til havnen.
- Entrance to the harbor.
- 3 dejlige dage på vandet slutter samme sted som vi startede.
- 3 lovely days on the water end the same place we started.
- Kajakkerne tømmes, og fælles grej samles sammen.
- The kayaks are emptied and common gear is collected.
- Turen slutter med en sen frokost, kaffe og kage, mens forløbet de seneste 3 dage gennemgås.
- The tour ends with a late lunch, coffee and cake, while the course over the past 3 days is reviewed.
- Nogle dejlige dage på vandet men engageret deltager, frustrationer, åbenbaringer, udfordringer, tvivl, godt humør og dejlige mennesker slutter med køreturen hjem fra Sverige.
- Some nice days on the water with committed participants, frustrations, revelations, challenges, doubts, good mood and nice people end with the drive home from Sweden.
 Venlig Hilsen / Best Regards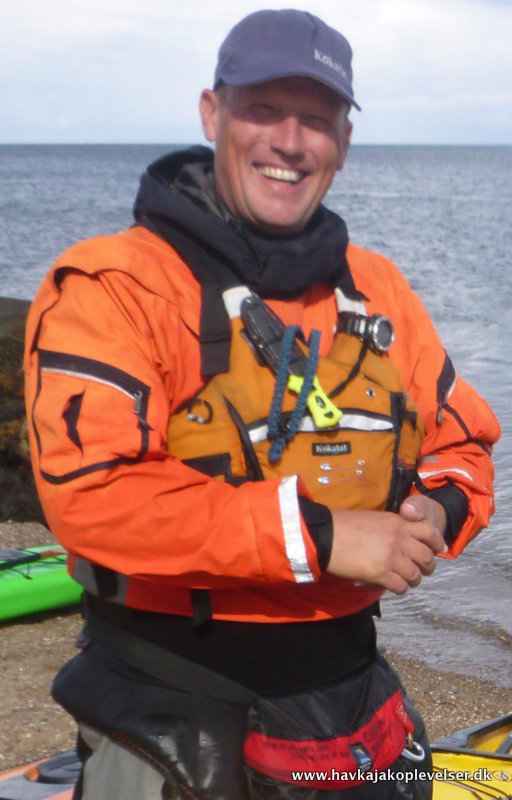 Christian Wiegand
Facebook: Tosset med havkajak / Mad about sea kayak
Instagram: cwseakayaking
Twitter: @cw_sea
Sponsored by Teamkayak - www.teamkayak.dk
Sponsored by Kokatat - www.kokatat.com                                                                                          Sponsored by Expeditionfoods - www.expeditionfoods.com