2019-01-06 Hallandsväderø, Sverige / The Isle of Hallands Vaederoe, Sweden
Danish / English:
- En kold, men smuk dag i januar, skulle bruges til på en dagstur i havkajakken, rundt om Hallands Väderö, den 3. største ø i Skåne, Sverige.
- A cold, but beautiful day in January, was to be used for a daypaddle sea kayaking around The Isle of Hallands Vaedero, the third largest island in Skåne, Sweden.
- Solen hang stadig bag horisonten da færgen krydsede Øresund mellem Helsingør i Danmark og Helsingborg i Sverige.
- The sun was still hanging behind the horizon as the ferry crossed the Sound between Elsinore in Denmark and Helsingborg in Sweden.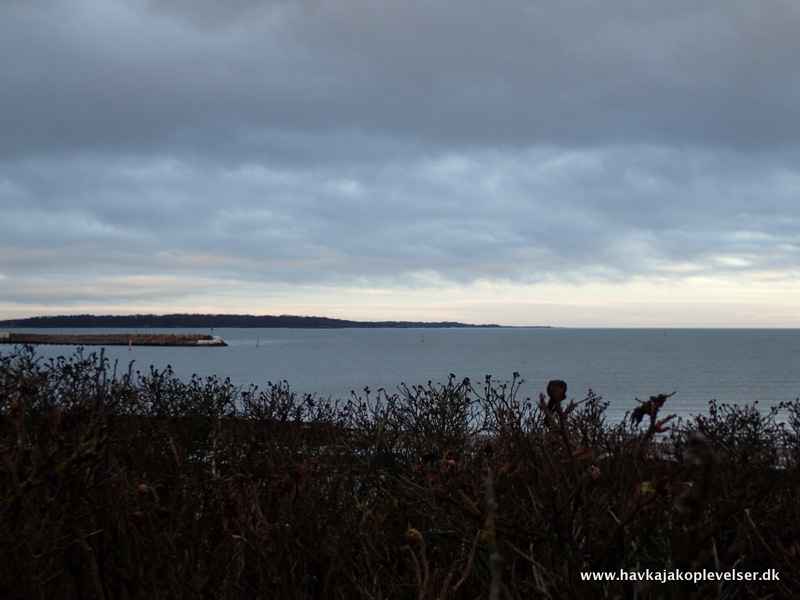 - Efter en lille times kørsel og ca. 60 km. ankom vi til Torekov, samtidig med den første sol, og opklaringen rullede ind mod land.
- After an hour's drive and approx. 60 km. We arrived at the small town of Torekov, at the same time as the first sun, and the clearing rolled in towards land.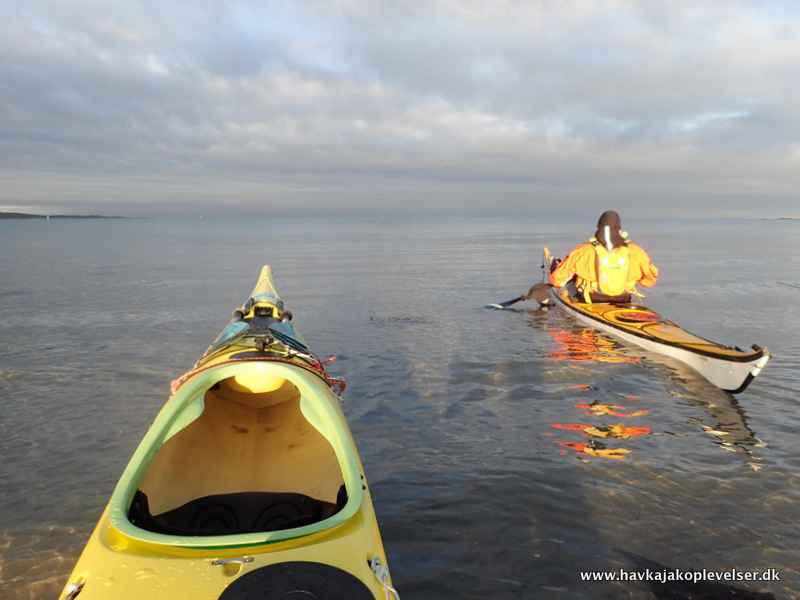 - Kajakkerne blev pakket mens vi nød den smule varme der var i solen.
- The kayaks were packed while we enjoyed the warmth of the sun.
- En fin måde at bruge en søndag på i januar.
- A great way to spend a Sunday in January.
- Vi tager på vandet fra p-pladsen lige nord for havnen, hvorfra der er et lille kryds på ca. 3,5 km.
- We lauch from the parking place just north of the harbor, from where there is a small crossing of approx. 3.5 km. / 2 nm.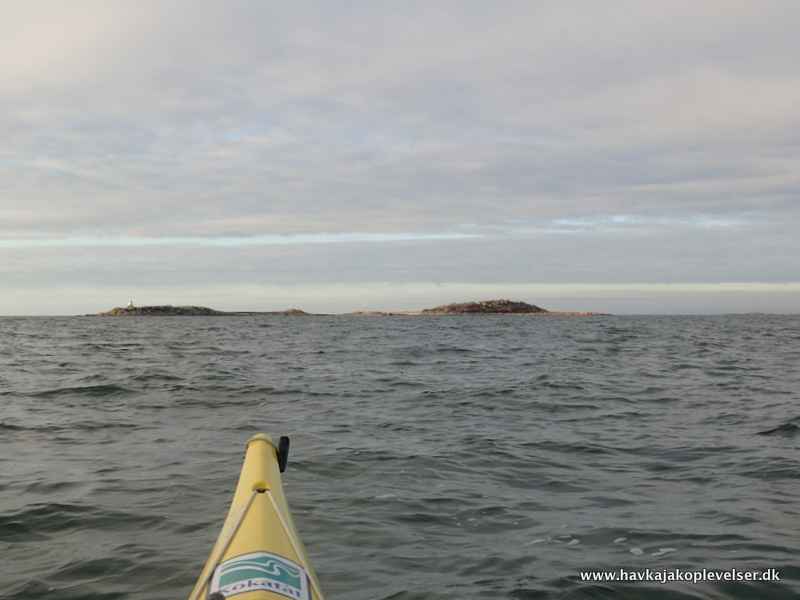 - I stedet for at krydse direkte til Hallands Väderö, ror vi mod et klippeskær for at se på vraget af en pram.
- Instead of crossing directly to Hallands Väderö, we paddle towards some rocks to have a look at the wreck of a barge.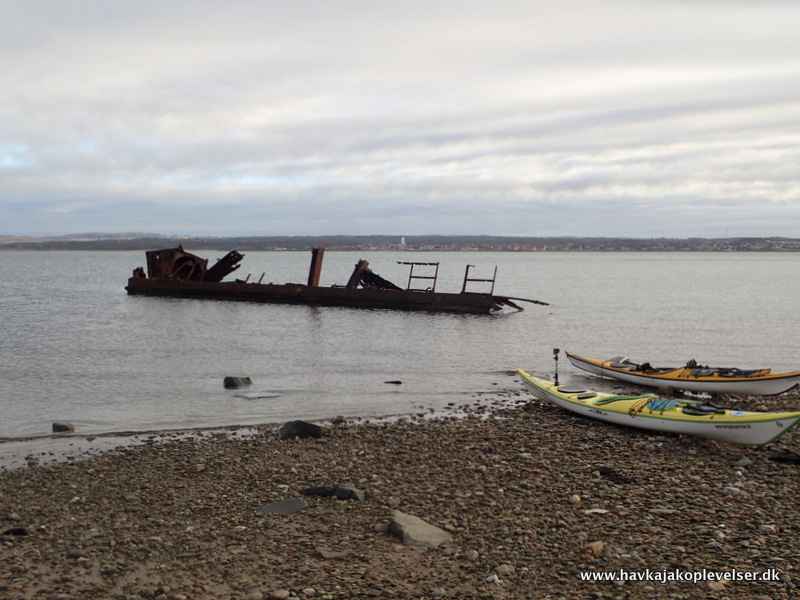 - Vi går i land lige ved siden af vraget, og går en lille tur rundt på klipperne.
 - We land right next to the wreck and go for a little walk on the rocks.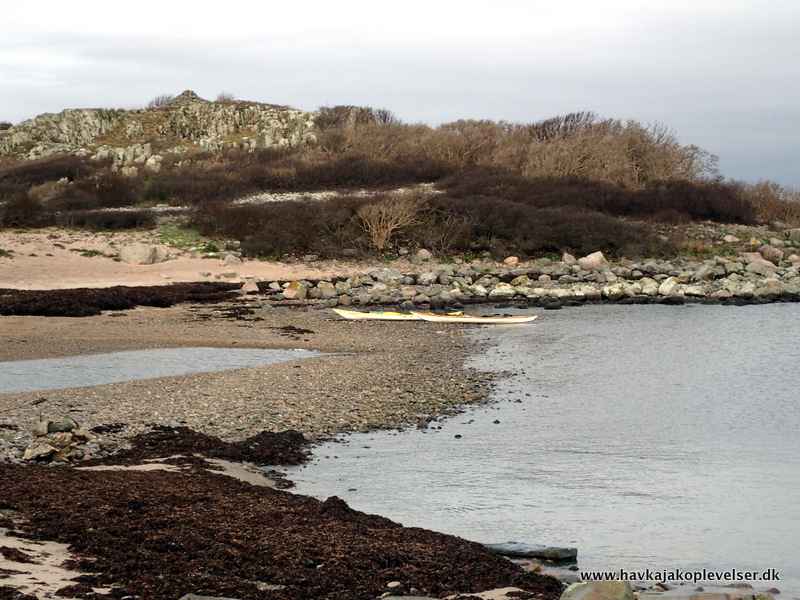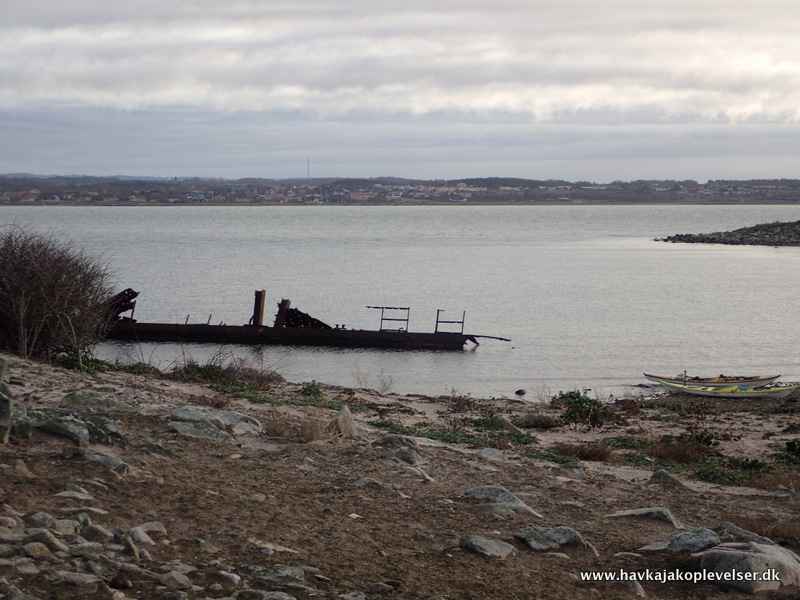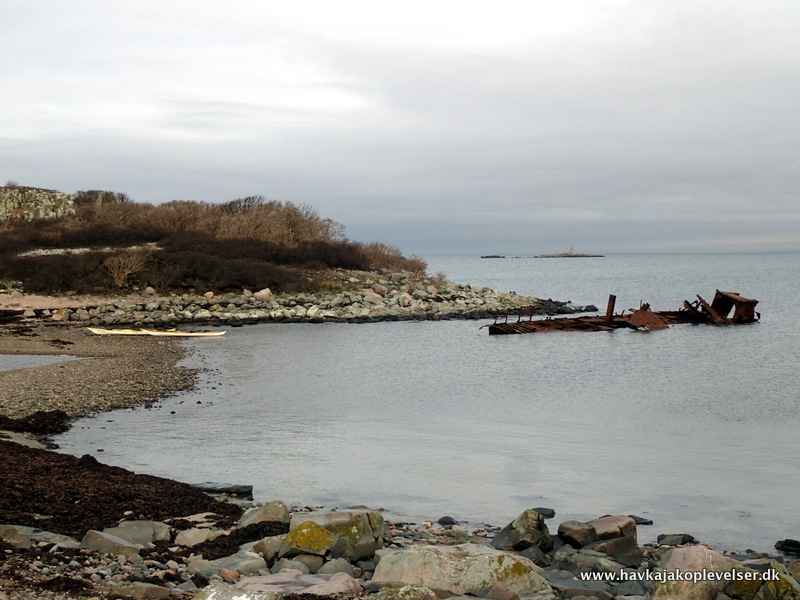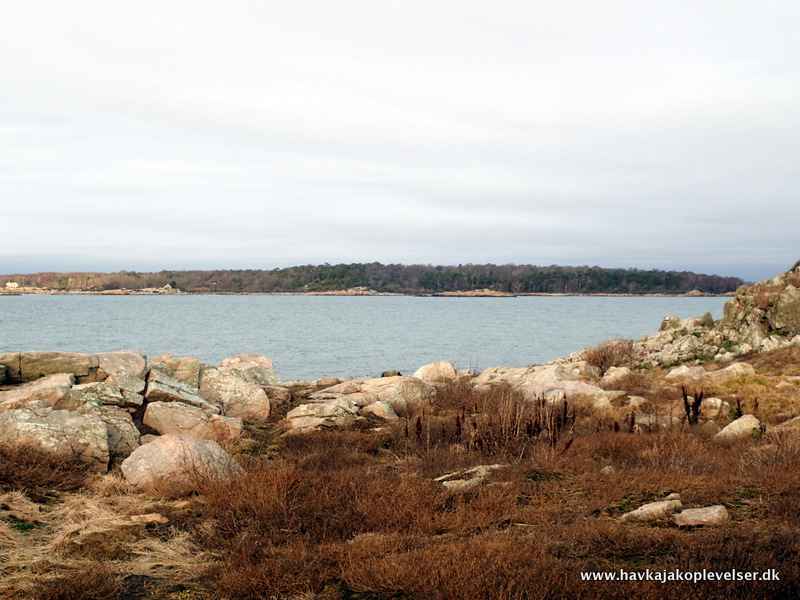 - Kig fra klippeskæret til Hallands Väderö.
- Looking from the rocks towards Hallands Väderö.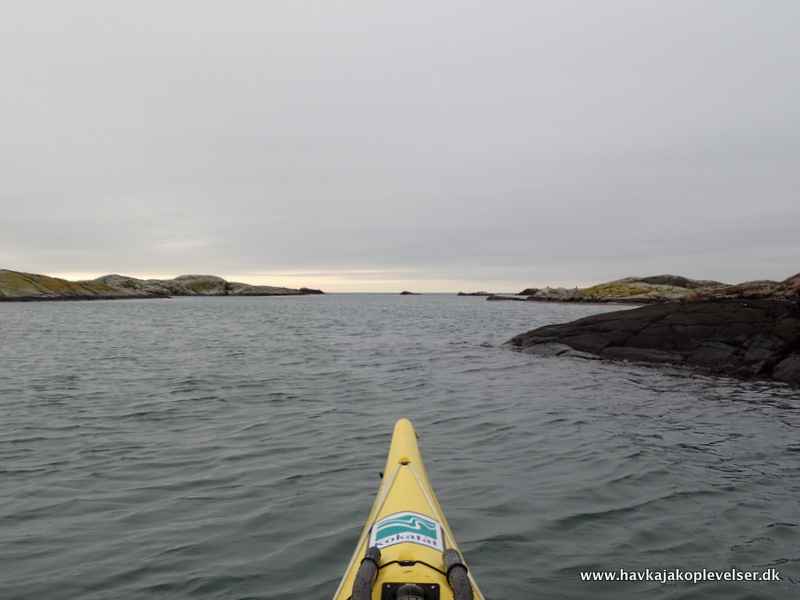 - Tilbage på vandet hvor vi ror ind mellem de mange skær, for at se om vi kan finde nogle af de mange spættet sæler.
- Back on the water where we paddles in between the rockgardens, to see if we can find some of the many harbor seals.
- Fra de mange skær helt tæt på øen ror vi mod nogle klipper sydvest lidt længere ude, hvor vi tidligere har set mange spættet sæler.
- From the rockgarden close to the island, we paddle southwest towards some skerries a little further out, where we have previously seen a lot of harbor seals.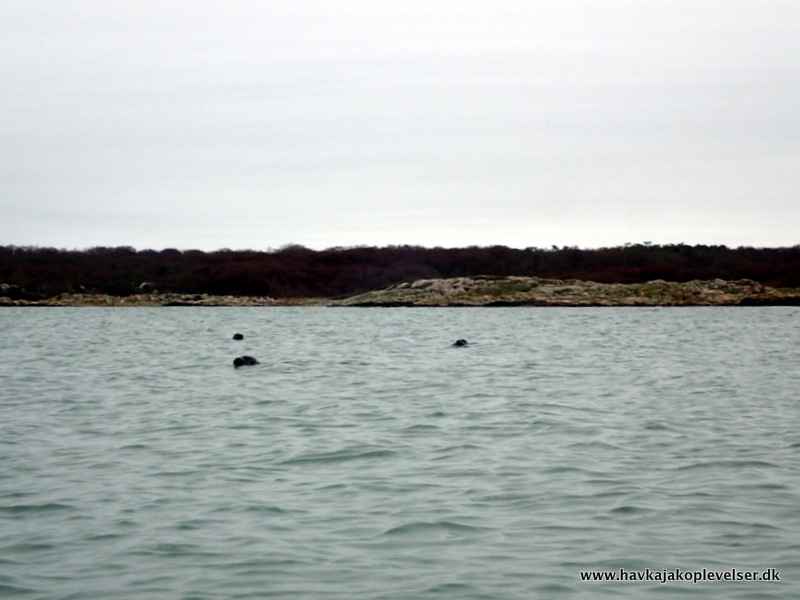 - Vi bliver modtaget af 3 sæler da vi nærmer os skærne, hvilket plejer at være et godt tegn.
- We are welcomed by 3 seals as we approach the skerries, which usually is a good sign.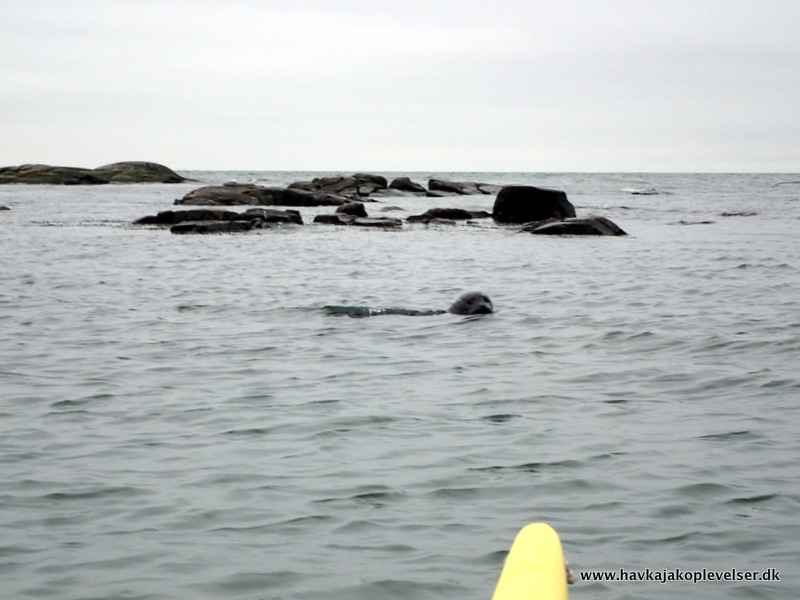 - Endnu en fra velkomstkomiteen.
- Another from the welcome committee.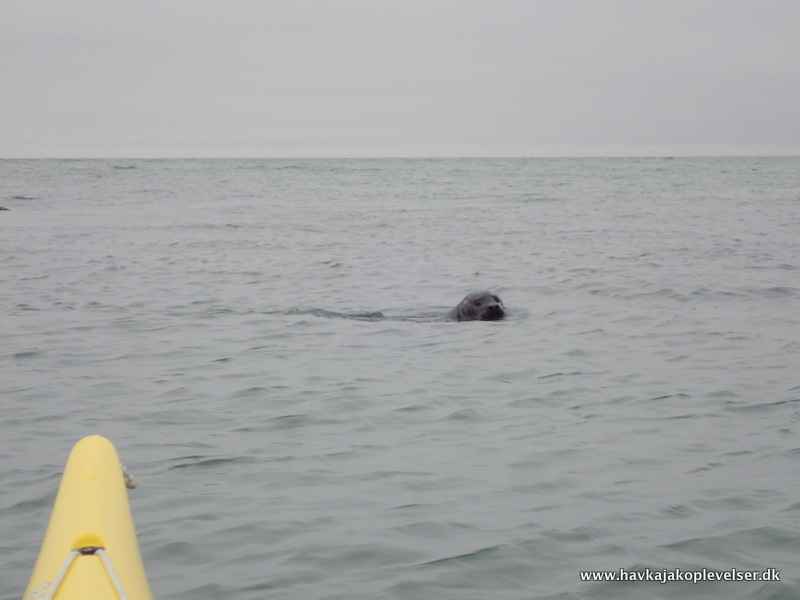 - Der er for mange svært fremkommeligt mellem skær og klipper under vandet, hvorfor sælerne ikke er særligt bange for os, og kommer endog meget tæt på.
- For many it is difficult to get in between the skerries and rocks under the water, which means the seals are not particularly afraid of us, and come even very close.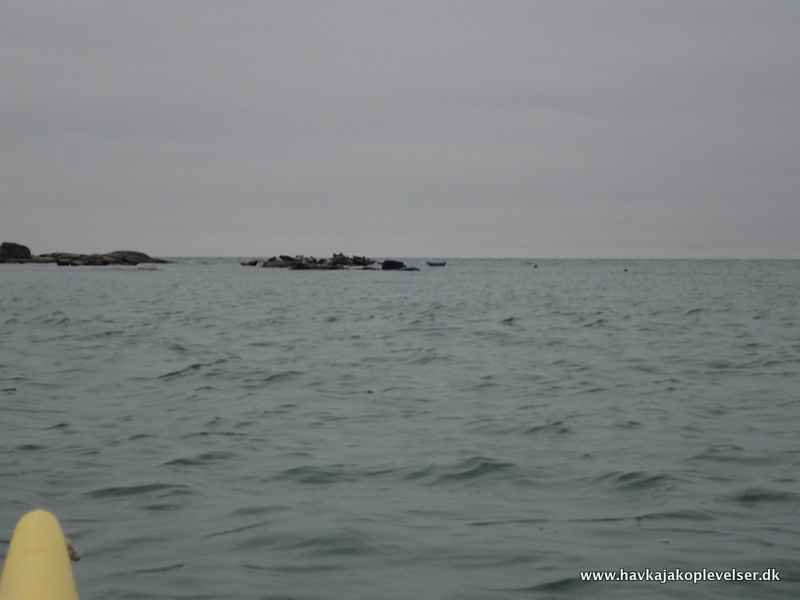 - Som vi har oplevet tidligere, ligger der en stor gruppe sæler på klipperne. Vi holder afstand så de ikke "tvinges" i vandet, men kommer til os af nysgerrighed.
- As we have seen before, there is a large group of seals on the rocks. We keep a distance so  they are not "forced" into the water, but come to us out of curiosity.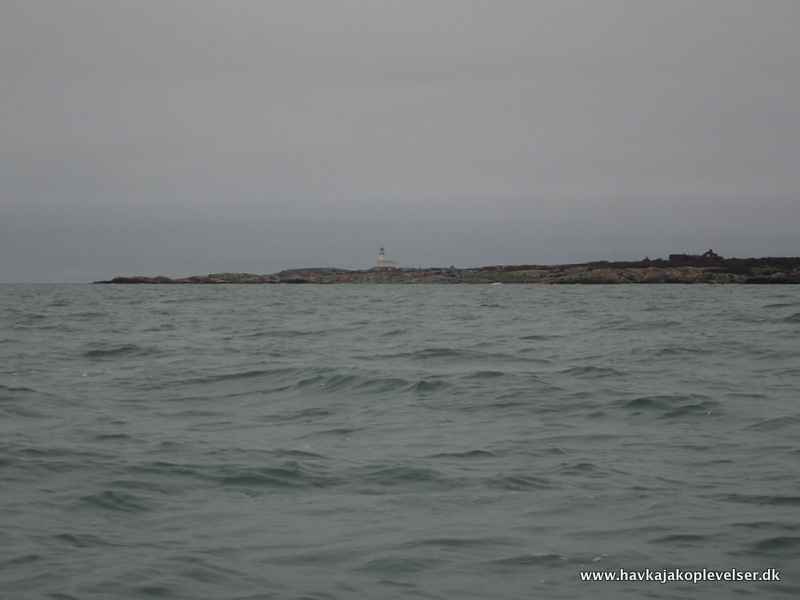 - Efter at have nydt sælerne et stykke tid, ror vi mod fyrtårnet på nordvest pynten. Vi ser undervejs to Gråsæler i vandet, og en unge ligge på en sten, stadig med helt hvid pels, der ikke er vandtæt endnu. For ikke at skræmme ungen i vandet, og stresse de voksne, foresætter vi med at ro uden stop for at tage billeder. Gråsælen er i området omkring Danmark og Sverige hele året hvor kysten er uforstyret, men kun ganske få yngler her omkring.
- After enjoying the seals for a while, we paddle towards the lighthouse on the northwestern point of the island. On the way, we see two grey seals in the water, and a young pup lying on some rocks, still with a white fur witch not yet is waterproof. In order not to frighten the pup into the water, and stress the adults, we continue towards the lighthouse without stopping to take pictures. The gray seal is in the area seas of Denmark and Sweden throughout the year, where the coast is undisturbed, but only very few breed here.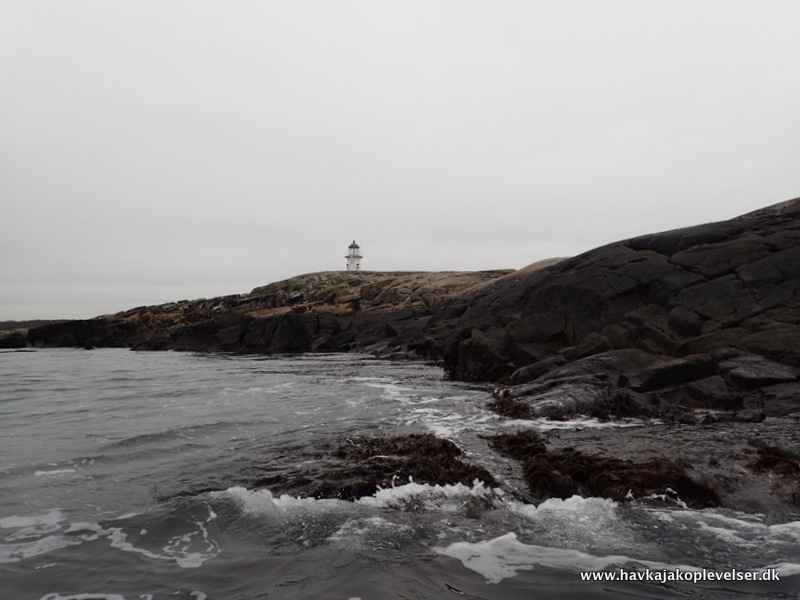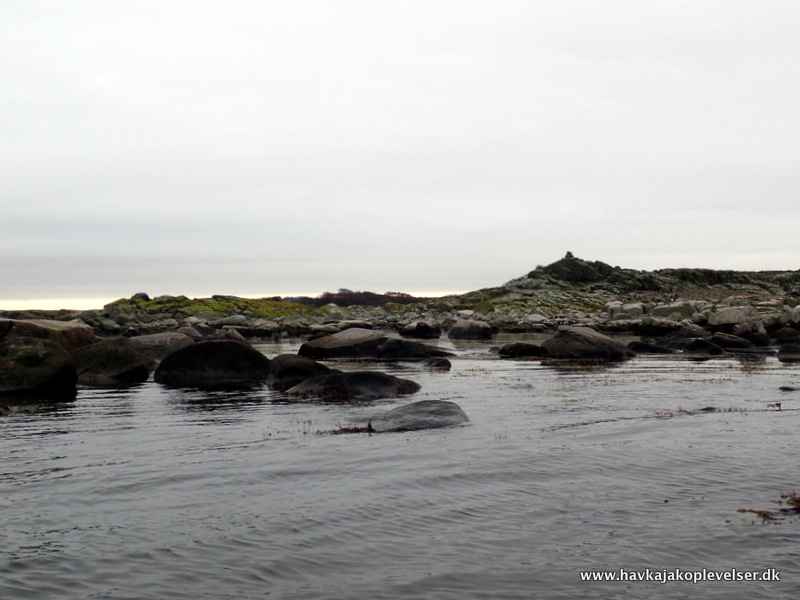 - Rockgarden på nordvest pynten.
- Rockgarden on the northwest headland.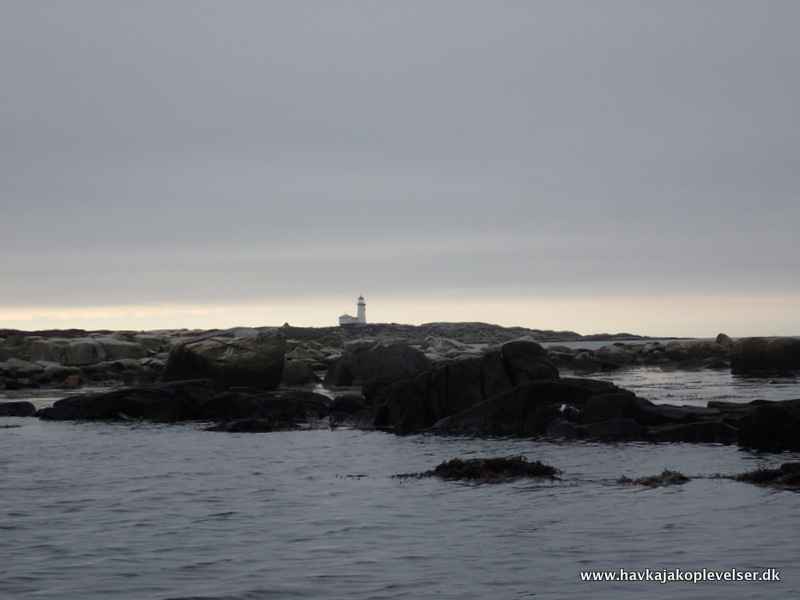 - Rockgarden på nordvest pynten.
- Rockgarden on the northwest headland.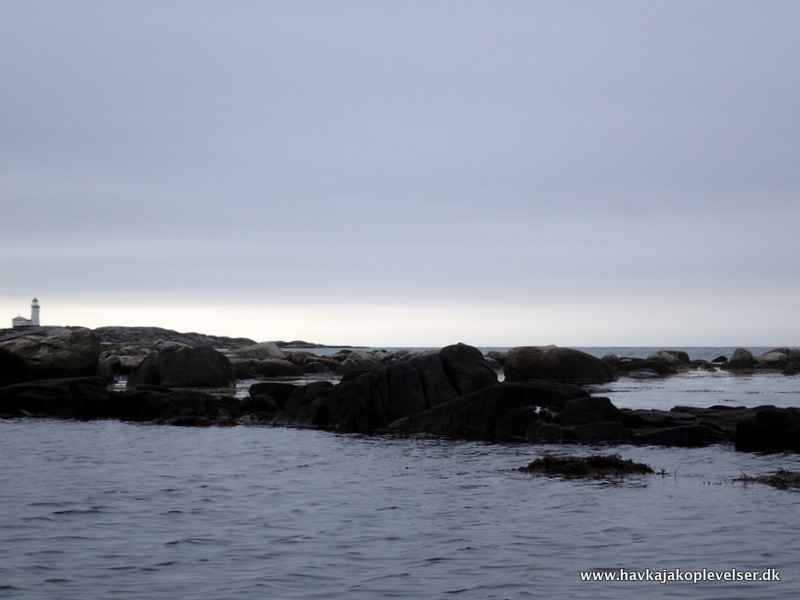 - Rockgarden på nordvest pynten.
- Rockgarden on the northwest headland.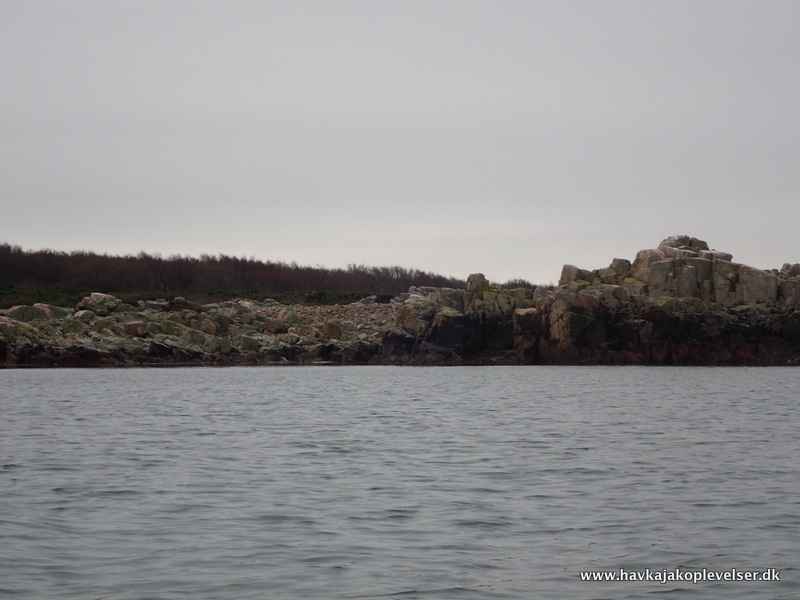 - Nordøstkysten, Hallands Väderö.
- The north east coast of Hallans Väderö.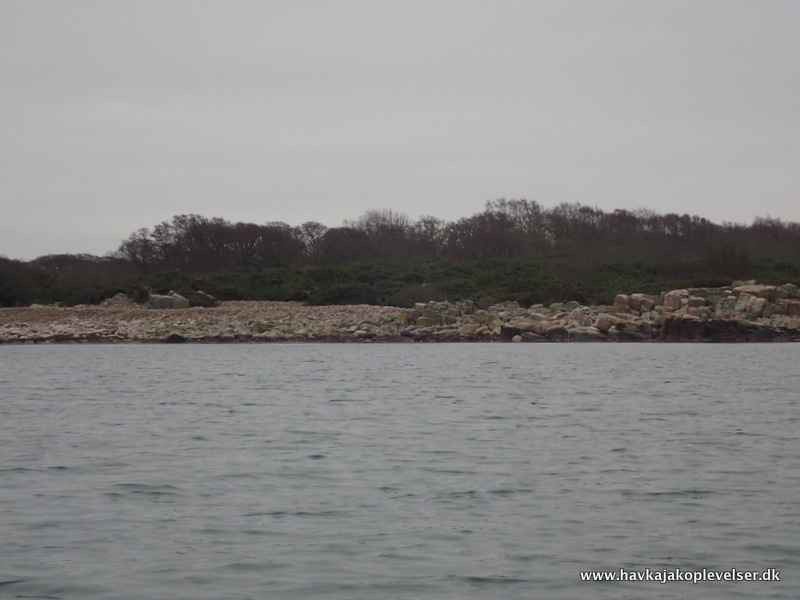 - Nordøstkysten, Hallands Väderö.
- The north east coast of Hallans Väderö.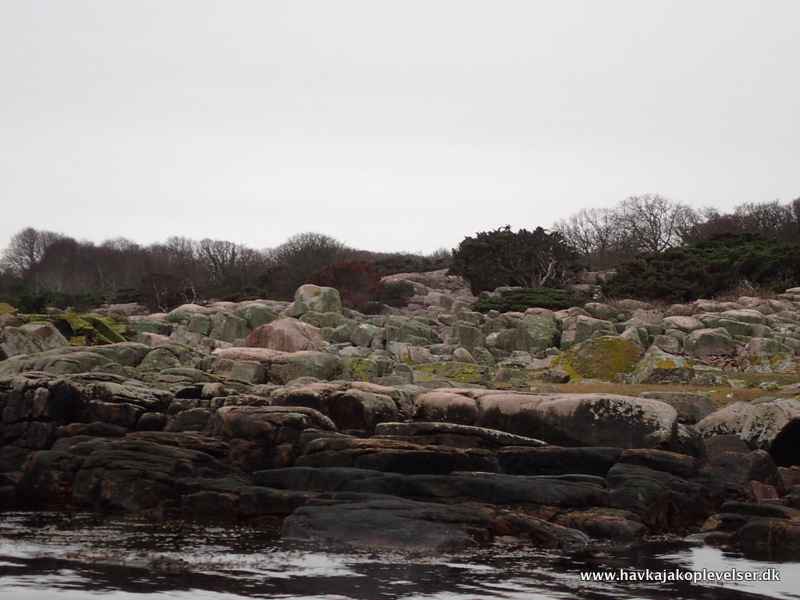 - Nordøstkysten, Hallands Väderö.
- The north east coast of Hallans Väderö.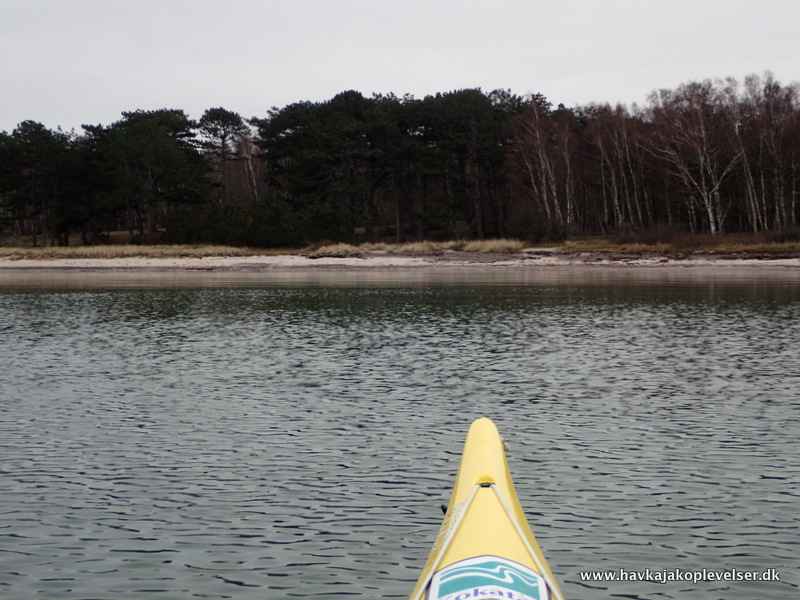 - På Nordkysten er der som det eneste sted på øen områder med sandstrande, resten af øen har klippekyst.
- On the North Coast, as the only place on the island, there are sandy beaches, the rest of the island has rocky coast.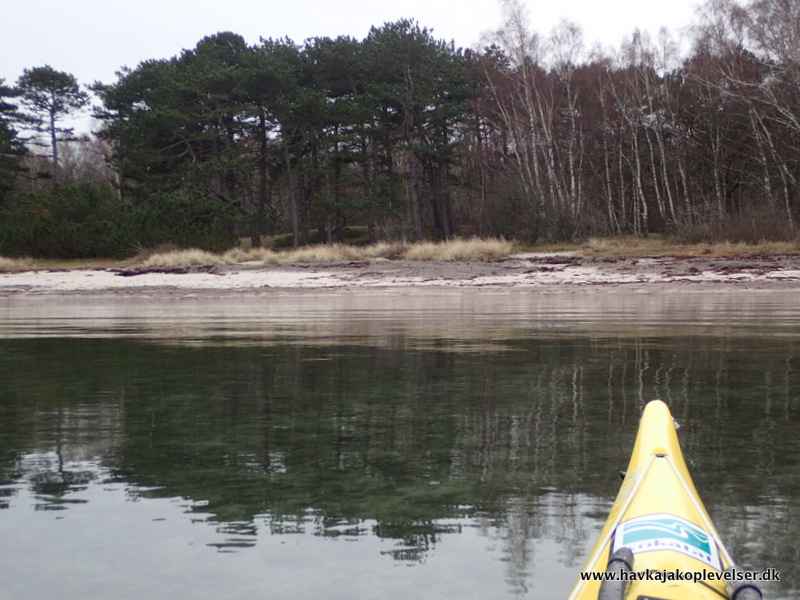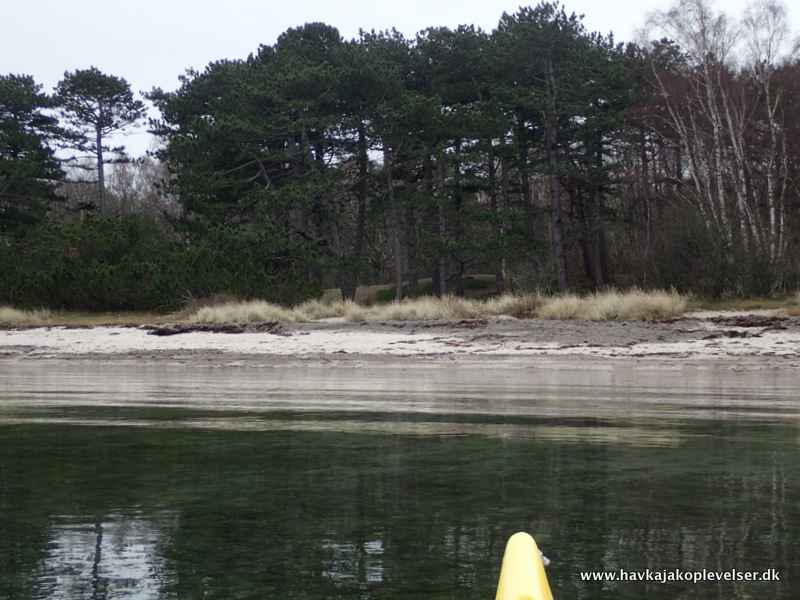 - Vi beslutter os for at holde frokost i ly for vinden i skovkanten.
- We decide to have lunch in the shelter of the wind at the edge of forest.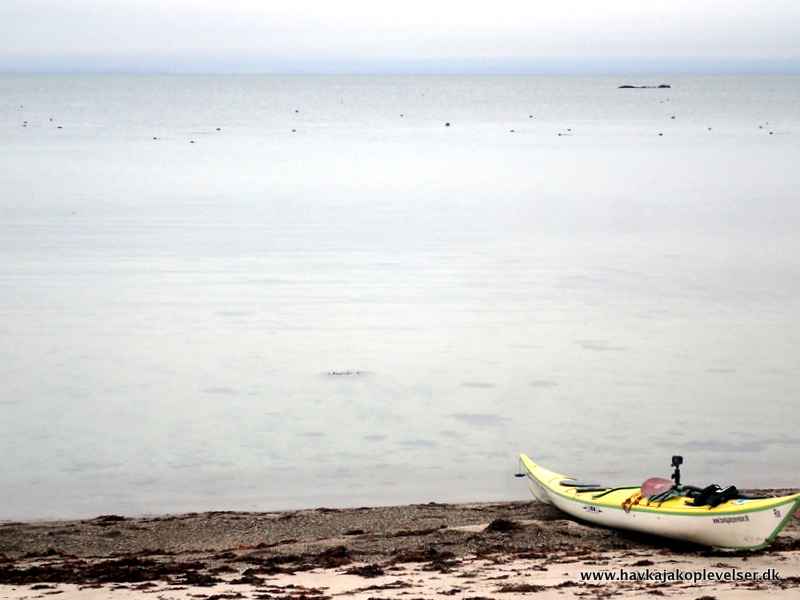 - Vi nyder synet af de mange nysgerrige sæler, der forsigtigt kommer ind mod stranden for at se hvad vi er for nogle, mens vi holder frokost.
- We enjoy the sight of the many curious seals that carefully come in towards the beach, to see who we are, while we are having lunch.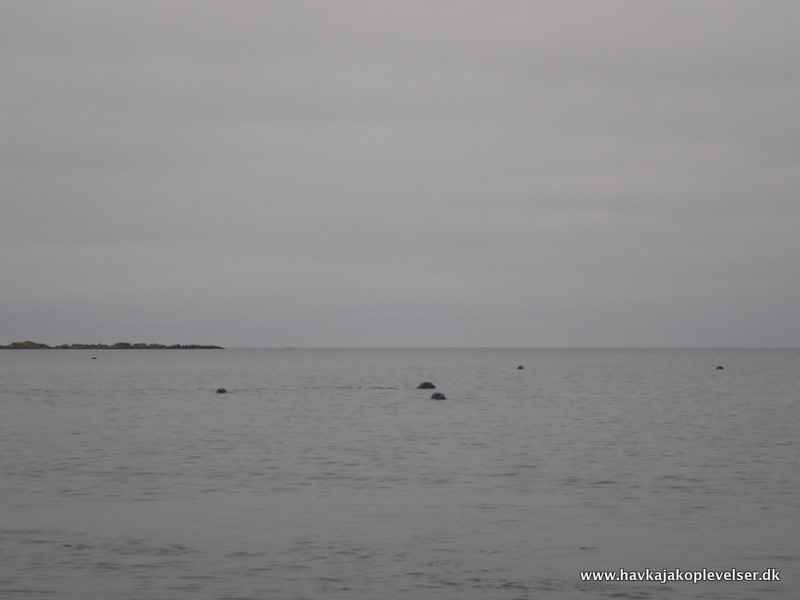 - På vandet igen bliver vi fulgt lidt på vej langs den sidste del af nordsiden på øen.
- Back on the water again, we are getting followed for a while along the last part of the north side of the island.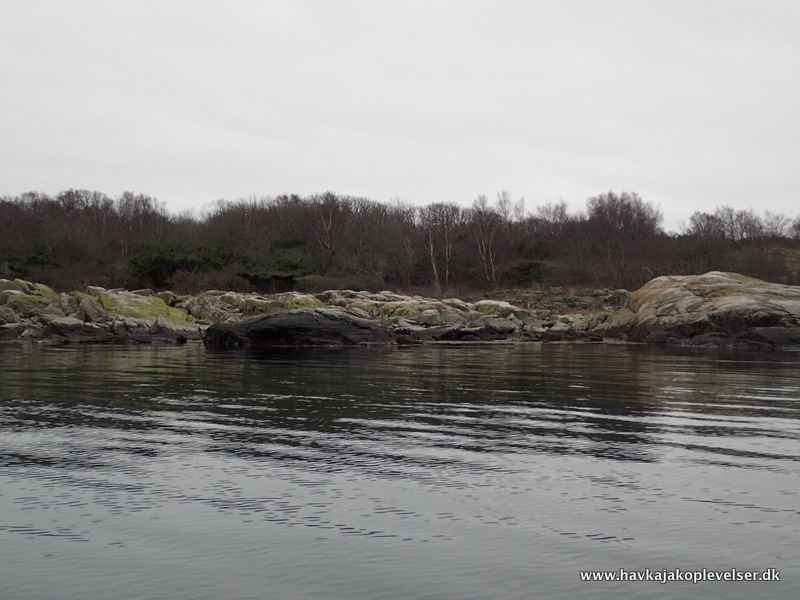 - Områderne med sandstrand forsvinder, og klippekysten er tilbage.
- The areas with sandy beach disappear and the rocky coast is back.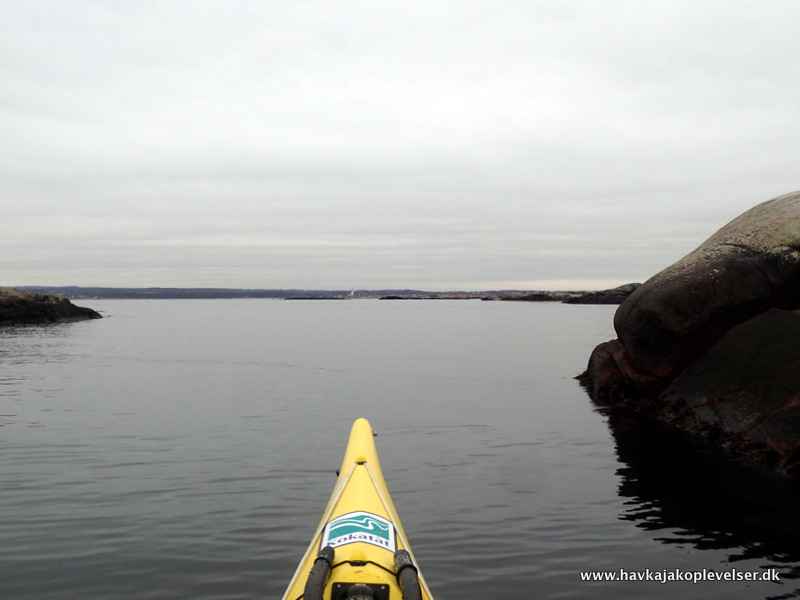 - Vi nærmer os den vestlige side af øen, som igen giver mulighed for lidt rockhopping.
- We are approaching the western side of the island, which again give a possibility for some rock hopping.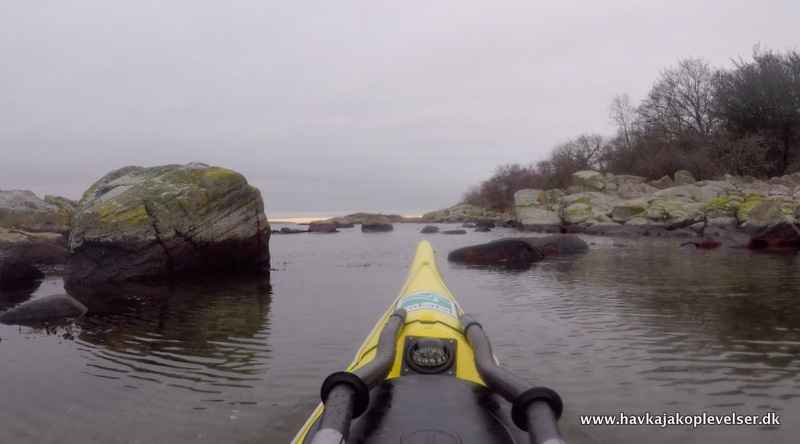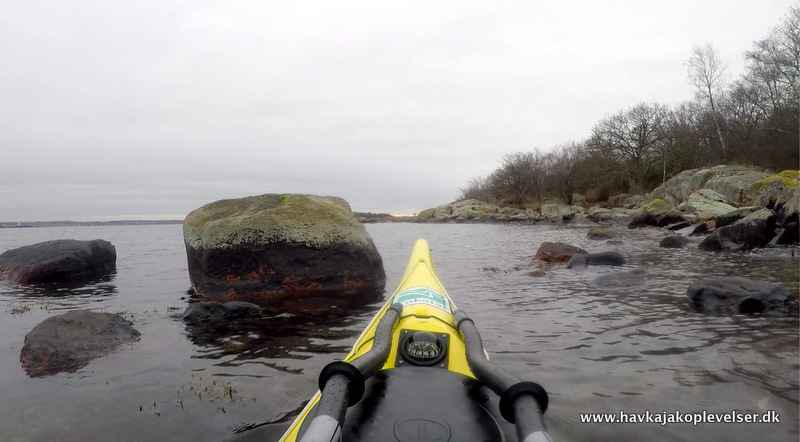 - Vi leger lidt mellem sten og klipper inden krydset tilbage til Torrekov.
- We have some fun between rocks before the crossing back to Torrekov.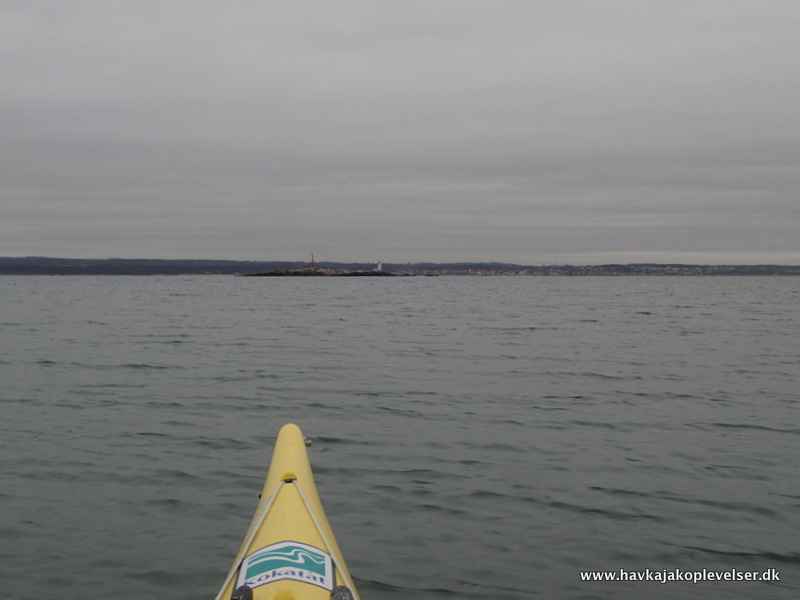 - Kirken i Torekov er fint som landmærke if. med krydset.
- The church in Torekov is a fine landmark when crossing.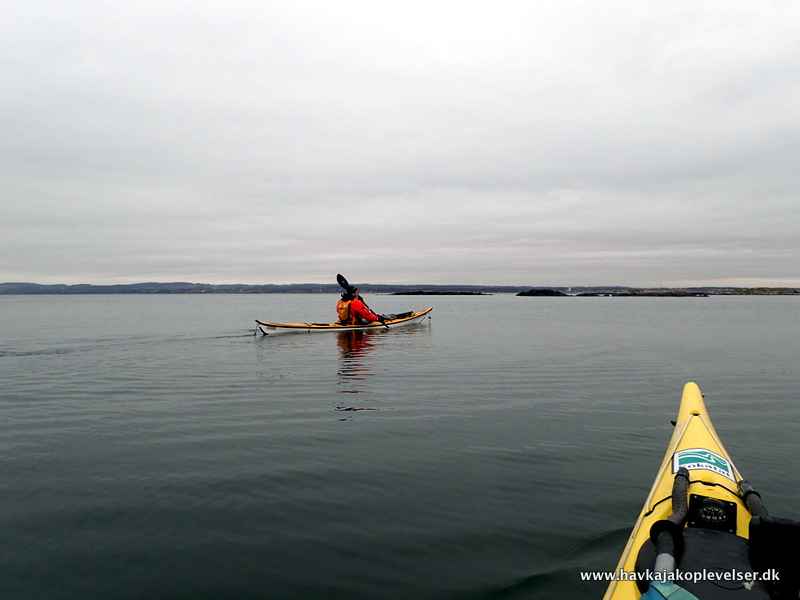 - Afsted mod Torekov.
- Off towards Torekov.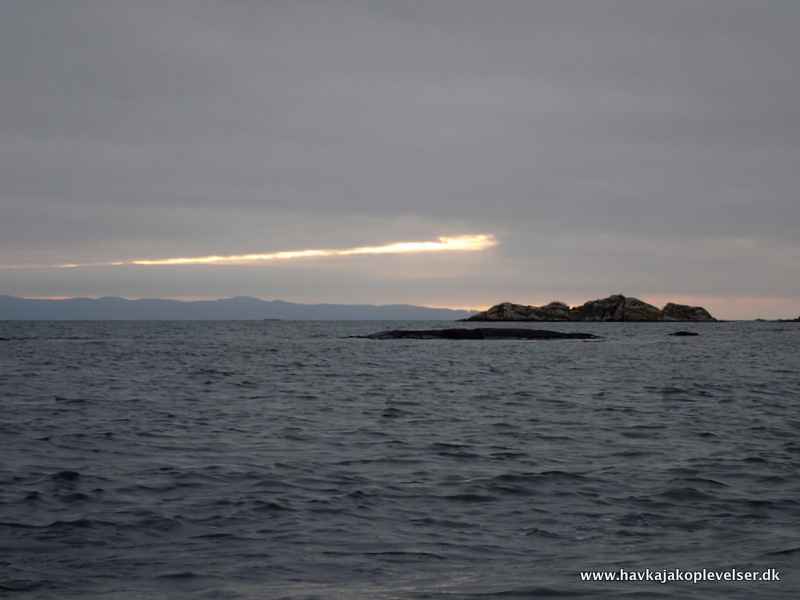 - Kig mod syd og Kullen under krydset.
- Looking toward south and Kullen during the crossing.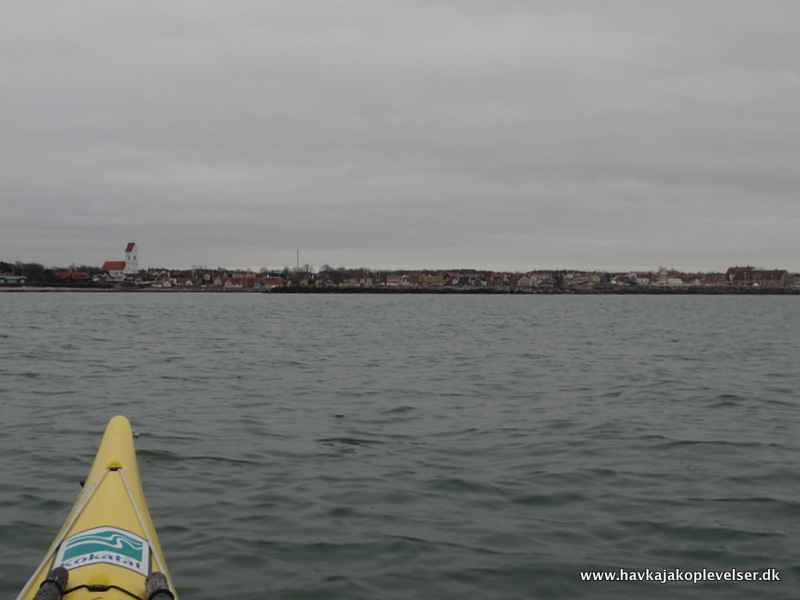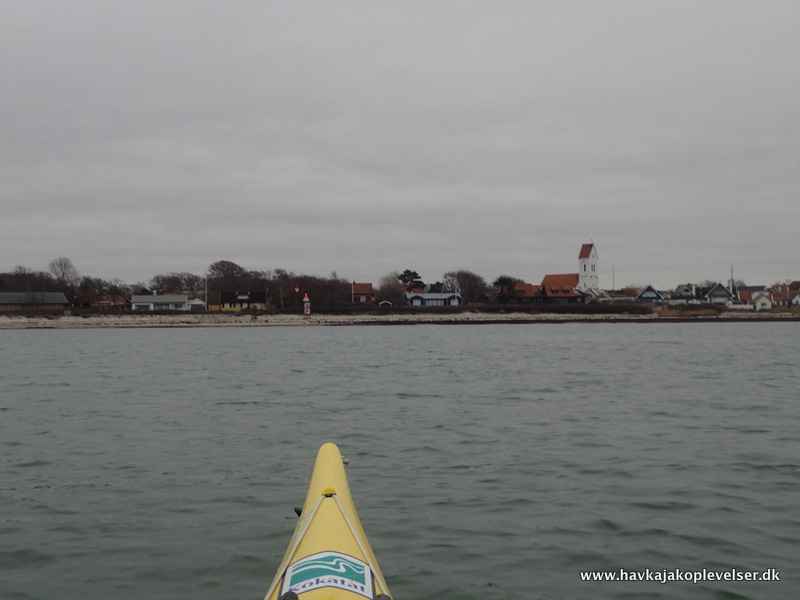 - Parkeringspladsen ligger lige lidt nord for kirken.
- The parking lot is located just north of the church.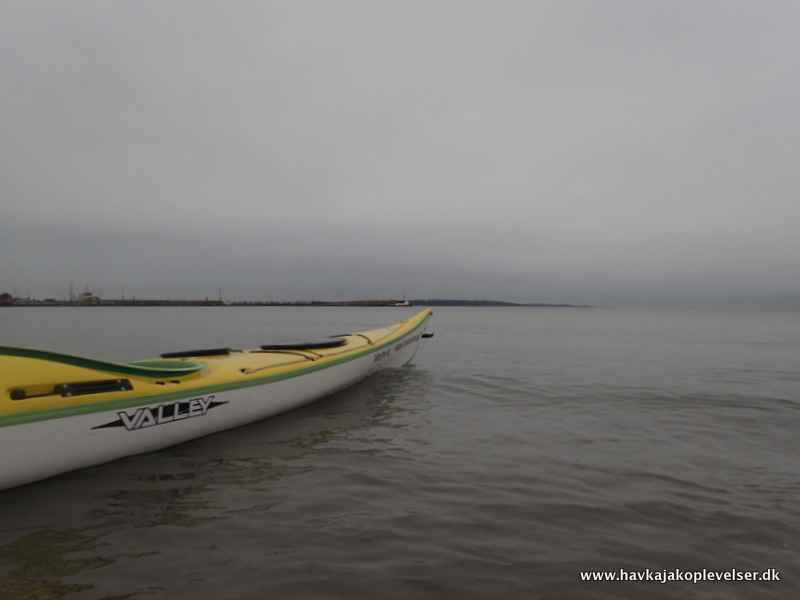 - En dejlig dag slutter i løbet af eftermiddagen. Hallands Väderö er virkelig et besøg værd, ikke kun på grund af den store sælkolone, men også selve øen, hvor der er flot flor og fauna og fine vandrestier.
- A lovely day ends in the afternoon. Hallands Väderö is really worth a visit, not only because of the large seal colony, but also the island itself, where there is beautiful flora and fauna and lovely trails for hiking.
Venlig Hilsen / Best Regards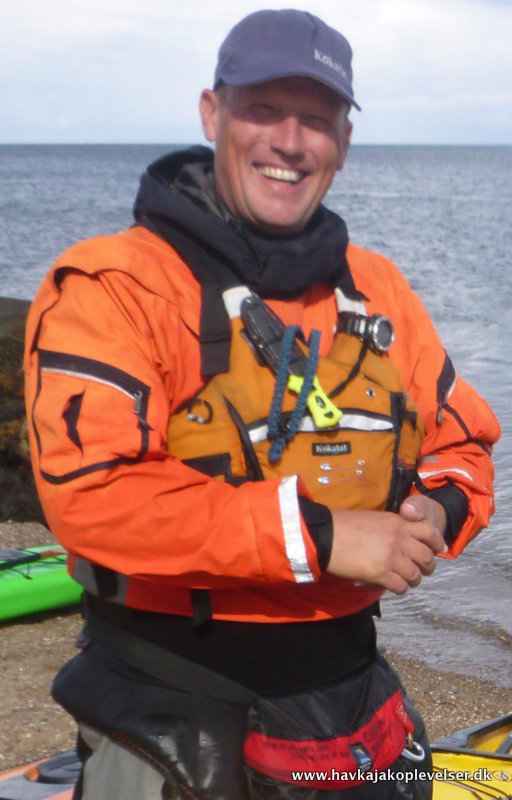 Christian Wiegand
Facebook: Tosset med havkajak / Mad about sea kayak
Instagram: cwseakayaking
Twitter: @cw_sea
Sponsored by Teamkayak - www.teamkayak.dk
Sponsored by Kokatat - www.kokatat.com                                                                                          Sponsored by Expeditionfoods - www.expeditionfoods.com