2021-10-11/15. Dag 1 ud af 5 dage i Havkajak omkring Anglesey, Wales - Day 1 out of 5 days sea kayaking around Anglesey, Wales
Danish / English:
- Turen til Angelsey i Wales var planlagt til oktober i 2019, men så kom Covid. Her 2 år senere var en god ven og jeg endelig kommet til Anglesey.
- The trip to Angelsey in Wales was scheduled for October of 2019, but then came Covid. Here 2 years later a good friend I had finally arrived on Anglesey.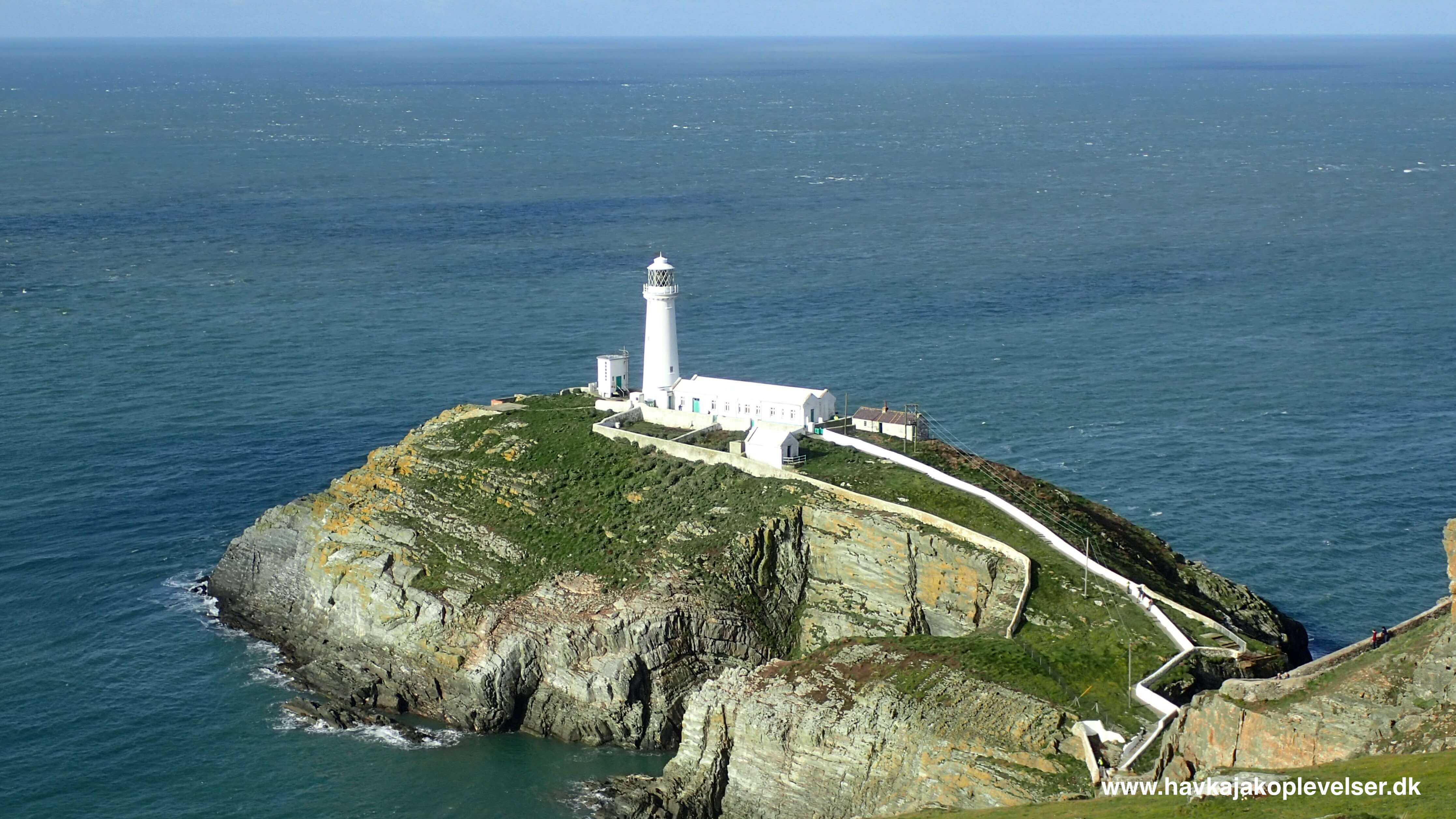 - Første stop på denne fantastiske ø var ved fyrtårnet på South Stack. Foruden det ikoniske fyrtårn er udsigten fantastiske og tidevandets strømskel er tydelige for det blotte øje. Samtidig gav det en god fornemmelse hvad de kommende 5 dage ville byde på, både af udfordringer og oplelser.
- First stop on this amazing island was the South Stack Lighthouse. In addition to the iconic lighthouse, the views are stunning and the tides are obvious to the naked eye. At the same time, it gave a good sense of what the next 5 days was to offer, both in terms of challenges and experiences.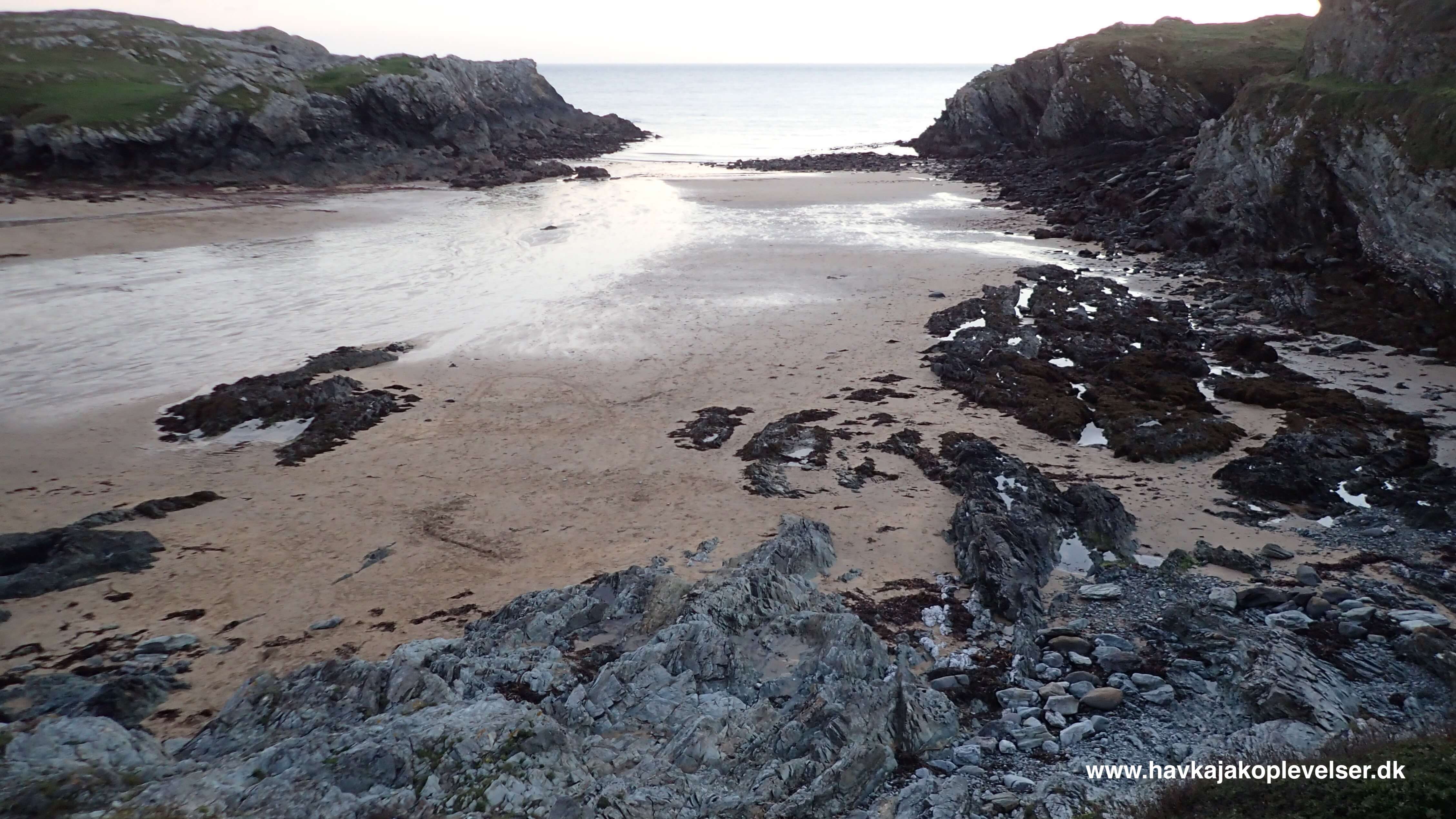 - Fra South Stack, følger jeg vejen ned langs vestkysten og gør lige et hurtigt stop ved Porth Dafarch, inden jeg tjekker ind på Anglesey Outdoors.
- From the South Stack, I follow the road down the west coast and make a quick stop at Porth Dafarch before checking in at Anglesey Outdoors.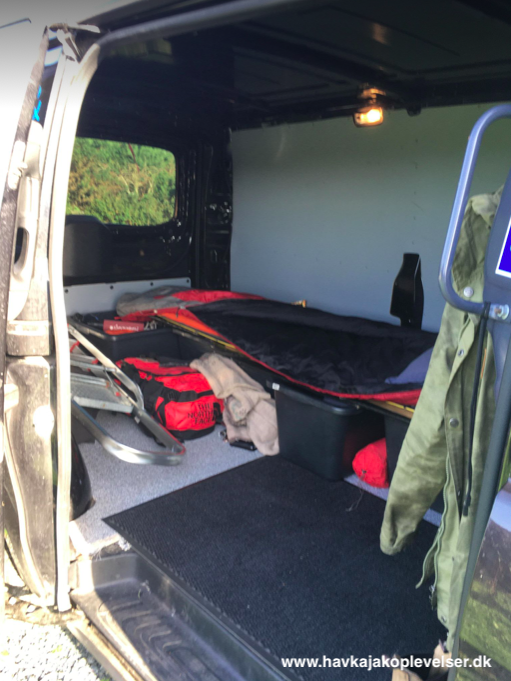 - Der bliver hurtigt gjort klar til en lur efter køreturen hertil. Jeg havde bestilt en plads med strøm så jeg kunne bo bag i bilen, mens Palle havde bestildt en lille hytte.
- Getting ready for a nap after the drive here is quickly done. I had booked a space with electricity so I could stay in the back of the car, while Palle had booked a small hut.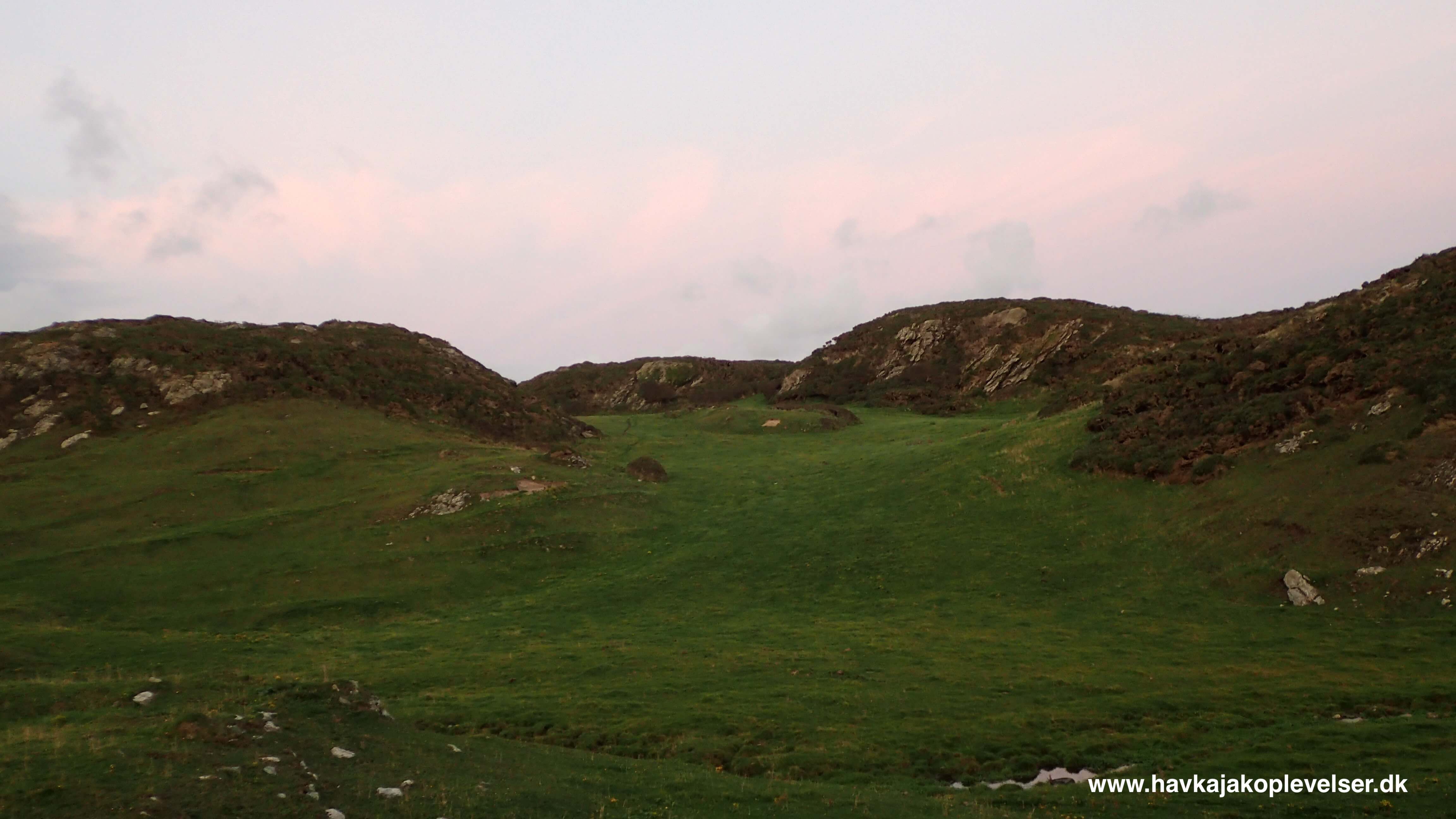 - Resten af dagen byder på fred og ro og en tidelig kort aftentur inden der skal indhendtes noget af den tabte søvn fra køreturen her til. Næste morgen skulle vi mødes med Nick Cunliffe fra www.kayakessentials.co.uk som vi skulle bruge de næste dage sammen med.
- The rest of the day offers peace, quiet and a short early evening walk before recovering some of the lost sleep from the drive here. The next morning we were to meet Nick Cunliffe from www.kayakessentials.co.uk who we were going to spend the next few days with.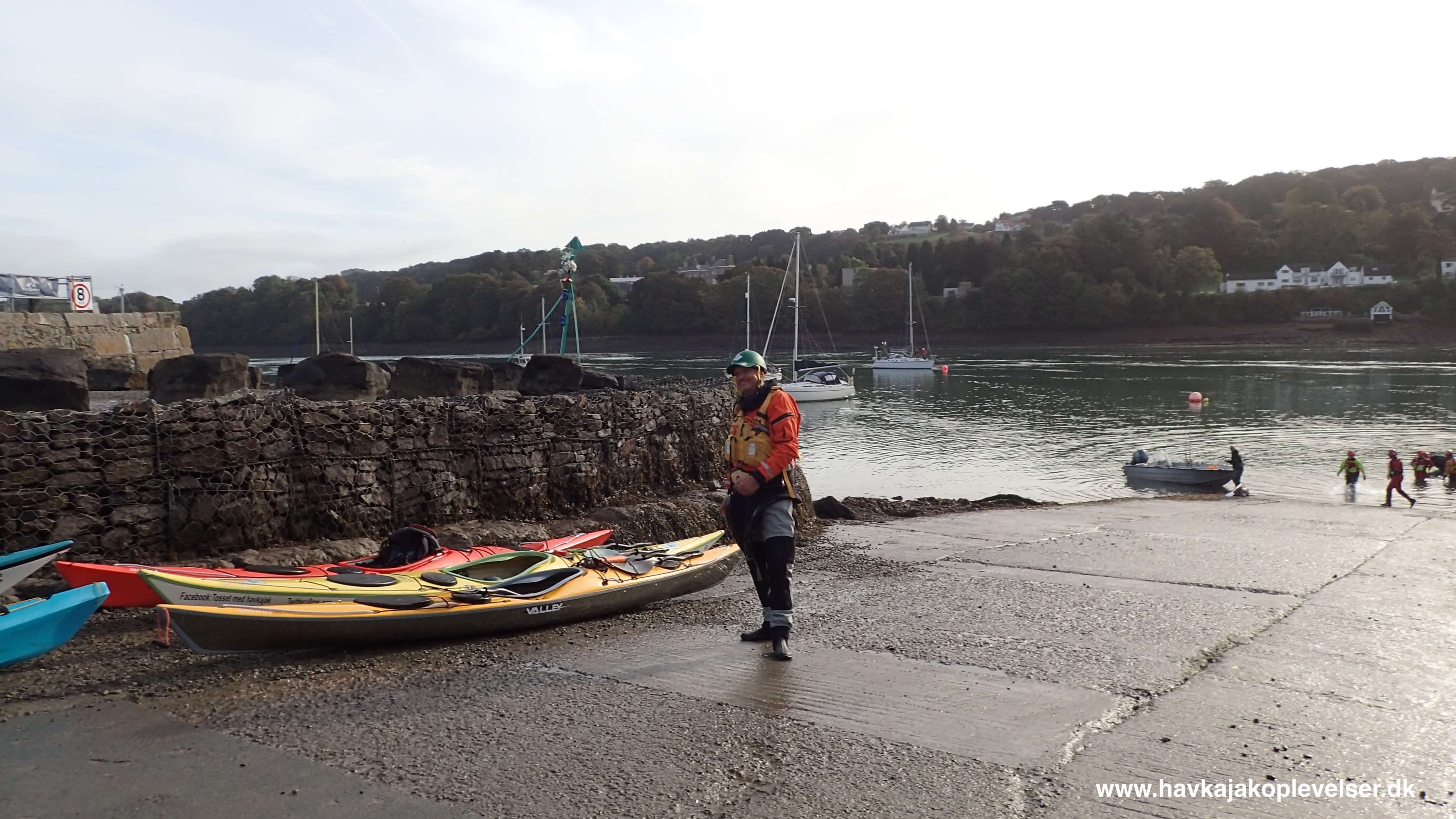 - 1. dag på vandet skulle foregår i det ikoniske Menai Strait, under den gamle Menai bridge og omkring The Swellies. Vi kørte samlet fra outdoor centeret til bådrampen i Menai. Kajakkerne blev læsset af trailer og bilerne, inden vi parkerede i de små gader - vær opmærksom på den lille p-plads i baggrunden oversvømmes af tidevandet omkring spring, så find et andet sted at parkere bare for en sikkerheds skyld.
- 1st day on the water was to take place in the iconic Menai Strait, under the old Menai bridge and around The Swellies. We drove together from the outdoor center to the boat ramp in Menai. The kayaks were loaded by trailer and the cars before we parked in the small streets - be aware the small parking lot in the background is flooded by the tide around spring time, so find another place to park just to be sure.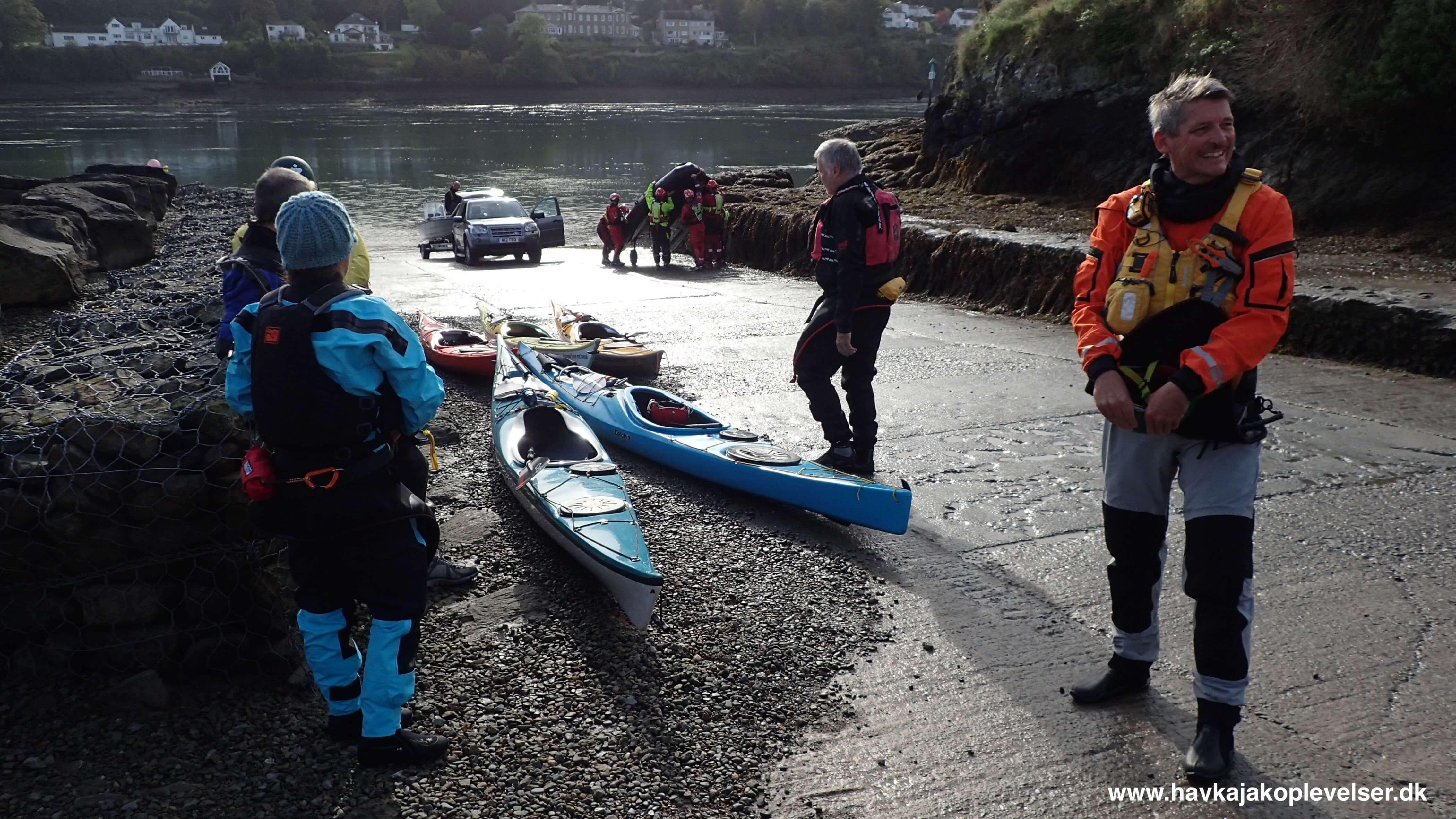 - Fulde af forventninger, spænding og glæde over at komme på vandet efter to års udskydelse af turen, er vi klar.
- Full of expectations, excitement and joy of getting on the water after two years of postponing the trip, we are ready.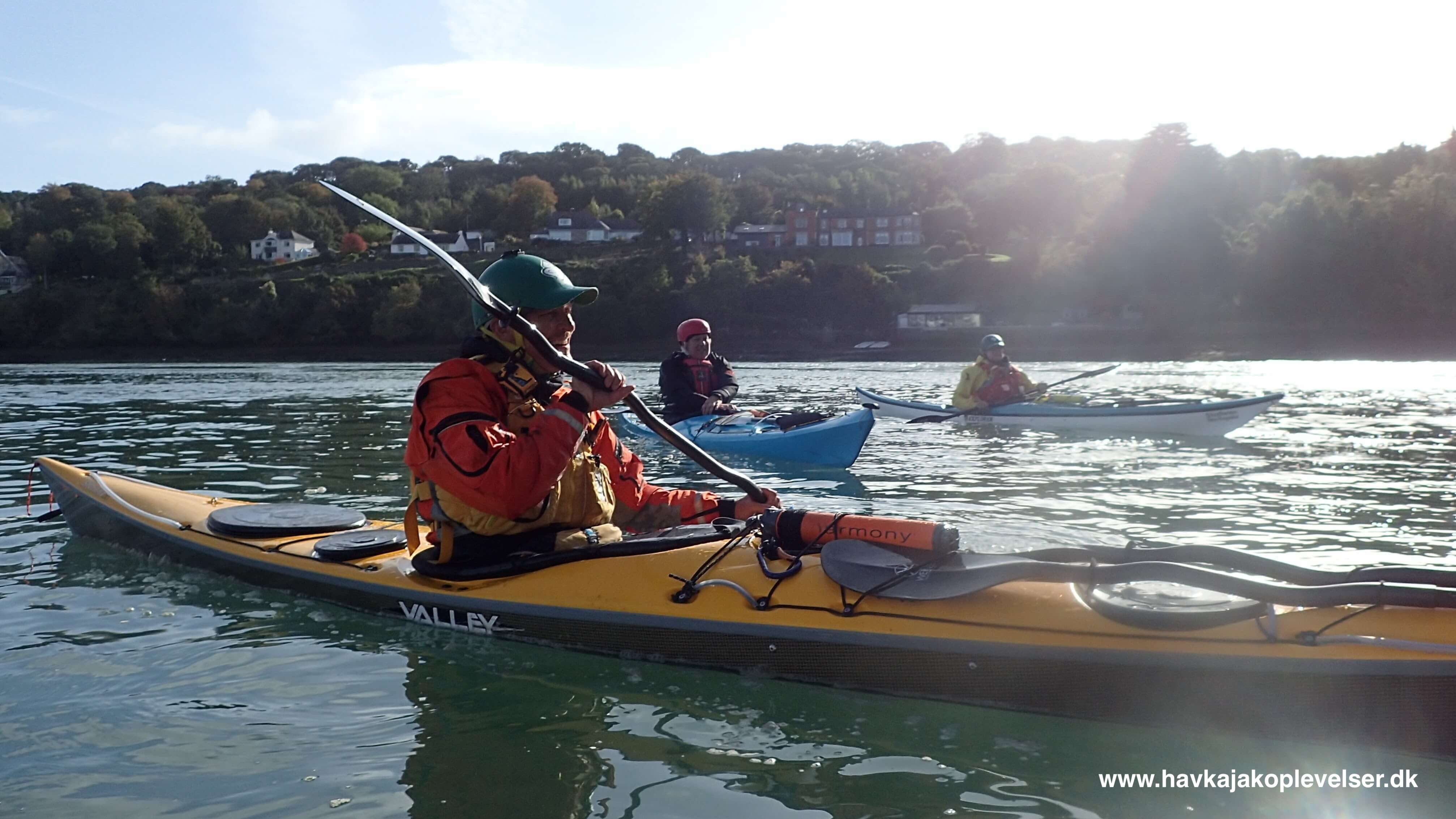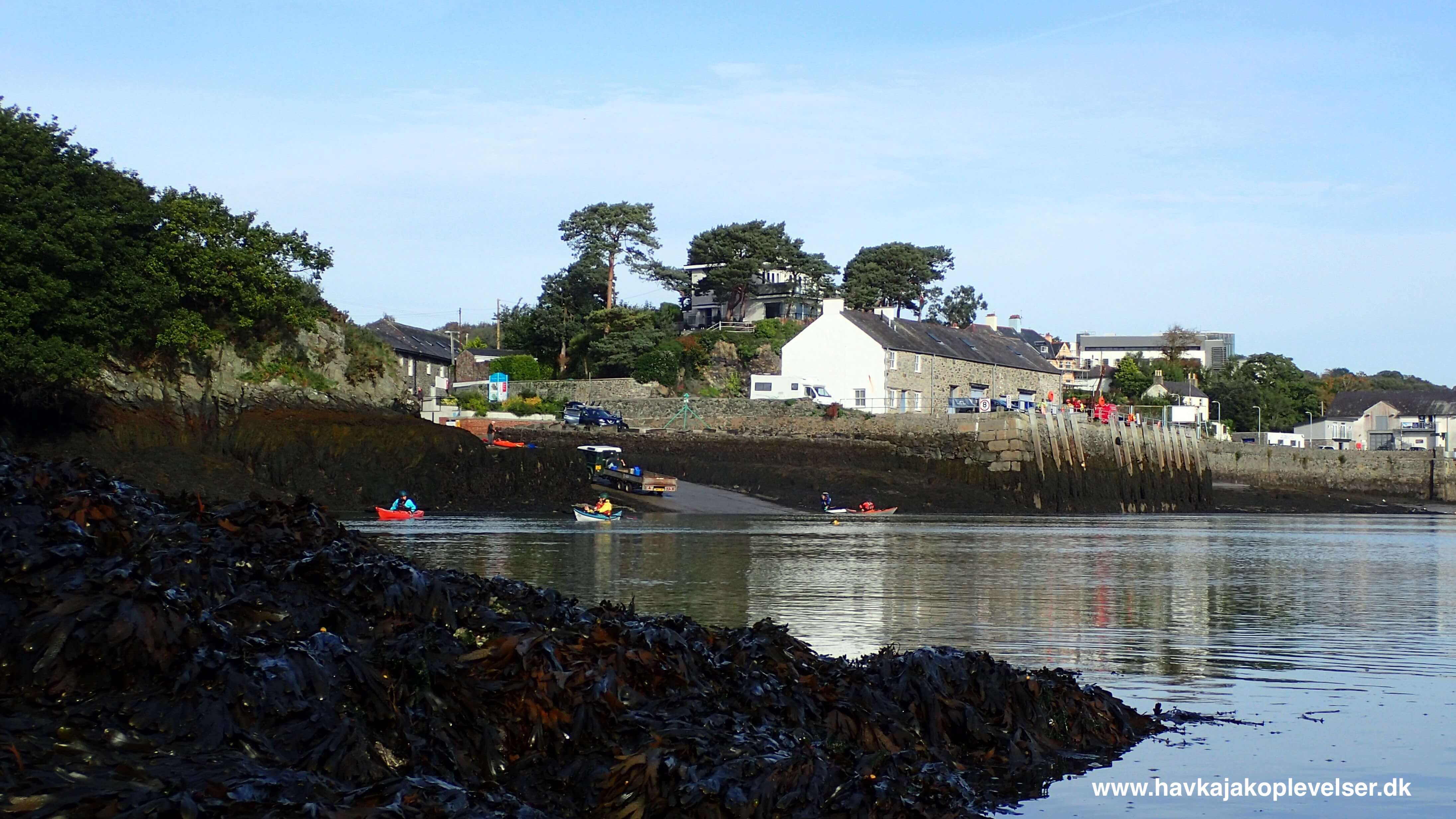 - Vi kommer på vandet mend der er lavvandet.
- We get on the water at low tide.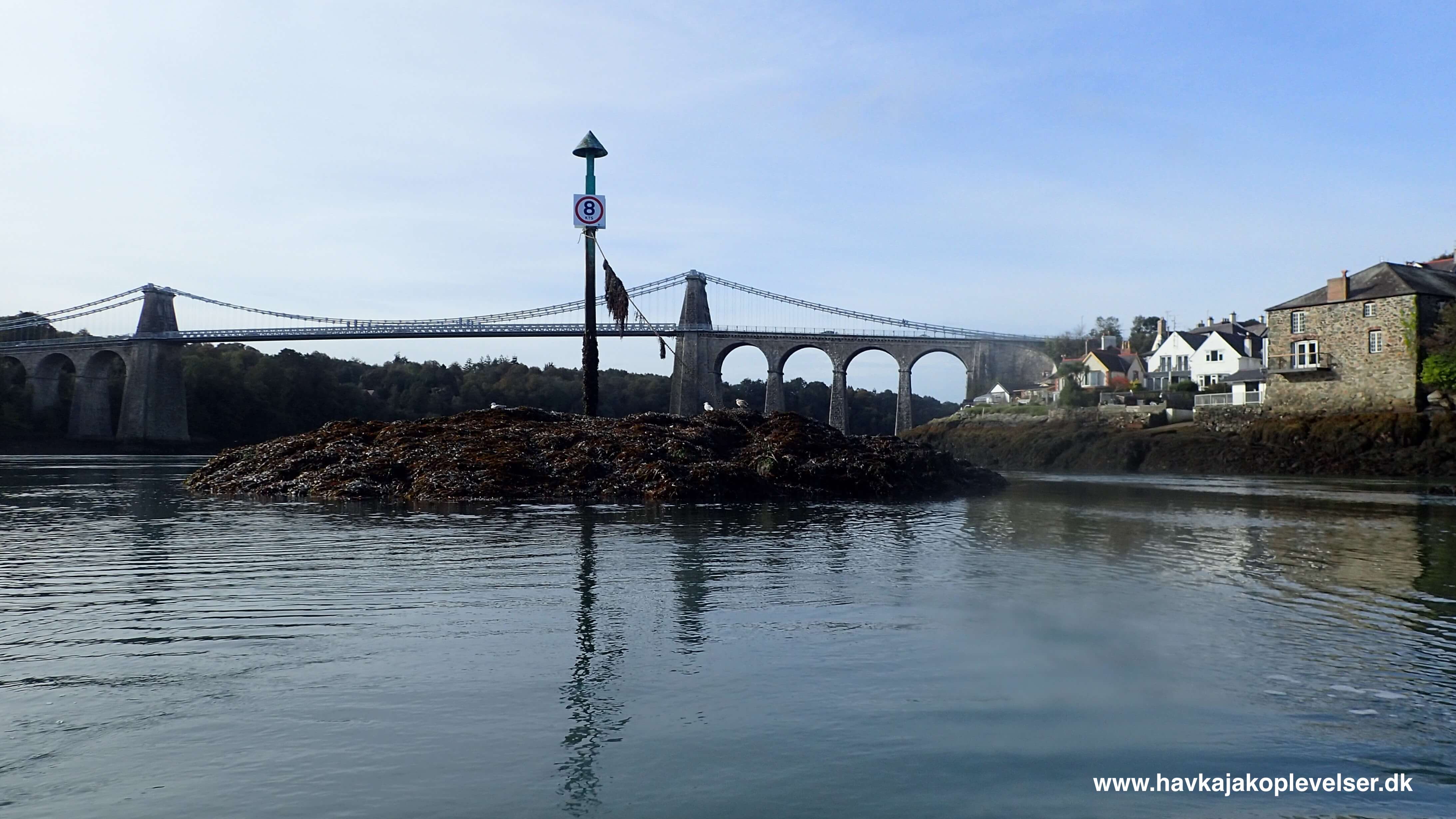 - Området er smukt på trods af man ror omgivet af by og bebyggelse.
- The area is beautiful despite being rowed surrounded by town and buildings.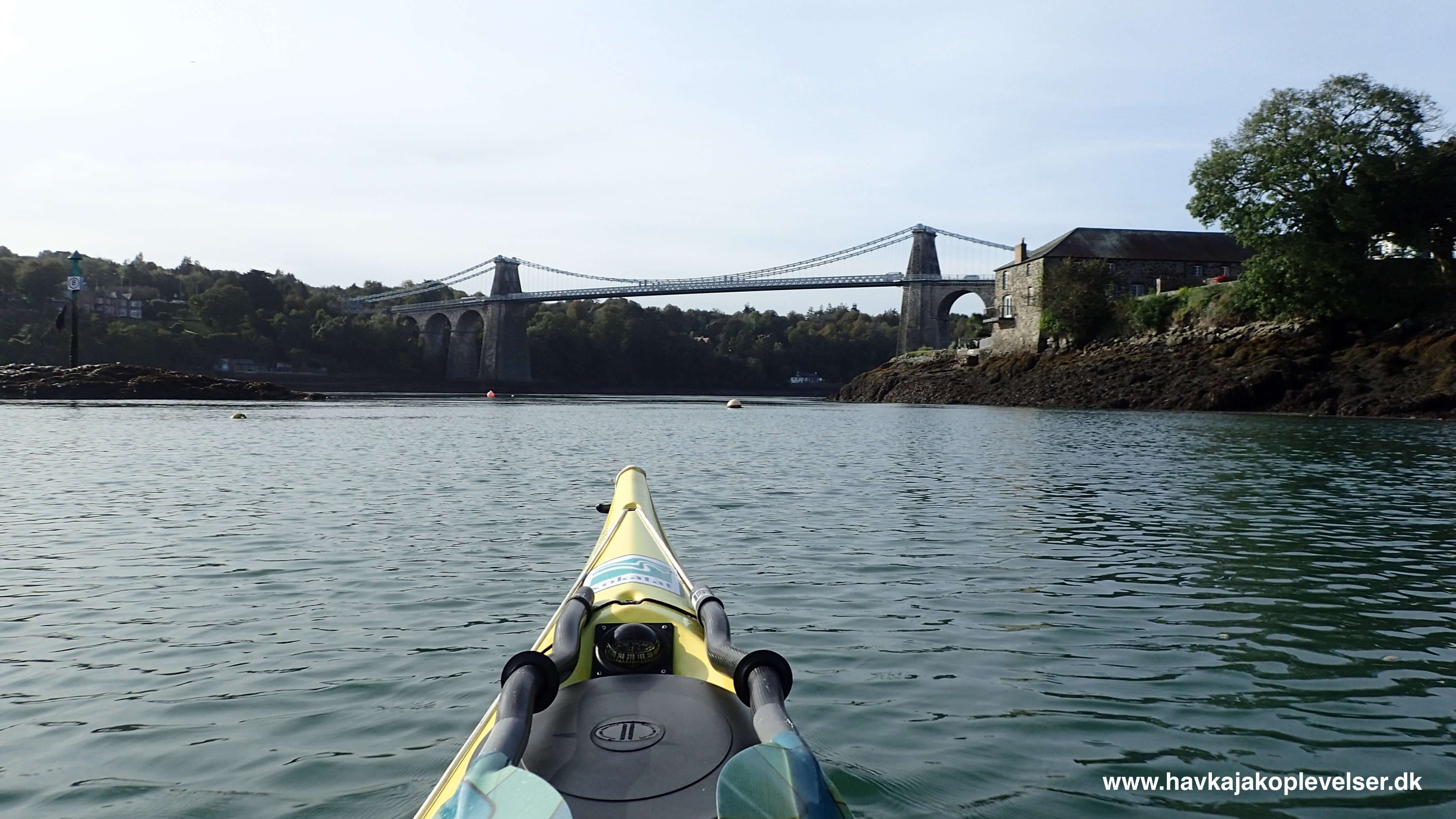 - Vi ror de ca. 200 m. til Menai bro fra 1826 for at arbejde med forskellige teknikker. Broen var da den stod færdig på daværende tidspunkt verdens første store hængebro.
- We paddle the approx. 200 m. to the Menai bridge from 1826 to work with various techniques. The bridge was when it was completed at that time the world's first large suspension bridge.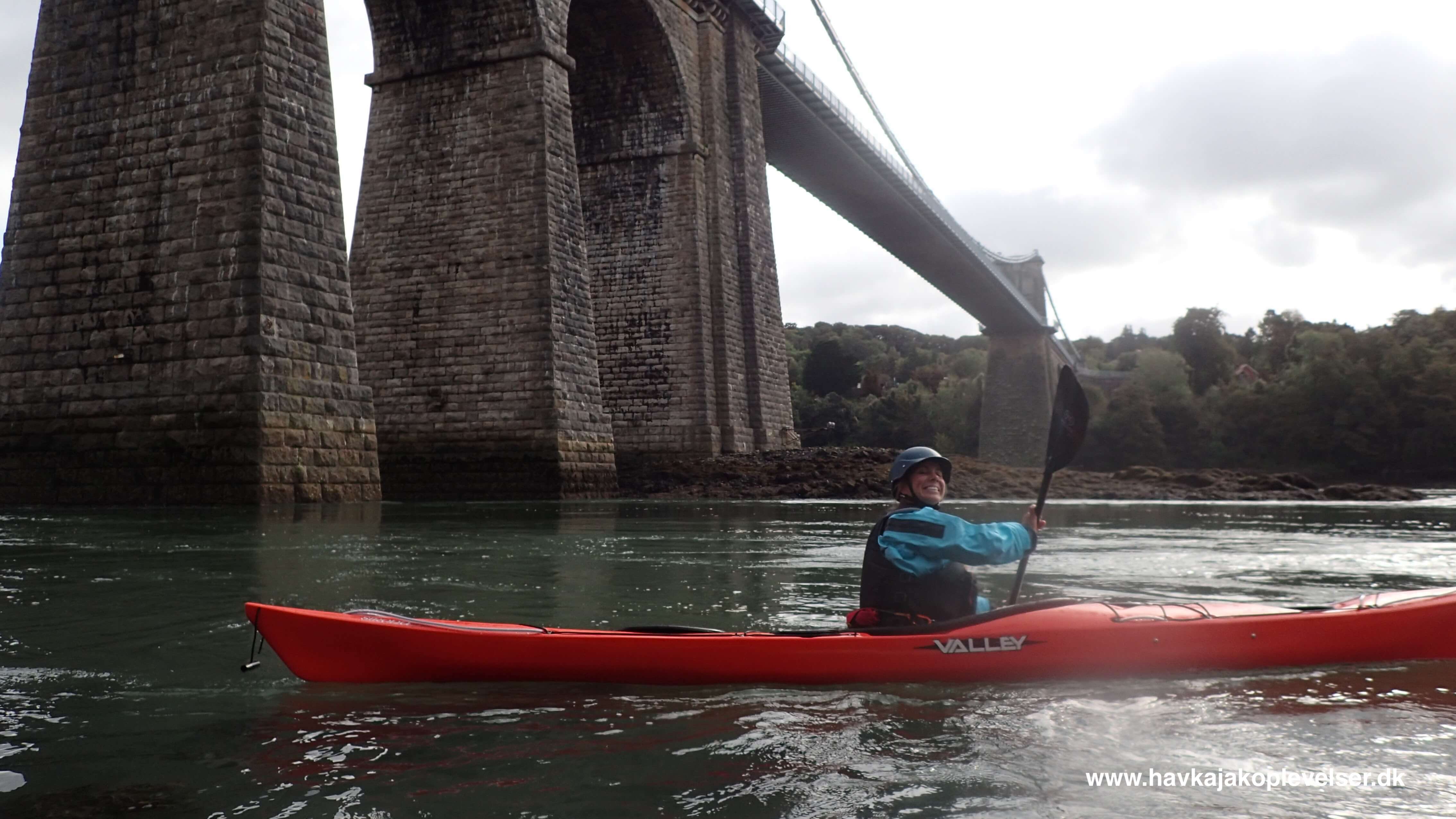 - Der er masser af øvelser og leg i de jets der opstår mellem bropillerne.
- There is plenty of practice and play in the jets that occur between the bridge pillars.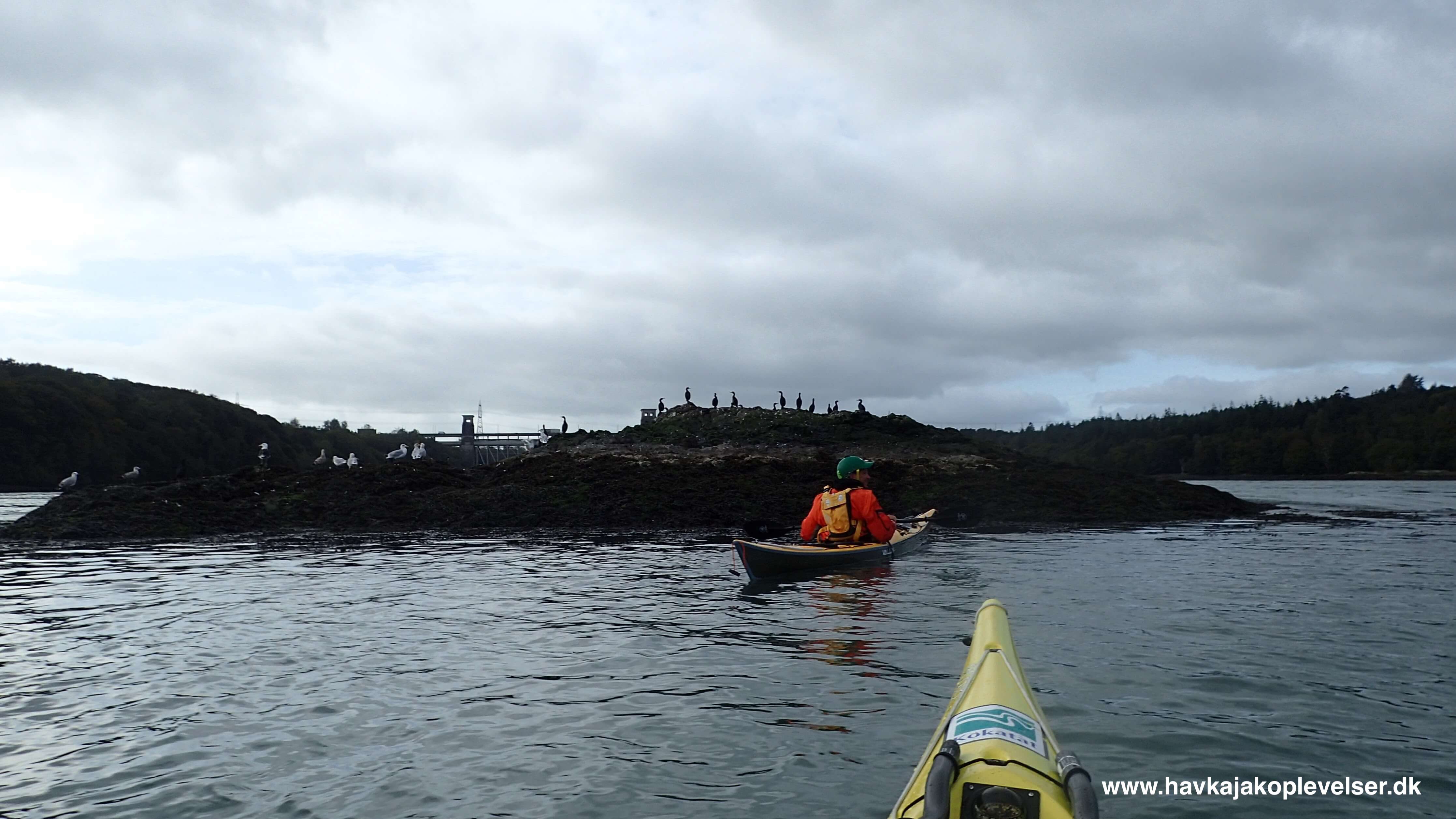 - Vi ror nedstrøms, opstrøms, færger frem og tilbage over strømmen arbejder med strømlæ, etc. etc.
- We paddle downstream, upstream, ferries back and forth across the flowee working with eddyes, etc. etc.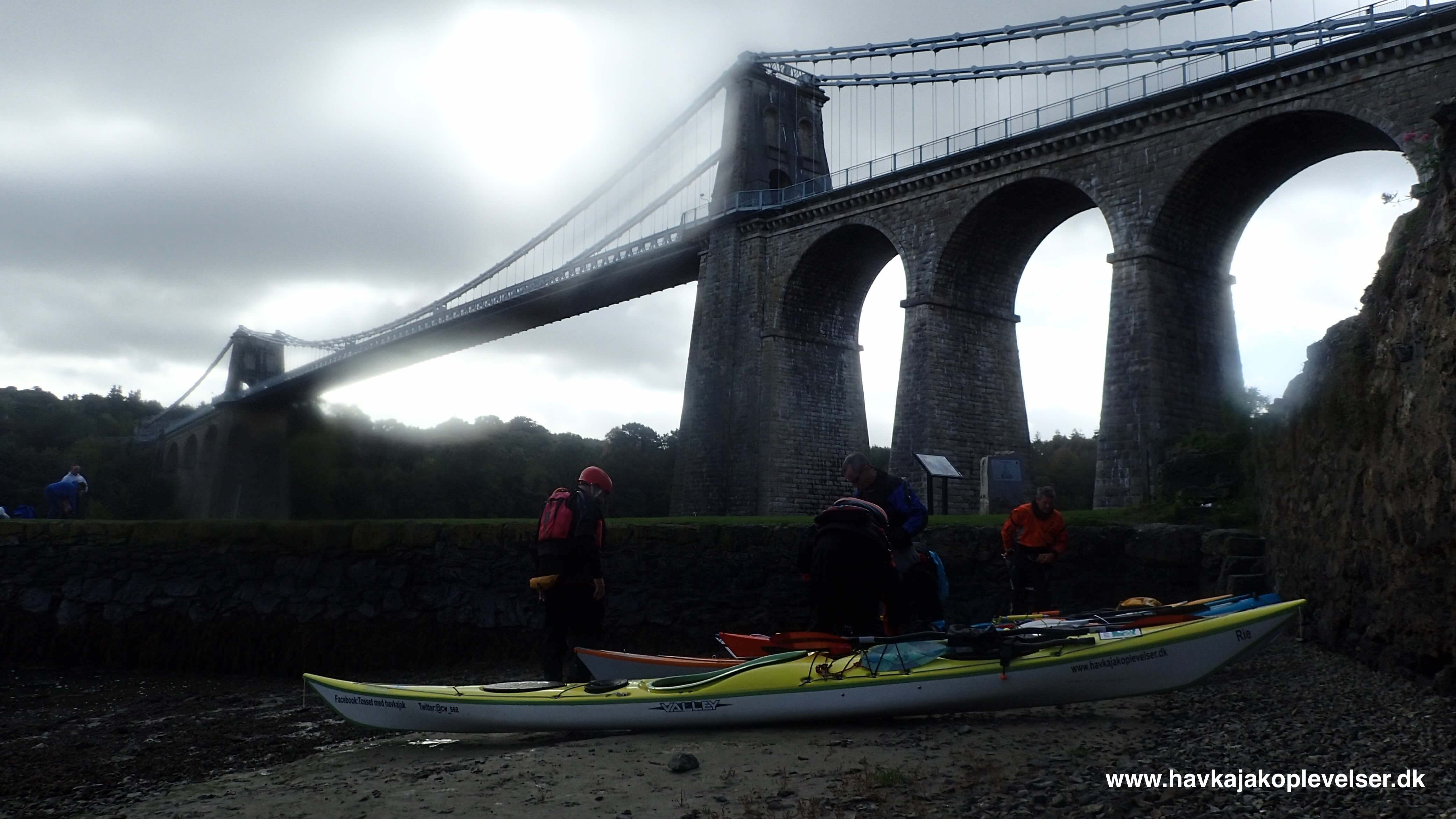 - Tid til frokost ved den smukke Menai bro.
- Time for lunch at the beautiful Menai bridge.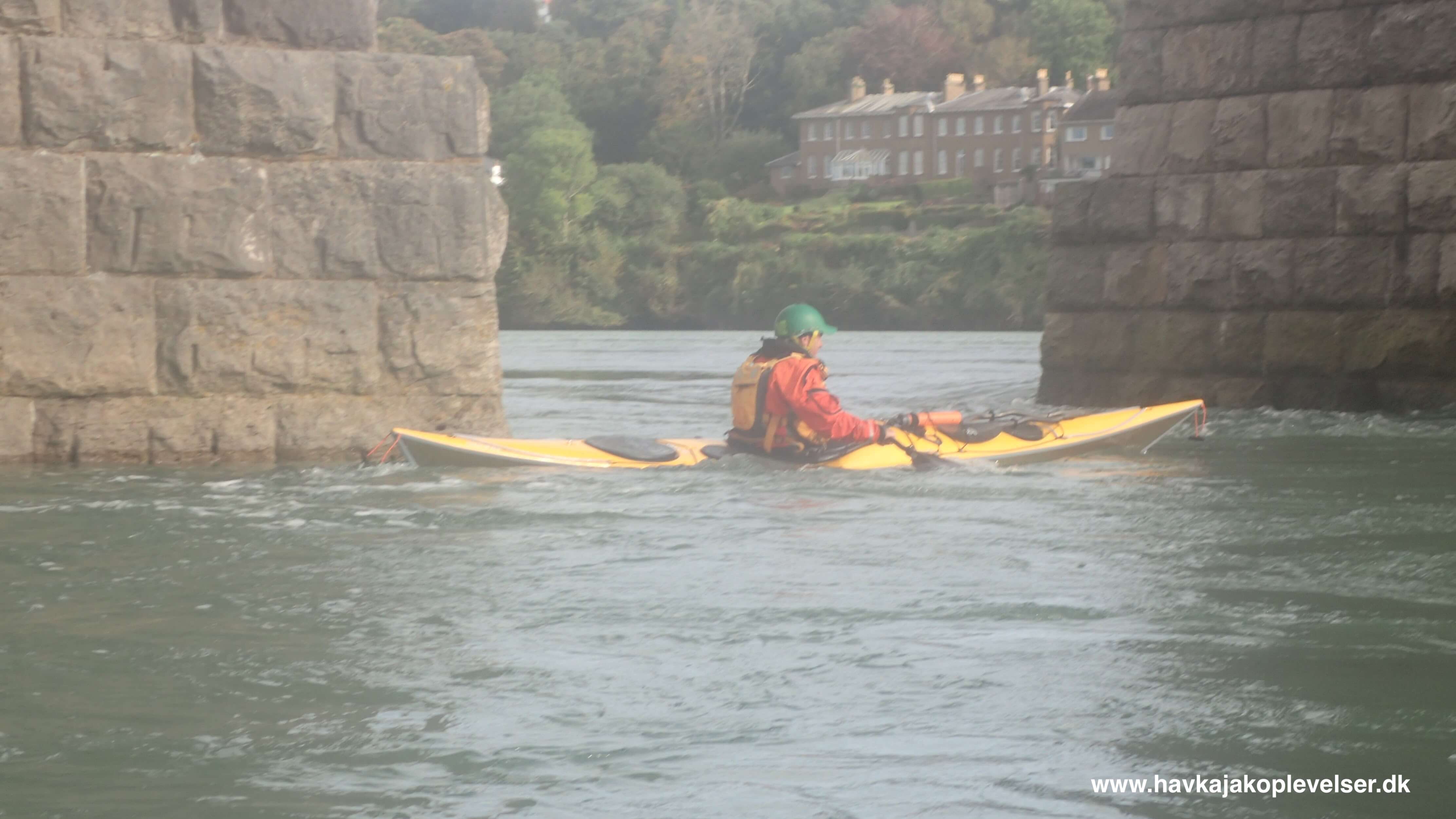 - Tilbage på vandet samtidig med tidevand og strøm tager til.
- Back on the water at the same time as the tide and the flow increases.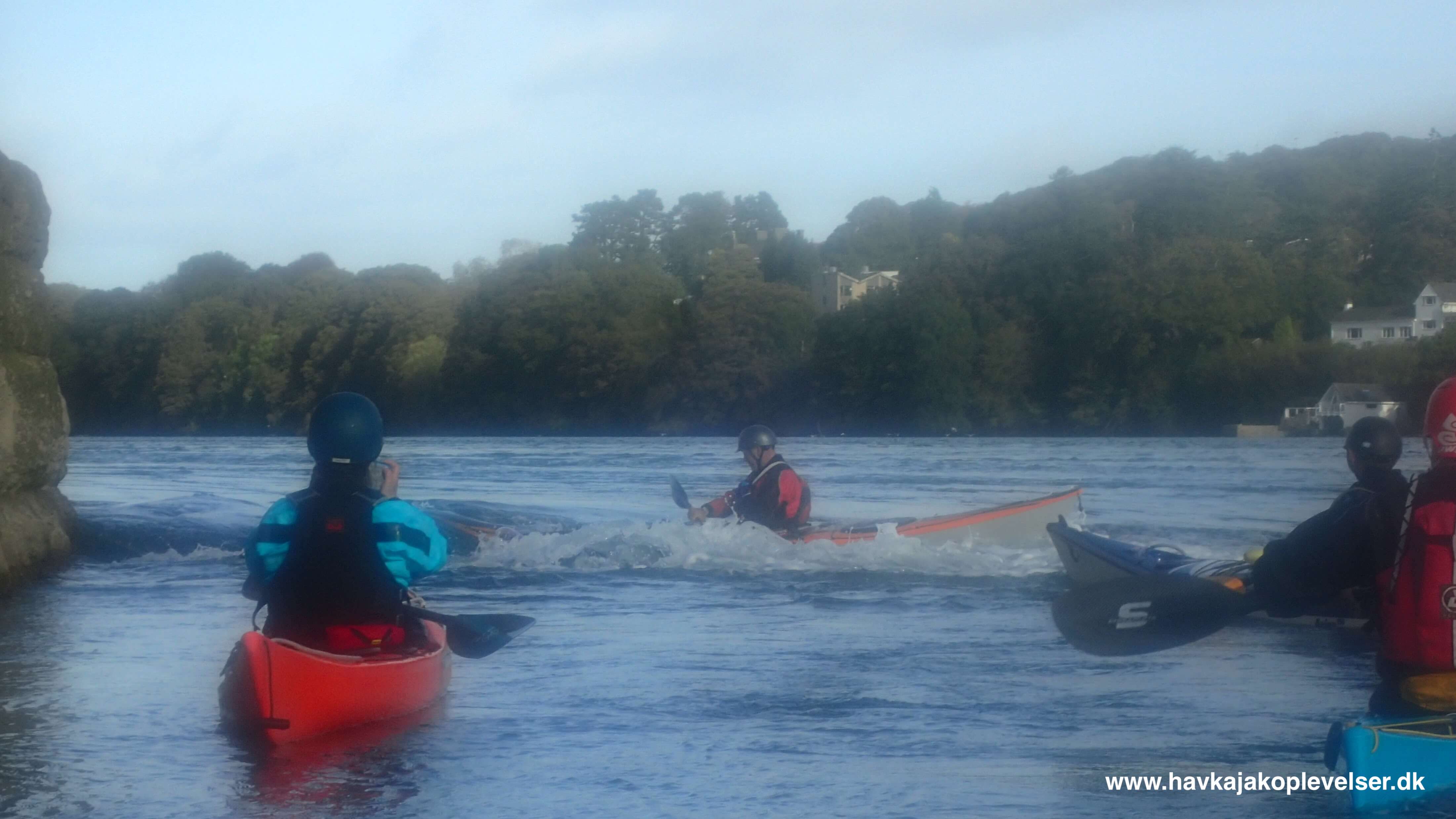 - Omkring bropillerne begynder strømmen at lave en " stående bølge " - Bemærk højdeforskellen på vandet ved kajakken og bropillen.
- Around the bridge pillar, the flow begins to make a "standing wave" - Notice the height difference of the water at the kayak and the bridge pillar.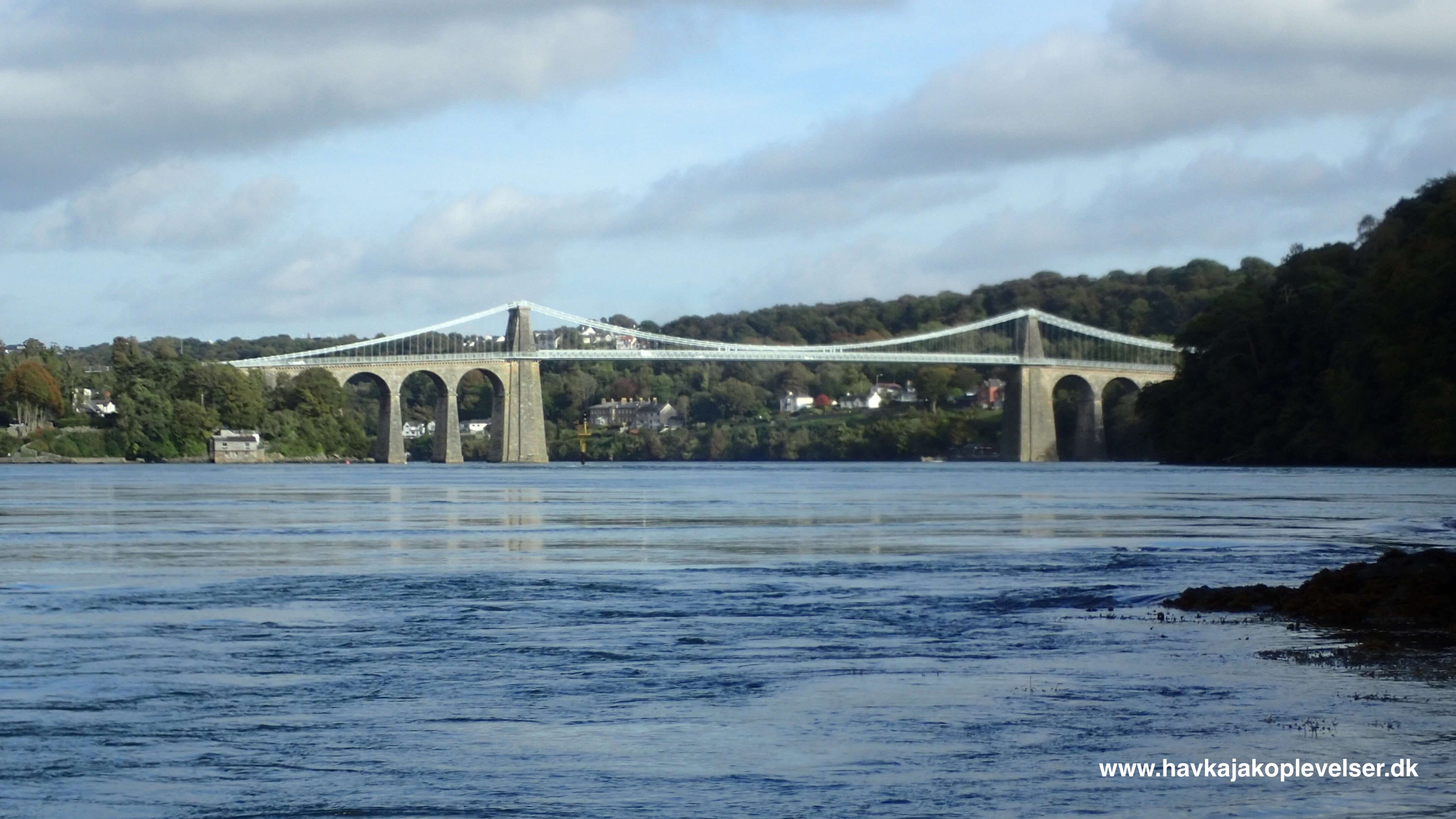 - Vi ligger Menai bridge bag os og følger strømmen ned mod The Swellies.
- We leave Menai bridge and follow the flow down towards The Swellies.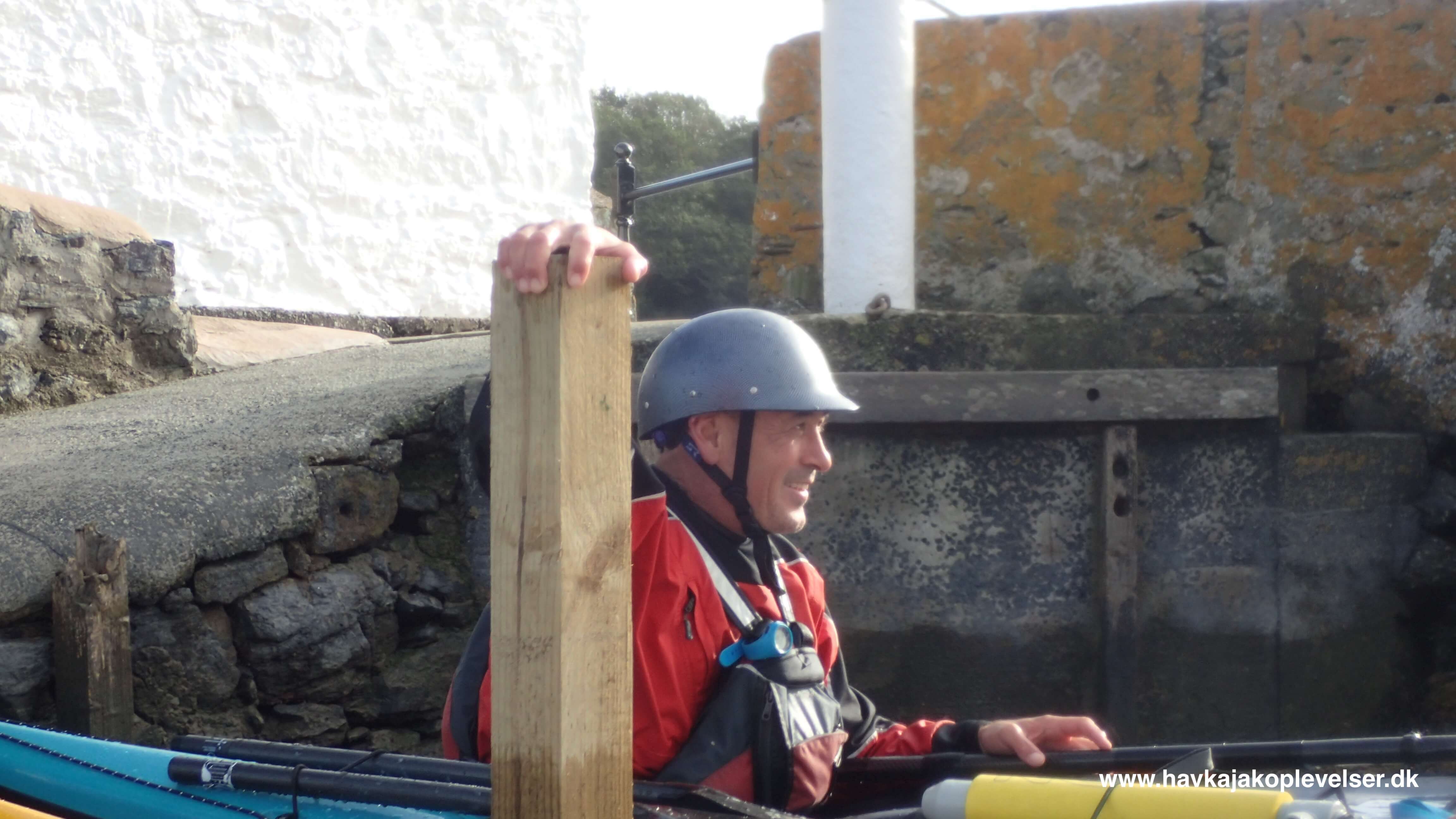 - Nick Cunliffe giver teori, demonstration og feedback på de forskellige teknikker vi arbejder med.
- Nick Cunliffe talks about theory, demonstration and feedback on the different techniques we work with.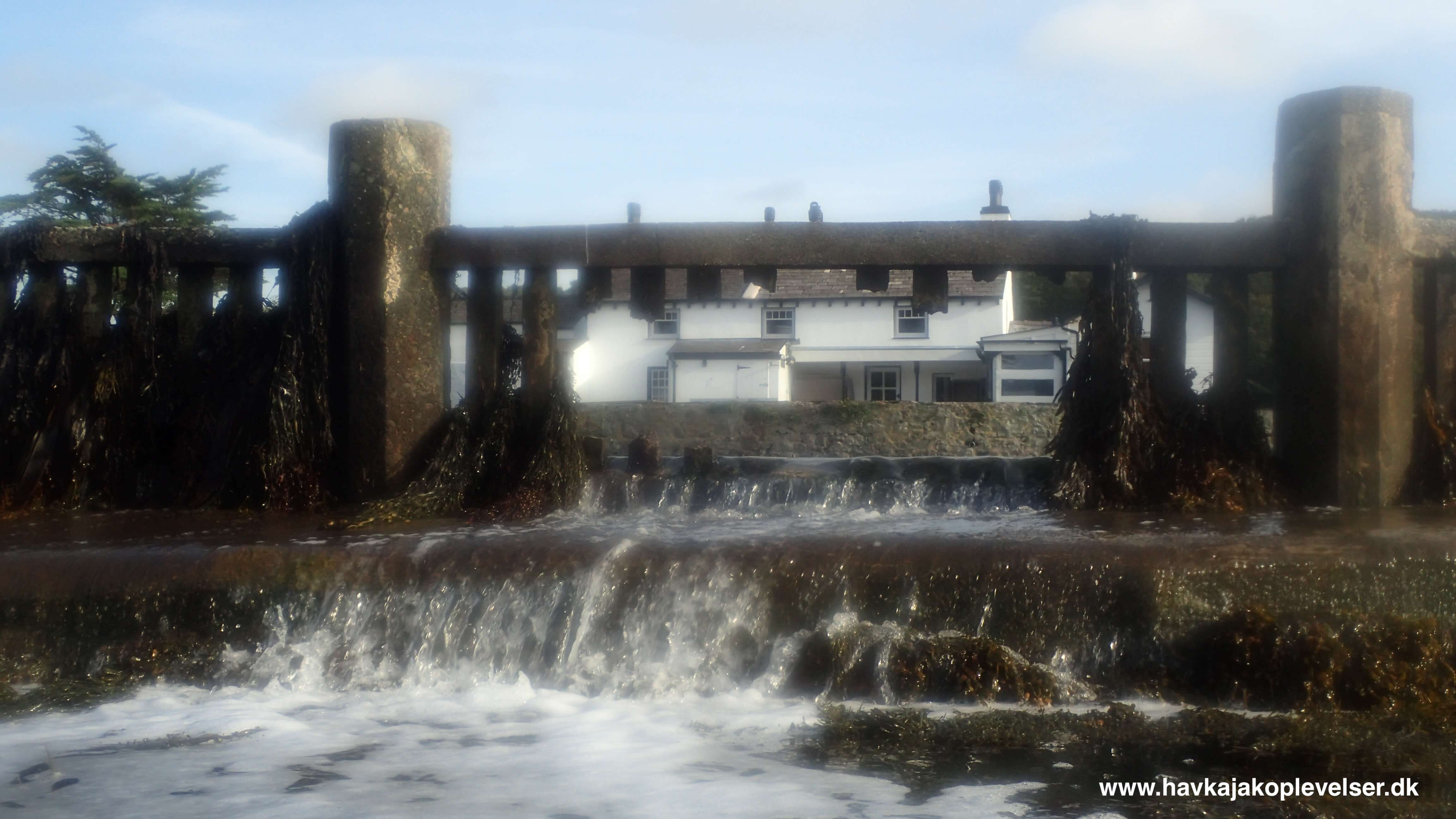 - Nick fortæller også lidt om øens historie - den indeholder både en lille "færge" sejlede folk frem og tilbage, og historier om lystige damer og selskaber der måske ikke altid var som kirken prædked
- Nick also tells a bit about the history of the island - it contains both a small "ferry" sailing people back and forth, and stories about cheerful ladies and companies that may not always have been as the church preached.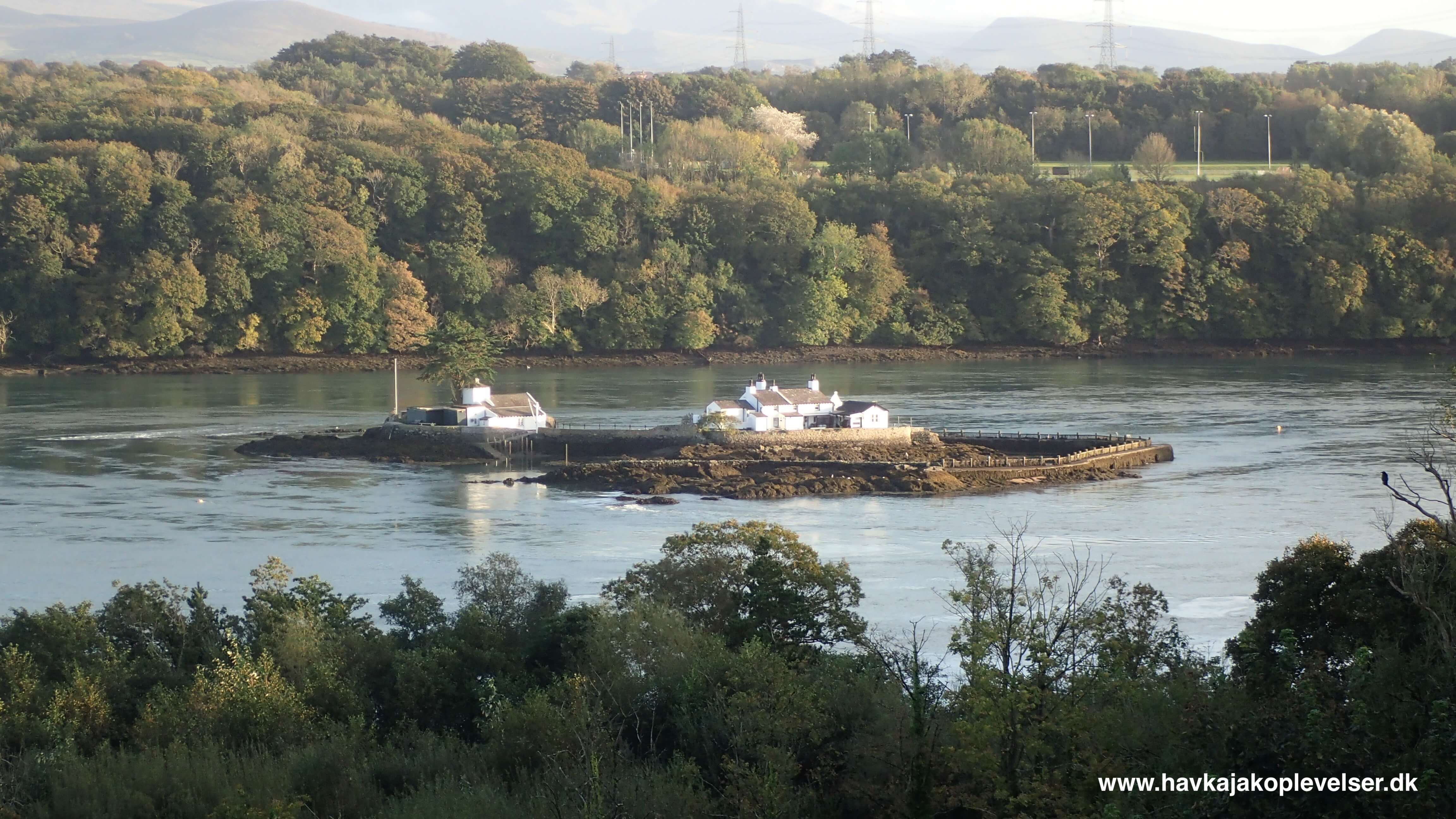 - En spændende og lærerig dag slutter da vi på vej tilbage til Outdoorcenteret køre op til et udsigtspunkt samtidig med The Swellies og Menai bridge bades i dagens sene sol.
- An exciting and educational day ends as we on our way back to the Outdoor Center drive up to a vantage point while The Swellies and Menai bridge bathe in the late sun of the day.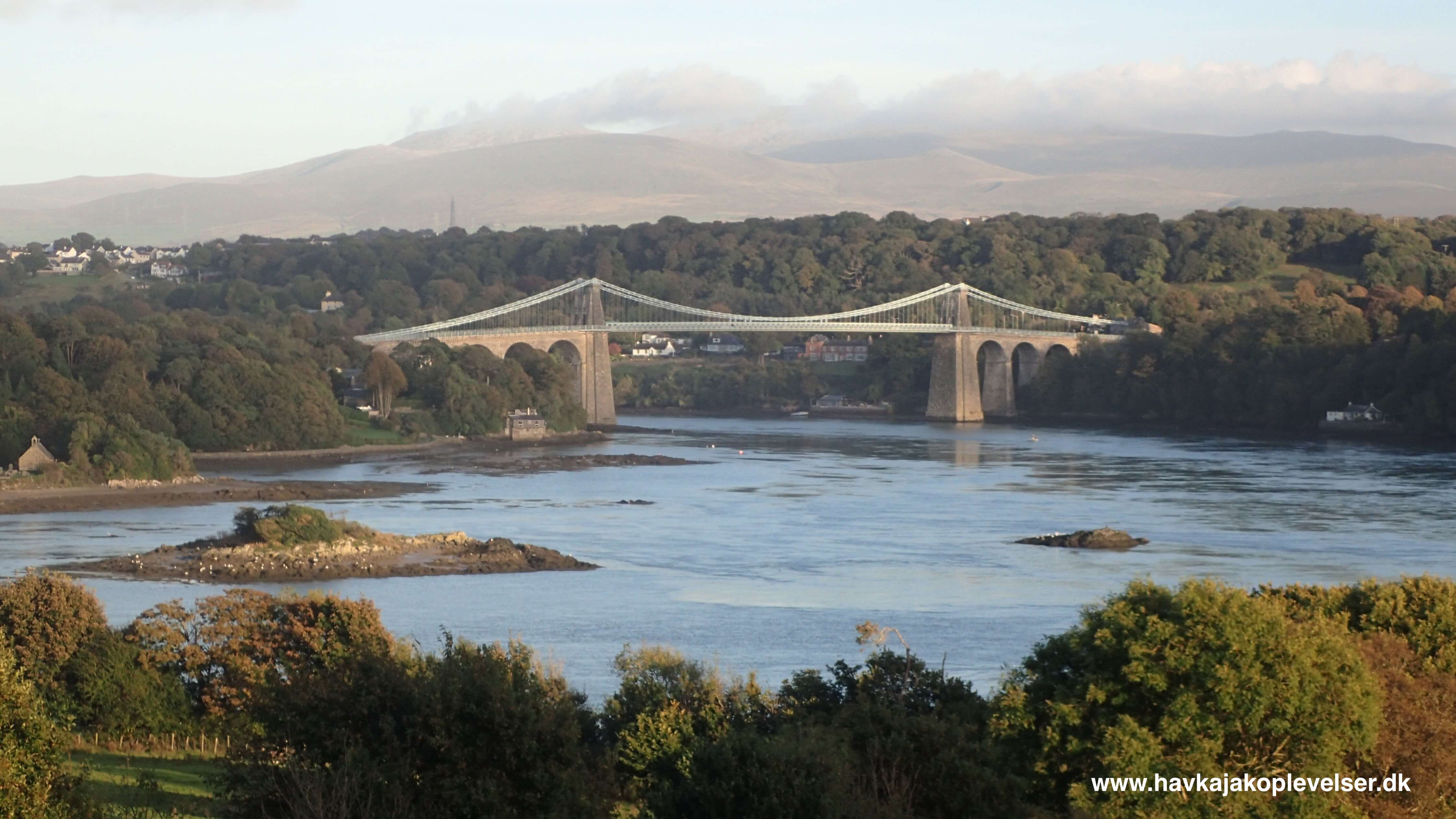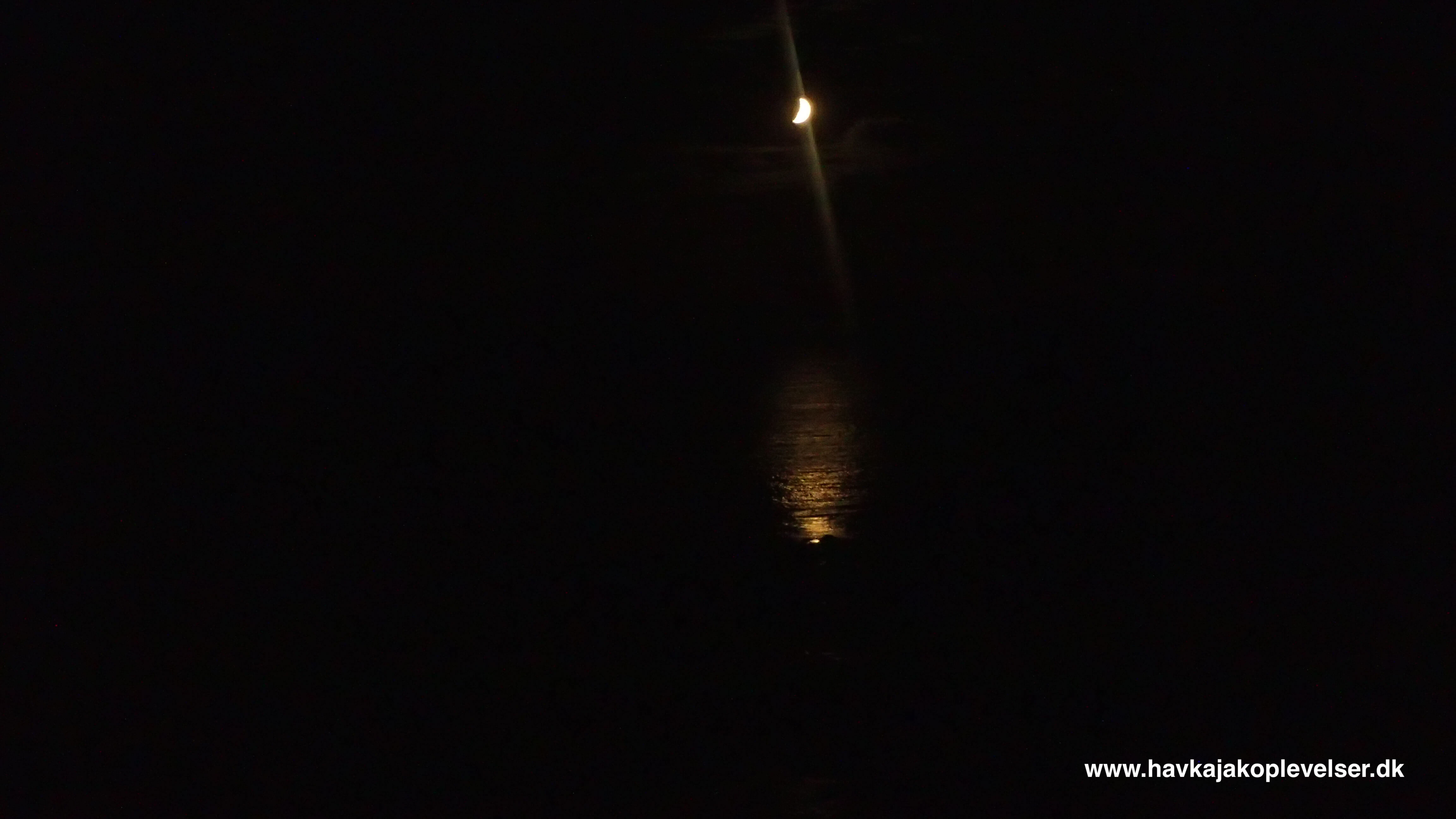 - Tilbage på Outdoorcenteret bliver det våde rotøj hængt til tørre i tørrerummet, dagens indtryk vendes ved eftermiddags kaffen og aftensmaden. Det bliver til en kort aftentur i månes skær ned til vandet inden vi godt brugte går til ro, fulde af indtryk og samtidig spændt på hvad morgendagen vil bringe.
- Back at the Outdoor Center, the wet clothes are hung to dry in the drying room, the day's experiences are talked through at the afternoon coffee and dinner. The evening ends with a short walk in the moonlight to the water before we well used, go to bed, full of impressions, and at the same time excited about what tomorrow will bring.
Venlig Hilsen / Best Regards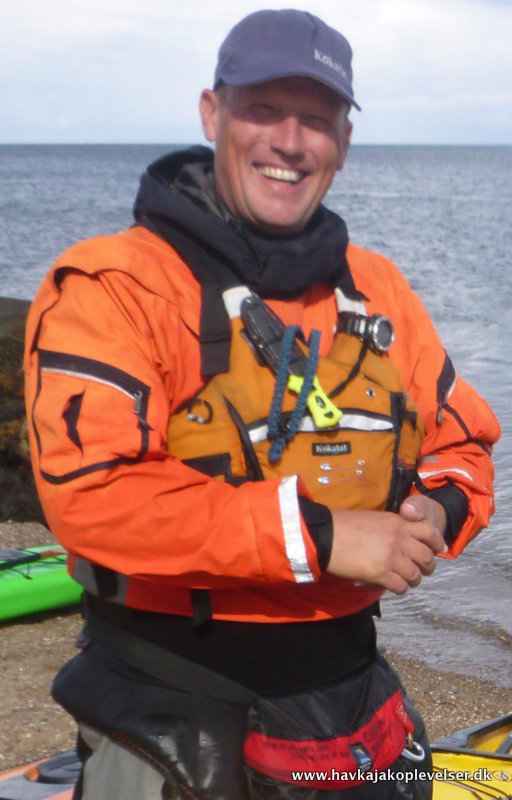 Christian Wiegand
Facebook: Tosset med havkajak / Mad about sea kayak
Instagram: cwseakayaking
#comevisitdenmarkforapaddle
Twitter: @cw_sea