2018-03-04 Dagstur rundt om Kullen, Sverige / Daypaddle along Kullen, Sweden
Danish / English:
- Søndagens plan var en dagstur i Sverige, sammen med to gode kajakvenner fra Nordjylland og en herhjemme fra, langs Kullens klippekyst. De sidste mange dage havde det været hård frost, så vi ville se hvordan kystlinien tog sig ud med is.
- Sunday's plan was a day trip in Sweden, along with two good kayak friends from North Jutland and a local friend, along the Kullens rocky coastline. For the last few days it had been a lot of frost so we wanted to see how the coastline looked with ice.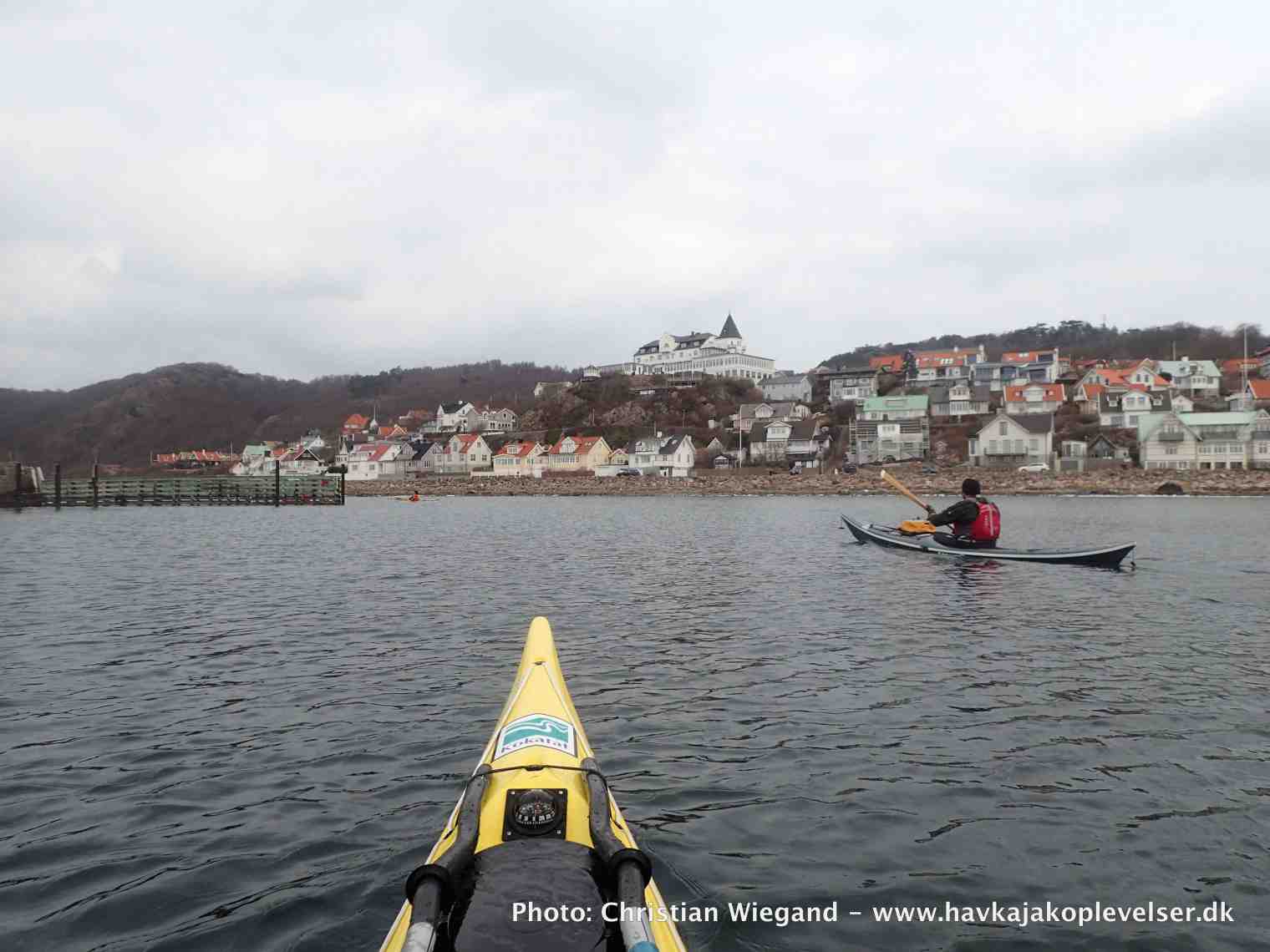 - Bilerne blev parkeret i Mölle havn hvorfra vi også gik på vandet. Om sommeren summer hele havnen og området af liv, her først i marts var der næsten ingen liv på havnen.
- The cars was parked at Mölle harbor, from where we also launched. In the summertime the harbor and the area is buzzing with people, boats etc., here in March there was almost no one at the harbor.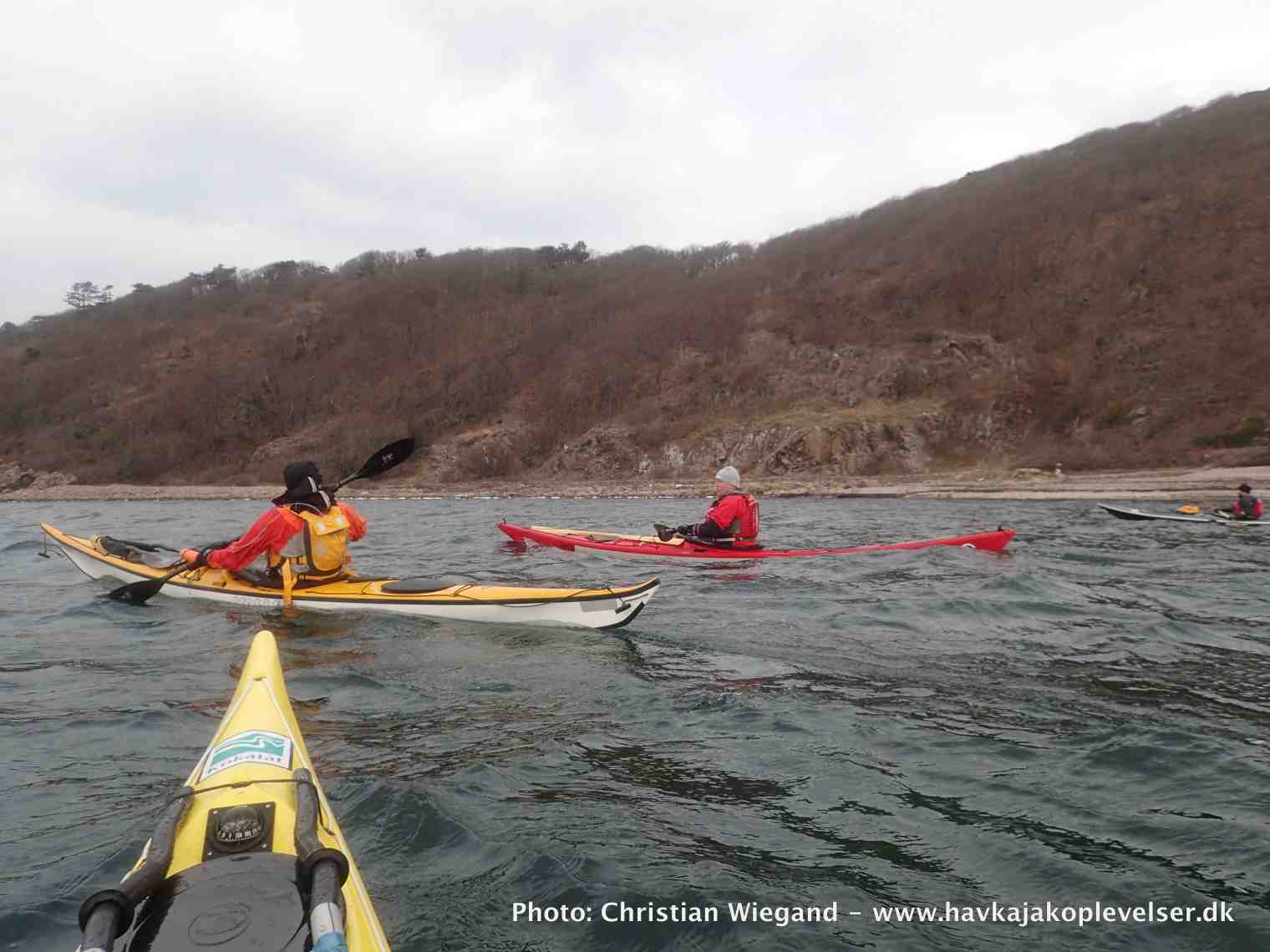 - Ganske kort fra Mölle havn begynder Kullen at rejse sig op af vandet.
- Not far from Mölle harbor, the rocks begin to rise from the water.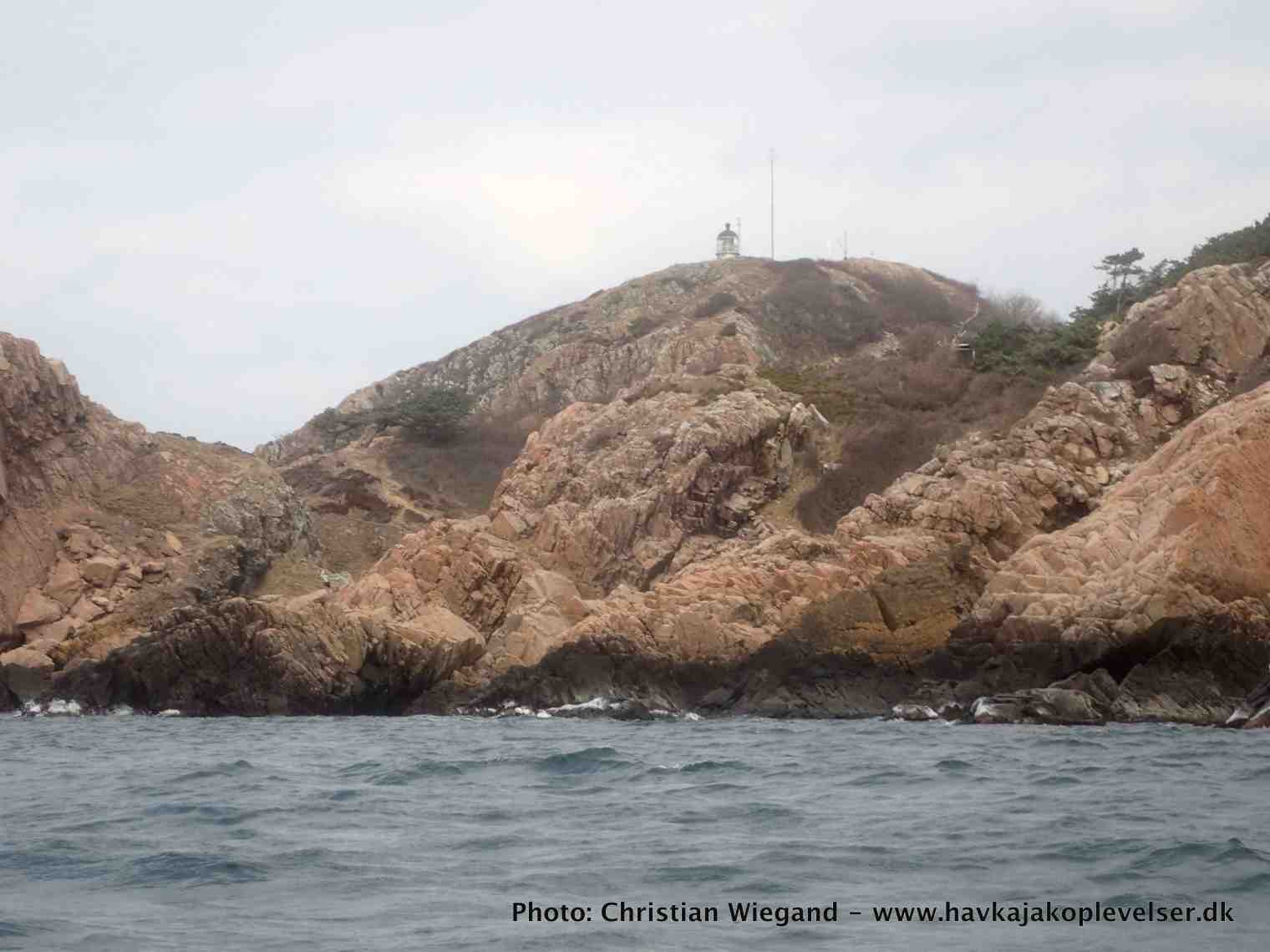 - Det første kig fra sydsiden af Kullen til fyrtårnet. Samtidig begyndte jeg at blive spændt på om der ville være noget is på klipperne når vi kom rundt om pynten og om på nordsiden.
- The first look to the lighthouse from the south side of Kullen. At the same time, I began to wonder if there would be any ice on the rocks when we came around the head land and on the north side.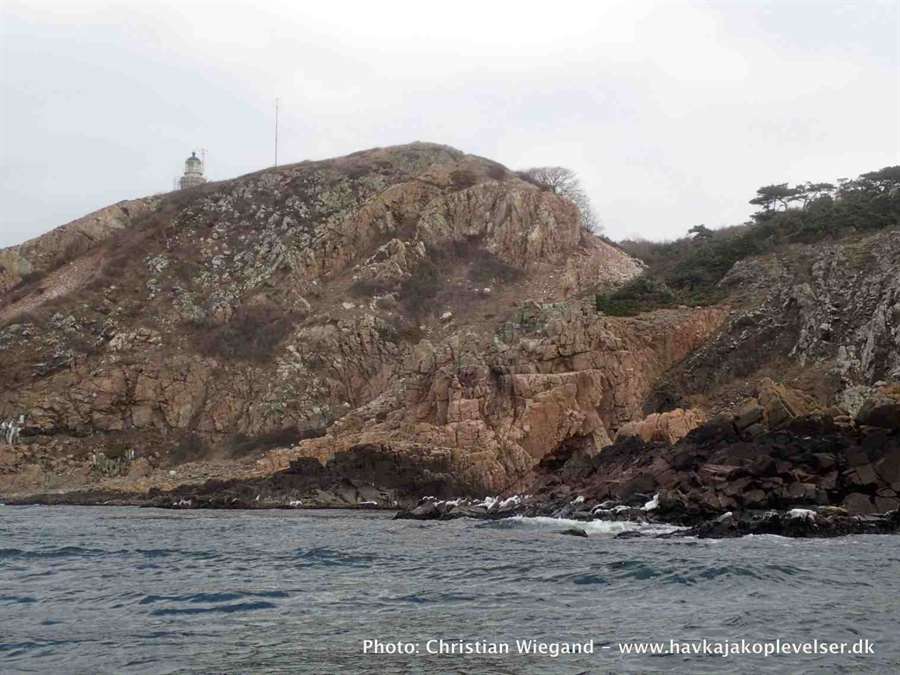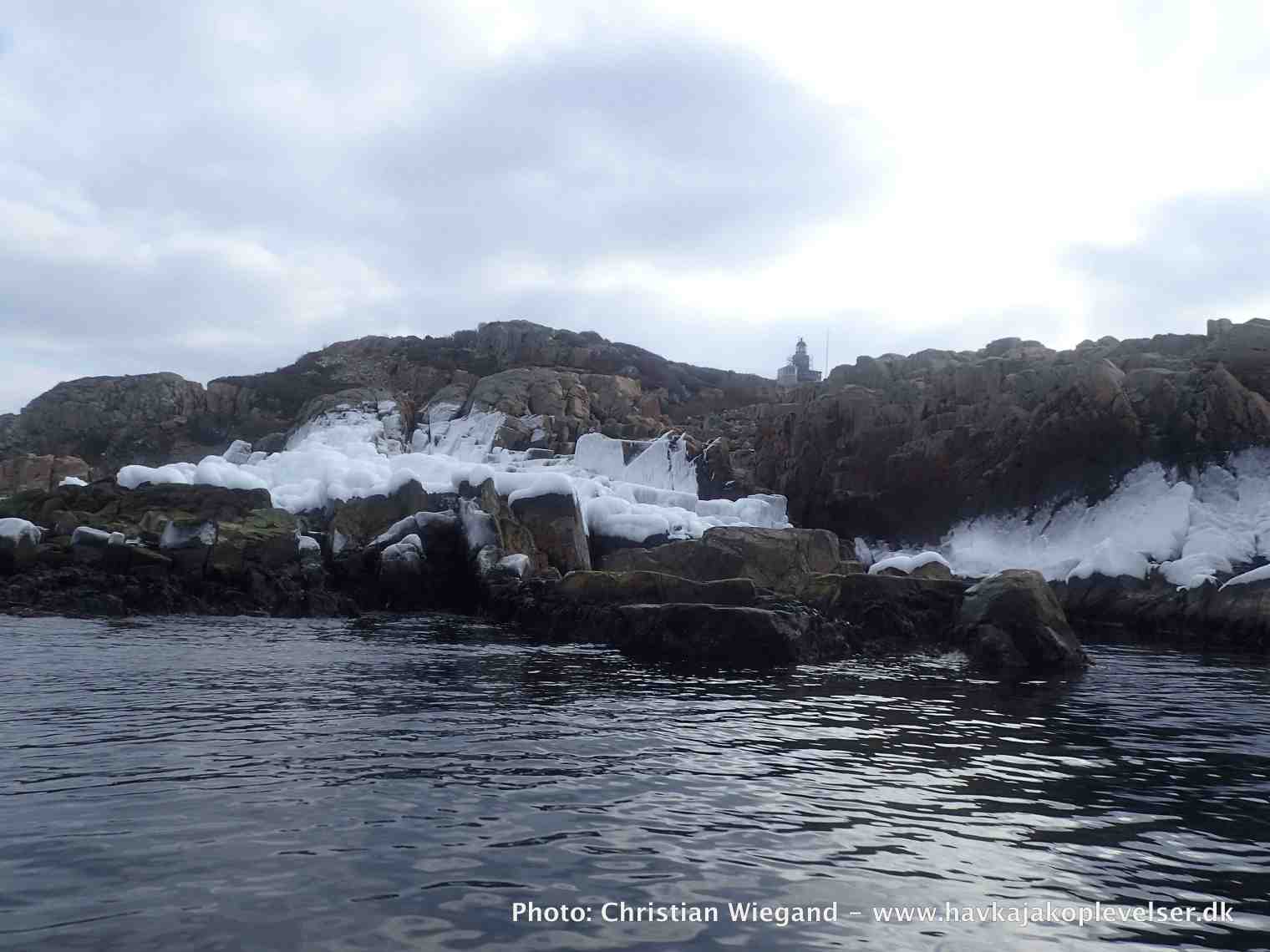 - Det østligste punkt på Kullen - og straks er der is på klipperne.
- The eastern point on Kullen - and immediately there is ice on the rocks.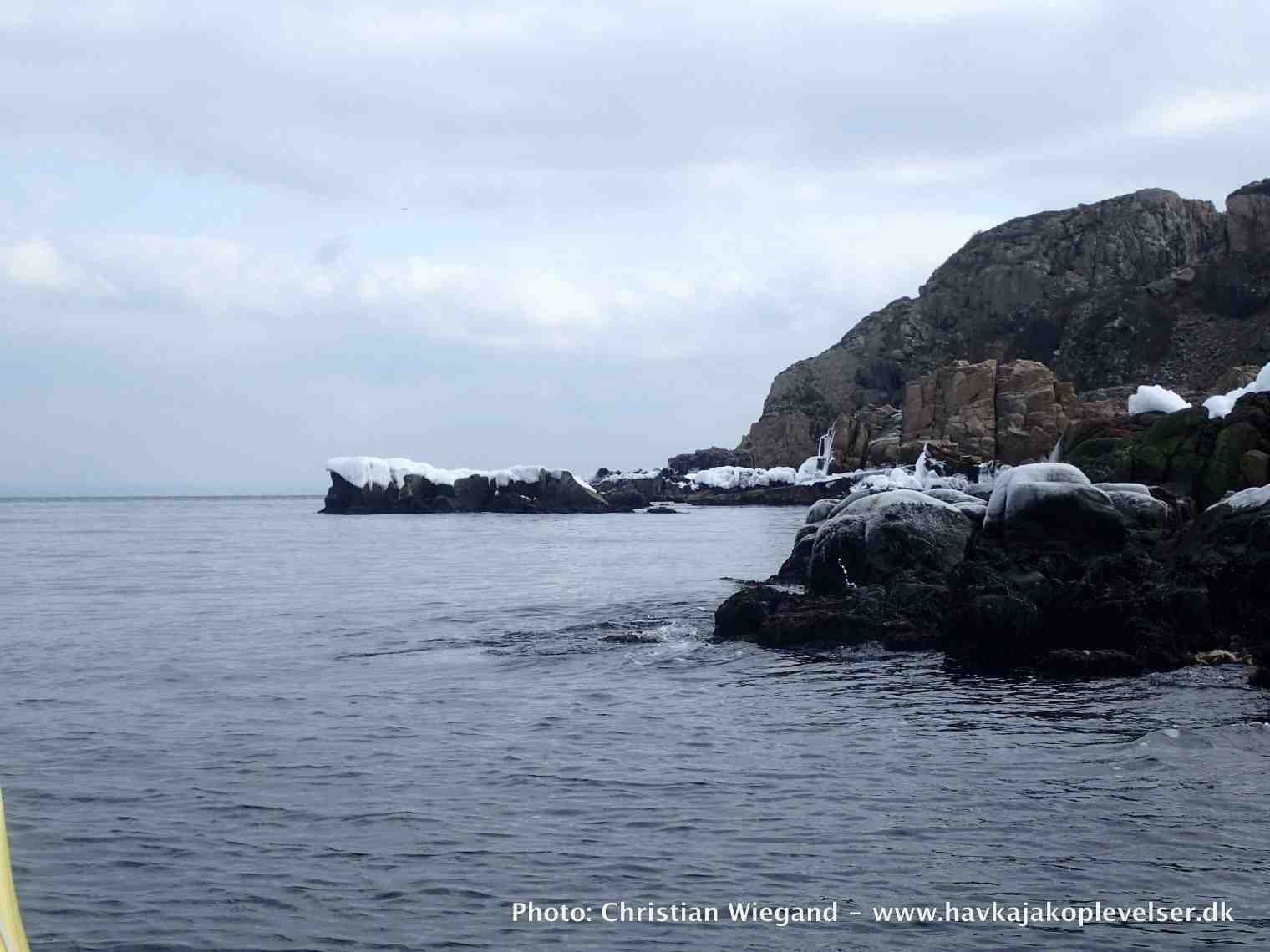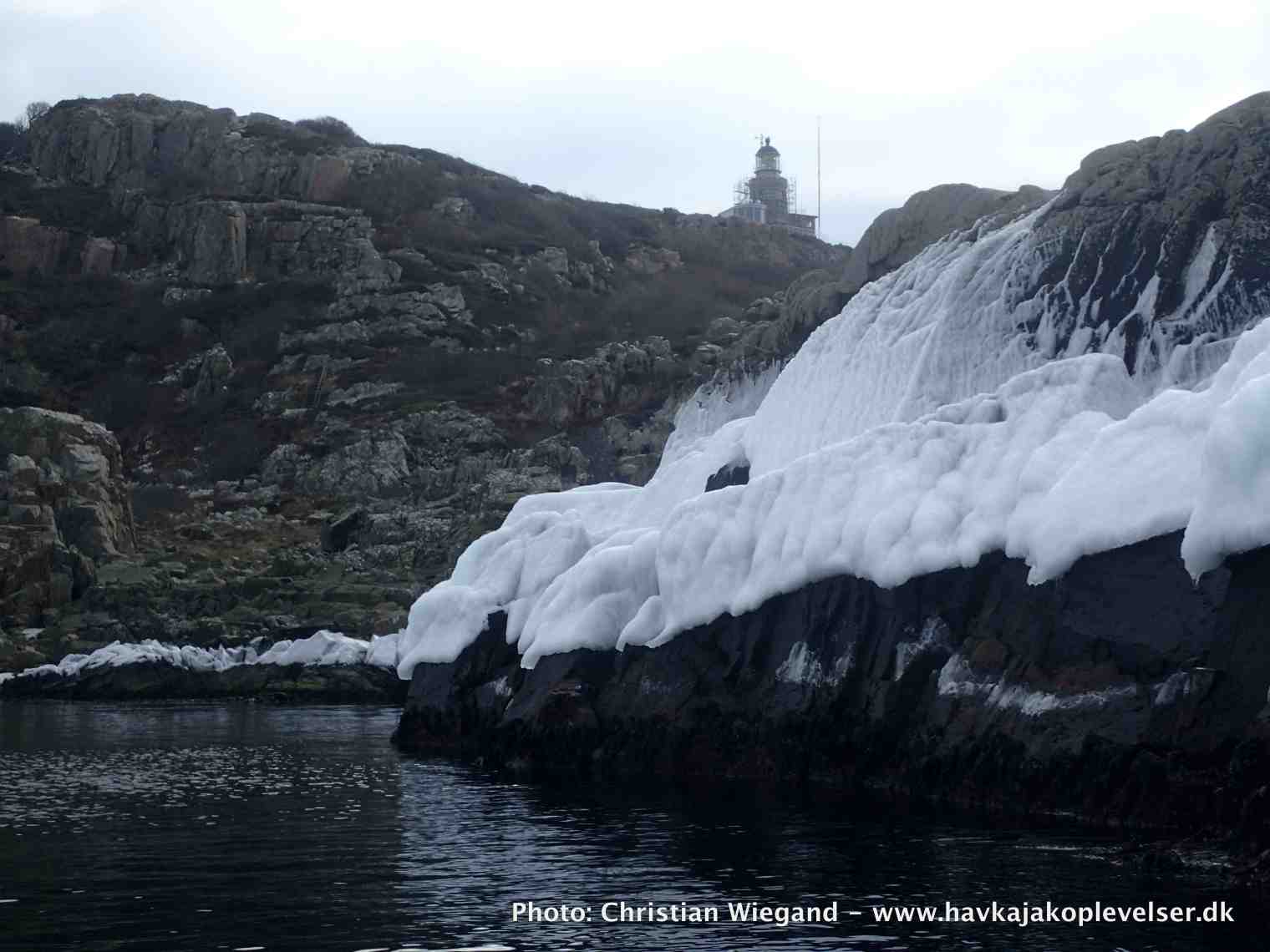 - Isen på klipperne giver et noget anderledes kig op til fyrtårnet.
- The ice on the rocks gives a slightly different look up to the lighthouse.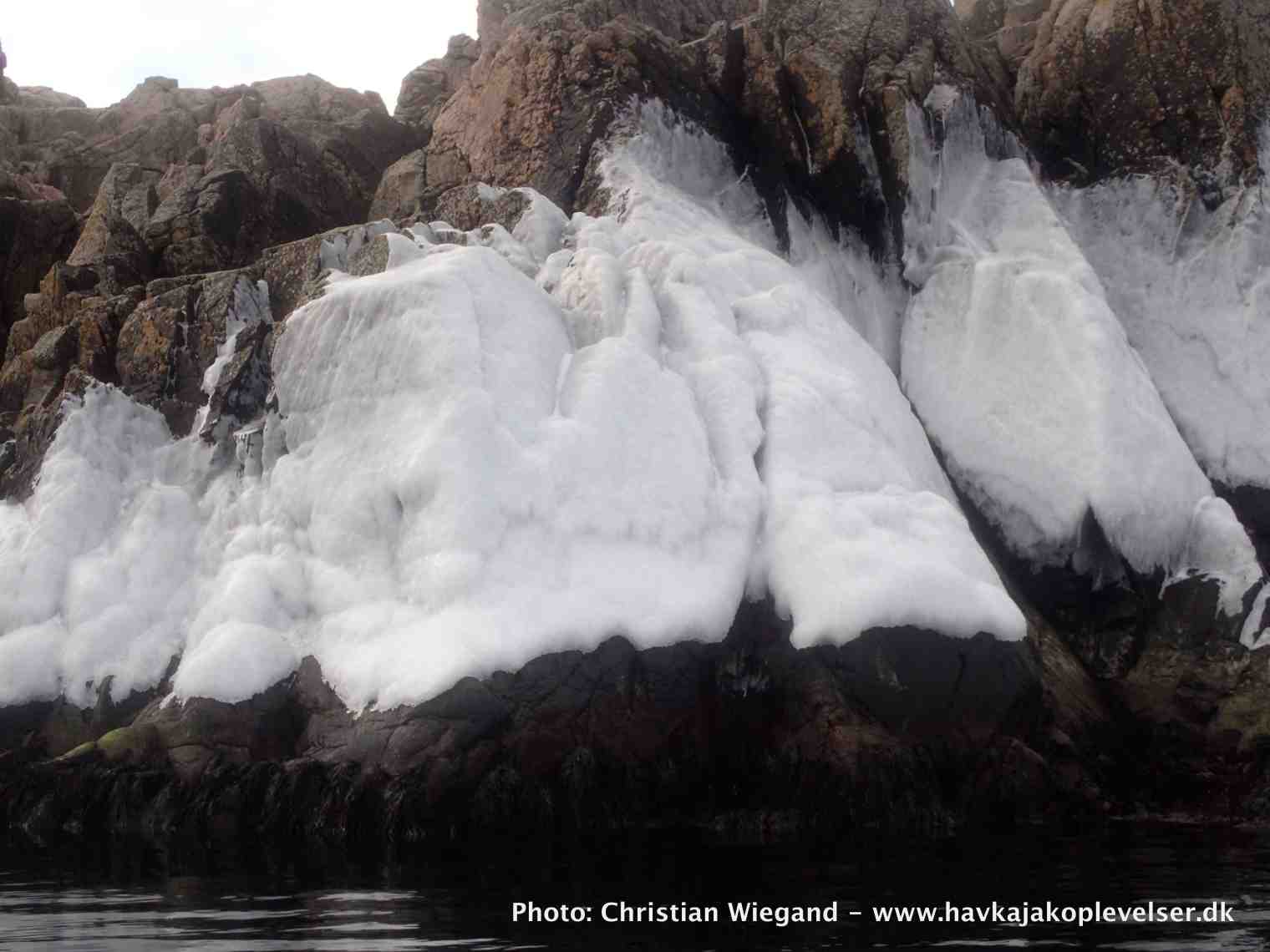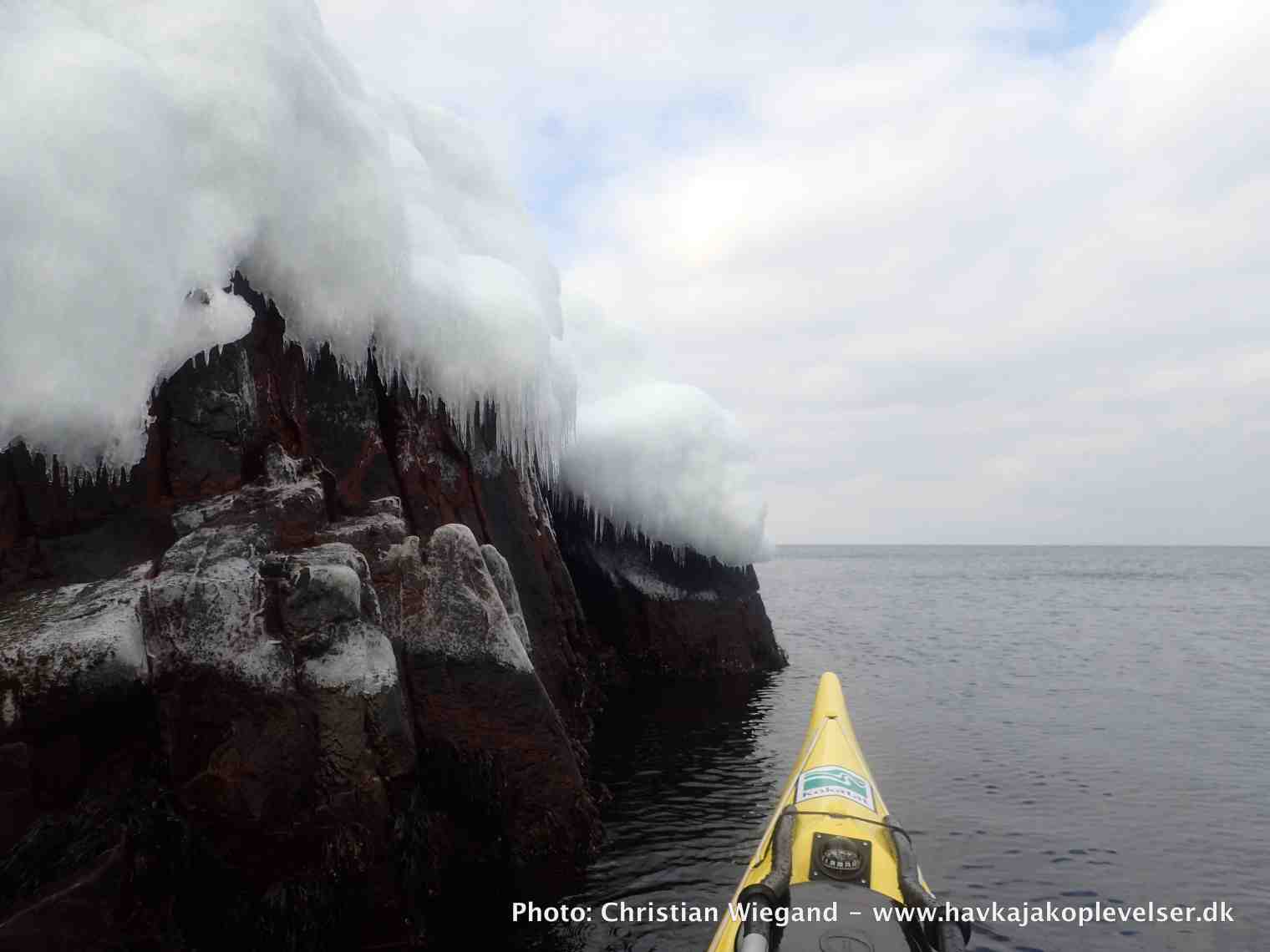 - Isen på klipperne her, er et noget anderledes sceneri i forhold til det vi så dagen før ved Hallands Väederö - beretning herfra på link:
http://www.havkajakoplevelser.dk/christians-blog/248-2018-03-03-dagstur-ved-hallands-vaederoe-sverige-day-paddle-around-hallands-vaederoe-sweden
- The ice on the rocks here is a very different scenery, compared to the one the day before, at Hallands Väederö - report from here on link:
http://www.havkajakoplevelser.dk/christians-blog/248-2018-03-03-dagstur-ved-hallands-vaederoe-sverige-day-paddle-around-hallands-vaederoe-sweden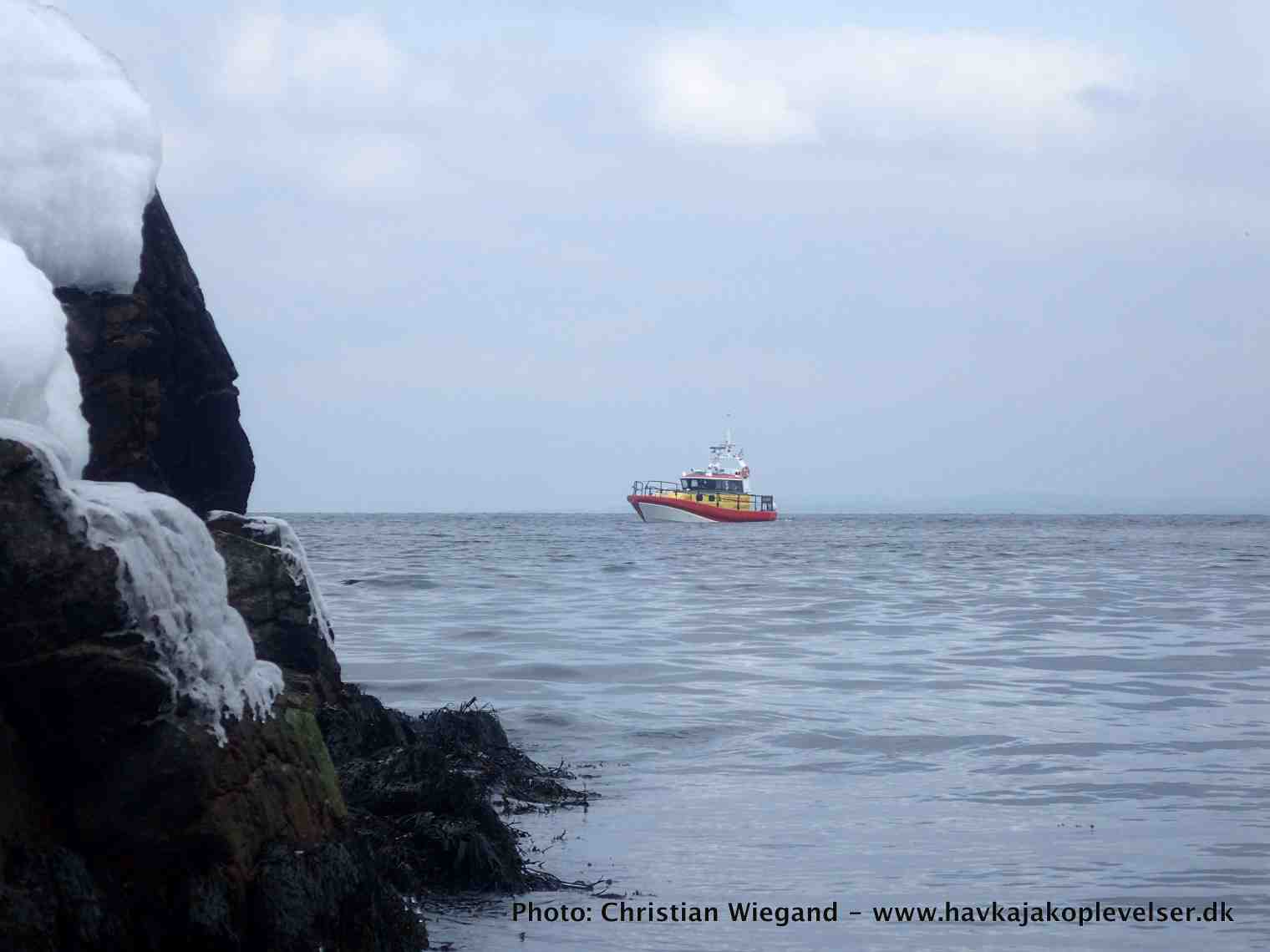 - Fra en af de mange rock gardens, ser vi en SAR-båd patruljere langs nordsiden.
- From one of the many rock gardens, we see a SAR boat patrolling the north side.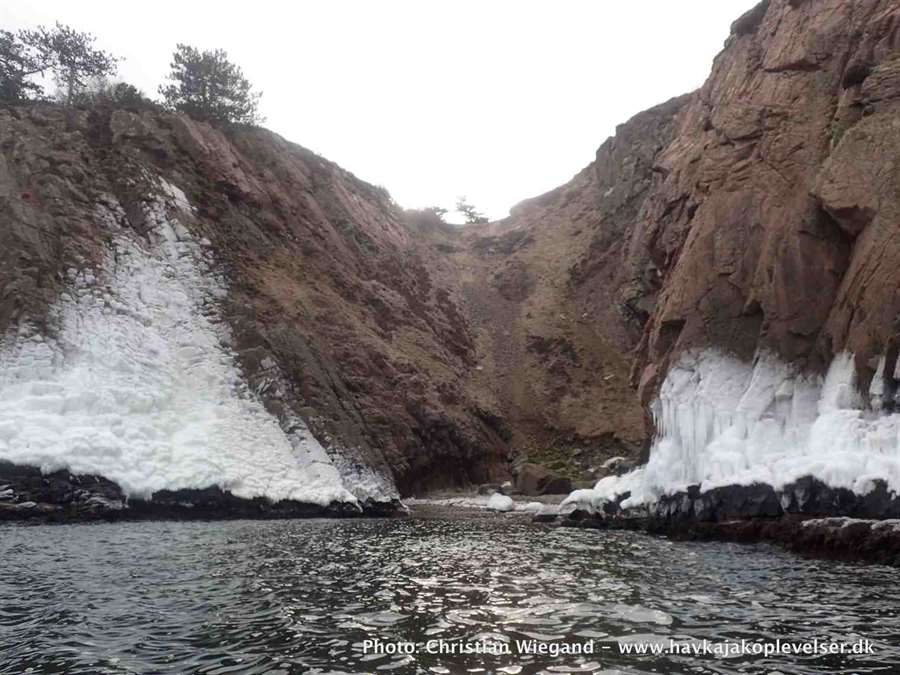 - Kløften ser på dagen noget anderledes ud, i forhold til da jeg spiste frokost en varm sommerdag.
- The gap looks quite different from the hot summer day when I had lunch.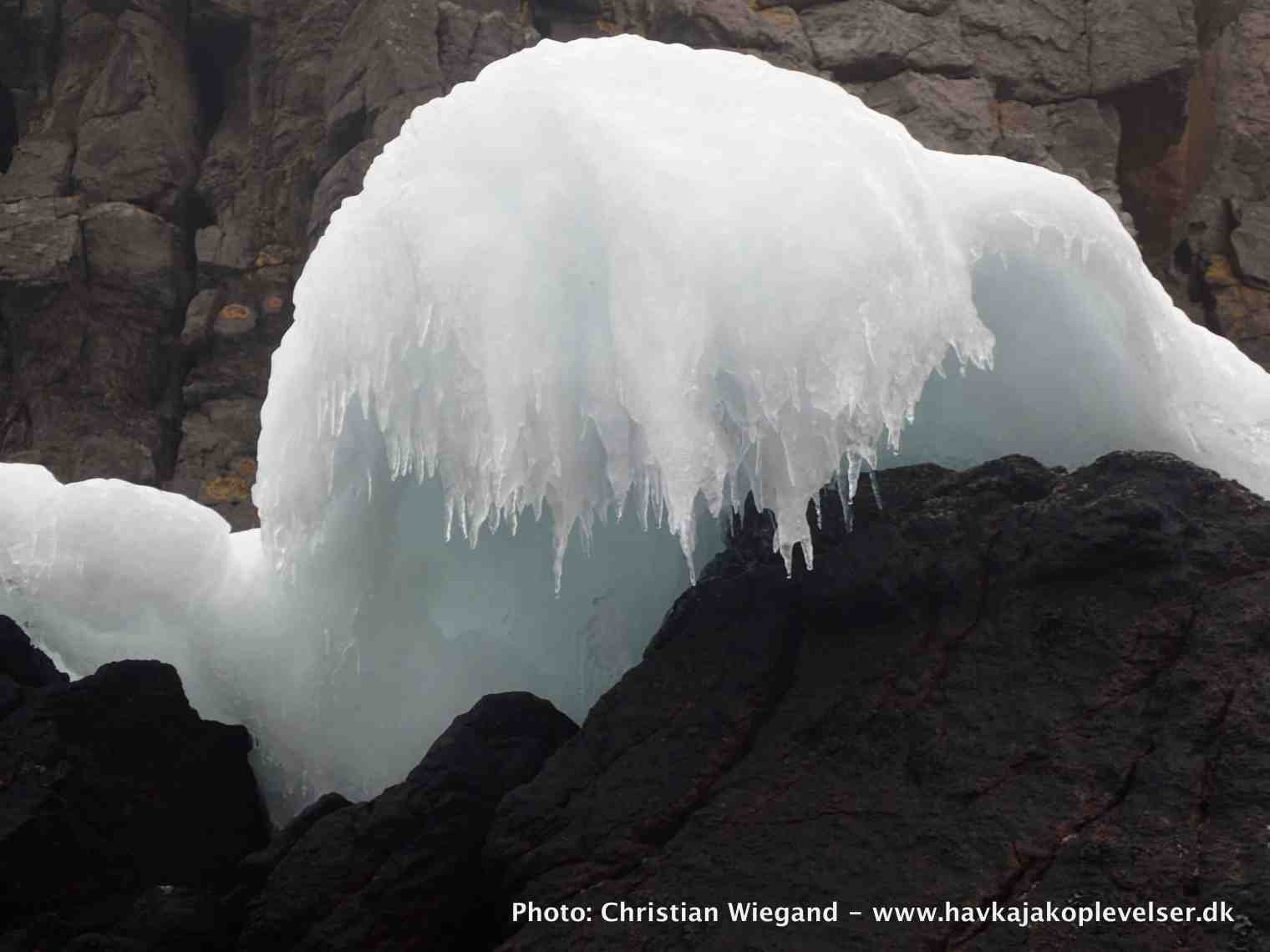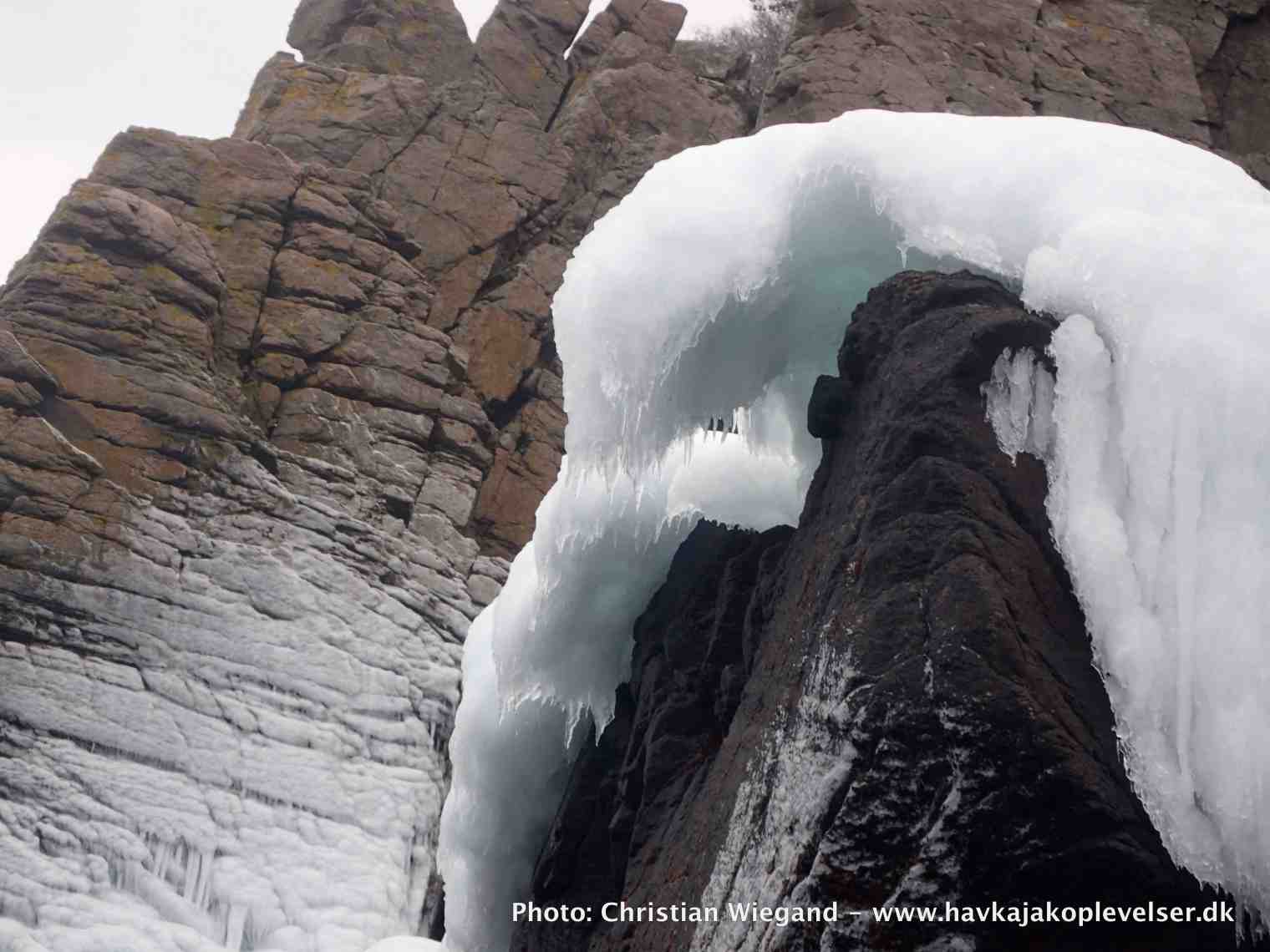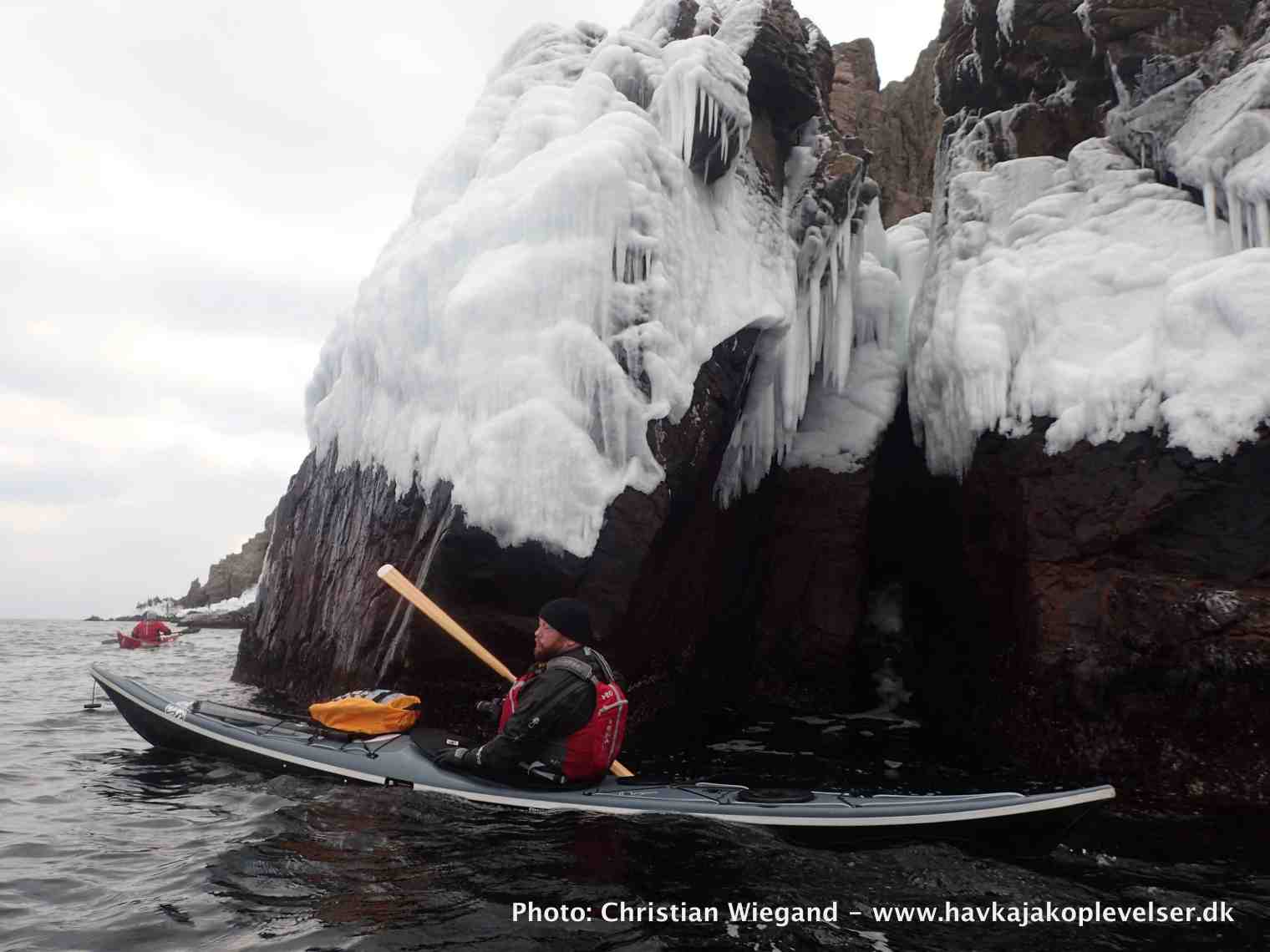 - Vi holder os helt inde under klipperne og nyder det sjældne syn.
- We stay very close to the rocks and enjoy the rare sight.
- Små frosne " vandfald ".
- Small frozen "waterfall".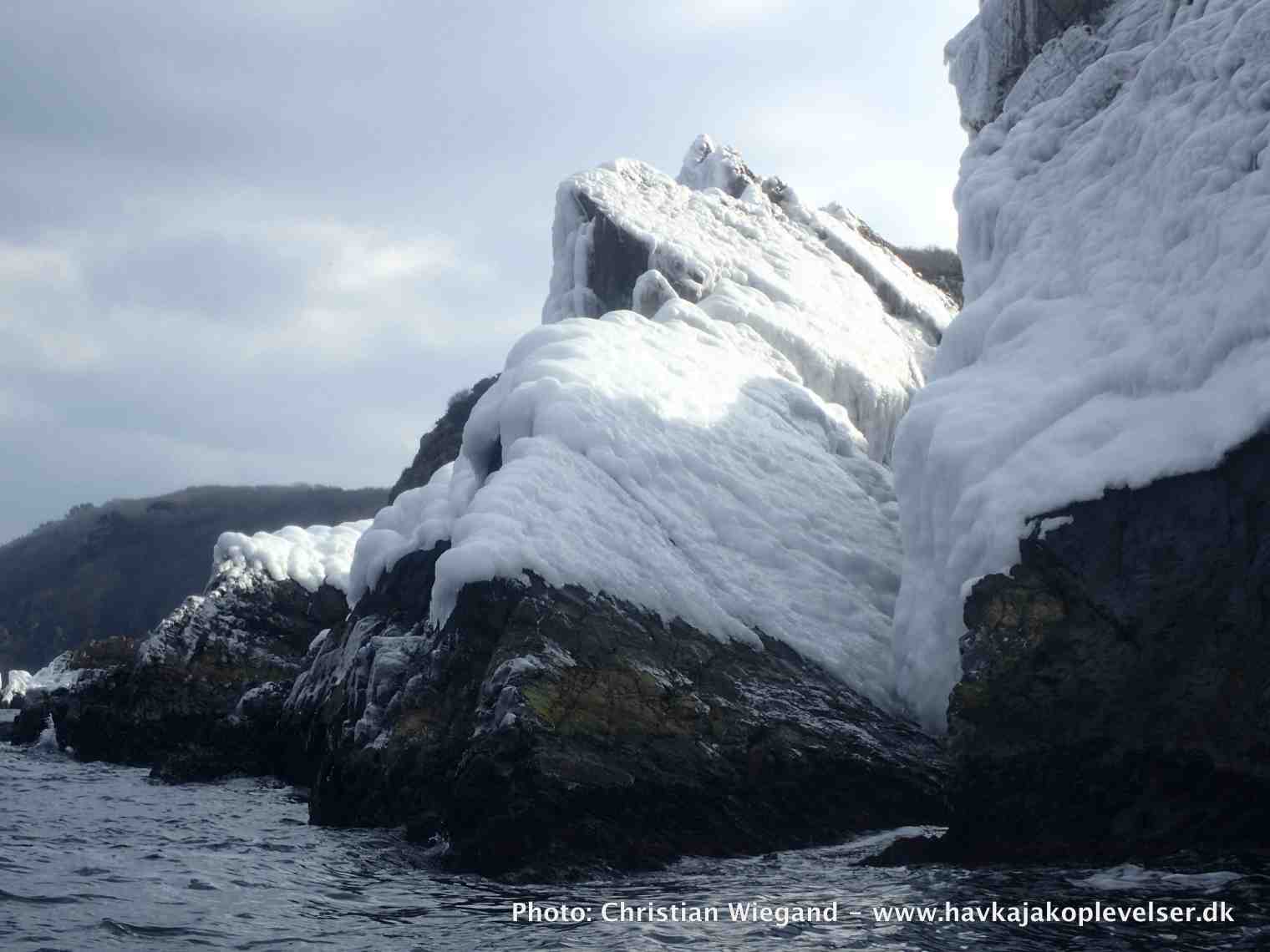 - Kig mod øst og Nimes, på Kullens nordkyst.
- Looking east, and towards Nimes, on the north coast of Kullen.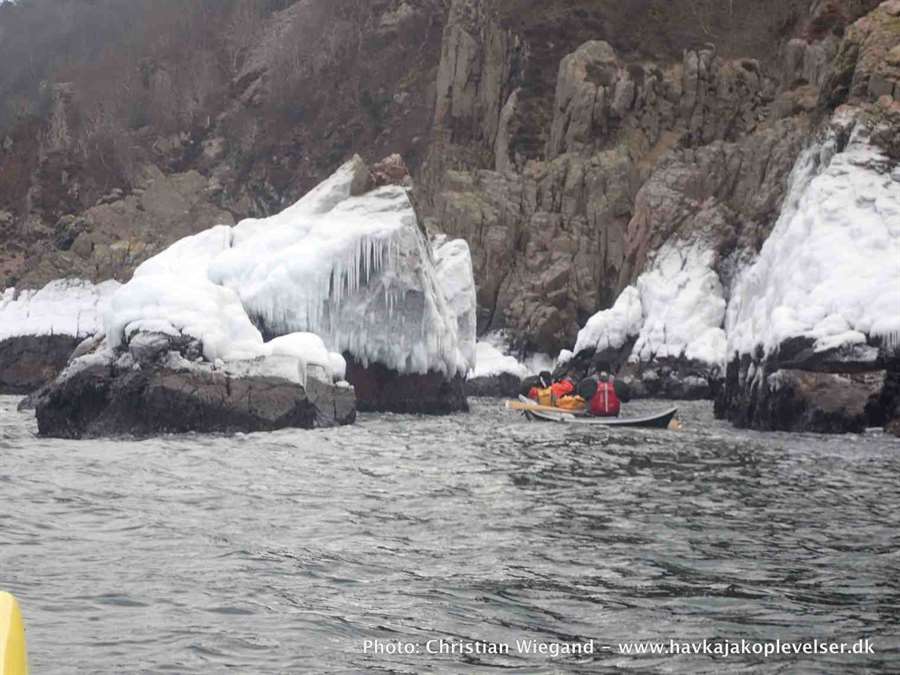 - Endnu en af mange rockgardens.
- Another one of many rock gardens.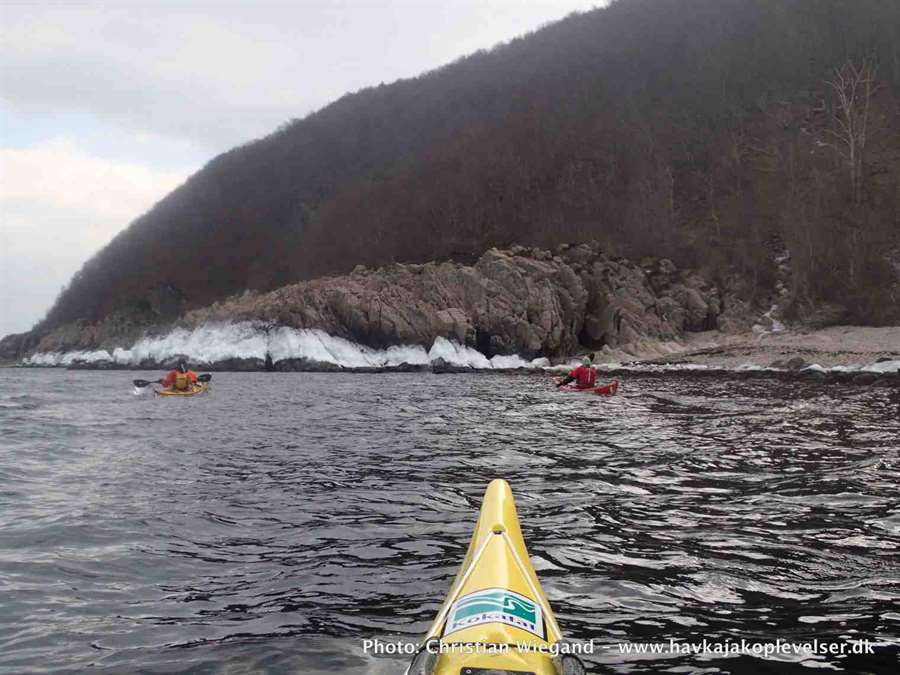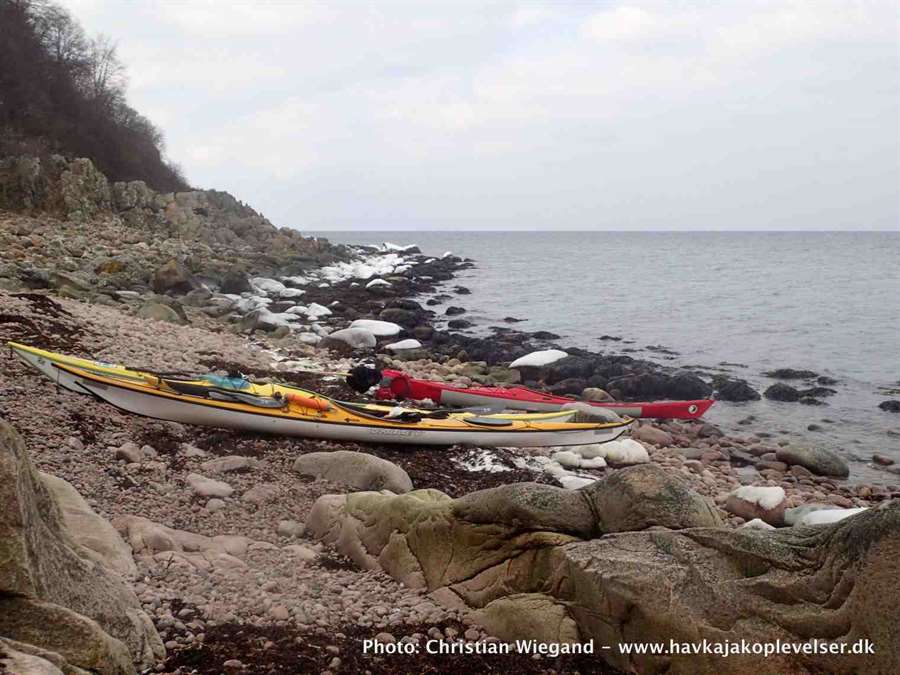 - Vi går i land for at spise frokost på en lille rullestensstrand. Her er man lige øst for naturreservatet og må derfor godt overnatte, i modsætning til inde i reservatet.
- We land to have lunch on a small shingle beach. Here you are just east of the nature reserve and therefore wild camping is allowed again, as opposed to inside the reserve.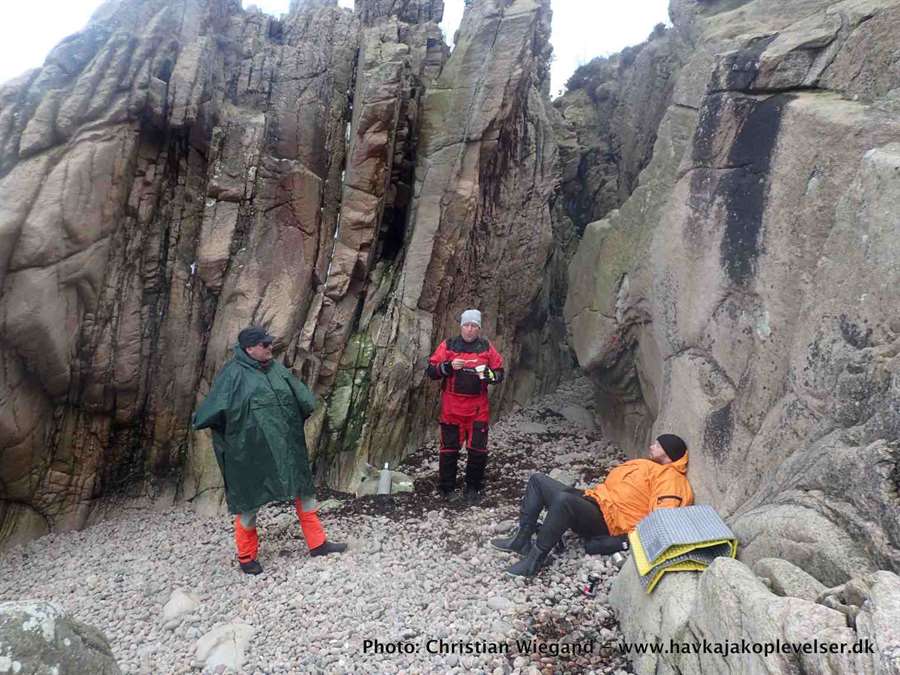 - Vi finder lidt læ for den kolde vind mellem klipperne.
- We find a bit of shelter for the cold wind between the rocks.
- På vandet igen og det sidste stykke til Arx og Nimes.
- On the water again and that last short stretch to the Arx and Nimes.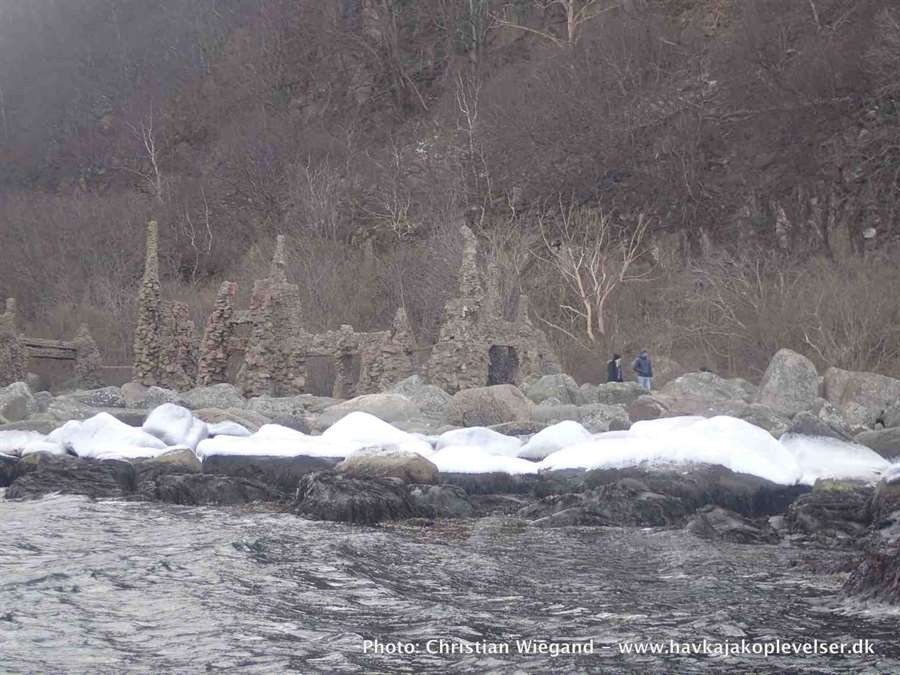 - Her over, kunstværket Arx - Herunder kunstværket Nimes.
- Above the artwork called Arx - Below the artwork called Nimes.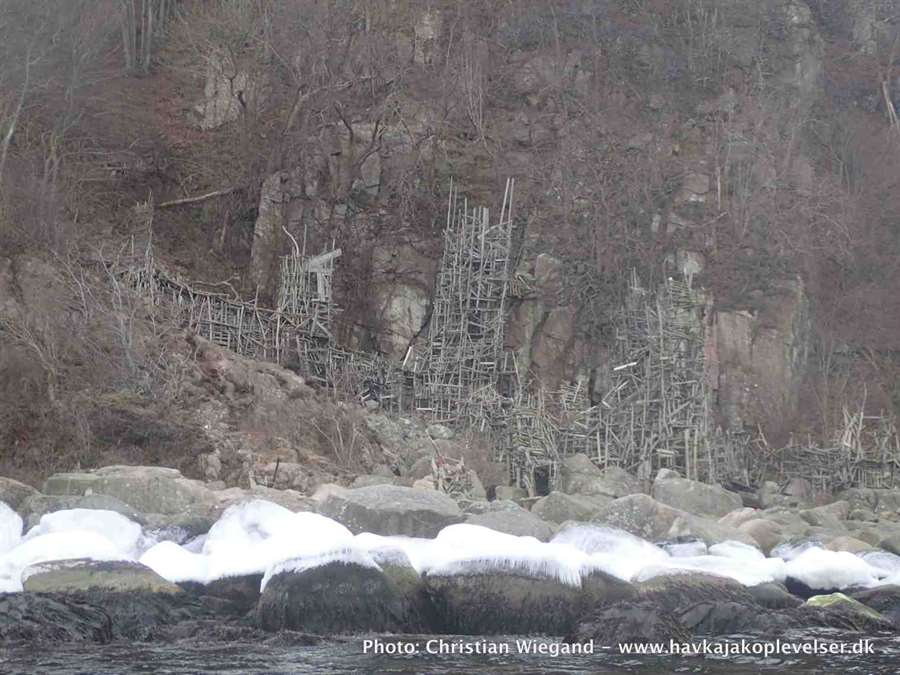 - Smag og behag er forskellig - Kunst eller svineri i naturen - Meningerne er mange, men ikke des mindre er det en stor turistatraktion.
- Taste and pleasure are different - Art or mess in nature - The opinions are many, but not the less it is a major tourist attraction.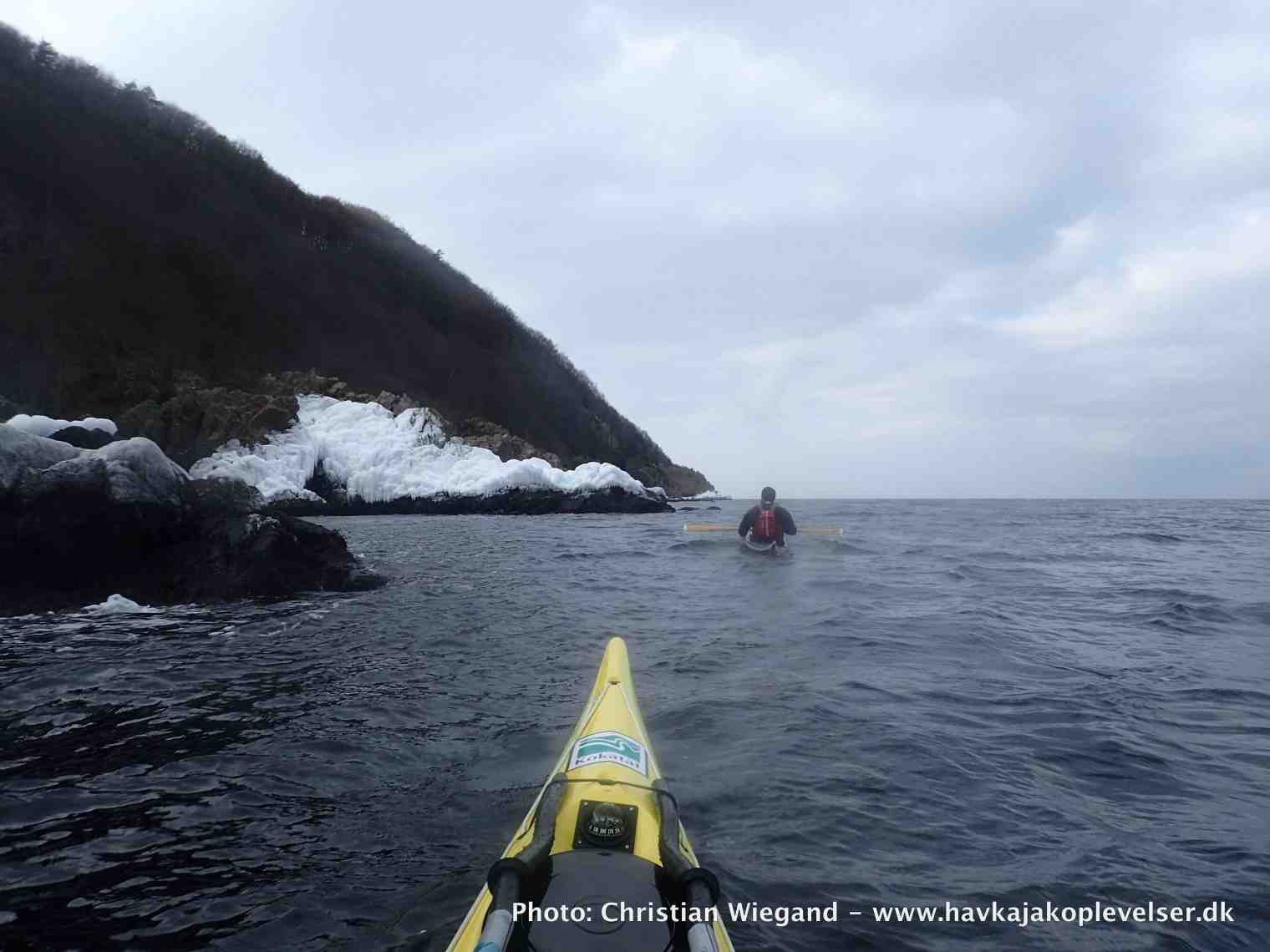 - Vi begynder vores tur tilbage mod Mölle havn.
- We start heading back towards Mölle harbor.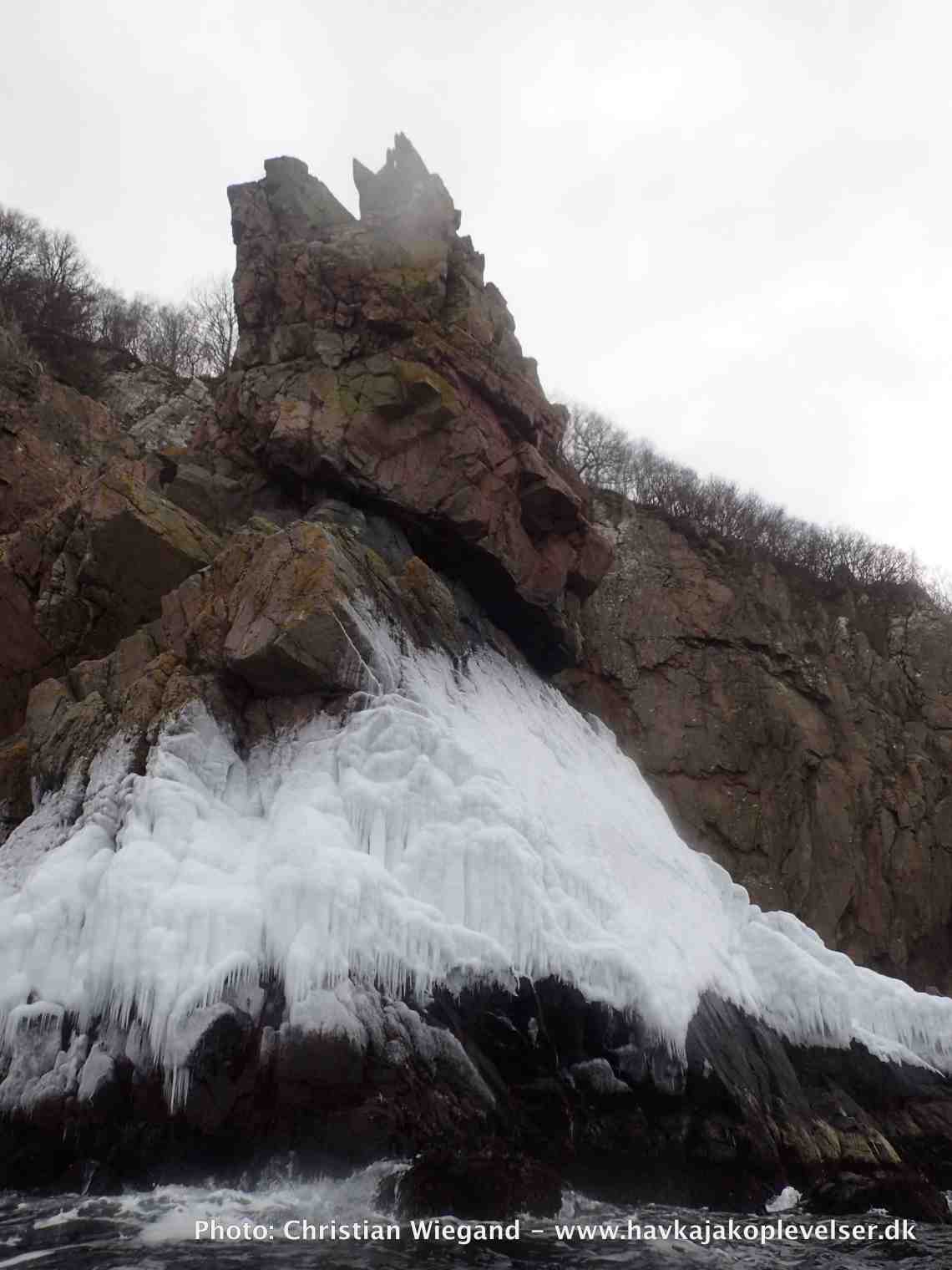 - En af flere stacks. Jeg er altid spændt på om toppen på denne stack stadig er der hver gang jeg kommer.
- One of several stacks. I'm always excited about the top of this stack, will still be here every time I come back.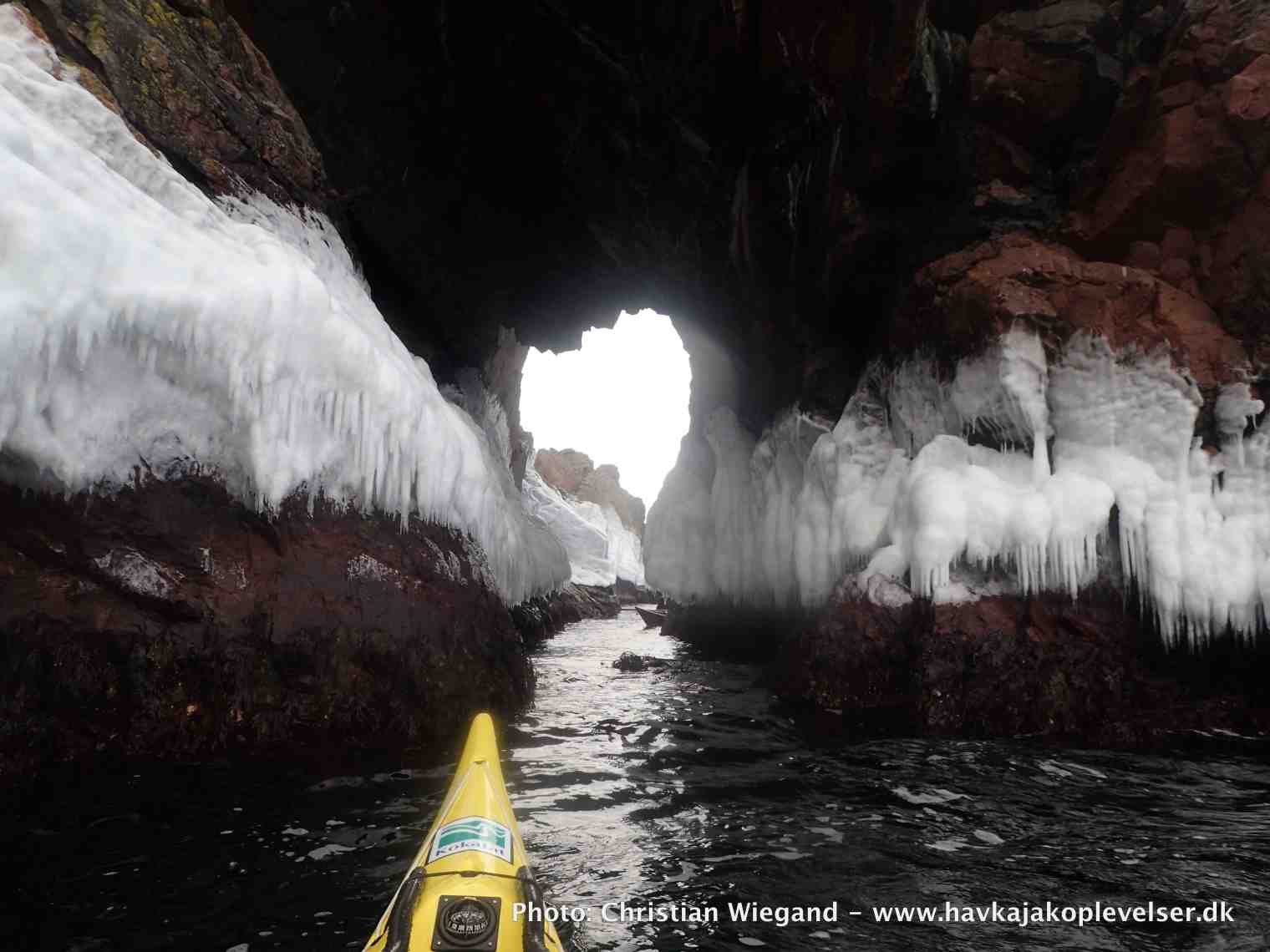 - At ro gennem en klippebue / arch, er altid specielt, men noget helt særligt denne dag.
- To paddle through an arch is always special, but something special this day.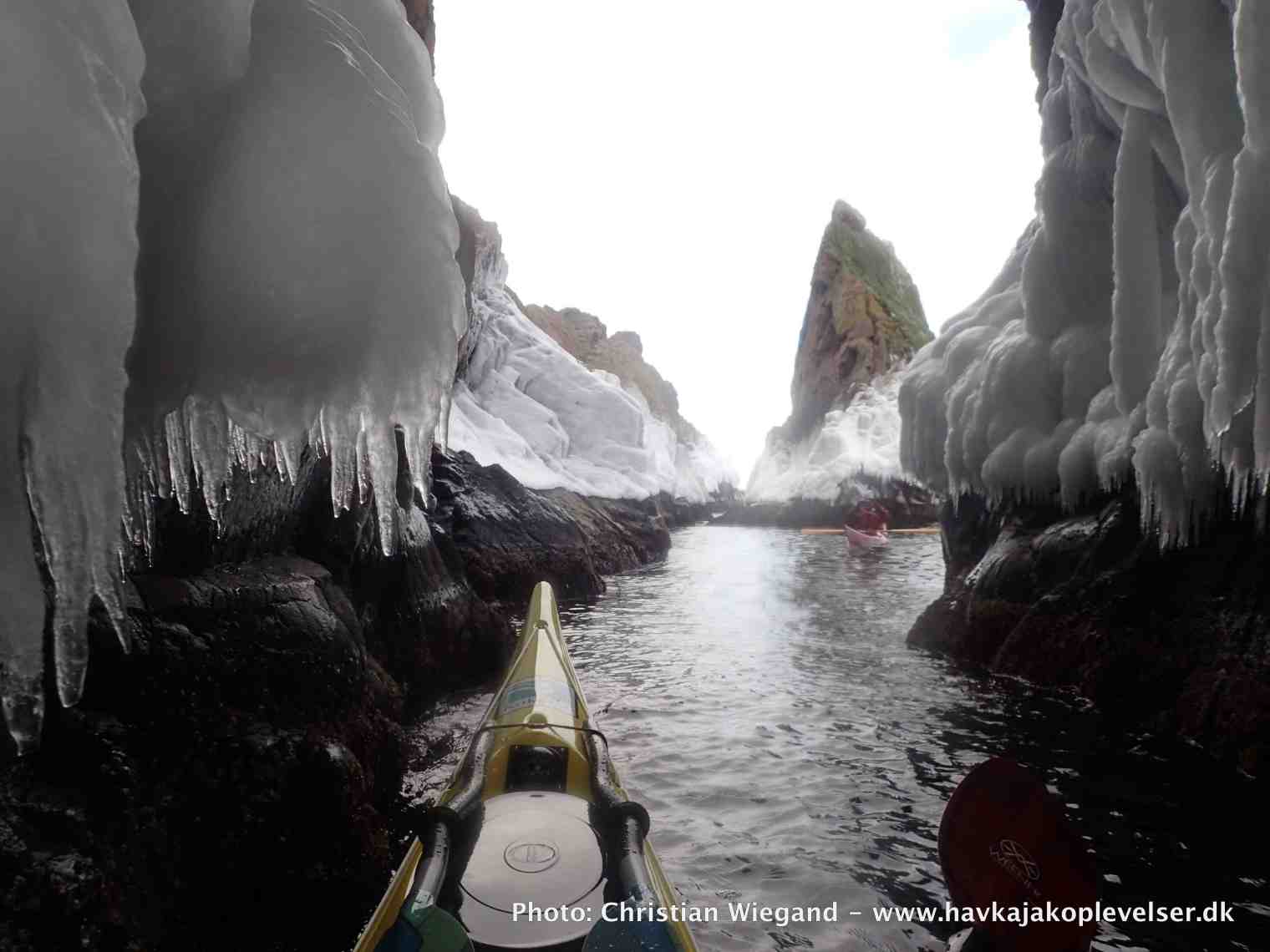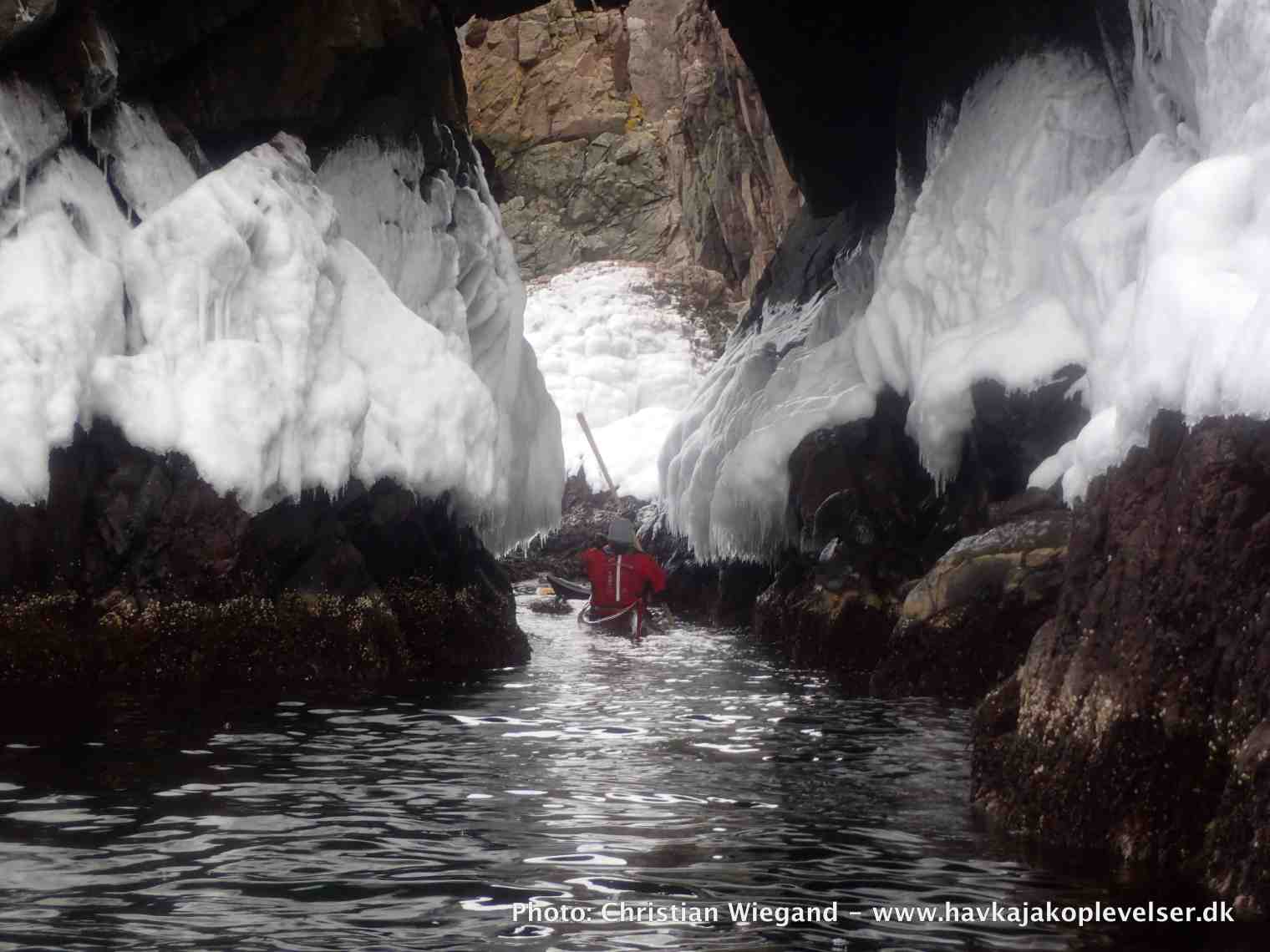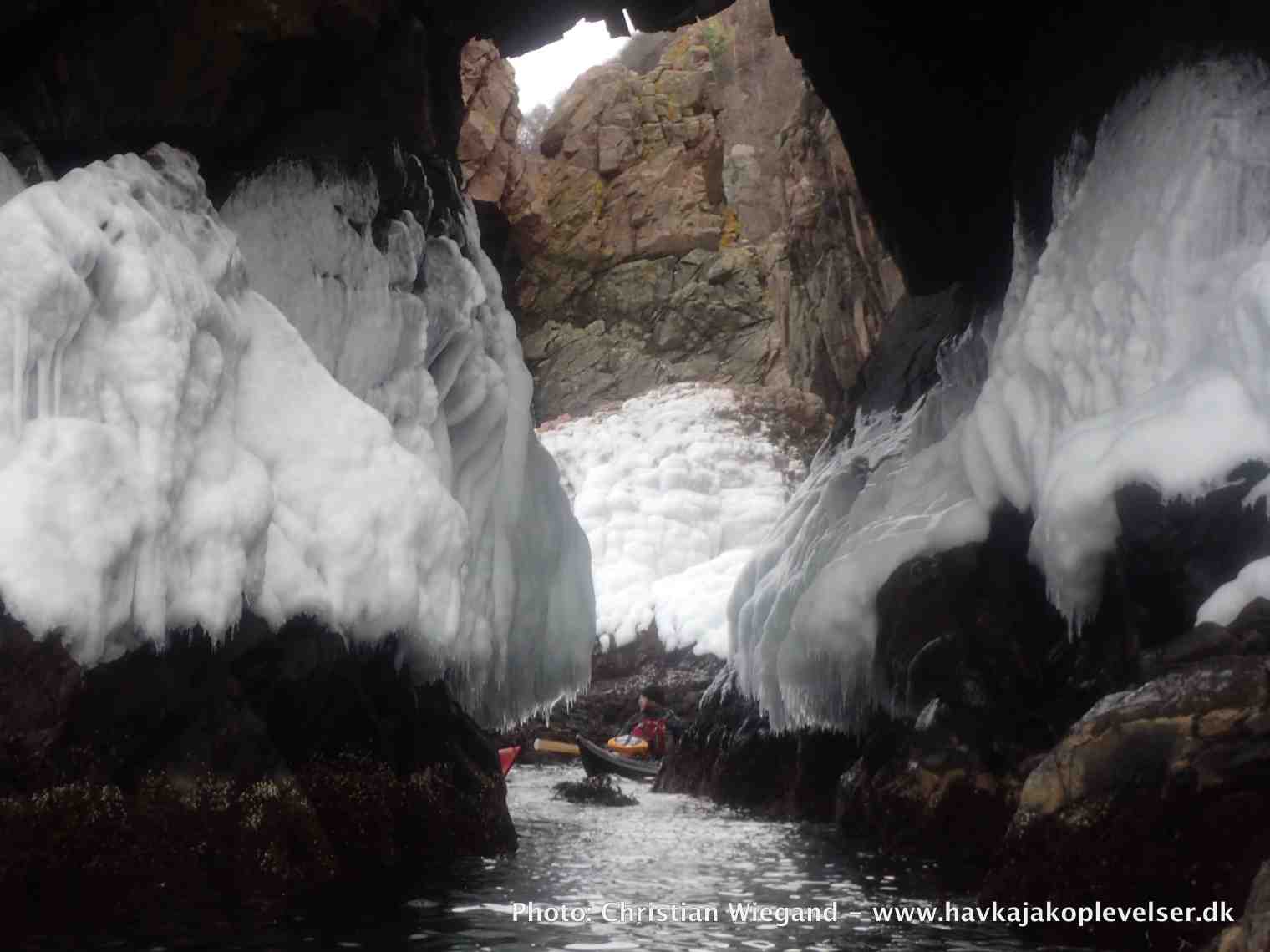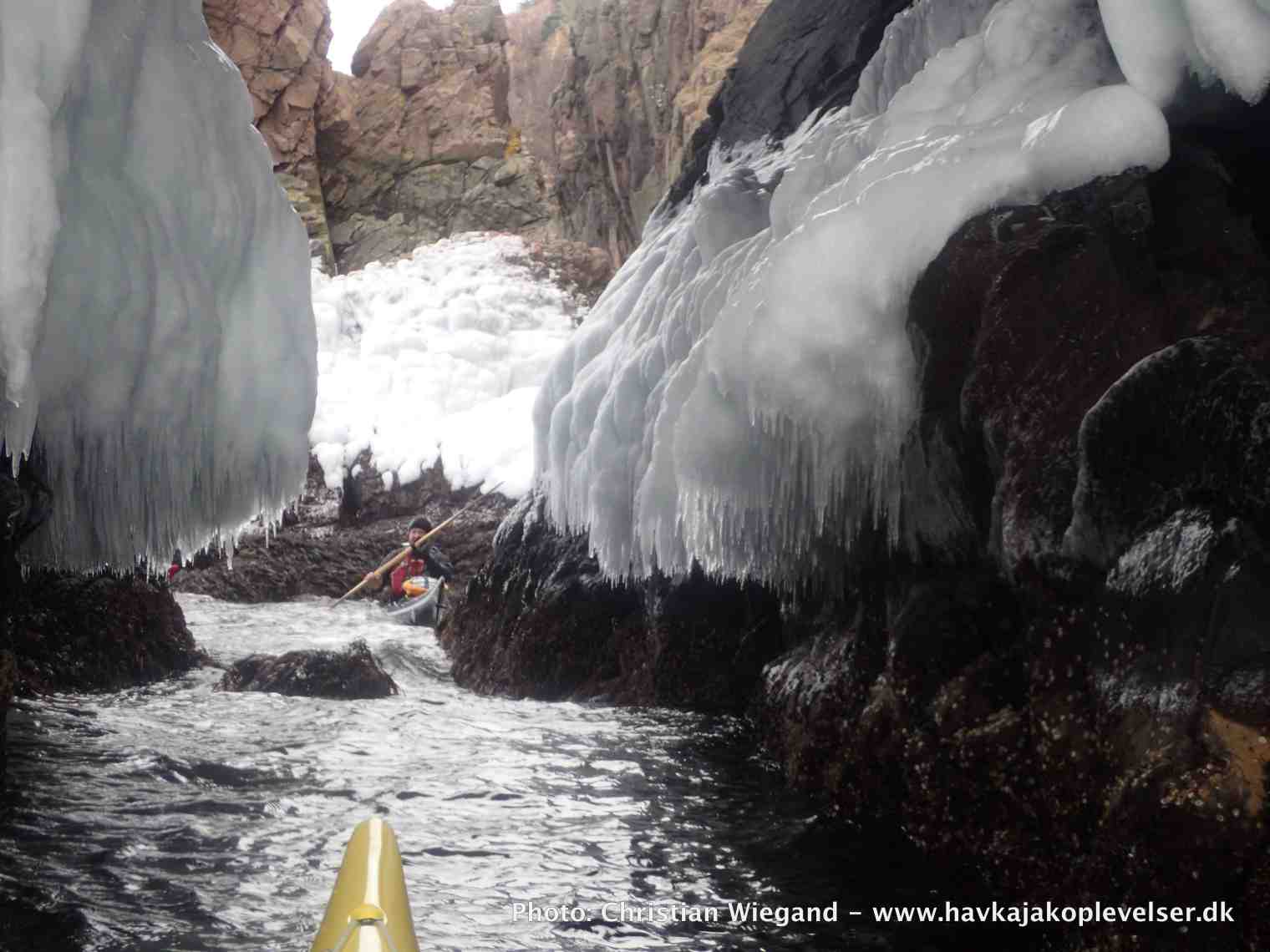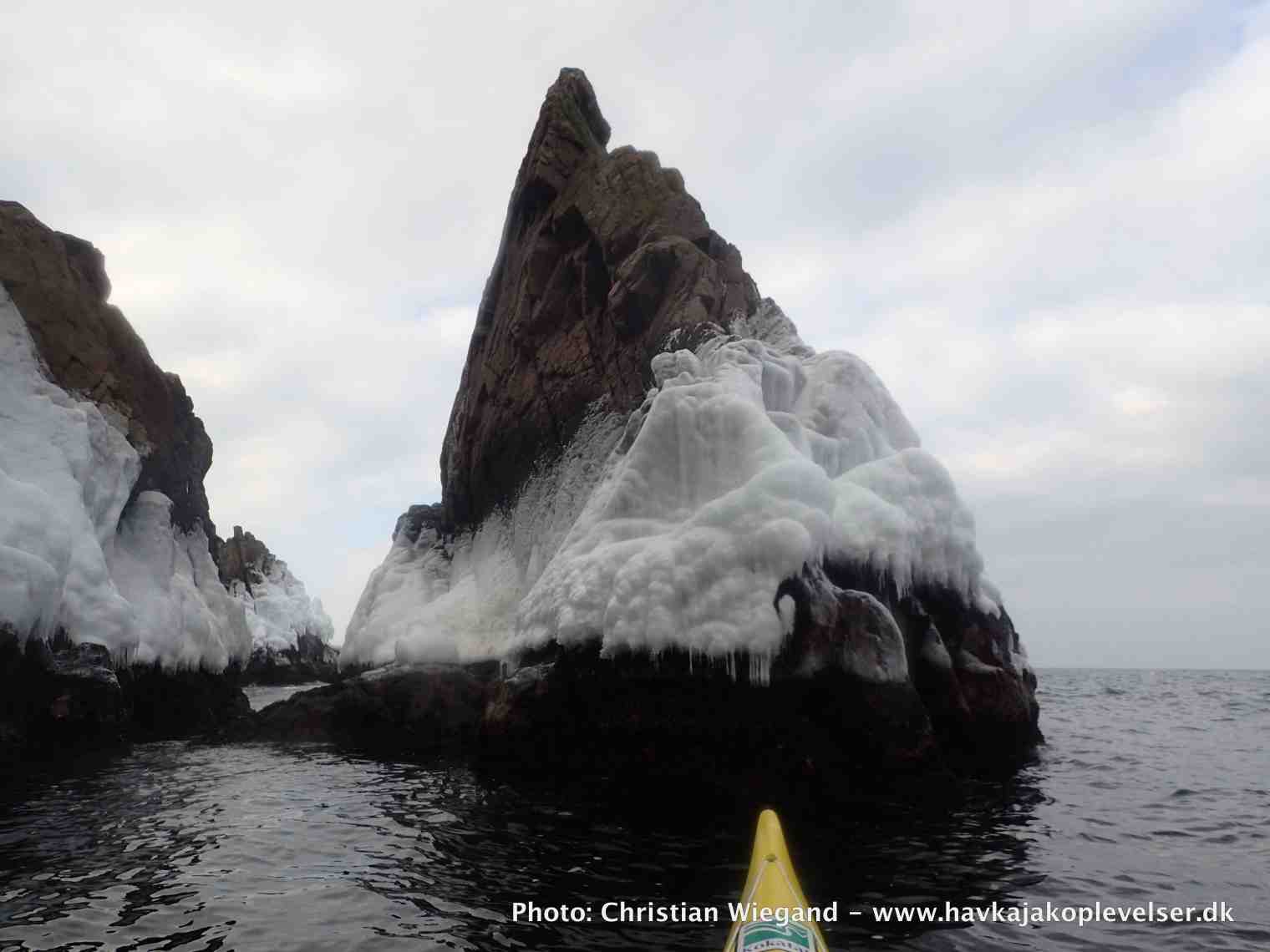 - Det er fascinerende hvor stor forskel der er på turen når man ror først den ene vej og så den anden, selv om det er samme kyst.
- It's fascinating how much difference there is on the trip when you paddle first one way and then the other, even if it's the same coast.
- Vi nærmer os pyntens vestligste punkt.
- We are approaching the westernmost point of the head land.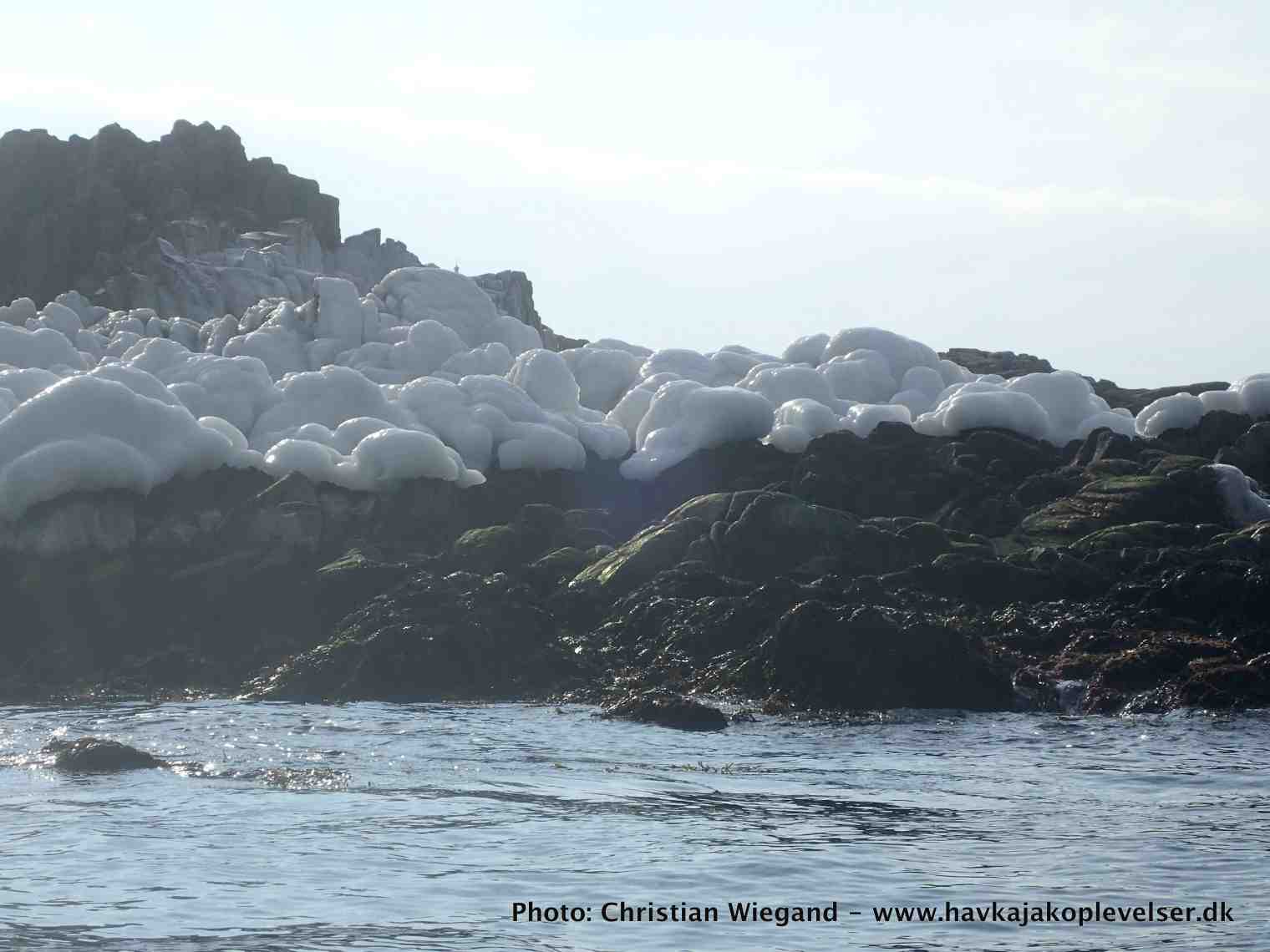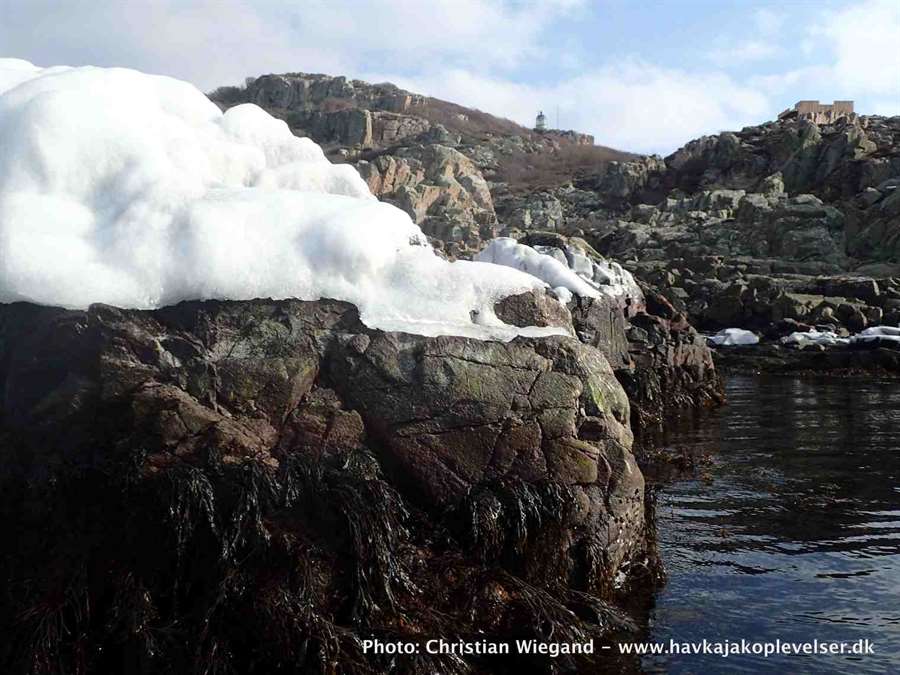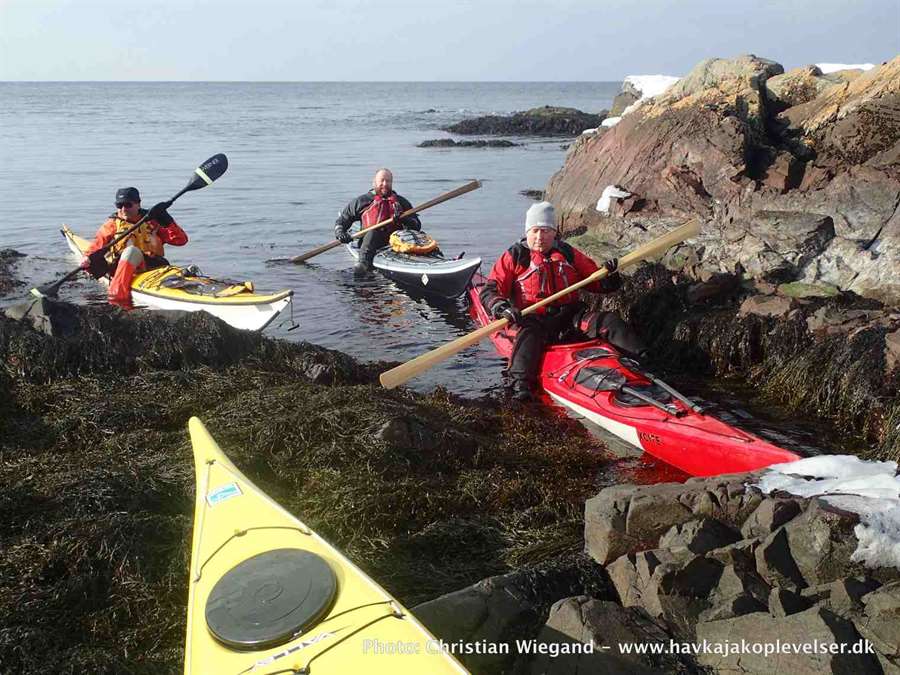 - Vi lander under fyret på den nordlige side.
- We land under the lighthouse on the northern side.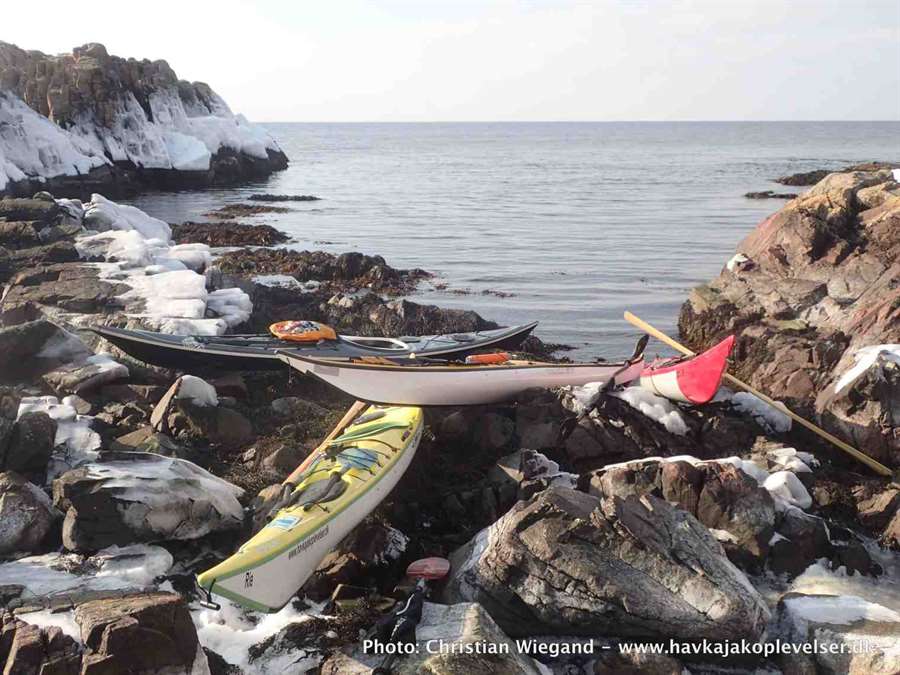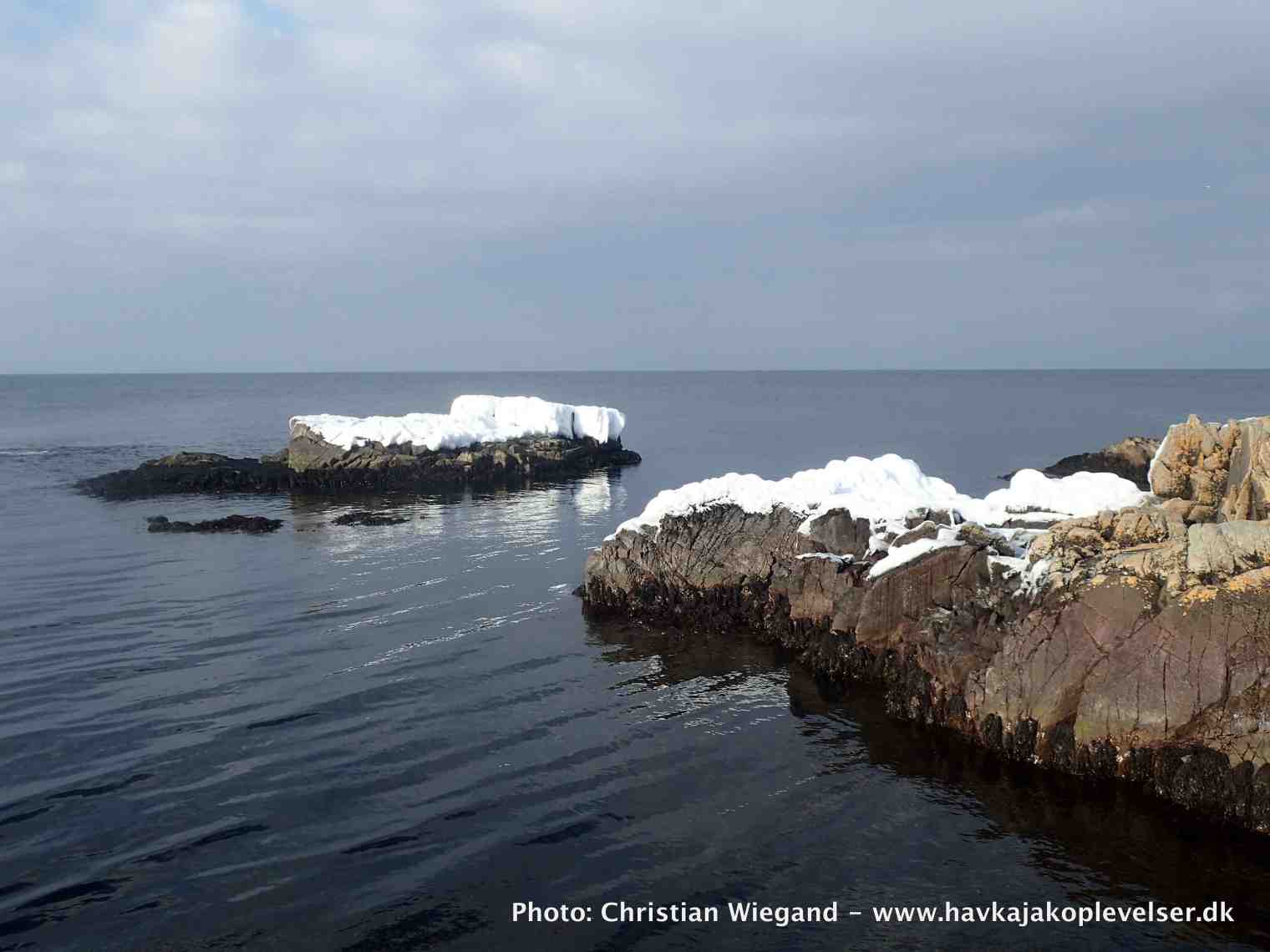 - Vi har en helt fantastisk udsigt mod nord.
- We have an amazing view to the north.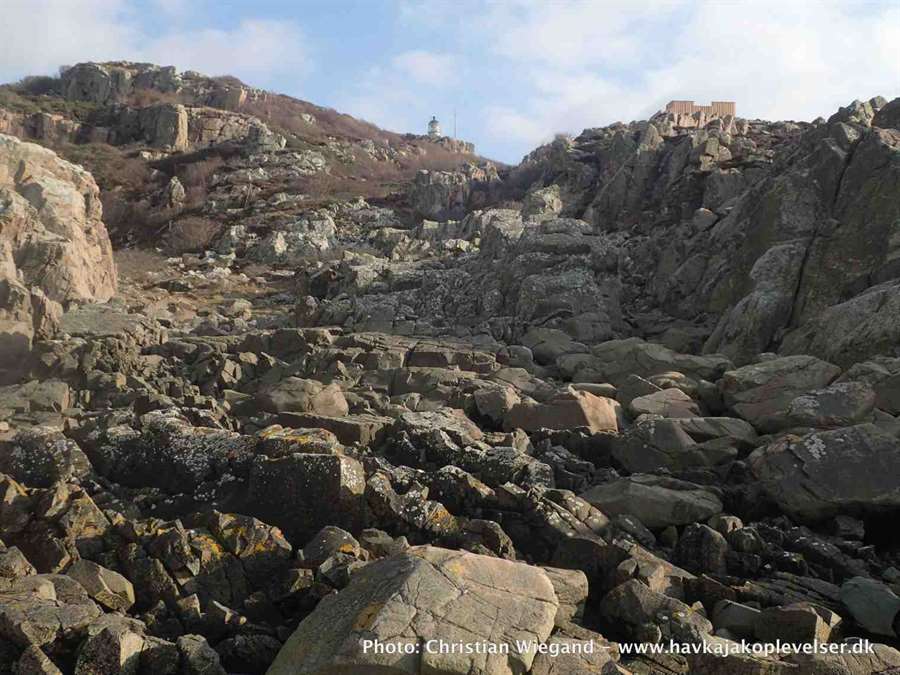 - Fyrtårnet er 78 m. over havets overflade.
- The lighthouse is 78 m. above sea level.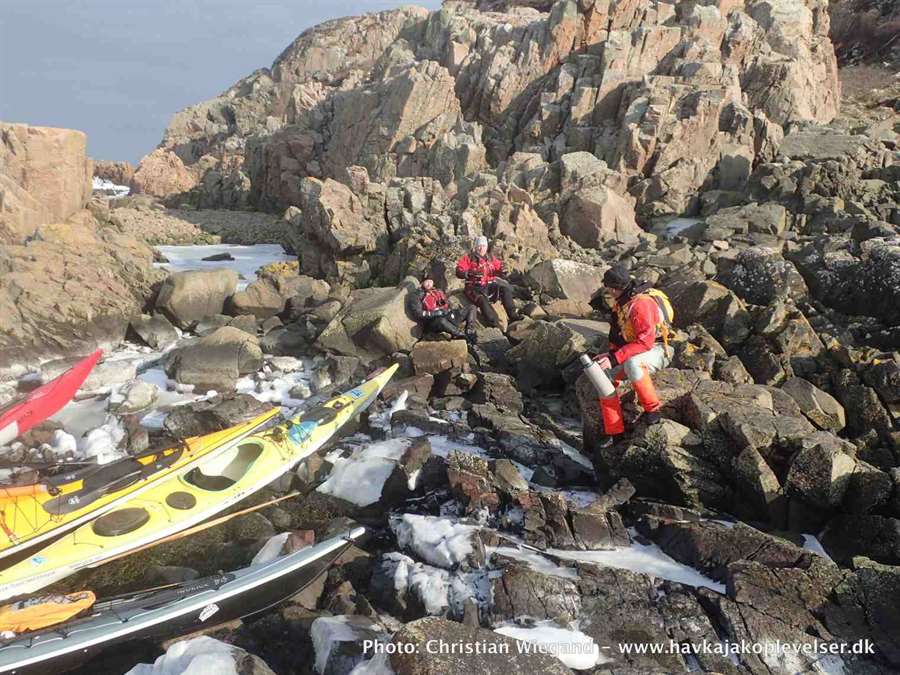 - Kaffepause, oolskin og godt selskab.
- Coffee break, sunshine and good company.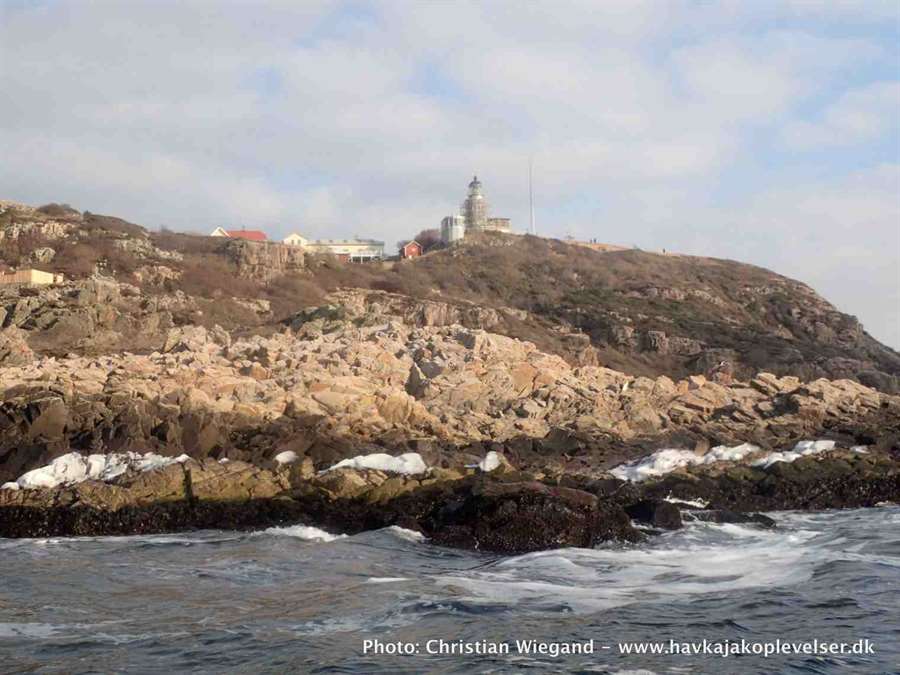 - Vi passere Kullen fyrtårn
- We pass Kullen lighthouse.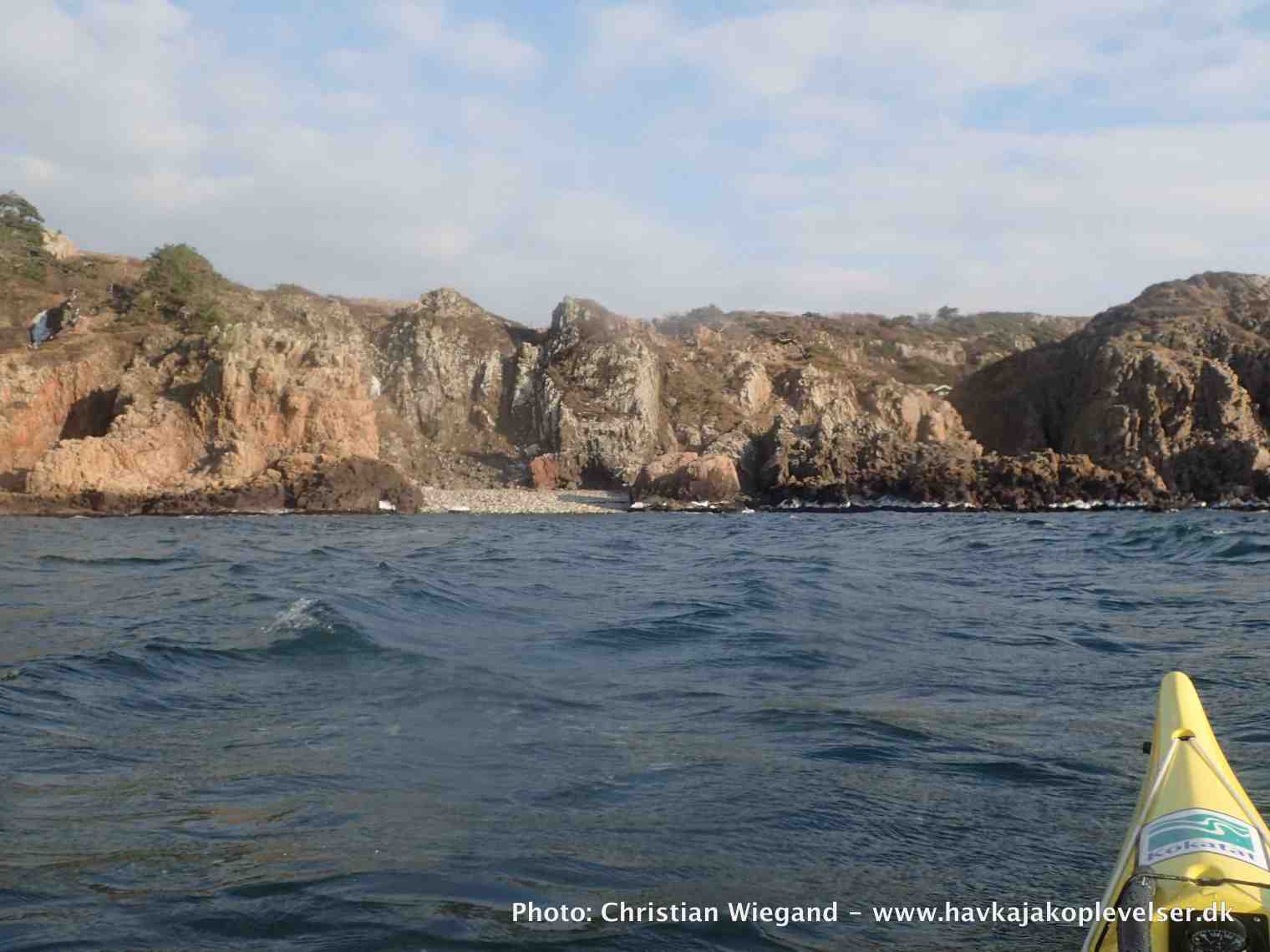 - Også på sydvestsiden er der muligheder for at komme i land, og flere steder opleve mindre grotter på stranden.
- Along the southwest side landing is it possible, and several places there is smaller caves along the beach.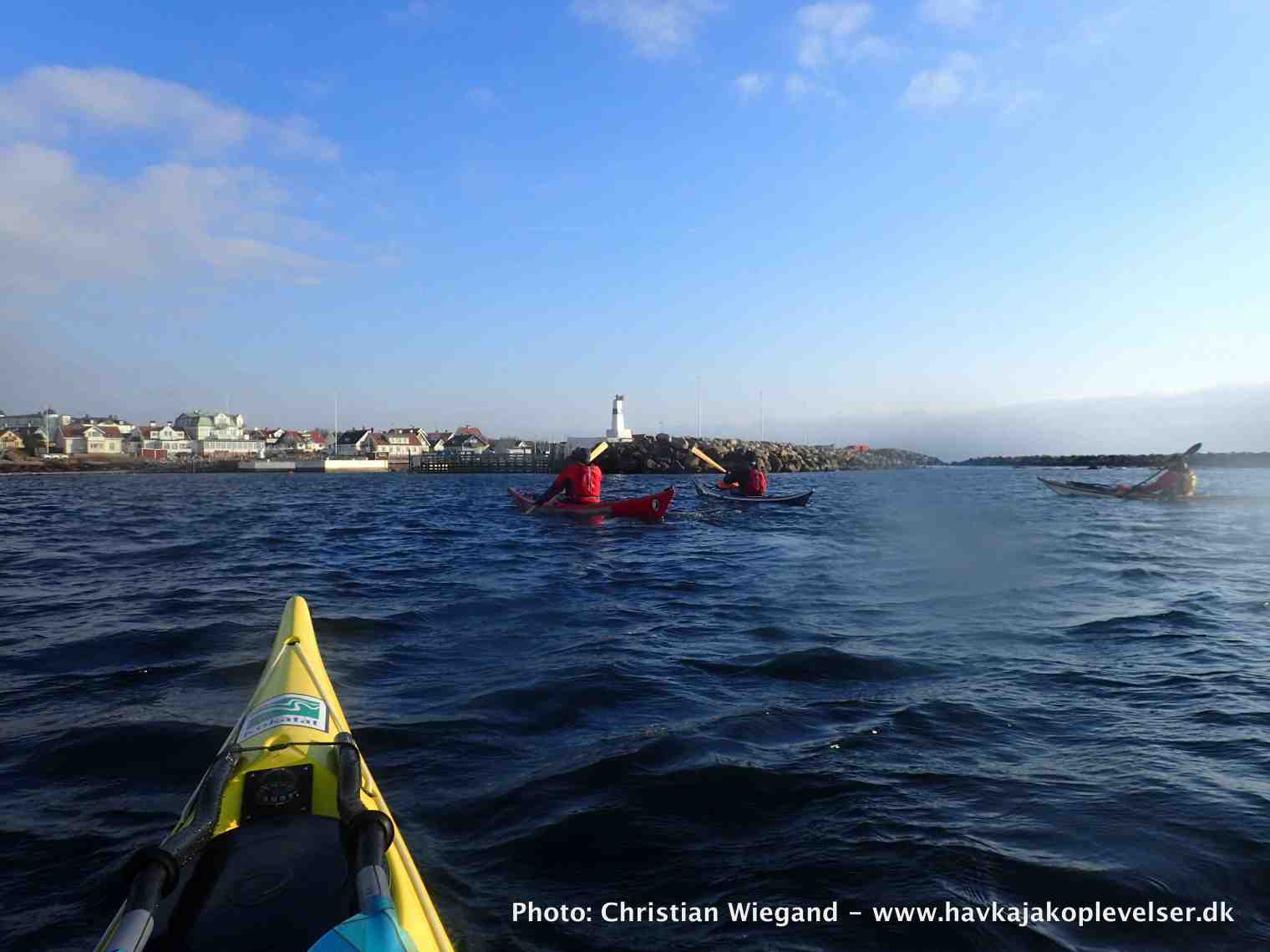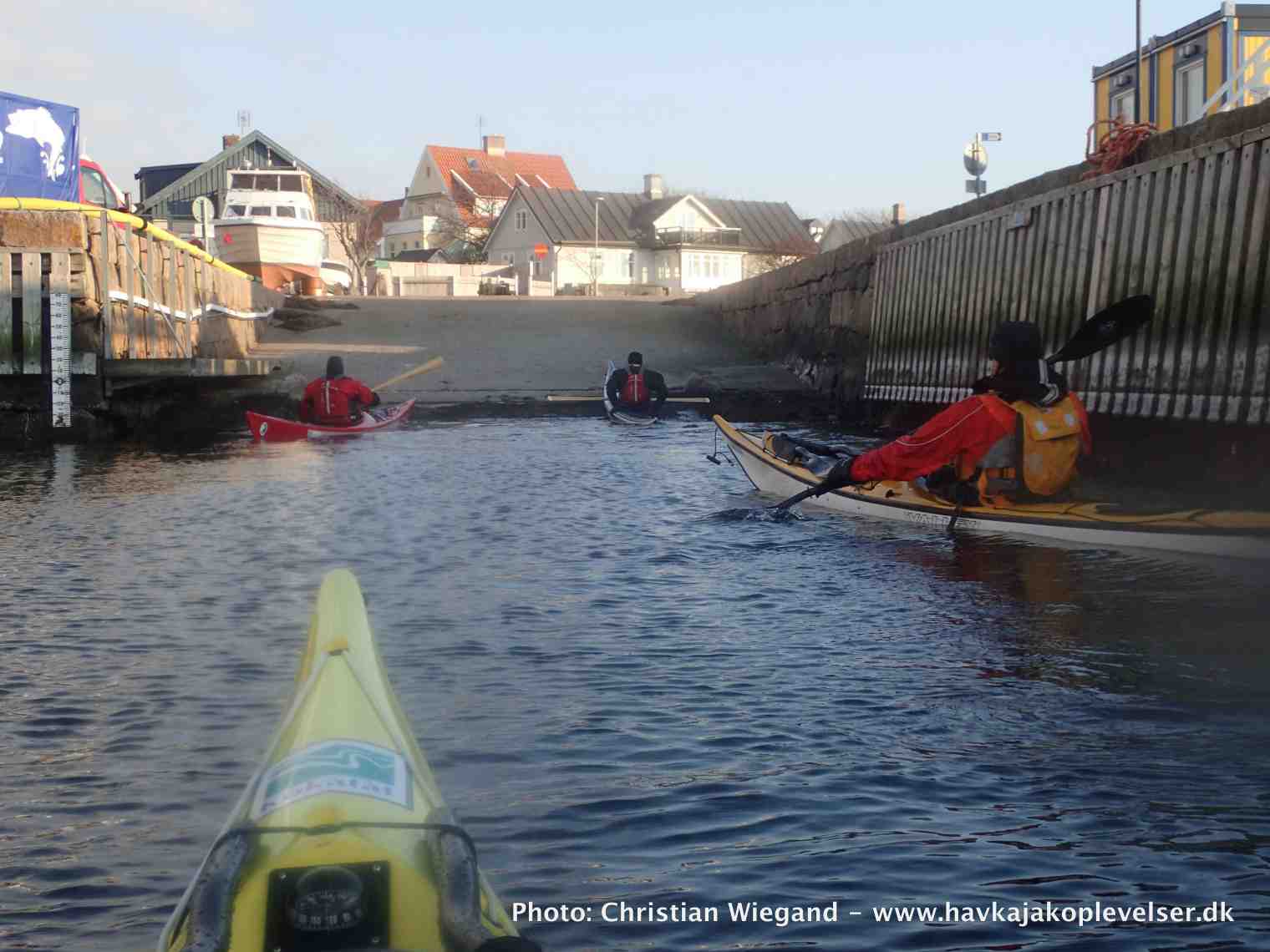 - Tilbage i Mölle havn efter en for mig ikke normal oplevelse med is på klipperne. En fin tur langs kysten omkring Kullen, i god og hyggeligt selskab.
- Back at Mölle harbor, after a for me, an unormal experience, with ice on the rocks. A nice paddle along the coast around Kullen, in good company.
Venlig Hilsen / Best Regards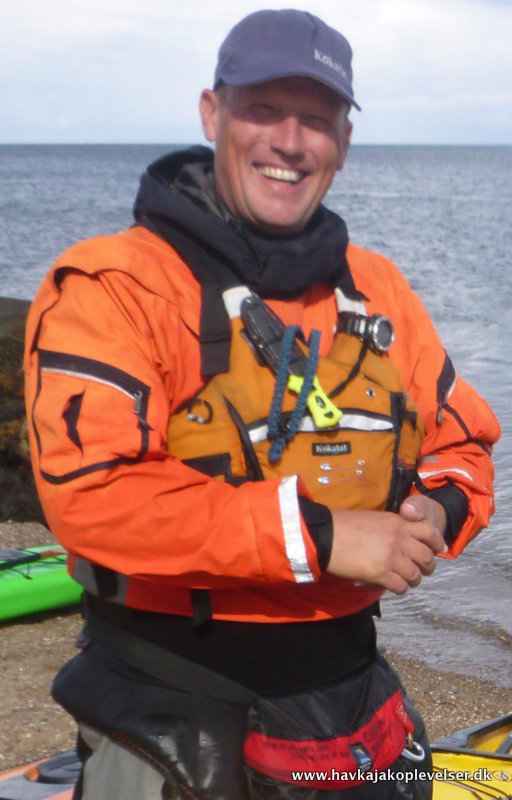 Christian Wiegand
www.havkajakoplevelser.dk
Facebook: Tosset med havkajak / Mad about Sea Kayak
Instagram: cwseakayaking
Twitter: @cw_sea
Sponsored by Teamkayak - www.teamkayak.dk
Sponsored by Kokatat - www.kokatat.com Sponsored by Expeditionfoods - www.expeditionfoods.com