Lysefjorden Norge - Lysefjord Norway
Danish / Englsih:
2017-06-05
- Ord og billeder fra en dagstur i Lysefjorden, med Preikestolen, vandfald og stejle klipper.
- Words and pictures from a day trip in Lysefjorden, with the Pulpit Rock, waterfalls and steep cliffs.
- Den oprindelige plan var at lege i bølger på vestkysten, syd for Stavanger i Norge, men der var stadig lige så fladt og blankt vand som de to dage før, så vi besluttede at tage en tur ind i Lysefjorden, nogle havde taget telt og osv. med til en overnatning, mens andre tog det som en dagstur.
- The original plan was to have fun in the waves, on the west coast south of Stavanger in Norway, but there was still as flat and calm sea as the previous two days, so we decided to take a trip into The Lysefjord, some had taken there tent and etc. for one night of camping, while others wantede it as a day trip.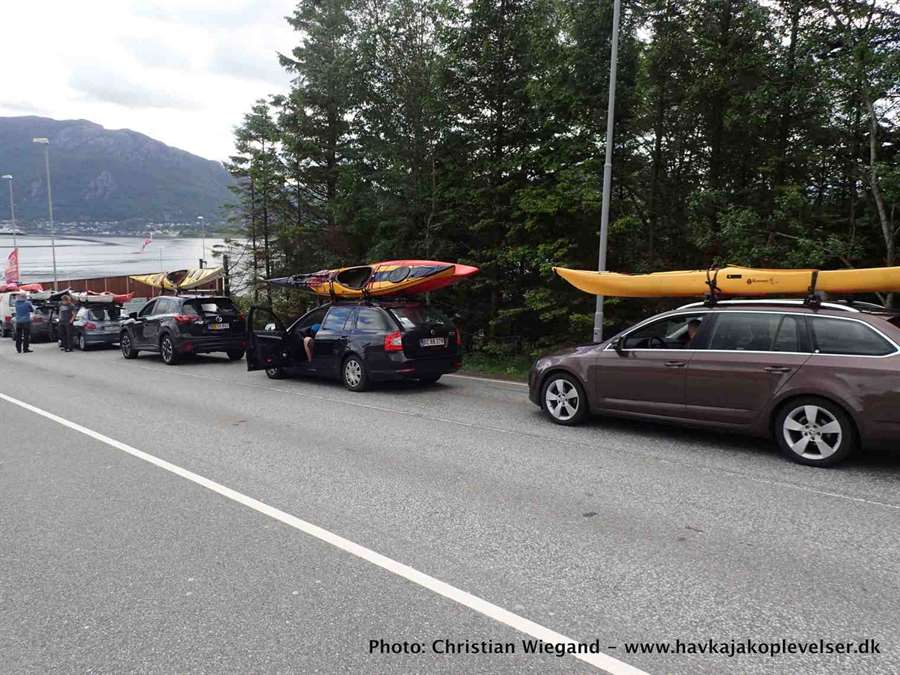 - Fra Ogna, over fjeldet og til færgen der sejler fra Lauvvika til Oanes.
- From Ogna, Across the mountains and to ferrie sailing from Lauvvika to Oanes.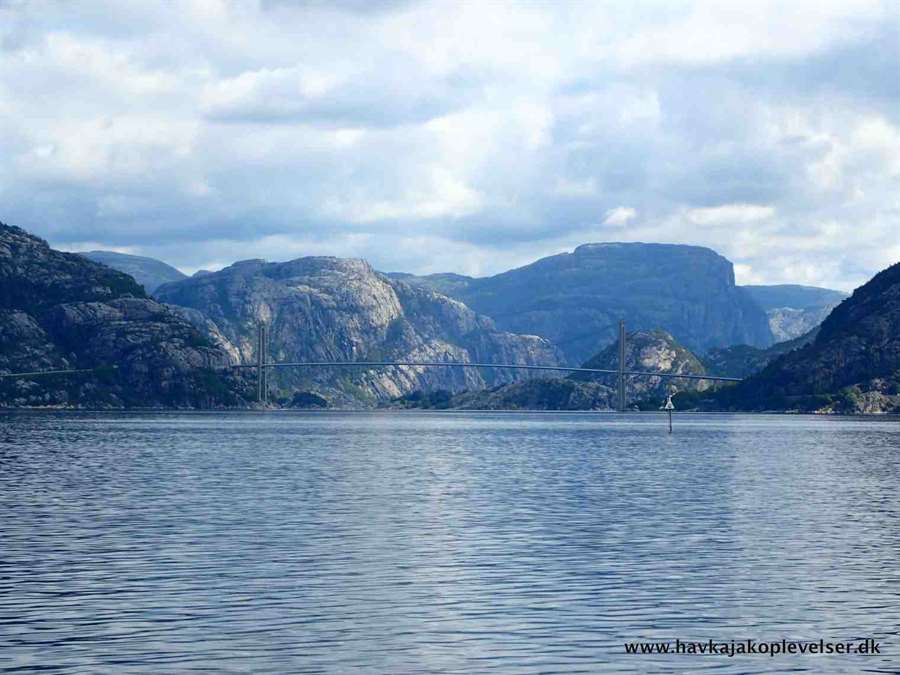 - Fra den lille færgen fik vi det første kig ind i Lysefjorden, bag den flotte Lysefjordbro.
- From the small ferry we got the first look at the fjord, behind the beautiful Lysefjord bridge.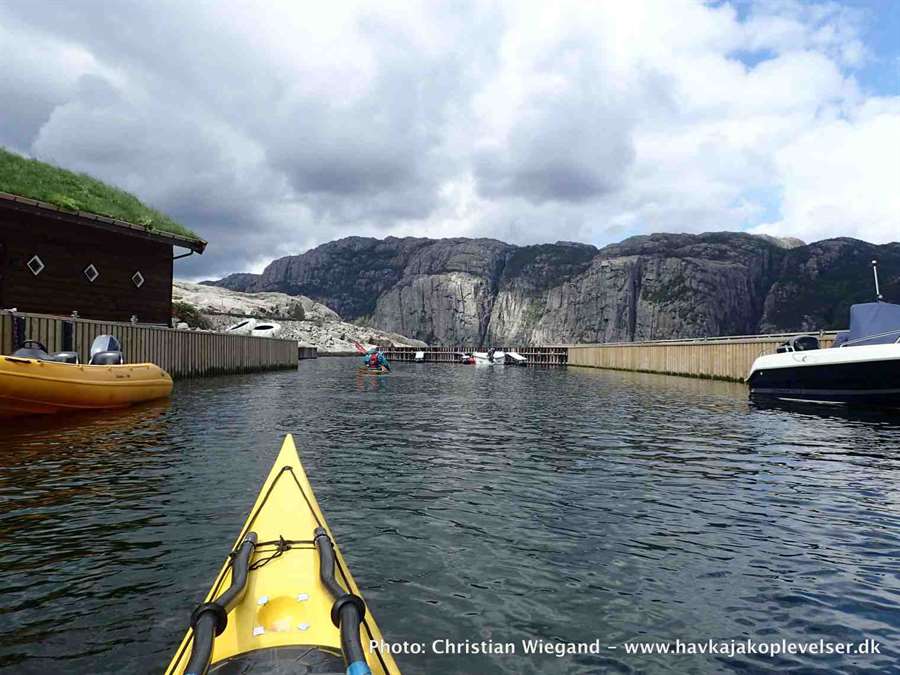 - Efter en lille tur i bilen fra færgen, over broen og ned til en lille havn hvor bilerne kunne parkeres - og så på vandet.
- After a short drive from the ferry, across the bridge, and then down to a small harbor, where the cars could be parked - and then on the water.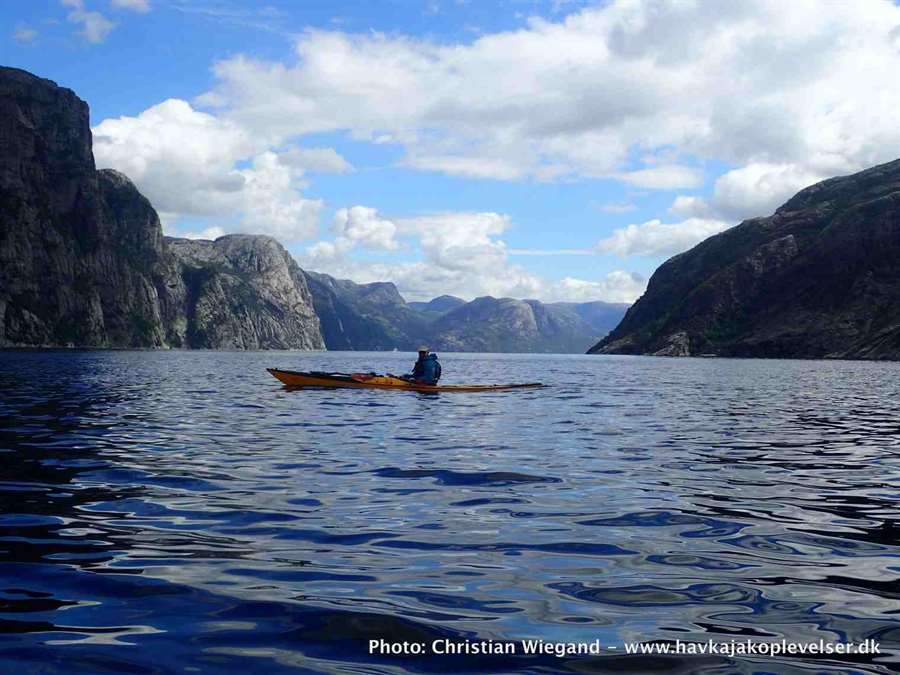 - Fra den lille havn hvor vi gik på vandet, kunne vi på den anden side af fjorden se en sprække ind i klippesiden hvor alle turistbådene sejlede ind, så vi krydsede over fjorden, for at se hvad der var så interesant.
- From the little harbor where launched, we could see a big gab into the cliff on the other side of the fjord, where all the tourist boats sailed into, so we did a crossing of the fjord, to see what was so interesting.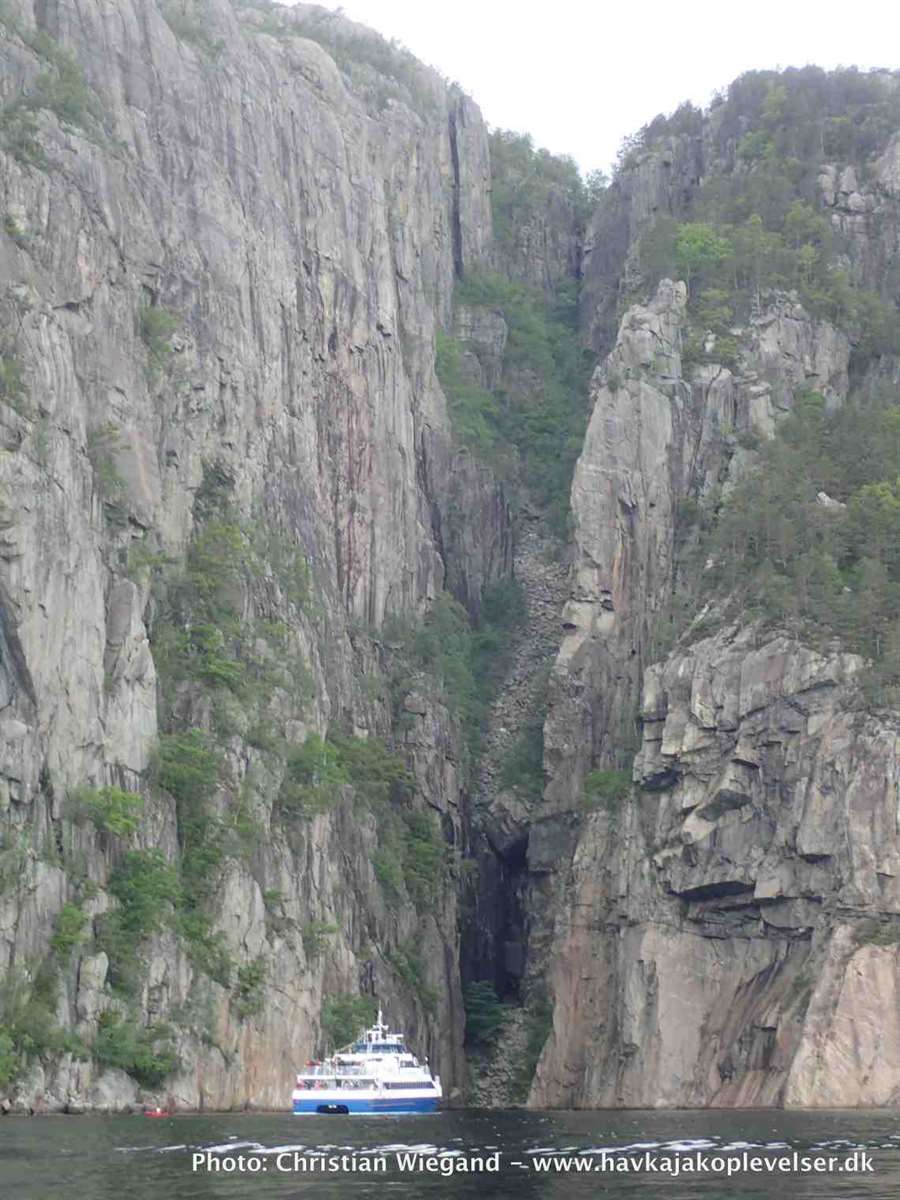 - Som vi kom tættere på den anden side af fjorden, begyndte vi at føle os små langs klipperne.
- As we came closer to the other side of the fjord, we began to feel small, along the rocks.
- Et virkeligt flot og særligt syn mødte os da vi kom ind til klippen.
- A really beautiful and special sight met us when we got to the cliff.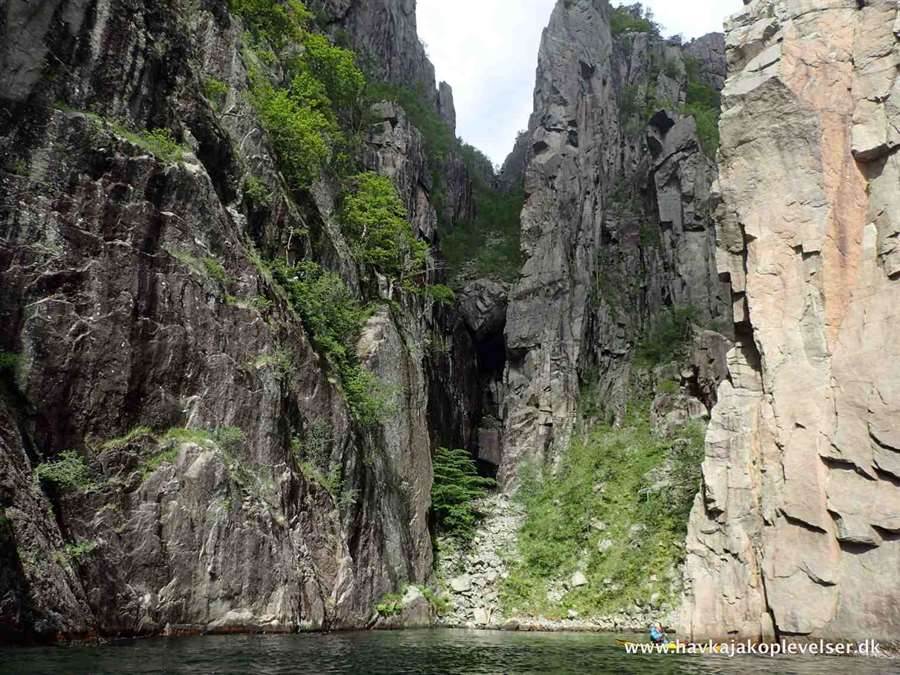 - Vi følte os meget små - bemærk havkajakroeren ned til højre hjørne.
- We did feel very small - note the sea kayak down to the right.
- Jeg synes altid det både er imponerende og skræmmende på samme tid at ligge inde under klippeudhæng - tanken om løse sten kan jeg ikke rigtig fortrænge.
- I always find it both impressive and frightening, at the same time, to be under the outline og the cliffs - the idea of loose rock can not really be put away.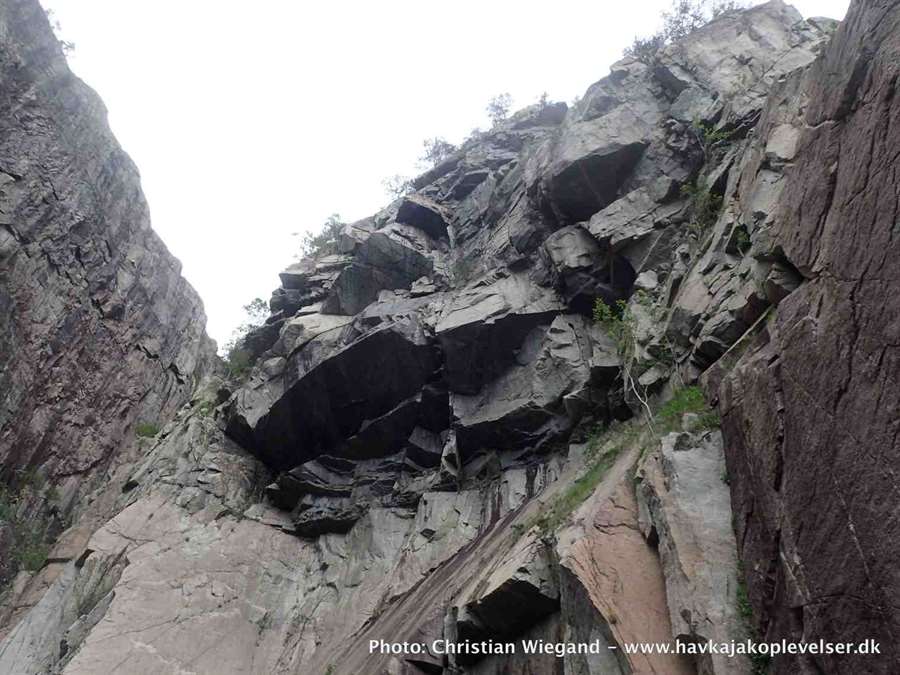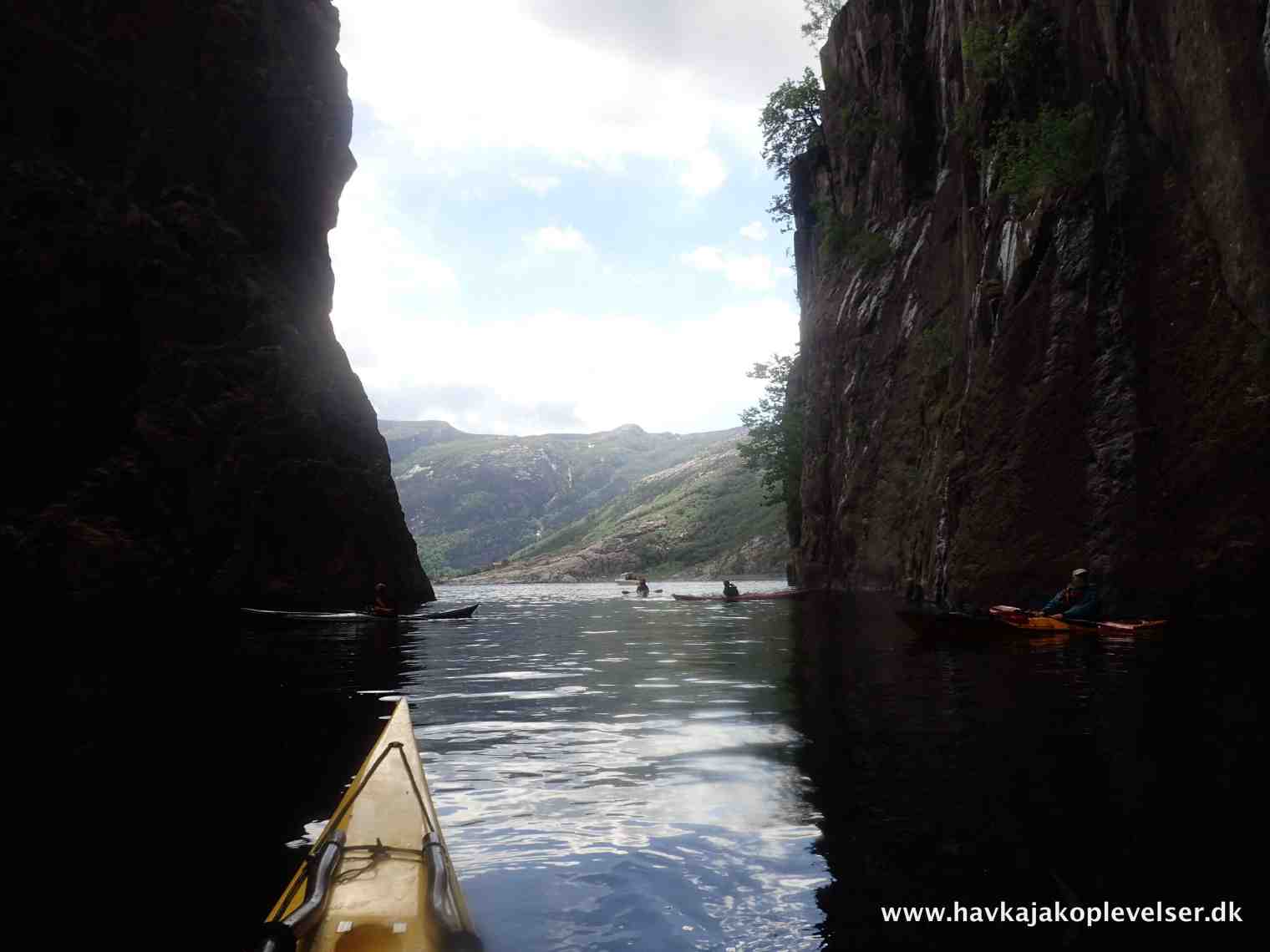 - Et kig inde fra sprækken og ud i fjorden.
- A look out from the gab to the fjord.
- "Ude" på fjorden igen.
- "Back" in the fjord again.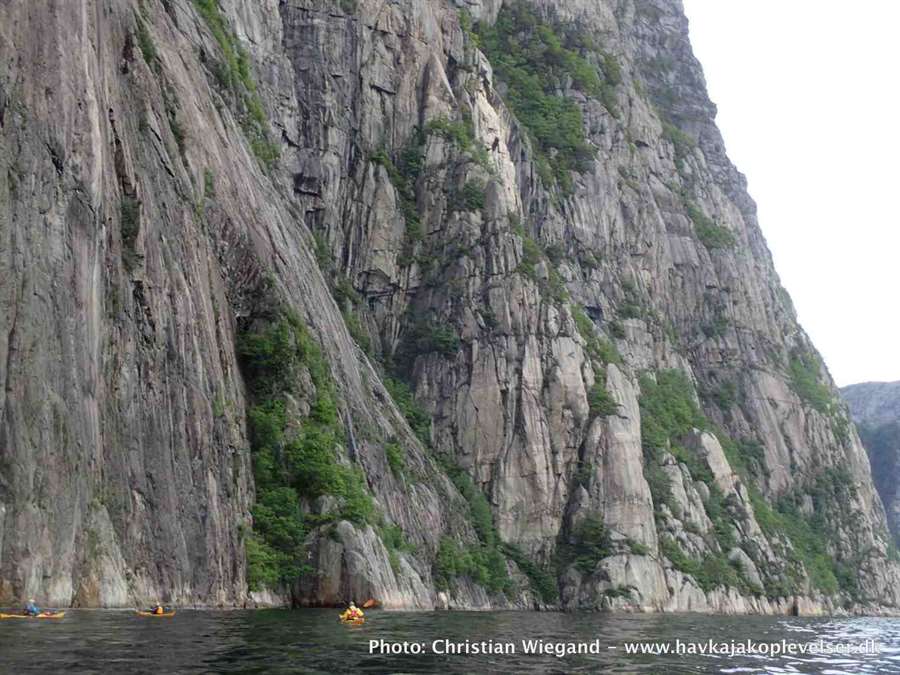 - Høje fjeldsider og små havkajakroere.
- High mountain sides and small sea kayakers.
- På vej længere ind i Lysefjorden.
- On the way further into Lysefjorden.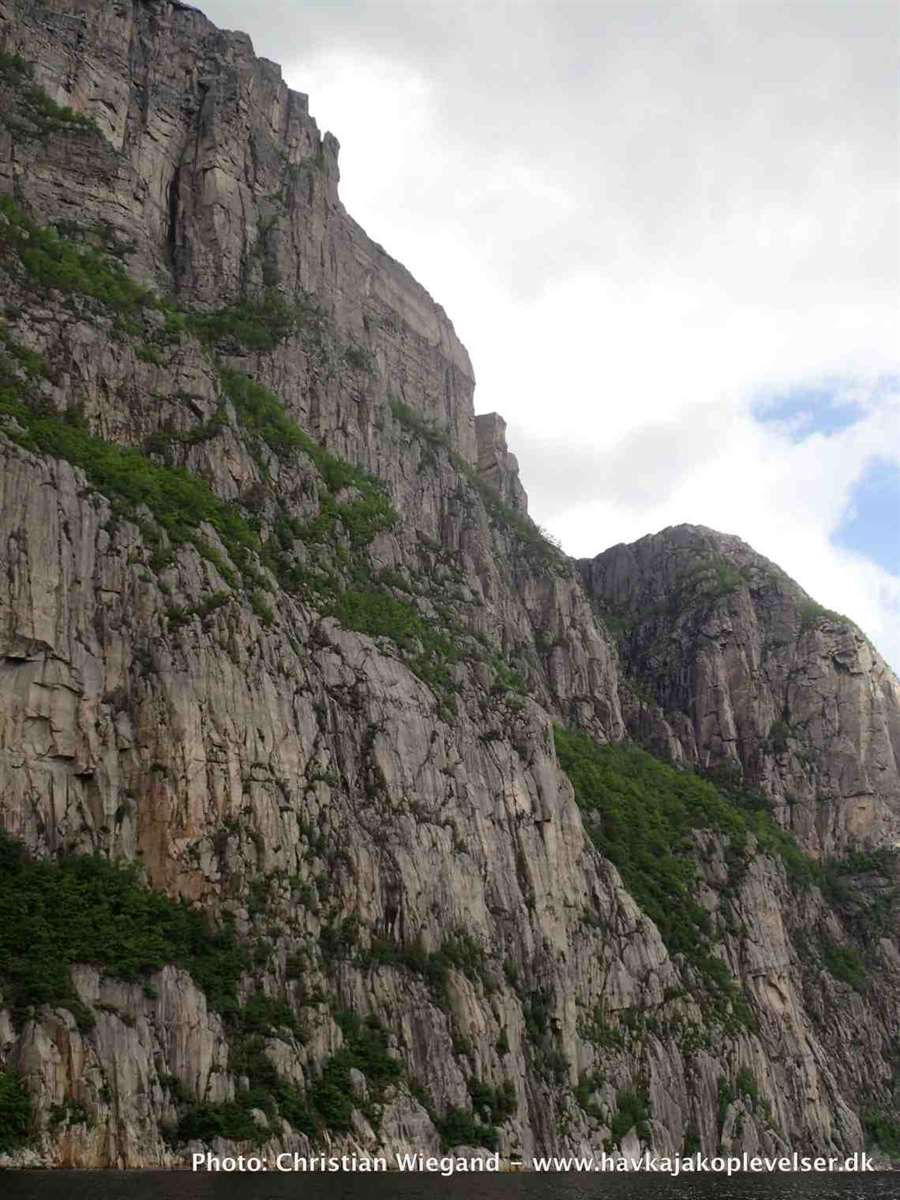 - Prædikestolen kommer til syne - Sceneriet er smukt og spektakulært.
- The Pulpit Rock appears - The scenery is beautiful and spectacular.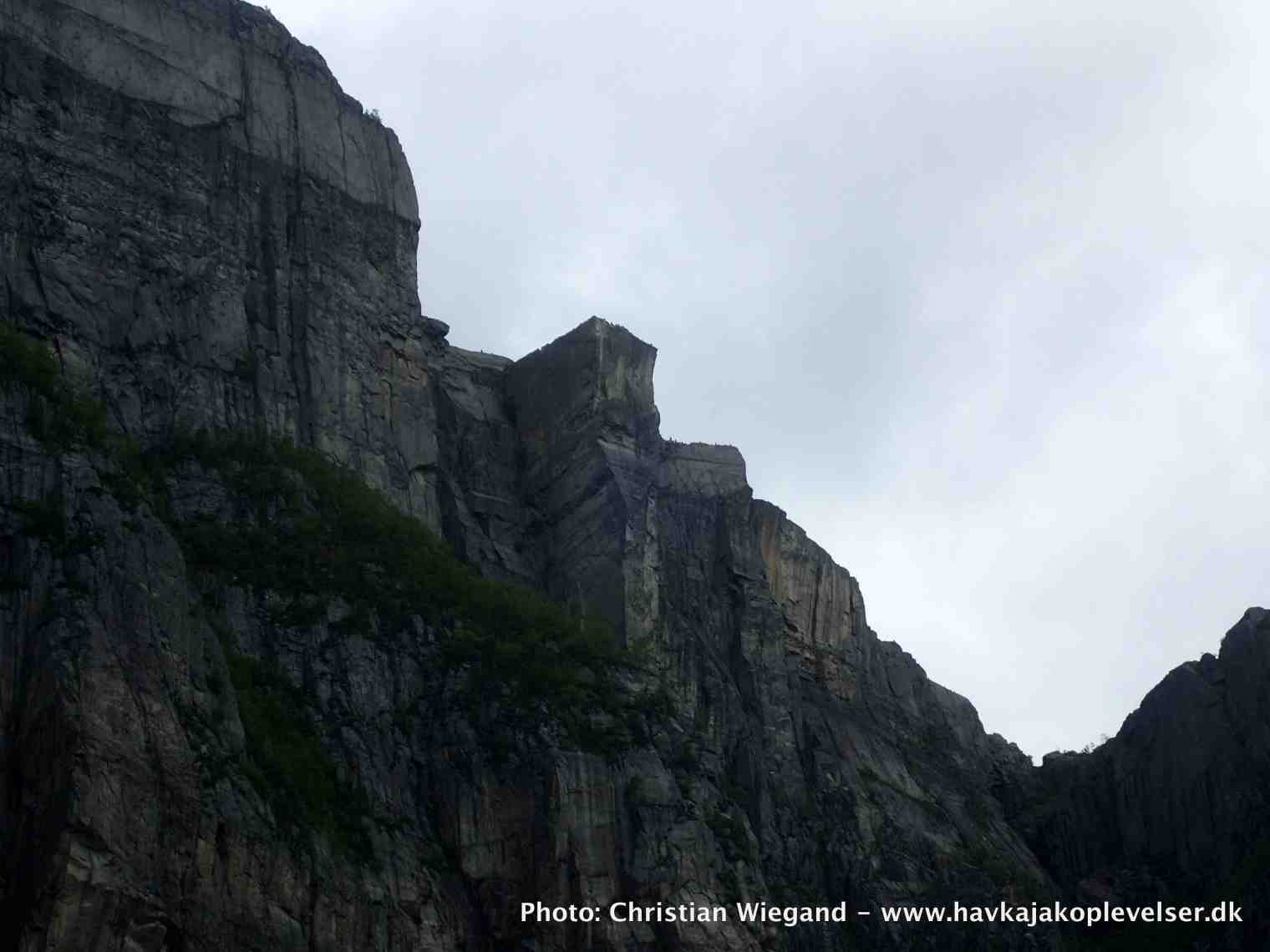 - Prædikestolen.
- The Pulpit Rock.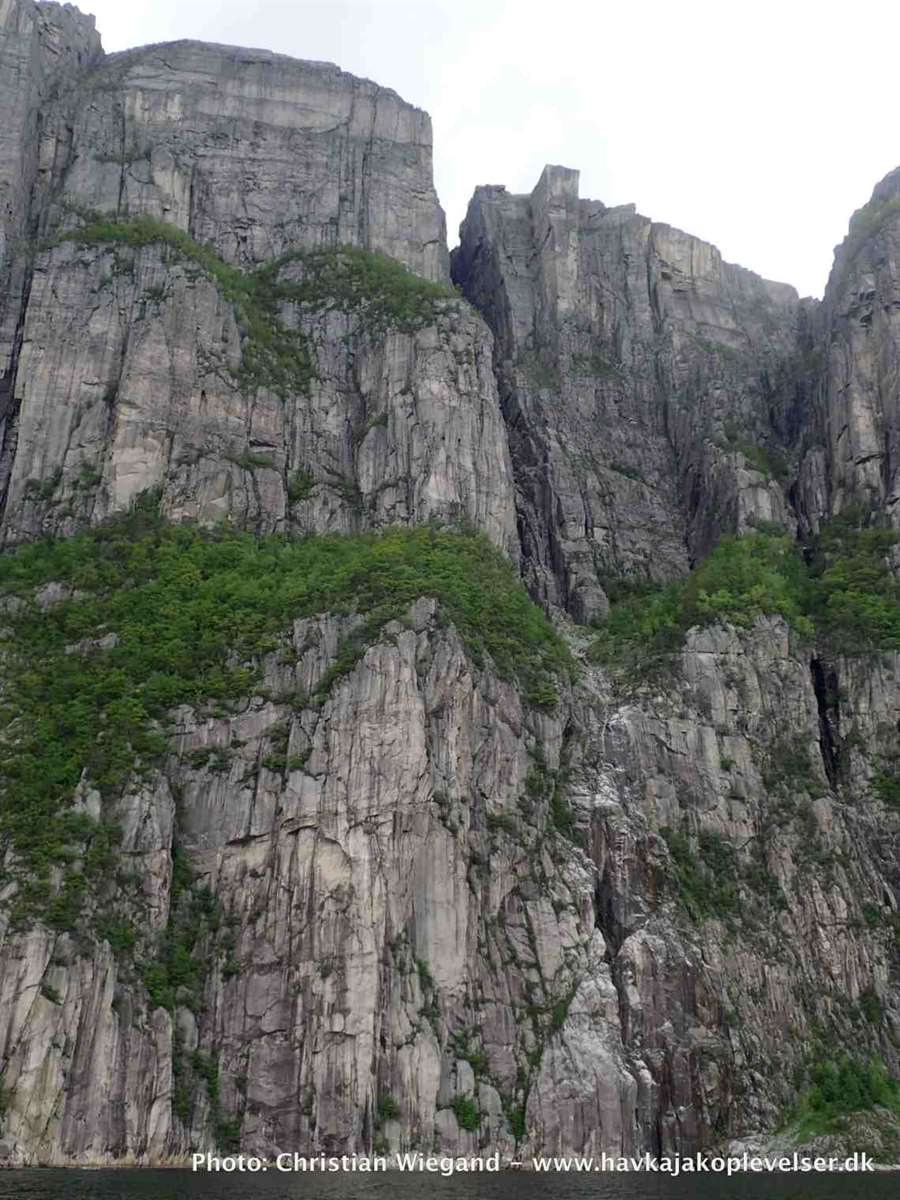 - Prædikestolen.
- The Pulpit Rock.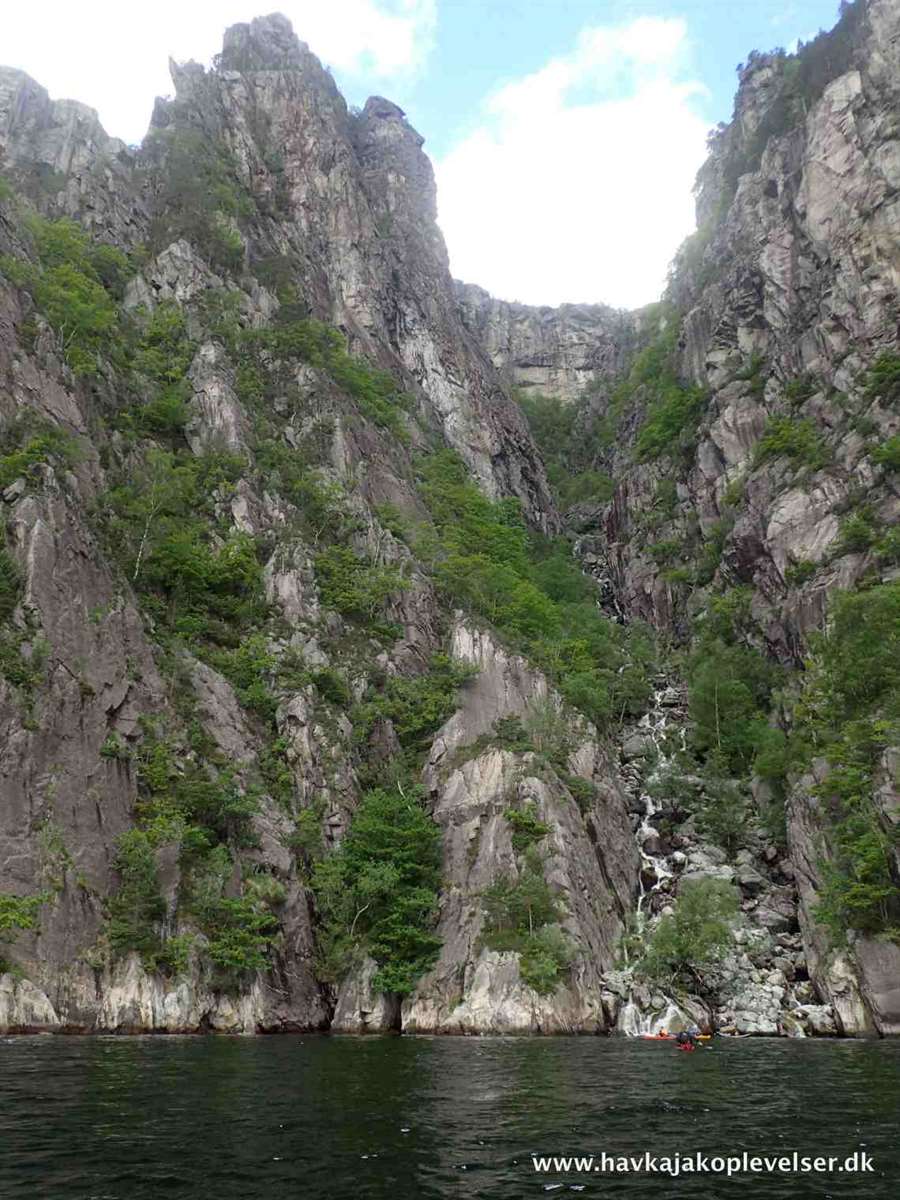 - Klippekysten er ganske enkelt imponerende - bemærk hvor små havkajakroerne er til højre i billedet.
- The rocky coastline is very impressive - note how small the sea kayaks are in the right corner of the picture.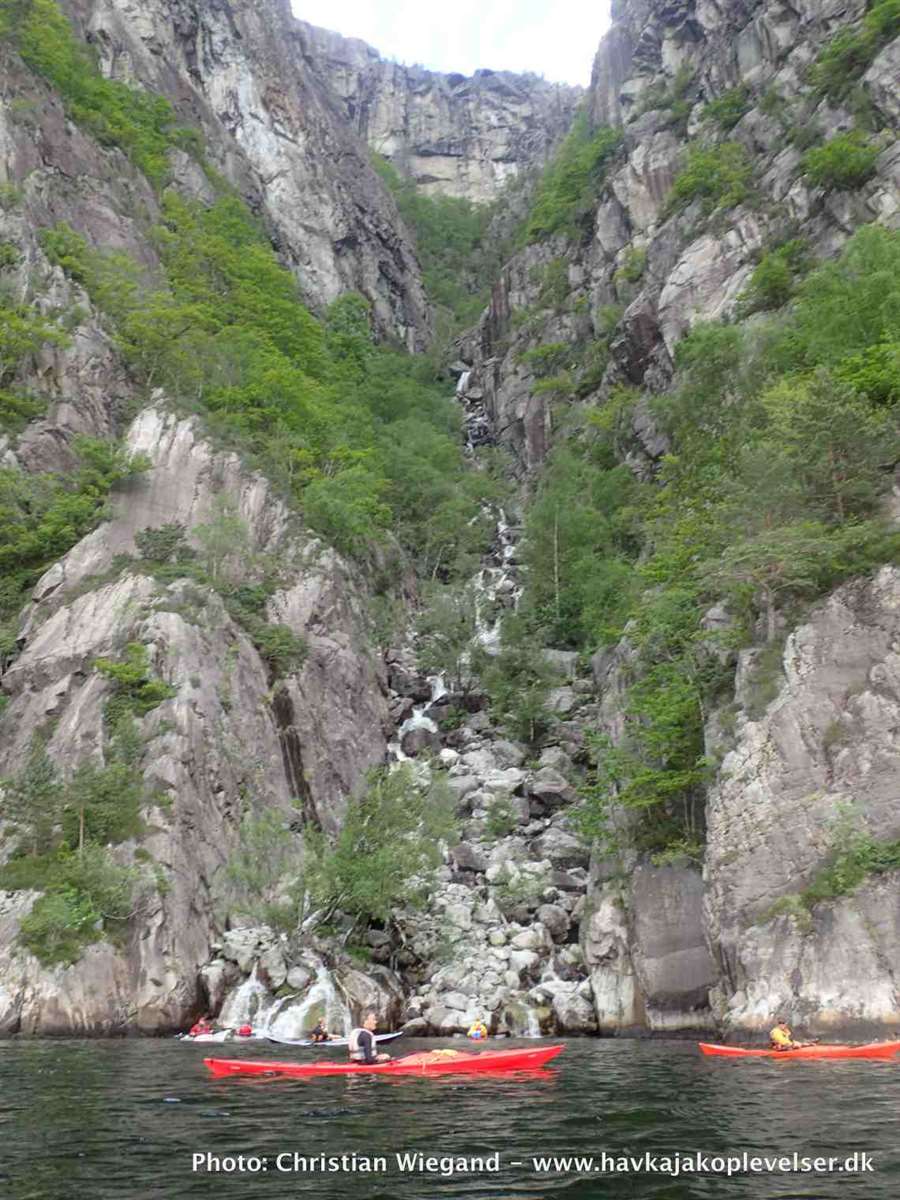 - Der er masser af vandfald langs fjorden, her er et af de små.
- There are plenty of waterfalls, here is one of the small ones.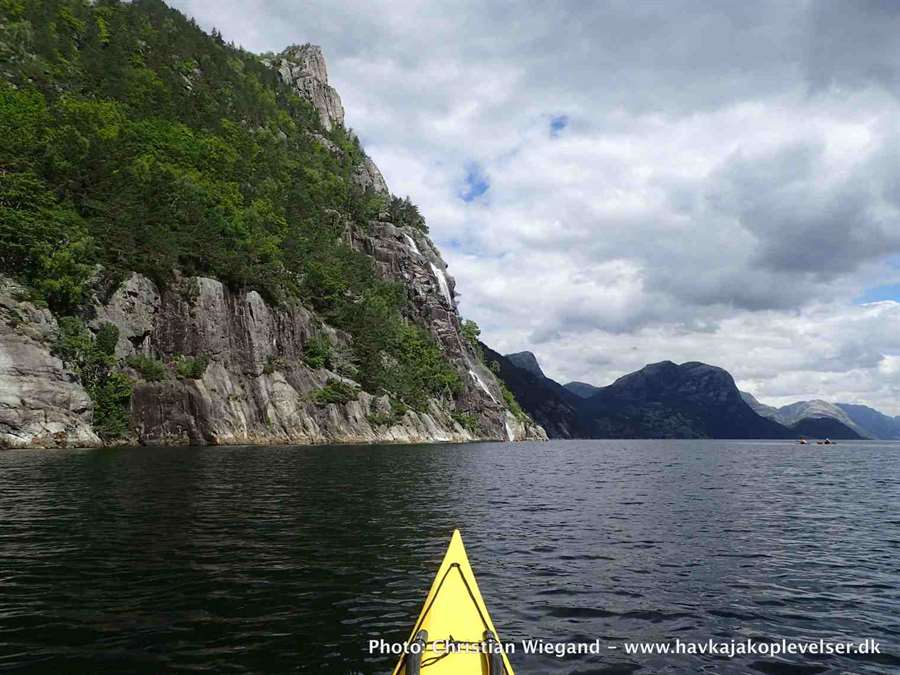 - Længere fremme kom endnu et vandfald som dog var noget større.
- Further on came another waterfall, which was biggere.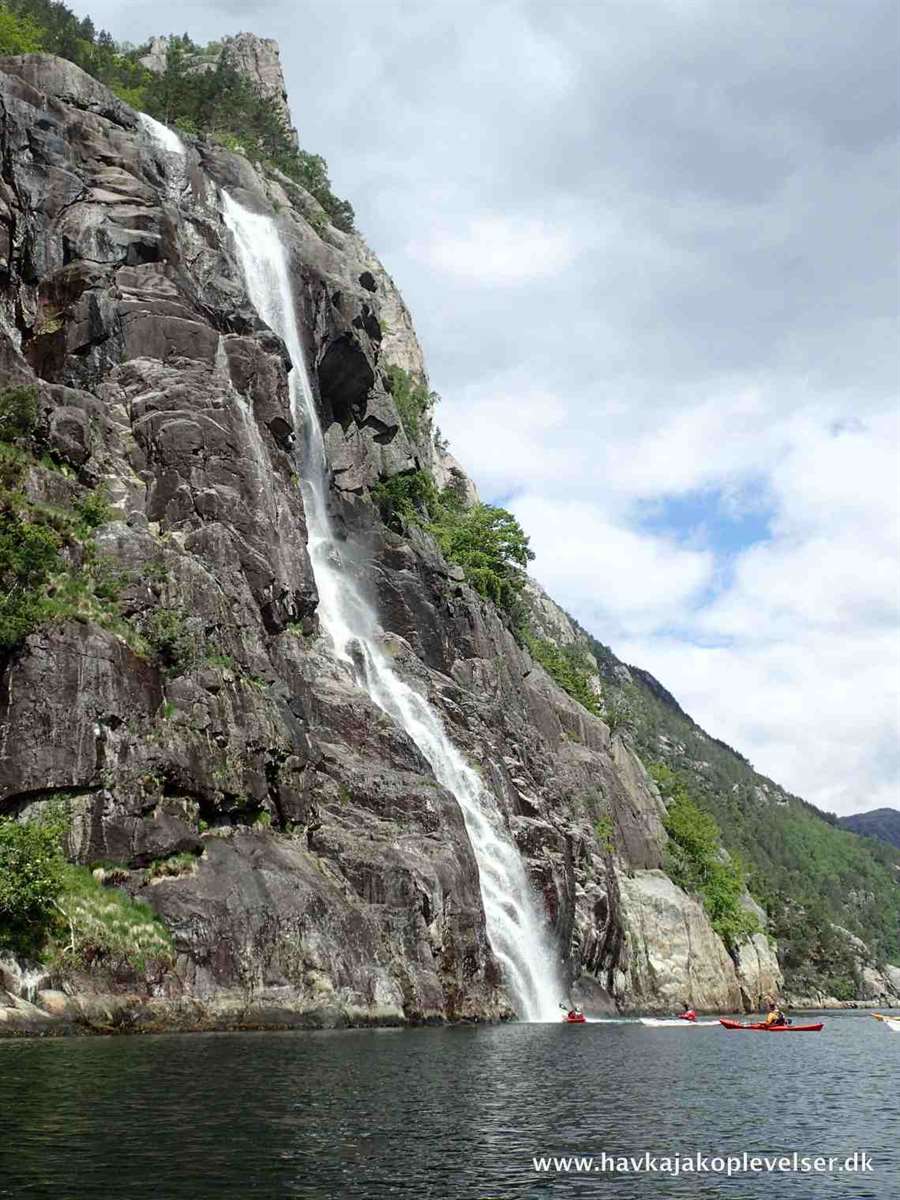 - Det tog ikke længe inden der begyndte at gå leg i det hele.
- It did not take long before some started to play in the waterfall.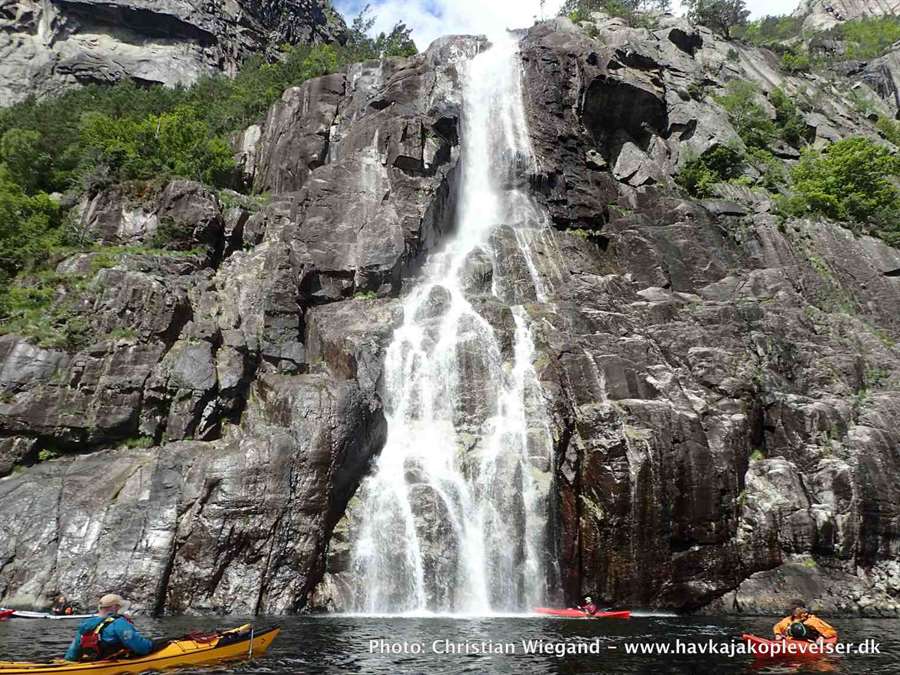 - Leg i vandfald.
- Playing in the waterfall.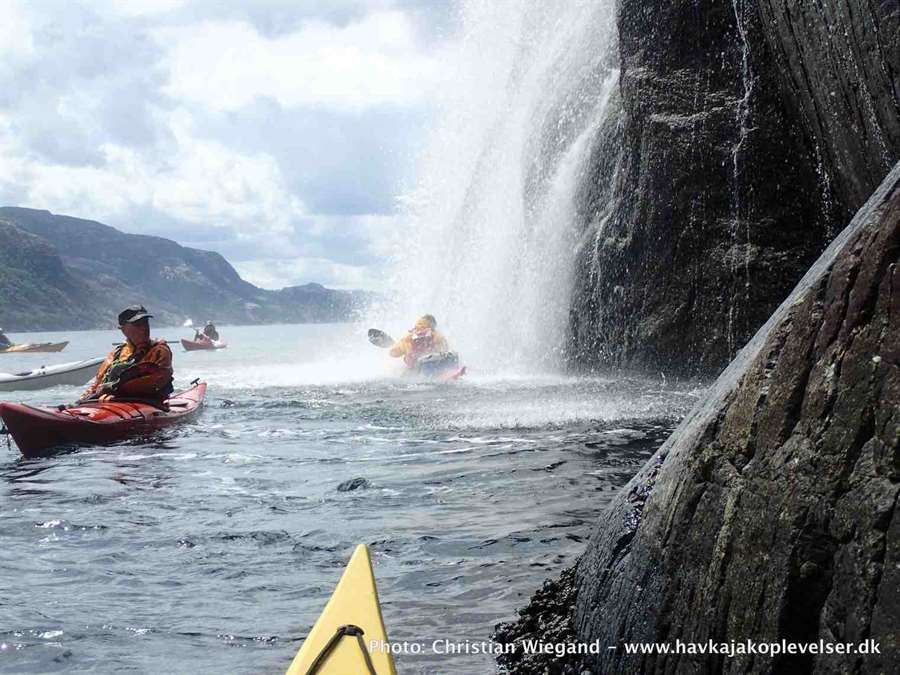 - Leg i vandfaldet.
- Playing in the waterfall.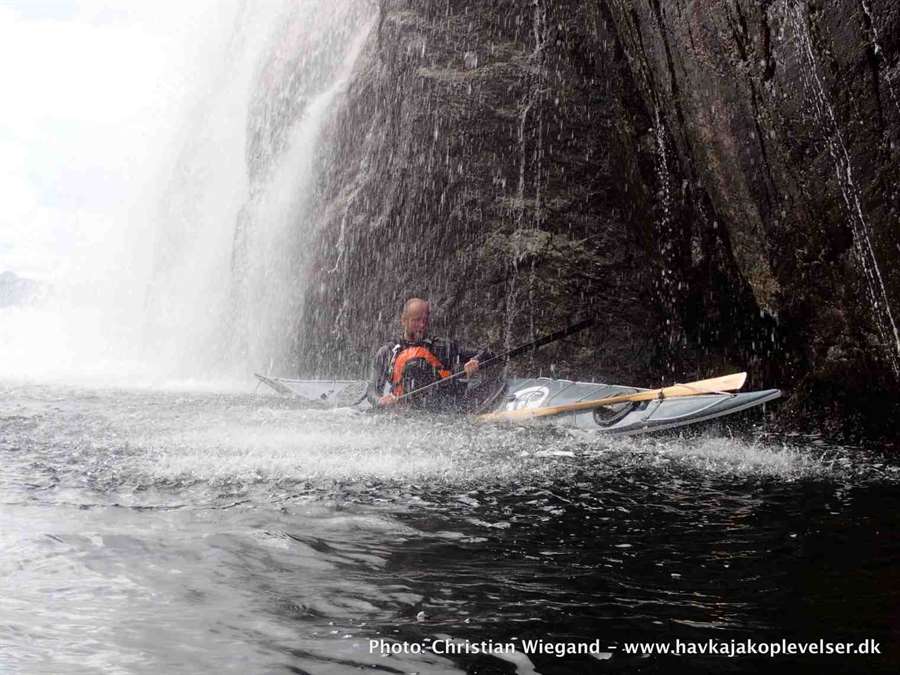 - Vandfaldet trykker godt på kajakken, mens der leges.
- The waterfall give a good push on the kayak while playing.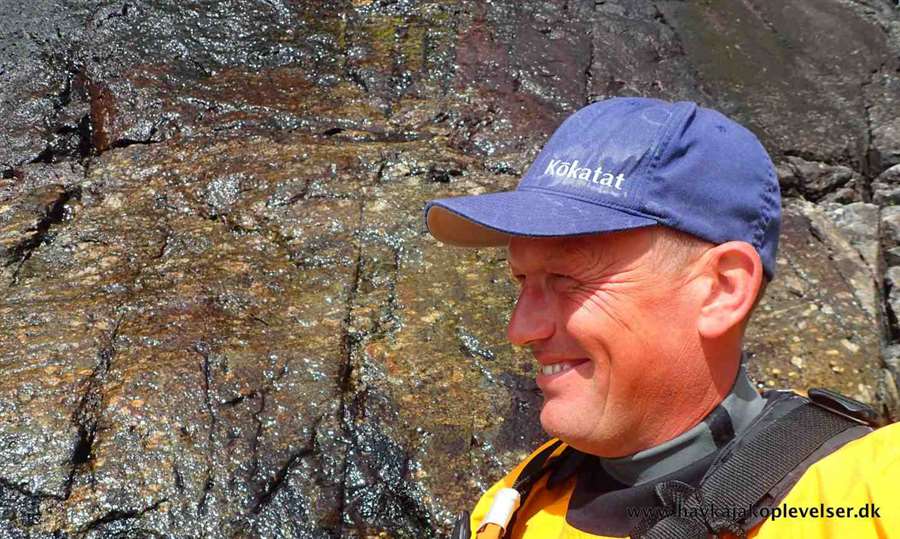 - Jeg nyder det gode liv.
- I enjoy the good life.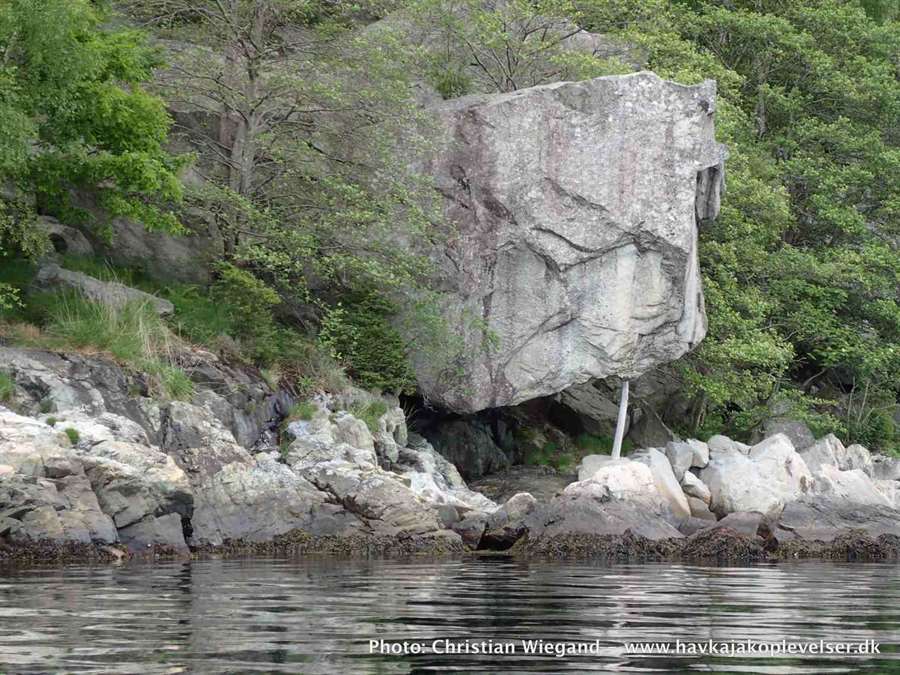 - Klippestykket og pinden her, sprang i øjnene på mig - gad vide ..........
- This piece of rock and the stick, caught my eyes - I´m wondering ..........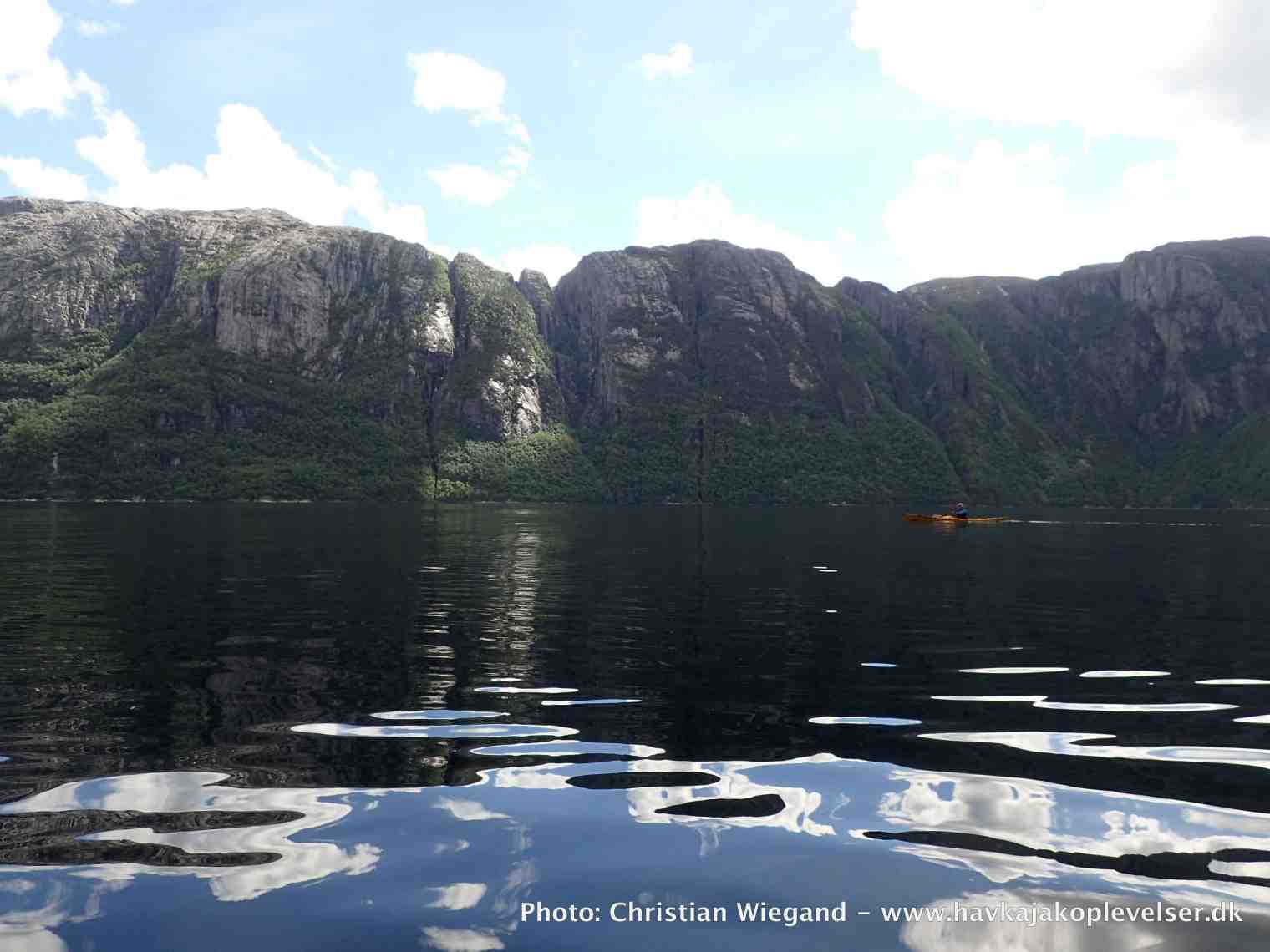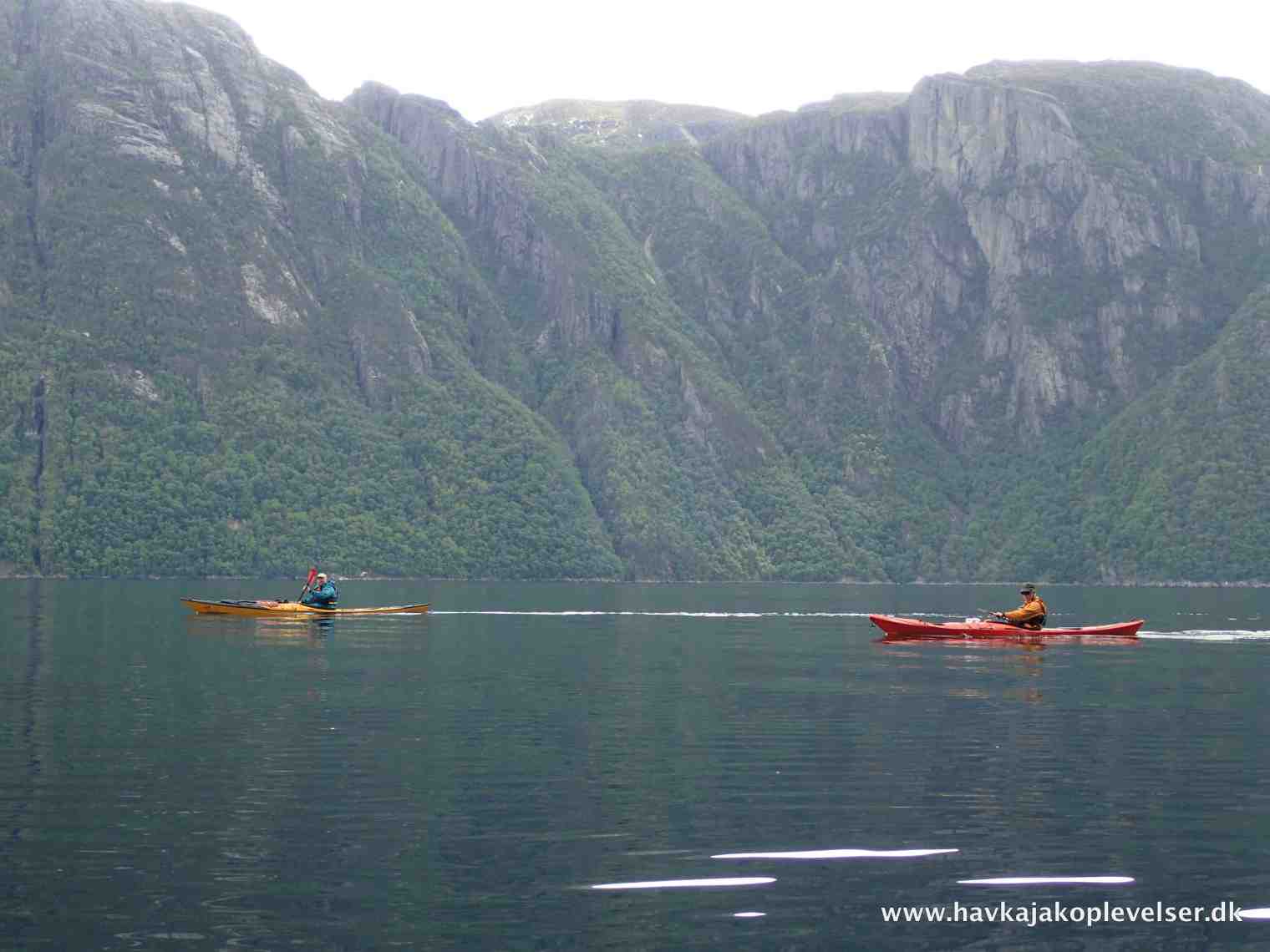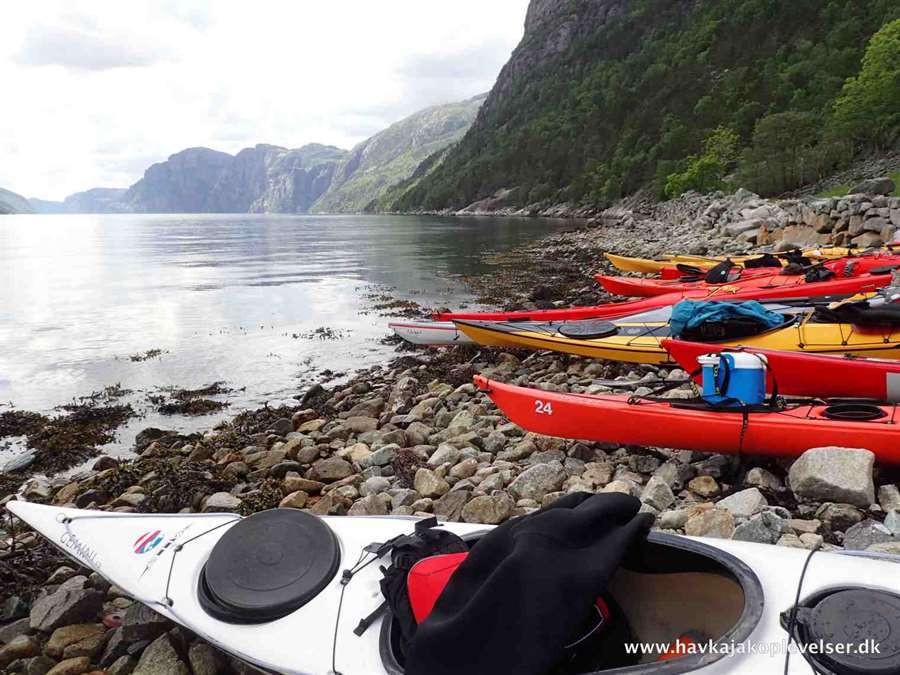 ddags pause - Inden nogle fra gruppen fortsatte ind i Lysefjorden for at overnatte i telt, og andre tog tilbage til bilerne og vores base.
- Afternoon break - Before some of the group went on towards the bottom of Lysefjord to camp in tents, and others went back to the cars and our base.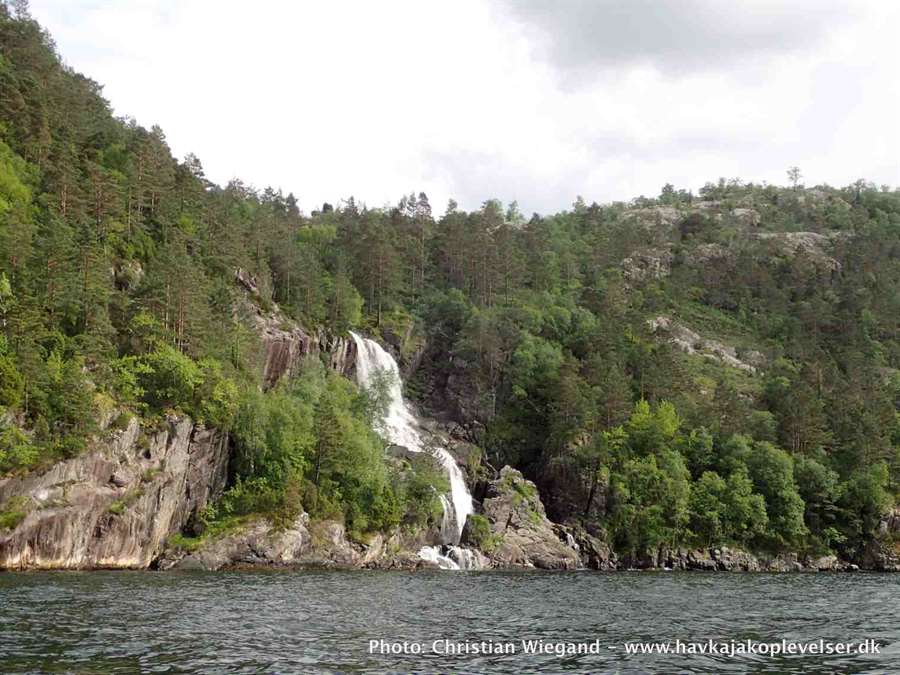 - Vandfald i Lysefjord, på vej tilbage til bilerne.
- Waterfall in Lysefjord, on oure paddle back to the cars.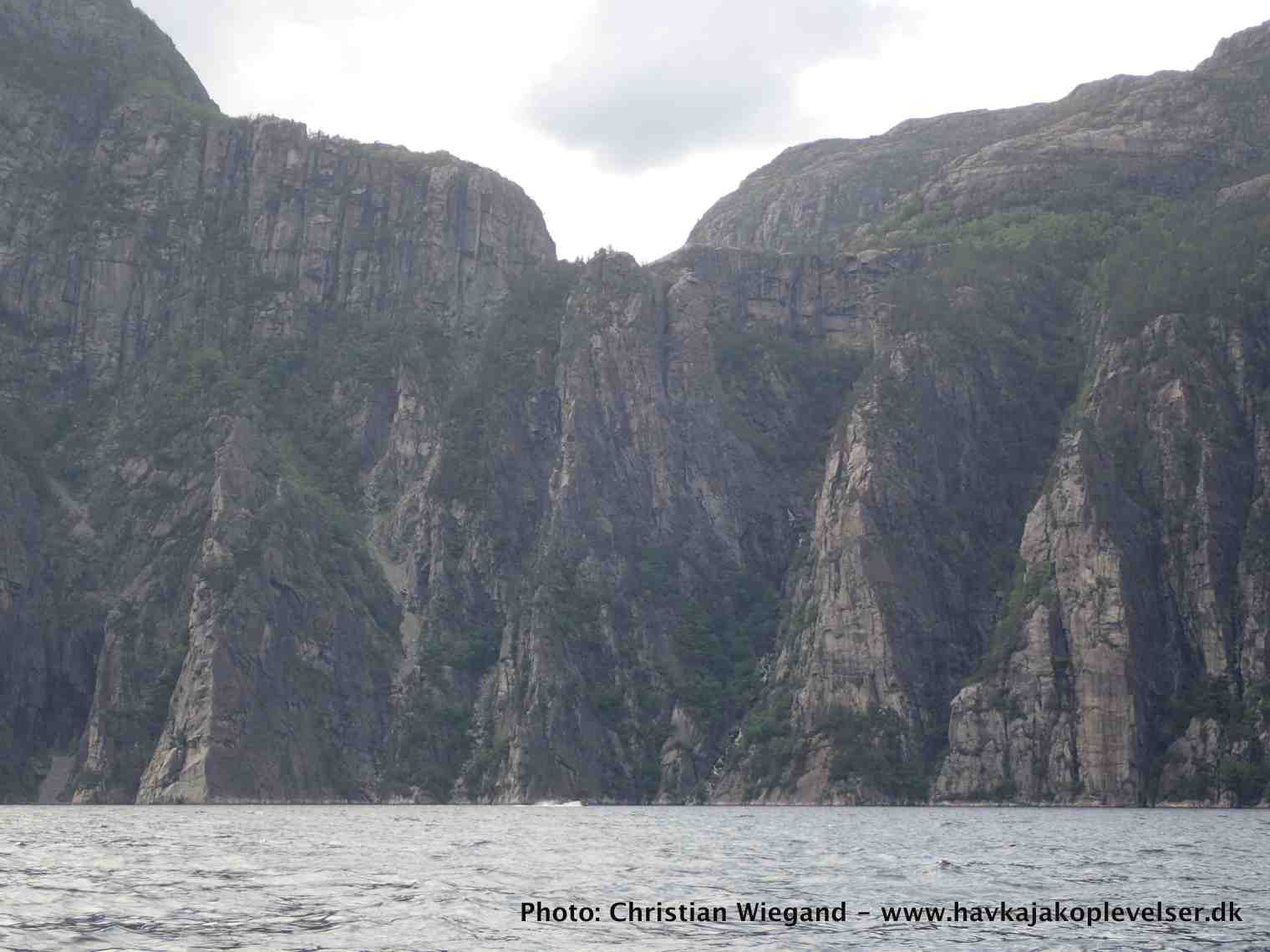 - En helt fantastisk smuk og dejlig tur slutter med et kig over fjorden inden vi ror ind i den lille havn hvorfra vi havde startede dagens tur. Lysefjorden er helt sikkert et helt unikt sted, smukt, fantastisk og betagende sted at ro havkajak. Hvis du har muligheden for det, så tag den, det er helt sikkert en tur man ikke vil fortryde, eller glemme i nærmeste fremtid.
- An absolutely beautiful and fantastic day paddle ends with a look across the fjord, before going into the little harbor, from where we started this day's trip. The Lysefjord is definitely a truly unique, beautiful, stunning and breathtaking place to paddle sea kayak. If you have the opportunity, take it, it's definitely a trip you will not regret, or forget about, in the future.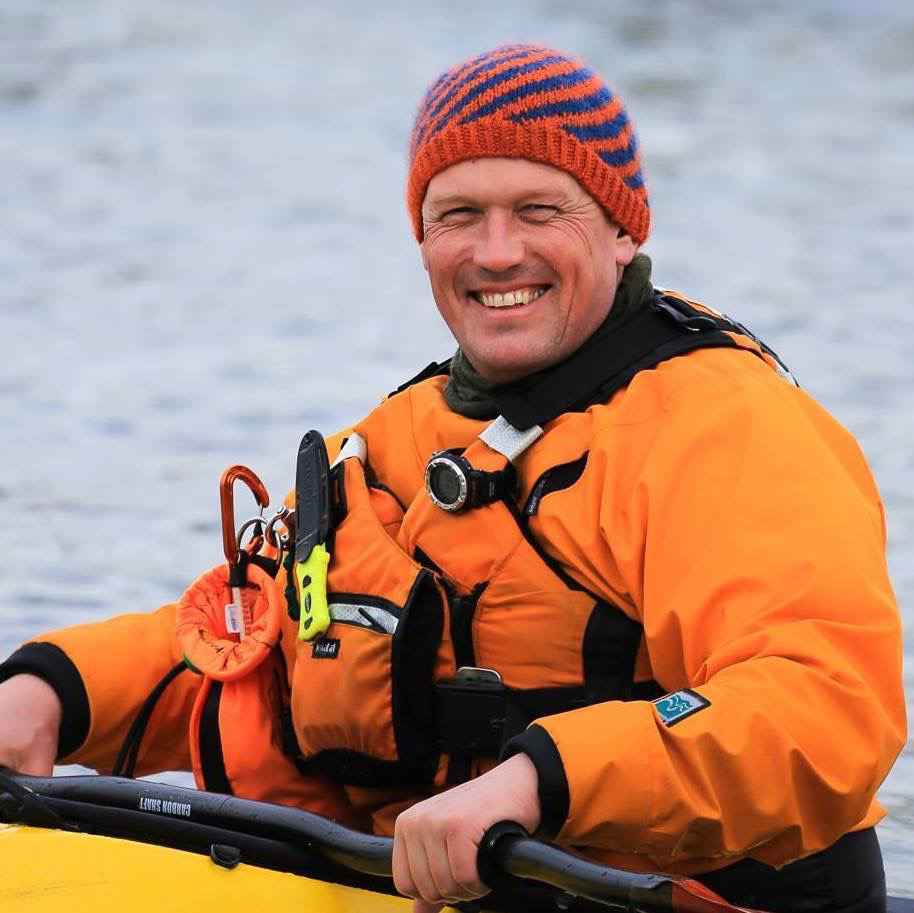 Christian Wiegand
www.havkajakoplevelser.dk
Facebook: Tosset med havkajak / Mad about Sea Kayak
Instagram: cwseakayaking
Twitter: @cw_sea
Sponsored by Kajakkæden - www.kajakkaeden.dk
Sponsored by Kokatat - www.kokatat.com