Solo sea kayak expedition, Isle of Skye, Skotland 2016-09-09/25 - part 1.
English version - for Danish version use this link: http://www.havkajakoplevelser.dk/tidligere-ture/206-solo-sea-kayak-expedition-isle-of-skye-skotland-2016-09-0925-part-1
2016-09-09/25 Isle of Skye – part 1.
The report is divided into 4 sections.
- Section 1: Why Isle of Skye
- Section 2: Preparations, considerations etc.
- Section 3: On the water
- Section 4: What now ?
Section 1:
Why Isle of Skye?
I have been asked, both before and after my trip. Why Isle of Skye, a place that gets over 1300 mm. rain per year, or more than 190 days of rain a year, a place where there are some of Europe's most unpredictable weather and notorious weather, high differences between high and low tide, strong tides, places with over falls, A tough west coast with limited campsites, and even fewer exit points, and at the same time, about half of the West Coast is a so-called " black spot ", without either mobile or VHF coverage, only option in case of problems is to use my EPIRB.
Could not I have paddled a place which was not a part of Hebrides.
The very short answer is "that's why"!
At the same time, it is an immensely beautiful place, with a wildlife. Seals, both common and grey seals, Sea eagles, Otters, Dolphins, Minke whales are found around Skye, while different species come by, Basking sharks, a group of 5-8 orcas patrolling on the west coast, Golden Eagles, Gannets, Puffins and Red deer, are just some of the wildlife that can be experienced, and all from the kayak.
Isle of Skye is for me, Nirvana, and I will definitely come back.
Section 2:
Preparations, considerations etc.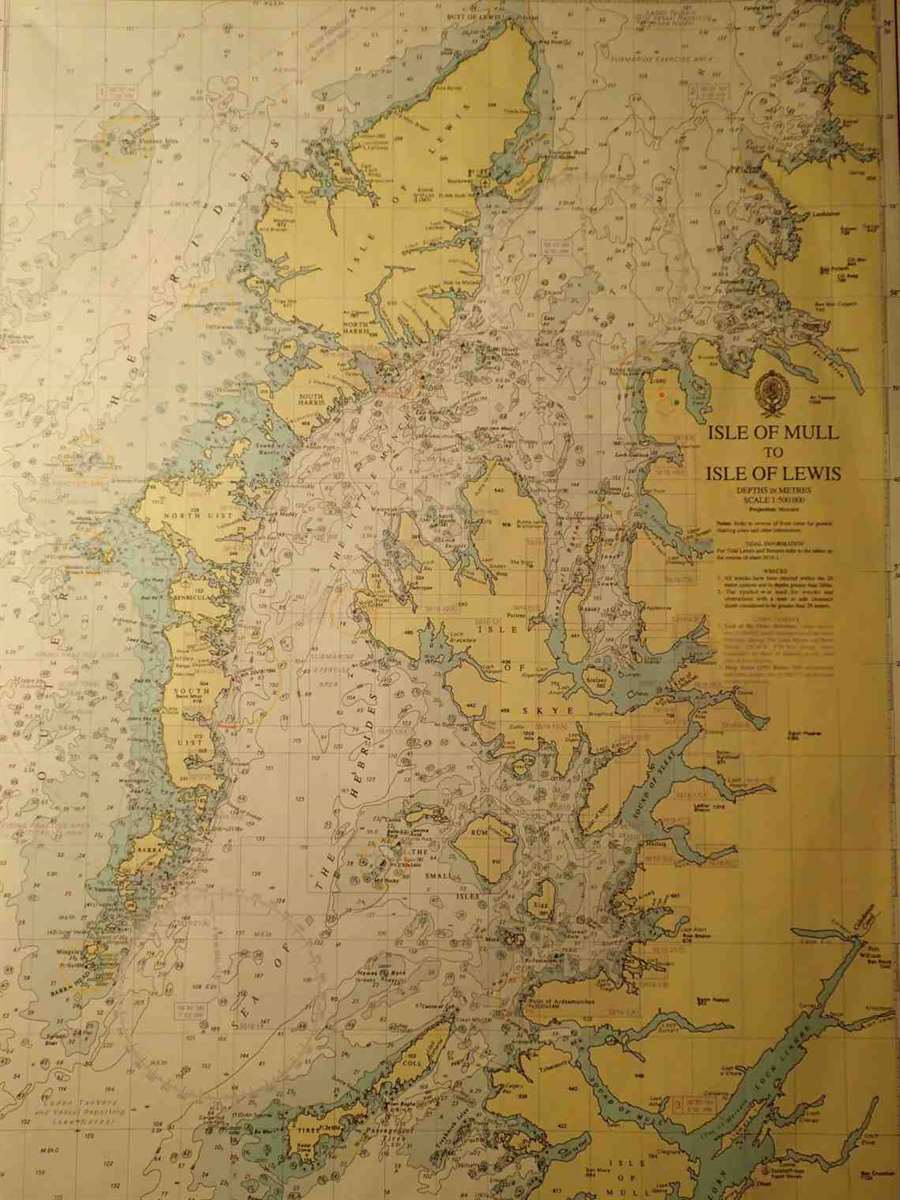 Something about preparations and considerations before leaving.
Solo expedition around the Isle of Skye. In September 2016, I will try to paddle around the Isle of Skye, part of the Hebrides, in the northwest corner of Scotland, towards the Atlantic ocean. The adventure, the journey, the nature and the experiences is the primary and most important for me.
Gordon Brown, from www.skyakadventures.com on Isle of Skye, had offered to share local knowledge, special conditions and information, "must see" and "nice to see" places with me.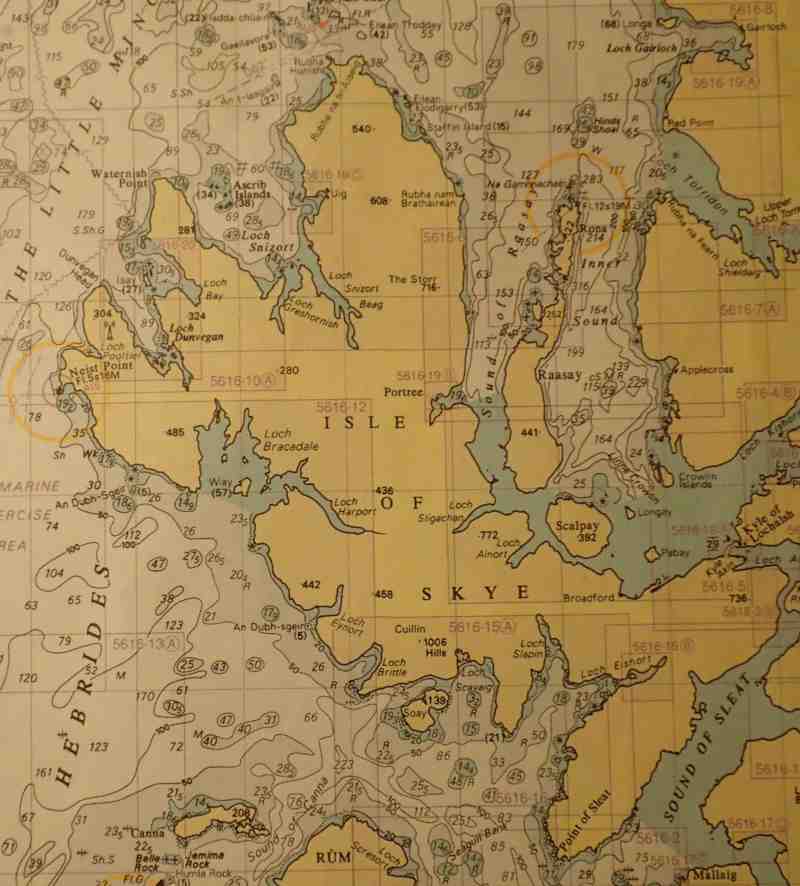 www.skyakadventures.com had also offered, to receive gear, food, etc., if I wanted something sent up to the Isle of Skye.
Preparations were well underway, here one and a half month before I was to leave.
Charts I had bought from previous trips to the Isle of Skye, so it was all sorted.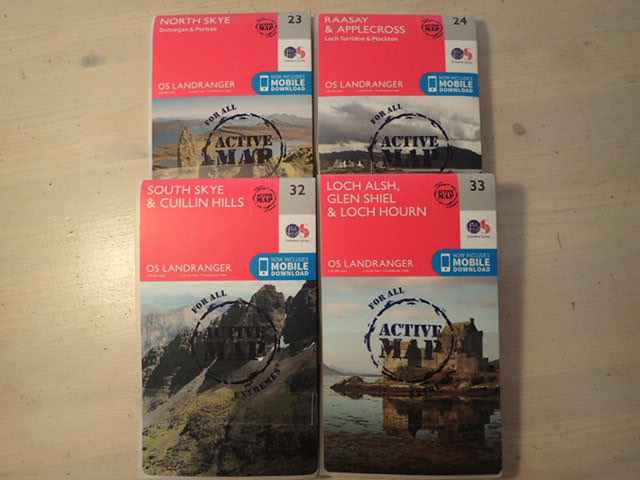 I had not previously use OS maps (Ordnance Survey Maps) in the area around the Isle of Skye, so it was on the list of things I should have.
I bought the Landranger series, which is 1: 50,000, and chose "Weather proof Active version".
Admiralty Sailing Directions - South west coast of Scotland Pilot.
The book contains a myriad of important information about currents, tides, and special weather conditions that could have importance for me along the way, all bundled therein.
In addition to Charts, and Os-maps, I have taken the time to find information on winds, weather and tides.
I have seen on maps and used google earth, to find exit points in case of illness, injury or other events.
I had for the last 6 years had a Kokatat Tropos drysuit, which needed to do be replaced.
I contacted www.kokatat.com and told about my plans.
A 14 days paddle trip, if possible, around the Isle of Skye, and later paddling in the area around Oban.
I told that even though it was done before, and by many, I hoped that my story and pictures would help to create dreams and inspire others to go on expeditions. The place to go on expedition is not necessarily more important, than the experiences you get, whether you are alone, or with others.
Kokatat liked my plans about hoping to, create dreams and inspire others. The choice was not difficult when I was offered sponsorship from Kokatat and Kajakkaeden.dk who found my trips interesting and exciting.
A huge thanks for support and sponsoring, to kokatat.com and kajakkaeden.dk
A few days later, I received my new
Kokatat Gore Tex Expedition Dry suite.
Safety is and will, during the whole trip, be at the absolute most important.
I have a VHF radio with DSC (distress call), but as a big stretch, especially along the west coast, where there is no coverage with VHF radio, unless you can see a ship that can relay a message for you. I thought I should find something that would work regardless of my location.
My choice was an Epirb / PLB, from McMurdo, model Fast Find 220. I bought it in the UK and registered the Hex Id number with the Danish Maritime Authority, who sent me notification when my Epirb / PLB was registered.
Pyrotechnics is always something difficult to take with you, when traveling by airplane.
I could borrow some distress rockets and flares, but as a supplement, that would signal for longer time, I had chosen to supplement the distress rockets and flares with a "Rescue Laser Light - Red ".
It can under optimum conditions signal up to 32 km at night and 6 km a day.
At the same time a set of batteries last for 40 hours, and it use replaceable 3-volt lithium battery.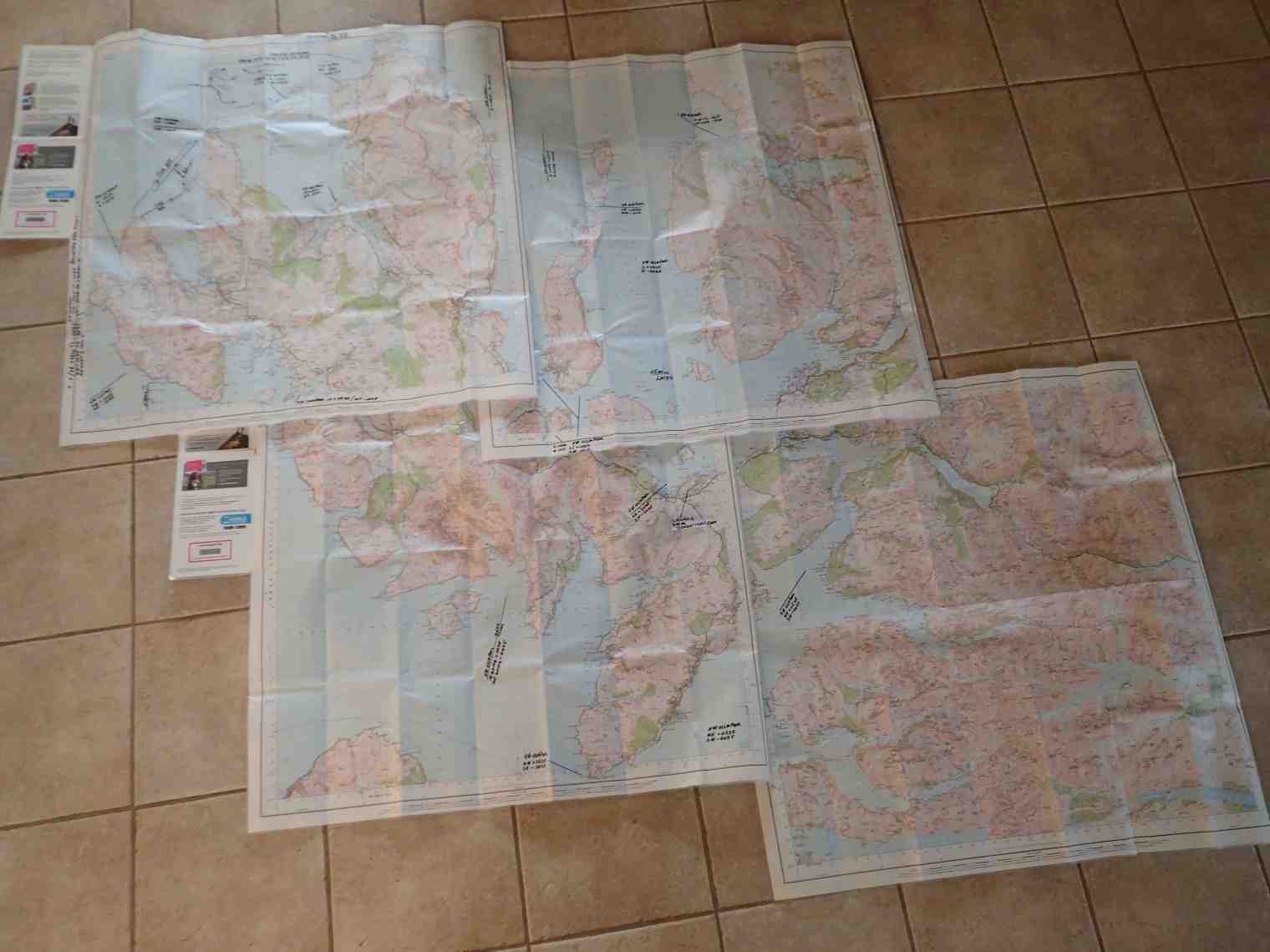 The 4 Ordnance Survey Maps (OS maps), covering the entire Isle of Skye.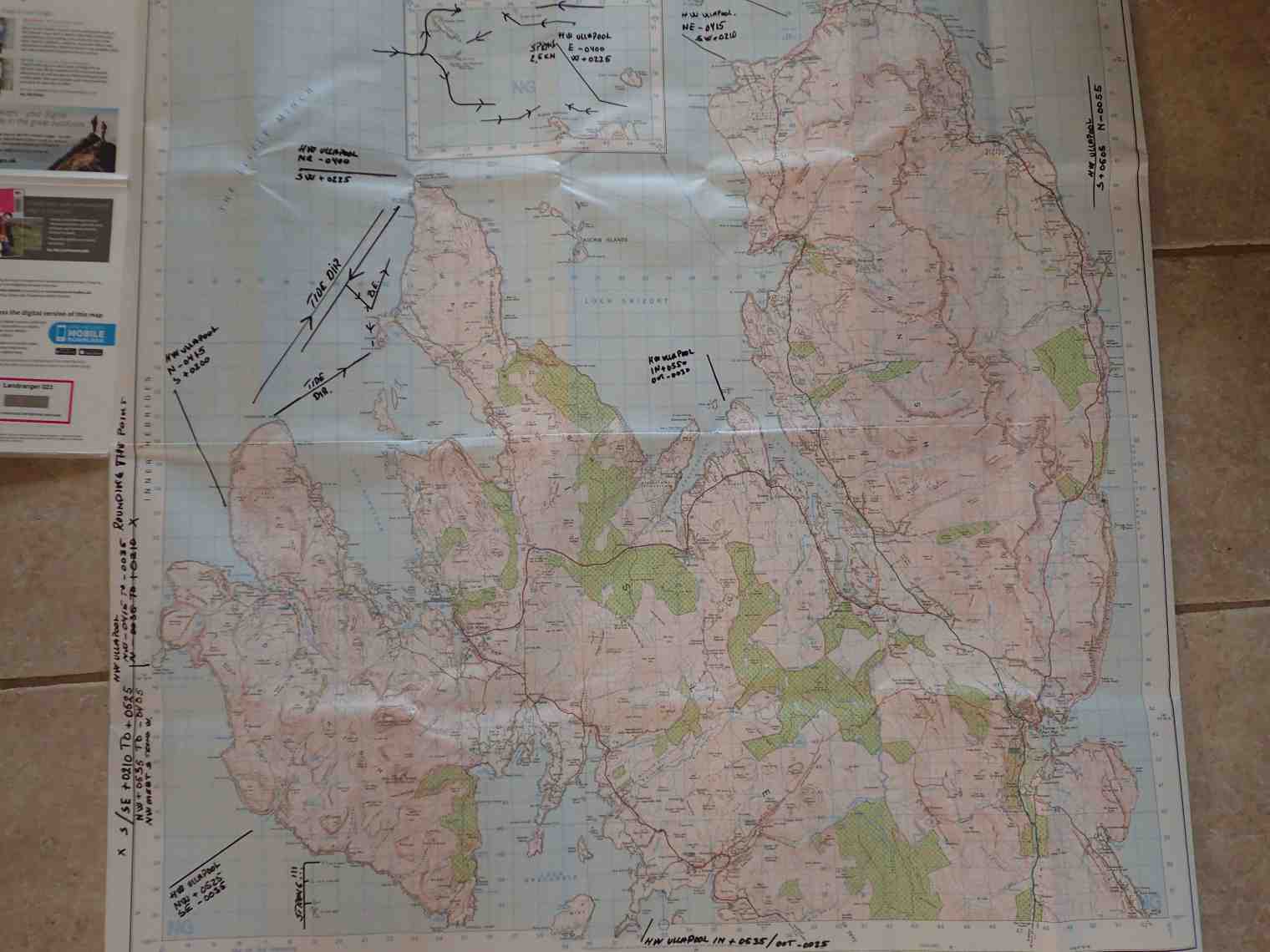 Tidal direction and high tides in Ullapool, which is the reference port, I wrote in the maps at home.
It can easily be done at home, and is somewhat easier in the living room than in the tent.
Information in the form of maps, charts, Pilot Book, safety, kayak, camp gear, food etc. have of course, been something that has been on my mind, right from the first idea.
But with time to do the planning, it is not something I have been, or was nervous about.
As for the weather, it is not something, I can have any influence on, but can only hope for the best.
I had also taken the time, to find out what wildlife was to be expected, both on land and in the water.
On land, there should not be anything which not also is in Denmark, the first aid kit was ready for both wasp, bees, Viper etc.
As for the water, there was as at home, whenever which also could be done with the first aid kit I had in the kayak.
Sea urchin is not something I have met at home, but they is found in abundance on the Isle of Skye, so I studied what would be the consequences of getting stung on them, and what to do if so. Vinegar should dissolve any broken spikes, in the feet, hands, etc. so it was added to the kit. Possibly allergy, could perhaps be solved by some antihistamine, if not I had to go to the hospital as soon as possible.
Since I have not tried to get stung by a sea urchin, I didn't know how I would react, but had to find out what and how, if it should happen.
I had contacted the Coast Guard / Rescue Service, and asked if they were interested in my plan, which they were. They got my planned route, the colours of my kayak, my mobile number., call sign, MMSI no., Next of kin, if necessary who to contact on the Isle of Skye, etc. etc.. It was agreed to report to them before I went on the water, and then again when I was camping for the night. If I would have weather reports, or other relevant information, I should feel free to contact them. What a great service from their side.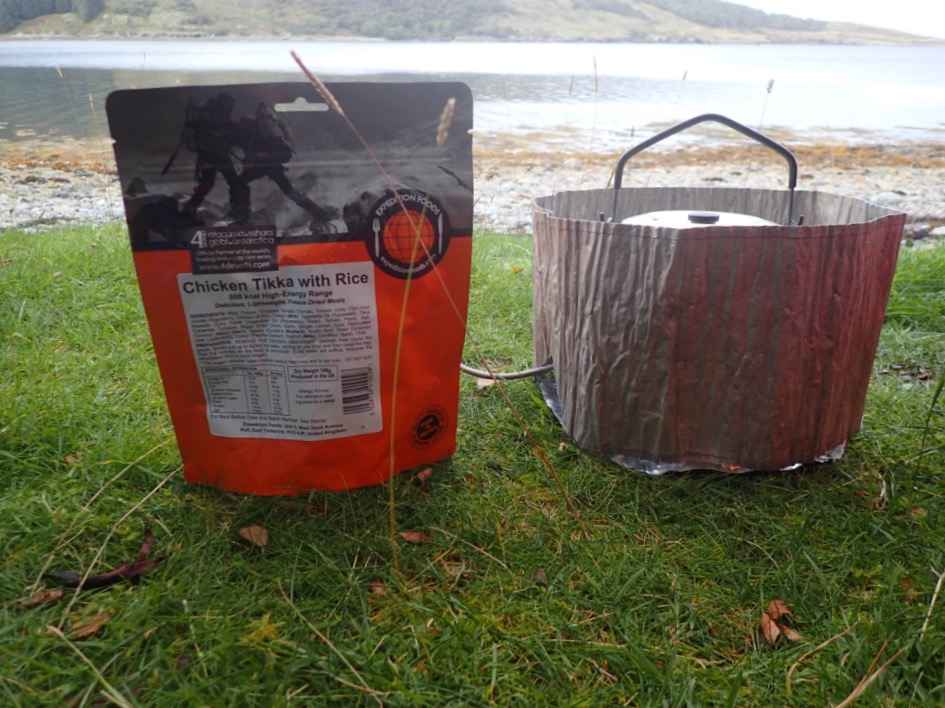 I had been looking for opportunities to buy food, but the options were very limited.
On the Isle of Skye, there are opportunities for shopping, but it is either first or last on the route.
I would bring dry food, so I could manage for 2 weeks. Drinking water I could get from springs and waterfalls.
Expeditionfoods.com supported me, with a very god price with the purchase of dry food for the trip, so it was also in place.
I have for the last 7 years been paddling a sea kayak, which can easily hold camping gear and supplies for 3-4 days, but the upcoming trip, was planned to14 days, incl. 2-3 days to be blown in, and rest, so I was to paddle about 45 km. / 25 nm. per day, with help from the tide.
I had measured the trip countless times, and reached approximately 480 km. / 270 nm., depending on how many inlets and islands there was to be explored.
I had therefore also taken the time to find, and test kayaks, that had the volume to what I would have to bring, and also been able to sit in, for many hours at a time.
My choice was a Valley Eatin 17-7, god volume for packing , great tracking, nice to roll, easy in and out of the cockpit, and at the same time, I sat extremely well in it.
I searched for support, at home in Denmark, but without success. Since I was to use the kayak on Isle of Skye in Scotland, and Valley kayaks are made in the UK, I now tried to search in Scotland.
I contacted www.seakayakoban.com , and told about my Trip Plans, a 14-day trip around the Isle of Skye in September, and later, a trip around the Oban area.
Seakayak Oban thought it sounded exciting, and would support me, with the purchase of the kayak, some extra gear, and could also make sure, it was delivered to Gordon Brown at www.skyakadventures.com on Isle of Skye.
So far, there was nothing I was worrying about, and felt as prepared as I could be. Wind and weather, could I have no affect on, so I had to take as it came, and it came in plenty.
Something, which in turn had taken up much of my thoughts, and still did, was the mental aspect of the trip. How would the challenges of tidal planning and tide races, possible capsizing, the vast Atlantic Ocean, ups and downs, defects, rain all day, wind etc. affect me mentally. And what about those at home, would I have time to miss them and think about them, or would experiences and impressions do, that I was not struck by sawing them, etc.
What would the impact be, when the doubts raised regarding the tidal calculations and conditions, undoubtedly it would emerge. How difficult would it be to suppress the doubt, or might it be my subconscious trying to tell me something.
Isle of Skye, is famous, or feared, if you will, for its notoriously changeable and sometimes very harsh weather. Difference between high and low water, which can be up to +6 m. / 18 feet, which is not the biggest difference in the UK, but still however a difference, and due to the coastal conditions, generating a tidal stream, gaining momentum every time the tide hits a headland, islands, passages etc.
A west coast, with large headlands, and associated large back eddies. How far from land would I had to go, to get free of them, etc.
In the area between Kyleakin and Armadale, there are official tidal measurements of 11-12 knots, and unofficial measurements of up to 14-15 knots.
Not the least, how would it be, to be alone, with all this things, without having someone to lean on, sharing both the ups and downs with, no one to help, either on land or on the water, not to have someone, as such, to talk to for 14 days.
It is a challenge I had a huge desire to take, both to try it, and to learn more about myself, both physically and mentally, and find out how it would affect me.
I had agreed with the family that they would not contact me while I was on expedition. I would, if there was coverage, send a text message with OKAY, when I went on the water, and when I had made camp. In addition to that, we should not have contact.
That being said, I was full of anticipation, excitement and desire for adventure.
2016-09-09 Friday
On Friday morning, up at 5:45 breakfast before my wife drove me to the airport.
Finally, the day I had been waiting for, and looking forward to, for so long.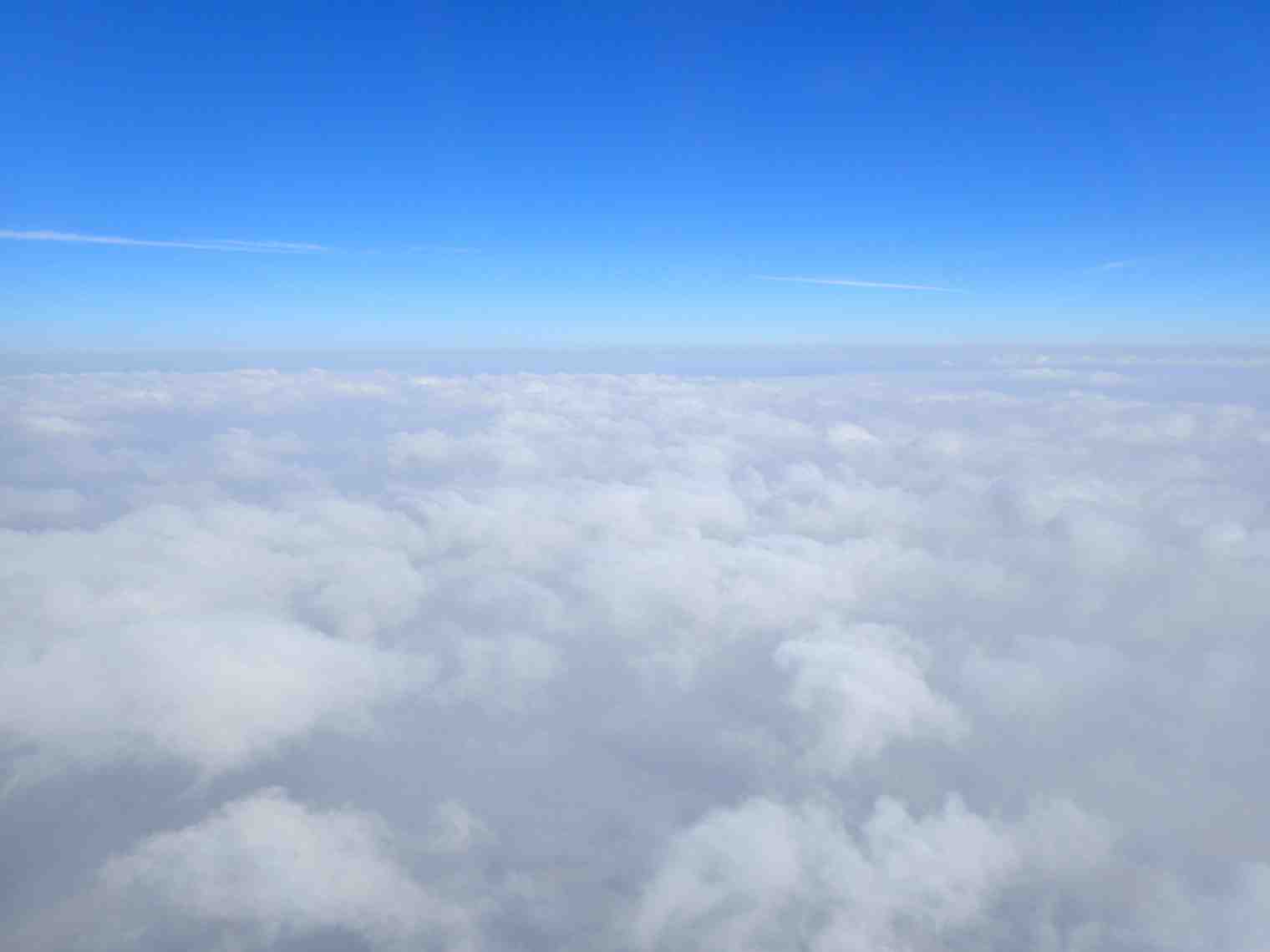 The flight went as planned.
I was struck by the thought of what I might have forgotten, did I have all the information about currents and tides, etc.
The excitement and expectations quickly took over this thoughts.
I could not make much difference now, if I was needing anything, I had to work it out.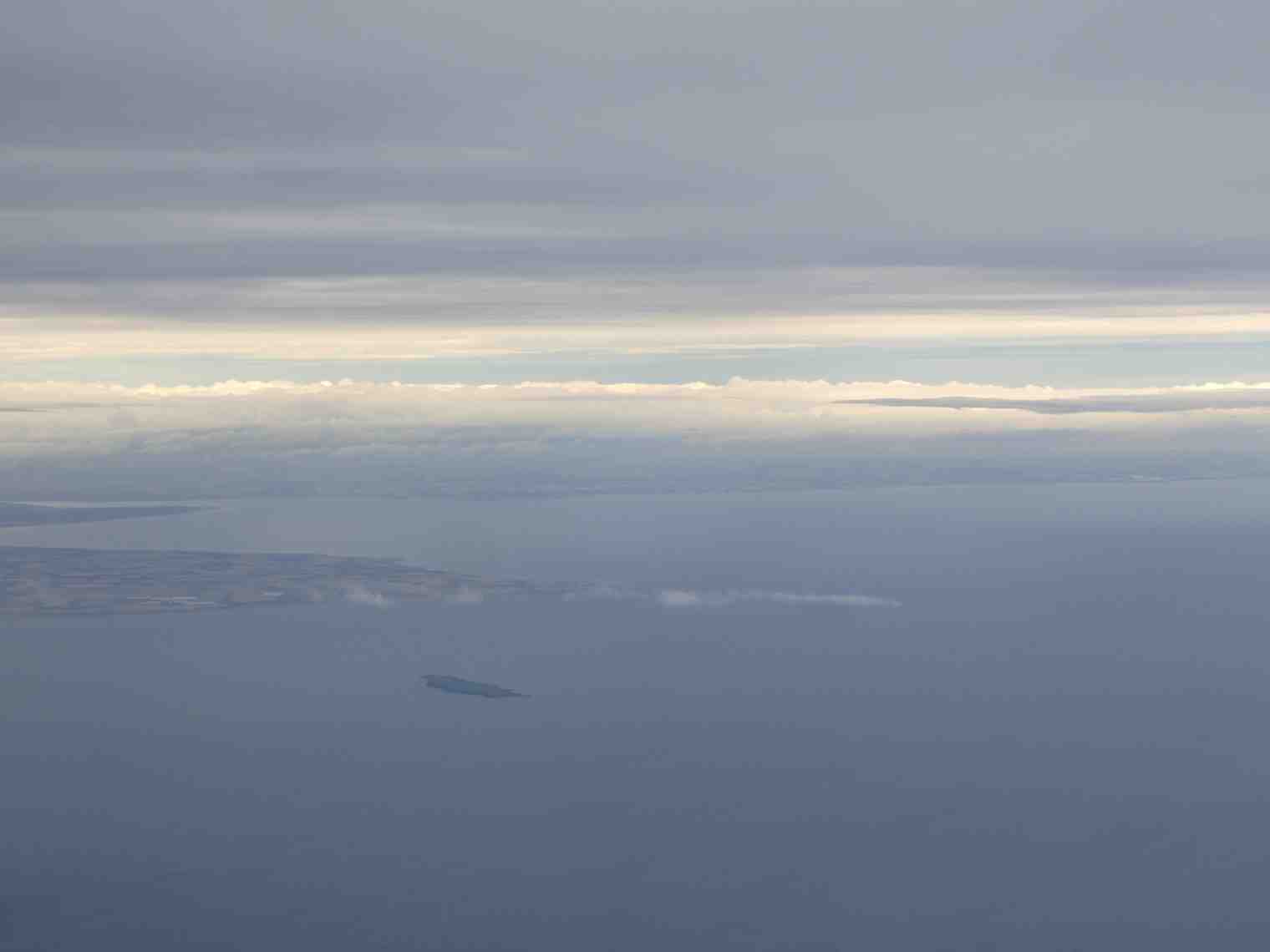 The first sight of Scotland, approaching Edinburgh.
Now I was to get my luggage, pick up a hired car, and then heading up to Isle of Skye, about 4 hours drive.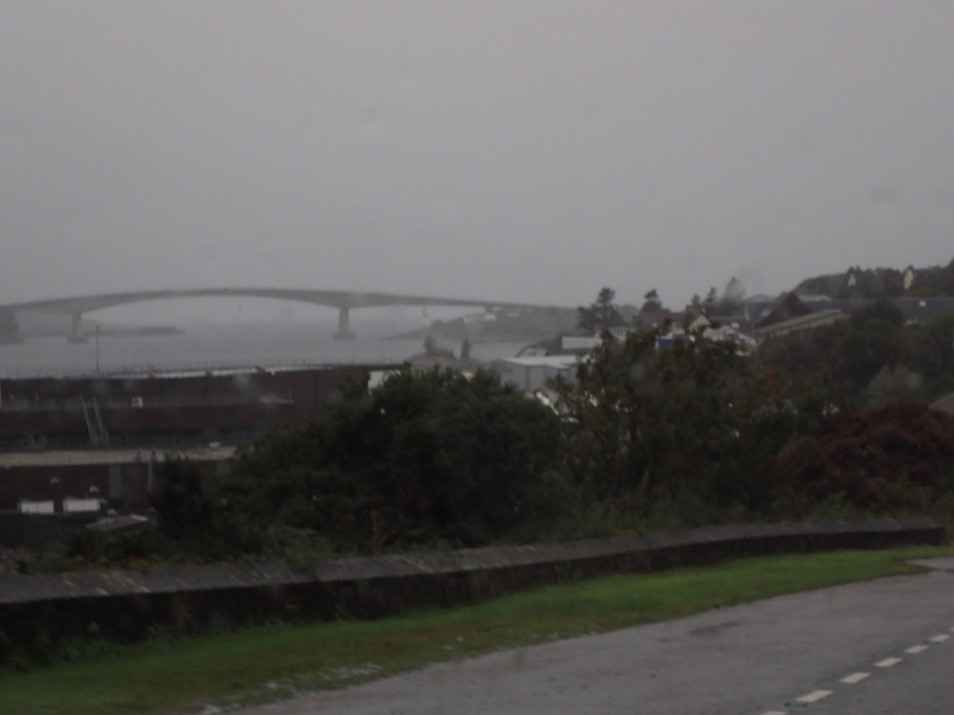 Finally, Skye bridge.
I had arranged with Gordon Brown, to come by the afternoon. We had arranged the parking of my car, and where I should put the keys.
I got what had been sent up to skyakadventures.com , and got to see where my kayak was waiting for me.
I thanked Gordon and his wife
Morag, for all their kindness and help.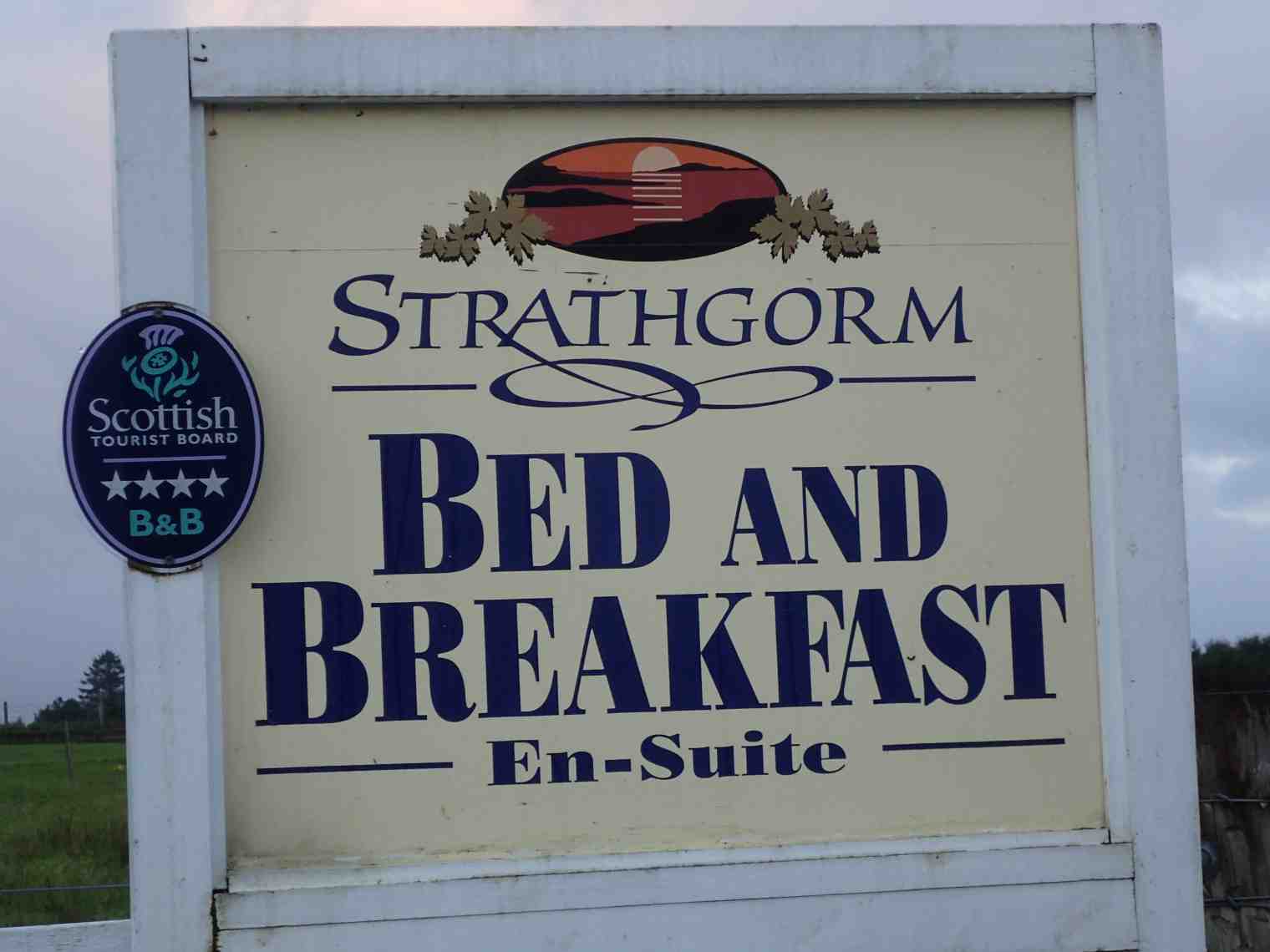 A quick stop at a cafe in Broadford for dinner and then "home", to "my Scottish mother," Alison, who has a real nice and very cosy B & B.
I had booked one night so I would be sure to pack the kayak for the first time, without everything being wet, even before I had started to paddle.
Alison and her husband sat in the kitchen, waiting for me when I came. We had a beer and talked about what had happened, since we had seen each other, before I went to bed.
Section 3:
Launch.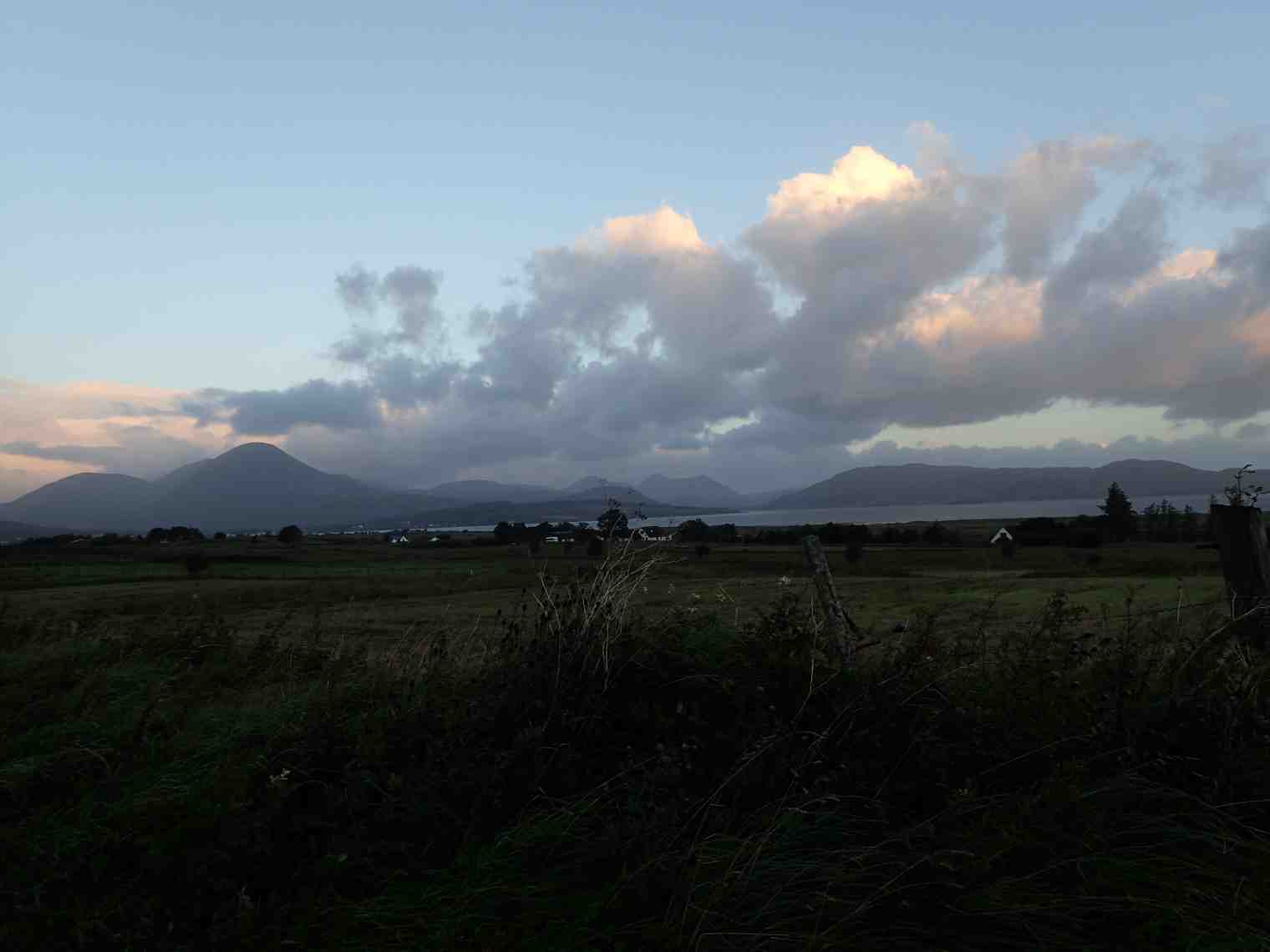 Today's distance:
15 km. / 8 nm.
Today's weather start:
Clouds rain and sun
Difference between high and low tide: 1.5 m.
Temperature: 15 degrees C.
Barometer: 1008 hPa
I slept like a baby, and was not tired when the alarm clock woke me at. 6.15.
A beautiful morning when I looked out to the water towards the Isle of Raasay, but there was no doubt, there was also plenty of wind.
While I took a nice bath, I did not hope that it would not be my last for 12-14 days, but that I would be able to buy a bath, in one of the two camping sites, I would past, if they were not closed.
As I paid for the room, Alison asked if I not had seen the weather forecast, and if I wanted to stay a few more days. I could stay at their son's room while he was on vacation for the next 10 days, because all rooms were booked.
I had seen the weather forecast for the next five days, but thought that a lot can happen within a day or two. We agreed, I would accept her offer, and call her, if my sleeping bag and everything got wet. I had arranged to be at Gordon pm. 8:00 so off to Skyak.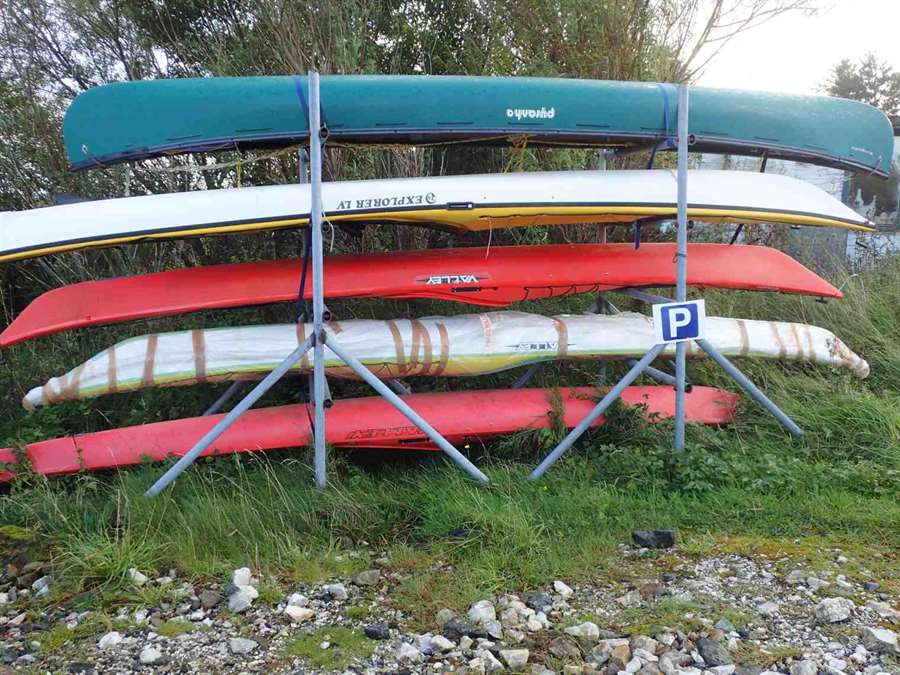 My kayak was nicely placed in a rack, wrapped in plastic.
Out of the rack, unwrapping the plastic, and checking that everything was okay.
I was excited to do the packing the first time, could I have the most necessary.
What would be nice to have, would I be able to have that to?
I had plenty of time to pack, repack and pack again, until, at least the necessary was packed in the kayak.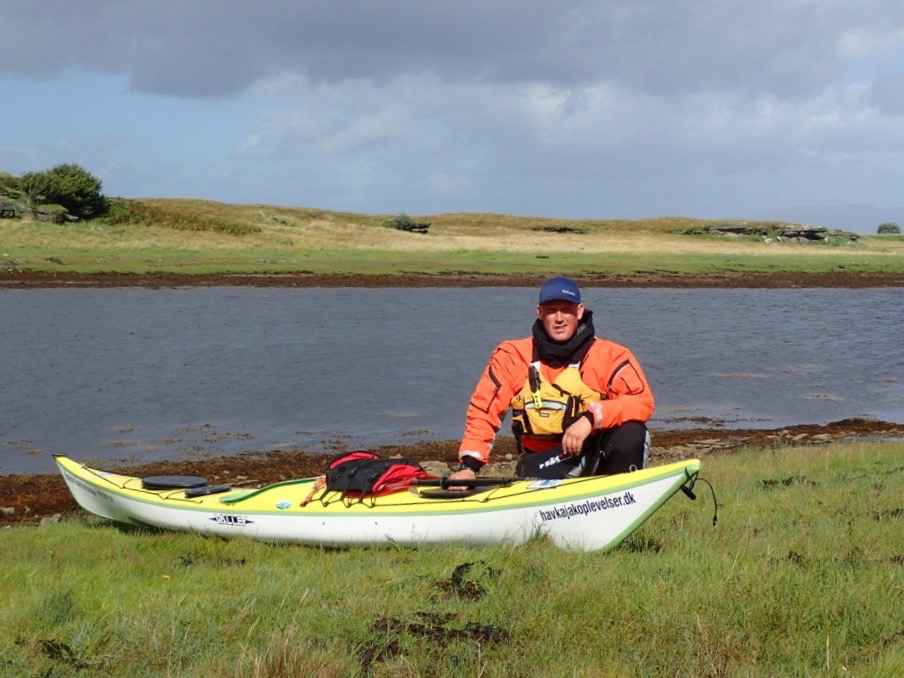 I had tested, looked, and examined the kayak at home in Denmark, and knew that it could take quite a lot.
Still, I was quite surprised that I could get everything I had brought into the kayak.
Well I mean, there was nothing laying and rolling about, but there was no problems getting it all in the kayak.
High tide was at 14:00, and I was ready at 13:00
A cup of coffee, while I contact the Coast Guard. Unlike in Denmark, it is normal to notify them, both when launching, and again when back on shore again, and they'd like to know.
I checked the weather forecast for the next 5 days, again, which certainly could have been better.
Wind was not something I would be missing, but the weather on Isle of Skye, is known to be very changeable, so why would it not also be that now, when I was here.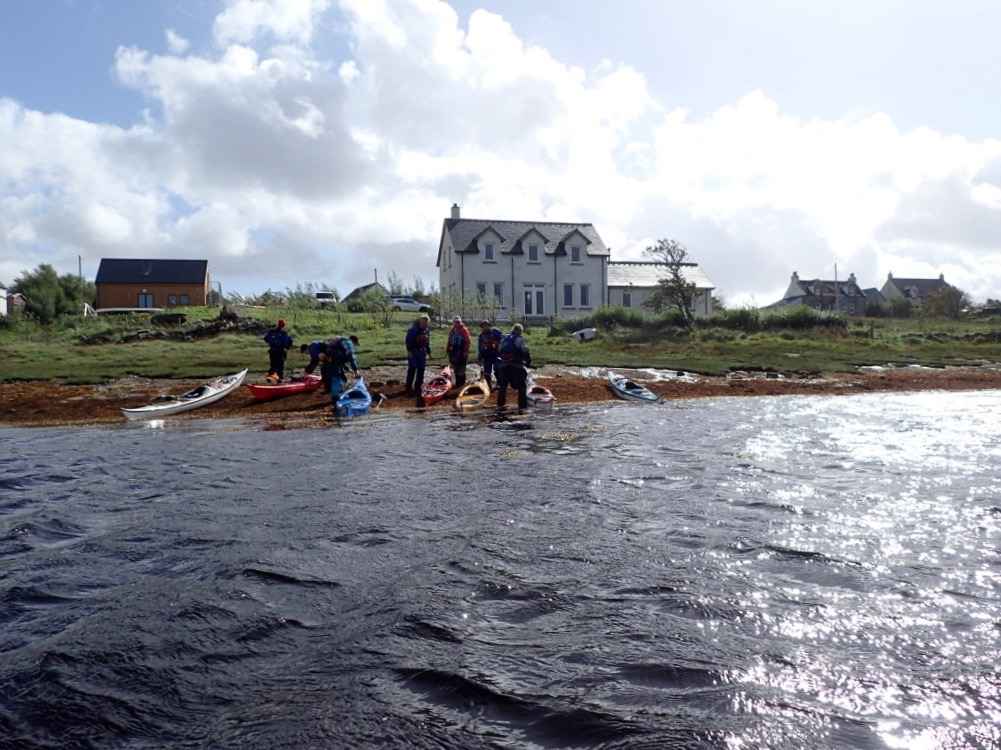 I carried the kayak through the garden gate at Gordon´s, and was looking forward to get on the water.
I really hope the campsites, first on the trip, not had a far carry of the kayak, to get above the high-water mark.
I met Kate Duffus, who works for Skyak when she came in with a group after a 3-day expedition.
They promised me that conditions were demanding, and they were right.
They asked at the same time if I had seen the weather forecast.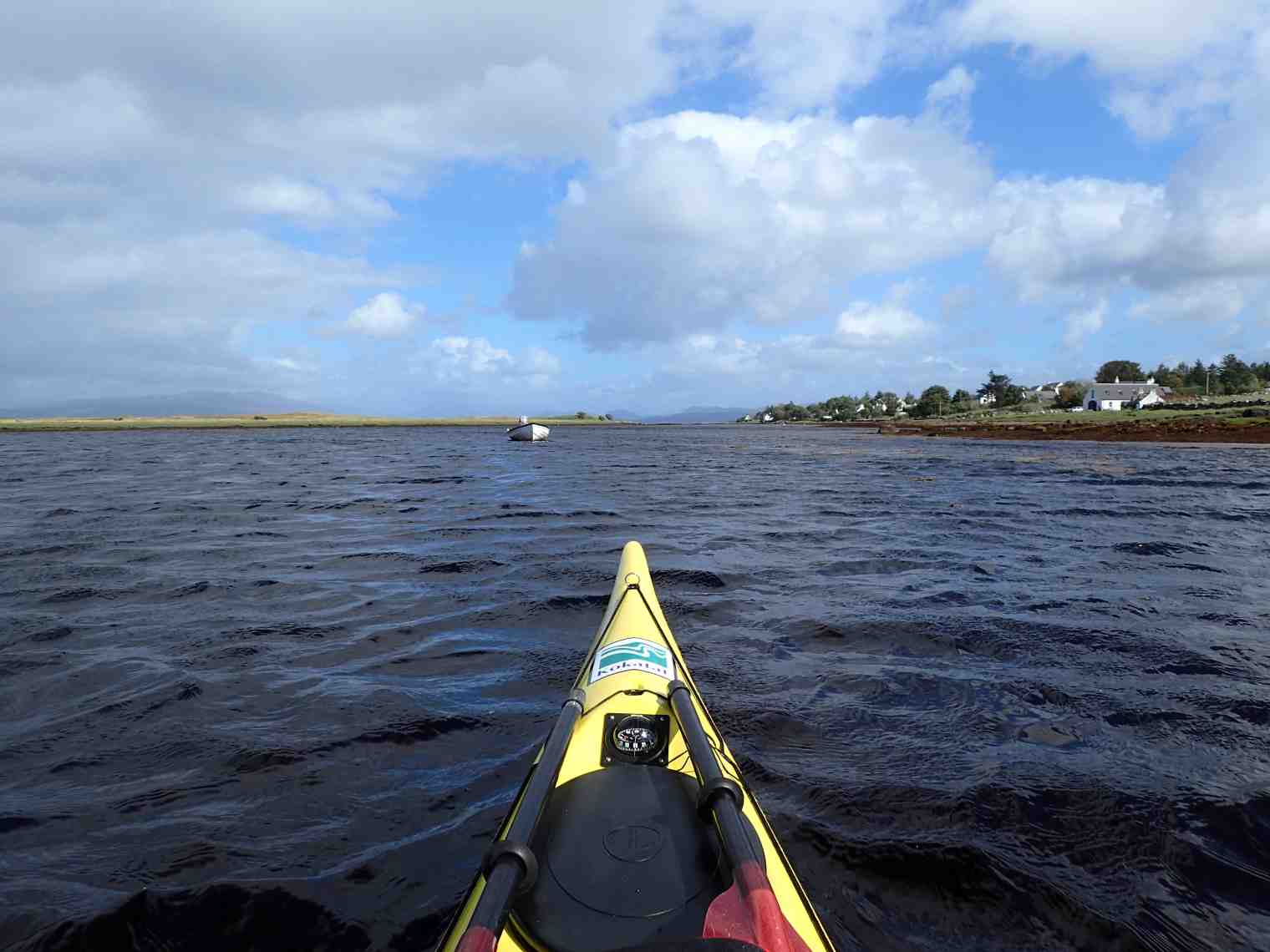 I had seen the weather forecast, and was pleased that I, from Skyak, had downwind for the first 2 km., before heading north, into a headwind, of which there was plenty of.
The wind was to be from the north today, it would then change direction and come from the North West. I had planned have a short day since I started at 14:00, so I thought it would be all right.
I had a small headwinds crossing for 4.5 km, across the bay off Broadford.
It was hard work, 4.5 kilometers took no less than 1 hr. 45 min. Weather forecast said 9-14 ms, but I was sure that it was not correct. Paddling in the mean wind was very demanding, when gusting, I stood completely still. Taking pictures was not something I thought at the moment, as I was busy not being blown backwards.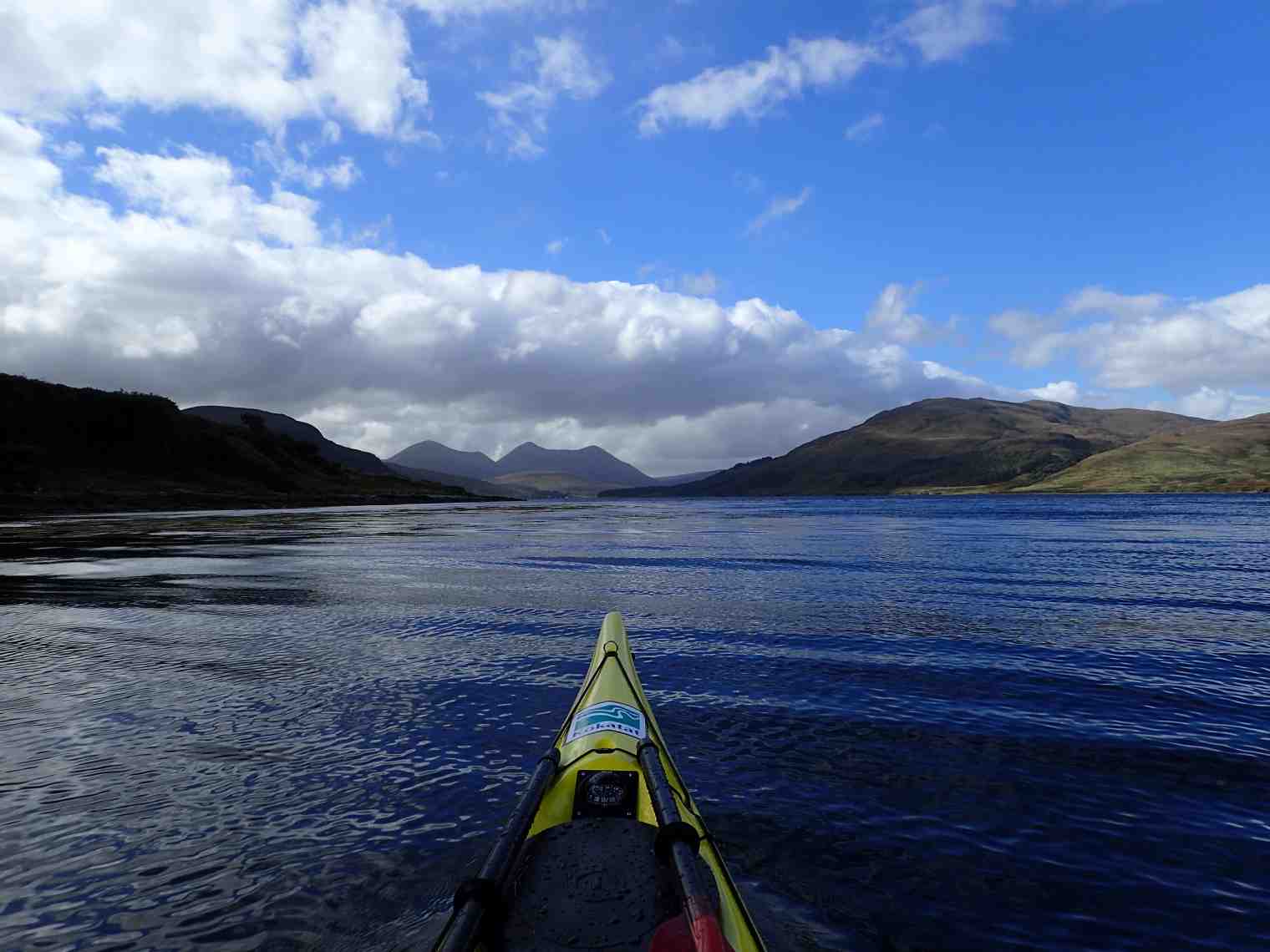 Finally, I was sheltered from the wind, and it all changed from windswept and not very romantic, to completely flat water.
I enjoyed paddling along the east coast of Skye towards my first campsite SW of the Island of Scalpay.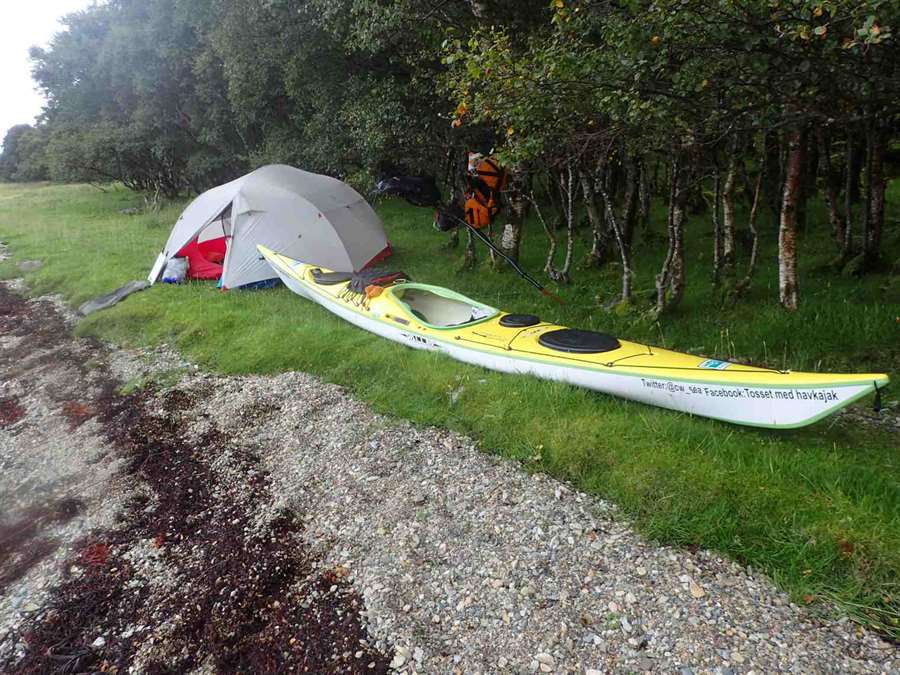 I found an even spot with grass, along a forest, which could provide shelter from the wind. At the same time, the heavy kayak was not to be carried very far.
I had deliberately chosen to start with a short day. Starting from Skyak, at low tide, means that the kayak to be drawn much of the first 2 km.
At the same time, I would like to be able to change the packaging of the kayak without headtorch, if needed to, and get organized.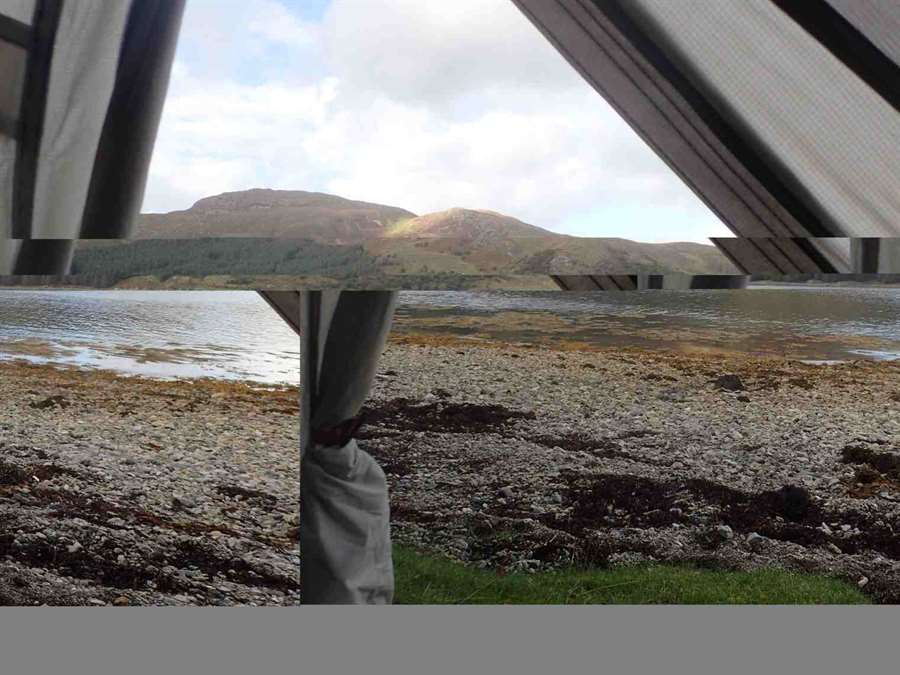 Pitching the tent, changing clothes, and hanging paddle clothes to dry.
I just had to make some changes in the packing of the kayak.
It was sorted. I had the sandwich I got from Alison.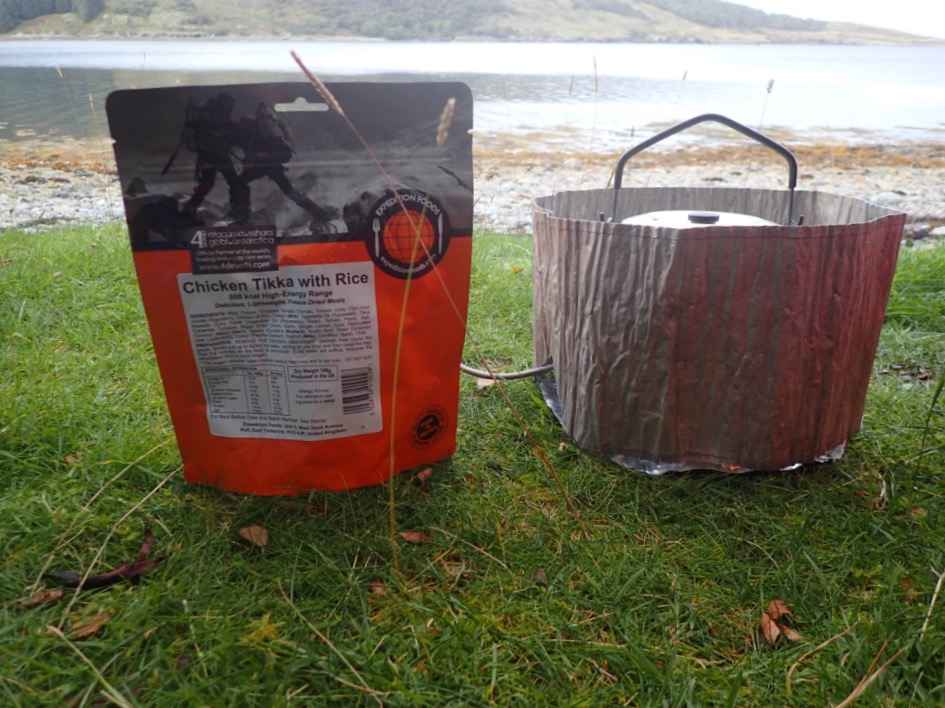 After a walk around the beach and in the forest, I had dinner.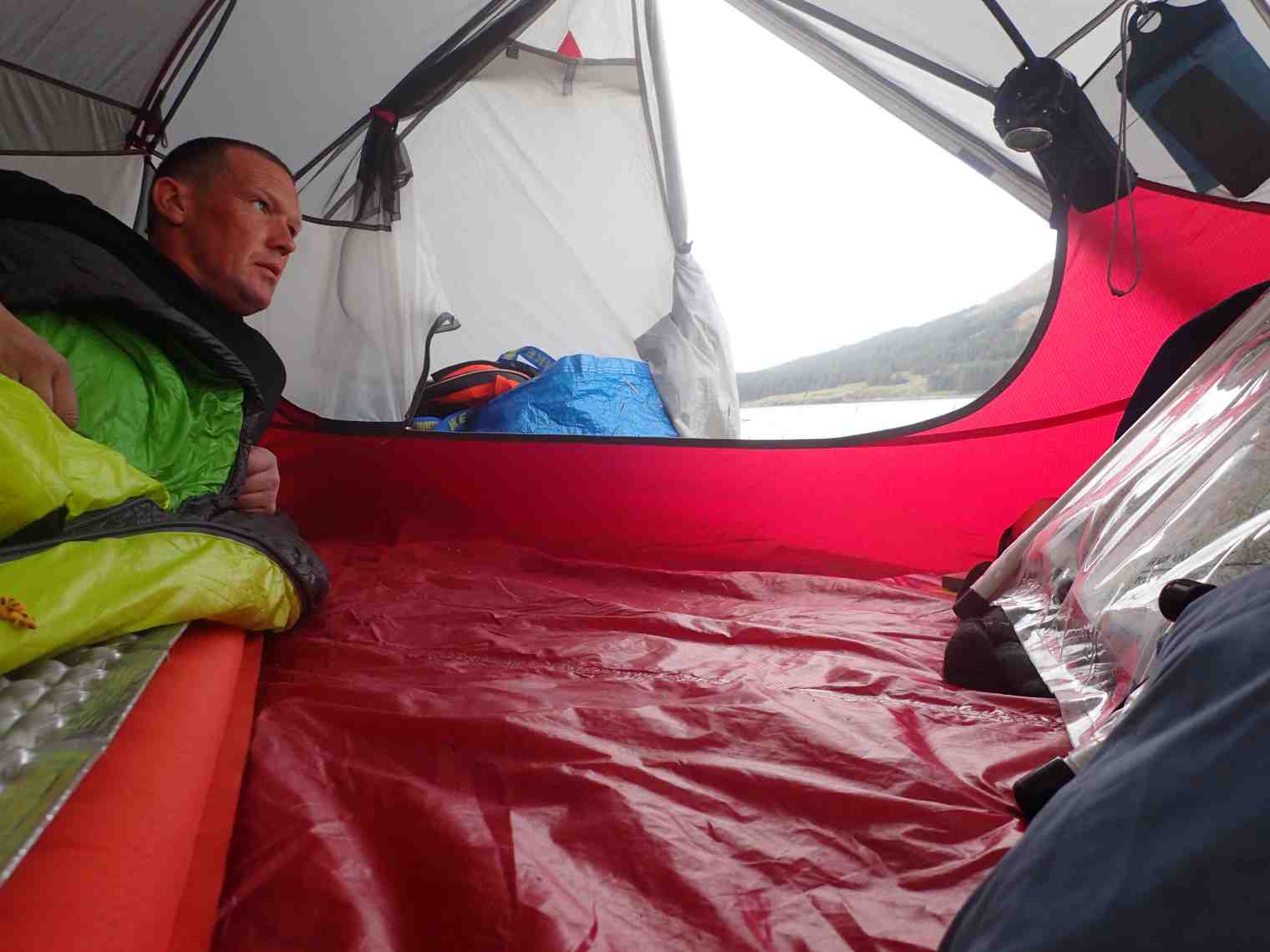 I was tired already at. 20:30, so I tucked down in my sleeping bag and enjoyed the view, and sheltered from the wind, as long as I could stay awake.
I was tired already at. 20:30, so I tucked down in my sleeping bag and enjoyed the view, and sheltered from the wind, as long as I could stay awake.
Today's distance - Total distance:
15 km. / 8 nm. 15 km. / 8 nm.
Today's weather at the end:
- Clouds, showers and sun
- Waves: 0,5 m.
- Difference between high and low tide: 1.5 m.
- Wind: 14 – 22 m/s ( 27 knots )
- Barometer: 1012 hPa
2016-09-11 Sunday
Today's weather start:
- Sunshine and drifting clouds
- Difference between high and low tide: 1.6 m.
- Barometer: 1013 hPa
I had been awake several times during the night as I had frozen, but a set of woollen underwear did it.
I had not set alarm clock as I wanted to sleep until I was fully rested. The flow up along the East Coast to Staffin Bay, was described as irrelevant, and the difference between high and low tide was only 1.6 m. At the same time I would have tailwind, so I thought it would be all right.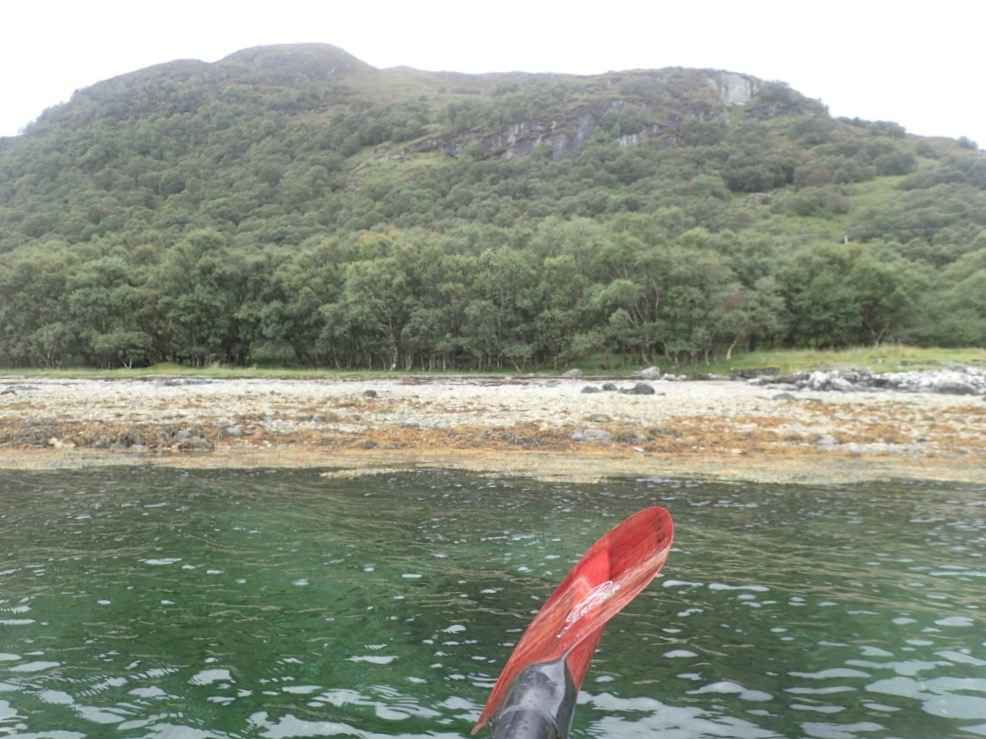 I woke up at. 8:30 and had a strange feeling in the stomach, and a little nausea. Breakfast and coffee, made the difference, and I felt ready.
Since I had changed some of the packing of the kayak, the day before, I had a bit of challenge packing my camp gear in the kayak, but was on the water at. 10:50
I launched in a shower.
The plan was passing Portree, up along the east coast. The weather forecast predicted, however, that I would be blown in for two days, until Tuesday, so Portree, as the main town on Isle of Skye, would be a nice place to be weathered in.
The possibility of a bath in a hostel, grocery store, pizzeria, cafe, etc. was nice.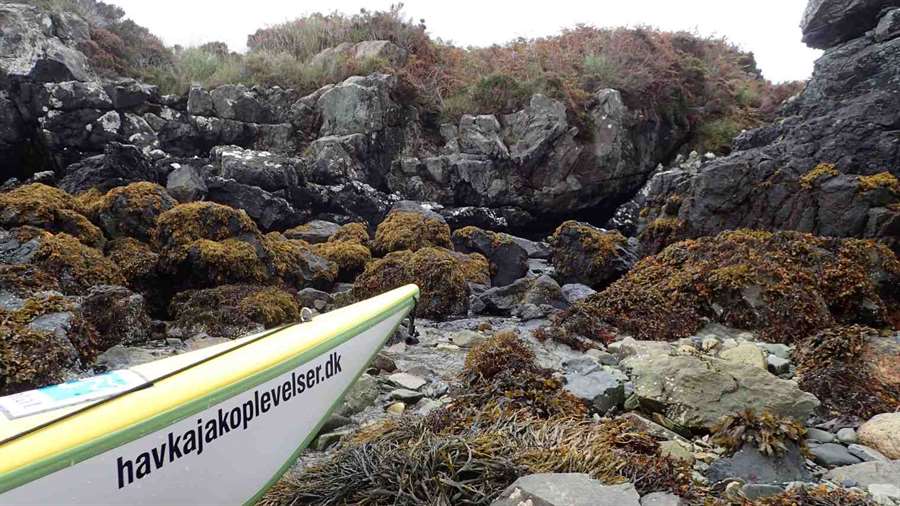 I should have filled my water bottles up again and came across a small creek, with a nice landing spot.
Water bottles were filled while I stretched my legs.
I paddled here completely sheltered from the wind.
2 sea otters were busy catching a third apparently have something the other wanted. My pocket camera unfortunately has its limitations, but I enjoyed the sight for a few minutes.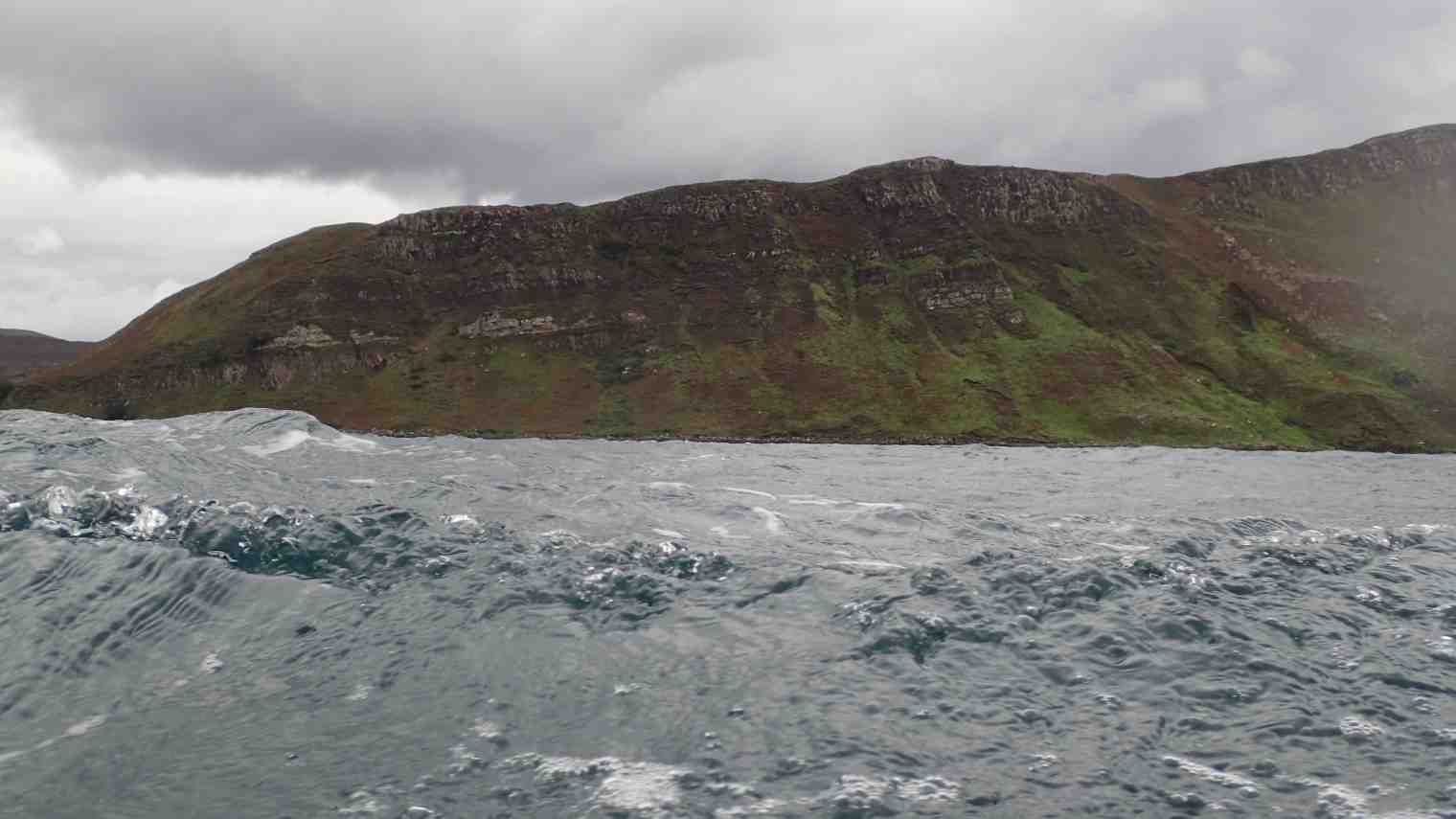 I checked my barometer several times a day, and thought it begun to drop slightly faster than expected and more than I cared about.
At times came some strong gusts that blew the surface off the water, so it looked like glass pearls flying over the water.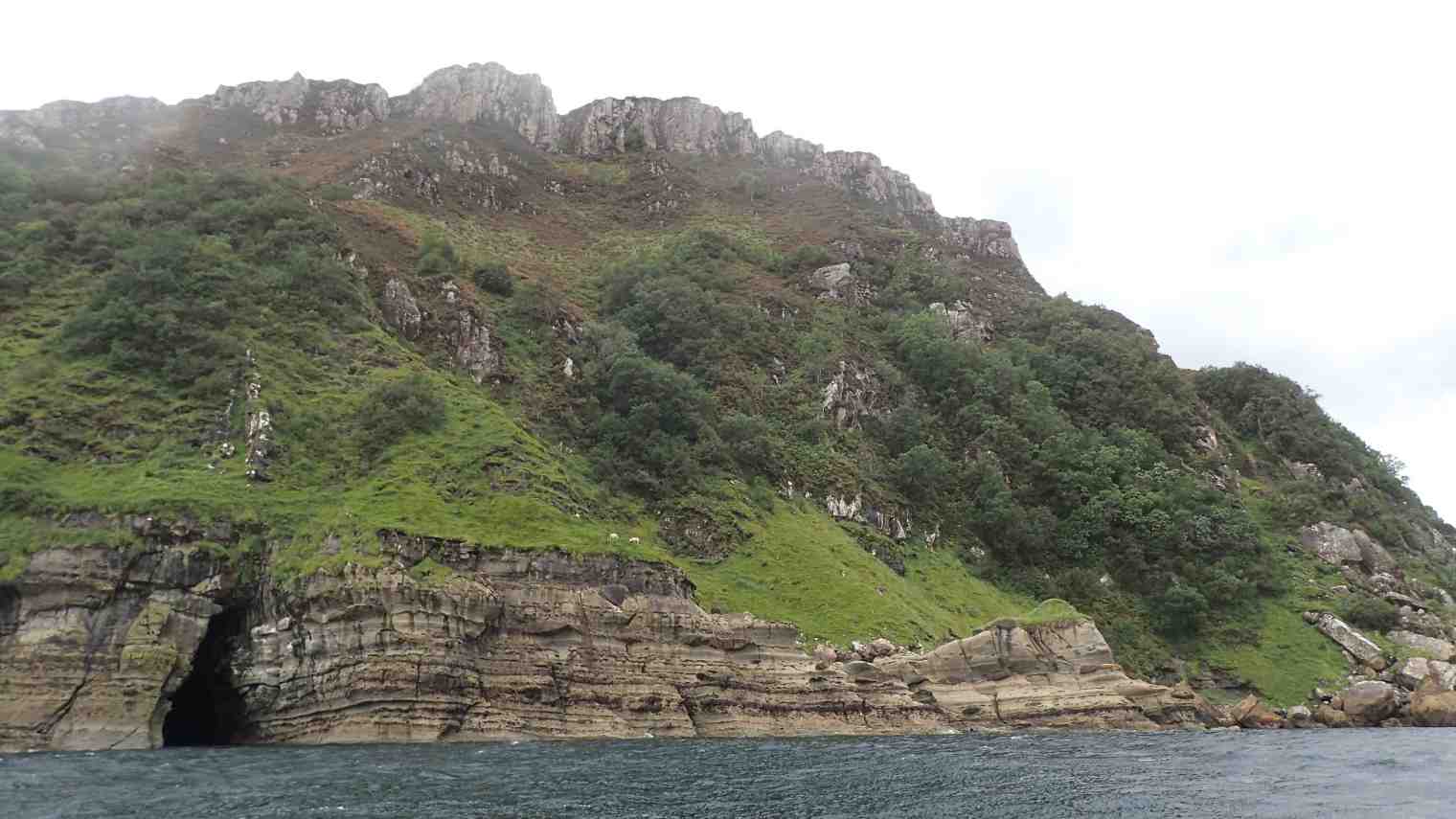 On the way up to Portree, there should be some caves that witch would be interesting to see.
I wanted to see the caves, and could at the same time tuck myself from the strong gusts.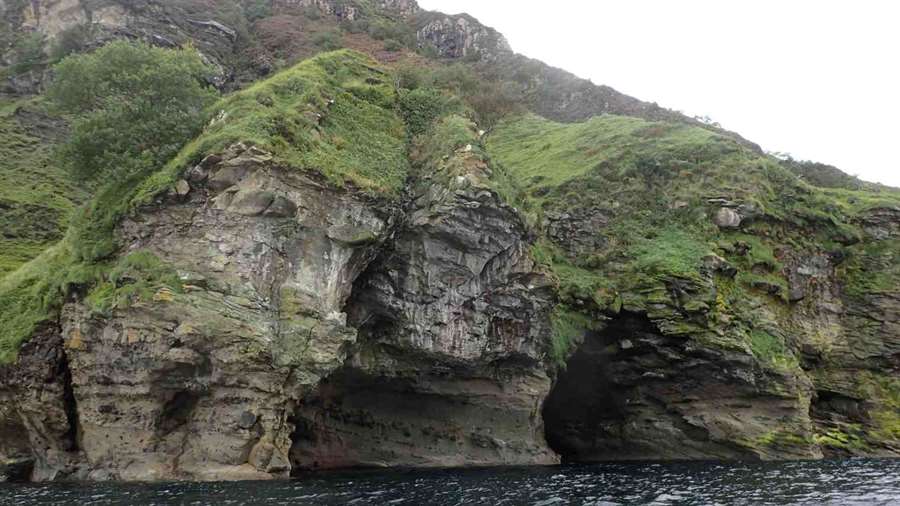 For me there is something both appealing, and also scary by caves.
I would like to paddle in and have a look, but I definitely do not like it.
I had a good down wind and the waves were about 0.5 m. which were growing to 1.25 m.
The wind rose the next few hours while the barometer continued to fall, and still faster than I liked.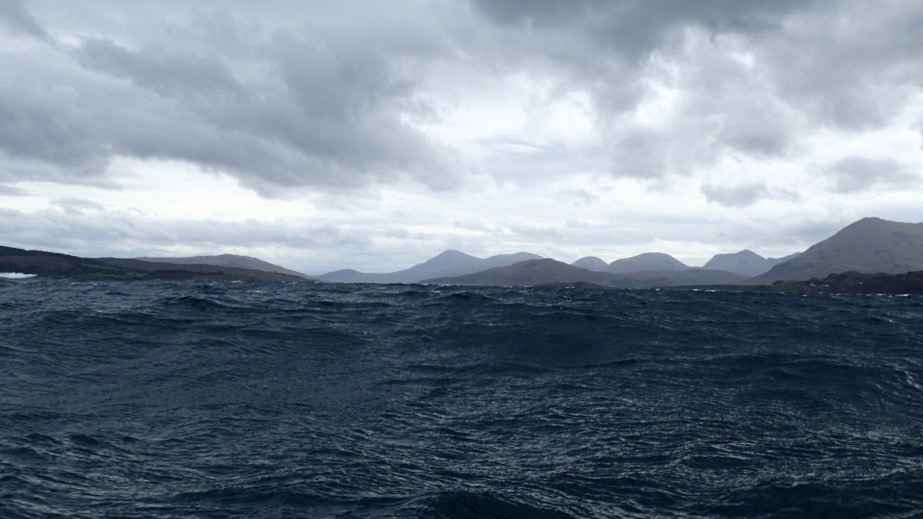 The photo above, looking up between the Isle of Skye, to the left, and Isle of Raasay to the right.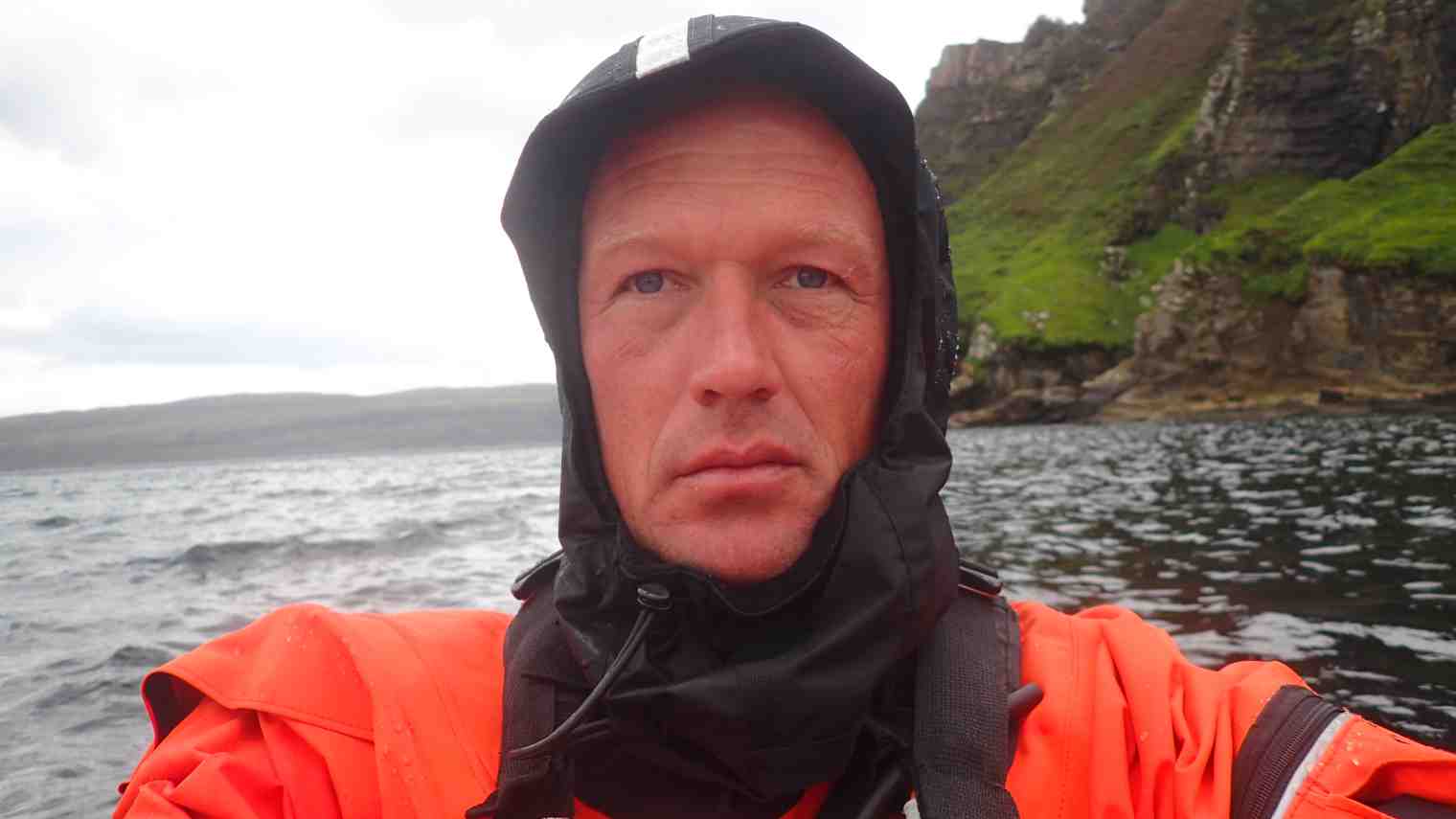 Not because it itself was bad, but very romantic thought, it no longer was.
Some very heavy showers with the accompanying strong winds, suddenly came tumbling down from the top of the mountains.
Think I've never been so happy for a hood as now.
I began to wonder, could I have seen wrong on the weather forecast, but I had of course checked it again and again. The heavy low pressure should first come Tuesday, and it was Sunday today..........
Could the forecast could be wrong, and if so, could it be that wrong. There was nothing in the weather forecast, for today that would could explain the continued drop of the Barometer ………..
Of course I could remember wrong. Had I really read the barometer to 1013 hPa ? Could it have been 1003 hPa?
No, I was sure, that is, almost sure.
My logbook was inside the kayak, so it was not to get hands on before I had made camp.
Doubt was gnawing me - Was it a gut feeling, tell me something - or was it insecurity……….
After a short disussion with myself, I agree to head towards Portree.
I would not be all the way into town as there was the opportunity to pitch a tent, in a small bay, 3 km. from the town and harbour.
I've been in the town before. The possibility of finding a place to pitch a tent there, would be like finding a needle in a haystack.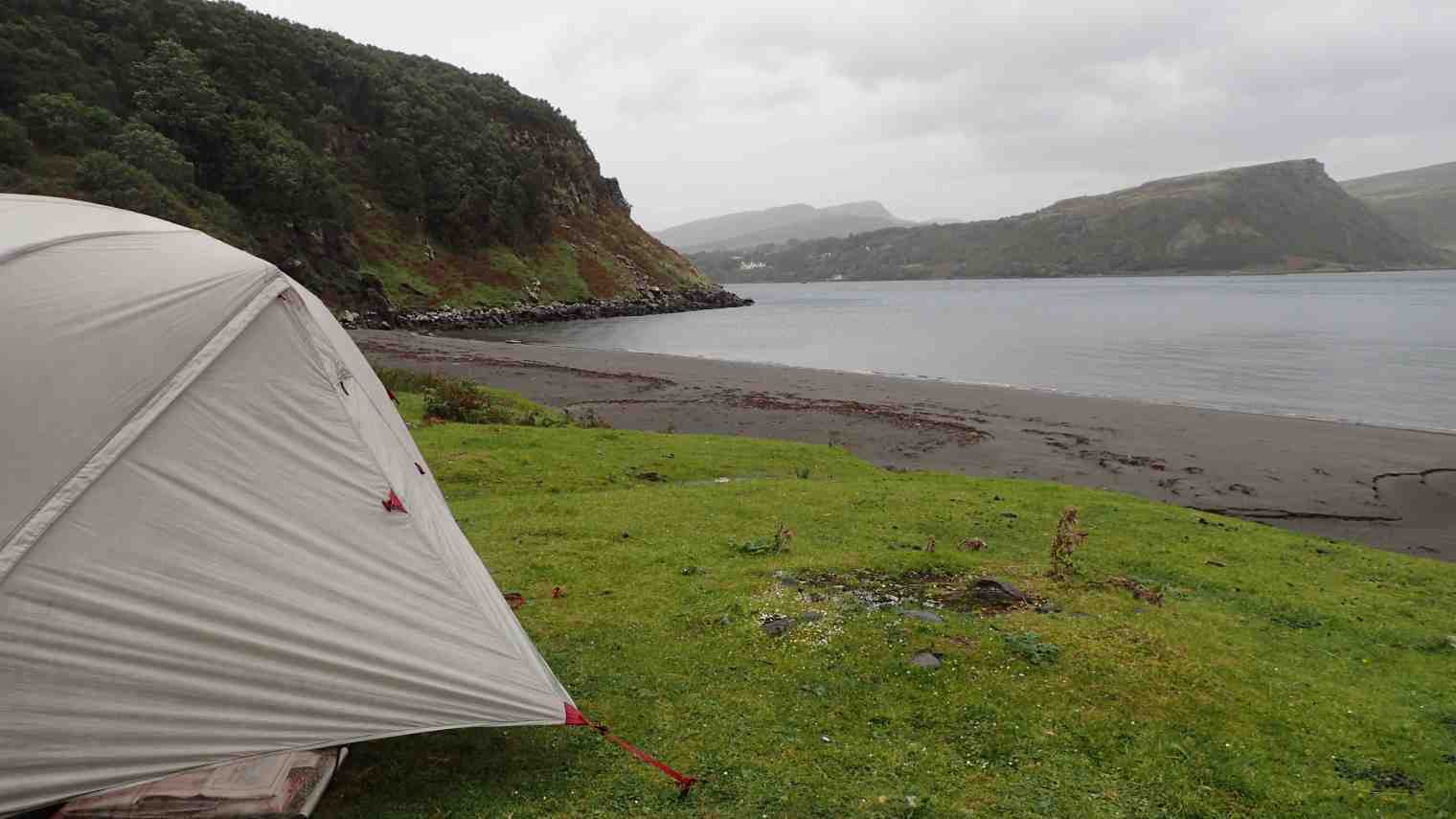 A small bay with sandy beach and grass, about 3 km. from the harbour, was a nice place to make camp.
Although I had not paddled the planned distance, it felt good to land here. I had mobile coverage, and could get online.
At the same time there were just 3 km. kayaking to town, or 8 km. if I wanted to walk.
Wind had become stronger, and was somewhat stronger than I remembered it should be, at the same time it rained very strongly.
I had a little trouble pitching my tent, and could not let go of anything, without it would blow away.
The barometer continued to drop, so some additional storm lashes was used.
I carried the kayak as high up I could, and put it in as much shelter from the wind as I could. Food, drink, sleeping gear and changing clothes, only what was absolutely necessary, I brought up to the tent. I checked my notes in the logbook. I had read the barometer as I remembered to 1013 hPa., the barometer was now dropped to 998 hPa., A decline of 15 hPa. in something about 6 hours.
Change into dry clothes, boiling water for my food, and checking the weather forecast again. It had changed, compared to the morning, but not nearly as much as the weather, and it did not match with what I experienced.
I had a feeling that the coming night would be one, I would not forget any time soon. Everything that could be packed and made ready for departure, etc. was made, so it would be as quick as possible to get out from here.
It had been raining since noon, and I had put the tent at the least wet place I could find. The rain and the wind picked up, during the evening. When the wind from time to time lost momentum, I could hear the gurgling of water, I do not recall that being there when I came. I looked out of my tent, and discovered what looked like a small stream. It was certainly not when I came. I looked out at intervals, and each time the stream had been anything else but small. I was hoping it would not reach my tent, but to move it now, was not an option. Since I could not do anything about it, I thought that a cup of coffee rarely do any harm.
Sitting with my coffee, in my sleeping bag, happy that tent kept dry, I suddenly got busy. The next 2-3 gust of wind forced the tent down, and around me. I rushed out to check the guy ropes and pegs, and then into the tent again. I sat so I could support the tent in case of more strong gusts.
What most of all sounded like a freight train passing the tent, was something unexpected. I sat out here in a small bay, no houses, roads or similar. I had to see what it was, so the tent was on its own while I unzipped and had a look out.
IT WAS MY KAYAKING ROLLING BY MY TENT AND ACROSS THE BEACH!!!!!!!!!!!
I rushed out of the tent and after kayak, hoping that it would stop, so I could grab it before it hit the rocks, or was blown out on the water.
I got hold of the kayak and pull it back towards the tent, which by the next gust was all down flat – I was wondering if it was something it could take, or if all the poles would be broken.
I would not risk my kayak being blown again, but could not find anything to fasten it to. I pulled the kayak up to the tent, clicked my towline on the kayak, before I crawled into my now completely flat tent.
I took the towline around me, like when on the water, thinking that the kayak could not blow away again, and raised my tent as good as I could. The rest of the night was without any sleep since I had to support the tent constantly.
The barometer fell during the evening and night, and did not stop before it had dropped to 990 hPa.
I have never before experienced a drop from 1023 hPa to 990 hPa., A total drop of 33 hPa.
I had never before been in a tent in weather conditions as I found myself in now.
When the wind was at is strongest, I could feel the tent poles bend in my hands, while I supported them.
Mentally, it did not affected me during the evening and night. Well it was certainly neither romantic nor particularly cozy. The situation was as it was, and I had just had to deal with it.
I was a little excited about something emerging over the next few days. One thing was certainly.
I had now tried it,
and one night like that must be enough.
A night as I had just had, I did not need any more of.
Today's distance - Total distance:
26 km. / 14 nm. – 41 km. / 23 nm.
Today's weather:
Clouds, heavy rain
Waves: 0,5 m. – 1,25 m.
- Difference between high and low tide: 1,6 m.
- Temperature: 15 degrees C.
- Wind: 6 m /s -> 33 m / s
- Barometer: 1013 hPa dropping to 990 hPa.
Monday 2016-09-12
Today's weather start:
- Cloudy, rain
- Difference between high and low tide: 2,1 m.
- Temperature: 14 degrees C.
- Barometer: 995 hPa
The night had been something of a challenge.
The wind began to fall, slightly, late at night, which caused a little excitement.
I would really like to get out of here and into Portree but was had to wait for it in the slightest was little daylight.
When the time was 4:30, I decided to start packing.
It was not easy with a head torch, one hand on the tent, and one hand to packing the sleeping bag.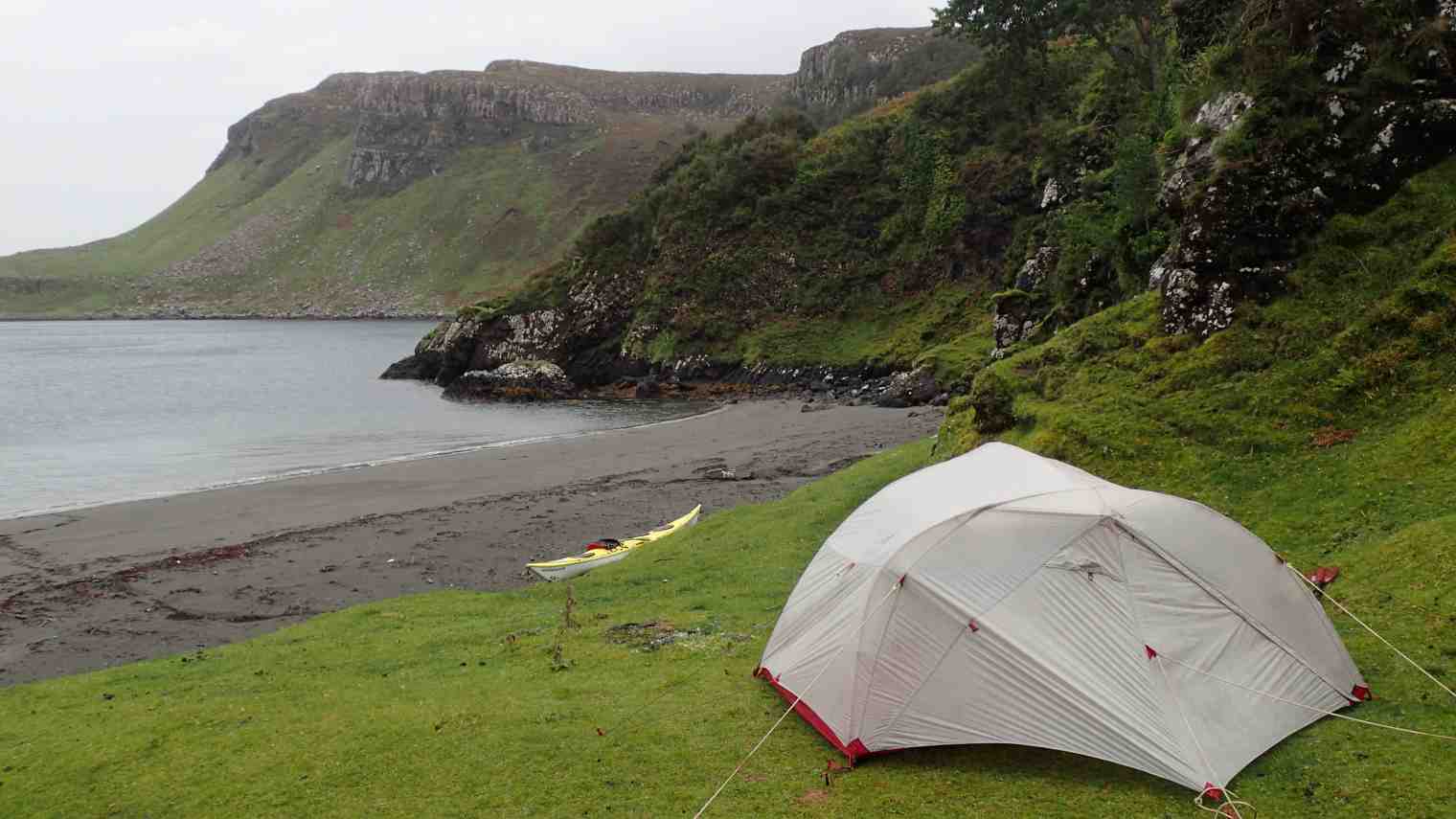 Not to mention getting in the dry suit, I will go so far as calling it a challenge.
Whether tent would hold while I got my things down to the kayak was just exciting.
Several times the tent was lying completely flat on the ground, so I was curious how many poles would be broken.
I took a quick photo before packing the tent, the poles had been well bent.
I got the geared in the kayak in conditions which still were storm force, while the rain was pounding down. Then taking the tent down. The joy was big when the poles were not broken, but only bent, so I suppose I could still use it.
Without any sleep, and still bad weather, I would not do the stretch up to Staffin Bay, and at the same time everything was wet.
I contacted the Coast Guard, and told them that I now had had enough of the weather conditions, so I would paddle into town, find a place to sleep and continue the next day. The man I spoke with, was the same as I had spoken to the afternoon before. He said, that they, that night had been talking about the Dane in the tent, and that I would surely have a restless night. He was so right.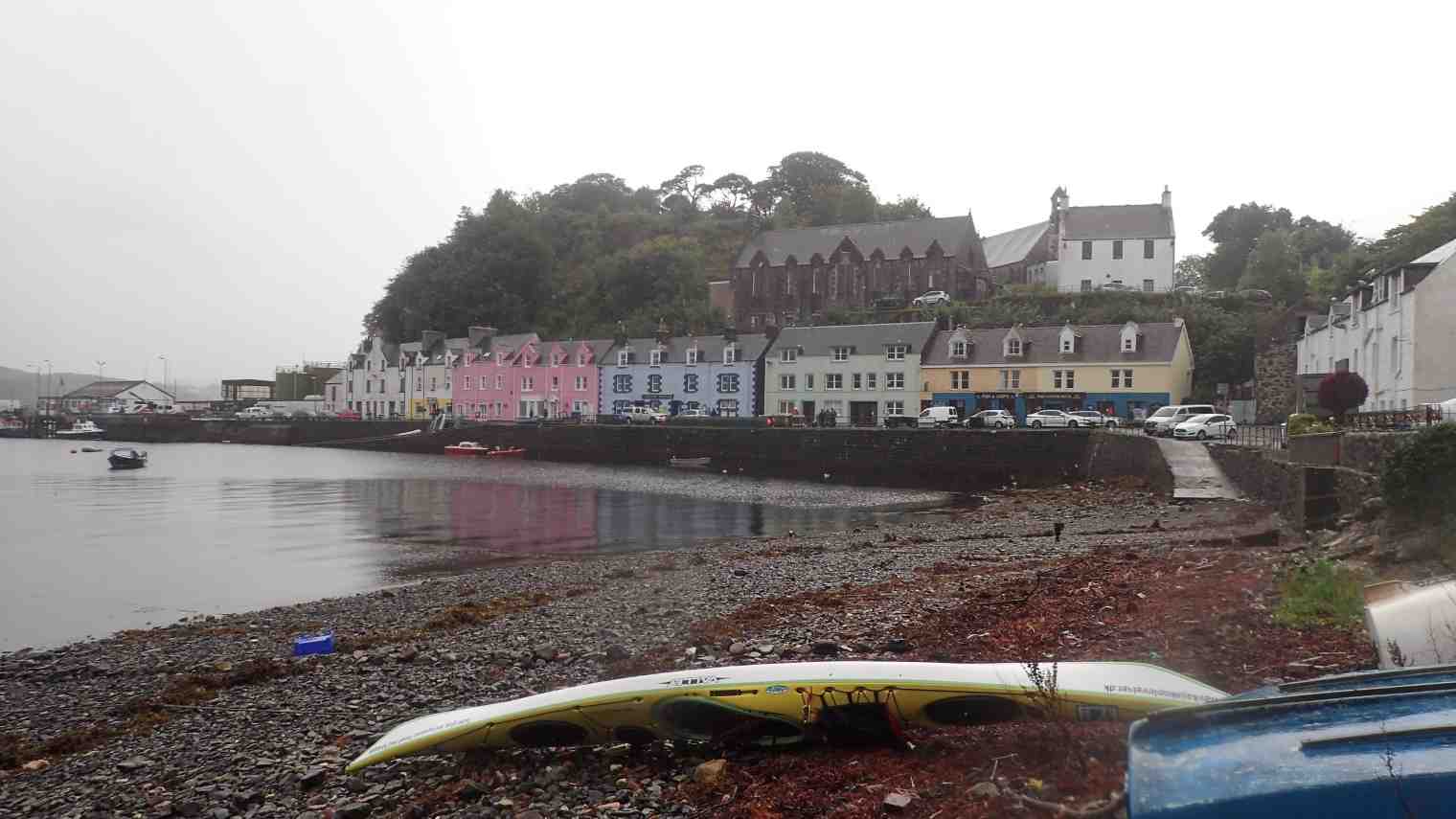 I paddled the 3 km. in to Portree, hoping to find a place where I could dry my gear and get some sleep.
I arrived at. 7:15 to a city still asleep.
A walk from the harbour to the grocery store to get some energy. A donut, a croissant, two chocolate croissants, a 0.5 l. Cola and a pack of cigarettes.
I had not had a cigarette since I started my trip, and had not thought of it, or missed it. But I felt a huge urge now.
I walked around in Portree, but all B & B´s and hotels where I would dare to enter. But without luck.
The only place I could find was a bunk bed in a 12-man room in a hostel, which I took, they also had a drying room. This was not something I had done before, but I was on an adventure, and open-minded.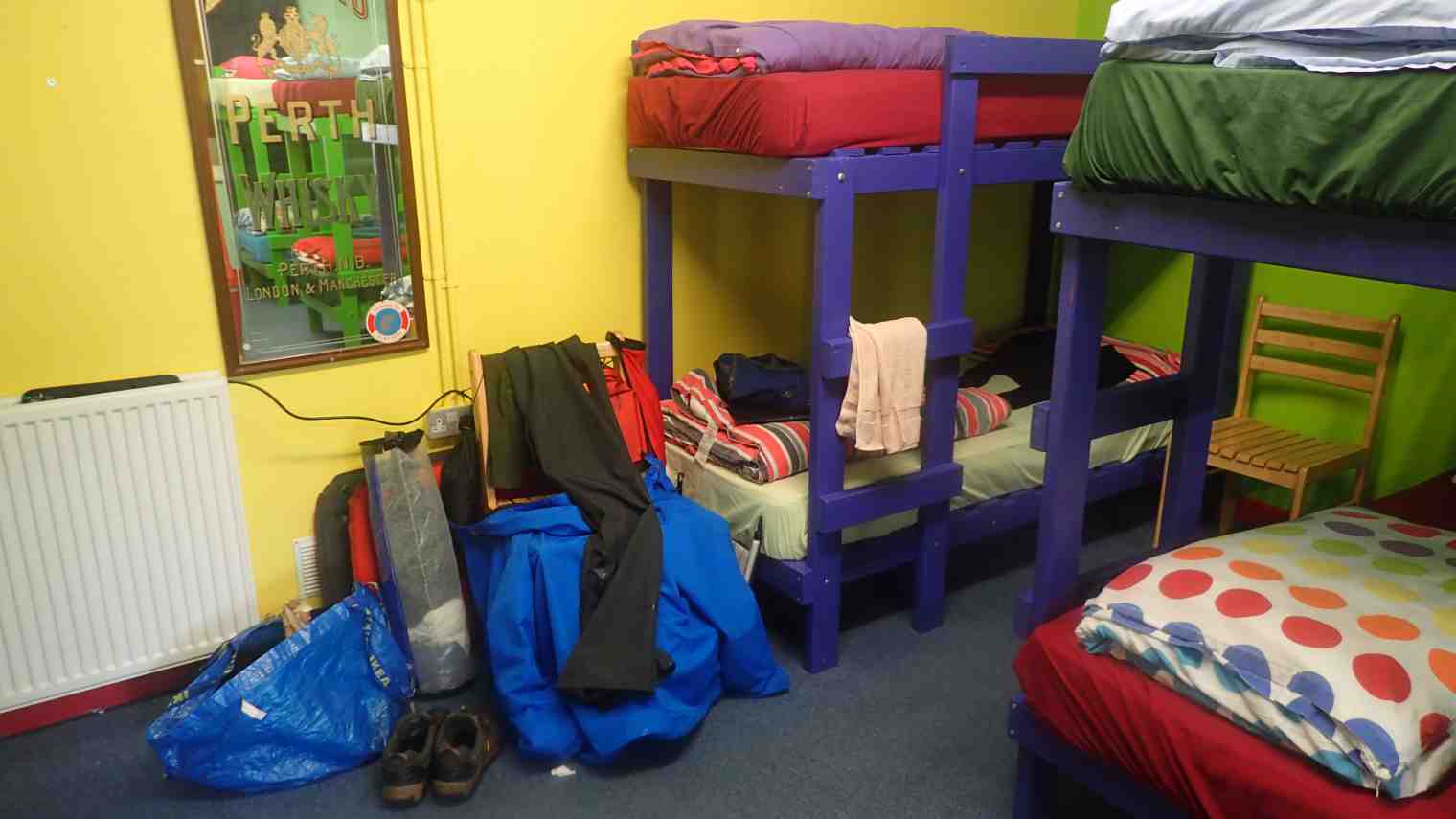 I could not get my bunk until 14:00 o'clock, but could use the drying room, which I did to the fullest.
I sat down on a couch in the reception.
5 hours later, the young lady who was at work gave me a gentle push. My bunk was ready, and as she said, she thought I had sounded like someone who wanted to lie down in a bed.
I made it quite "at home", with some mixed stuff before a bath and a set of fresh clothes.
The shared kitchen was just a bit too socially for me, after the previous night, so I went for a walk in the city to keep myself awake, so I could sleep at night.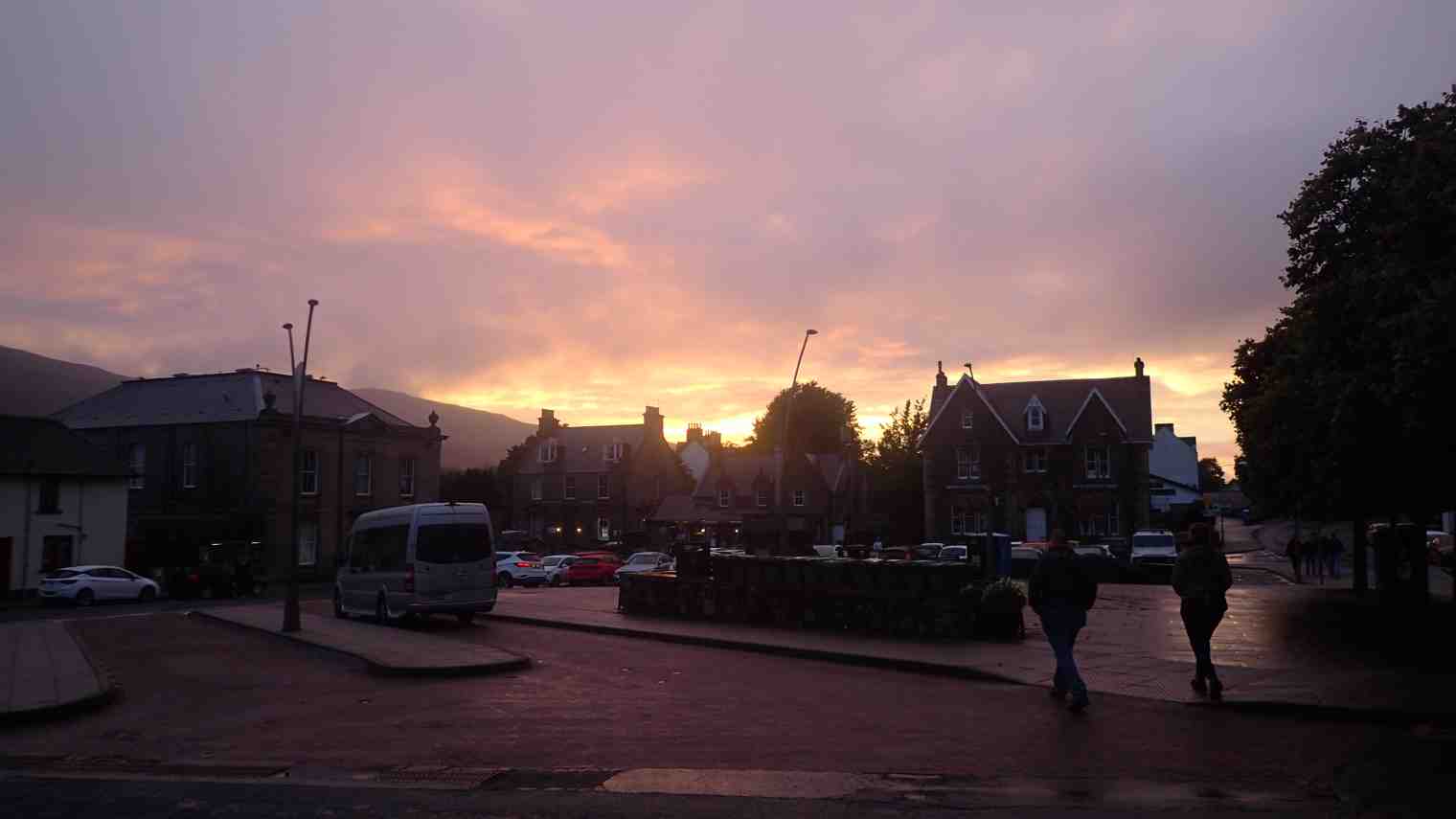 I had dinner at a nice pub, and then went back to my bunk, in a beautiful and promising sunset.
The weather forecast changed constantly, but I hoped would stick for the next day so I could get to Staffin Bay tomorrow. The following two days were not very promising, but it could change again.
I went to bed as the first. Laying a little bit and thinking about last night, and wondering why it did not really affected me mentally, despite the challenges with a kayak blowing across the beach, no sleep, to packing down the camp at night, wind and weather that even the Scottish called it bad conditions. Maybe because I did not have the time to think much about it, or because I knew that I had not been in "danger" but I promise you, I was both physically and mentally tired, but still in good mood, and still with a great desire to go on.
My experience with accommodation in a hostel, in a 12 man bunk-room was limited to the previous night. I had a gently asked at the reception, how early I set the alarm clock.
When he said 6:30, I tried not to look too surprised, but set it after his recommendation.
Today's distance - Total distance:
3 km. / 2 nm. – 44 km. / 24 nm.
Today's weather:
- Clouds, heavy rain
- Waves: 0,5 m. – 1,25 m.
- Difference between high and low tide: 2,1 m.
Temperature: 15 degrees C.
6 m /s -> 33 m / s
- Barometer: 1013 hPa decreasing to 990 hPa.
2016-09-13 Tuesday
Today's weather start:
- Sun and drifting clouds
- Difference between high and low tide: 2,6 m.
- Temperature: 13 degrees C.
- Barometer: 1005 hPa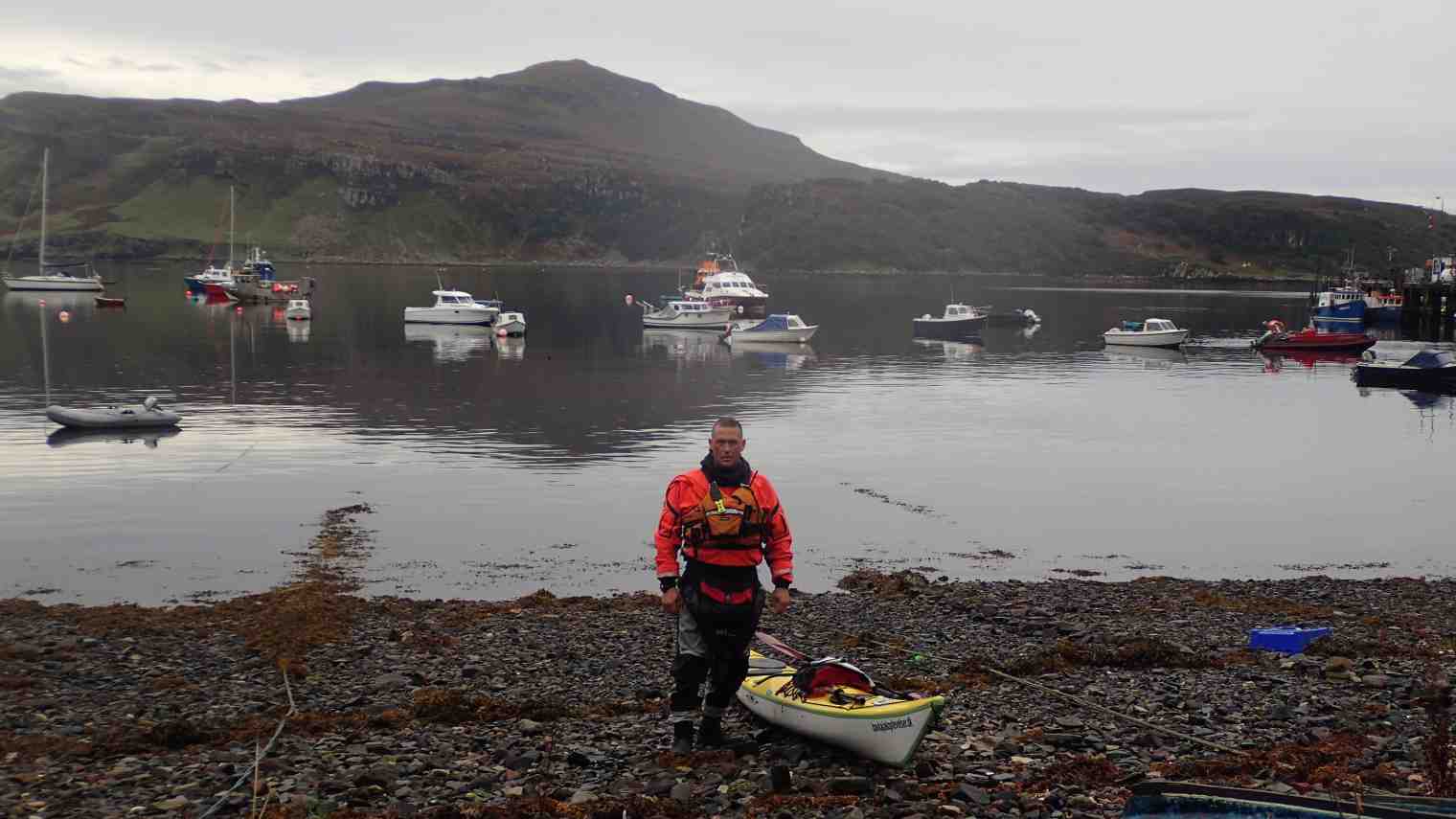 Everything that could be made ready, was done the night before, so when the alarm clock rang, it was just getting dressed, up in the kitchen, boil some water for porridge and the thermos, and then down to the harbour and my kayak.
The weather forecast had predicted good weather, and it seems to stick.
At 07:30 the kayak quietly slide out on the water. The town was as quiet now as when I came in the day before.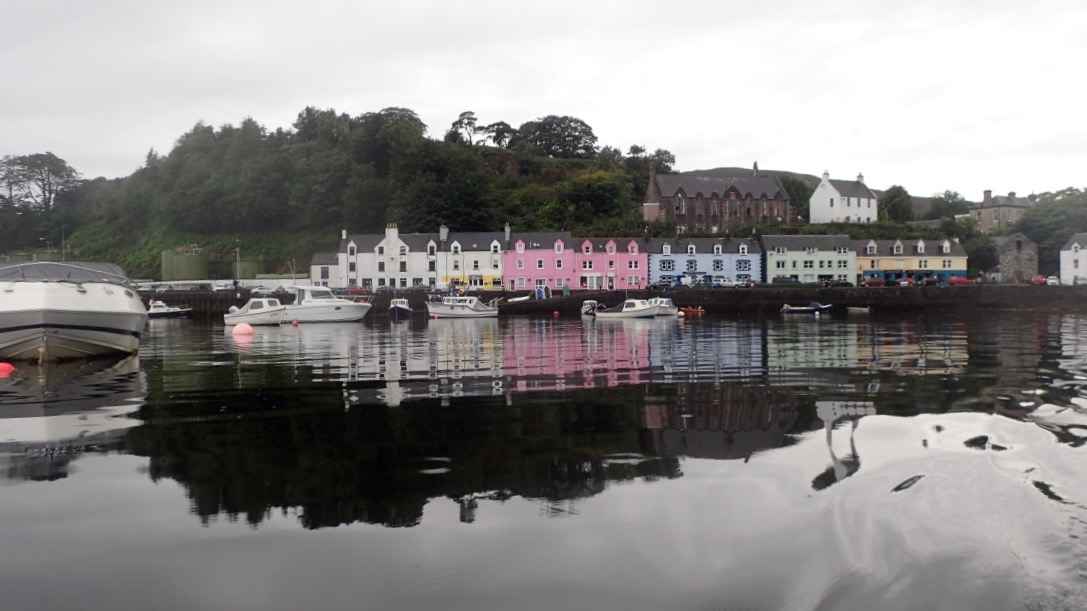 I was in good mood, the weather had changed significantly.
Sun and 3 mps from changing direction, and the barometer showed 1008 hPa, an increase of 18 hPa, compared to 1 ½ days earlier.
I never before experienced, the barometer moves throughout 38 hPa over 1 ½ days.
I was back on the water.
The romance was back, and not the least the weather forecast predicted sun.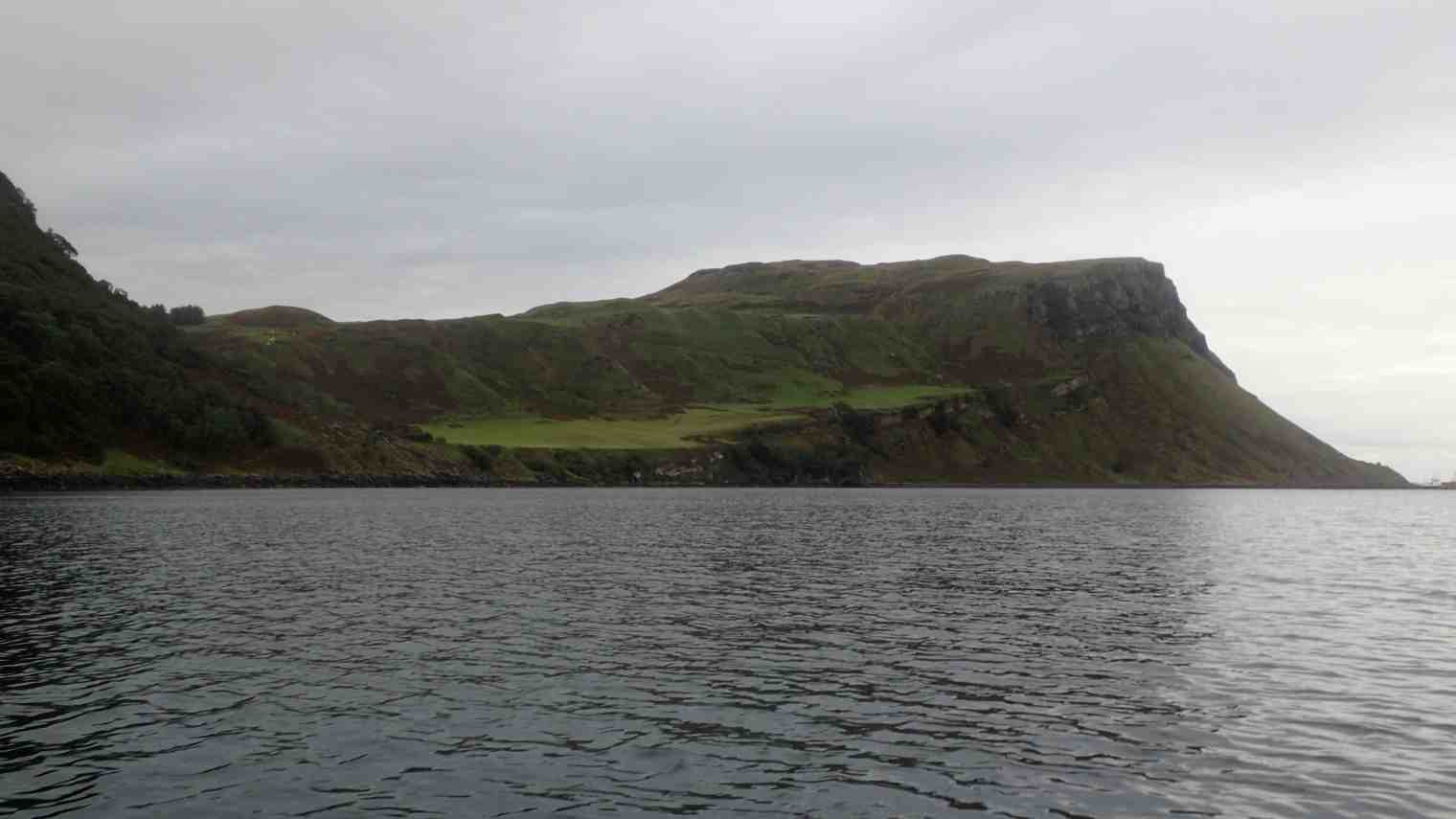 The coastline from Portree, up north, was absolutely fantastic.
The farther north I got, the more beautiful it became.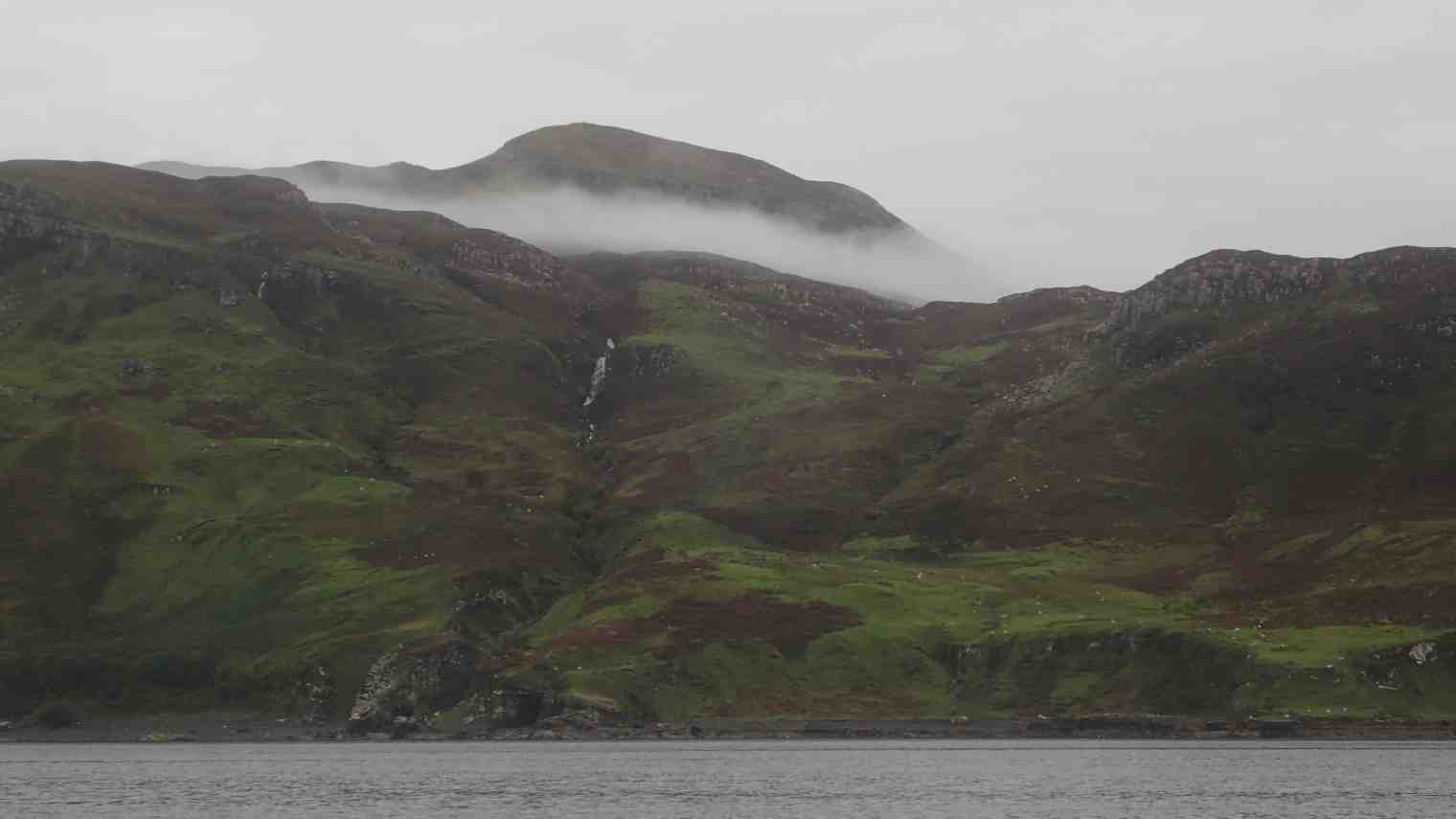 A mountaintop coming up through the cloud, and waterfalls. Isle of Skye is very beautiful.
I passed three sea otters, which were so busy with each other that they first saw me when I was 5 meters from them. With a startled splash they dived the, and were gone.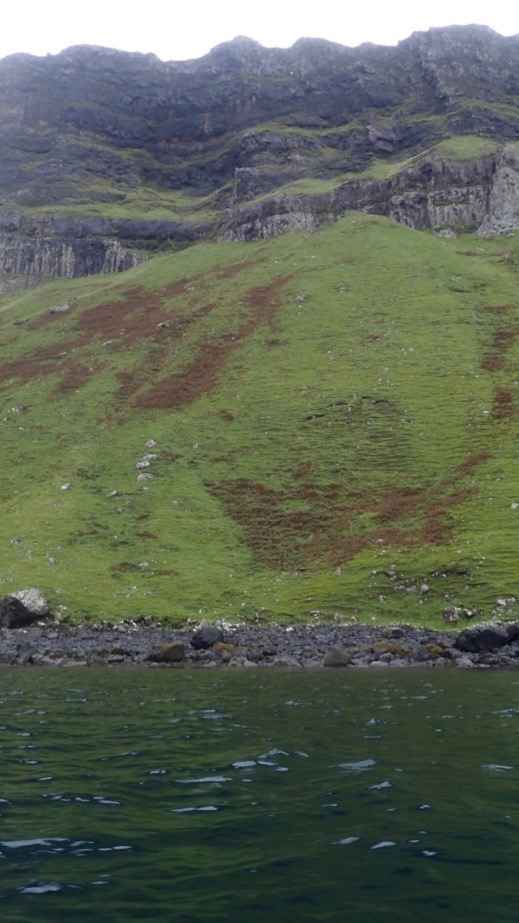 Common seals followed me every now and then.
In the distance I could see some gannets fishing.
I continued, and hope that I would get to see the gannets up close. I find the gannets very beautiful. The black wing tips, wingspan up to 180 cm. and a beautiful yellowish head, with a distinctive shiny blue line over the eye.
The gannet is also in Denmark, and is most often seen in autumn, winter and spring.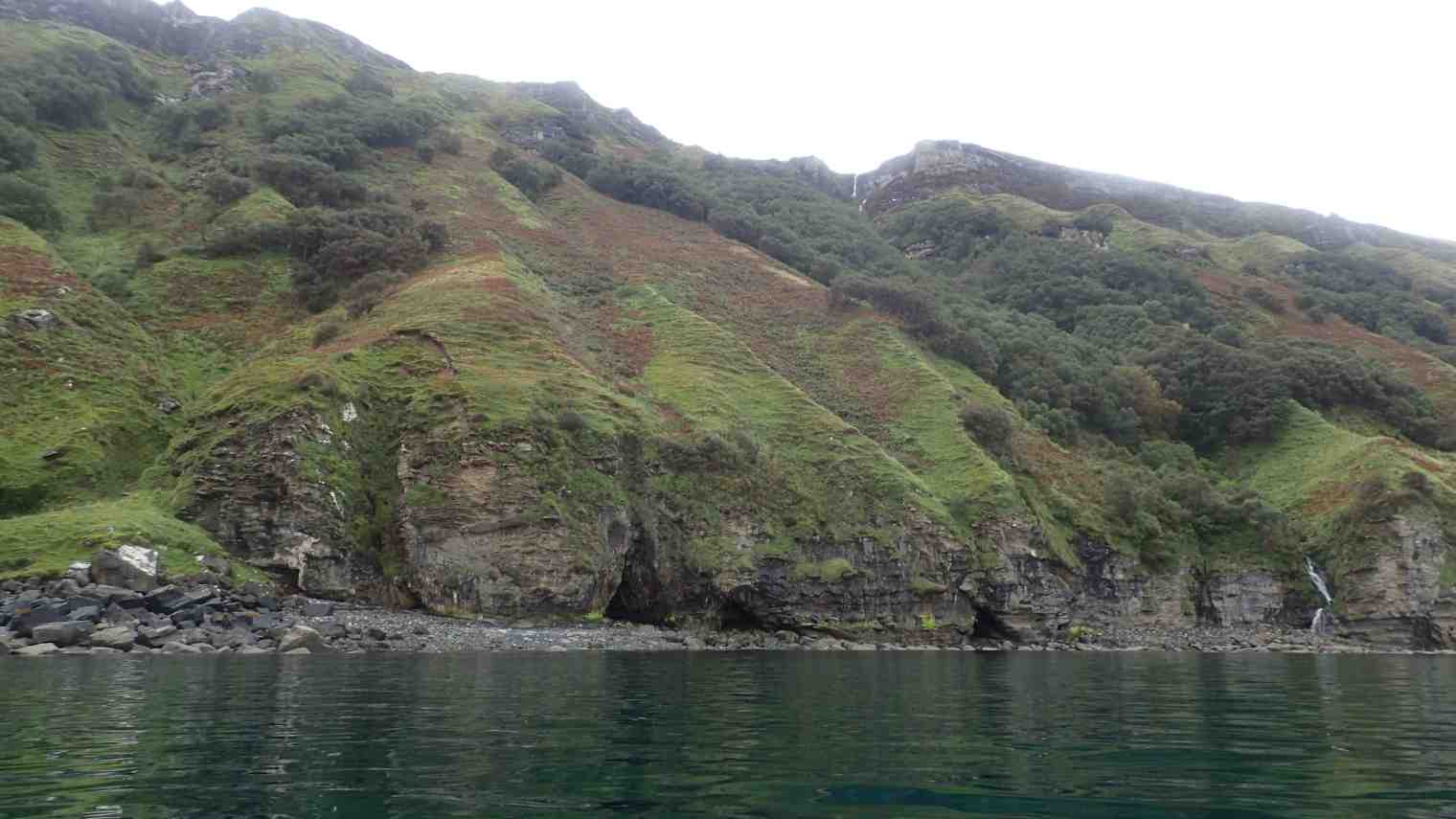 Several places were smaller and larger caves.
On a small island, a white-tailed eagle took of and flew from one end to the other of the island. It had a look at me before flying again.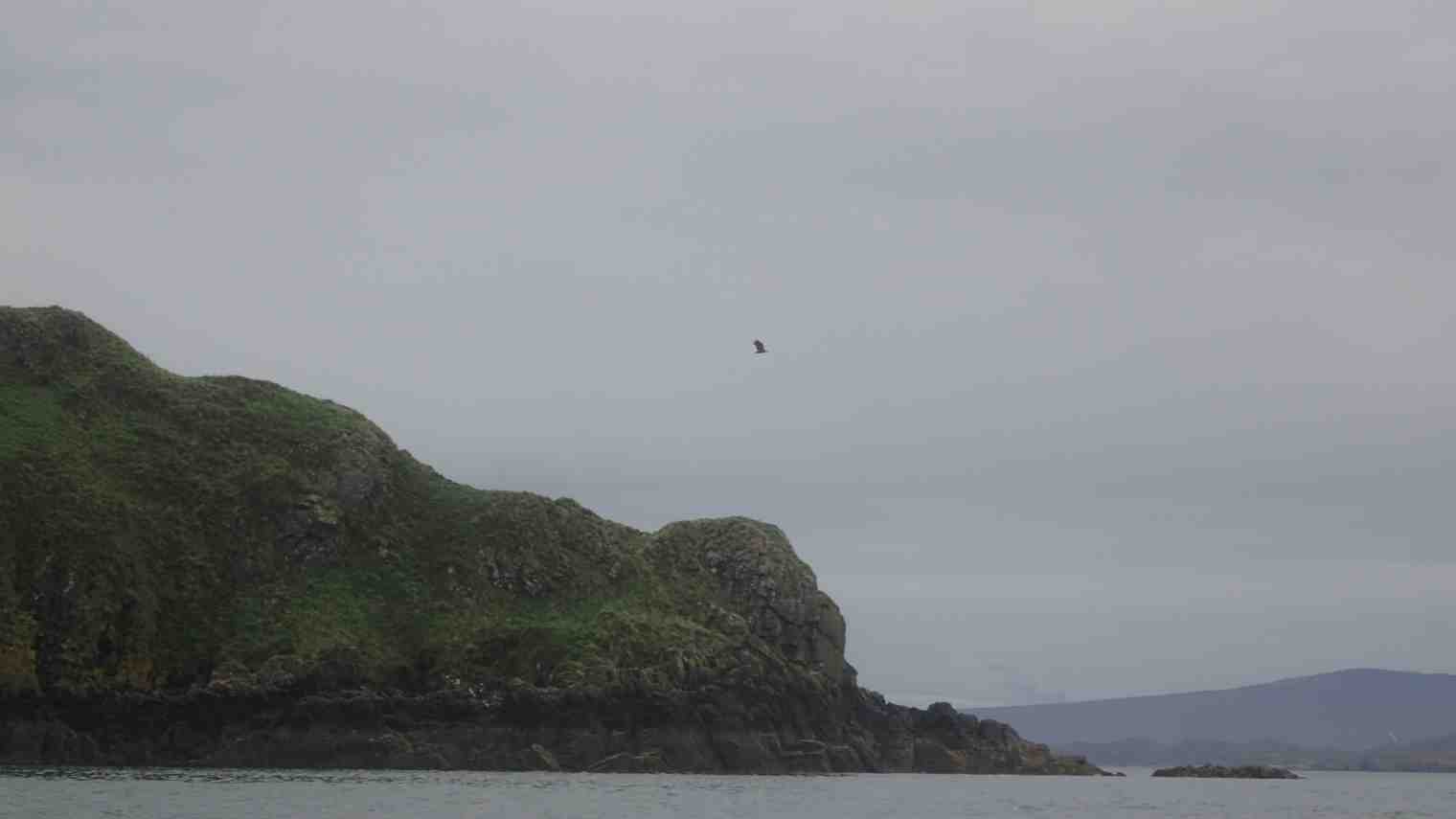 My pocket camera has its limitations as it does not show what I saw, on the pictures.
With a big smile and a warm feeling in my body, I enjoyed the big bird. I thought that was it, but then, at the same time there was another eagle flying.
It landed too, but chose to stay and have a look at me. I enjoyed the meeting and the sight of this beautiful bird.
The kayak had turned slightly, in the wind and tide, while I had enjoyed the sight. I corrected it back on right direction, and then wow, less than a 100 meters sat a young eagle with a fish on one of the large rocks at the water's edge. Completely overwhelmed, I paddled quietly past, less than 50 meters from it.
Despite the amazing experiences with sea otters, white-tailed fishing eagles, the beautiful coast which now also had waterfalls, some with good size, I could not stop wondering about the weather forecast 2-5 days ahead.
Wind from the south, 8-19 m / s, and tide against wind.
The idea, risking being weathered in on the west coast, for up to 3 days, as the weather forecast was at the moment, was not that appealing.
I had tried one night with a lot of wind, and more than was fun. I did not want to repeat the experience.
At the same time, about half of the west coast, would be without any coverage, by phone or VHF. The Scottish called it a "black spot".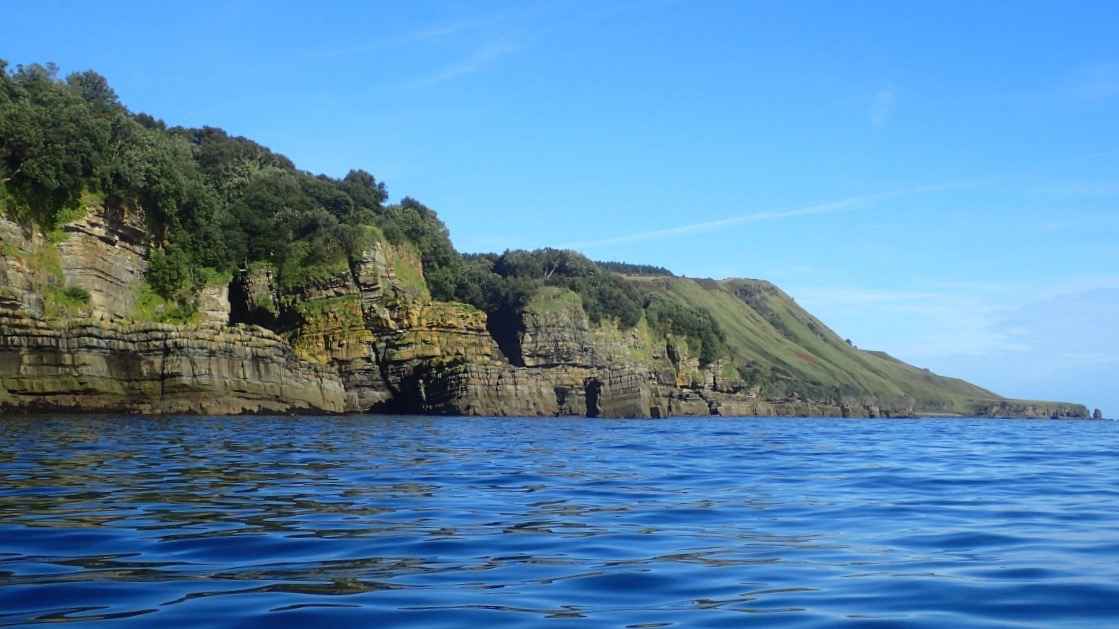 In full sun, which gave warm in the body, and no clouds, I enjoyed the fantastic scenery.
Common seals, gannets fishing, sea otters, etc.
At the same time I was sitting wondering about the weather forecast.
How would the weather be?
How big changes could there be?
If it were correct, how would the conditions be? Well, I knew they would be different from the ones I had right now, but I had felt how weather changes could be here. Exactly as notorious as the unexpected changes, that I had heard about.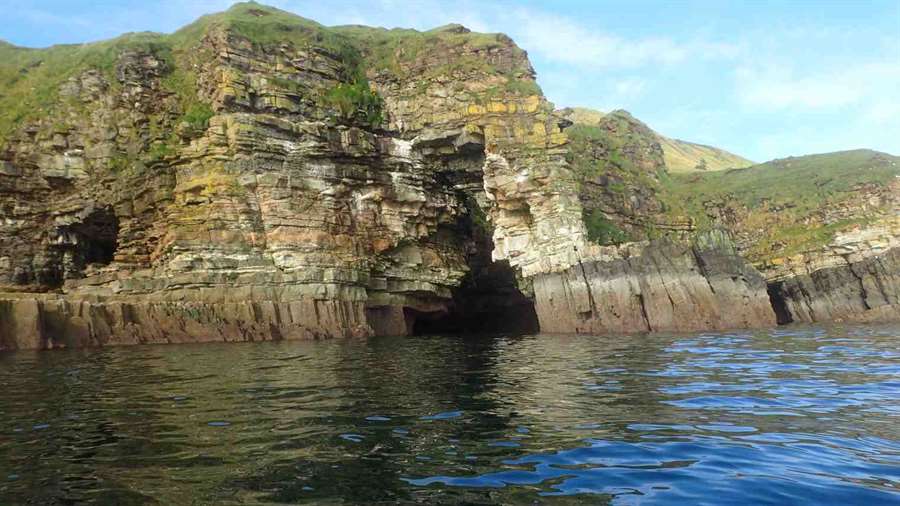 How big a safety margin would I have – would there be any margin?
How were they at home, how much they did follow the weather forecast?
Would they be worried or anxious?
At no time have I wanted to do something, that would cause any concerns at home.
Was it possible to pause the expedition, if the weather forecast was correct for the next 3 days, out of the 5 days I could look forward.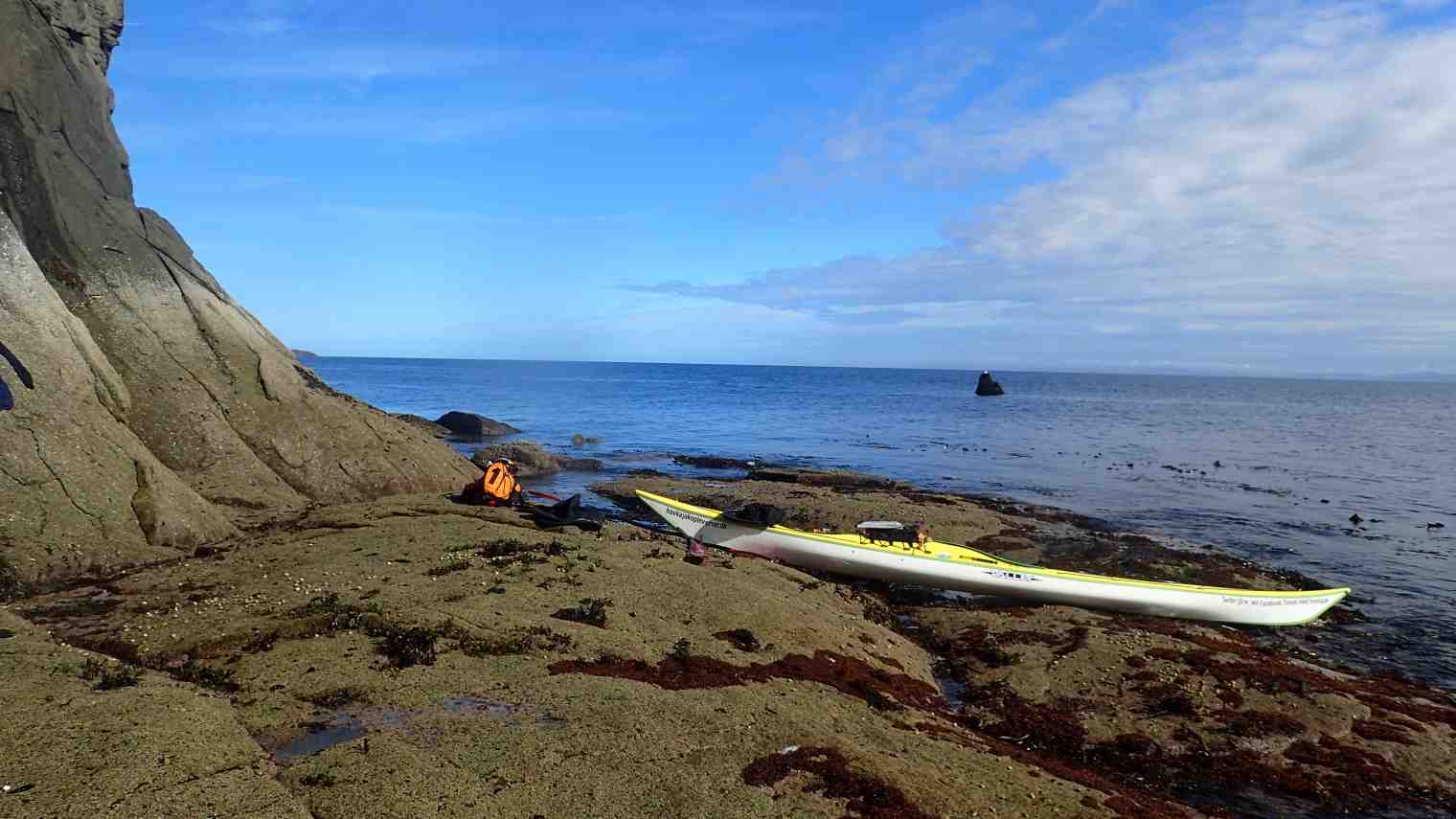 I needed to stretch my legs, while switching paddle shirt.
A very gentle landing on the rocks.
I enjoyed 10 min. break, while my head was working at high speed.
What would be the right decision?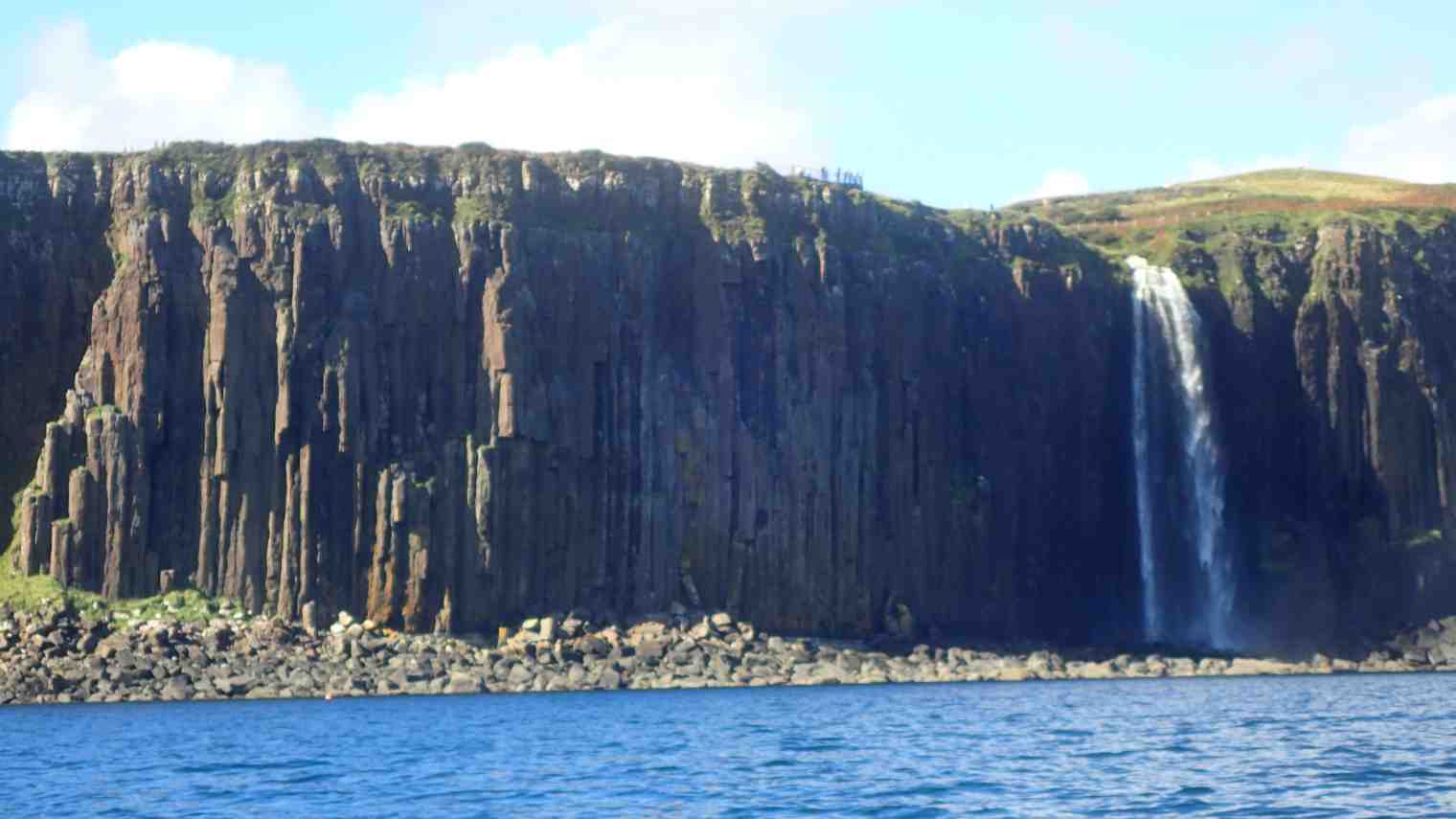 I passed the very beautiful waterfall at Klit Rock.
Beautiful as it was, I now found myself with watery eyes.
I think I have known all along what would be the right thing to do when the weather forecast was as it was now. I think, that I, in hope of my expedition around the Isle of Skye, was trying to find an "excuse" that would be justifying that I kept going. It was for me, an extremely difficult decision to make. In not very good mood, I thought about, why is it sometimes so difficult, to do the right thing.
I had the option to exit at Staffin Bay, next exit would at Uig, 45 km. later. The last km. from Dune Rock and up to Staffin Bay, was anything but easy.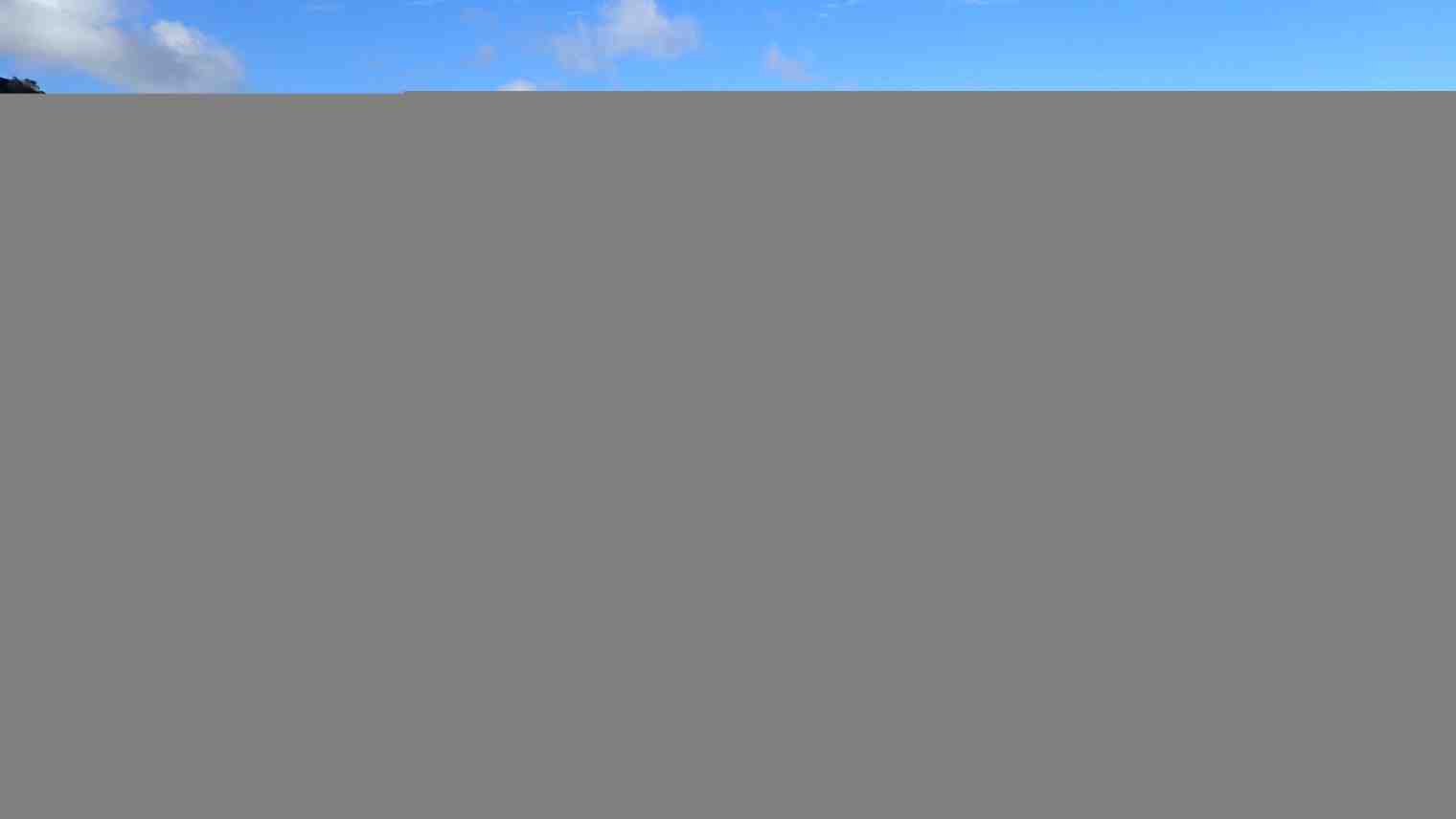 To round the northern tip of Skye, was something which was very high on my wish list.
The exposed tip where the weather could be so unforgivable, I would like to have seen, in calm weather.
Now I had gotten my kayak up to the parking lot, angry, sad, mad, bitter, and certainly not very kind of mind.
If the kayak and gear had not represented any value, and at the same time would have decomposed within the next few months, I'm sure I would just have left it all.
I reported to the Coast Guard, and to tell that I was to pause my expedition due to weather forecast, and the stretch was down along the west coast.
The Coast Guard thanked for my message, adding that it was probably a very good and wise decision I had made – What in heaven's name did he know about that???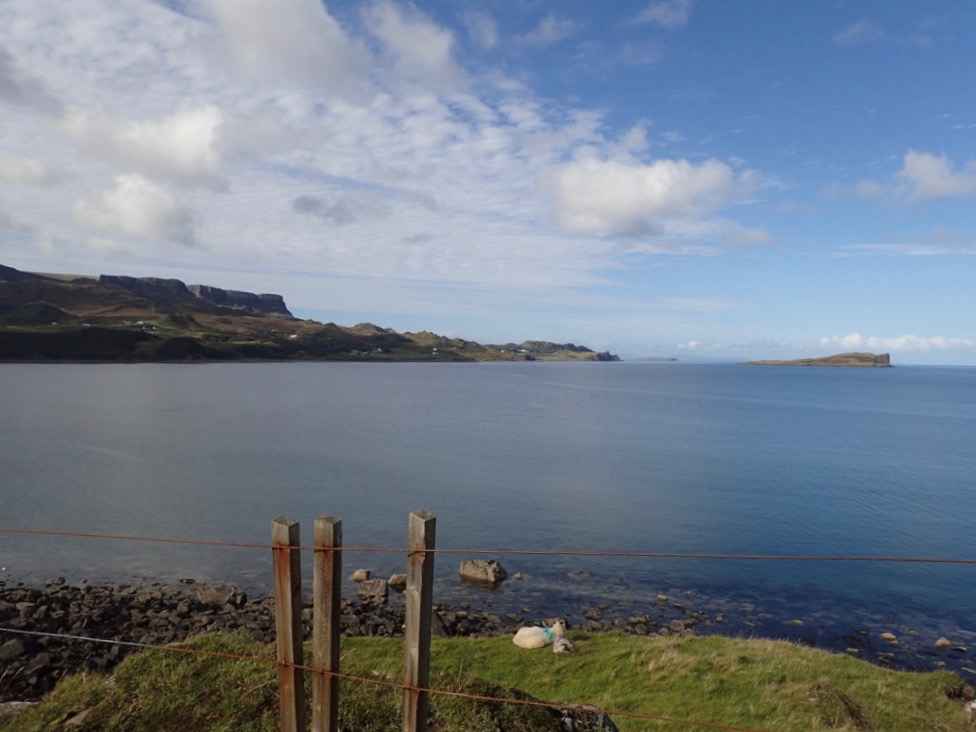 I try always to see the possibilities, rather than limitations.
A feeling spilled planning and funds had been spent, gnawed right to the bones.
The idea of a dream expedition that now burst, and a stupid and not legitimate sense of total failure was running freely and run completely out of control. It was all a mess, and did not matter now. Staffin Bay, where I had plan to camp, before the northern tip, was now the end of my dream.
I called Morag and Gordon, and told the bad news. Morag told me that there was a bus 5 km. from where I was, leaving 50 min. later.
To see the possibilities, I'm pretty sure that I in the situation, completely forgot.
There were about 4 km. from the parking place where my kayak was, and up to a bus, so I could get back and pick up my car at Gordon´s.
I do not think there was a single stone, twig or something like that did not get a big kick.
Rowland Woollven, BCU 5 star coach, once said, "plan your paddle, but don't paddle your plan".
From Staffin I got the bus to Portree, and then continue towards Broadford. About 2 km. from my car, I got off the bus. Here, too, every stone got a big kick, I was still not very good mood.
If only I had had my car keys on me. Now I had to talk to either Morag or Gordon. I did not want to see or talk to anybody.
As I walked down the driveway, Gordon came to meet me.
Gordon wanted to know how I was and what I thought about stopping my expedition. Exactly what I did not want to right now, after my failure.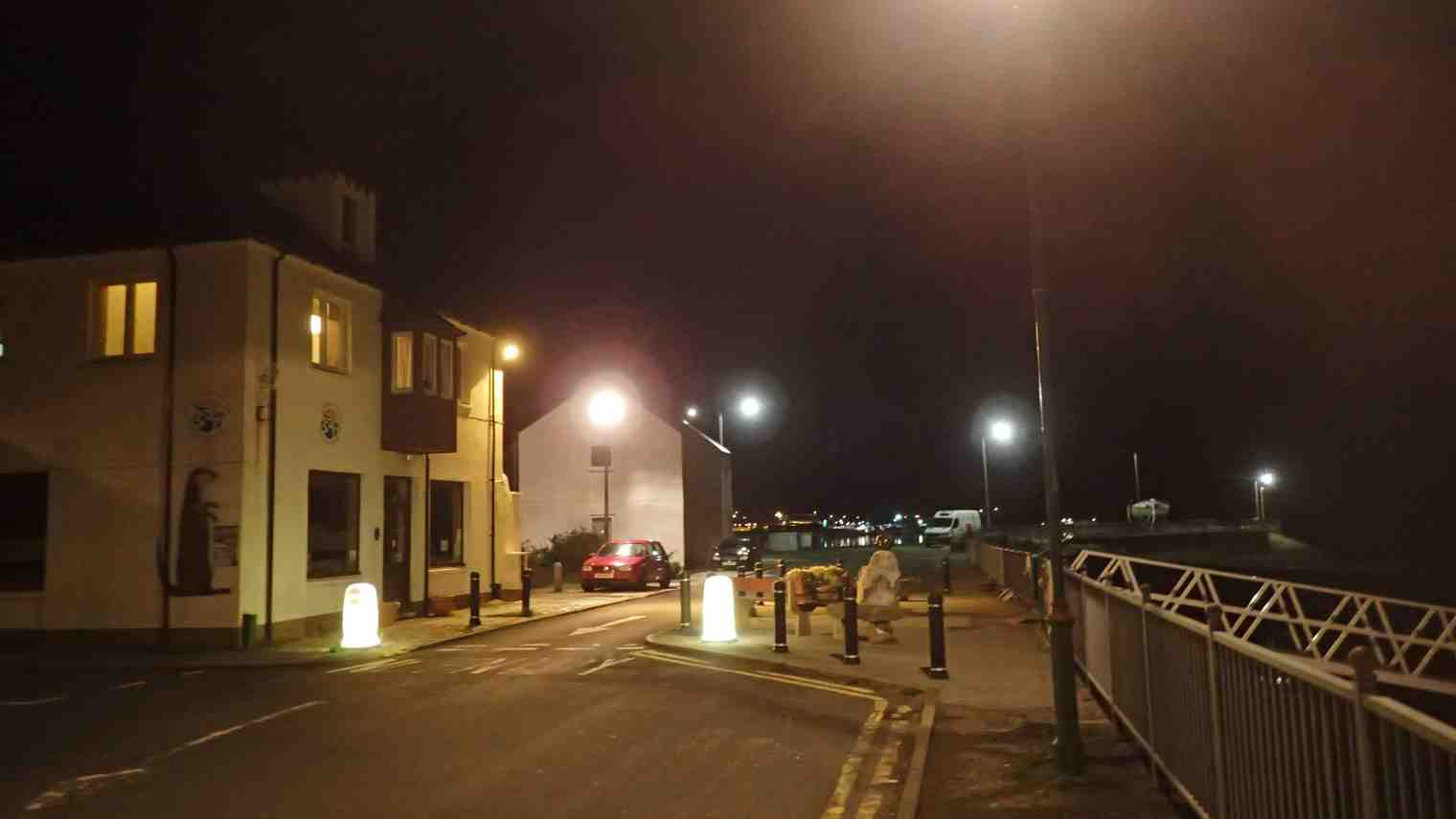 Gordon said that he had my car keys, but I could not get them before we had talked a bit, so we sat on the stairs.
I needed a place to stay for the night. Kate Duffus had an extra room where she lived, and I was welcome to sleep there.
Half an hour later I got my car keys, and a set of roof racks so I could bring my kayak back. I went to get my kayak, and had at the same time promised Gordon, not to go back to Denmark the next day.
In the same mood, I drove up to Staffin Bay. Empty kayak and threw it all into the car, then the kayak onto the roof and then back to Kyleakin where I came around midnight. I went for a walk along the beach before I went to bed.
Today's distance - Total distance:
36 km. / 20 nm. – 80 km. / 44 nm.
Today's weather:
- Light clouds, later sun from a clear sky
- Waves: 0,5 m.
- Difference between high and low tide: 2,2 m.
Temperature: 13 degrees C.
- Wind: 6 m / s
- Barometer: 1005 hPa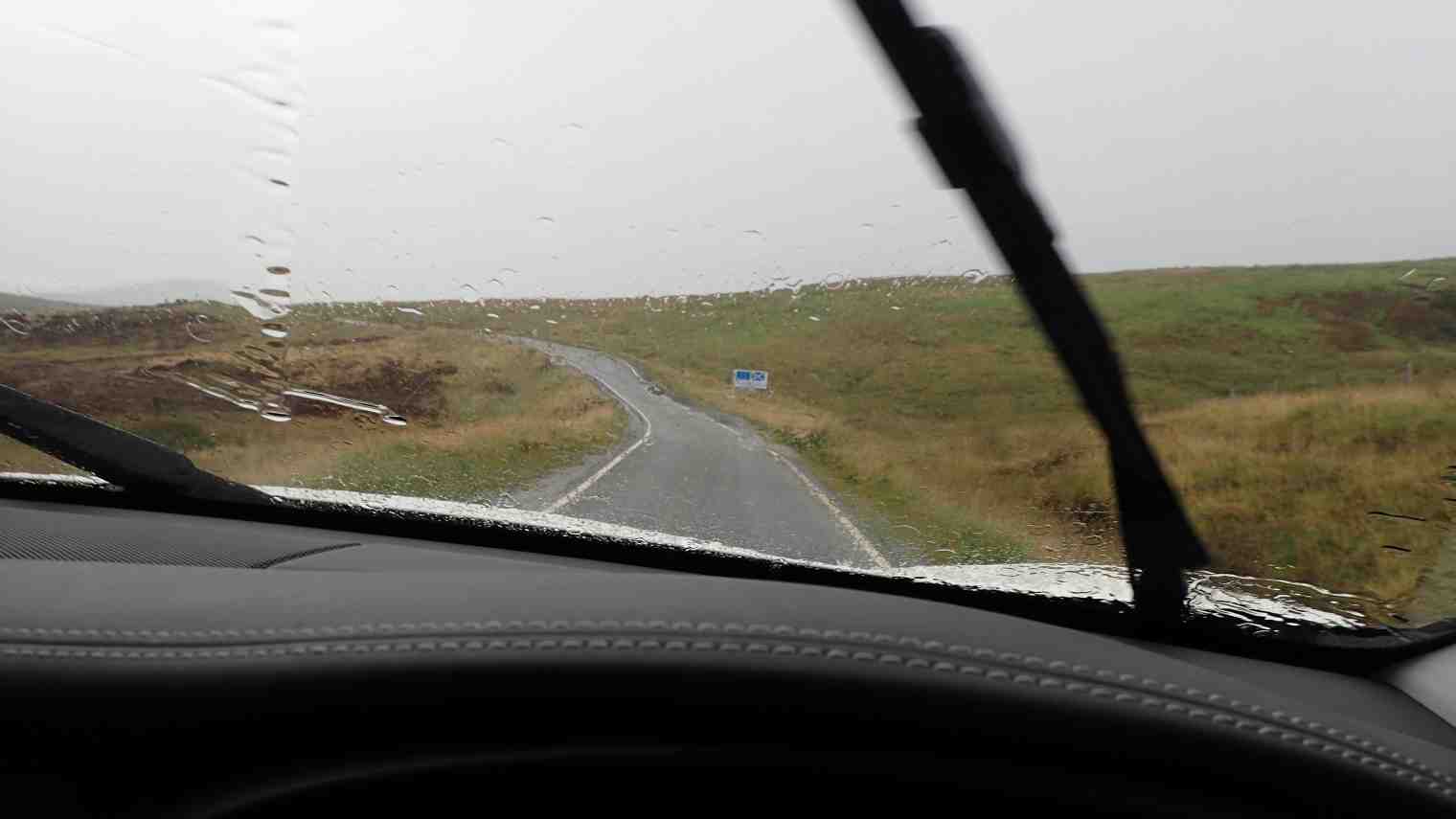 2016-09-14 Wednesday
Today's weather was not something I thought about.
I had slept well and woke up at. 06:30. Tiptoed out of the house and went for a walk along the water to Skye Bridge and back. Still disappointed, bitter, sad and mad.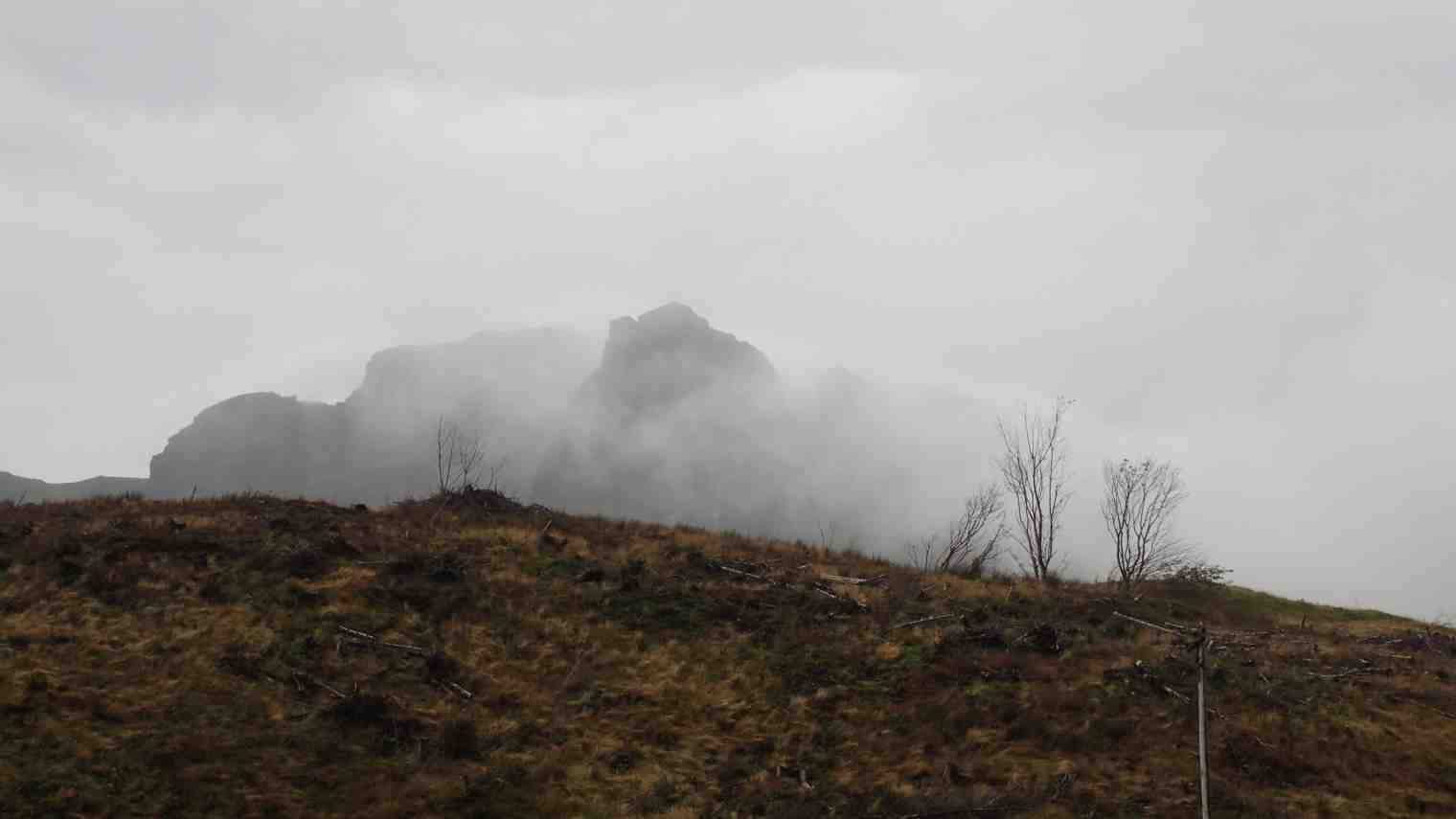 Threw a couple of stupid stone in the water before I went back and had breakfast.
Both Kate, Morag and Gordon thought I should go out for a paddle.
Of course I would not listen, would definitely not on the water but would also love to see the northern point of Skye.
Since I had promised not to go back to Denmark, I might as well run up and at least see the tip.
Once again I drove towards Staffin.
Rain and Cloudy but still beautiful nature and scenery.
Several places along the road was marked withviews / specie scenery.
Waterfalls in deep canyons.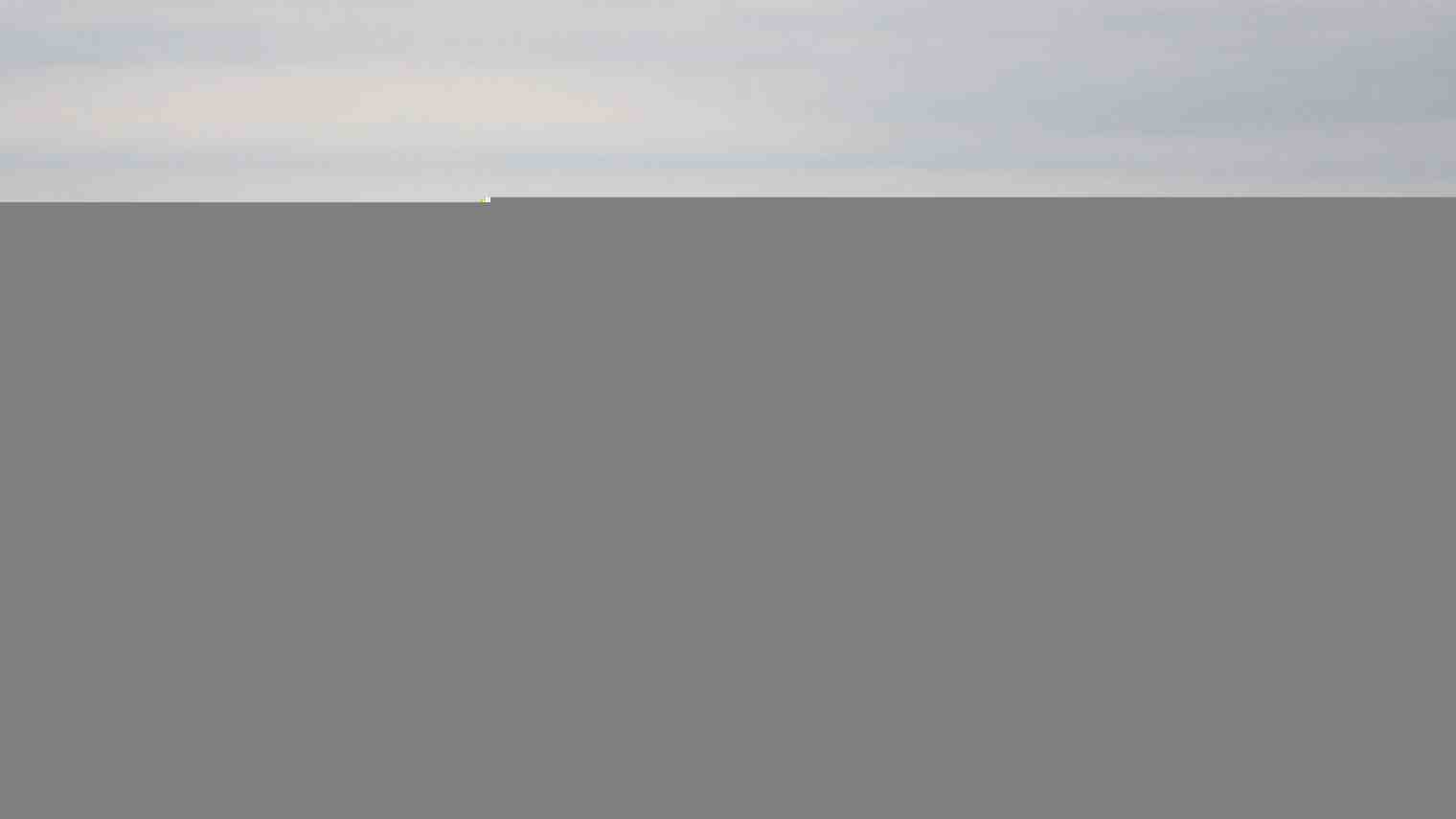 View over the Sound of Raasay.
The passage between Raasay and Rona.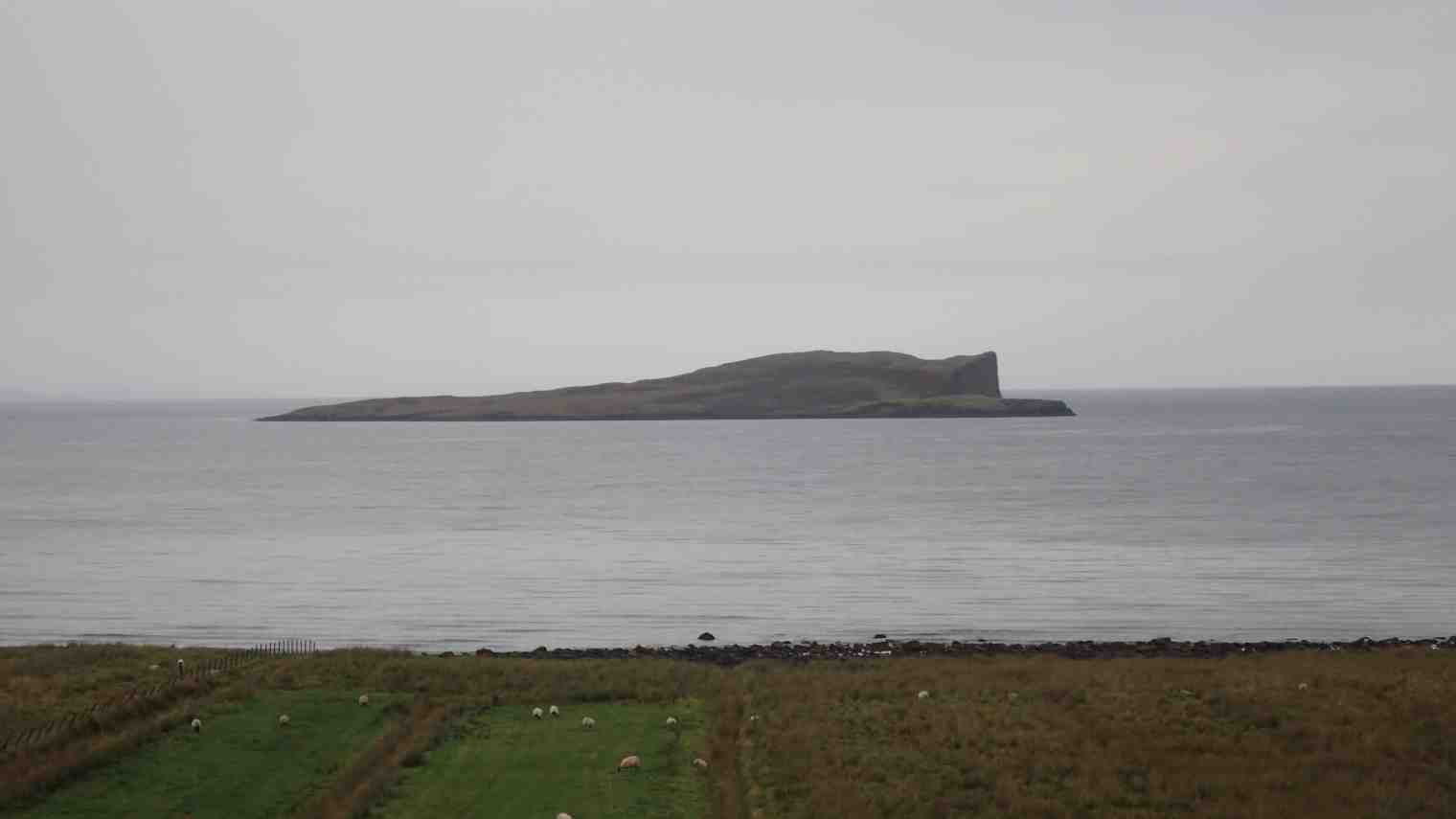 Just north of Staffin Bay, is this very distinctive island.
I dont know anything about it, but wanted to see it, ever since I started planning the trip.
Now I saw the island from land. That was not what I had in mind.
The ruins of Duntulm Castle. A lookout and defence post from the dawn of time.
How it had been in winter, with storm etc., I can only try to imagine.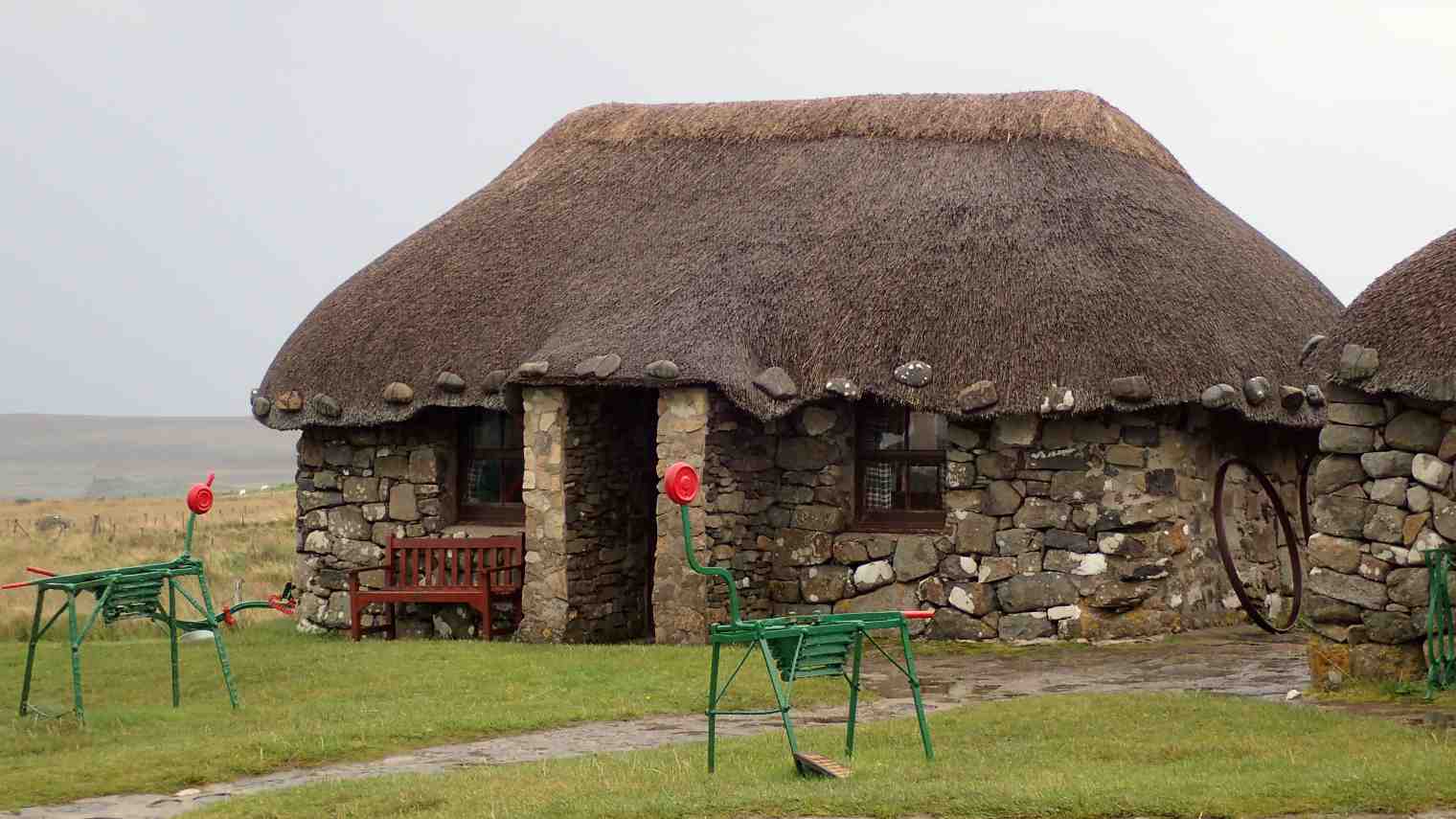 There can be no doubt, that wind there is enough of here.
I've certainly never seen fishing nets laid over roofs with large stone tied onto the net.
That way they could keep the thatched roof in place on the house.
I drove on towards Uig. I had used Google Earth, charts and OS maps, in related to my preparations for the expedition, and I had studied the coast around Skye again and again and again.
Although I could not remember or did not know what all the names of the inserts, islands and bays, I knew all the time where on the map I would be if I had to point it out. All characteristics of islands and bays I could recognize, and knew at all time what and how it would look after the next turn.
All the preparation, and now of no use.
From Uig, I drove back towards Skyak and Kyleakin.
I popped by my "Scottish mom" hoping she'd had a cancellation. But no luck.
She, however, had a son and daughter, and they had a room where I could stay.
Today's distance - Total distance:
0 km. / 0 nm. – 80 km. / 44 nm.
2016-09-15 Thursday
Today's weather: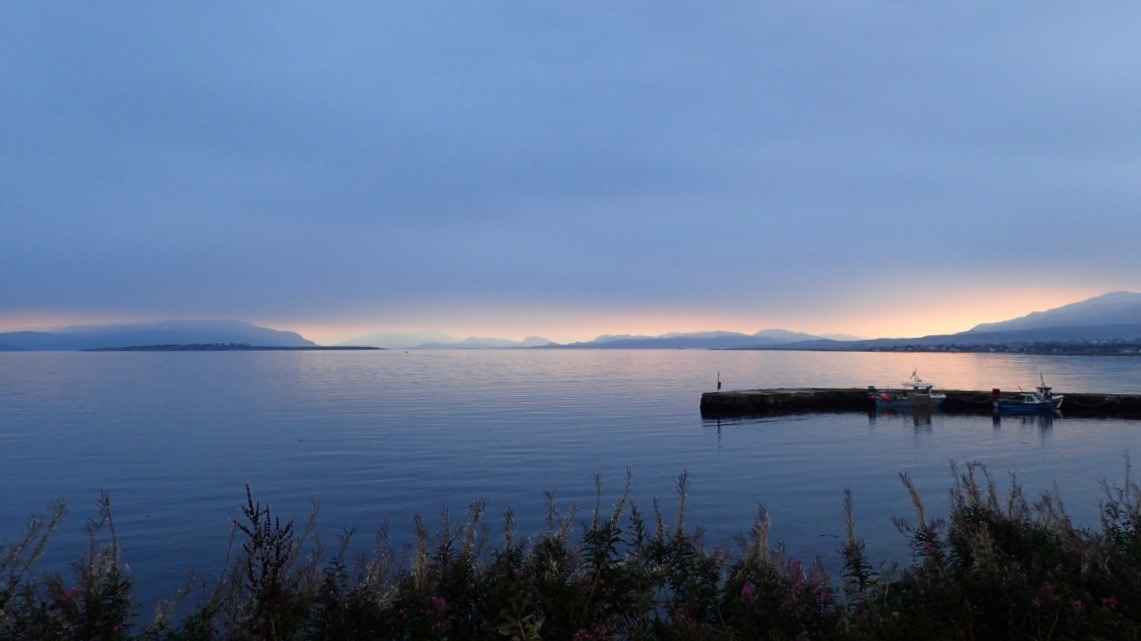 - Sun and clouds drifting
- Difference between high and low tide: 4.0 m.
- Temperature: 15 degrees C.
- Barometer: 1011hPa
I had talked with Morag and Gordon the previous evening. Morag would like to go out for paddle, so we had arranged to meet at. 09.00
A trip to the supermarket, buy lunch and then a quick cup of coffee while I enjoyed the amazing sunrise.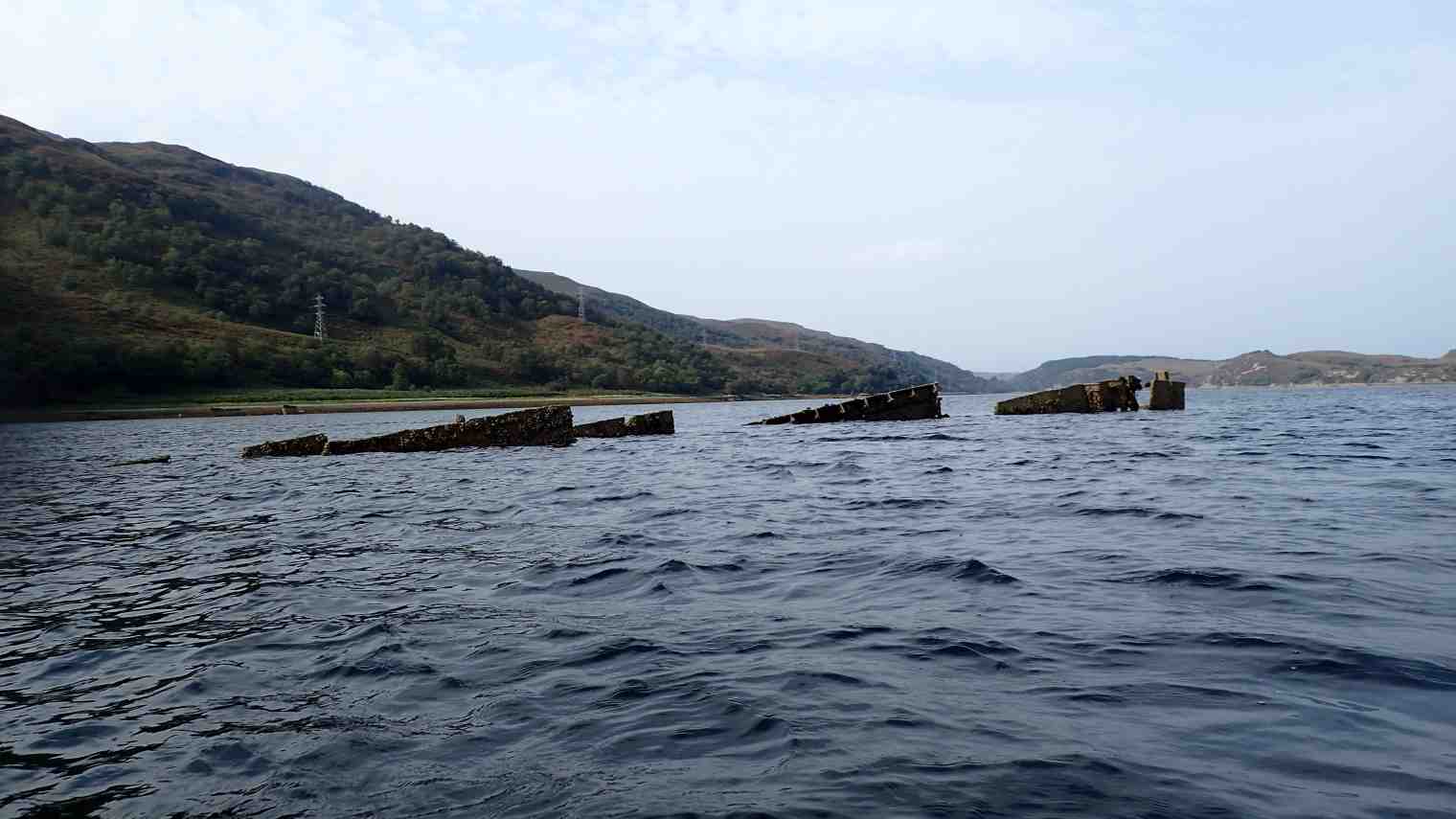 We parked one car where we were to finish today's trip, and then drove back to Kyleakin, where we started our paddle.
Once it gets low water, a wreck from the second world war appears.
An exciting story of the wreck, H. M. S. Port Napier, try to Google.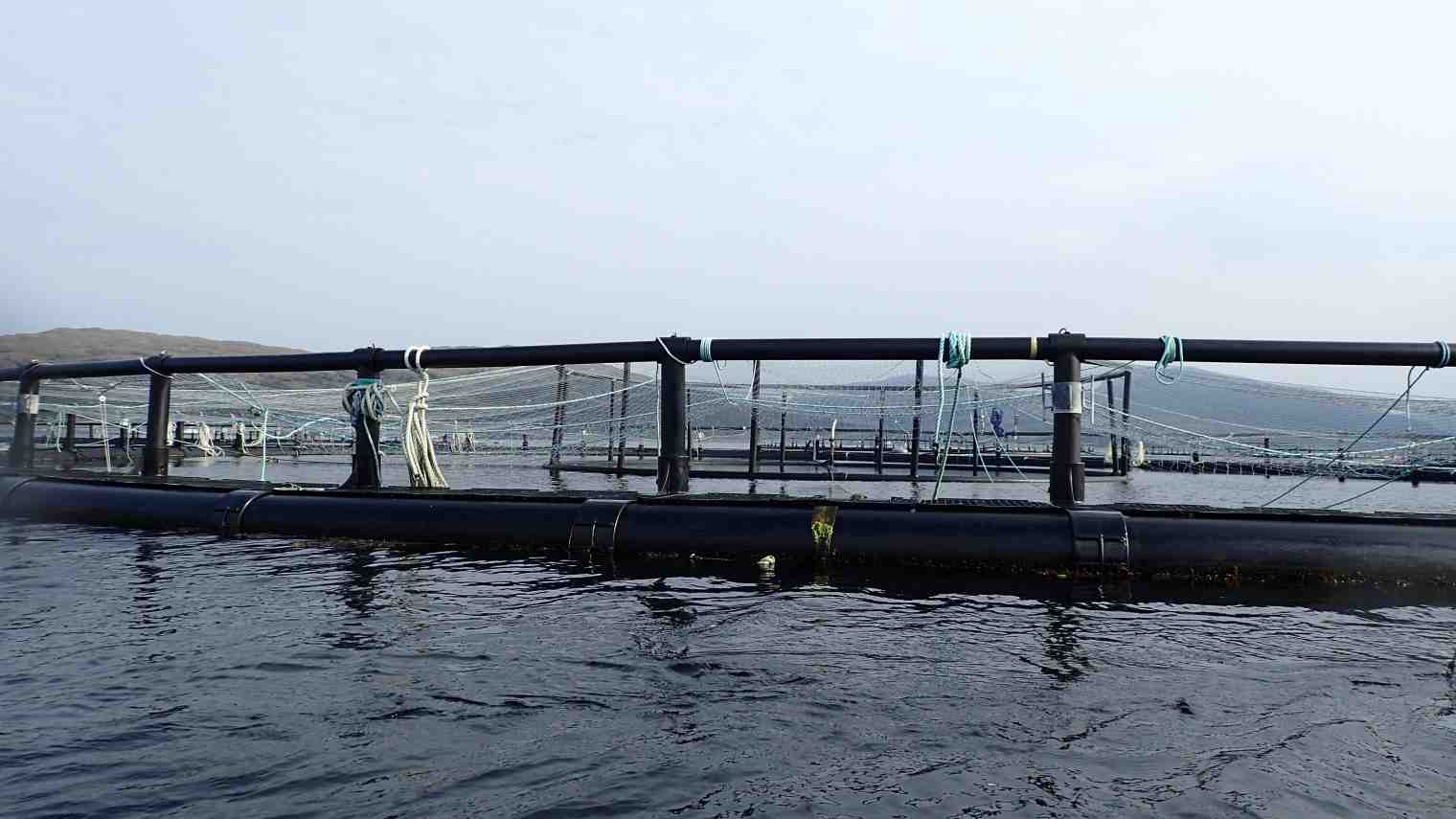 Many places lie fish farms.
Beautiful, I would not call them, but exciting it is to paddle close to, and have look at the fish.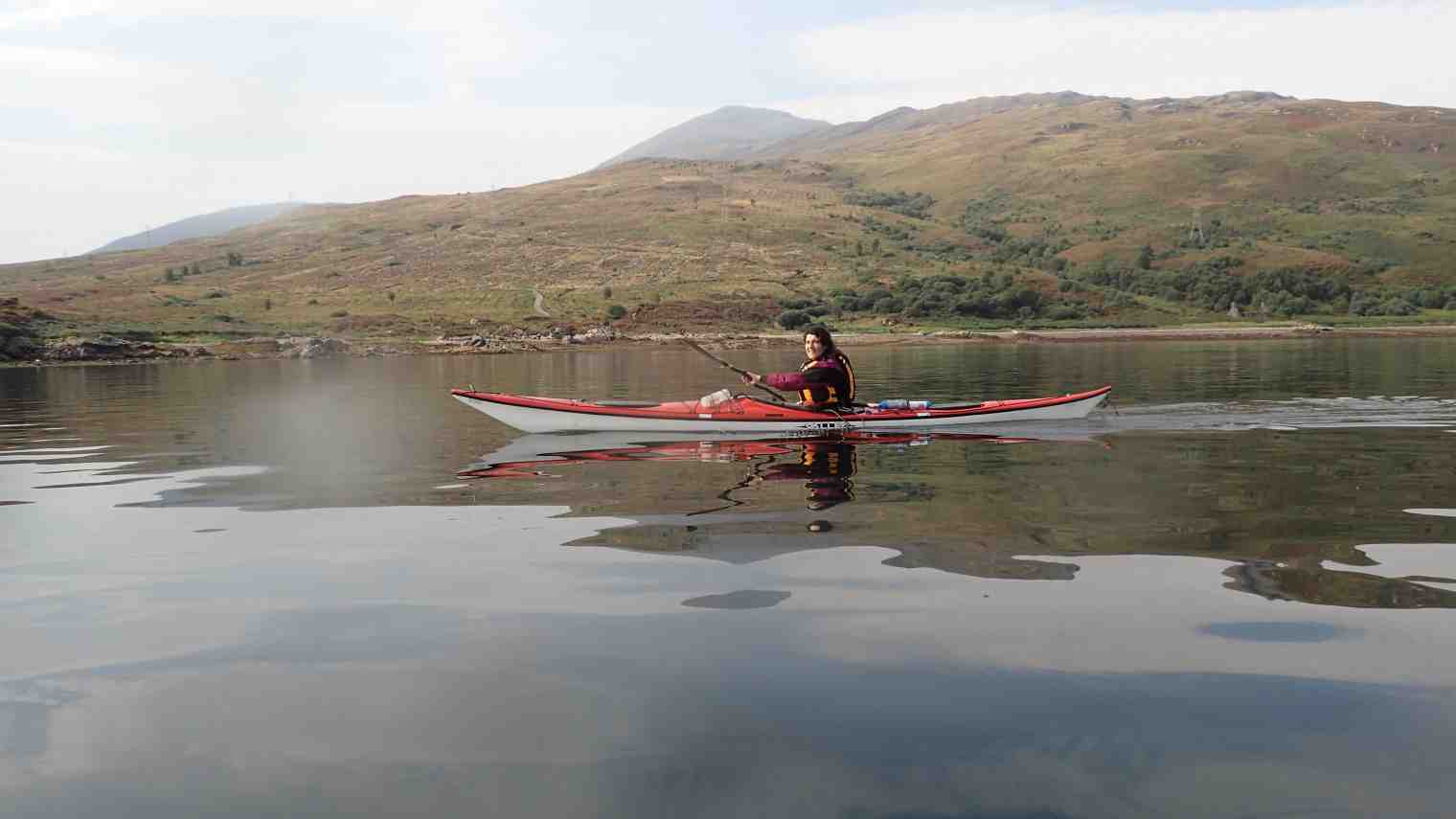 Sun, wind, and a push from the flow.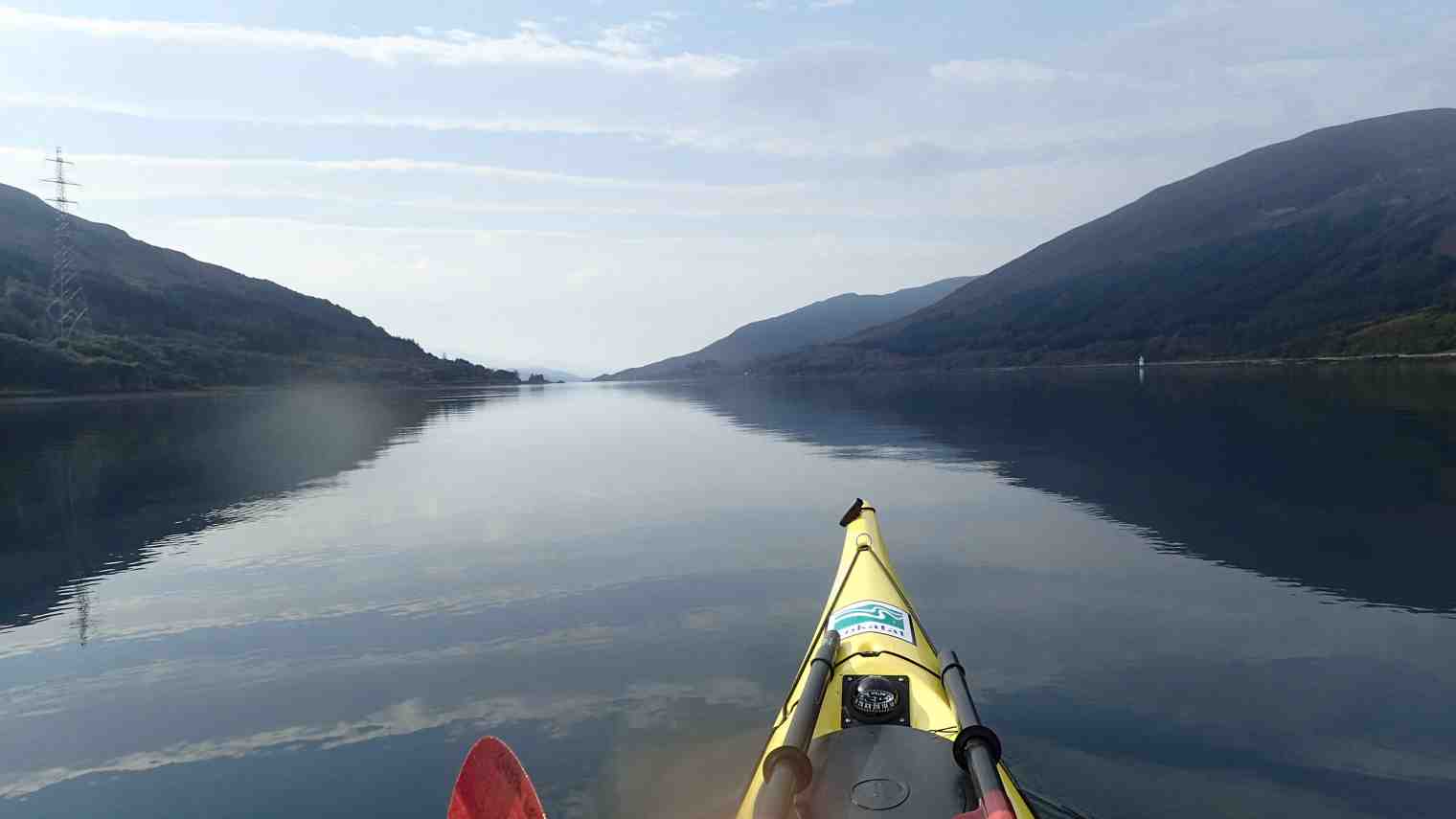 We "flew" down to Kylerhea.
Morag talked about a lighthouse that had been relocated. She would like to show me, while having a cup of coffee.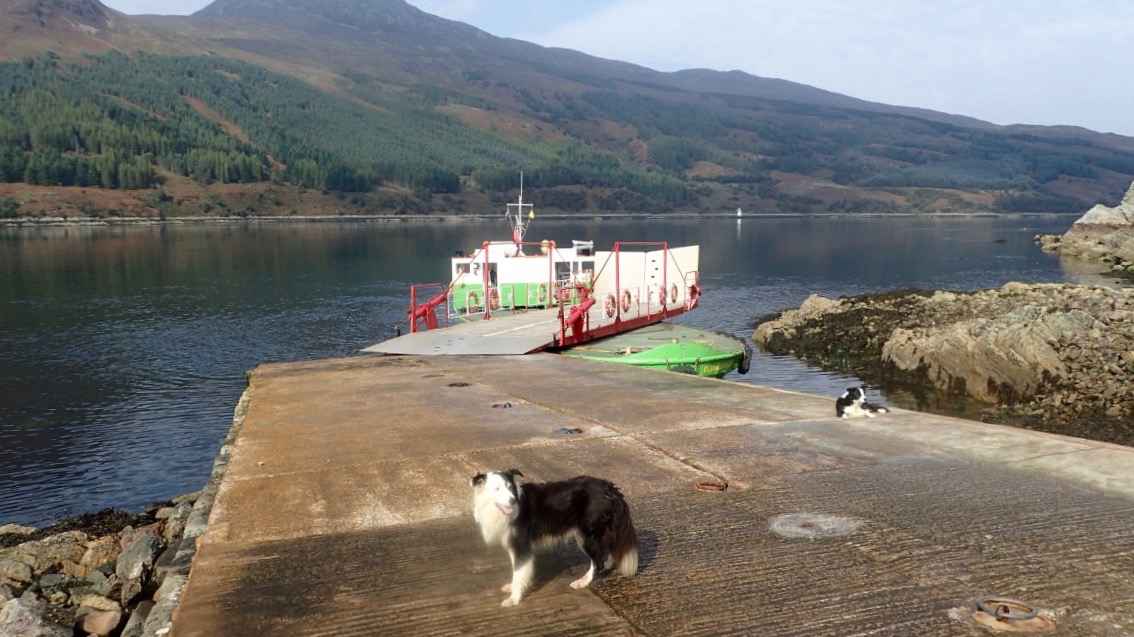 We stopped by the ferry sailing between Kylerhea and Glenelg.
The ferry itself, is an institution with a very charismatic skipper and his two Border Collies.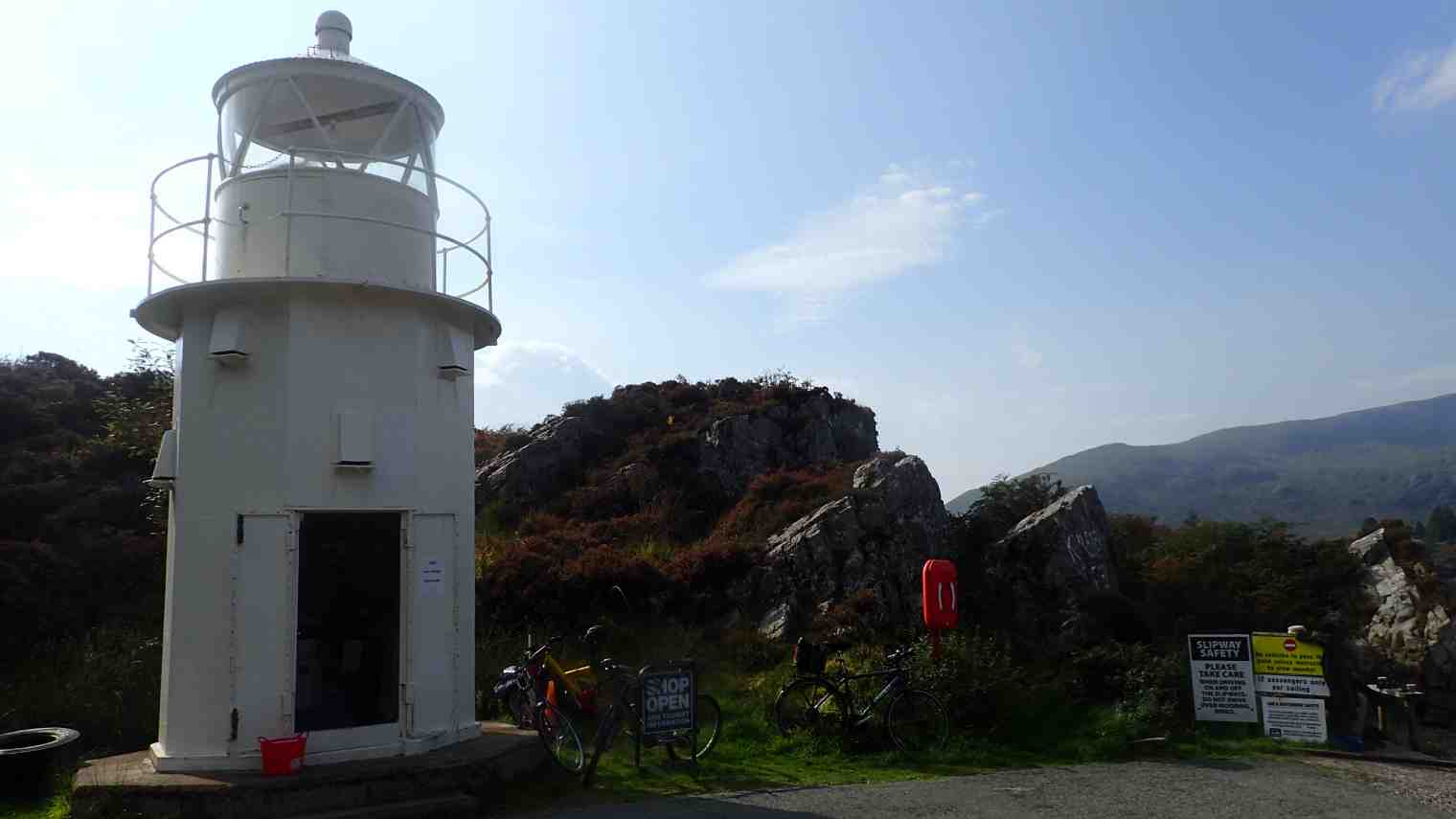 The government had decided that all lighthouses must be identical. The old was scrapped and replaced by some not very nice modern one.
It did not suit the locals so they put a plan in progress. There was founded an association.
The lighthouse moved about 4km. and set up on the mainland by ferry landing.
Information about the rich wildlife in the narrow strait, and the story of how they came back and forth in the past, including how they swam cattle over at slack when they were traded.
Inside the lighthouse, it is possible to buy various souvenirs, coffee, tea, cookies etc. Prizes, one can see on a notice on the wall.
Payment is put in an "honesty box". There had so far as we know never lost the money in the box. If the box did not fit the sales, it was because there was too much money in it, not too little. I was wondering how many places it would work just as well as they said it did here.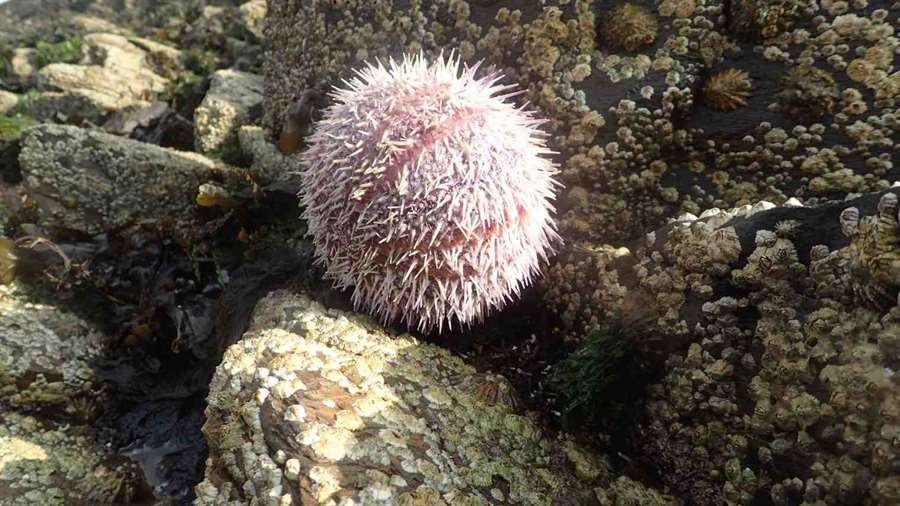 The water continued to drop, so when we went down to the kayaks again, there were several sea urchins on the rocks.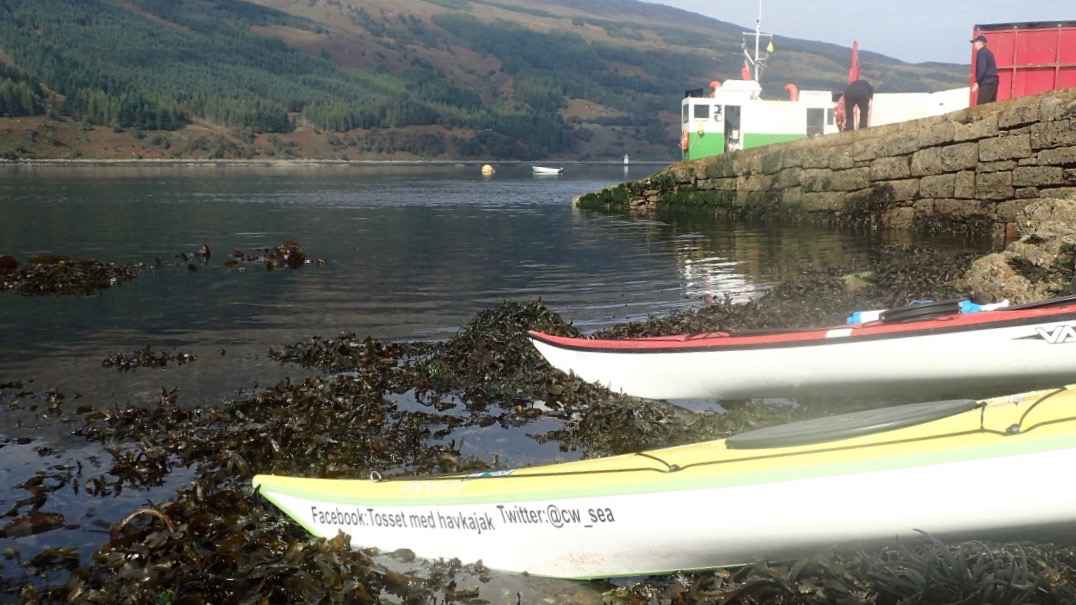 Back in to the kayaks again without sticking us on urchins.
We continued towards South West.
Morag told about one who had lived on some small islands, the Sandaig islands, although only islands at high tide.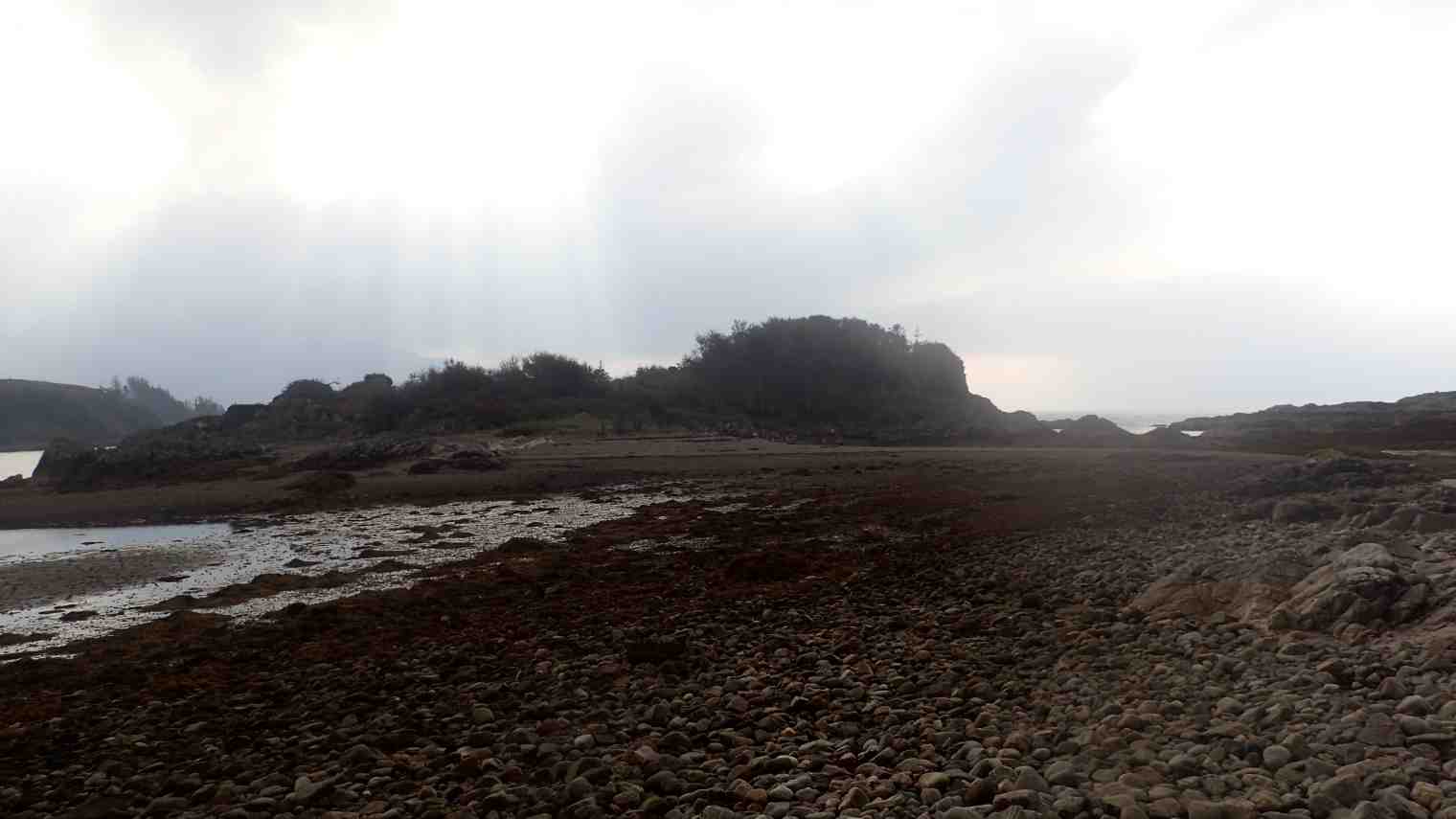 Gavin Maxwell lived here with a small group of sea otters, and subsequently wrote a book about his experiences and life, "Ring of Bright Water".
Time ran from us as we walked around and looked while we ate lunch.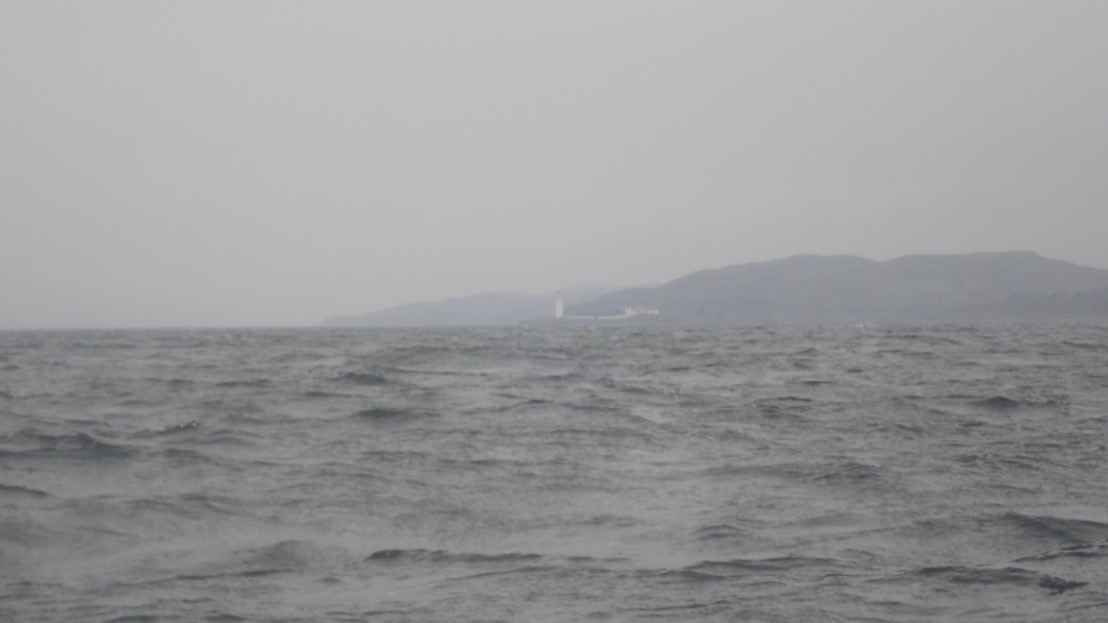 From Sandaig islands, we had a crossing of about 5 km. to Camus Crois where we had parked Morag's car. Another, not predicted weather changes.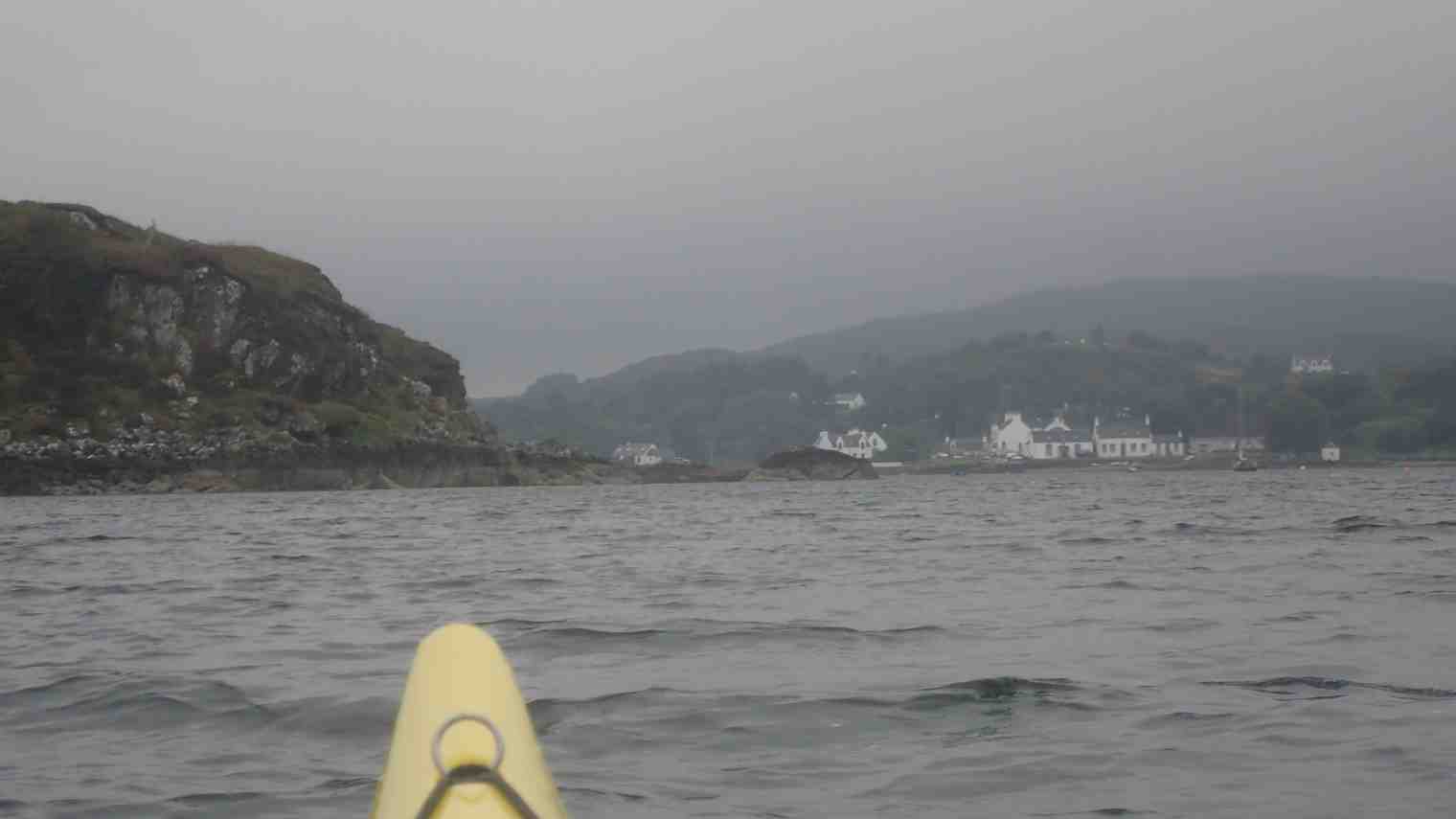 Nearly two hours later, we had completed the 5 km., So no time, we had abundant of.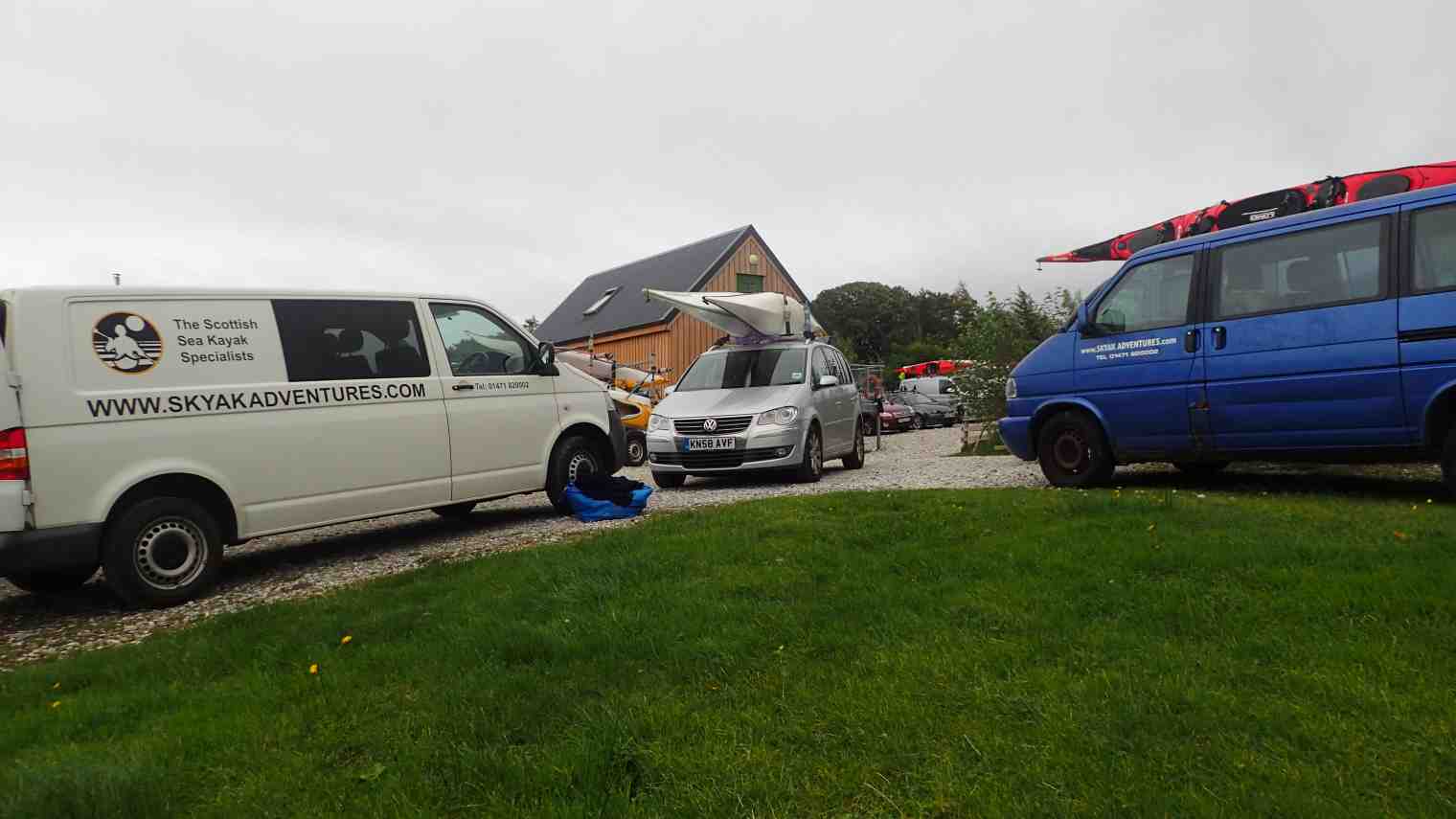 On the way back to Skyakadventures, I thought about how exciting it was to paddle with a local.
All the stories and tales that I was told, would not have been something I would have heard of otherwise.
Thank you for a nice paddle, Morag. I had a fantastic day, and lying in bed that night, I could not help thinking how good it had been, to have one to get me "back in the saddle" again.
Mentally it would have been nice to do the paddle with company. The desire to just go home with a defeat, had been turned, so I now saw the possibilities instead of the impossible.
The feeling of failure, disappointment, bitterness, anger, etc. had subsided during the day.
How could I be so stupid - completely forgetting to see all the possibilities that still was, instead of just seeing what was not possible.
"Plan your paddle, but don´t paddle your plan".
Today's distance - Total distance:
29 km. / 16 nm. – 109 km. / 61 nm.
Today's weather:
Sun and some clouds drifting
Waves: 0 to 1.0 m.
Difference between high and low tide: 4.0 m.
Temperature: 16 degrees C.
Wind: 2-14 m / s
Barometer: 1011 hPa
Friday 2016-09-16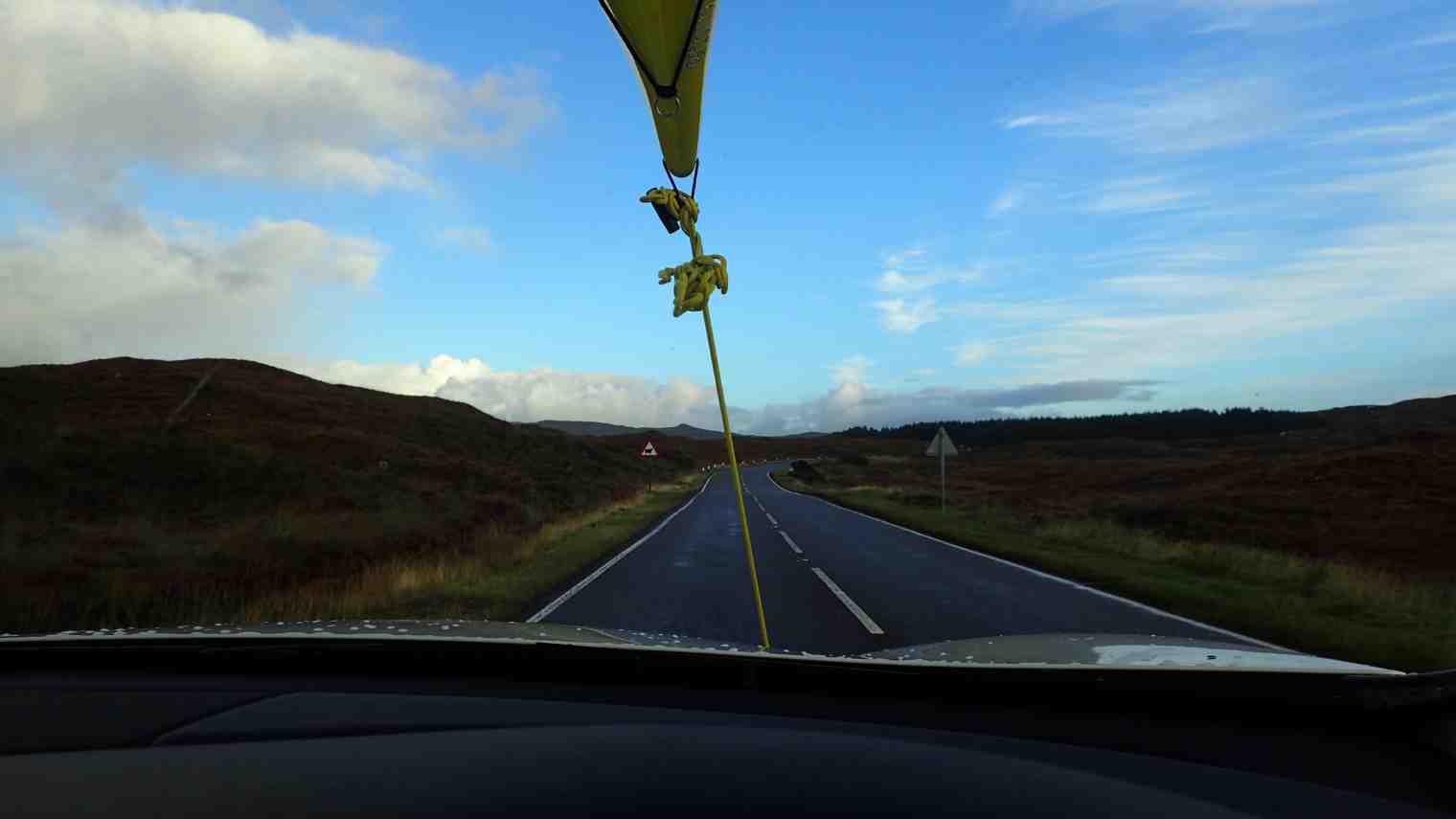 The Northern tip of the Isle of Skye, was very high on my wish list.
The rugged coast line, and the exposed coastline I would like very much like to se. At the same time, the eastern coastline from Staffin Bay is full of caves.
The weather forecast for Friday seemed to be my best chance, so the alarm clock was set to pm. 06:00
The weather forecast seems to hold off to Staffin Bay - again.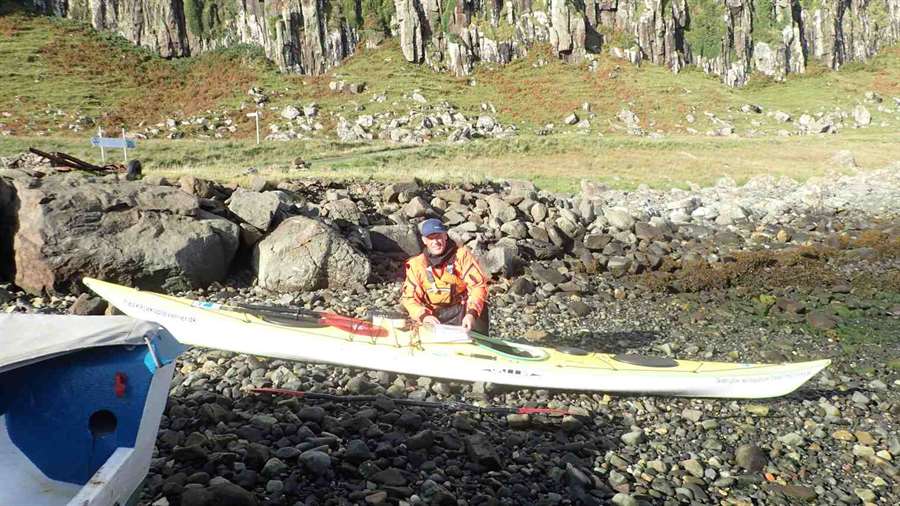 1 ½ hours later I arrived.
I contacted the coastguard, who confirmed the weather forecast, gave them my planned route and info, and then on the water.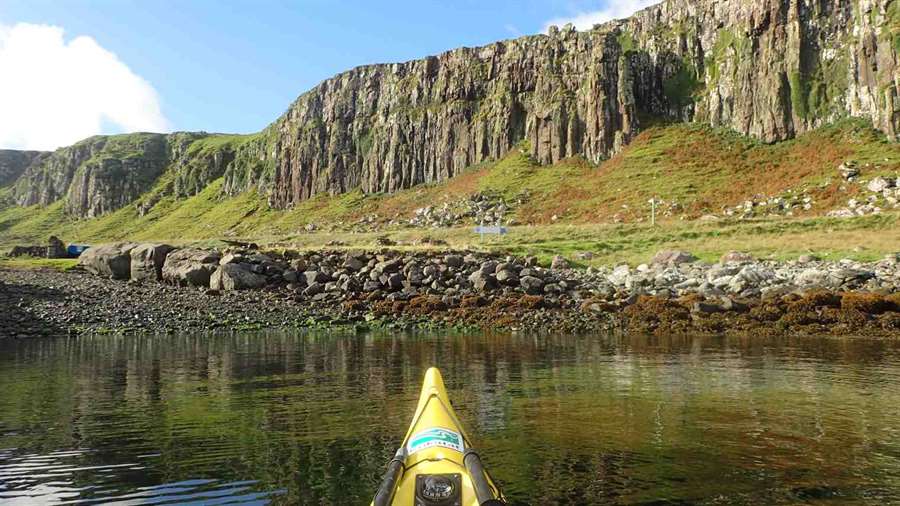 I had a great feeling in my body.
Ready to round the northern tip in conditions which should allow it.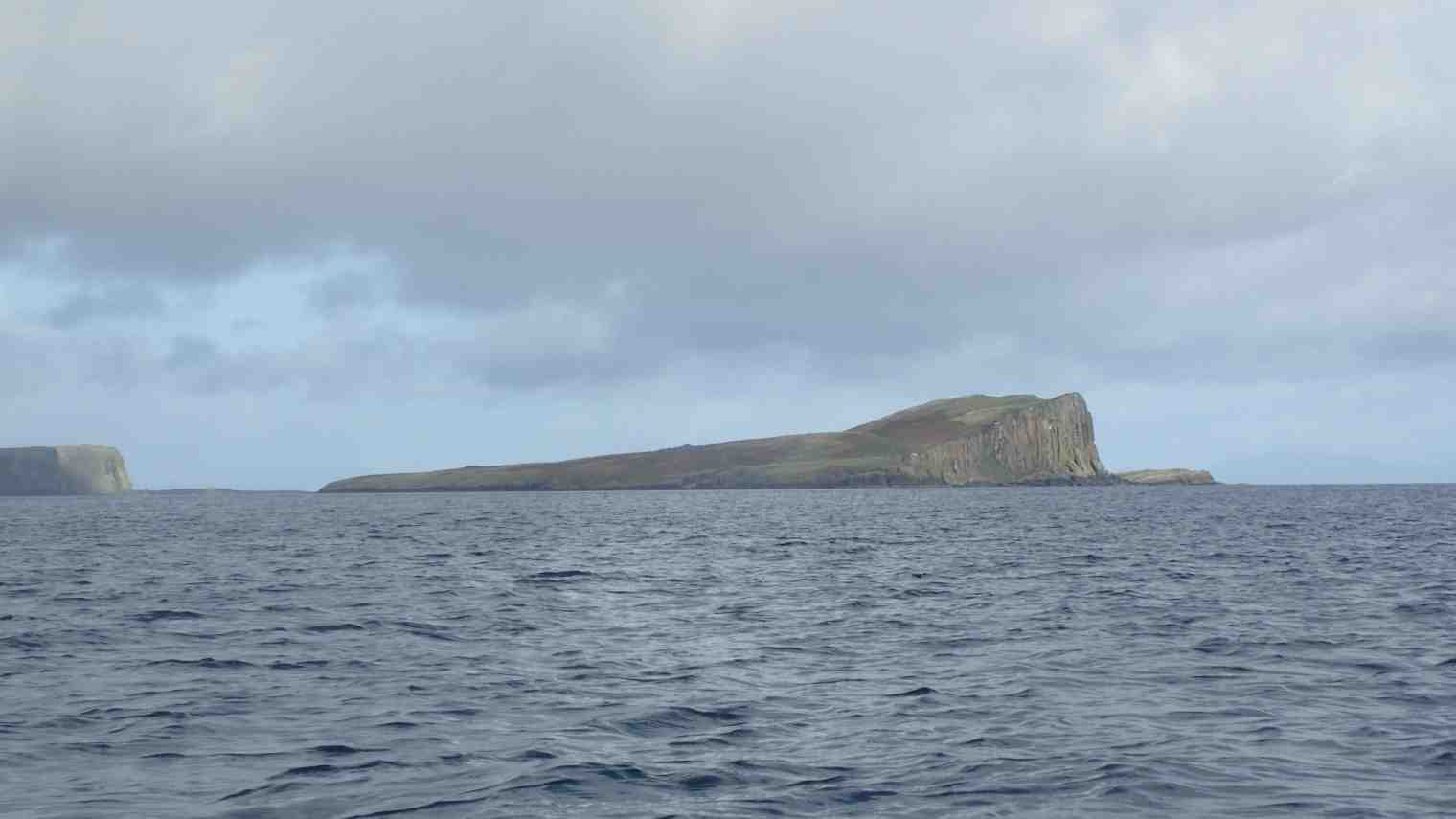 Now I had the opportunity to get out and see the characteristic island that I knew nothing about, but always would have liked to see.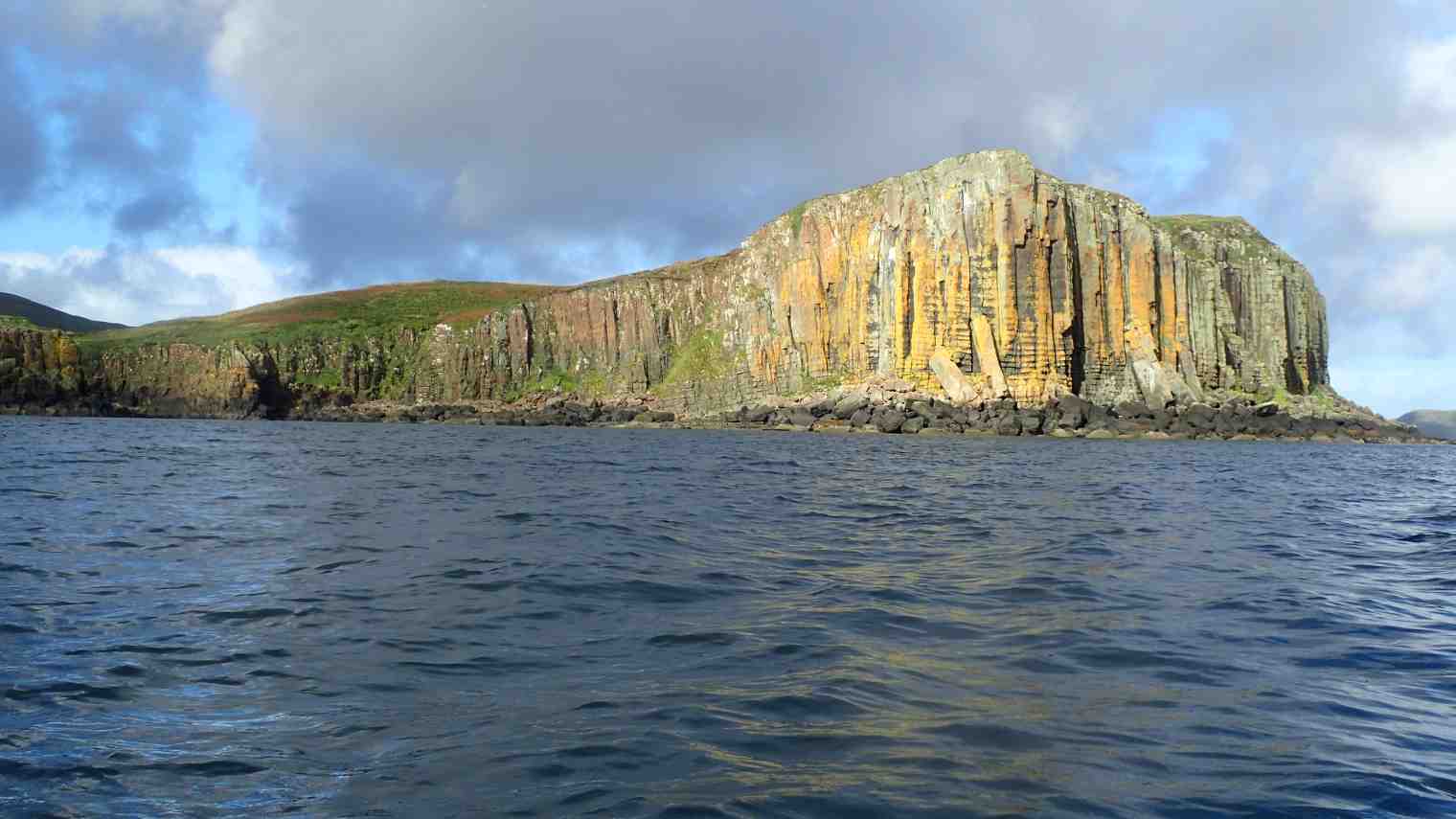 The sun broke through the clouds, as I approached Eilean Flodigarry.
The scenery lived up to all the expectations I had had.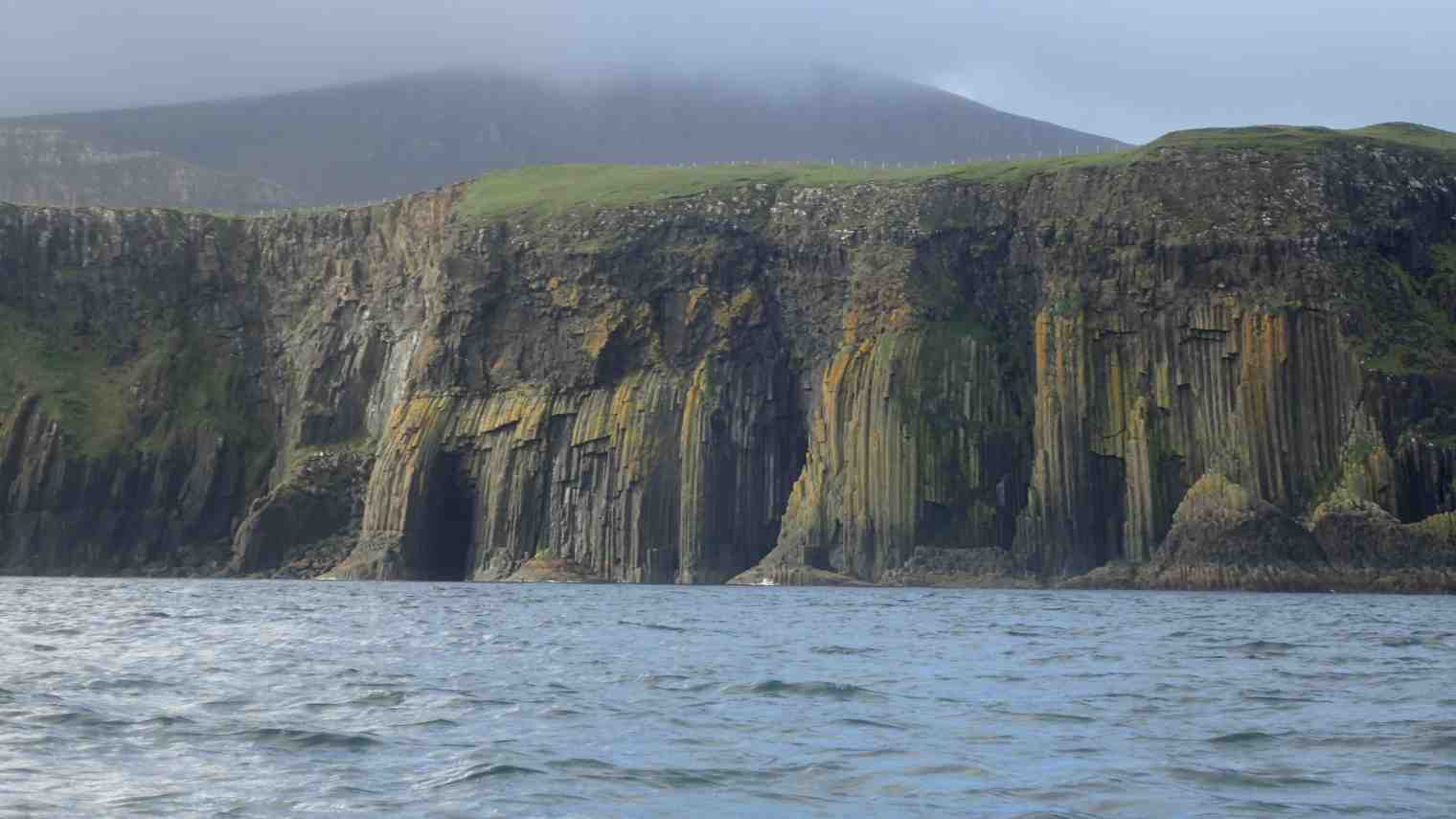 I continued around the island, and then close to the coast again.
Never have I seen so many caves, grouped in as small a place.
They were like pearls on a string.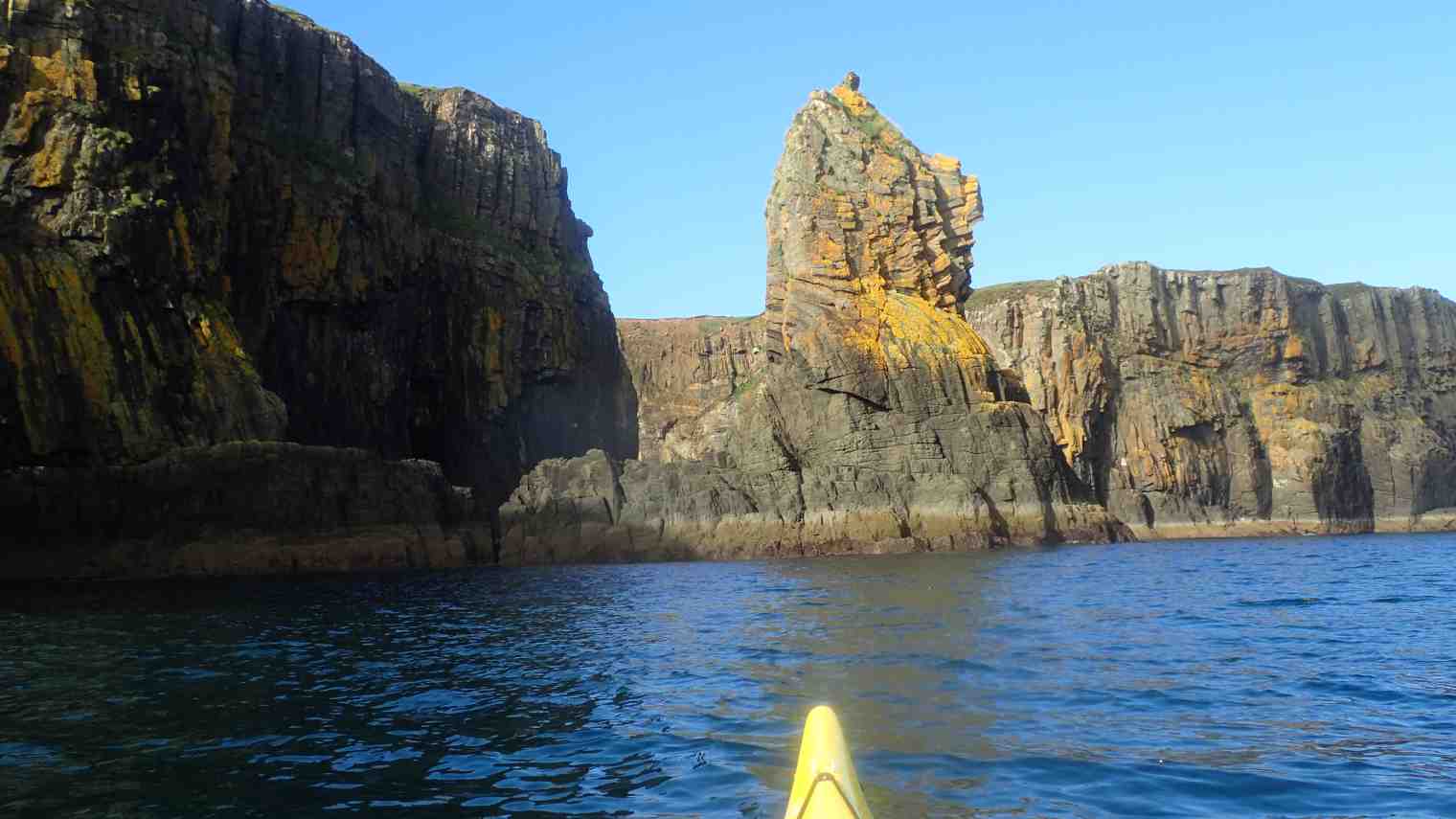 In several places there were stacks and arches.
A really beautiful, spectacular, impressive scenery.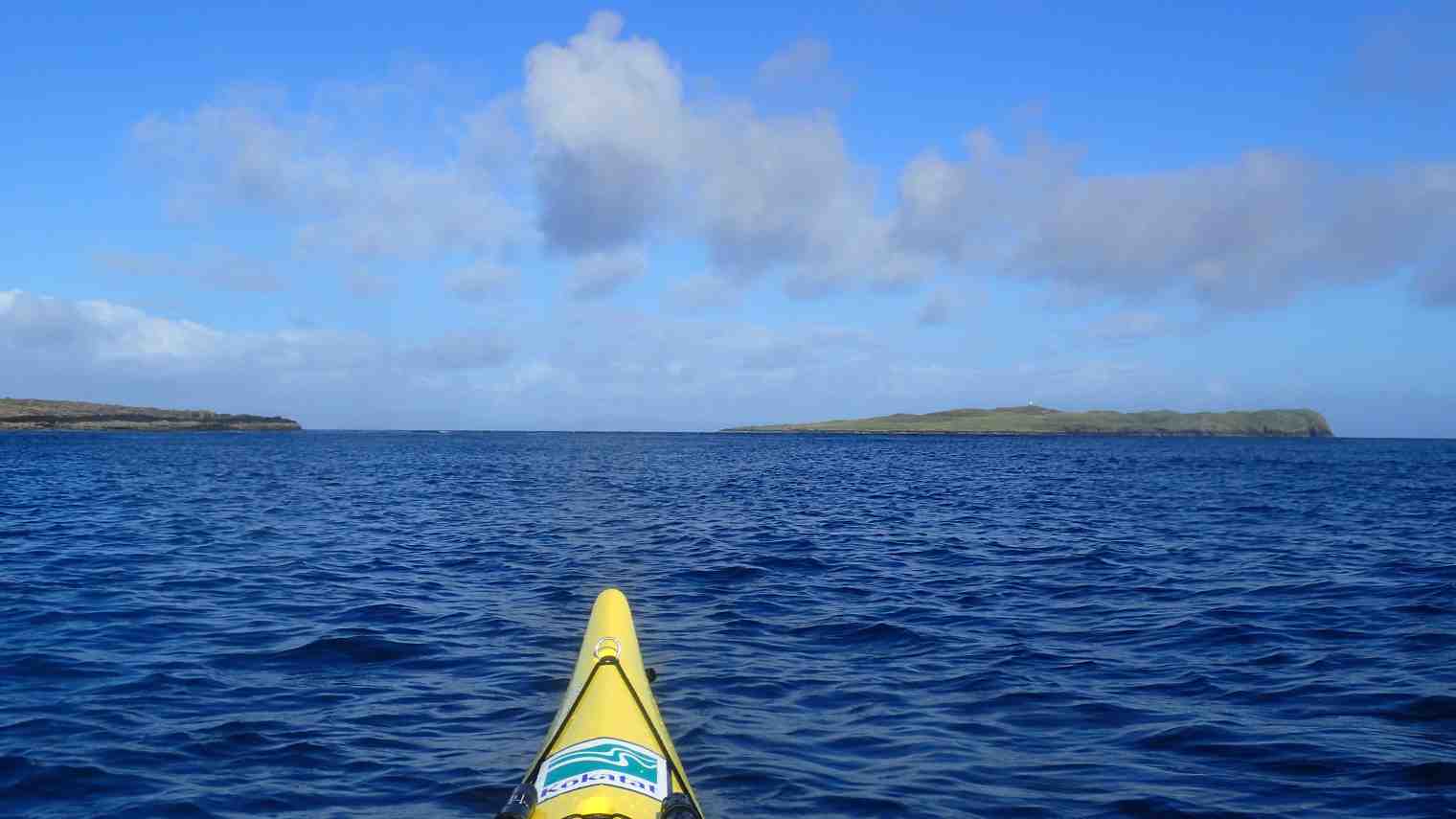 A small bay had to be crossed before the northeast headland. Out of nowhere, I was hit by a crosswind, on what I would guess was about 15 m / s
Sheltered again, and now excited about how much wind there would be from the west when I round the head.
The small island located 1 ½ km NE of headland, was part of it until I came pretty close.
At the same time I could see the "hole" I was going through, I could now see the rough water and falls of about 1 m.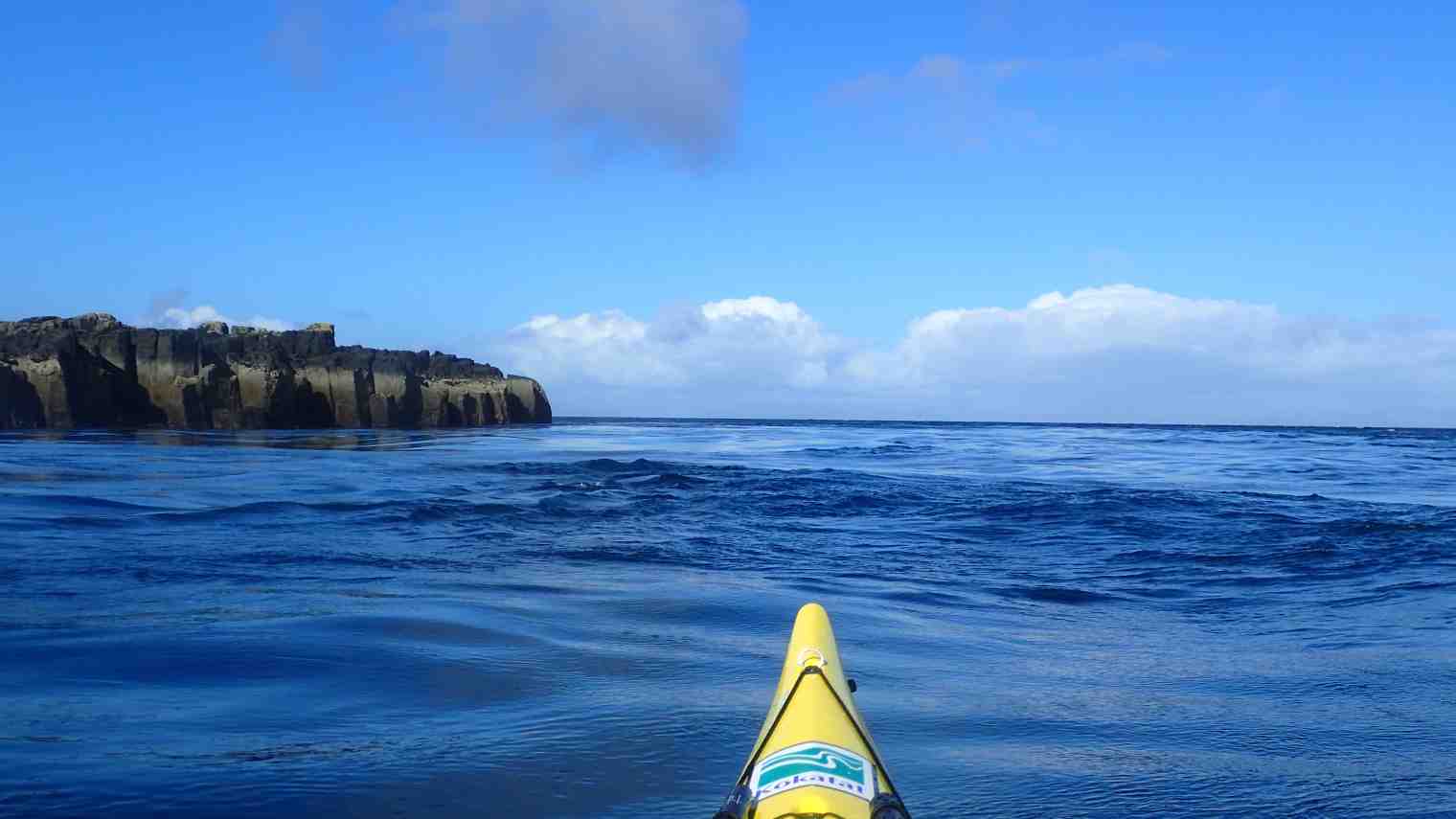 I chose the slightly heavier way, but thought in the strong wind that round inside along the coast.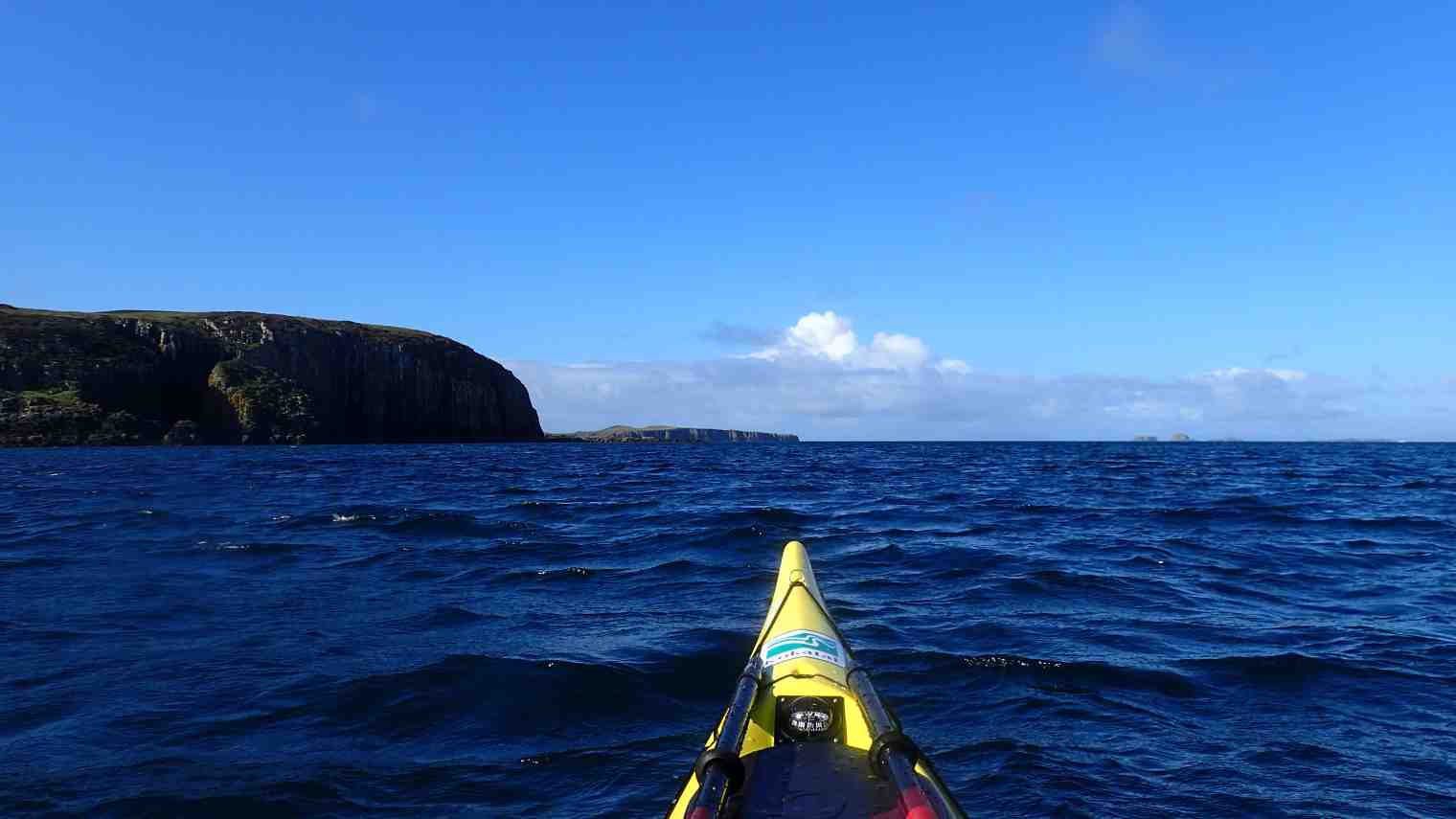 The Northern tip, NE headland in front, NV headland in the background.
Between the two small headlands, is a bay.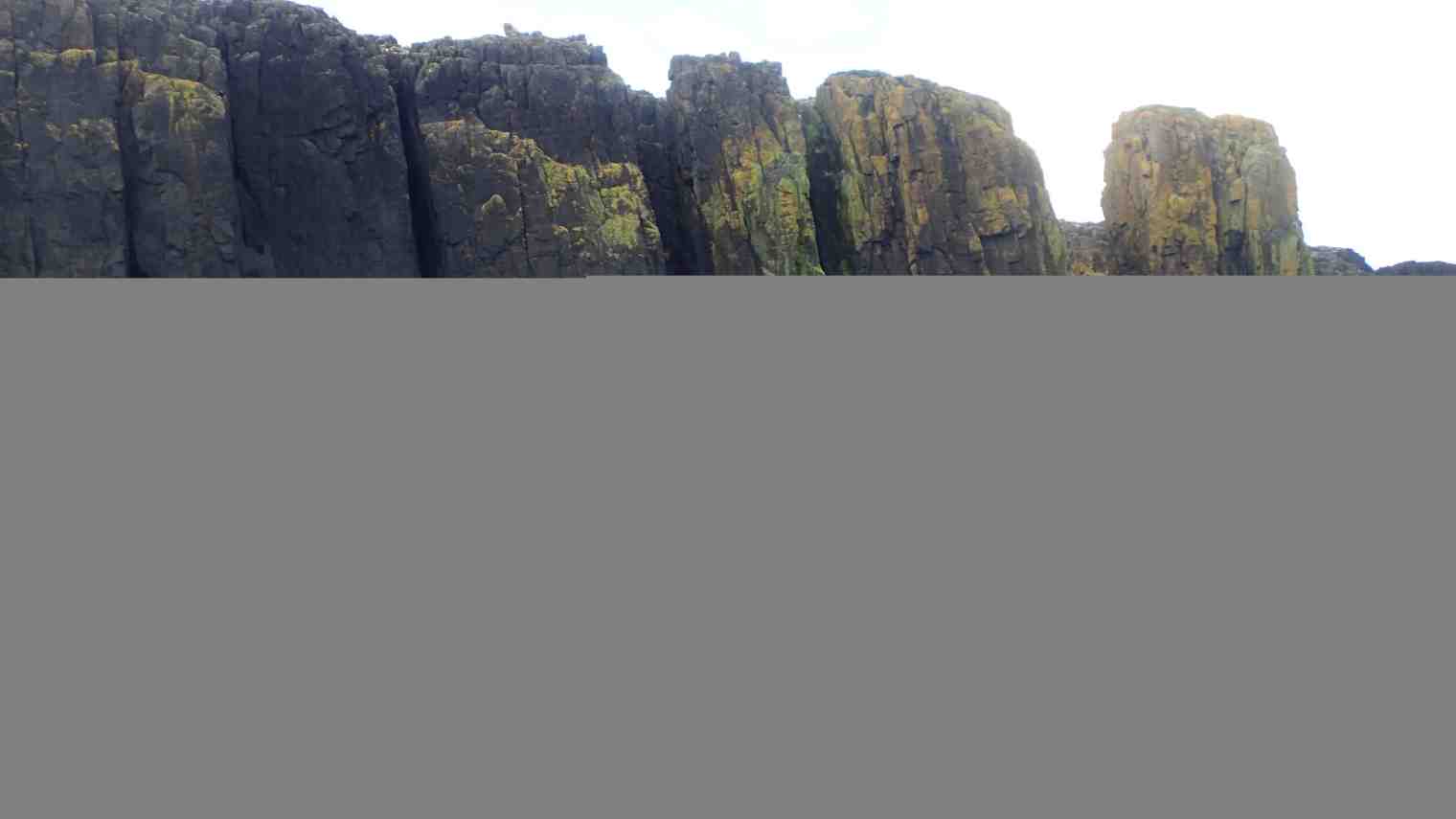 The beautiful surroundings can be enjoyed sheltered from the flow.
My plan was to stop for lunch, and stretch the legs after the NW headland was rounded.
A small island, under the ruins of Duntulm Castle, which I had seen two days before, was to be the place for my lunch
At the island, it quickly became clear that it was not possible.
Huge stones were uncovered, due to the falling tide, filled with kelp and sea urchins.
I would not risk being stuck on one of them, or break an ankle or a wrist, so I found a place where the sun was shining and the water was absolutely quiet.
A cormorant was fishing less than 10 m. from me.
On the way to the island, I was met by a group of common seals, they took turns keeping an eye on me while I had my lunch in the kayak.
This must be the way, to live the good life.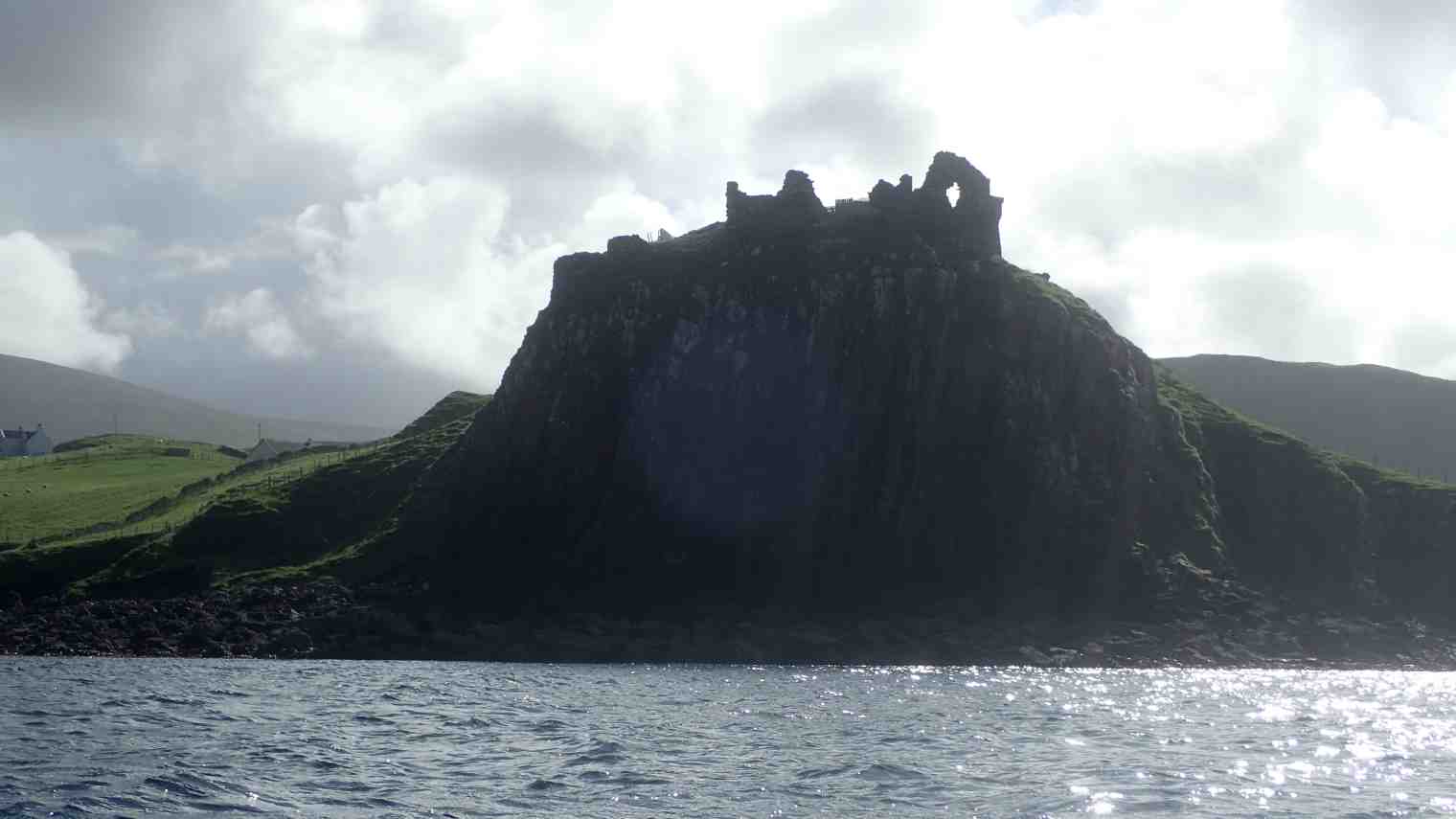 View up to the castle ruin from my sunny spot
I continued after lunch, around the point at Borneskeaig, and began to paddle towards South.
The wind was 6-8 m / s from SW. and I began to be marked by the trip, where I yet not had been out of the kayak .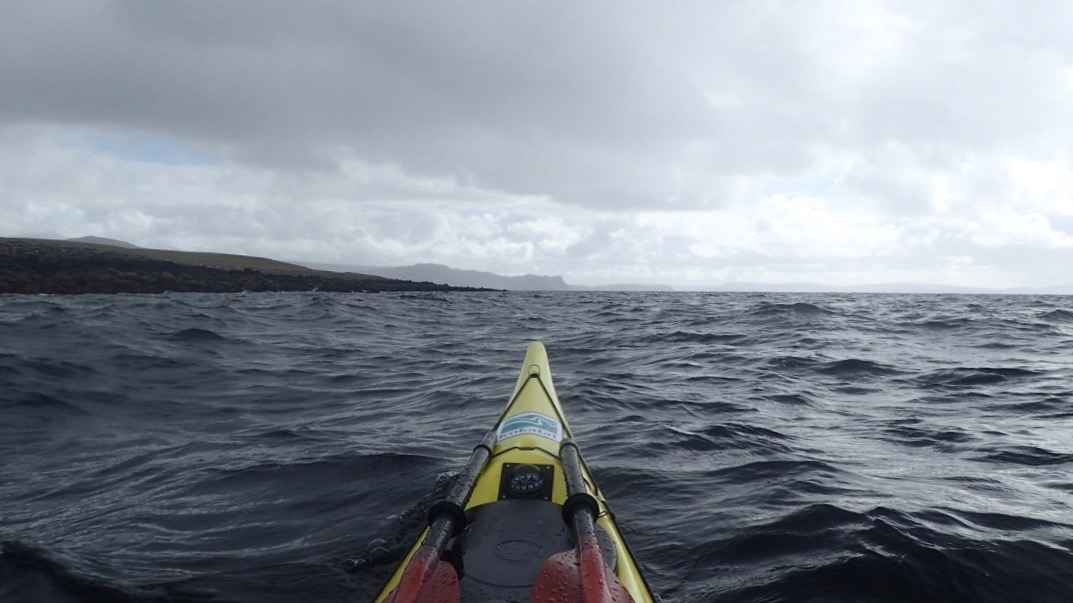 I looked down to Uig, which was my landing place.
It seemed very very far away.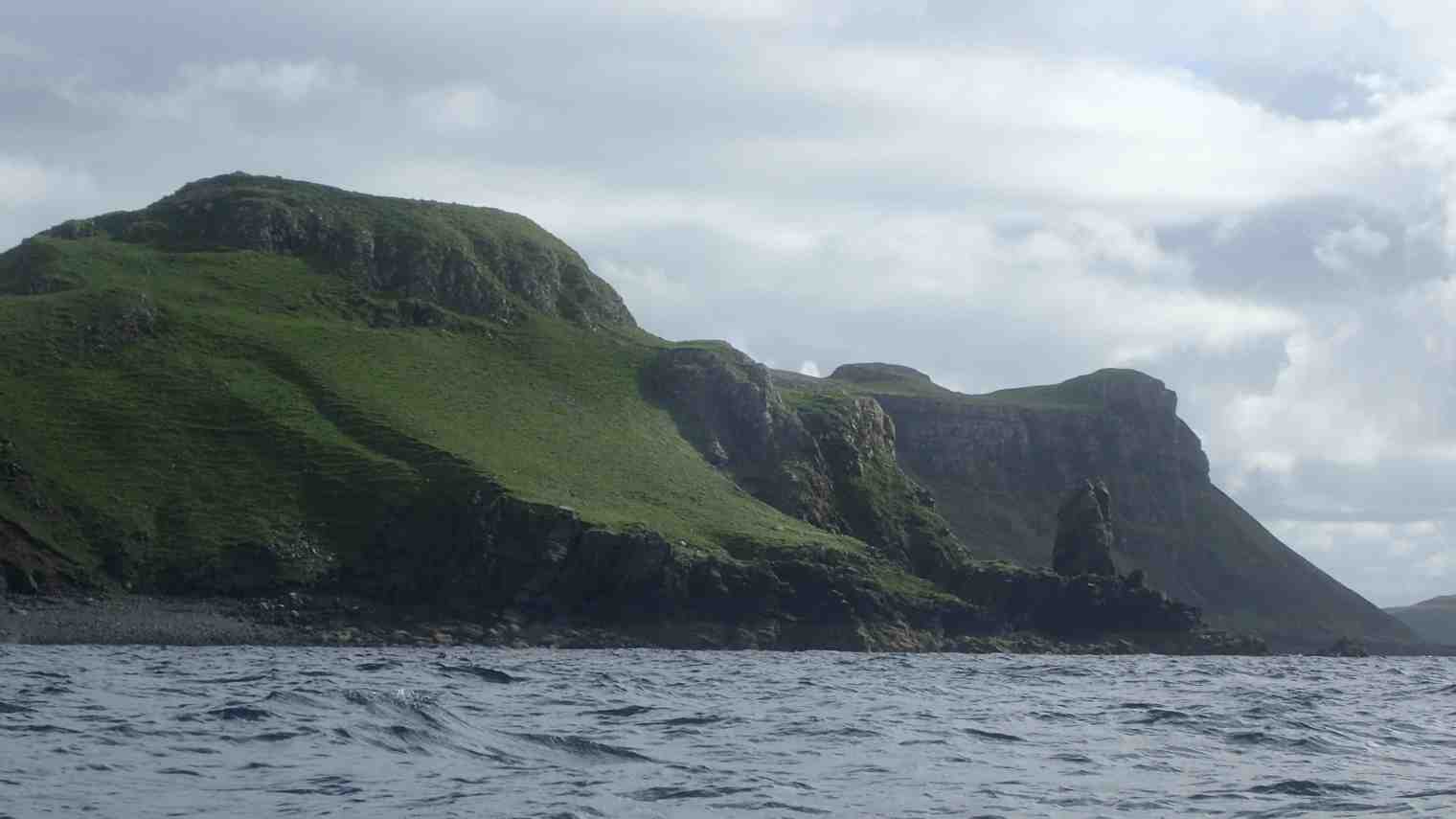 About 5 km. before Uig, is the Stack of Skudiburs.
It stands very close to land, and at the same time the coast is the very beautiful.
I was some way from land.
I would very much like to go into and see it up close, but it also meant I would lose pushed by the tide, and therefore had to work more myself.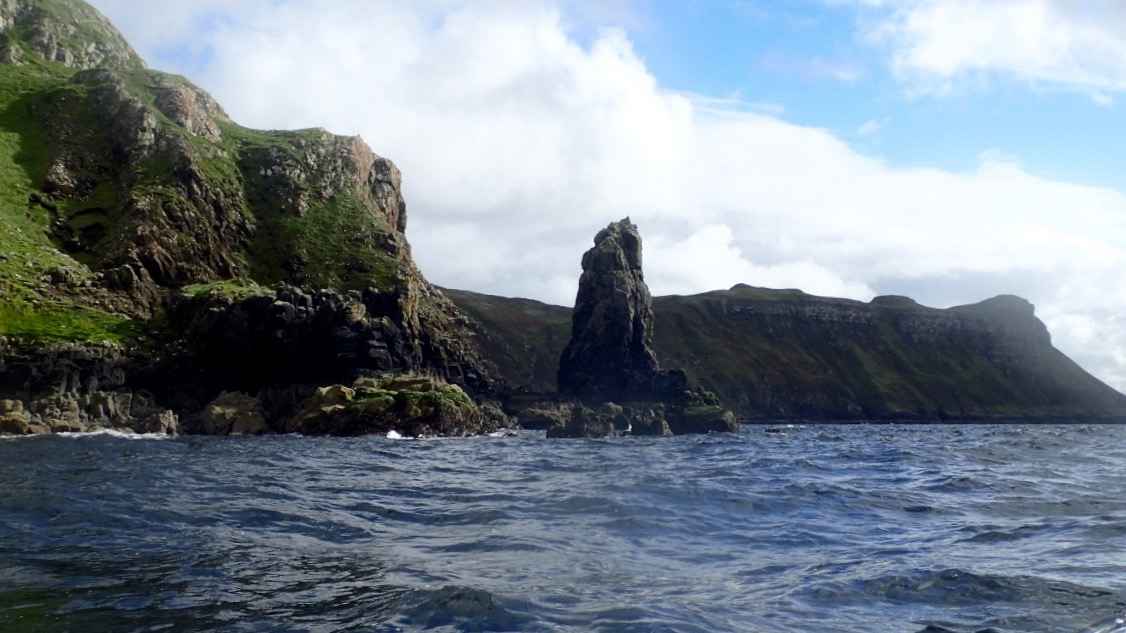 The next minutes, I used thinking about the more effort in paddling I had to use if I wanted to go and have a look, and the regret if I was to skip it.
I'm glad now that I chose to paddle into the stack.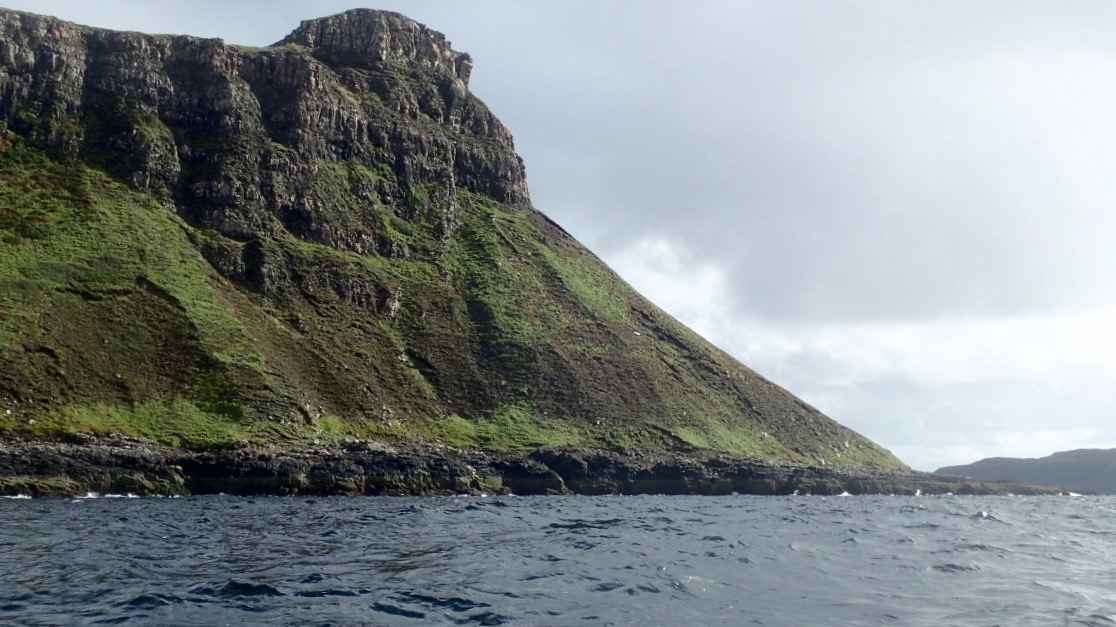 The last 5 km felt equally exhausting as the previous 37 km.
I was now very tired and began to take breaks between fewer and fewer paddle strokes.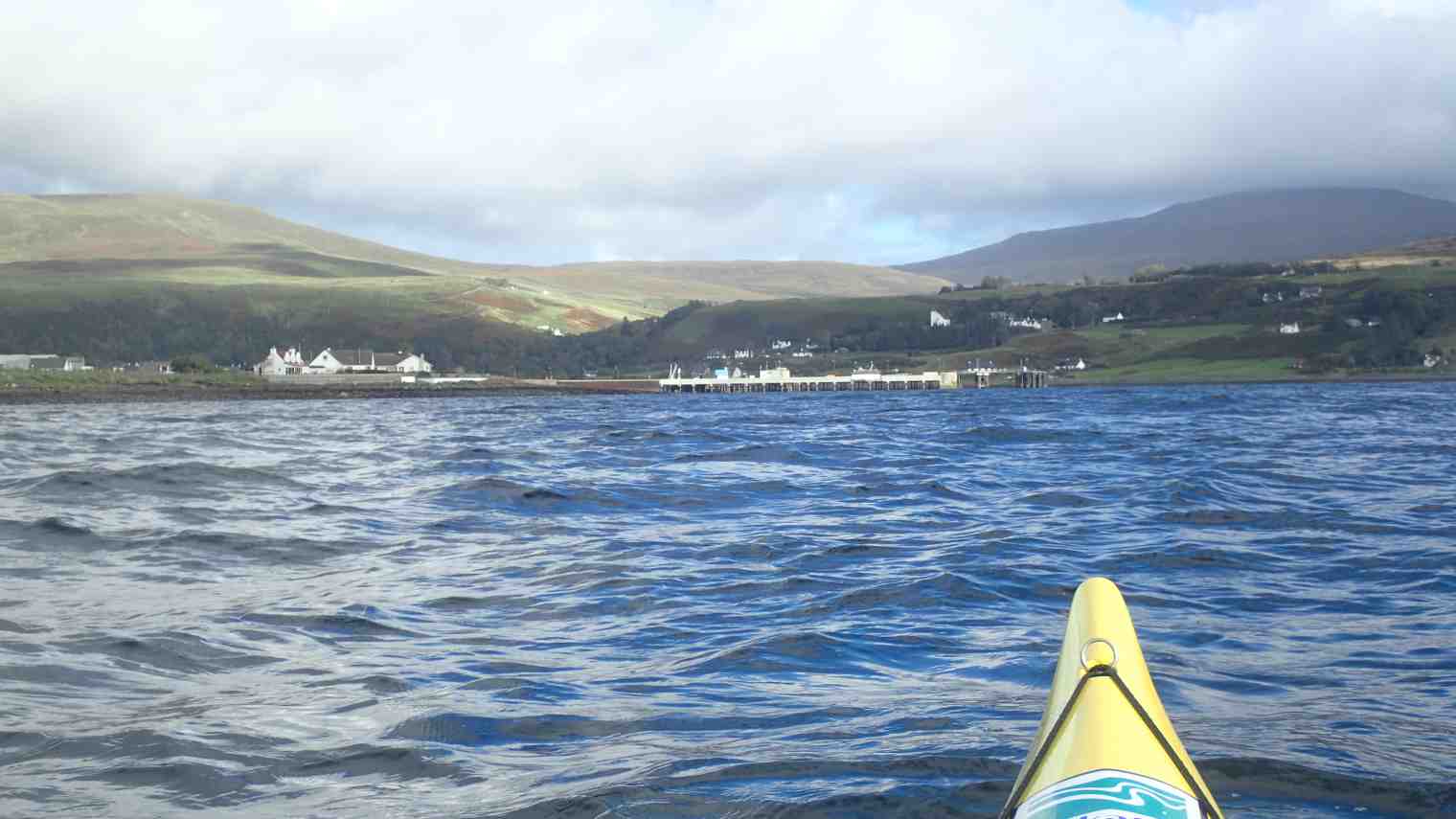 Finally the pier in Uig came into view.
At that time it was a very welcoming sight.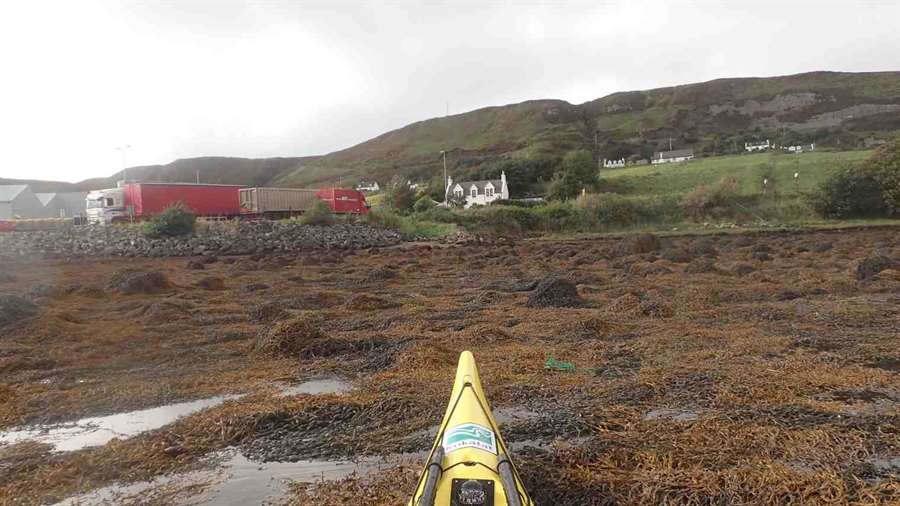 I started at 10 o'clock, so when I got out of the kayak 17:40 , for the first time since the start, I was pretty stiff-legged when taking the first steps But what a day trip, despite 7 h. and 40 min. I did not have any ache, I was just tired and had stiff legged.
I pulled the kayak up to the car park by ferry, changed clothes, and was then find a way to get back to my car in Staffin bay.
It turned out to be quite a journey.
Although Uig is the town from where the ferry to the Outer Hebrides is sailing from, public transport is limited, at least in comparison with Danish standards.
At the small grocery store by the ferry berth, I thought I could get information from where to take a bus, hopefully towards Staffin, a journey of just 20 minutes, or to Portree, which would take about 40 min., and then adding possible time waiting for the bus to Staffin, which would take another 30 minutes.
The grocer did not think there was a bus earlier than 2 hours later, and there was no one else who could tell me something more uplifting. I could try asking the school bus, which was to come in 10 minutes, maybe it could take me into Portree.
I was lucky and came to the city square, from where buses run to most of Skye.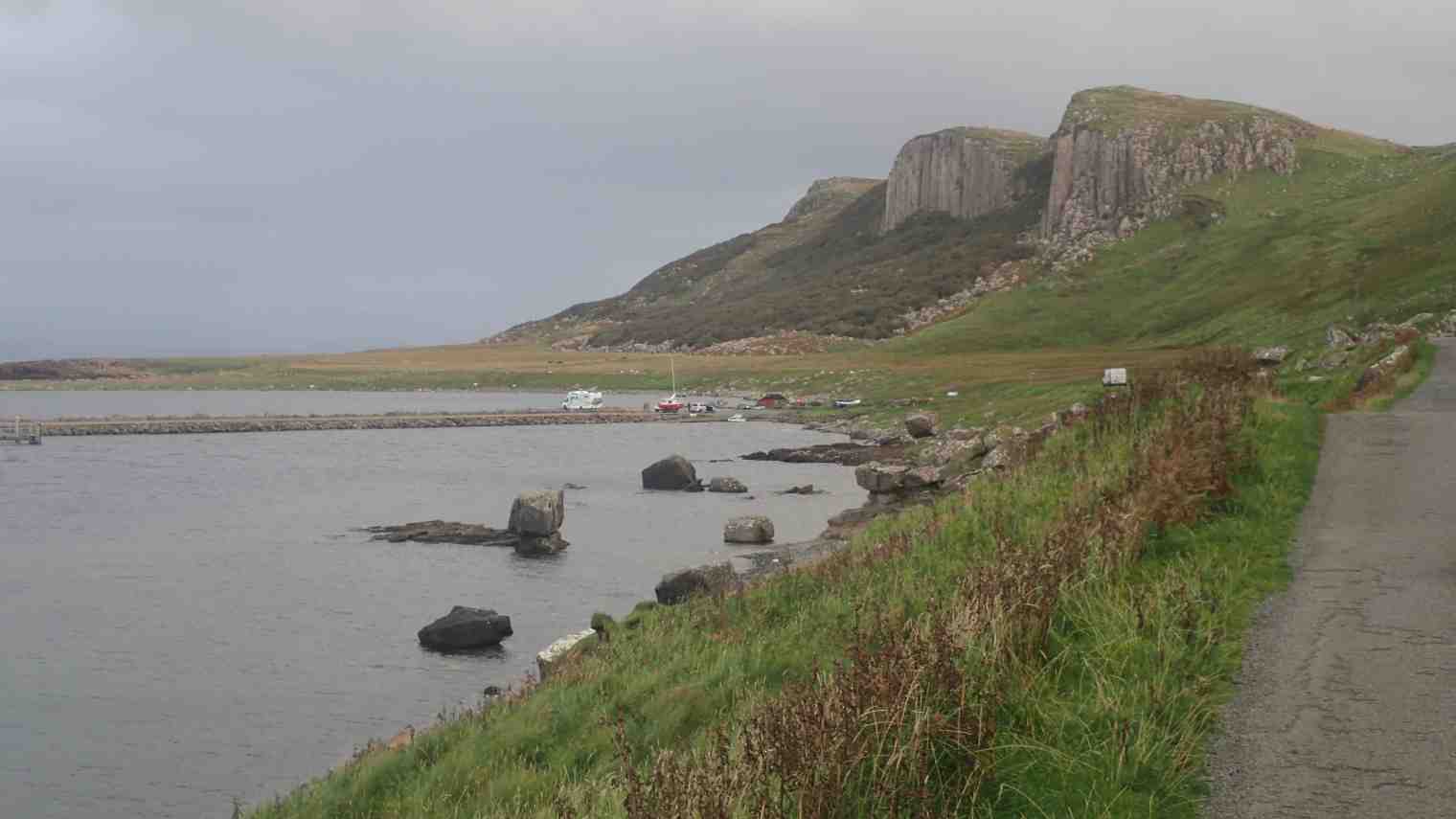 40 min. after the school bus dropped me off, I came with a bus towards my car. I got off the bus 3 km. from my car. It was with a good feeling in my body, I walked to the car.
The Northern tip was rounded, and I had a nice feeling of body fatigue.
Started the car and drove to Uig, loaded the kayak and then to Broadford.
A quick stop at a pizza place and then "at home" to my B & B at 23:00 o´clock. A quick shower, and then to bed. The alarm clock was set at 6:30 the next morning.
As I lay in bed, I thought of, that I had not yet found out, if I really wanted to do today's journey, or if it was something I felt "I had to do". Maybe I find out as time passes. But the good feeling after today's paddle was there, no doubt about.
Today's distance - Total distance:
44 km. / 24 nm. - 153 km. / 85 nm.
Today's weather:
- Sun and clouds drifting
- Waves: 0 – 1.0 m.
- Difference between high and low tide: 4,0 m.
- Temperature: 16 degrees C.
- Wind: 4-14 m / s
- Barometer: 1013 hPa
Saturday 2016-09-17
I woke up when the alarm clock rang at. 6:30, pulled the curtain to the side and could see that the weather forecast was correct. Very strong winds and rain.
I lay down in bed again and slept a two hour.
Later that day I drove to Point of Sleet, but unfortunately had forgotten my camera.
White waves and foam flying around in the air.
The day was spent on nothing, except to check the weather forecast for the coming days.
Sunday predicted 4-6 mps from the west, so the optimism and expectations were good.
Two kayaking friends, were on the Isle of Skye, in another errand, and had the Sunday off.
We had agreed to meet at the pier in Broardford Sunday morning at 09:00 o´clock.
Today's weather:
- 12-14 mps from W
- Barometer: 1013 hPa
- Heavy rain all day.
Sunday 2016-09-18
It blew anything more than the 4-6 mps as was predicted. I drove down to the pier in Broadford, and met with the other two as agreed.
Søren and Stephen was there when I came, both in a good mood. Completely flat water, and yet with an expression that looked like not ready to do a paddle around the Papay island to see the large seal colony.
Sun and flat water, due to the offshore winds, but the wind in the trees were strong. Søren took his anemometer, 14 mps at mean wind. None of us had the urge to paddle the 8-9 km. back from the island in the headwind.
At the same time they were to meet for teaching 20.00 later that evening, and when Stephen then found that the latex on one sleeve, in the dry suit, was broken, he had find something to fix's it with.
Søren and I went to a small cafe. Morning coffee and lunch while we were talking about wind, weather, currents, tides and the weather for the coming days.
Despite the optimism I had to admit that Søren probably was right when he said "the next 5 days you're not going to continue your expedition".
A thought I had had the previous two days. As the two days had passed, I kept thinking five days ahead, where the weather forecast constantly showed I did not come out and continue my expedition.
Today's weather:
- 14 m /s from W
- Barometer: 1011 hPa
Monday 2016-09-19
On Monday morning, still very strong winds, weather forecast predicted just more wind for the next 5 days. I had to make a decision, and it should be easy, but the hope of sudden and unexpected change in the weather, I still had.
All I could find for various weather forecasts were studied, fronts, forecasts, etc., but no matter how hopeful and positive eyes I saw with there was not the slightest glimmer of hope.
I drove to Morag and Gordon Brown. We talked about the possibilities, which to say the least, was not present, unless common sense and respect for the west coast of Skye, and the weather should be ignored, which I did not want to, so the decision to get a ticket home early, was taken.
Gordon's comment was "it's the right thing to do", and he had not had any doubt that I would make the right decision.
Gordon's comment assured me, that it was the right thing to do, but the decision was still very very difficult. When the decision was made, it dawn to me, how much I wanted this expedition.
The part of the Isle of Skye as circumstances allowed me to paddle, is in the picture above.
Even though it was the right thing to do, the alternative of not being able to get out and paddle all that lovely water, was no better, it was very hard for me, to set my expedition on pause, and at the same time, I cannot accept, that west coast is untouched by me. I have to come back and do a Part II.
I got a ticket home the next day, Tuesday, so now I had to pack all I had to bring home. My Scottish kayak friend, Stephen, who I will meet in Oban in October, offered to take my kayak and some equipment home with him.
I placed my kayak at Morag and Gordon's, then Stephen would take it with him, when he drove to back home to Aberdeen. I thanked for the help, and promised to come by, the next time I was on Isle of Skye.
Today's weather:
- Rain
- Wind: 14 m / s from W
- Barometer: 1009 hPa
Tuesday 2016-09-20
Got up at 4:30, breakfast and then off to Edinburgh Airport. Back in Denmark, I was picked up by our oldest daughter. Back home, the gear was washed and sorted.
Section 4: What now.
After coming back home.
When everything was dry and are organized, it was packed down and put in place.
I was very surprised at how difficult it was for me, that it was is, at least for now. Back home, I think it really first now is clear for me, how much I wanted this expedition.
I've been looked at maps, covering the coastline, I did not get a chance to paddle. I cannot have the west coast, just lying there untouched by me. IF I can get it all to fit in, with work and family, I have not found out yet, but if the weather looks good some time in 2017, is definitely a possibility.
There is no doubt that I am going to make a continuation, and do a part 2.
One of the things I learned is not to forget the opportunities, even when everything seems to fail. Focus on all the options available, rather than only focusing on what is not possible.
No matter how much we paddle, there will always be a lot of paddling water, islands, experiences and adventures we cannot squeeze into on a trip / expedition.
Most of us have " So much water, and so little time ".
Although the expedition was in no way as planned or expected, it is my hope that my story can contribute to inspire and create dreams for others.
Whether it is a weekend in local paddling water, a trip to one of our neighbouring country, or further away, do not miss the opportunity when it comes. Pack your kayak and go on adventure.
Regarding my adventure, I would like to say a special thank you for sponsorships, support and help.
A special thanks is due to:
www.kokatat.com and www.kajakkaeden.dk for sponsoring a Kokatat Expedition drysuit.
www.skyakadventures.com assistance with receiving gear, local knowledge and information.
www.expeditionfoods.com for support for food on my trip.
www.seakayakoban.com for excellent service, and arrange transport of my kayak to Isle of Skye.
The sea is big – The opportunities are many – Do go and use them !!!
It is my hope that my report, will create dreams, and inspire others to go on adventure. Whether it is close to home, or far away, is not that important, as long as you get out, and have a nice experiences.
if some are interested in, I do a talk, let me know, maybe I'm in the area.
The sea is big - the possibilities are many - do go use them !!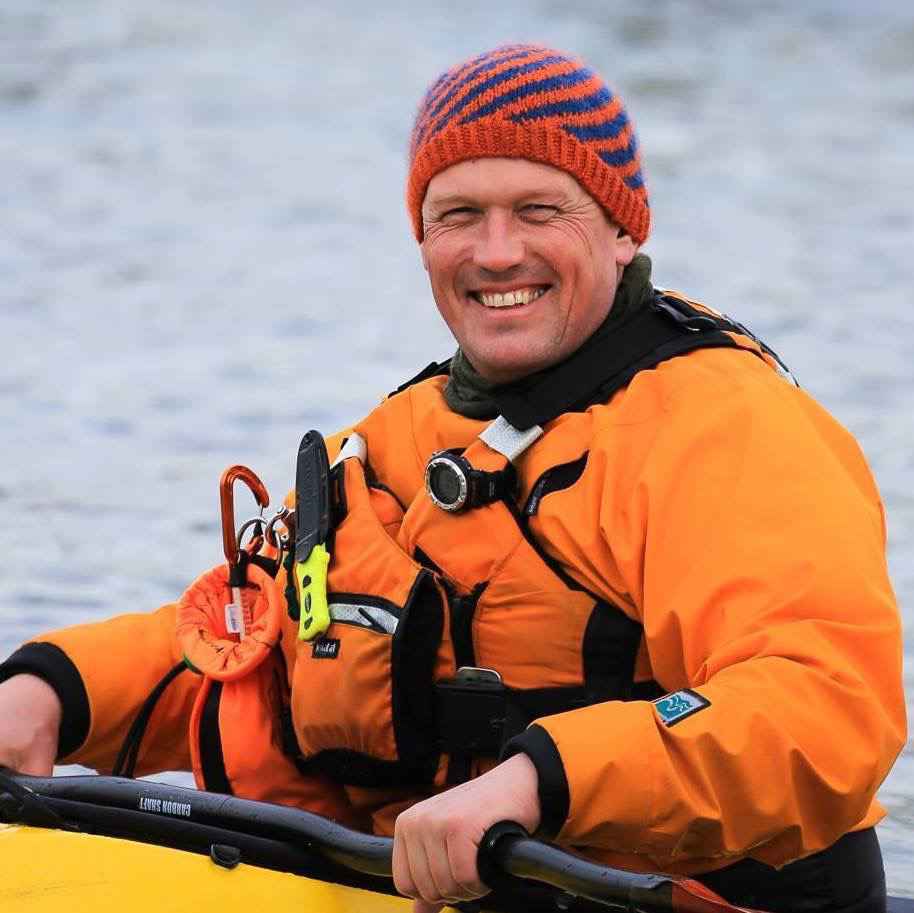 Christian Wiegand
www.havkajakoplevelser.dk
Facebook: Tosset med havkajak / Mad about Sea Kayak
Twitter: @cw_sea
Instagram: cwseakayaking
E-mail: Denne e-mail adresse bliver beskyttet mod spambots. Du skal have JavaScript aktiveret for at vise den.
Sponsored by Kokatat - www.kokatat.com
Sponsored by Kajakkæden - www.kajakkaeden.dk