2021-05-22/24 3-dages tur i Lillebælt, Dk - 3 days overnight trip sea kayaking the Little belt, Dk -
Danish / English:
2021-05-22/24
- En ekstra fridag if. med weekenden skulle bruges på en tur med 2 overnatninger i Lillebælt mellem Fyn og Jylland, med start fra Sandager næs på Fyn.
- An extra day off in connection with the weekend was to be spent on a trip with 2 nights in the Little Belt between Funen and Jutland, Denmark, starting from Sandager headland on Funen.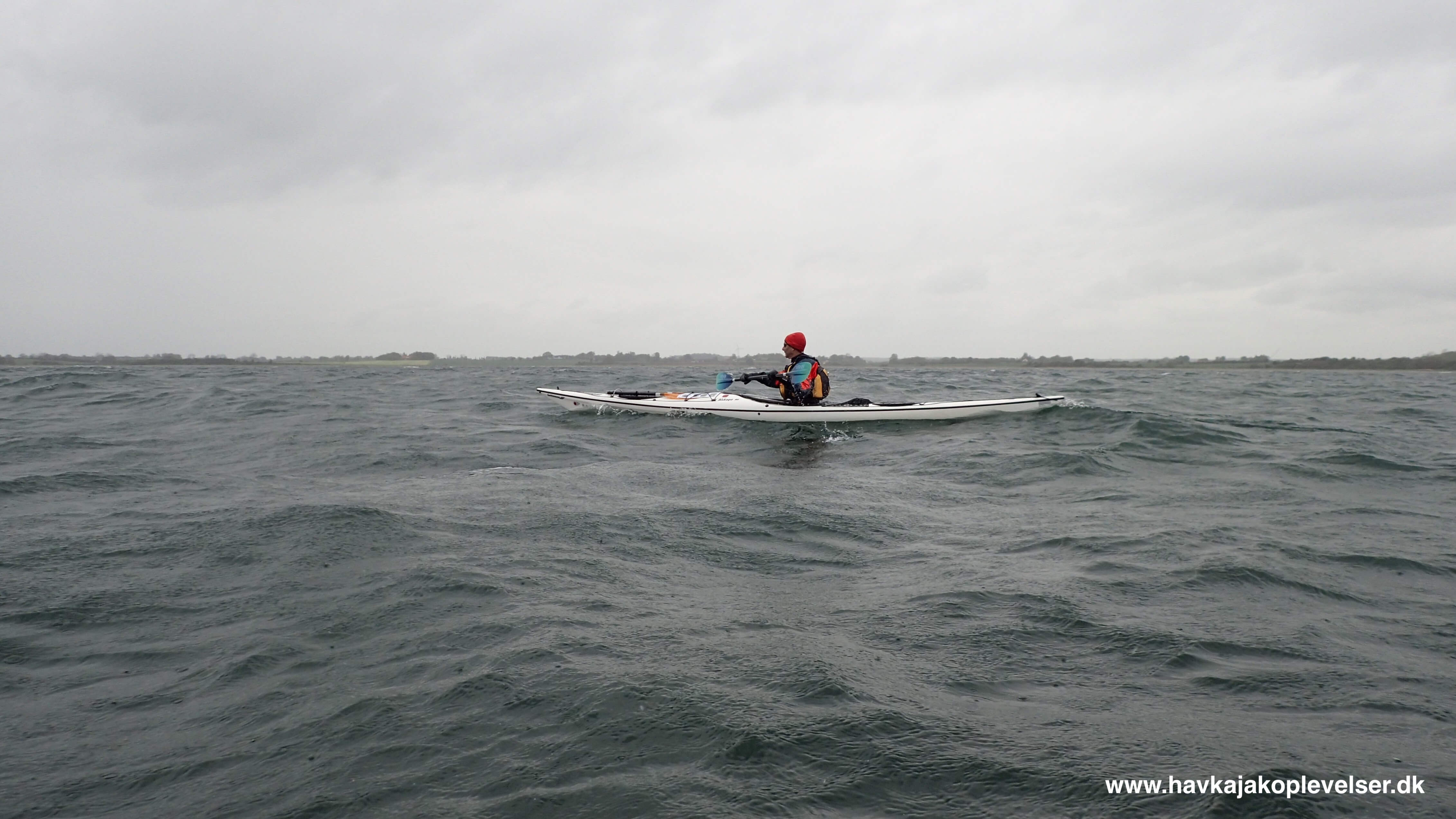 - Vejrudsigten lovede frisk vind fra sydvest.
- The weather forecast predicted fresh winds from southwest.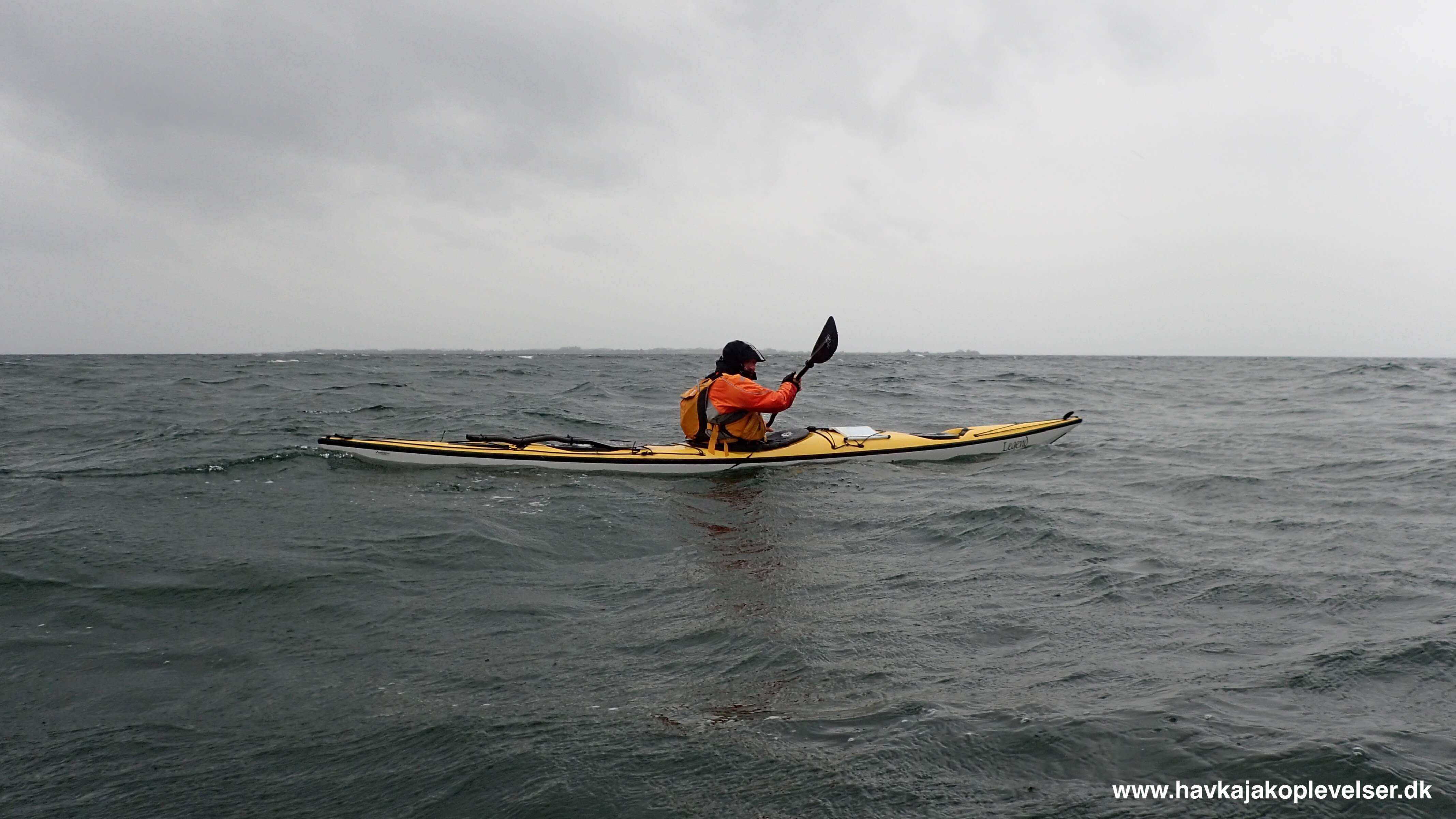 - Meteorologerne havde været lidt mere positive i deres forudsigelsen end det viste sig at være i virkeligheden.
- The meteorologists had been a little more positive in their prediction than it turned out to be in reality.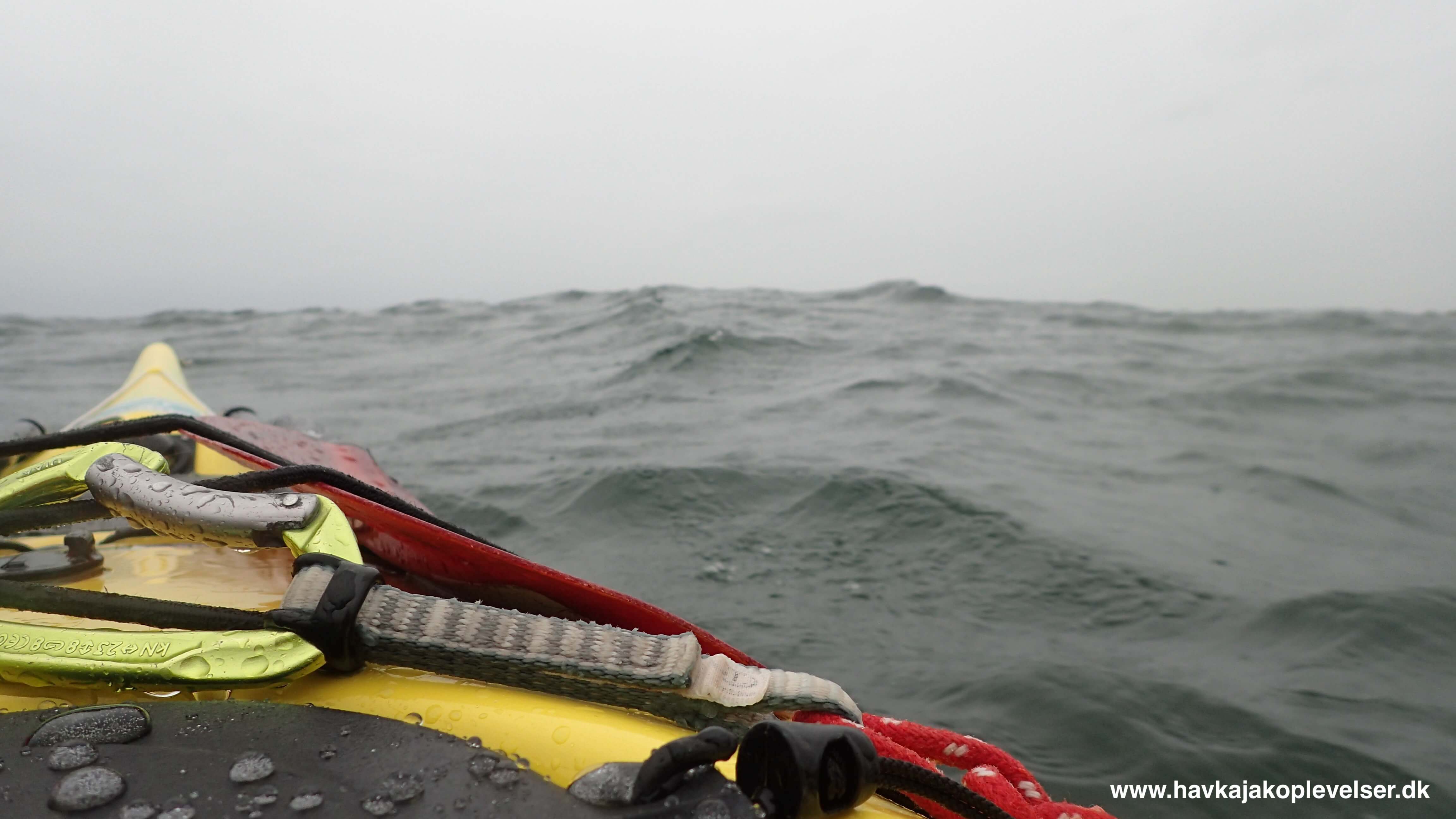 - Selv om vi havde bølger og vind ind skråt bagfra ville vi skulle arbejde en hel del for dagens ben på 28 km.
- Even though we had waves and wind sideways from behind, we had to work for the day's legs of 28 km.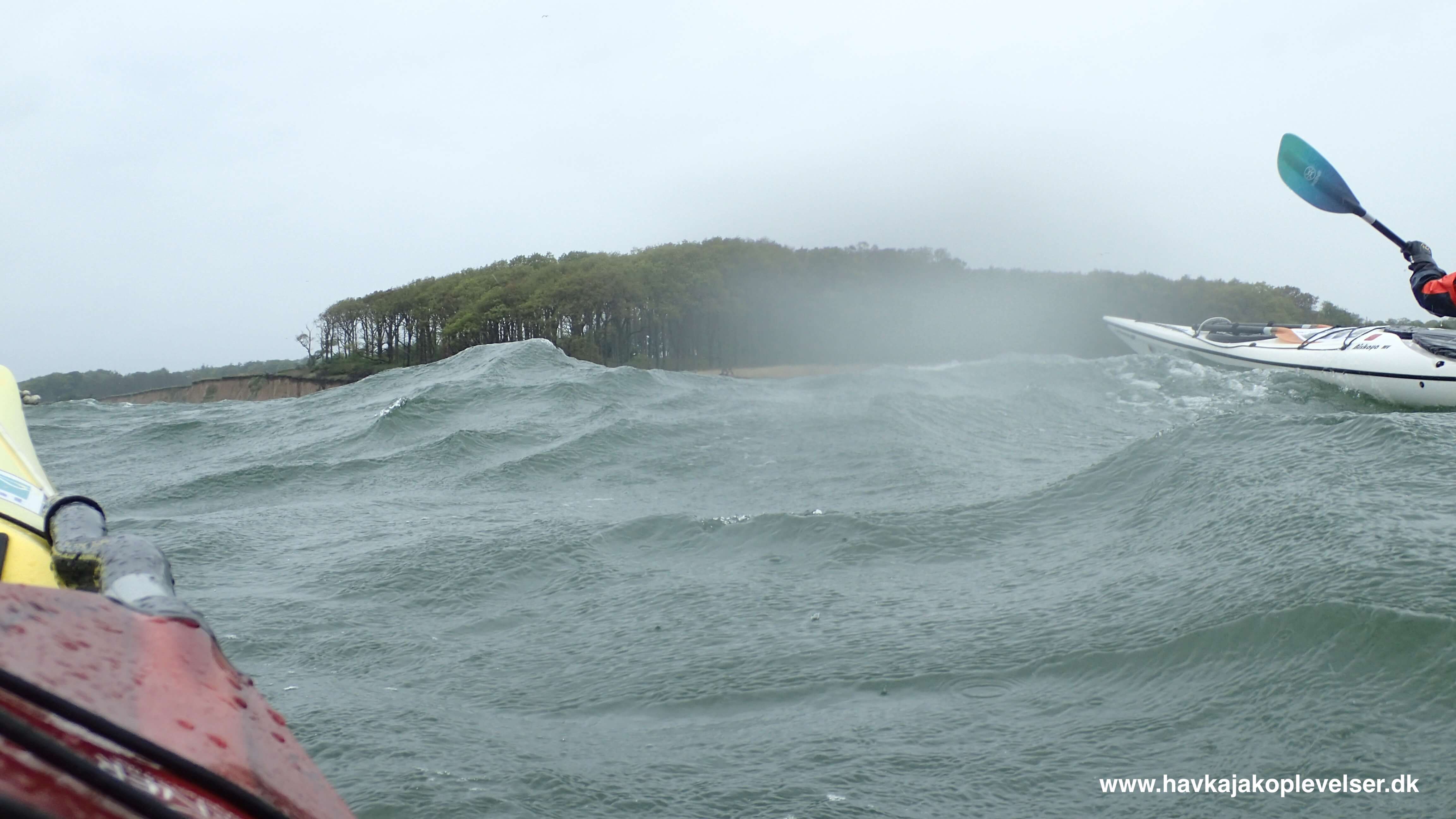 -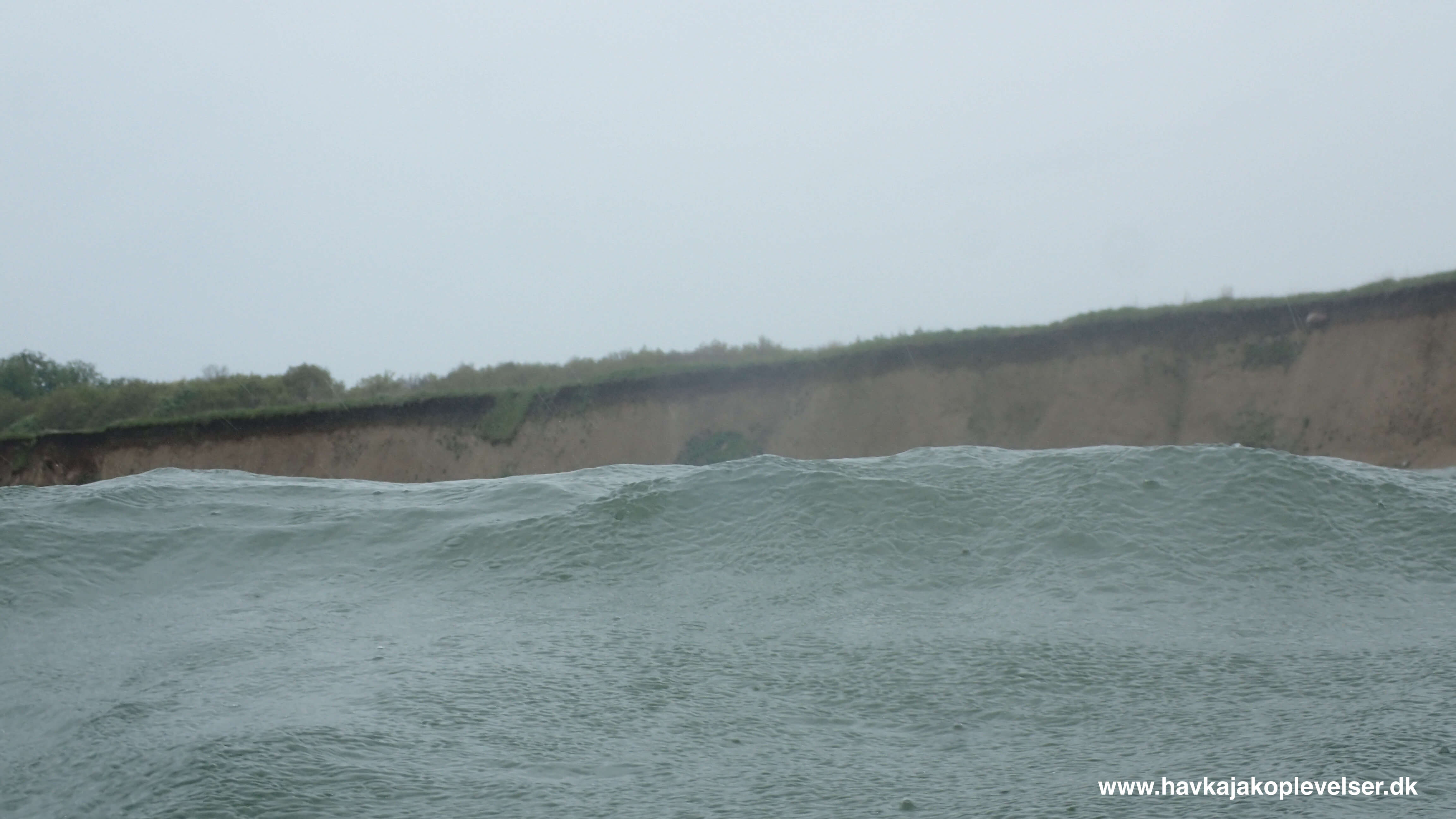 - Rigtig havkajak-vejr og tid til frokost, så vi begynder at kigge efter et sted hvor vi kan lande og få lidt læ.
- Real sea kayaking weather and time for lunch, we start looking for a place where we can land and get some shelter.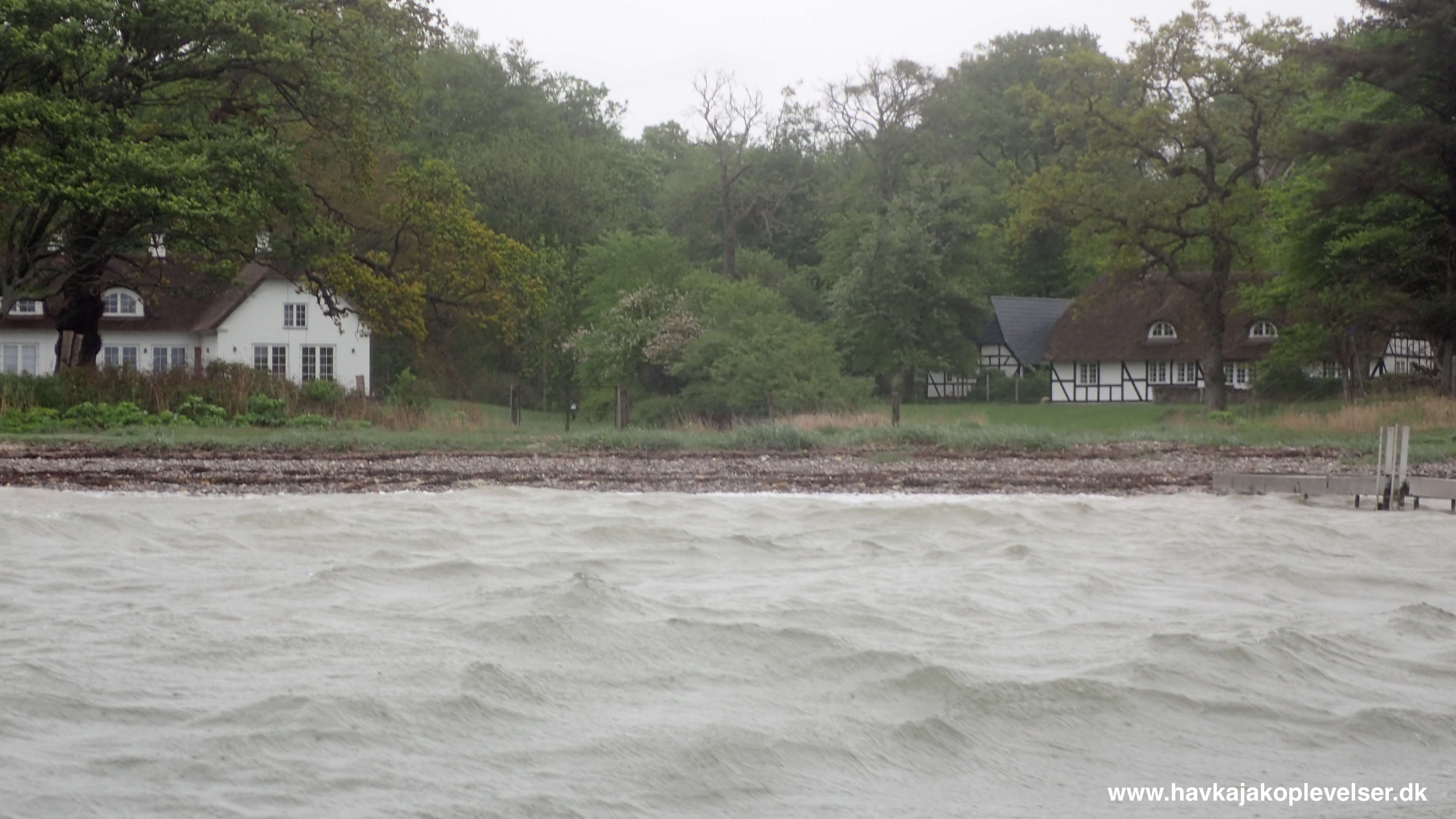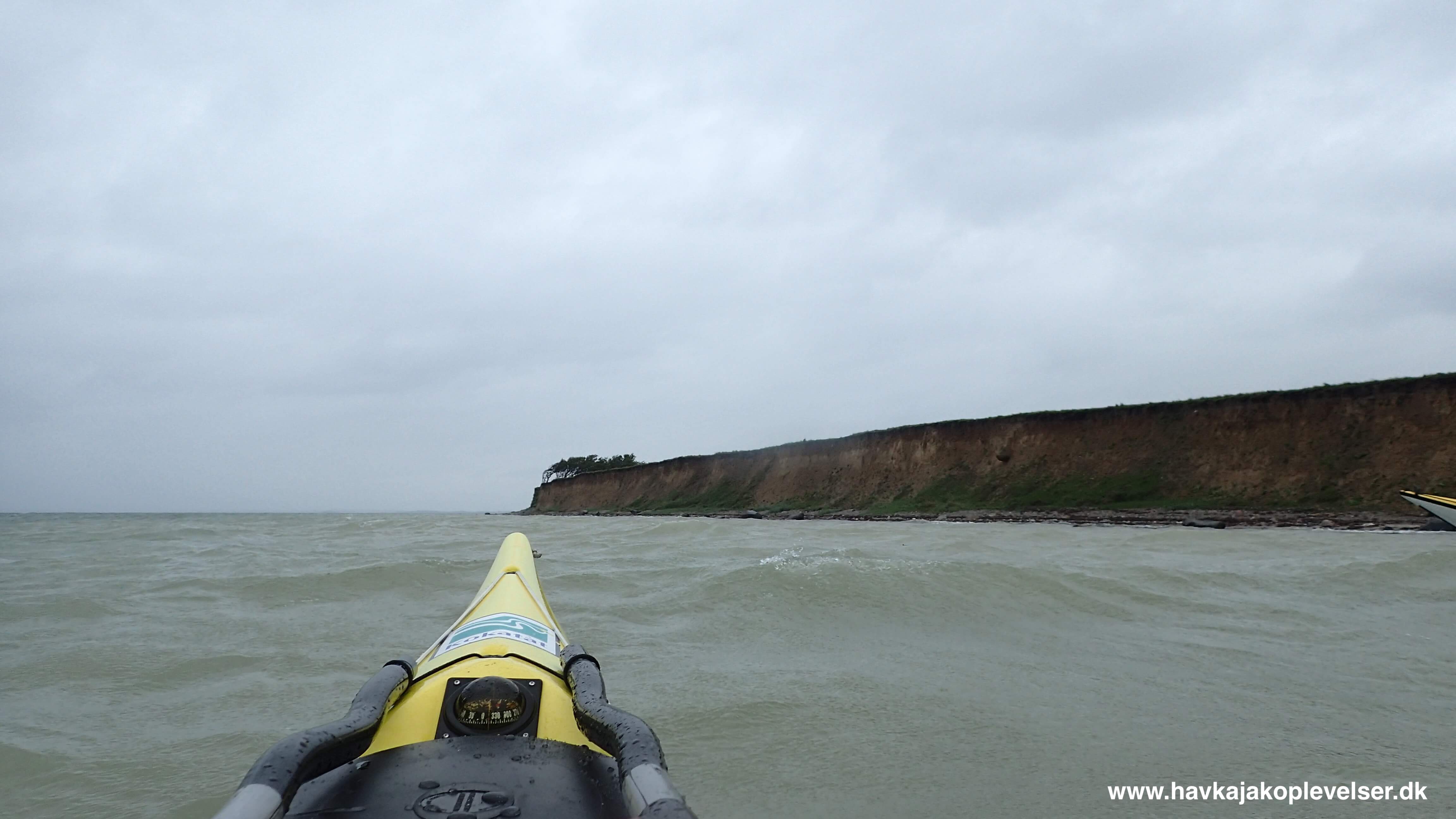 - Vi runder en lille pynt på Fyns vestkyst.
- We round a small point on the west coast of Funen.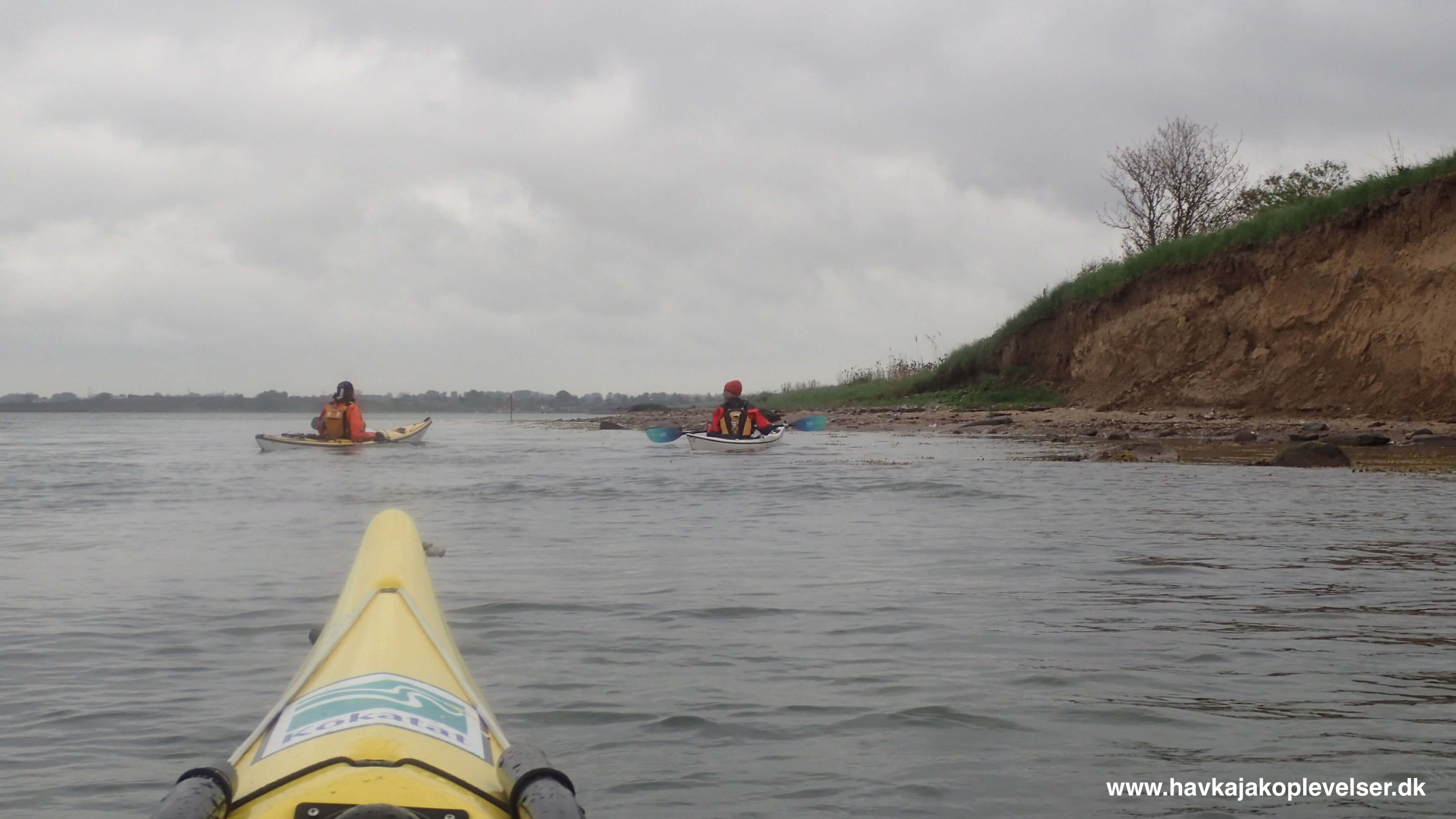 - Læ for vinden.
- Shelter from the wind.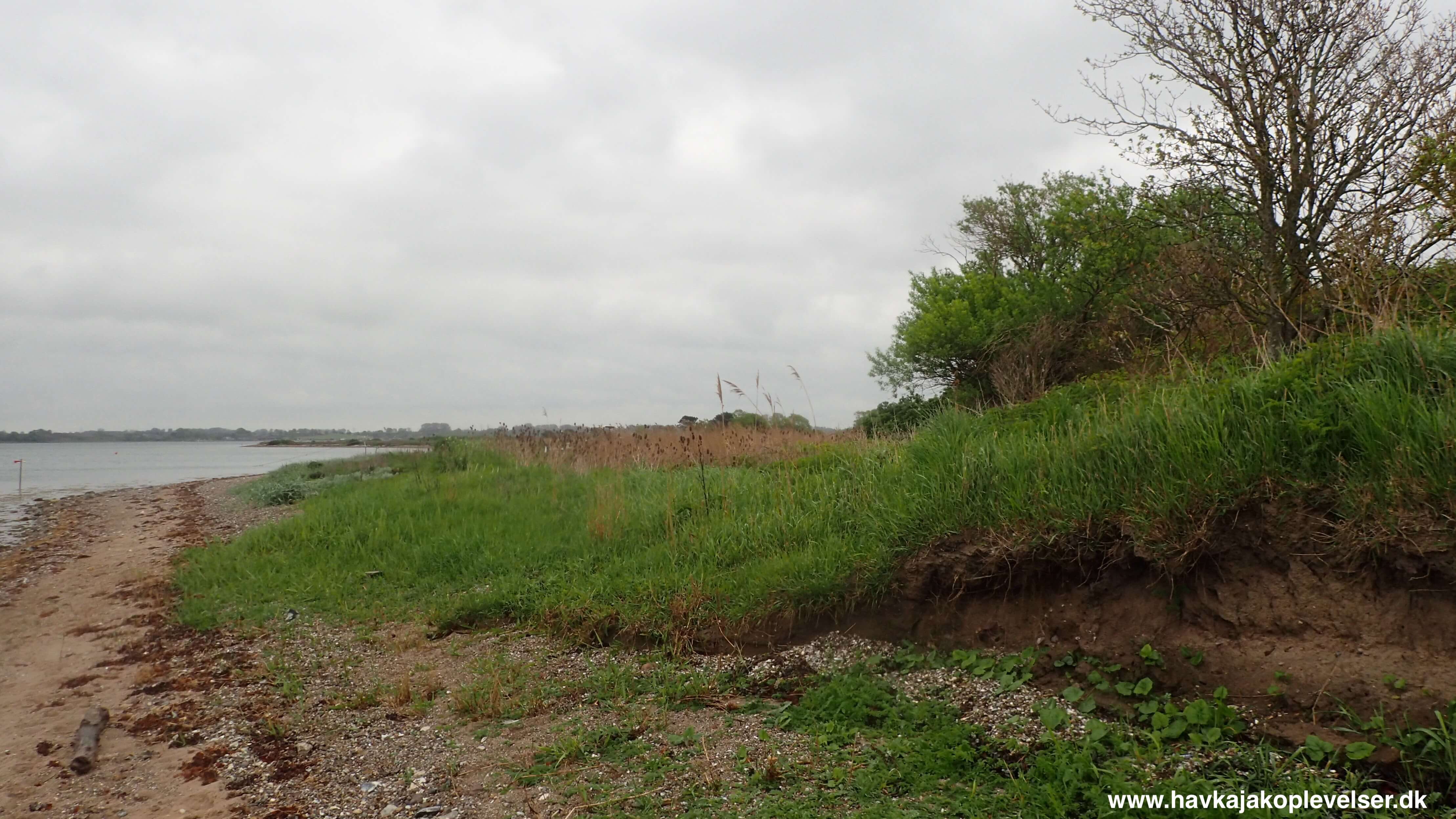 - Fint sted til frokosten og en lille pause.
- Nice place for lunch and a little break.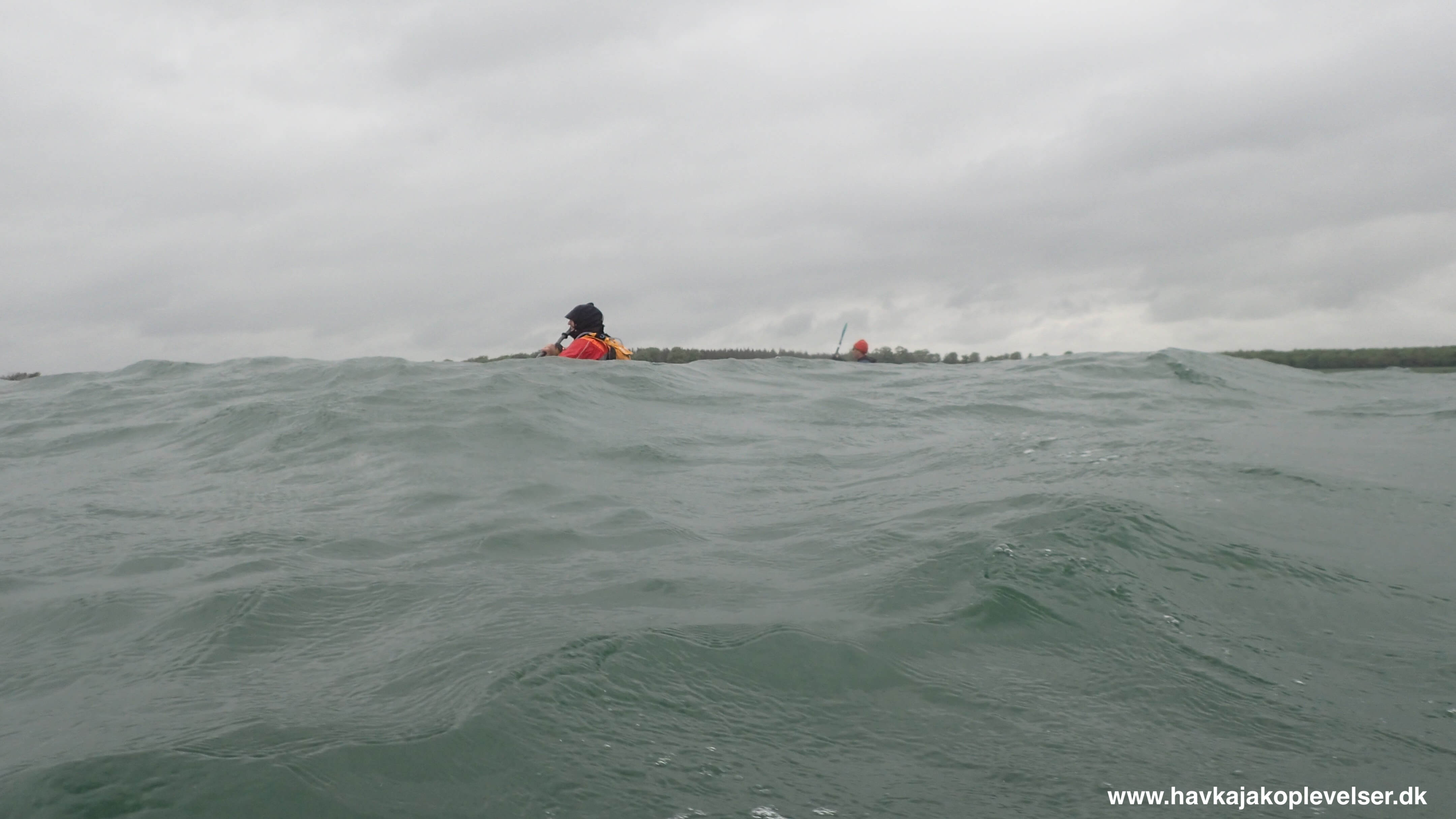 - På vandet igen imod Fænø og Fænø kalv.
- On the water again towards the islands Fænø and Fænø calf.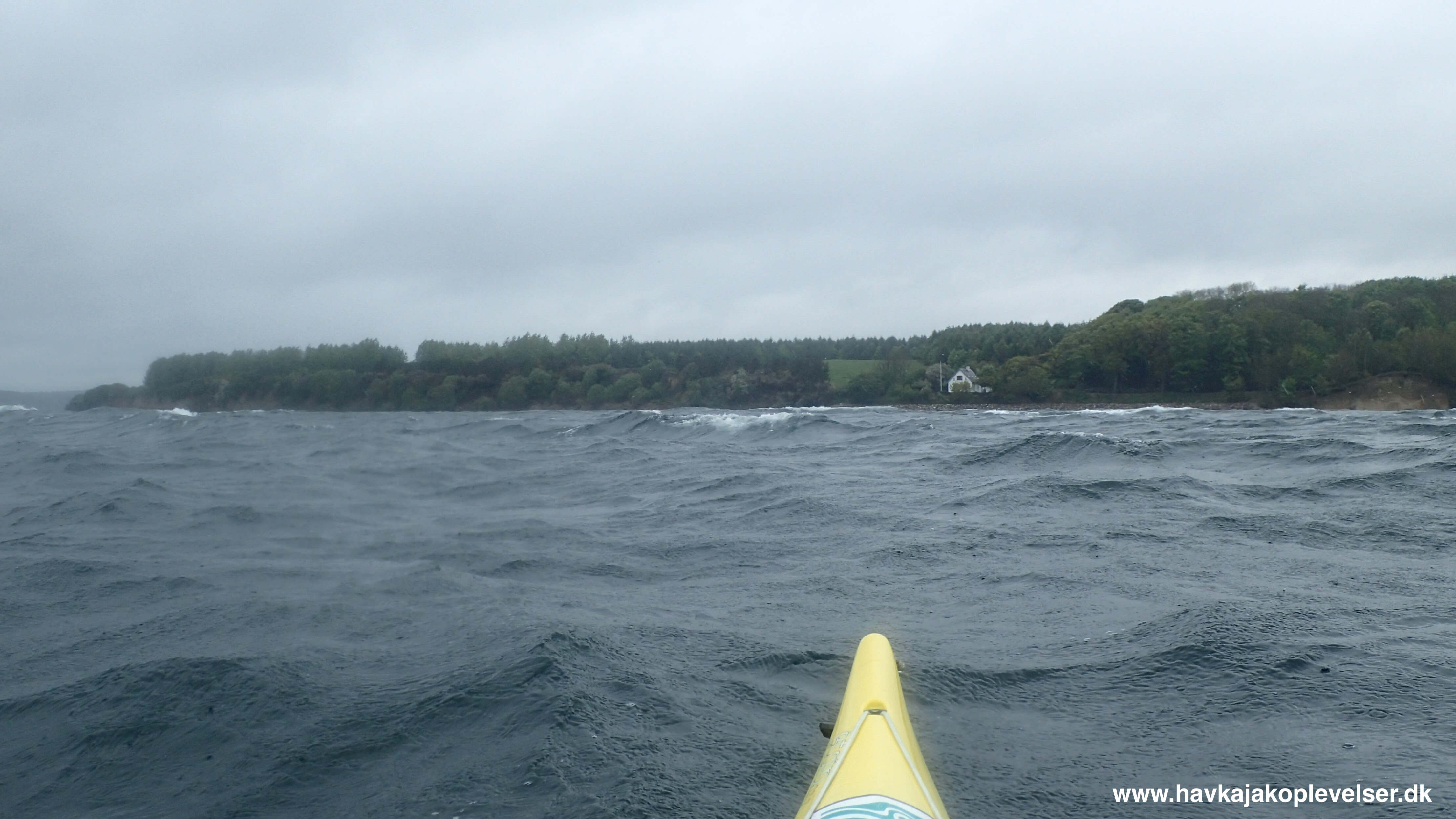 - Sydkysten på øen Fænø. Vinduet på 1. sal af huset på billedet er 3 farvet og er fyrtårnet - et fænomen man kan se flere steder i området.
- The south coast of the island Fænø. The window on the 1st floor of the house in the picture is 3 colored and is the lighthouse - a phenomenon you can see in several places in the area.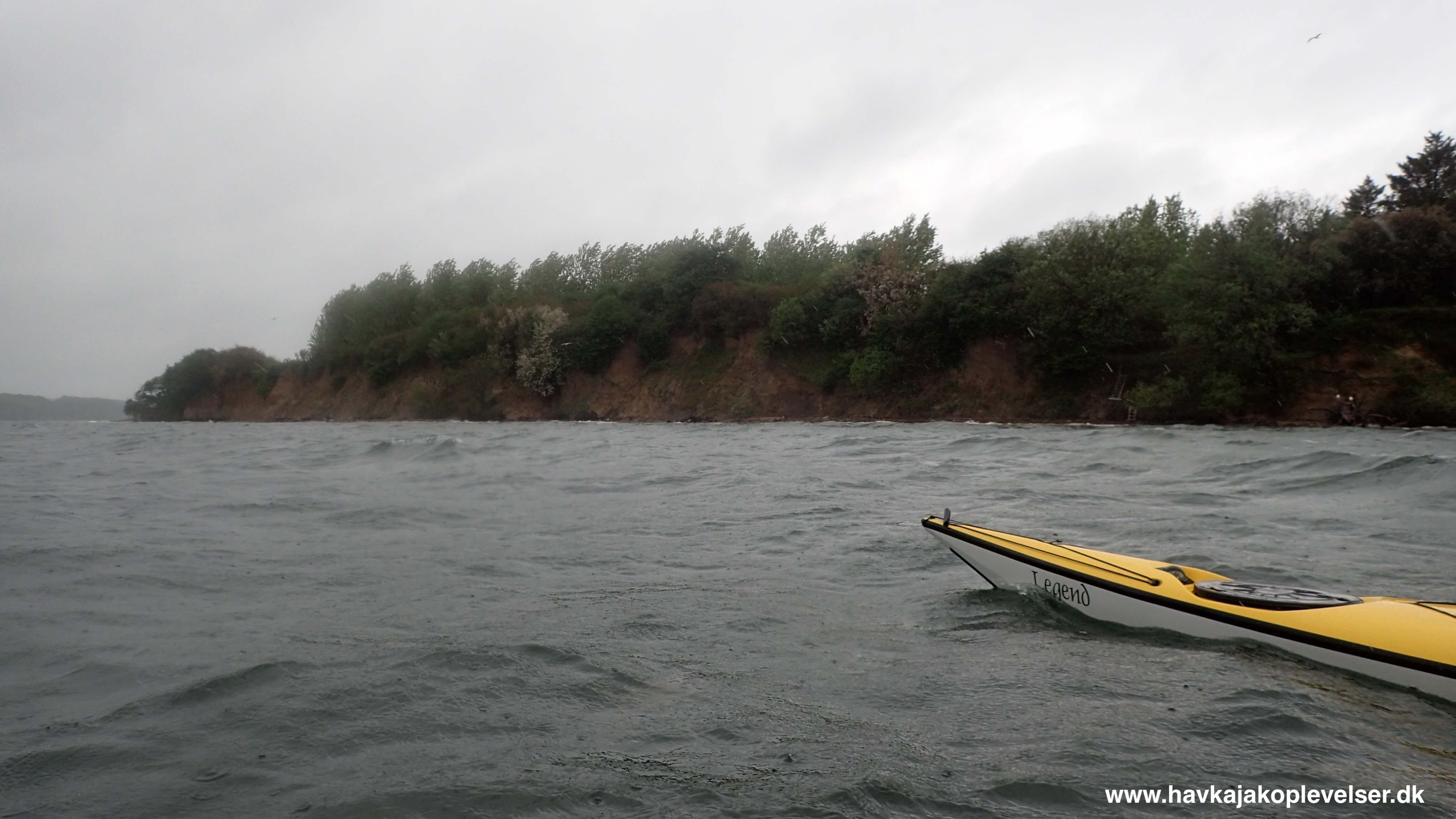 - En byge byder os velkommen da vi runder sydvestpynten på vej op langs Fænø.
- A shower welcomes us as we round the southwestern point on the way up along Fænø.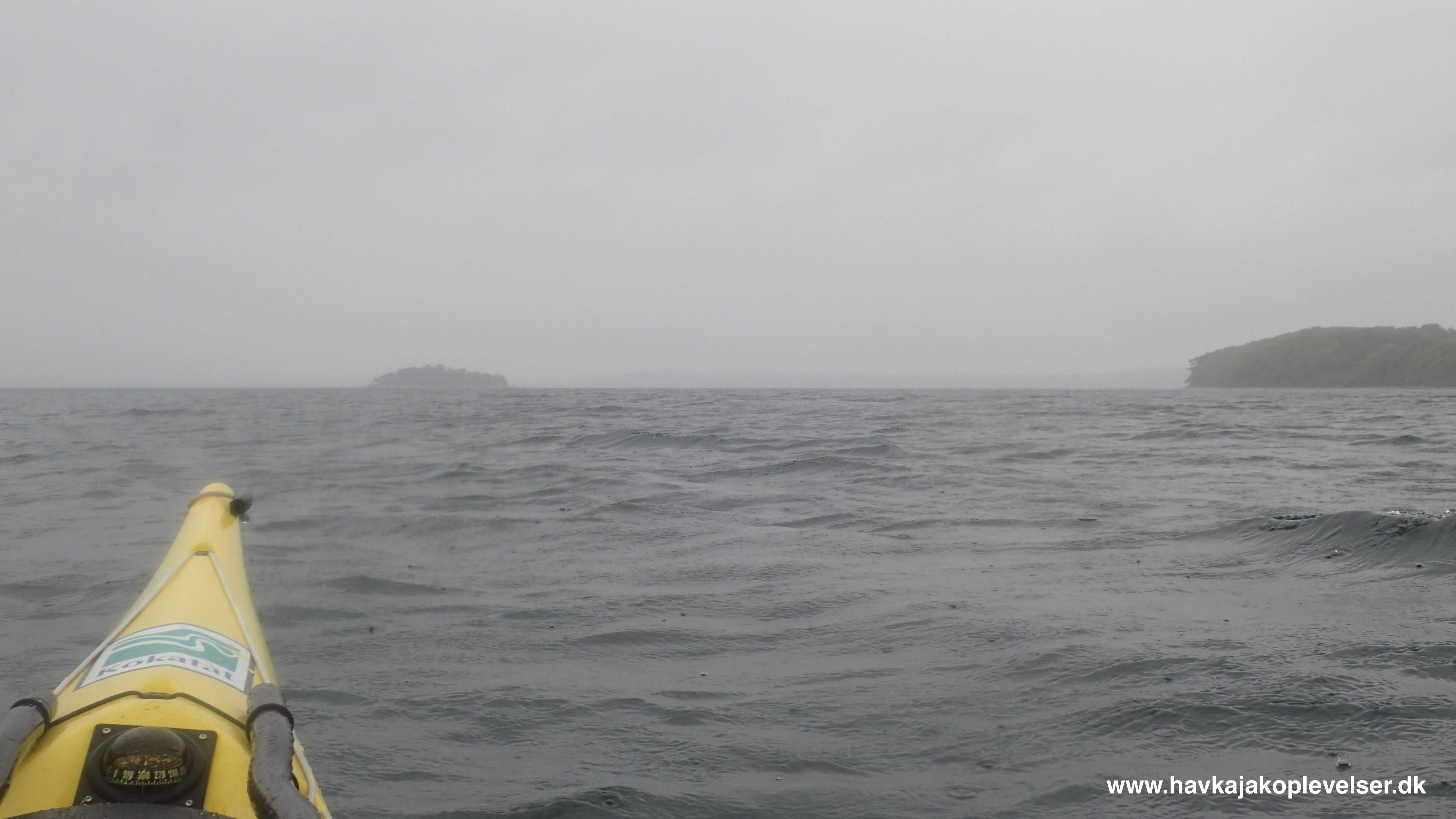 - I regnen kan vi se Fænø kalv. Øen ligger mellem Fænø i Lillebælt og Stenderupskoven, på Jyllands østkyst.
- In the rain we can see the small island Fænø calf. The island is located between the island of Fænø in the Little Belt and Stenderupskoven, on Jutland's east coast.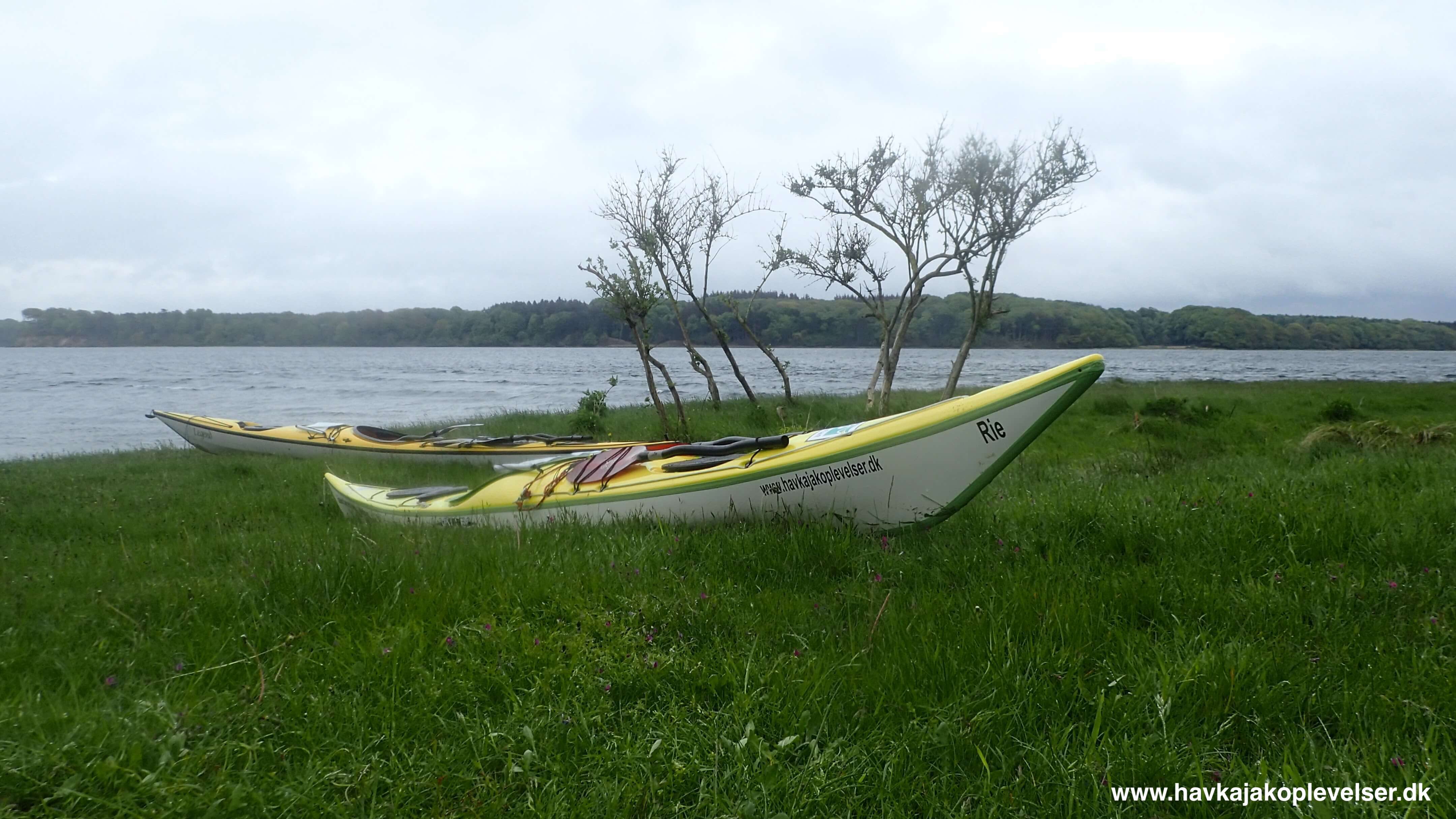 - Vi lander på et lille sted hvor der stort set er vindstille samtidig med regnbygen driver over.
- We land in a place where there is almost no wind at the same time as the rain stop.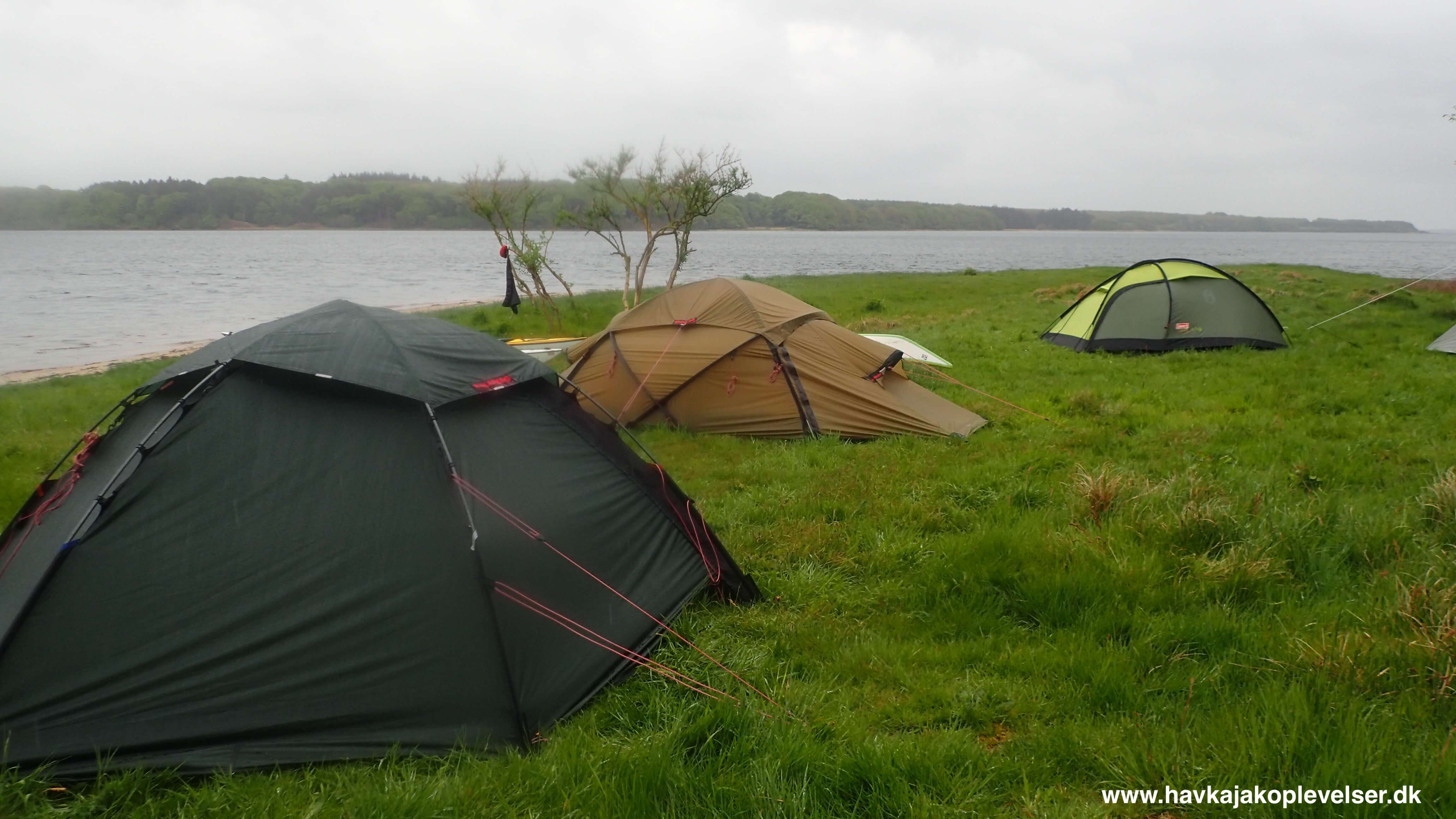 - Det er tilladt at slå telte op på den lille ø der ikke er mere end 4,3 hektar. En rimeligt bevaret skanse fra den første karl Gustav-krig er tydelig på øen. Fænø kalv er forøvrigt fredet.
- It is allowed to pitch tents on the small island that is no more than 4.3 hectares. A well-preserved bulwark from the first Karl Gustav war is evident on the island. The island of Fænø calf is protected.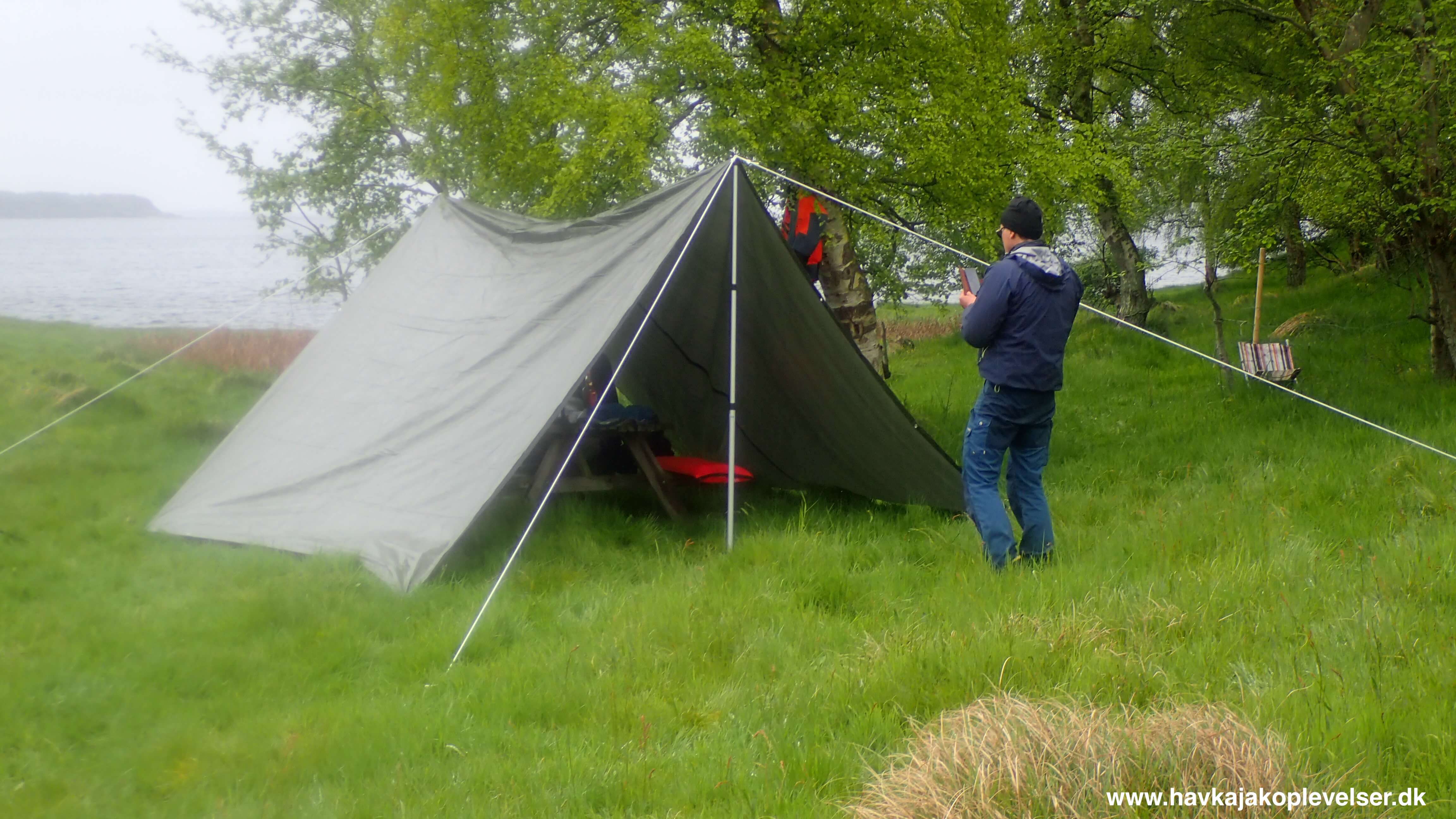 - Madlavning og lidt hygge inden sengetid efter nogle lidt krævende 25 km.
- Cooking and having a good time before bedtime after a demanding 25 km.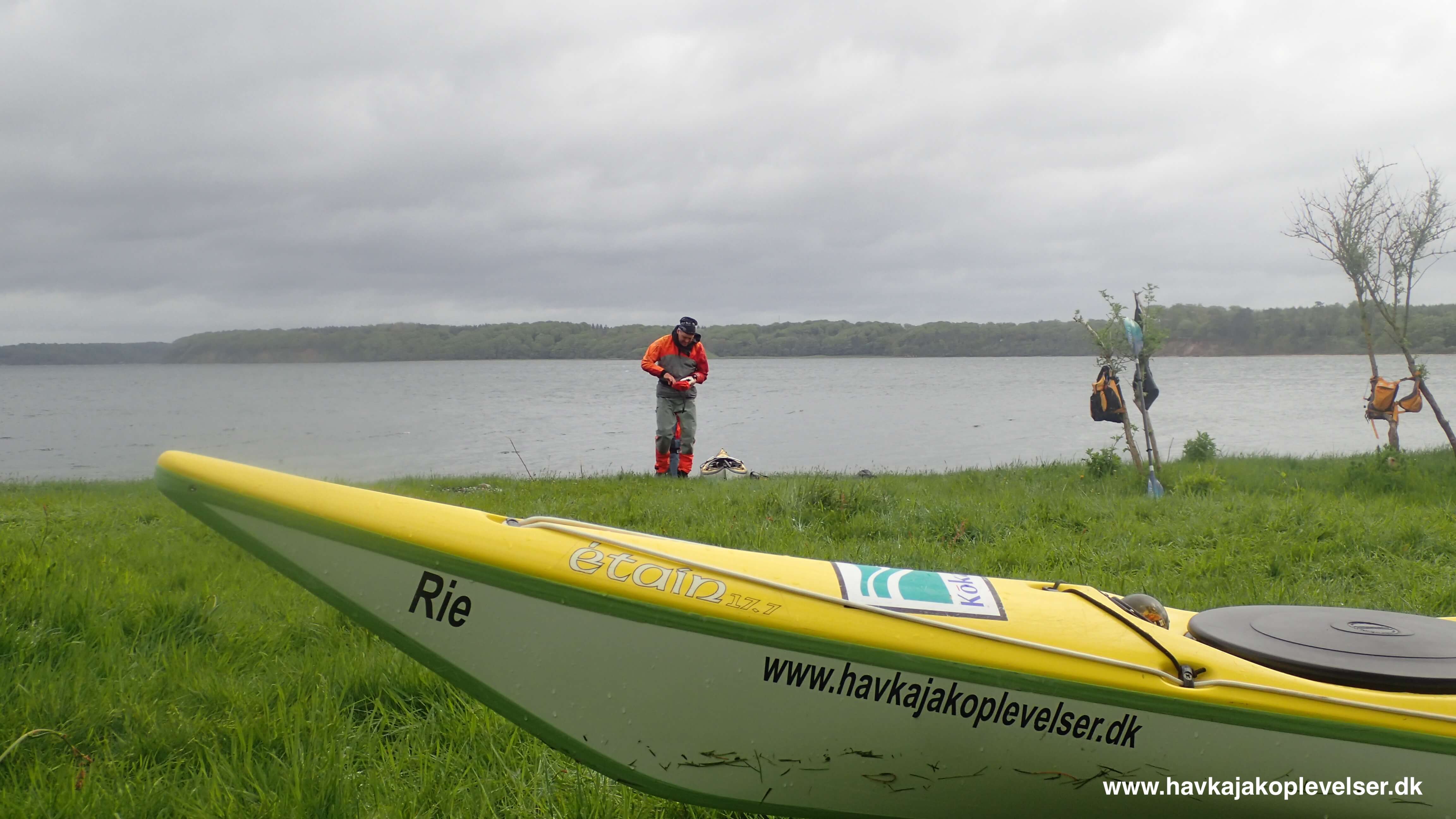 - Næste morgen ingen regn men med vind på 10-15 ms. fra sydvest.
- Next morning no rain but with wind of 10-15 meters per. SEC. from the southwest.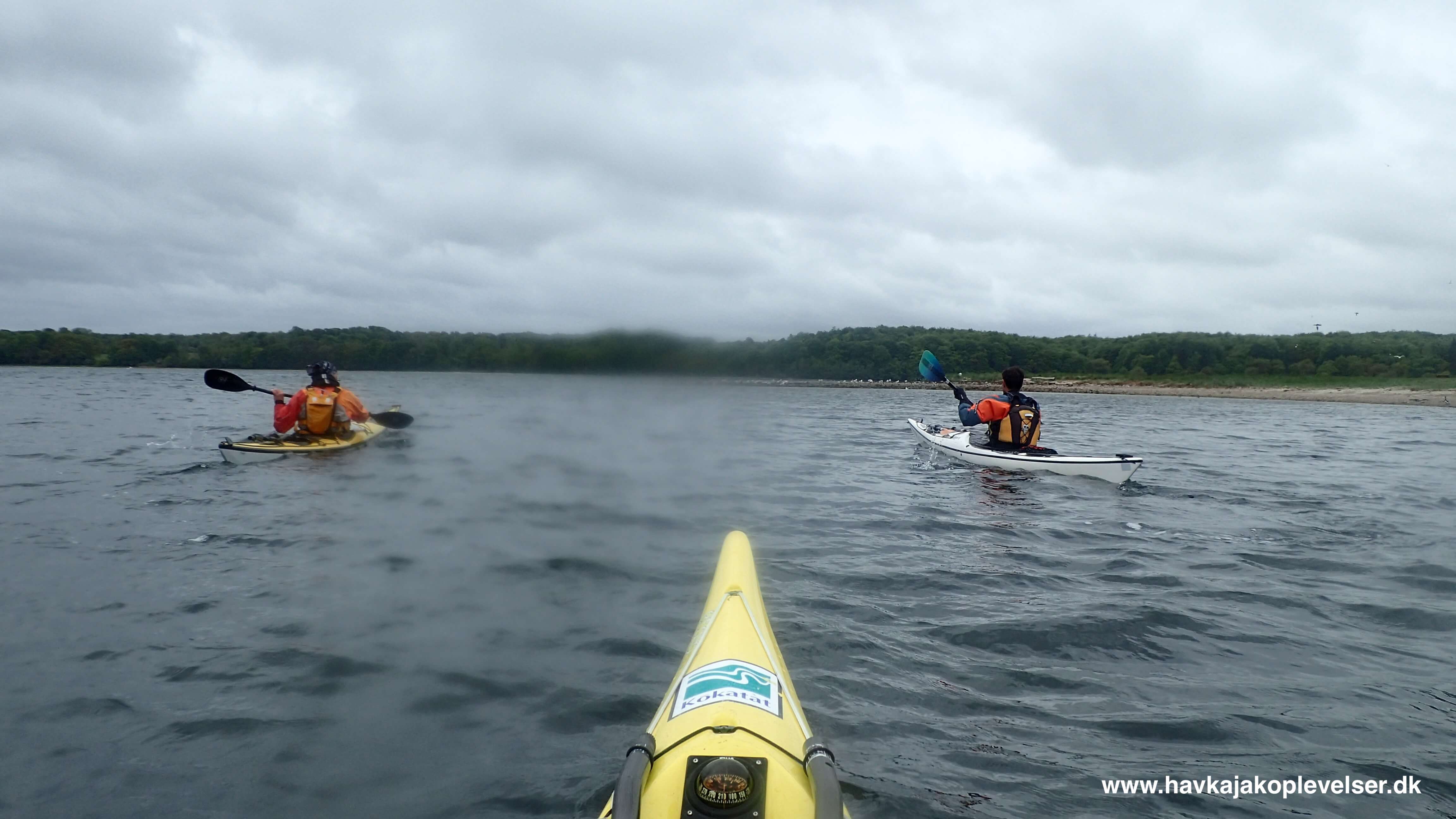 - Vi forlader Fænø kalv og søger læ langs Jyllands østkyst.
- We leave the island Fænø calf and seek shelter from the wind along Jutland's east coast.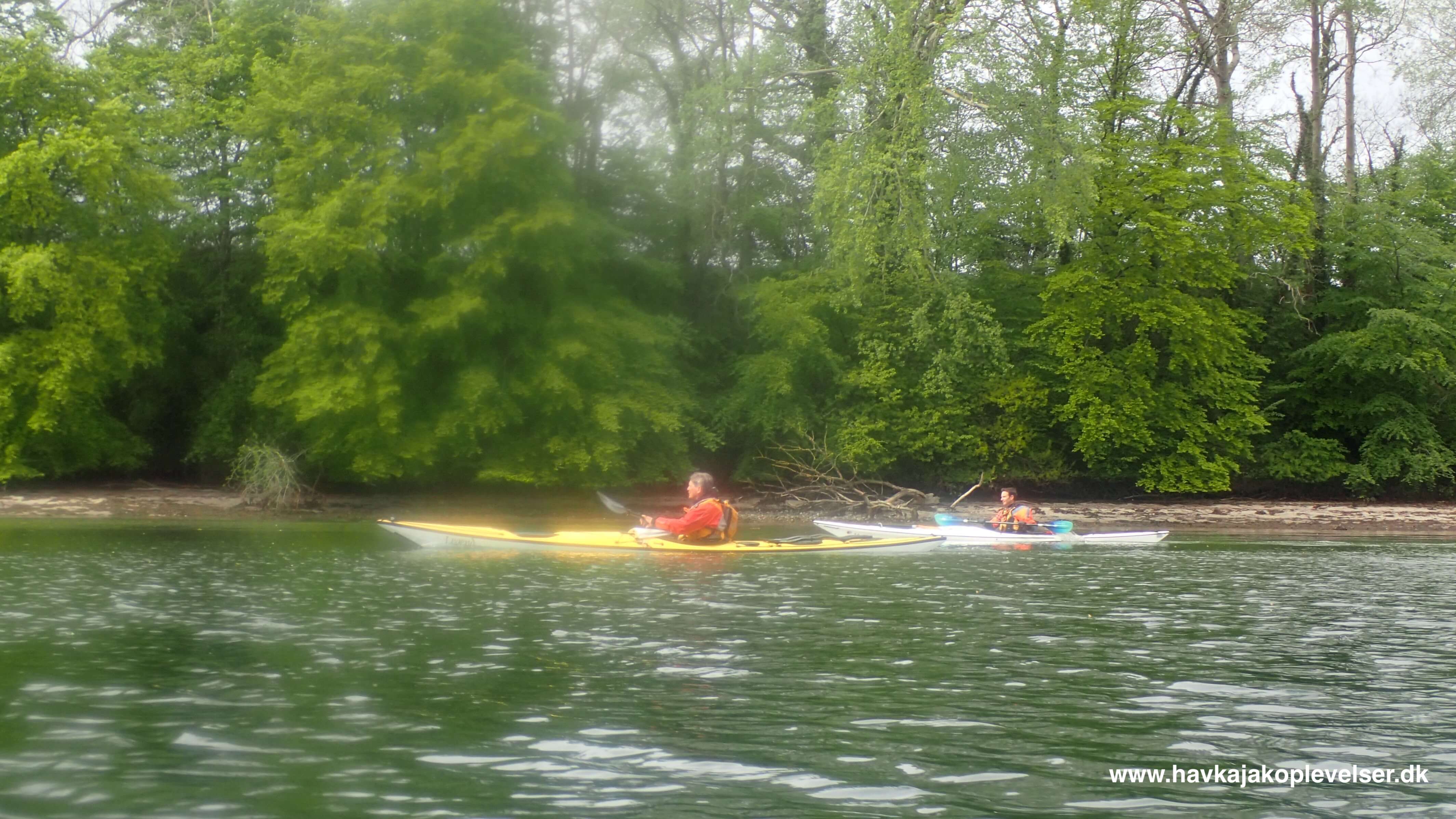 - Solen bryder frem mens vi ror langs bøgeskoven som er helt ned til stranden.
- The sun breaks out as we paddle south along the beech forest which goes all the way down to the beach.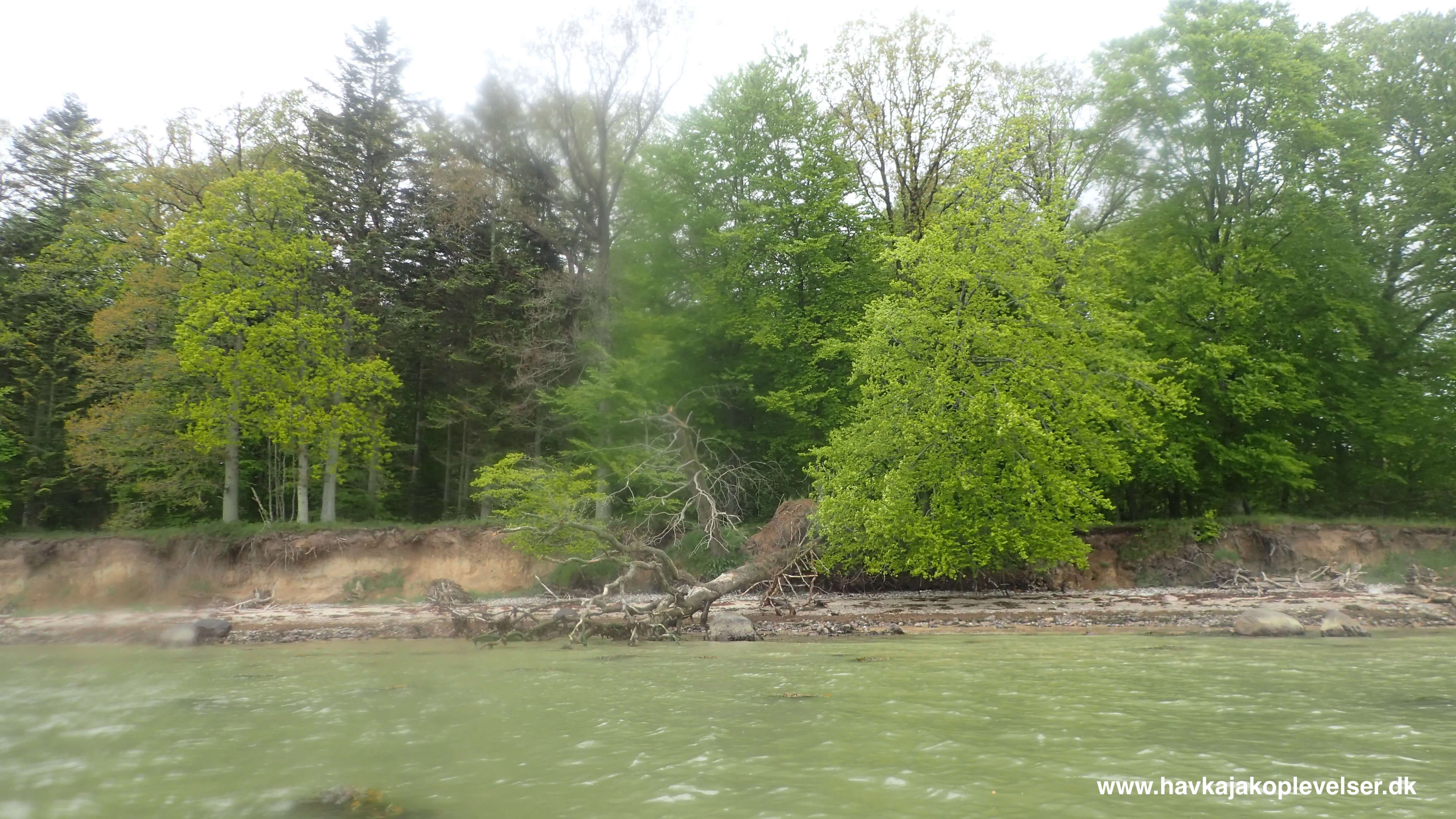 - Jeg ikke lade vær med at tænke på hvor spektakulære kystlinjer vi har i Danmark.
- I can not help thinking how spectacular coastlines we have in Denmark.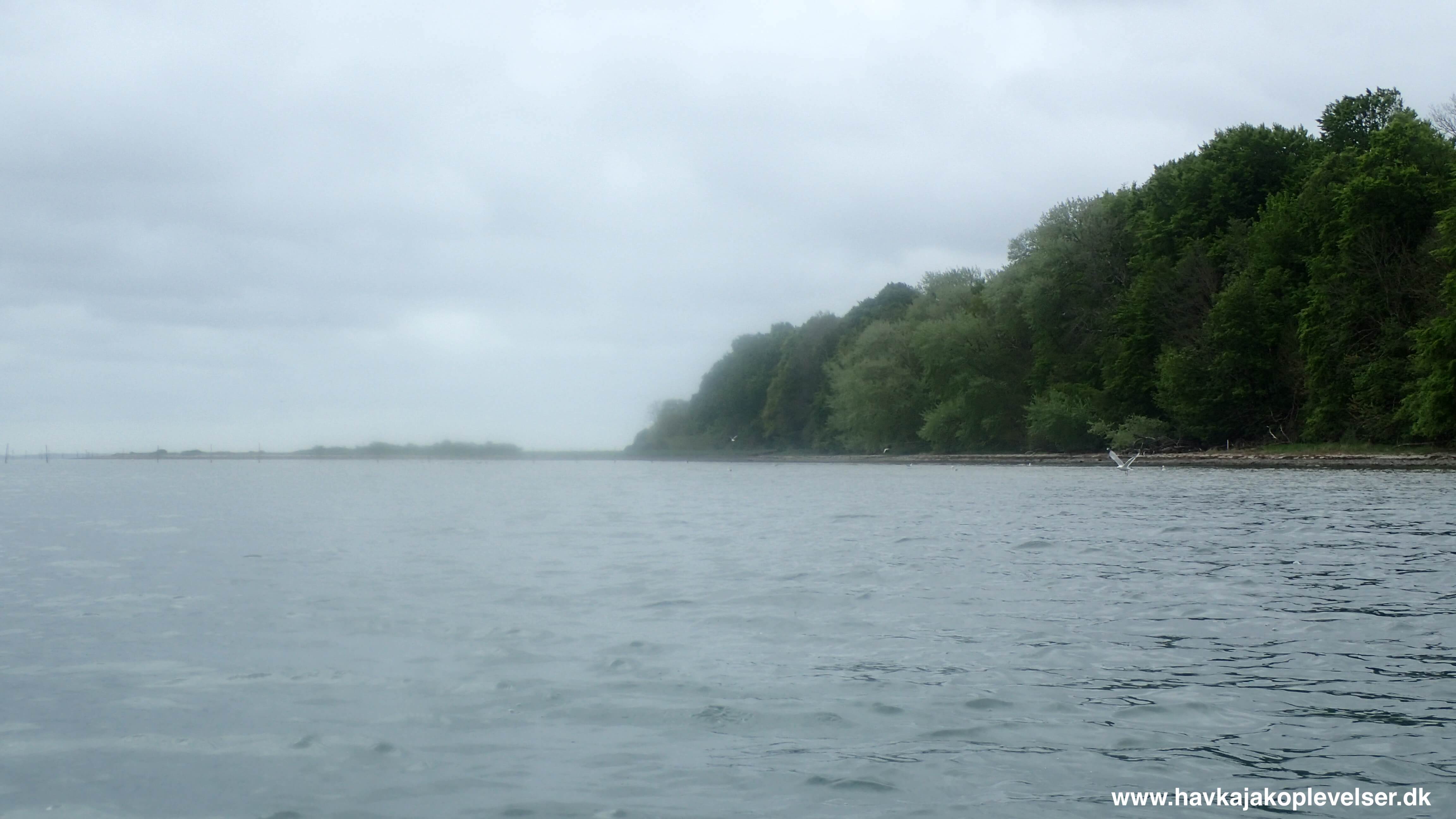 - Vi runder endnu en pynt, og samtidig er det slut med læ for den stærke vind.
- We round another headland, and at the same time shelter from the strong wind ends.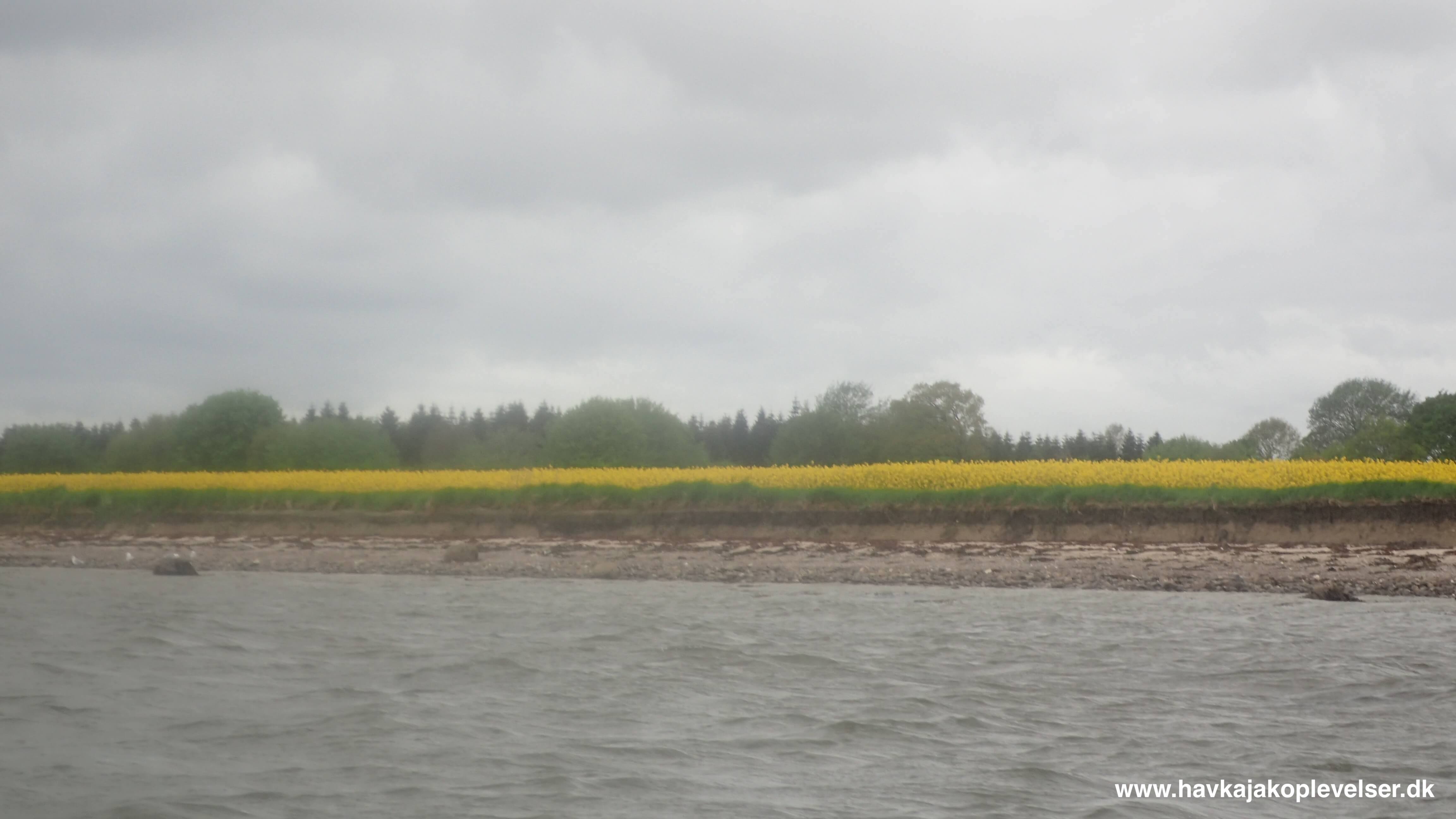 - Sceneriet ændre sig til så vi nu har marker helt ned til sandstrande, og vinden tager til.
- The scenery changes so we now have fields all the way down to sandy beaches, and the wind picks up.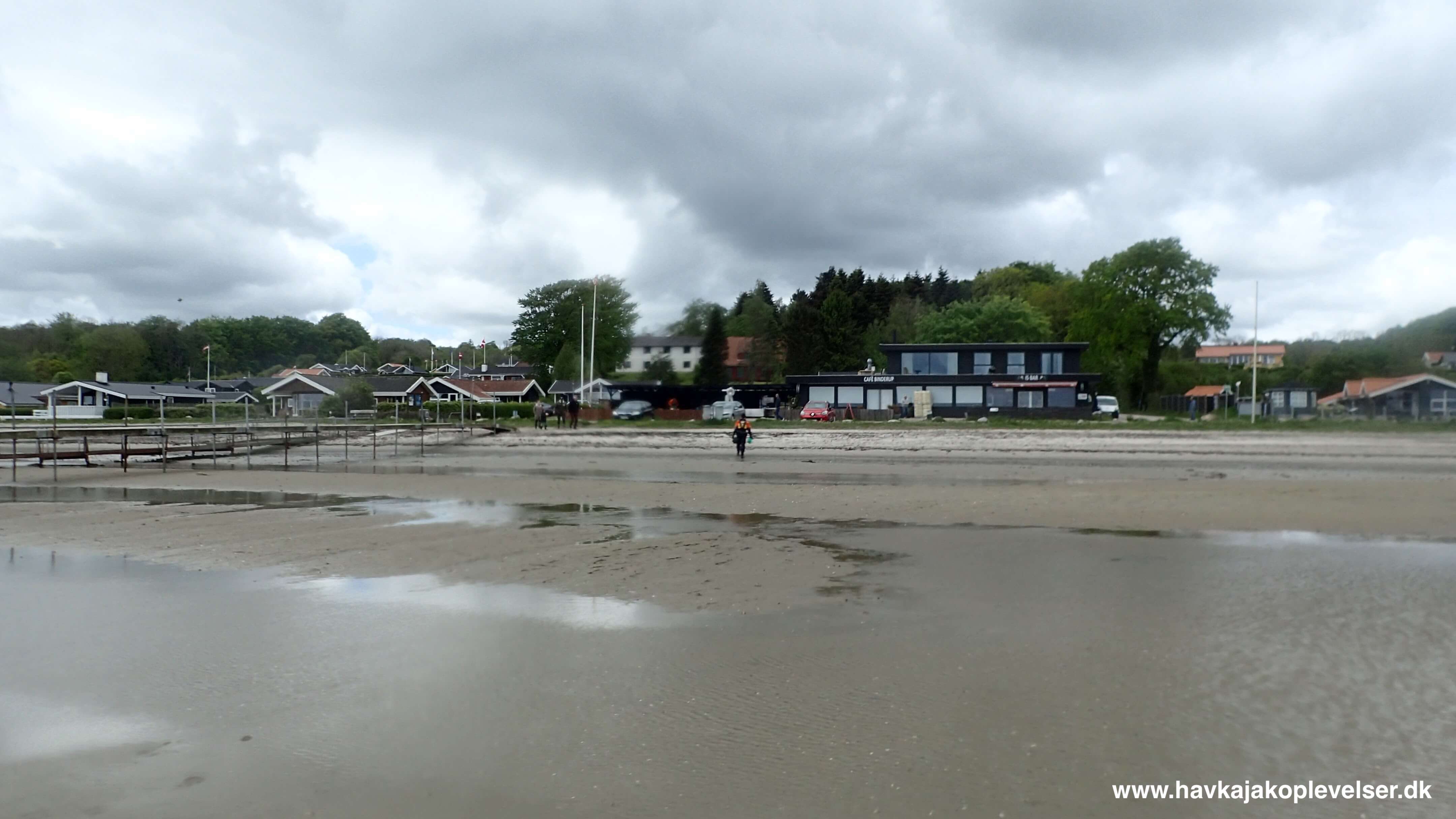 - De næste 7 km. tog os ikke mindre end 2 timer og 15 min. så frokost og en pause var tiltrængt, da vi går i land på stranden ved Grønninghoved strand.
- The next 7 km. took us no less than 2 hours and 15 min. so lunch and a break were needed as we went ashore on the beach at Grønninghoved beach.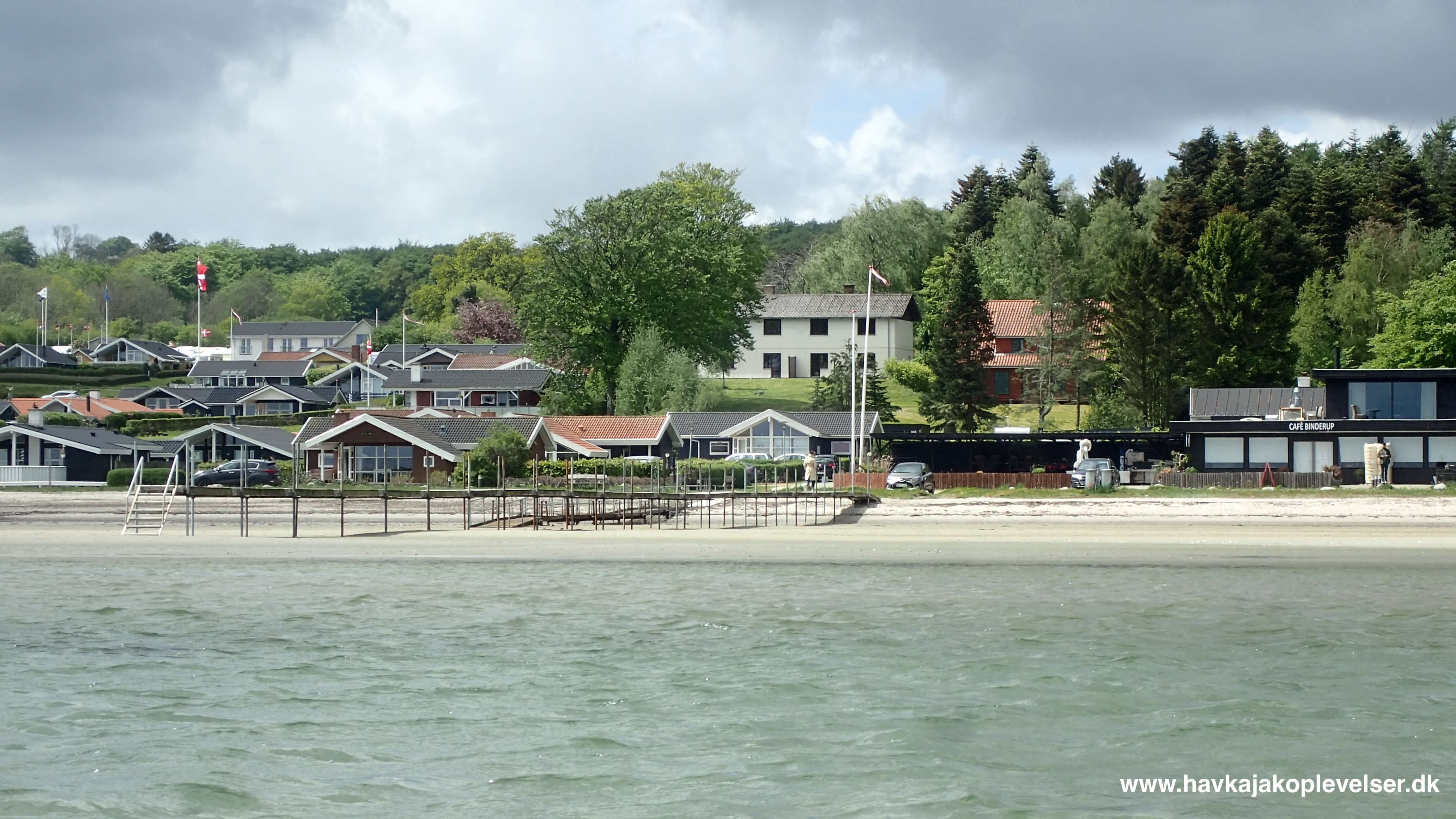 - Solen bryder igennem mens vi overvejer vores plan - den var at forsætte syd med en overnatning på Jyllands østkyst, for så dagen efter at krydse de ca. 14 km. tilbage til Fyn.
- The sun breaks through while we consider our plan - which was to continue south with an overnight stay on the east coast of Jutland, and then the next day to cross the approx. 14 km. back to Funen.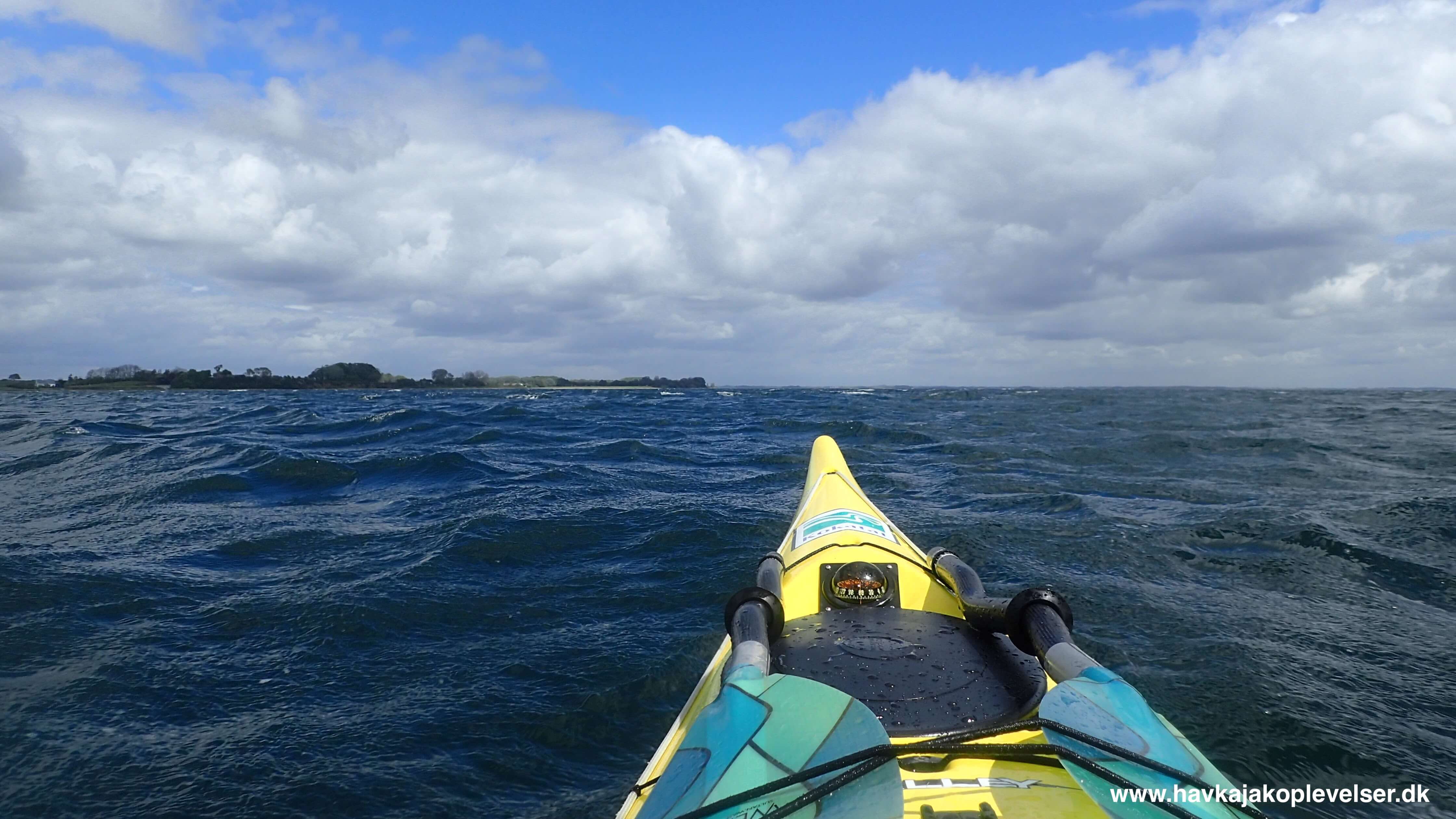 - Vi laver en ny plan og ror op langs kysten for at lande ved Stenderup Nørreskov, hvor det er tilladt at slå telt op og overnatte på en primitiv lejerplads.
- We make a new plan and paddle up along the coast to land at the forest "Stenderup Nørreskov", where it is allowed to pitch a tent and spend the night at a primitive camp site.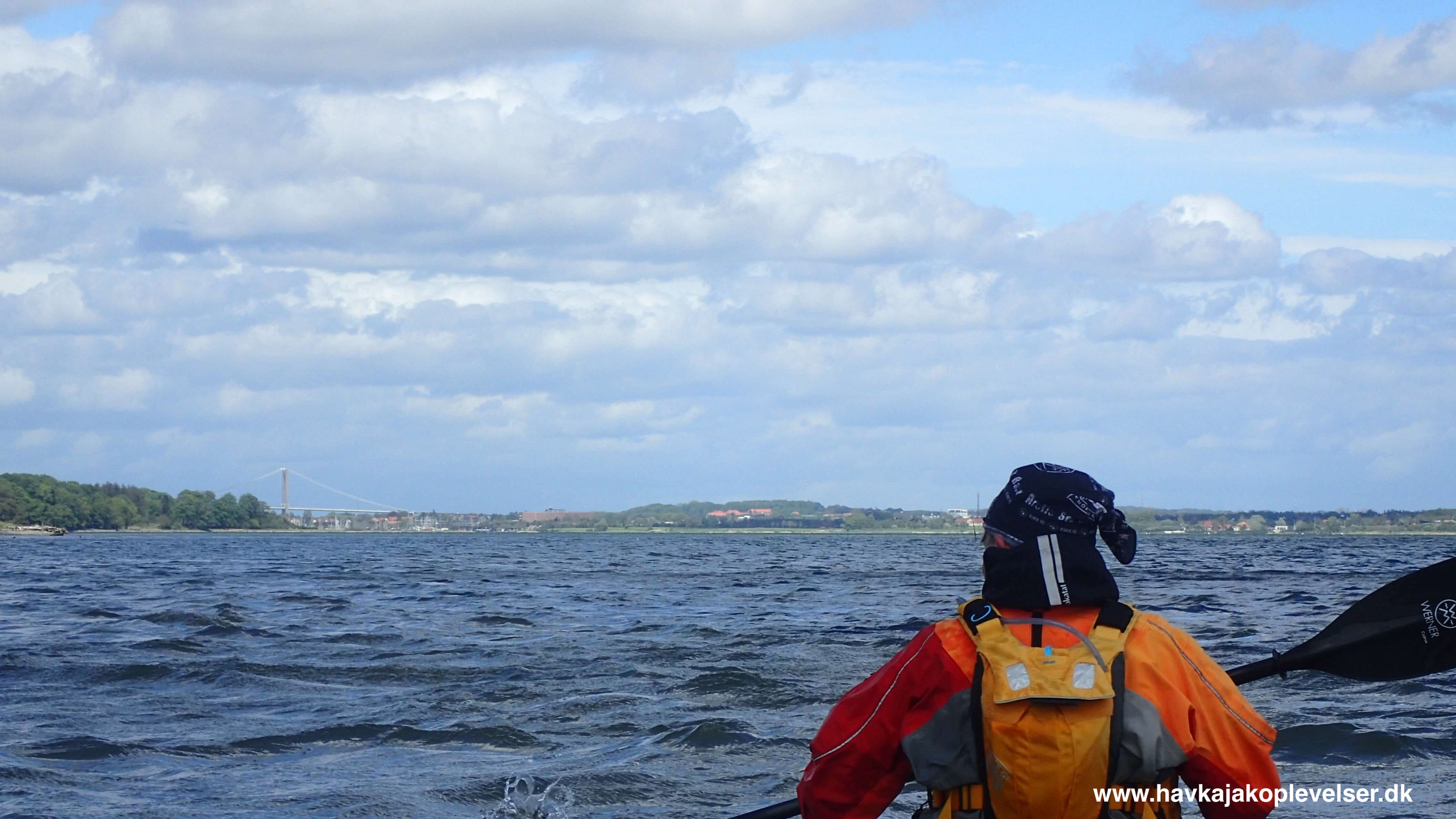 - Med vinden i ryggen fløj vi nordover mod vores tiltænkte lejrplads.
- With the wind down, we flew north towards our planned campsite.
- Læ for vinden ved Stenderup Nørreskov.
- Shelter from the wind at Stenderup Nørreskov.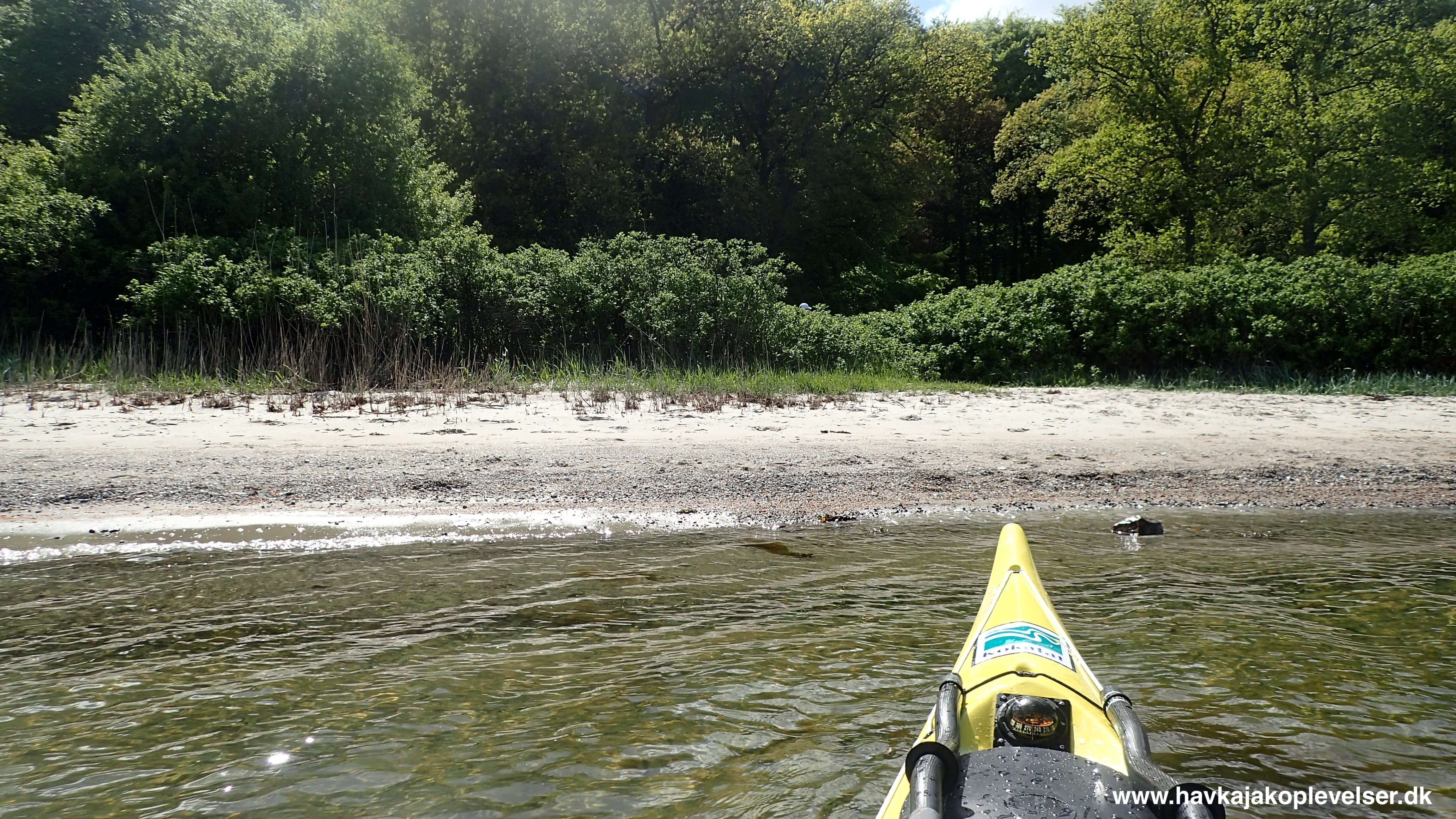 - Vi går i land på den lille sandstrand på Jyllands østkyst vest for Fænø.
- We land on the small sandy beach on Jutland's east coast west of Fænø.
- Teltene er slået op i solen og i absolut læ fra skoven.
- We pitched our tents in the sun in absolute shelter from the forest.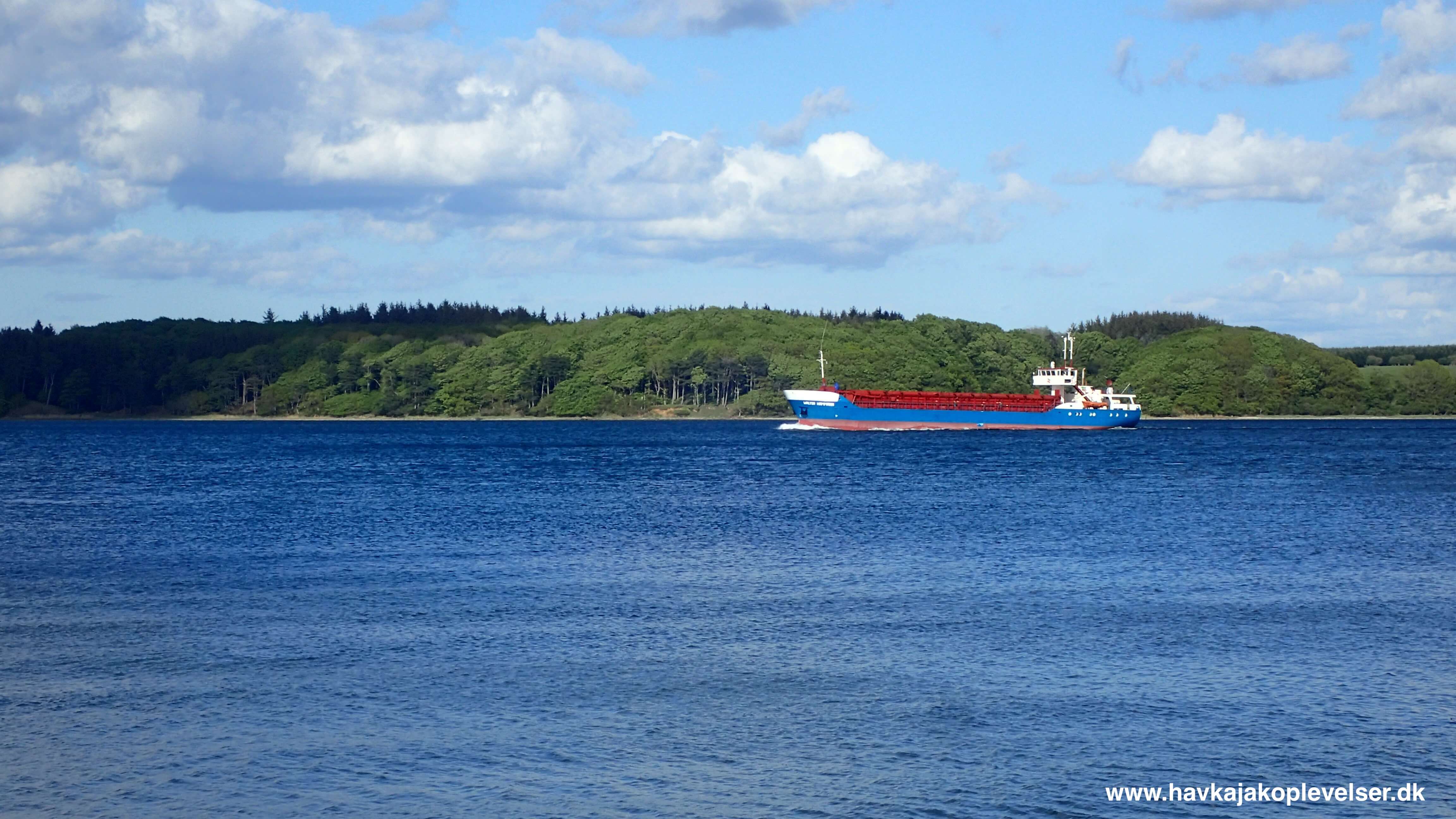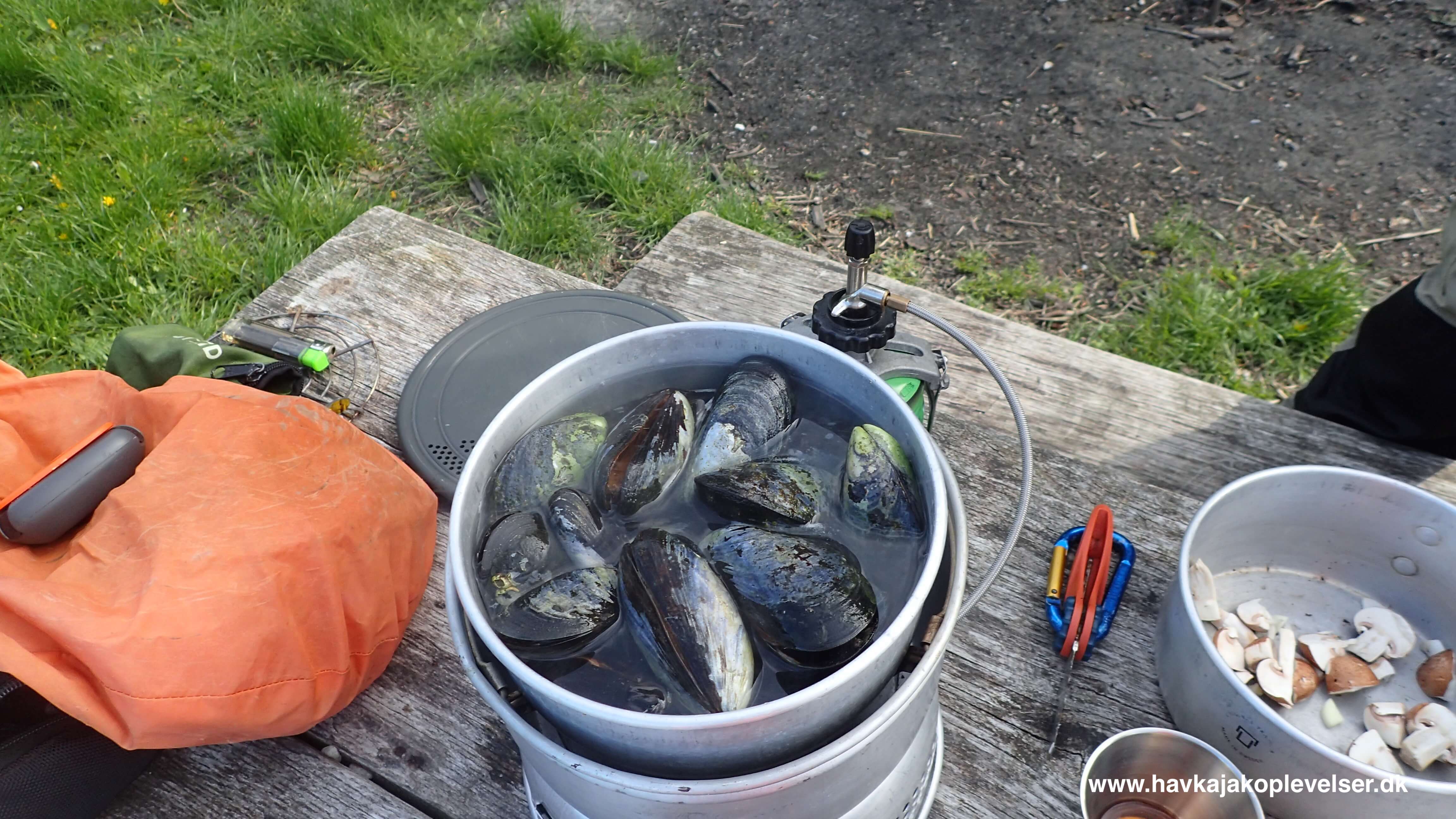 - Foruden det vi havde planlagt til aftensmad blev der også plukket og dampet muslinger.
- In addition to what we had planned for dinner, were also took some mussels from the beach.
- Ikke noget dårligt sted at spise aftensmad.
- Not a bad place to have dinner.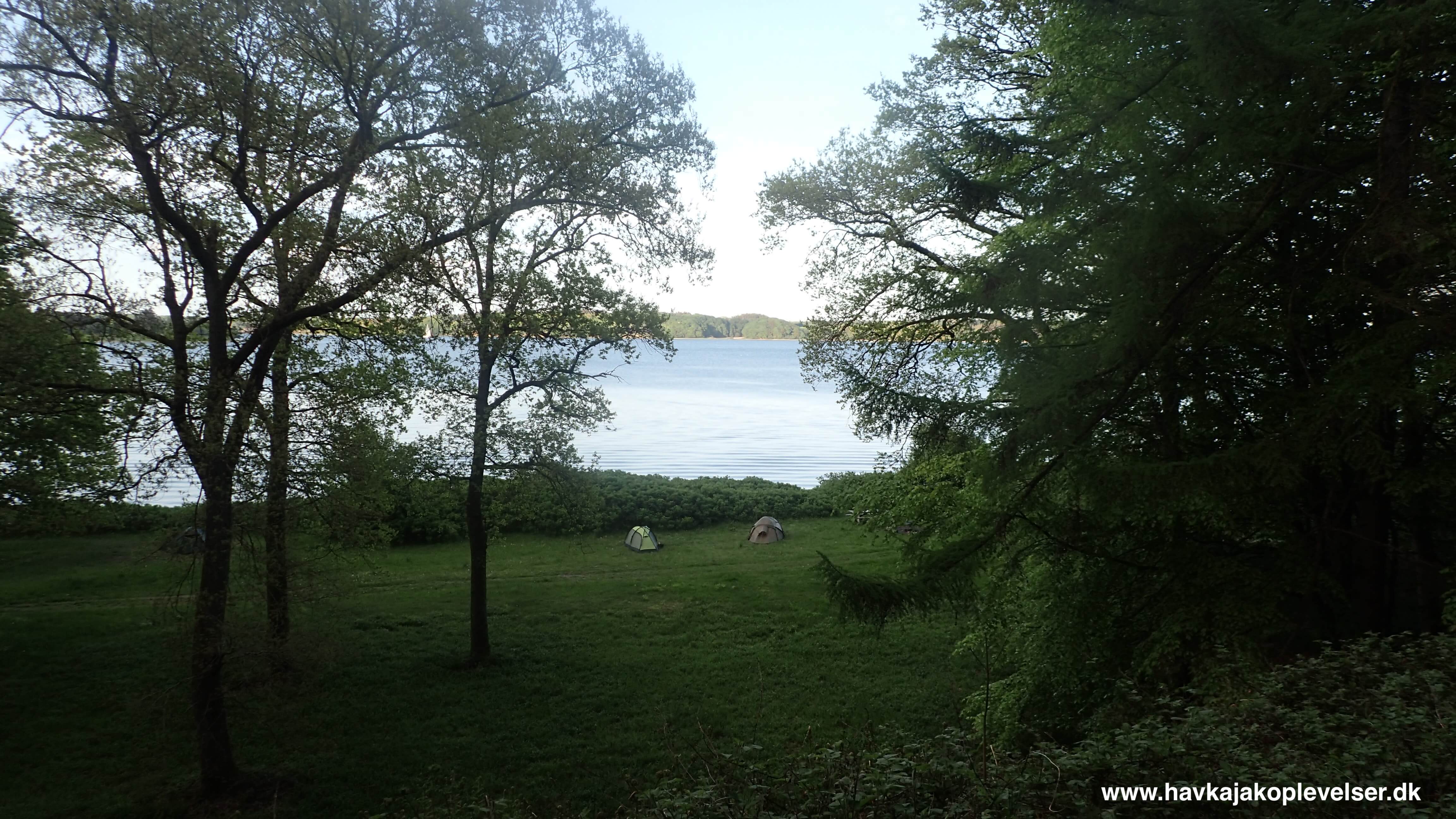 - Aftentur i skoven. Billedet af vores lejr er taget oppe fra toppen af den gamle skanse der var en del af forsvaret af Lillebælt.
- Evening in the woods. The picture of our camp is taken from the top of the old fort which was part of the defense of the Little Belt.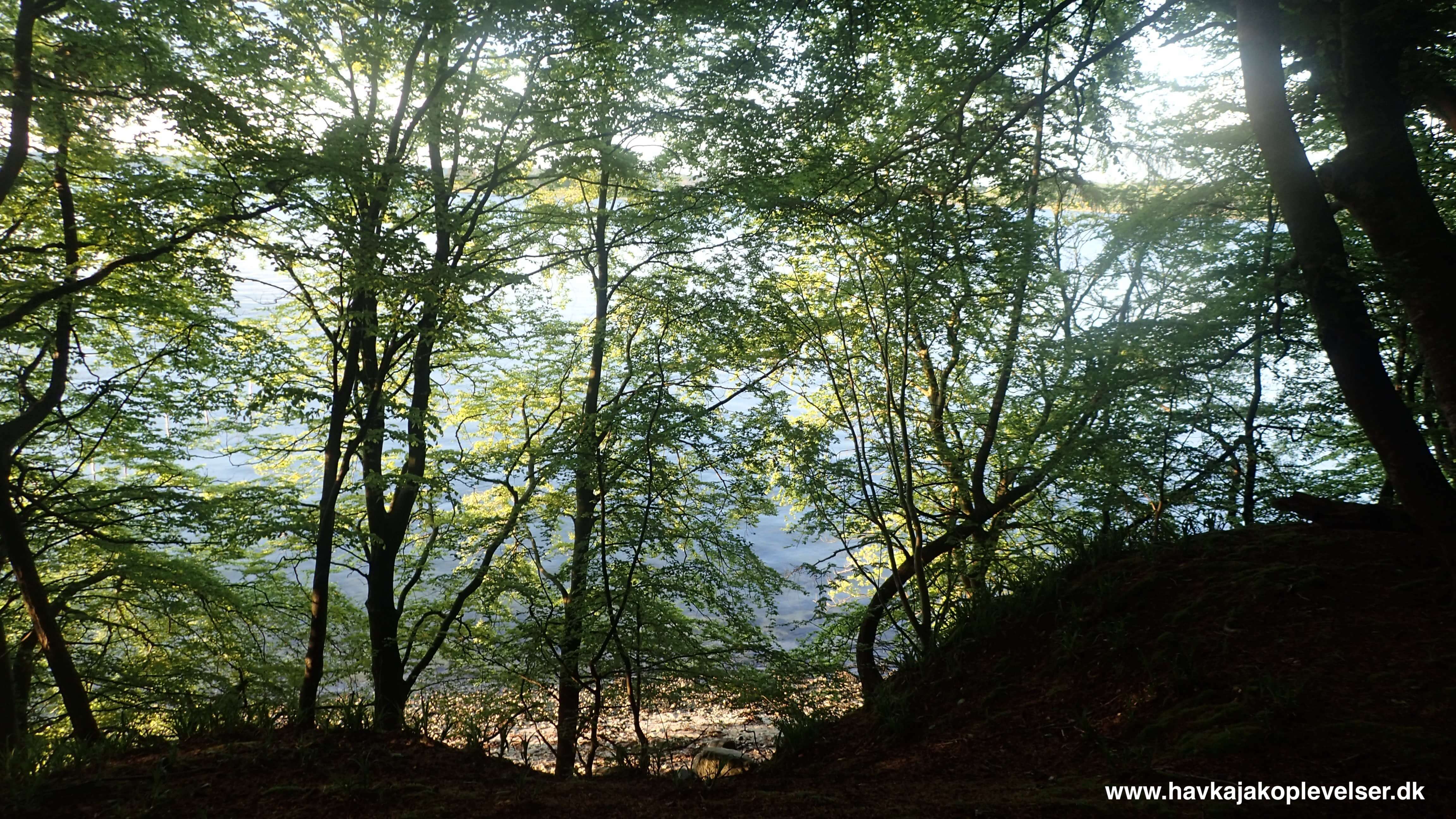 - Bøgeskoven går også her helt ned til stranden.
- The beech forest is also here all the way down to the beach.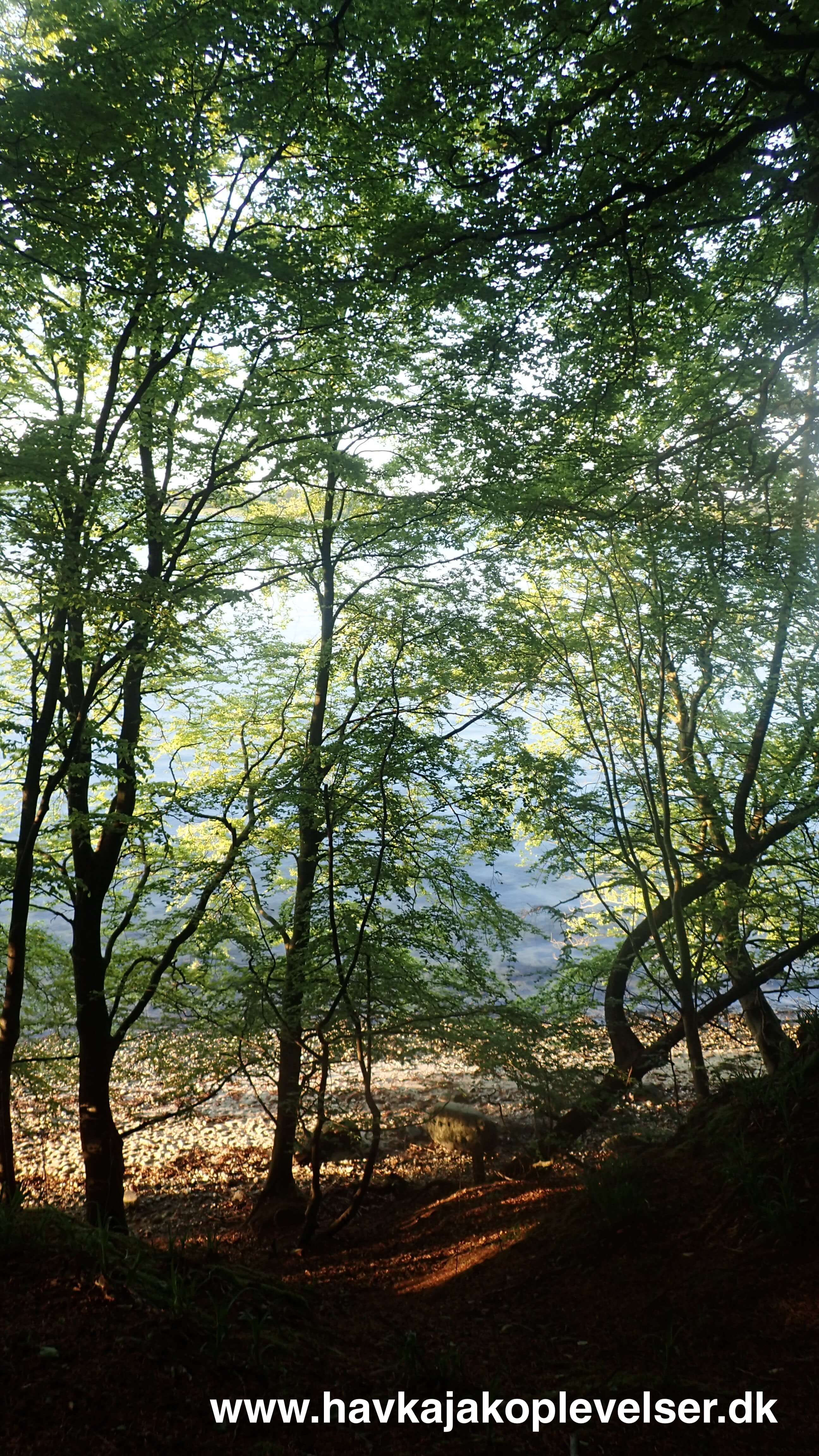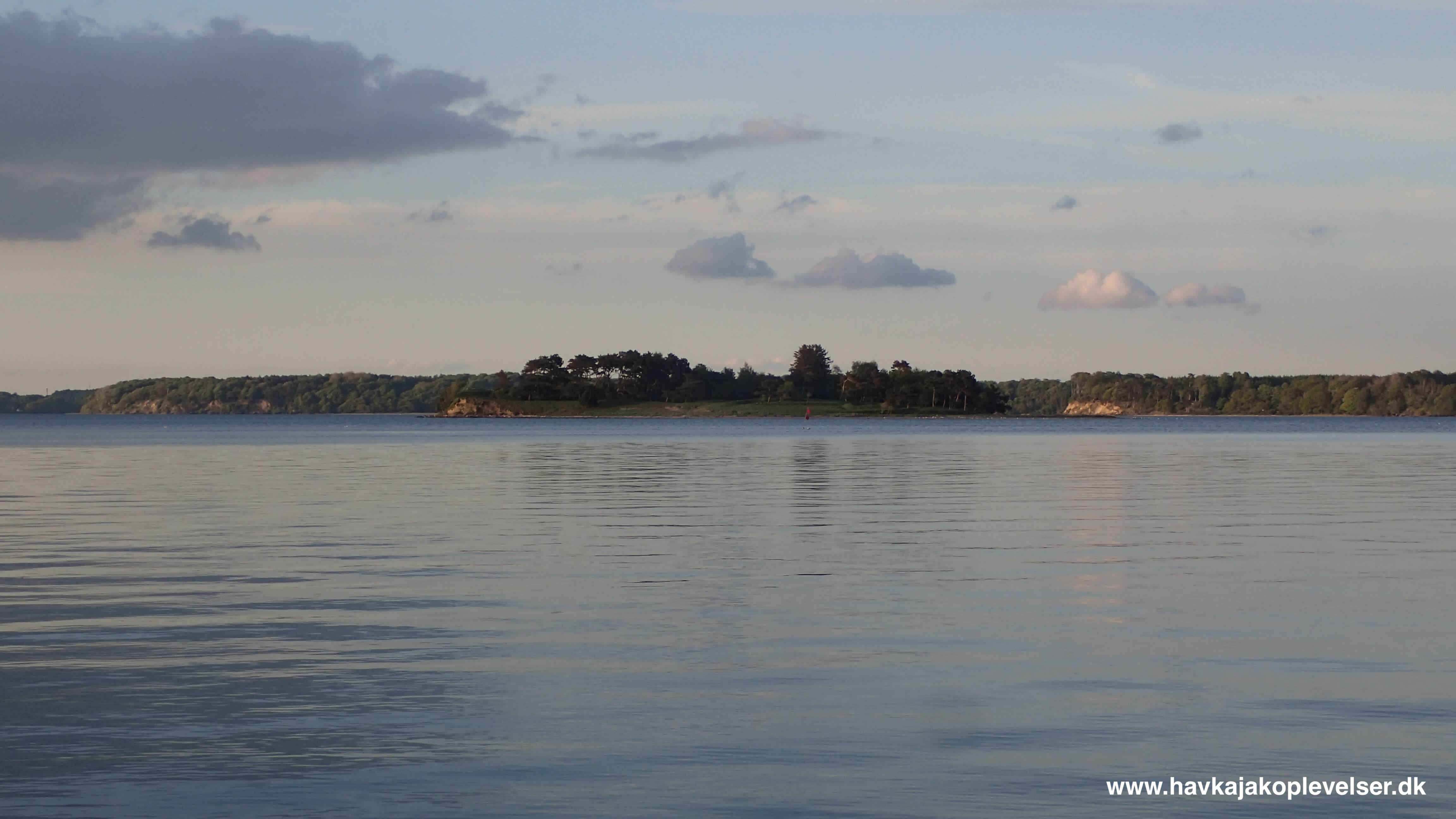 - Aftenstemning over Lillebælt.
- Evening atmosphere in the Little Belt.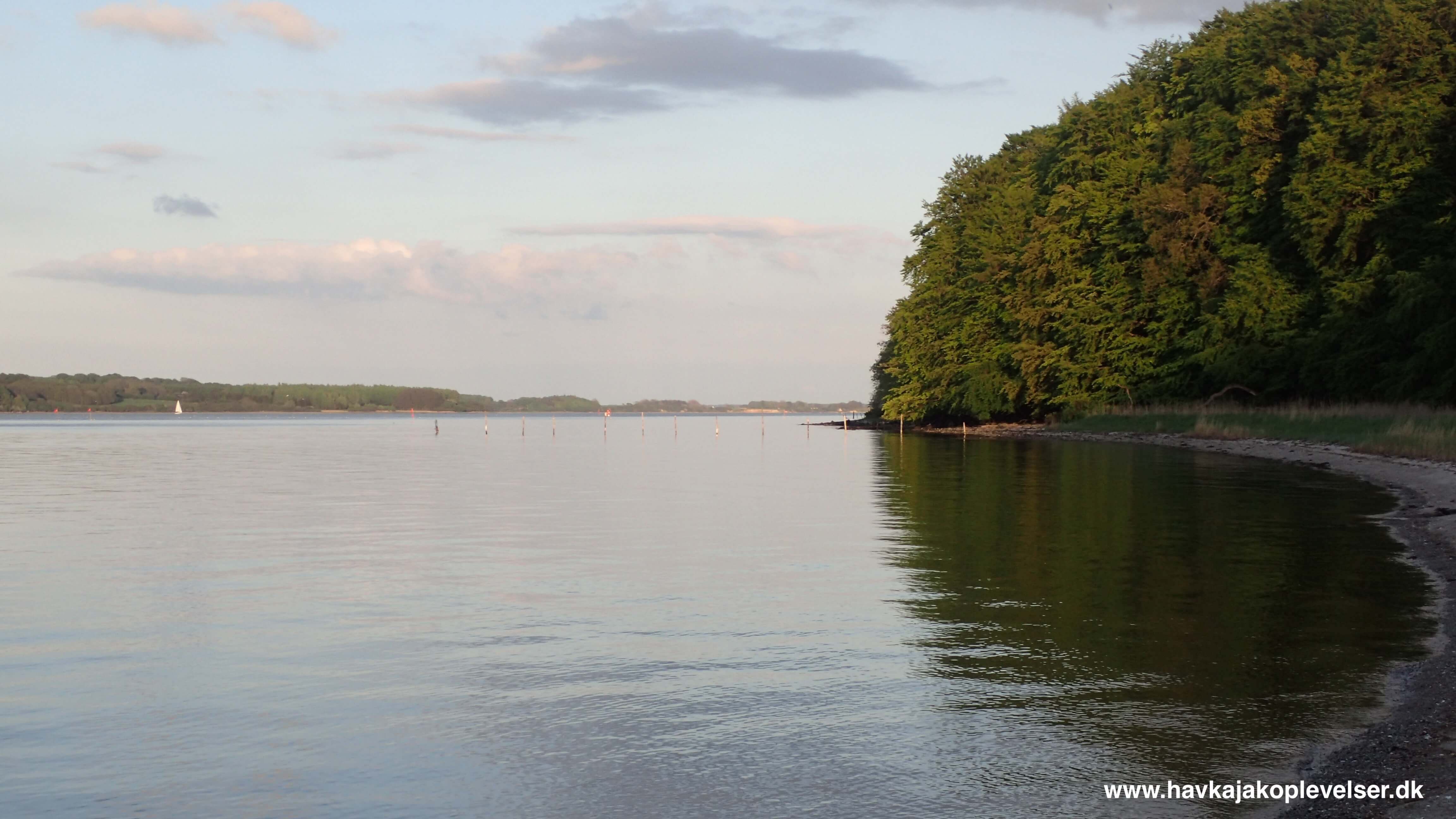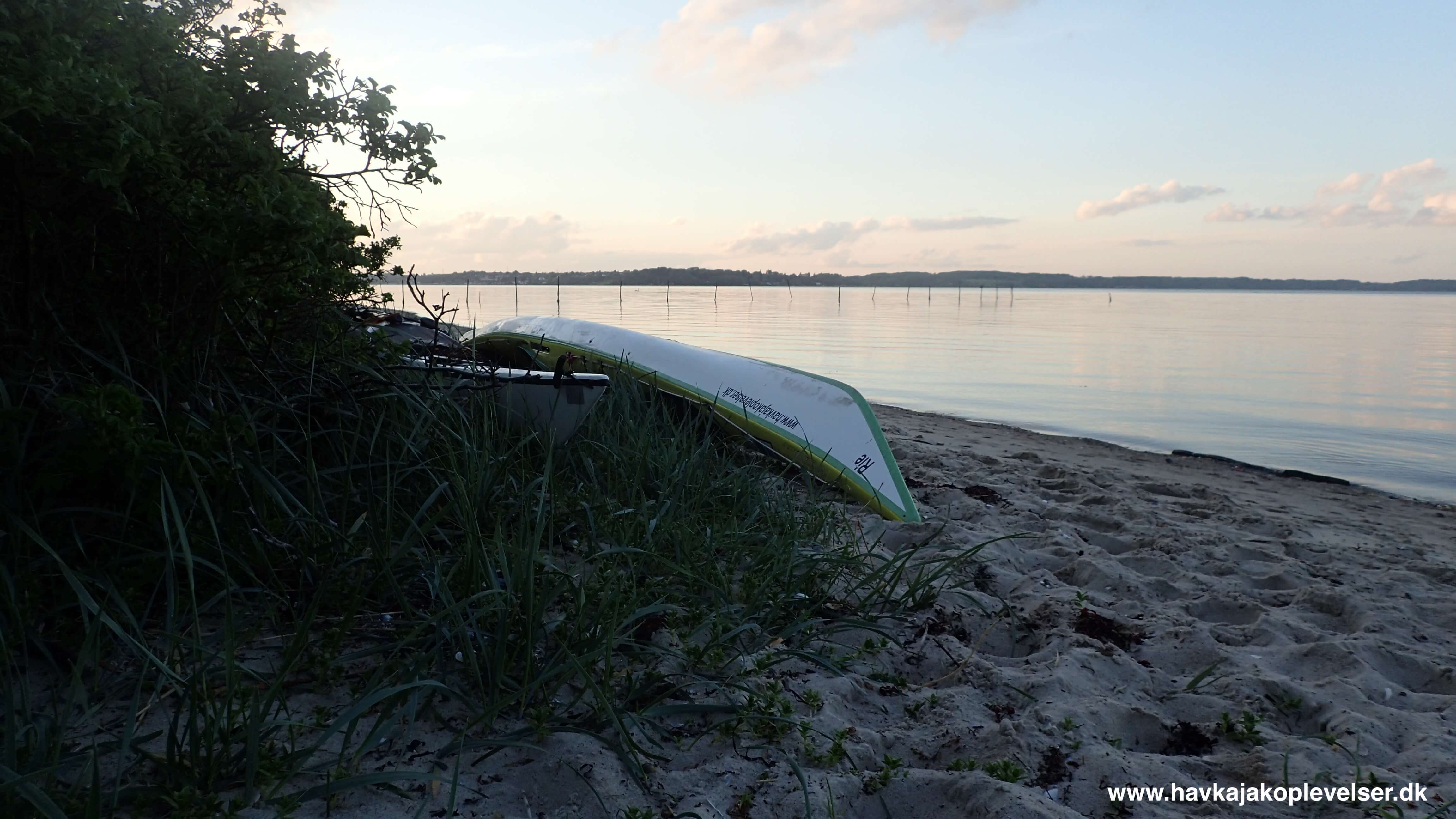 - Tid til at lægge sig i teltene.
- Time to settle in tents.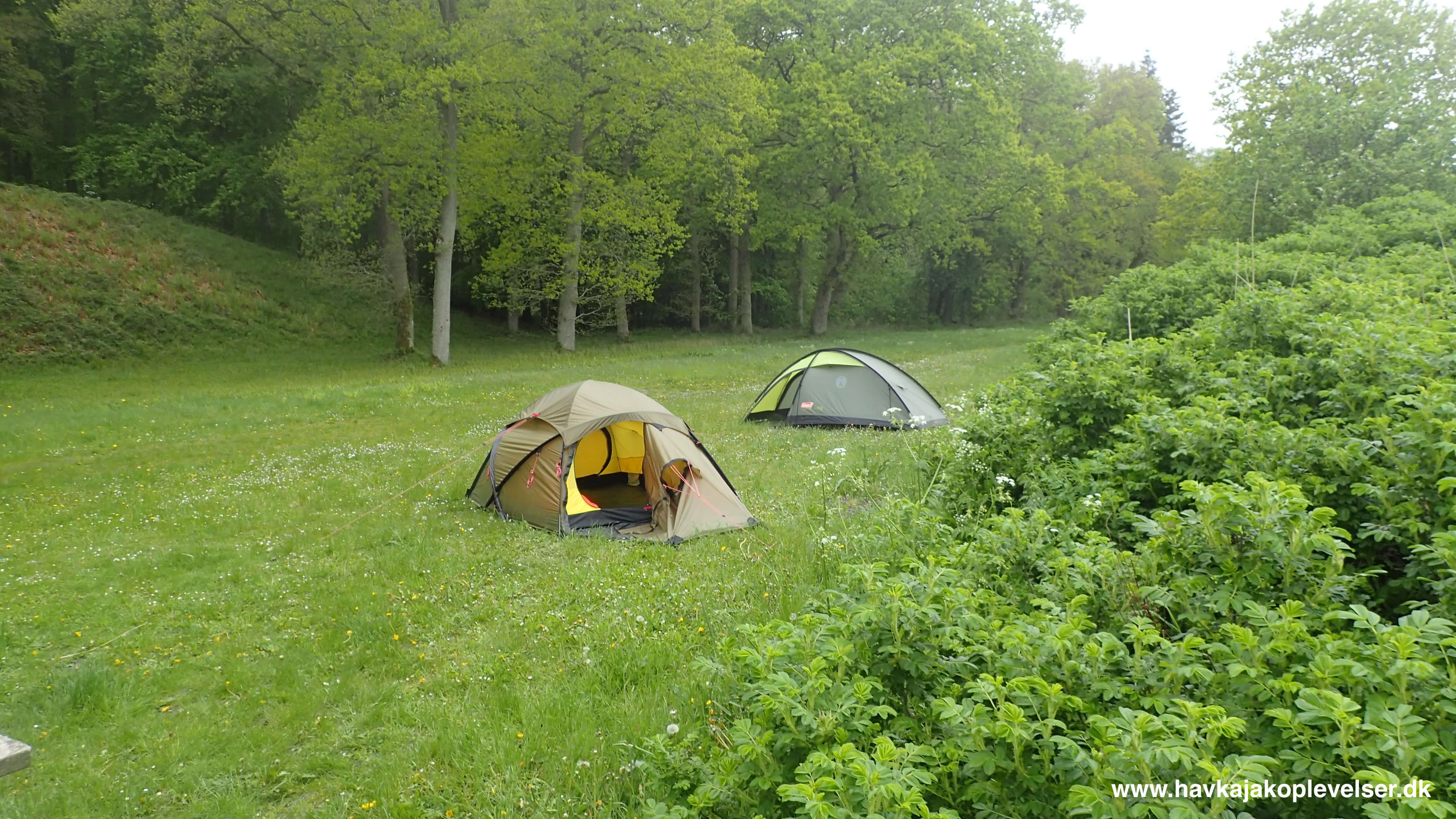 - Mandag morgen og stadig 12 - 15 m/s. vind fra syd-vest.
- Monday morning and still 12 - 15 m / s. wind from the south-west.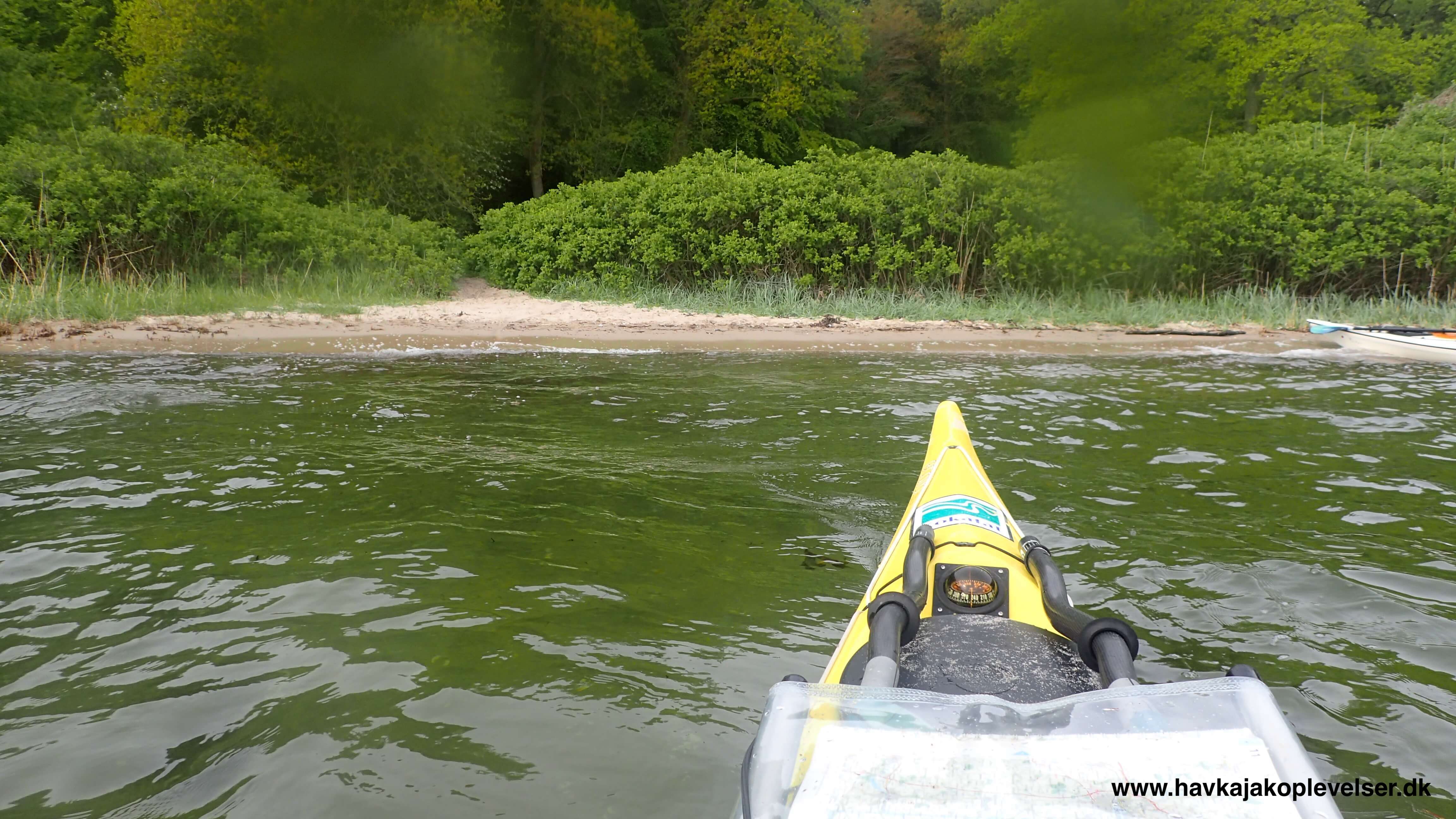 - Vi tager på vandet, med en plan hvor vi har 3 muligheder for at stoppe turen inden vi kommer tilbage til bilerne, og så vurdere forholdene efter når vi kommer ud af læ for skoven.
- We get on the water with a plan where we have 3 options to stop the paddle before getting back to the cars, and then assess the conditions when we get out of shelter from the forest.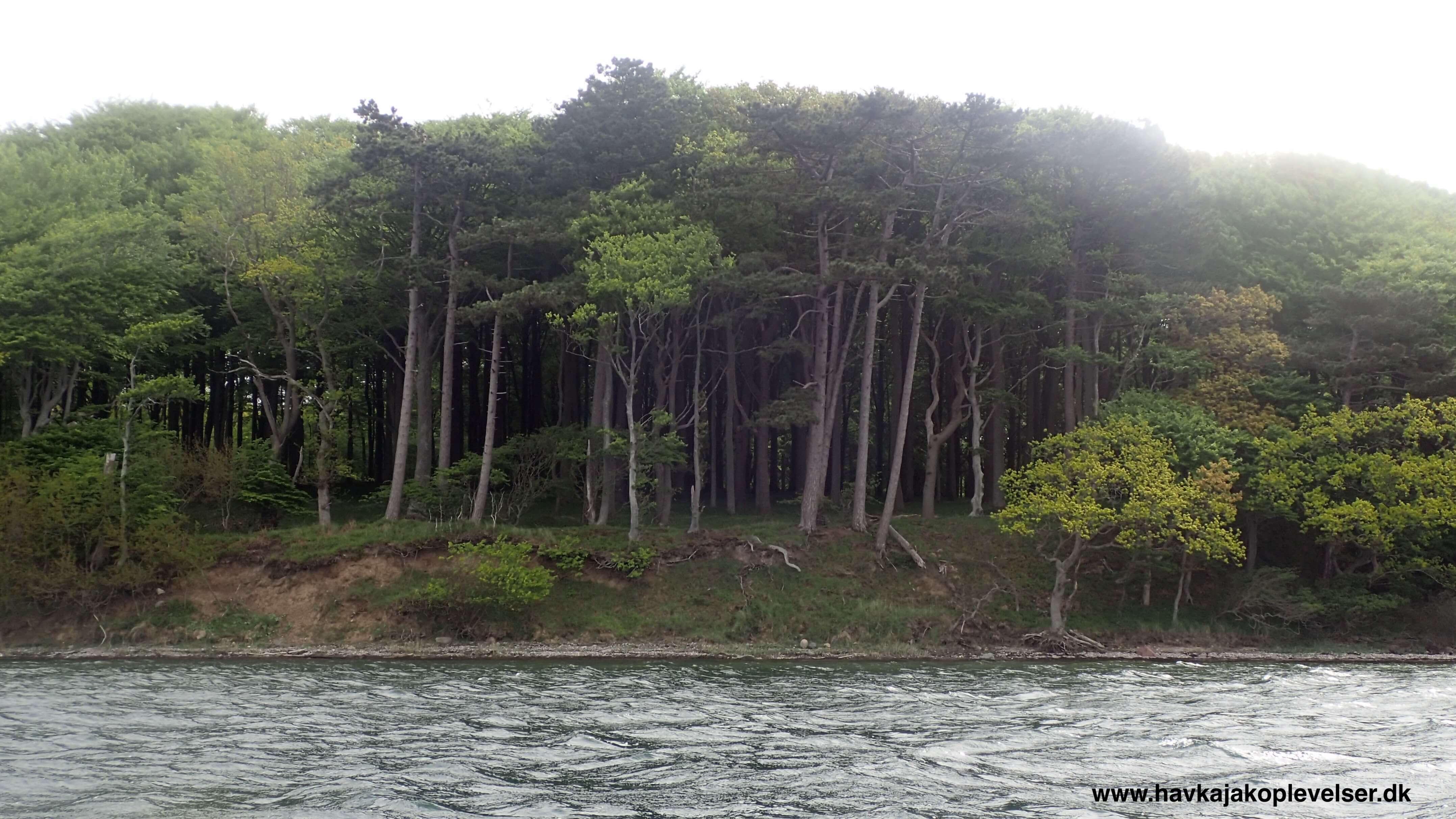 - Vi ror det korte stykke over til Fænø.
- We paddle the short trip to the island of Fænø.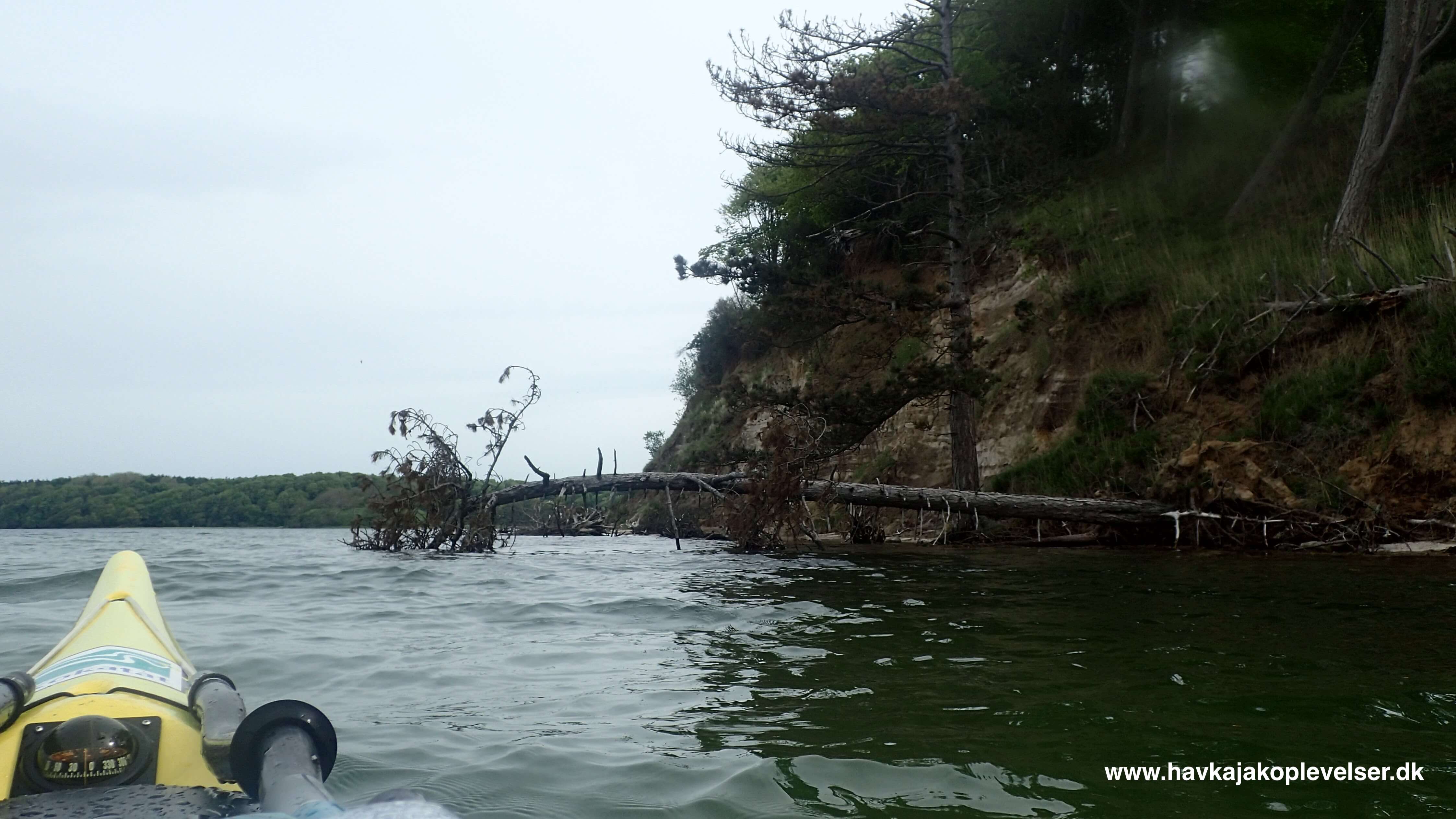 - Vest om Fænø.
- West of Fænø.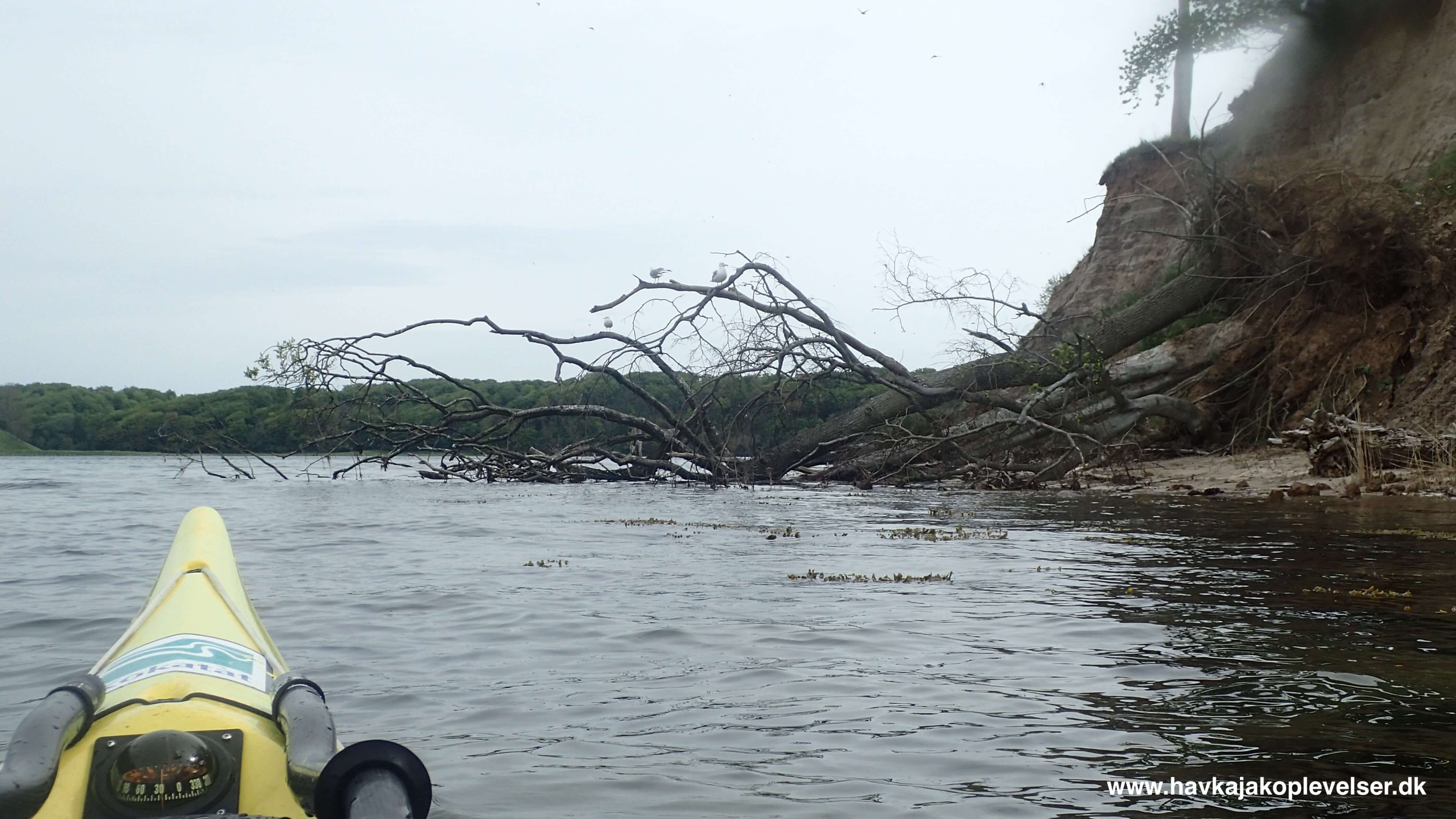 - Fænøs nordside.
- The North coast og Fænø.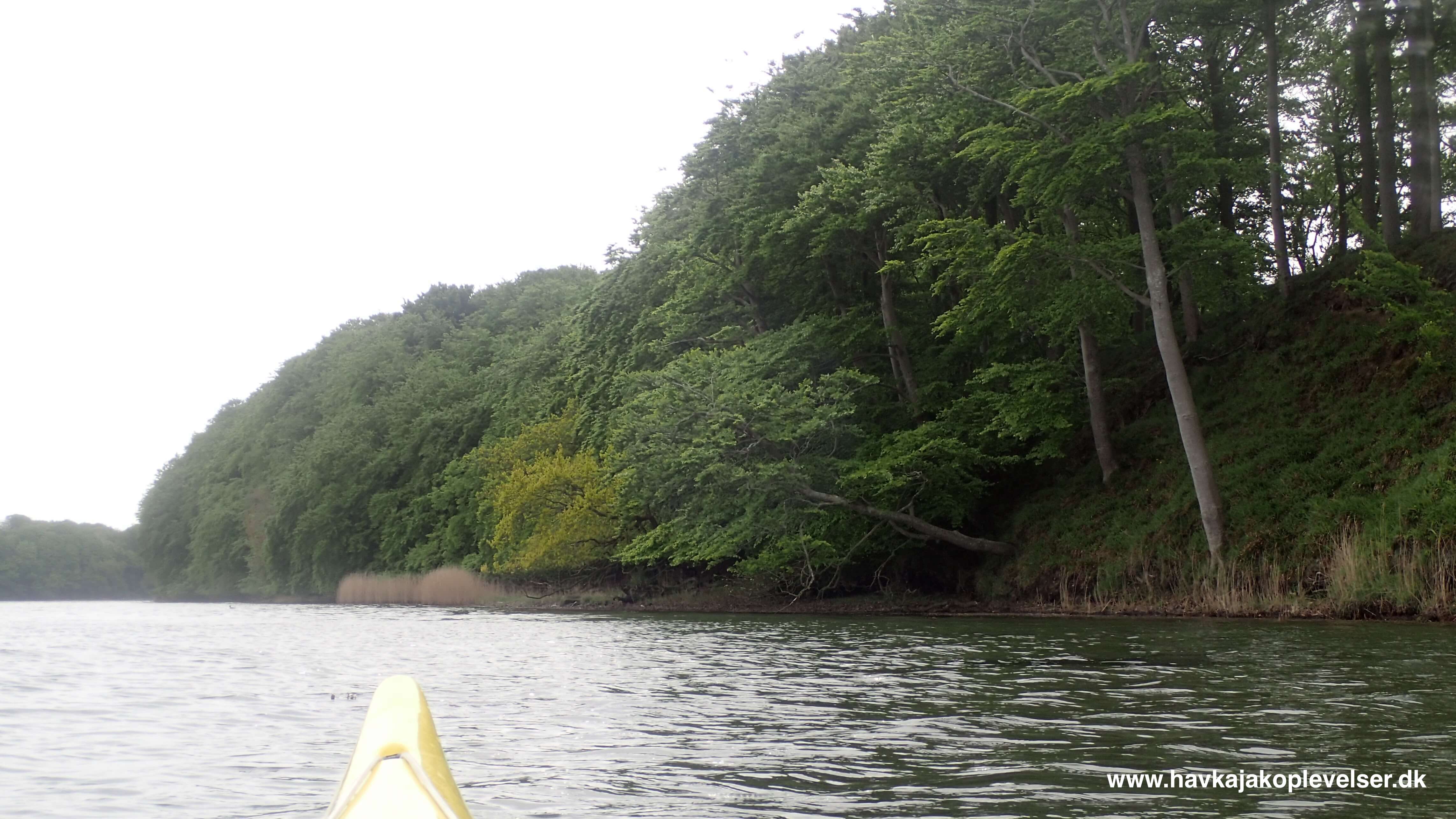 - Sydover mellem Fænø og Fyn, inden vi kommer ud i åbent vand og kan få en ordentlig fornemmelse af forholdene.
- South between Fænø and the island of Fyn, before we get out to open water and can get a proper sense of the conditions.
- Vi vurdere forholdene, laver en hurtig tidsberegning hvorefter vi beslutter at bruge vores første mulighed for at stoppe turen og tager ind i Middelfart marina.
- We assess the conditions, make a quick time calculation down to the cars and decide to use our first opportunity to stop the trip and paddle to the marina of Middelfart.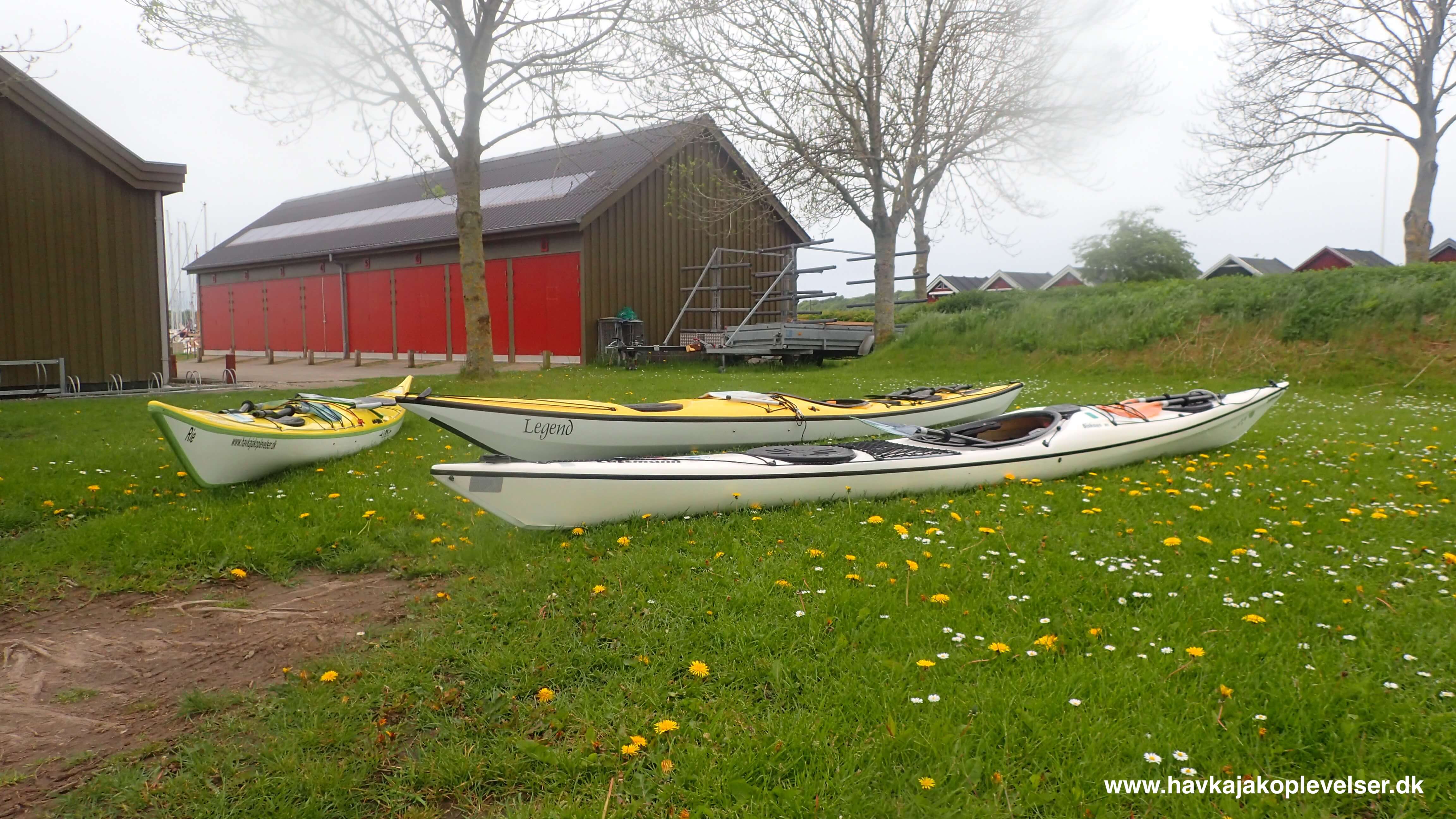 - Vi går i land ved Middelfart roklub. Vi får lov til at ligge kajakkerne bag klubhuset og bliver så af et meget venligt medlem tilbudt et lift ned til vores biler. Turen blev ikke som vi havde planlagt hjemme fra, men betydningen af at ændre på sine planer skal ikke undervurderes. Vi havde en fantastisk tur og Lillebælt er et meget smukt område med mange muligheder for overnatning, bestemt et besøg værd.
- We land at Middelfart rowing club. We are allowed to put the kayaks behind the clubhouse and are then offered a lift down to our cars by a very friendly member. The trip did not go as we had planned, but the importance of changing plans should not be underestimated. We had a fantastic trip and the Little Belt is a very beautiful area with many opportunities to pitch a tent, definitely worth a visit.
Venlig Hilsen / Best Regards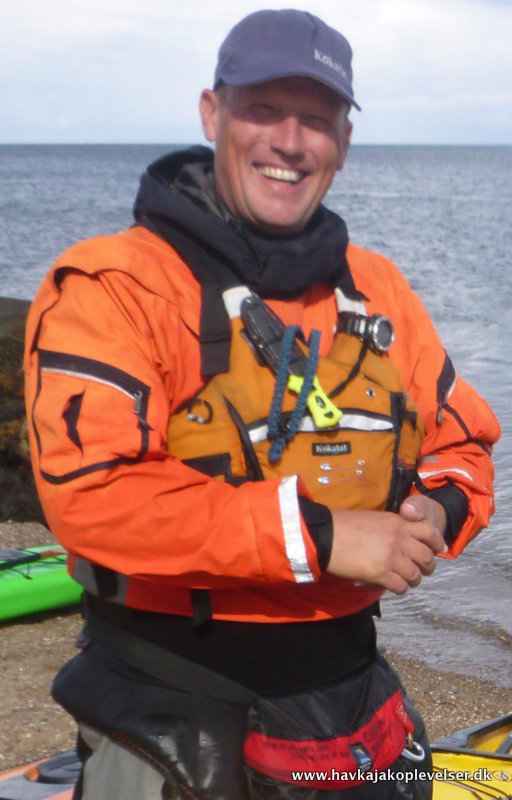 Christian Wiegand
Facebook: Tosset med havkajak / Mad about sea kayak
Instagram: cwseakayaking
Twitter: @cw_sea