2020-06-21 Dagstur langs Stevns klint, UNESCO verdensarv / Stevns cliff, UNESCO World Heritage Site
- Den unikke kystlinie, Stevns klint, nord for Rødvig havn, på Sjællands østkyst, skulle ligge vand til dagens tur i havkajakken.
- The unique coastline, Stevns klint, north of Rødvig harbor, on Zealand's east coast in Denmark, should be water for today's trip in the sea kayak.
- The unique coastline, Stevns klint, north of Rødvig harbor, on Zealand's east coast in Denmark, was to supply the water for today's paddle.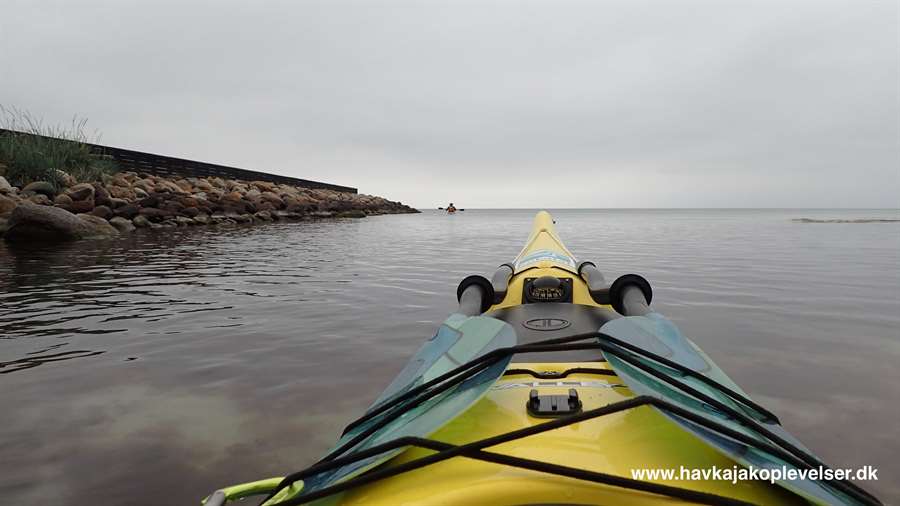 - Der er gode parkeringsforhold helt syd på havnen i Rødvig, og en fin sandstrand til at komme på vandet fra, så vi parkerede der, fik kajakkerne pakket og så på vandet.
- There is good and free parking south of the harbor in Rødvig, and a nice sandy beach to launch from, so we parked there, got the kayaks ready and then got on the water.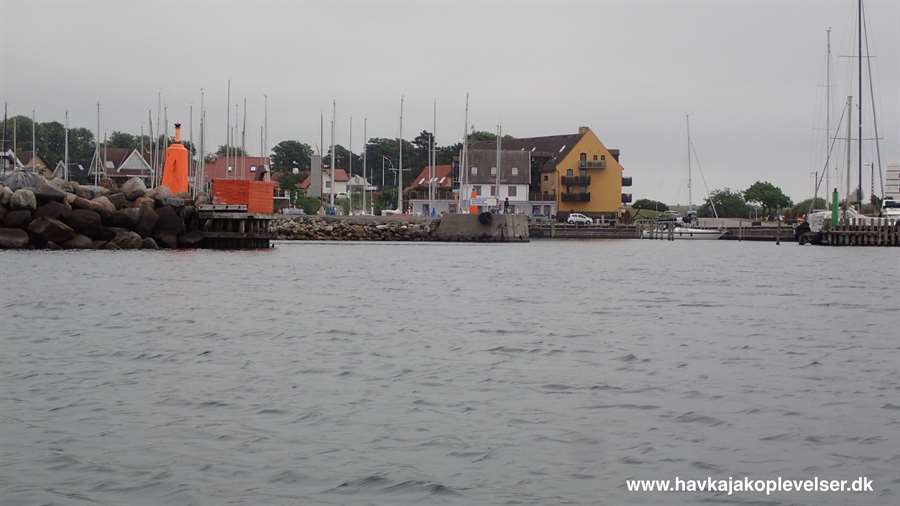 - Indsejlingen til den hyggelige Rødvig havn.
- The entrance to the charming Rødvig harbor.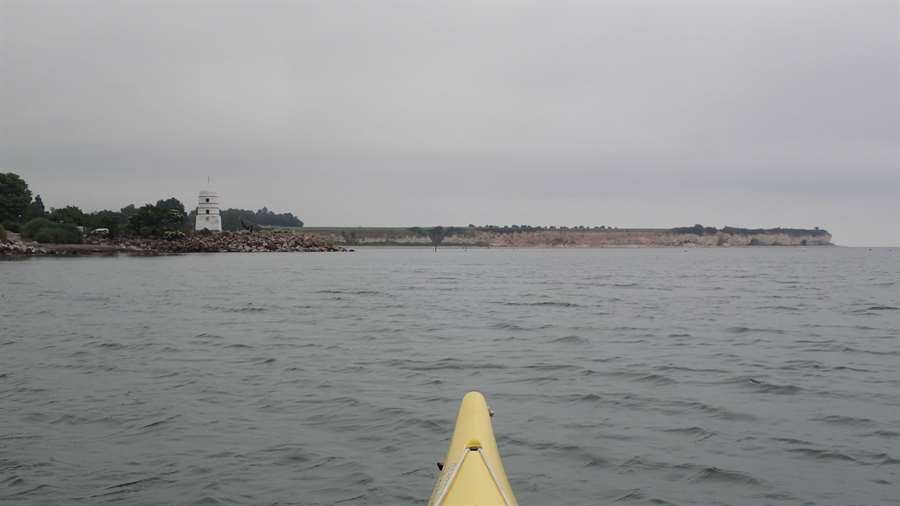 - Stevns klint lige nord for Rødvig. Klinten, af kridt,  strækker sig 17 km og er op til 41 m høj.
Stevns cliff just north of Rødvig. The chalk cliffs, stretches 17 km and is up to 41 m high.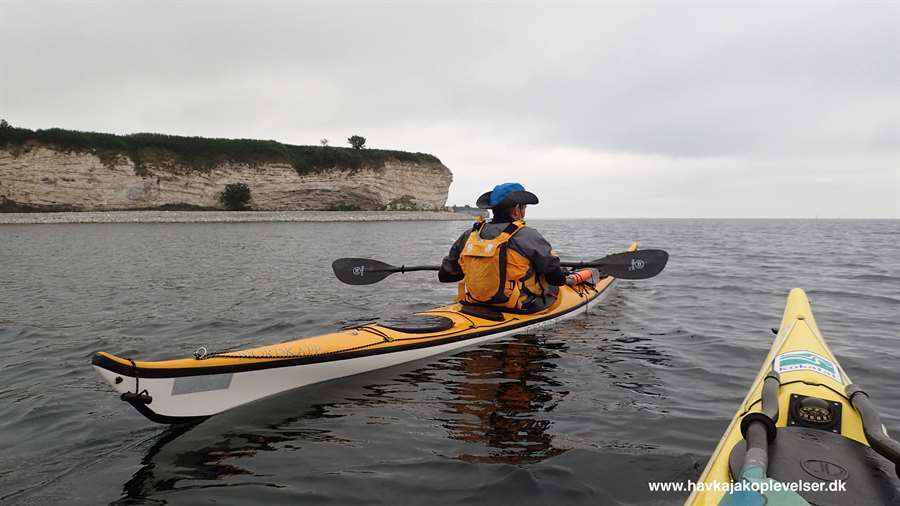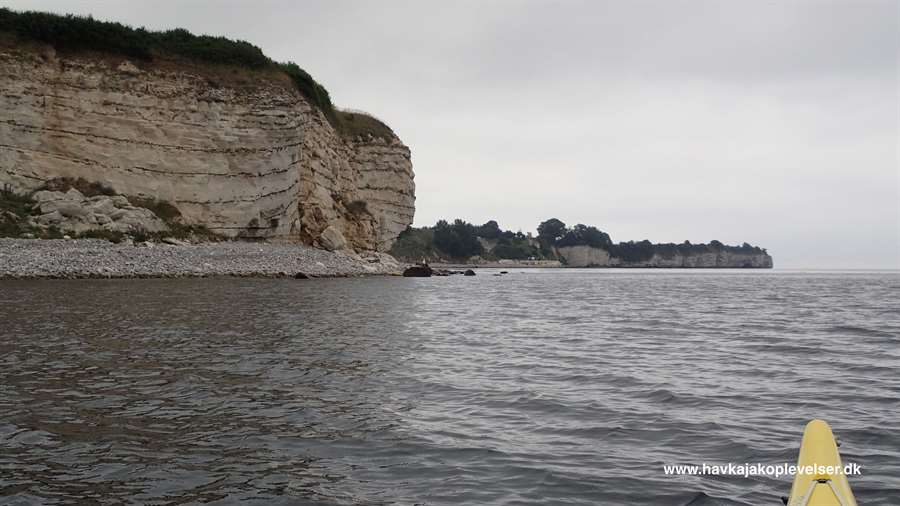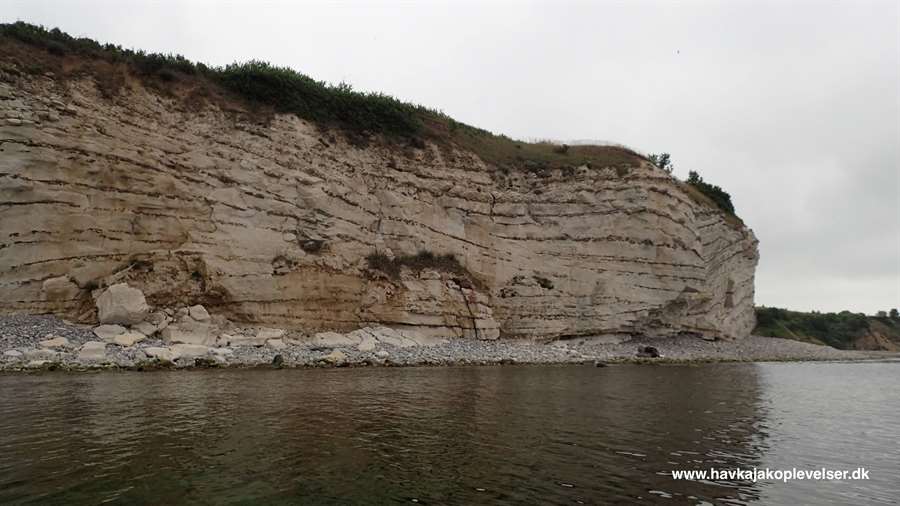 - De forskellige kridtlag er meget tydelige. Der findes mange fossiler i kridtlagene, og der er stor mulighed for at finde nogle af dem langs kystlinien.
- The different chalk layers are very clear. There are many fossils in the chalk layers, and there are good chances of finding some of them along the coastline.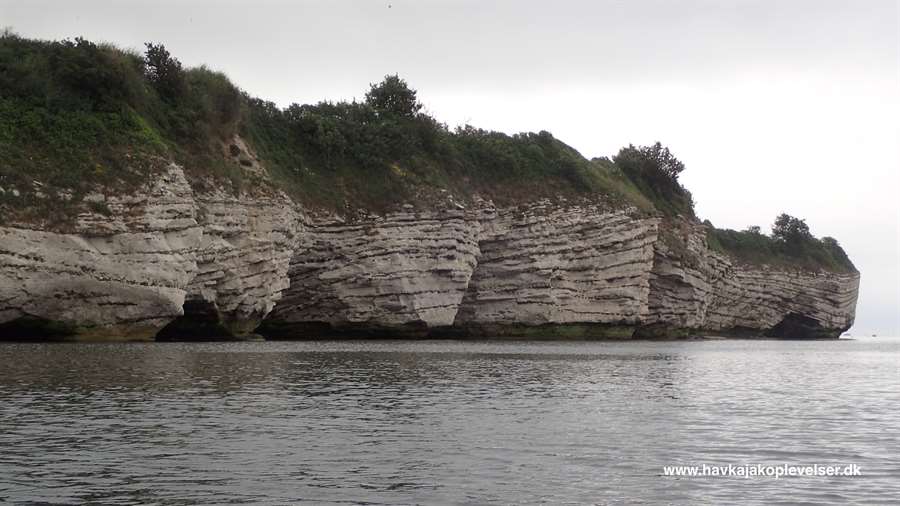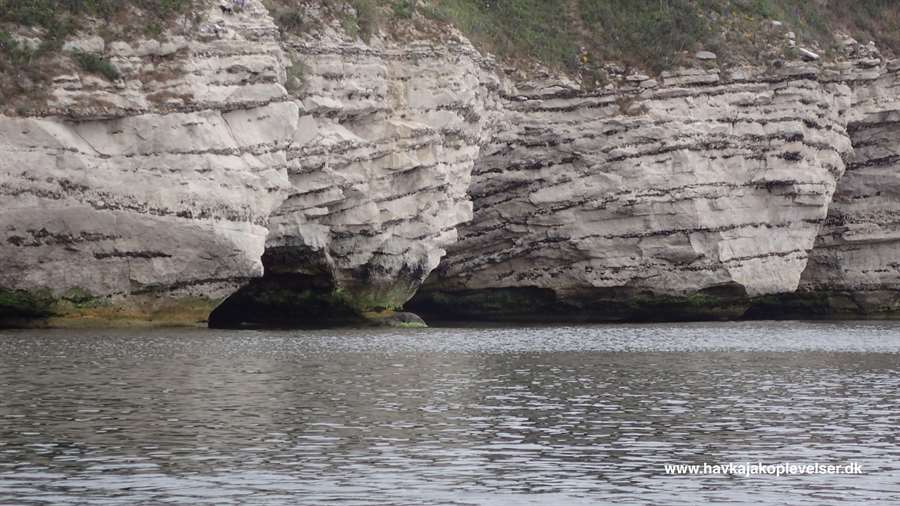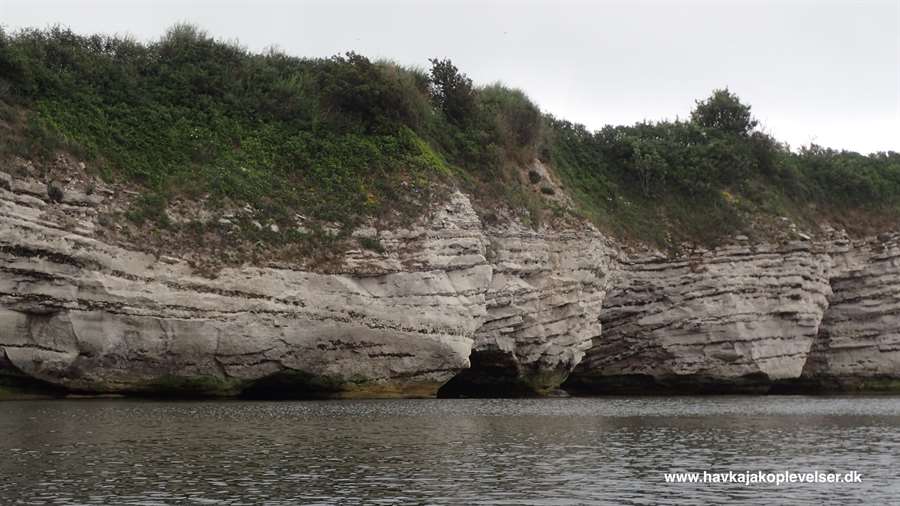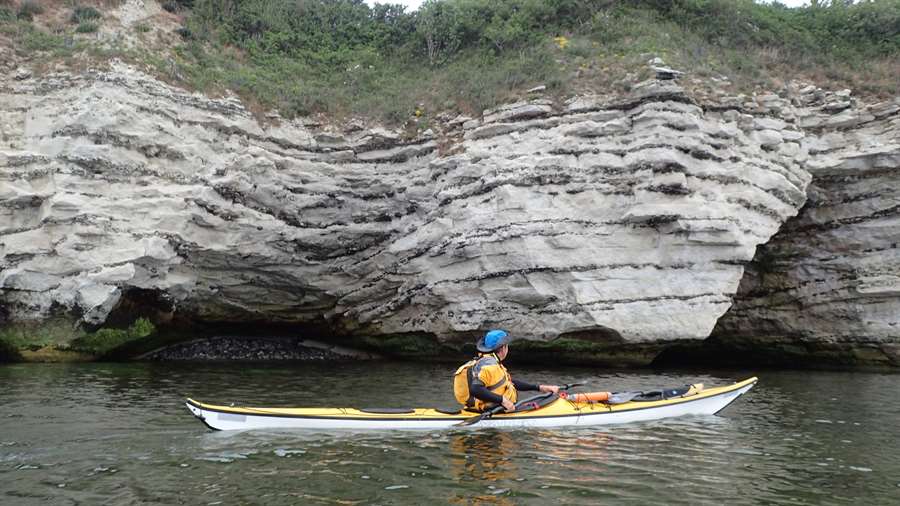 - Vi holder os inde under klinten, og er helt enige om, at det kunne være så mange andre steder vi var på vandet, end i Danmark.
- We stay close to the cliff, and quickly agree that it could be so many other places than in Denmark, we were on the water,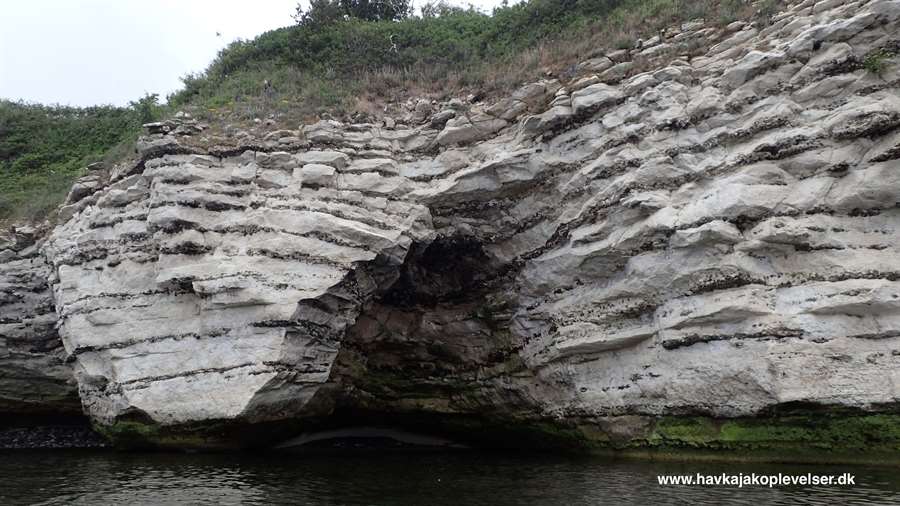 - Havets påvirkning giver på noget af strækningen er der masser af små "grotter".
- The influence of the sea, gives, on some of the stretch lots of small "caves".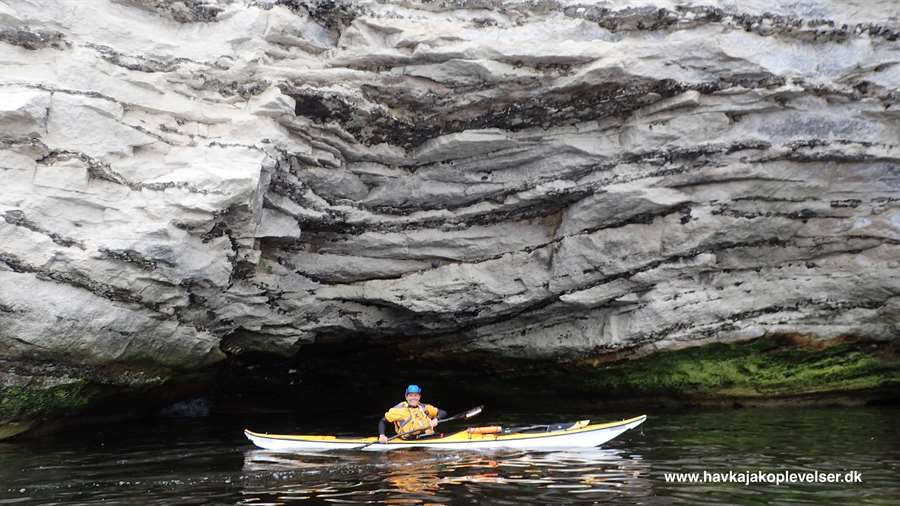 - Nogle steder er faktisk muligt at ro ind under skrænten, og få lidt fornemmelsen af at være inde i en grotte.
- In some places it is actually possible to paddle under the cliff, and get the feeling of being in a cave.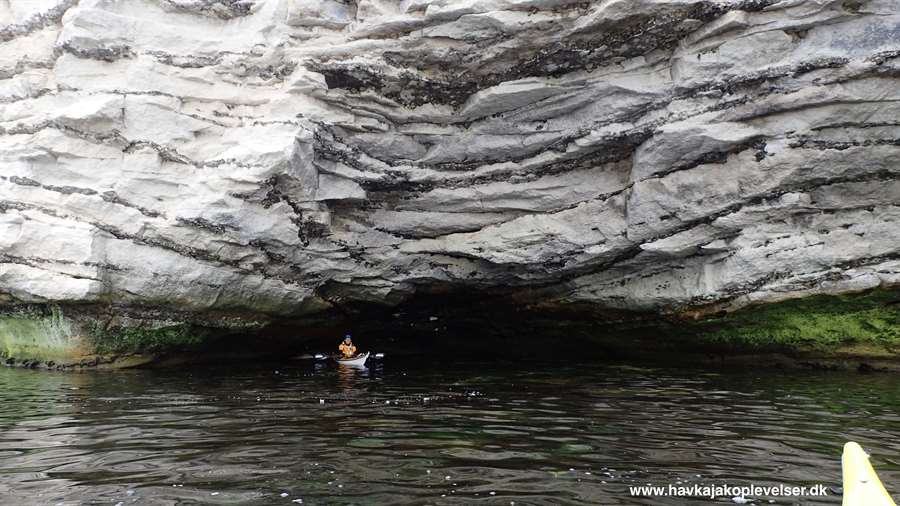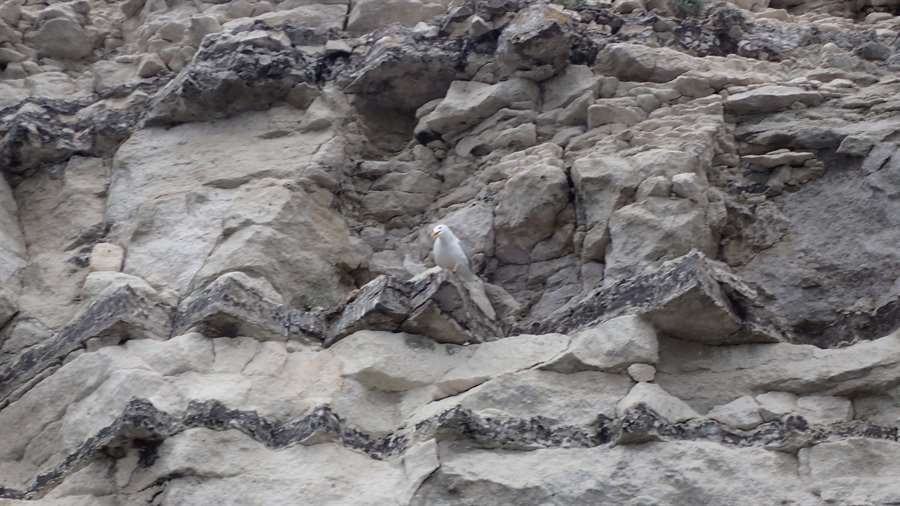 - En måge betragter os, fra en lille afsats.
- A seagull looks at us, from a small ledge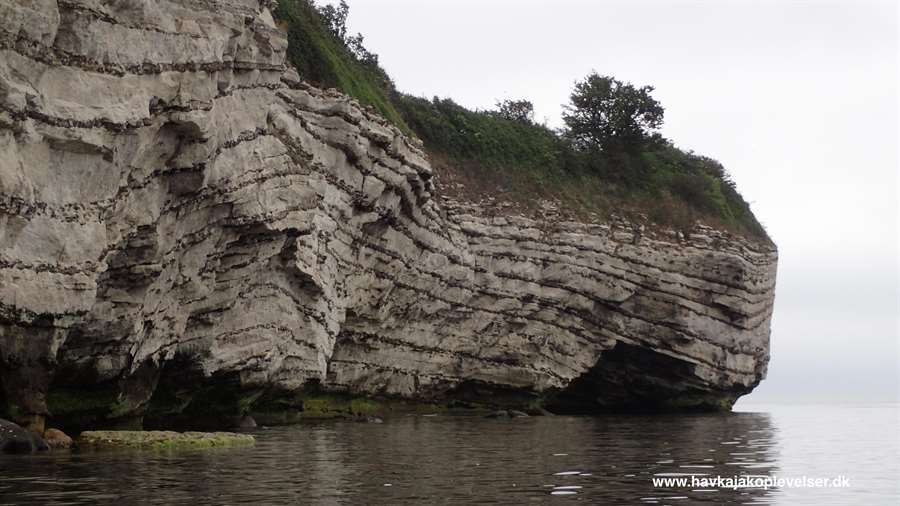 - Vi fortsætter nord mod Hørup kirke.
- We continue north towards Hørup church.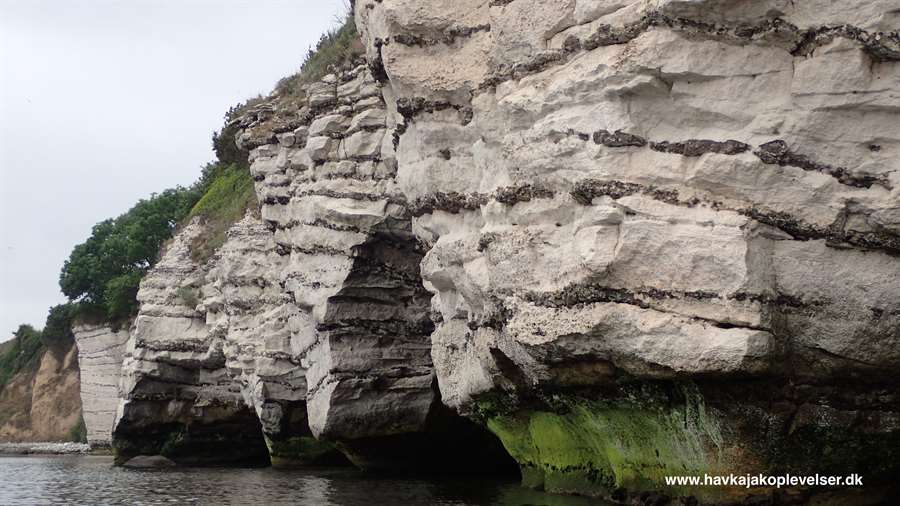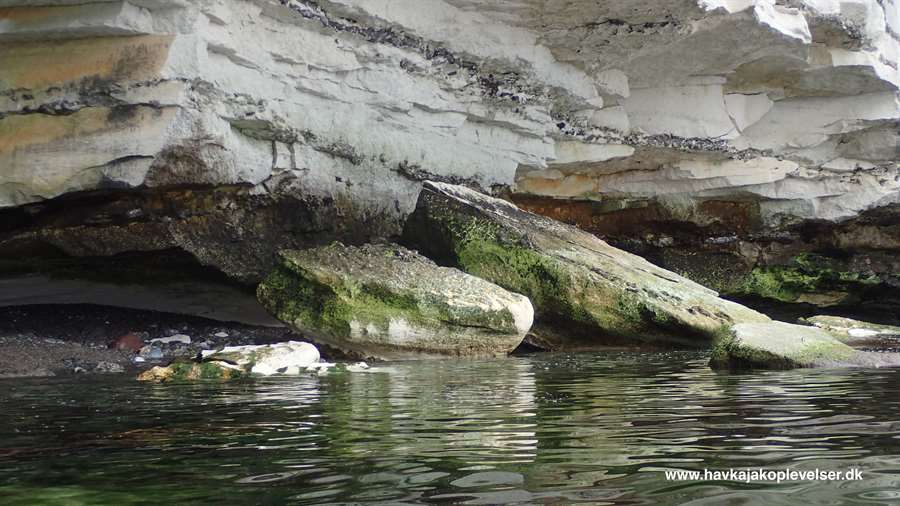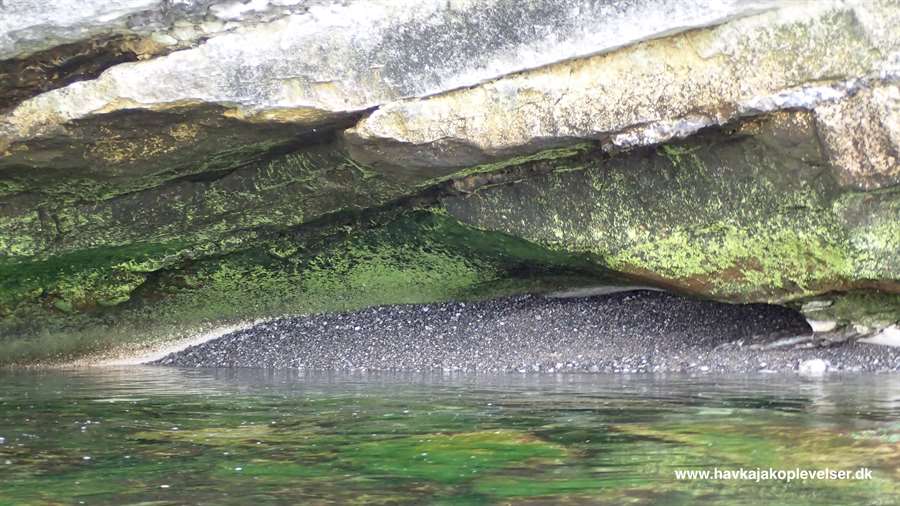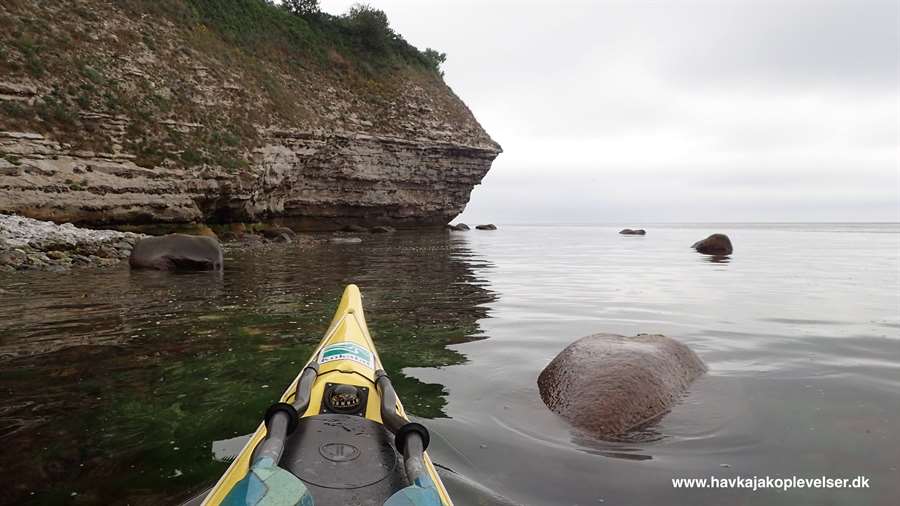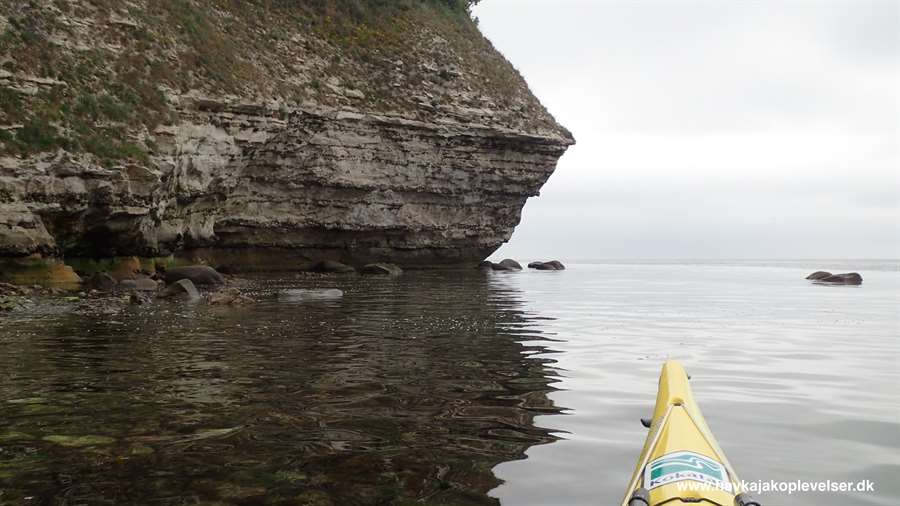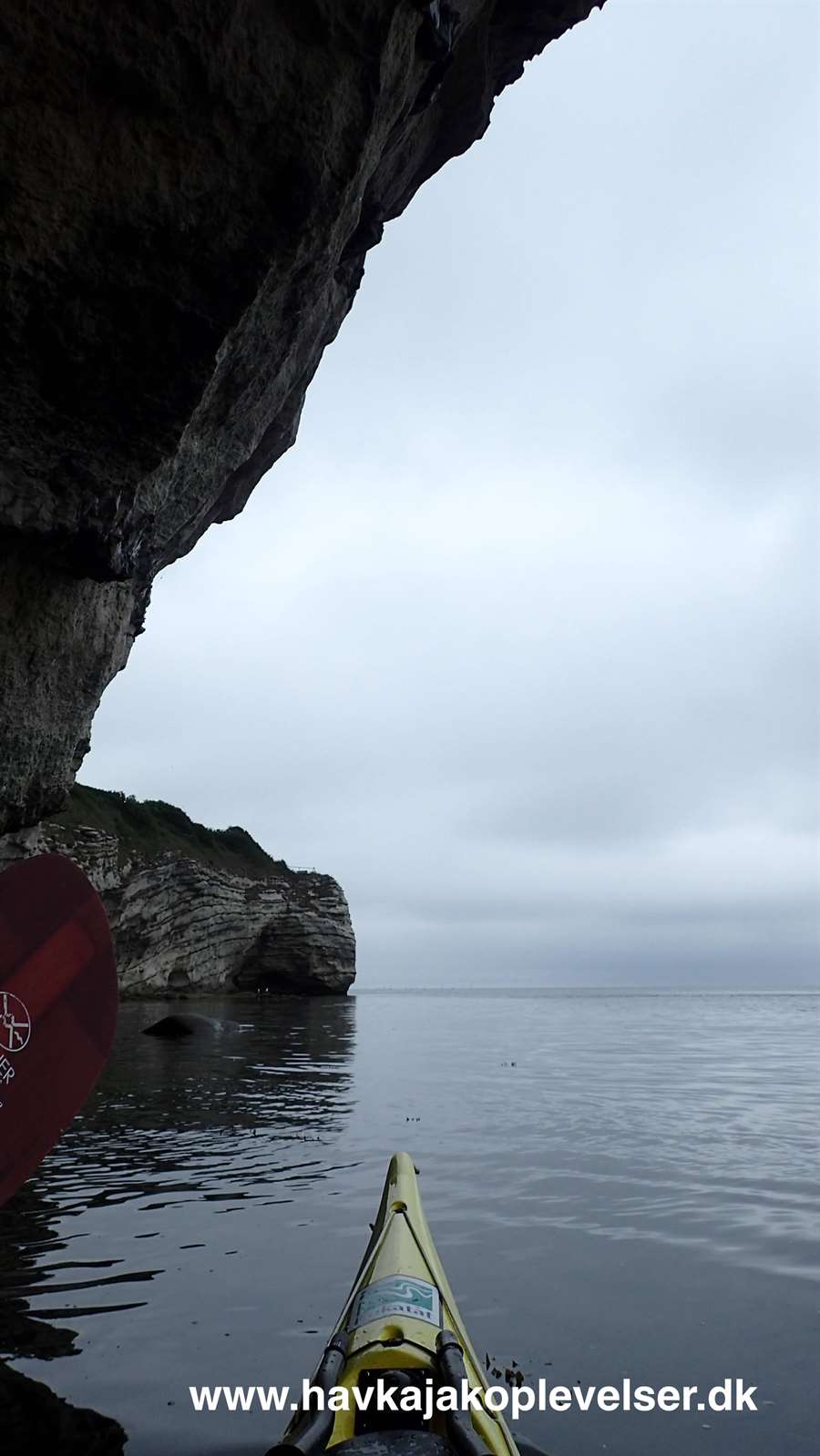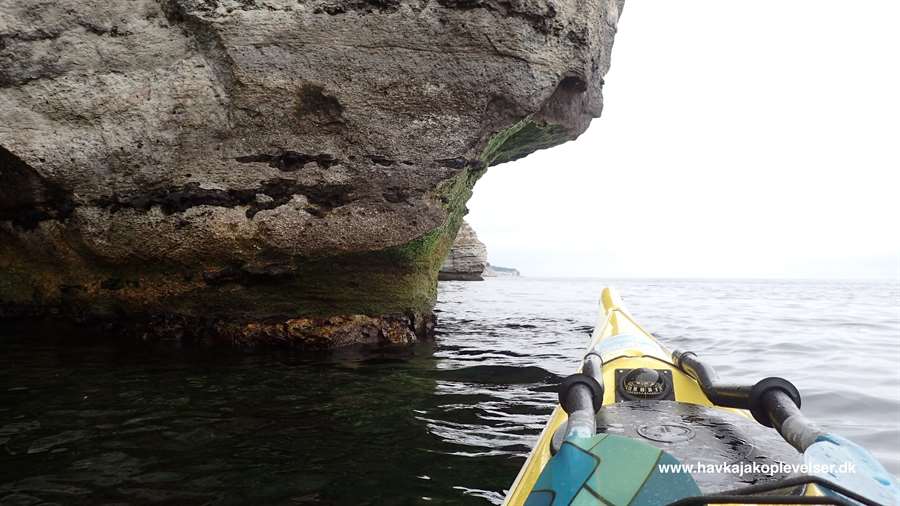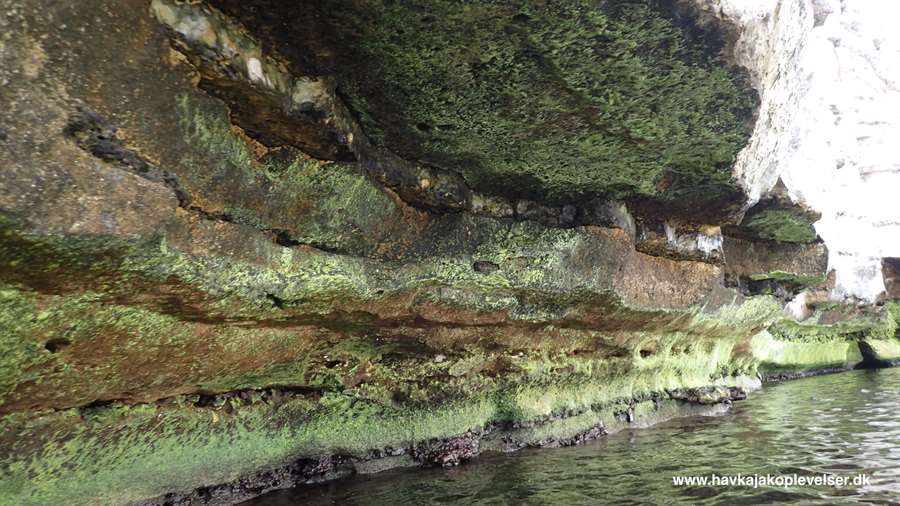 - Stevns klint består af kridt og kalk. Klinten bygges lag på lag af små organismer som mosdyr alger, og mikroskopisek kokkolitter, der engang levede i havet. 
-Stevns klint consists of chalk and lime. The cliff is built layer upon layer by small organisms such as mossy algae, and microscopic coccoliths that once lived in the ocean.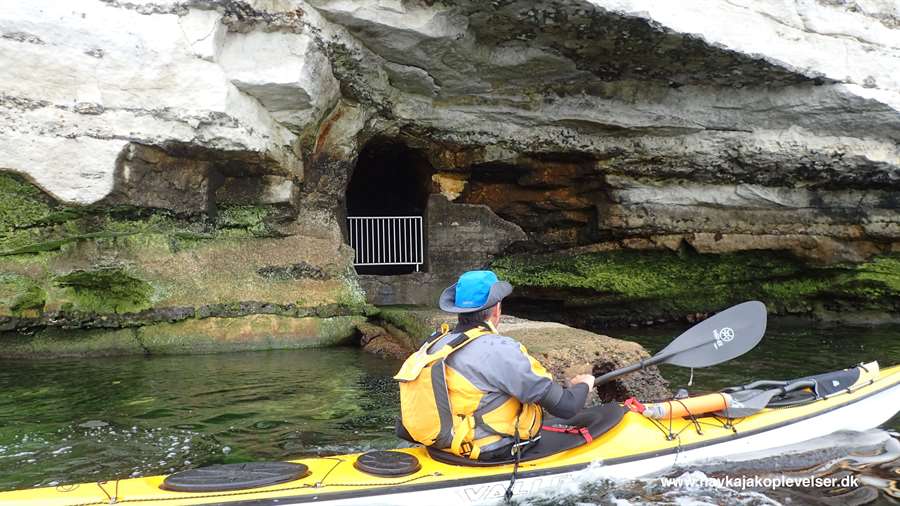 - Stevns klint er mere end kridt, kalk og fossiler. Der er også Stevnsfortet, med 1,8 kilometer lange, underjordiske gange, skåret ud i Stevns Klint. Fortet var aktivt i 40 år, men lukkede ned i 2000. I 2008 åbnede fortet op, men denne gang som muserum der formidler om den kolde krig, og man kan nu kommepå en guidet tur tilbage i tiden, og opleve dele af den velbevarede militærhistorie 18 meter under jorden. Hvorvidt man kan komme ind, efter aftale med museet gennem en af de to døre ved vandet, ved jeg ikke, men der er fine parkeringsforhold oppe ved hovedindgangen, og en fantastisk udsigt til Møn og ud over Østersøen.
- Stevns cliff is more than chalk, lime and fossils. It also features Stevns Fort, with 1.8 kilometers of underground passages cut into Stevns cliffs. The fort was active for 40 years, but was shut down in 2000. In 2008, the fort opened up, but this time as a museum room that conveys the Cold War, and you can now take a guided tour back in time, and experience parts of the well-preserved military history 18 meters underground. Whether you can enter, in agreement with the museum, through one of the two doors on the water, I do not know, but there are good parking up at the main entrance, and stunning views to the Isle of Møn, and out to the Baltic Sea.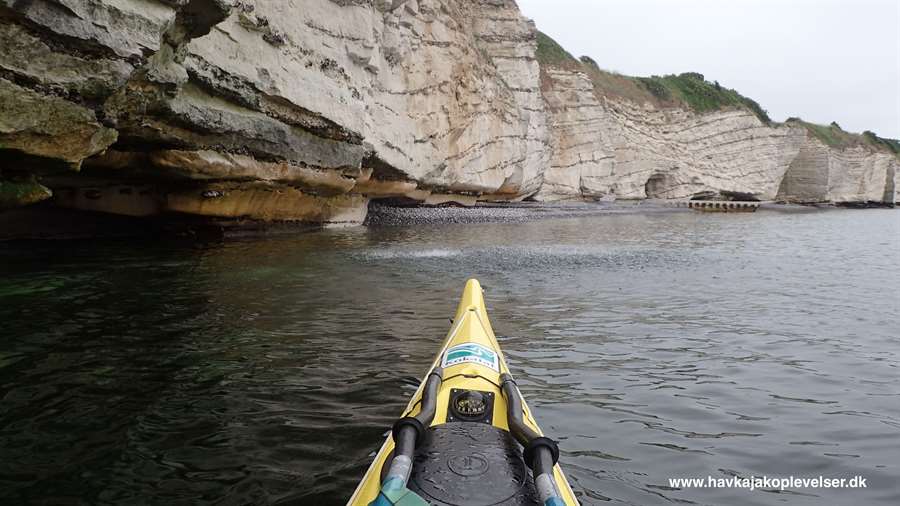 - Vi kommer forbi hvor lidt vand falder fra klinten og ned i havet.
- We pass the little water falls from the cliff and into the sea.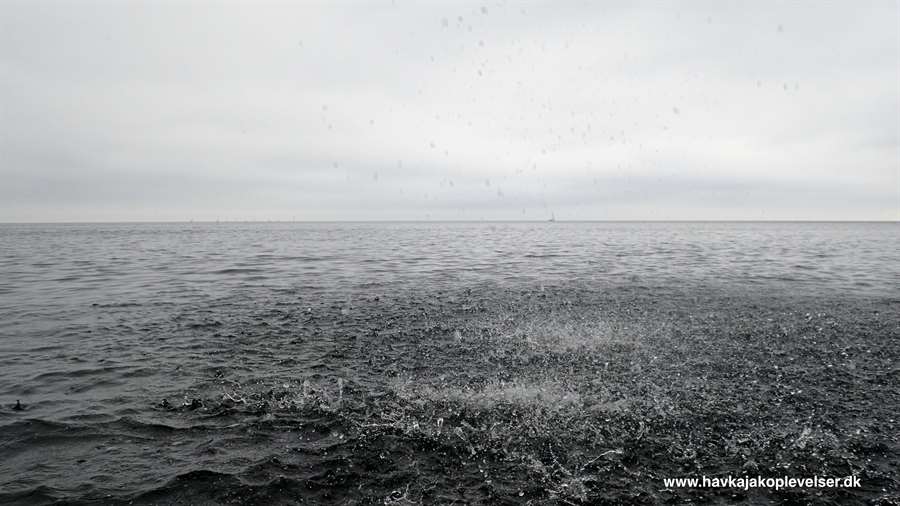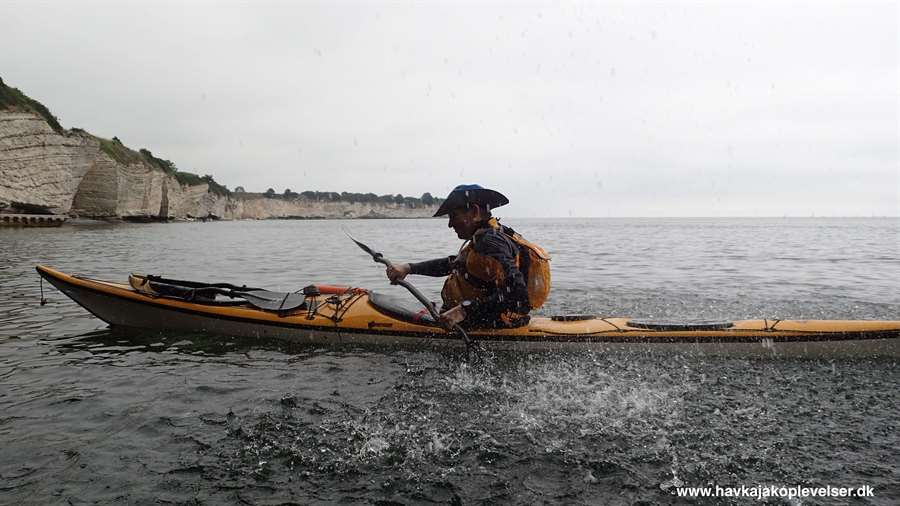 - Selvfølgelig gik der lidt leg i det.
- Of course we hade to play a bit.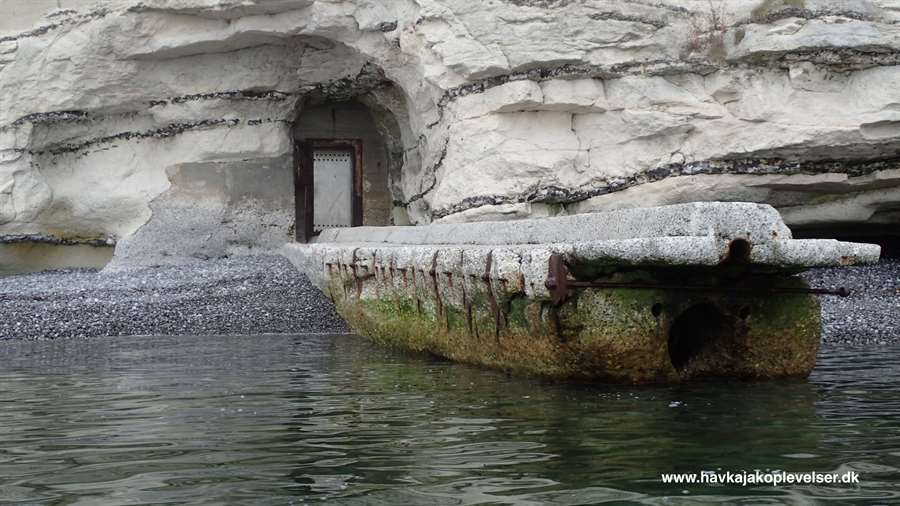 - Den anden indgang til fortet ligger lidt længere fremme på kysten. 
- The other entrance to the fort is a bit further up the coast.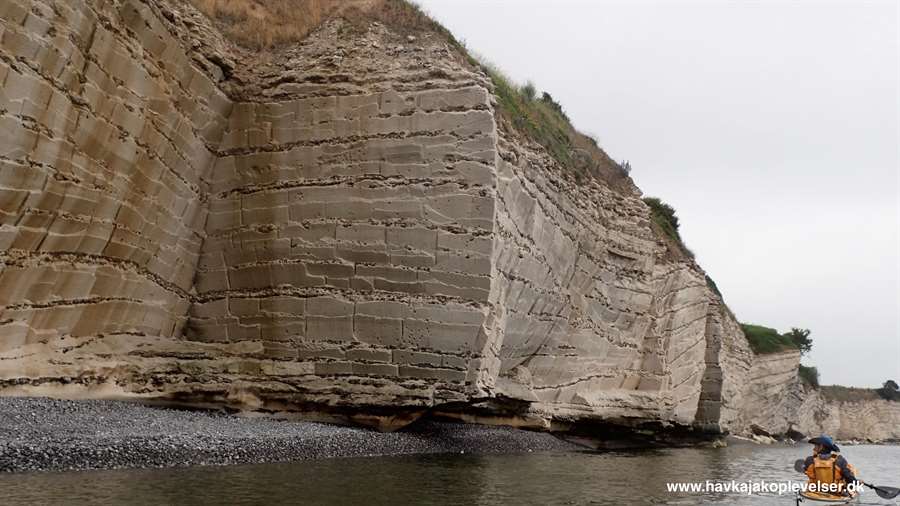 - Klinten ændre karakter, fra lag der ligger som bølger, bliver lagene mere lige og kantet.
- The cliff changes character, from layers that lie like waves, the layers become more straight and angular.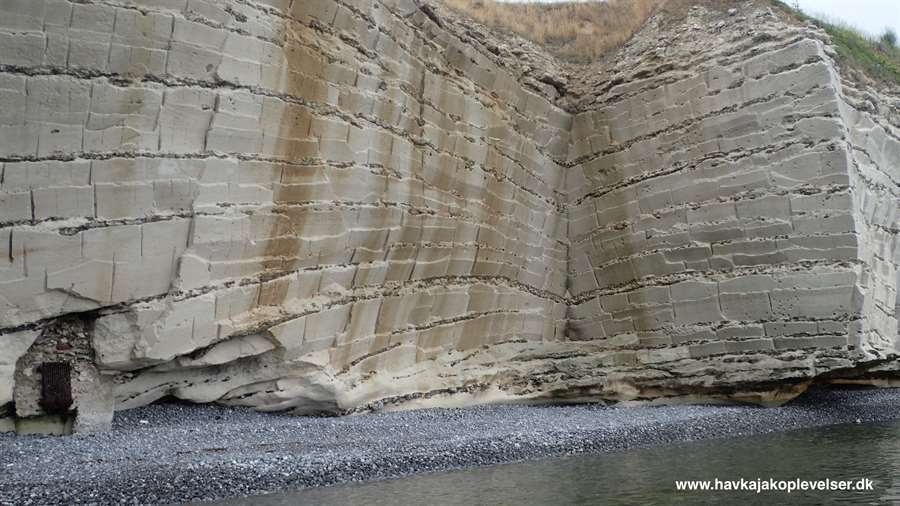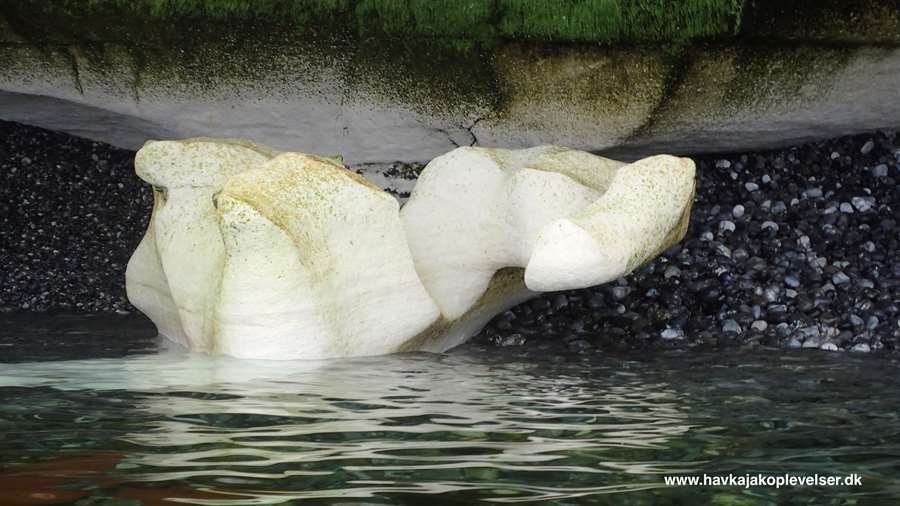 - Naturen skaber kunstværker langs kystlinjen.
- Nature creates works of art along the coastline.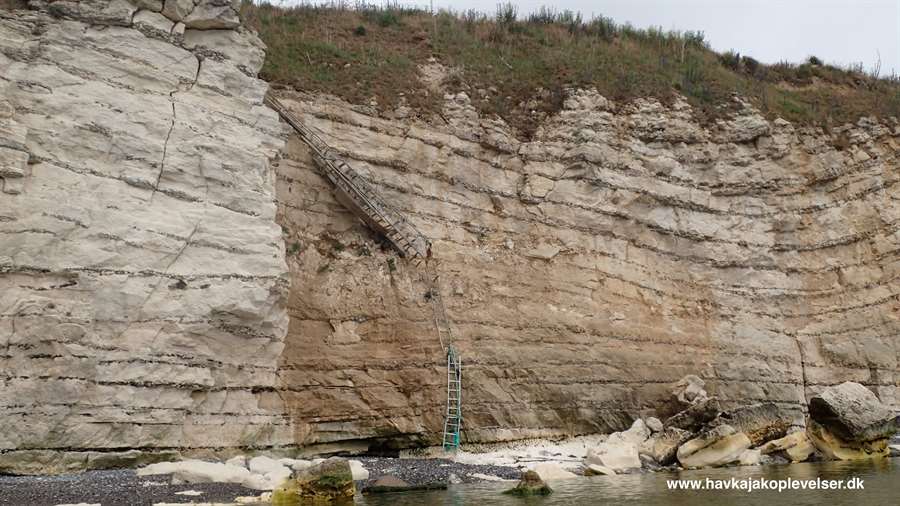 - Hvorvidt nedgangen til vandet er kunst, må være op til den enkelte.
- Whether the way down to the water is art must be up to the individual.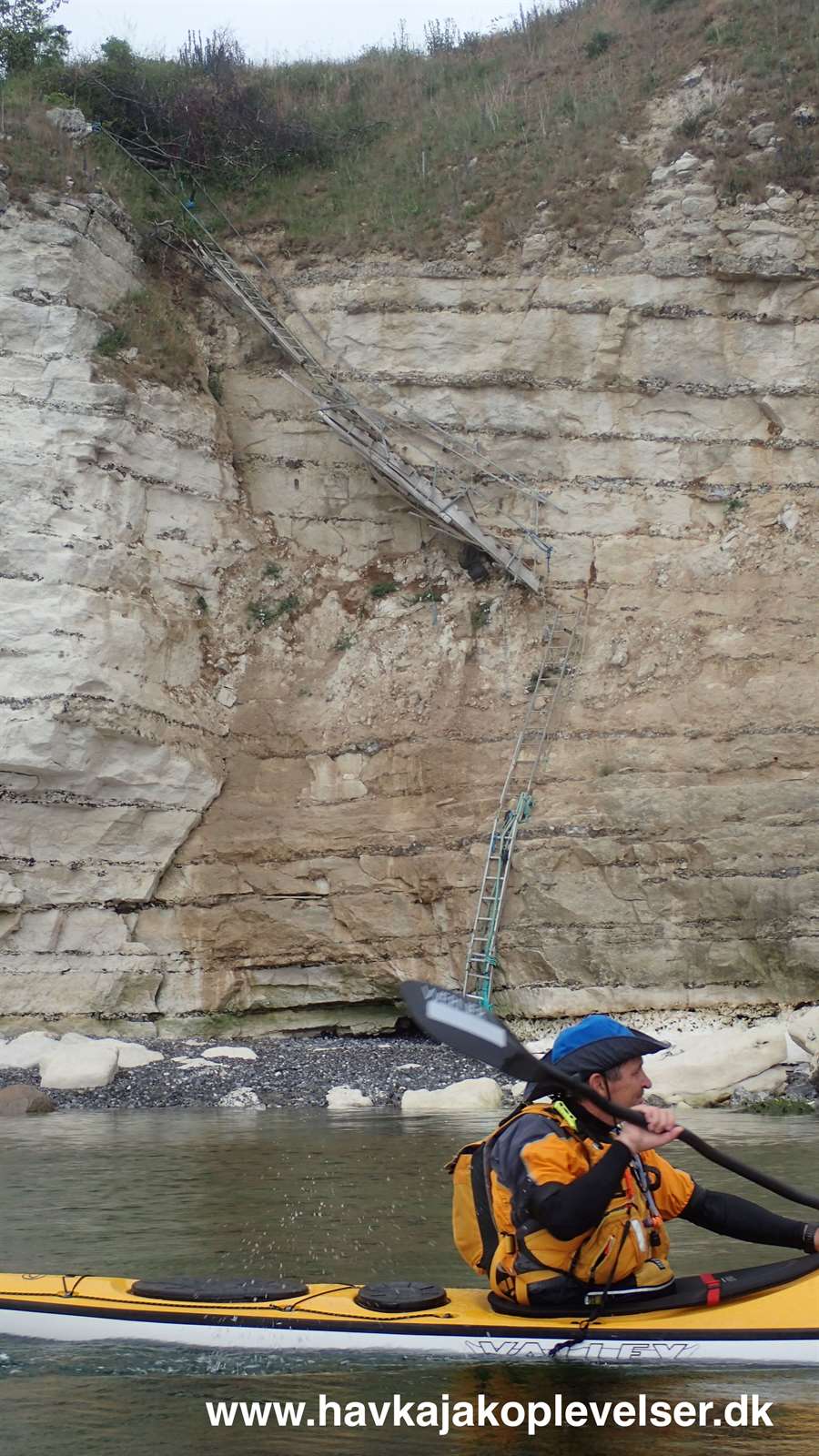 - Men det er en alternativ konstruktion.
- But it is an alternative construction.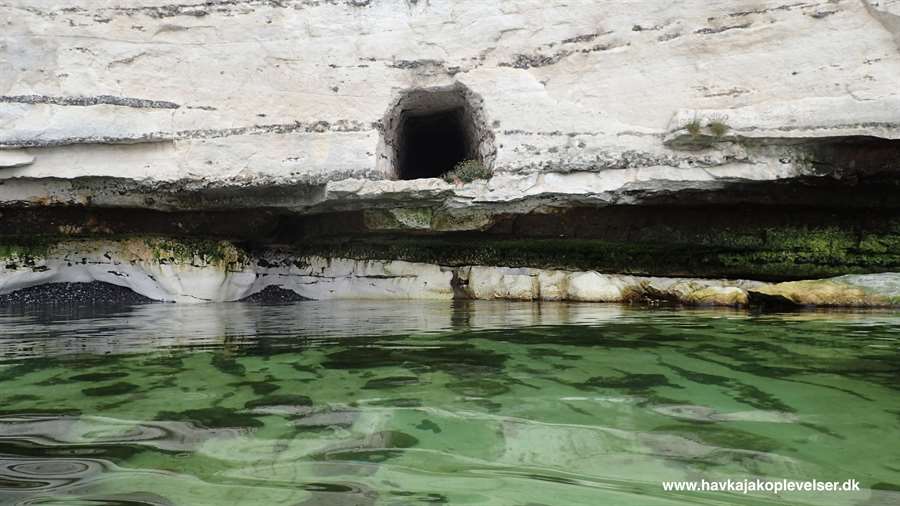 - Endnu en indgang til fortet.
- Another entrance to the fort.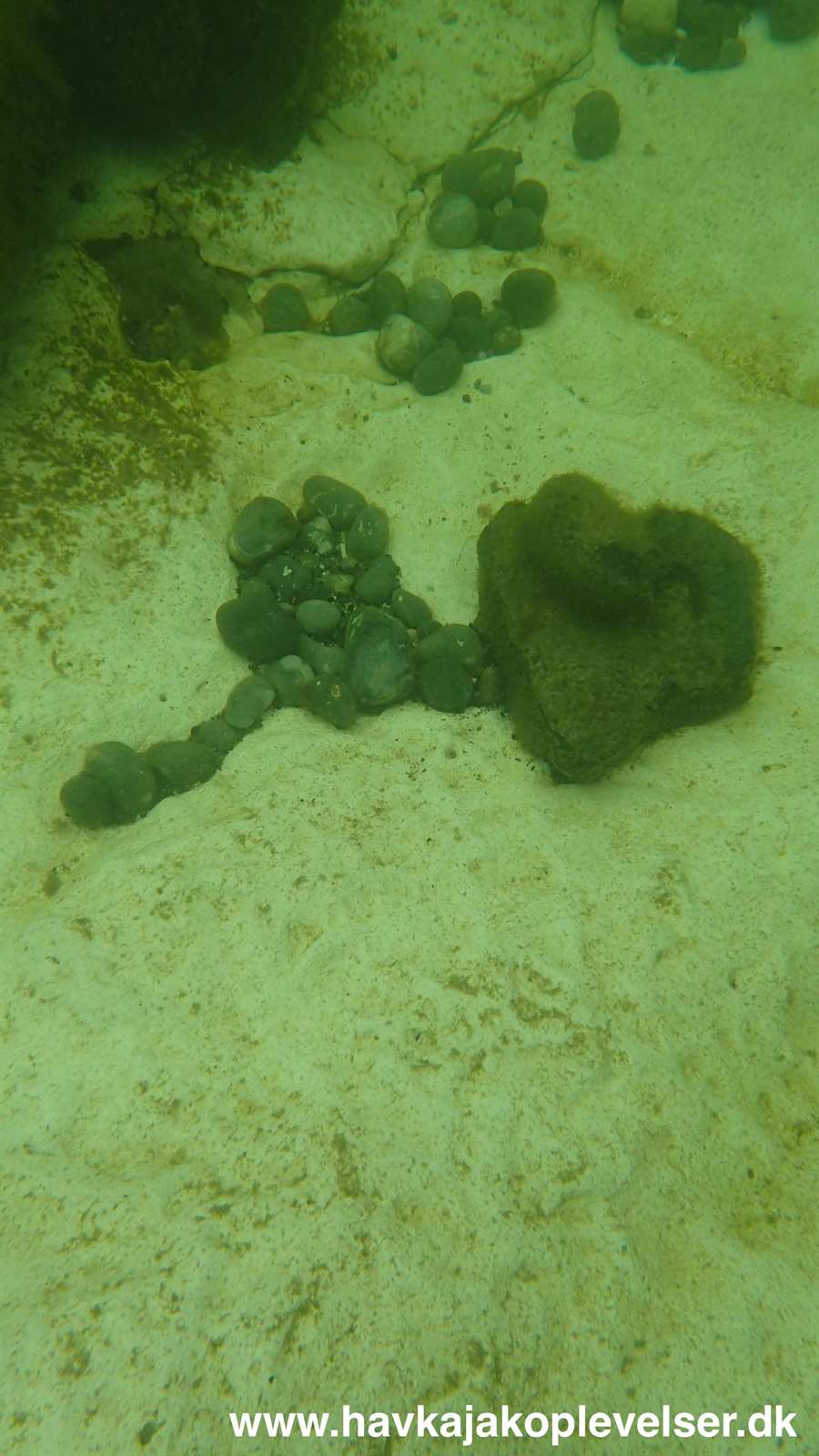 - I det helt klare vand, ser vi endnu engang nogle af naturens "kunstværker".
- In the clear water, we once again see some of nature's "work of art".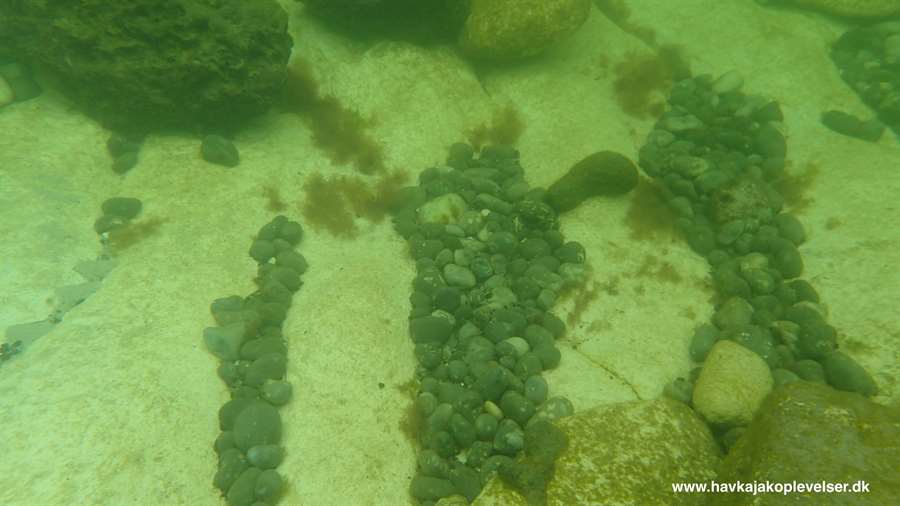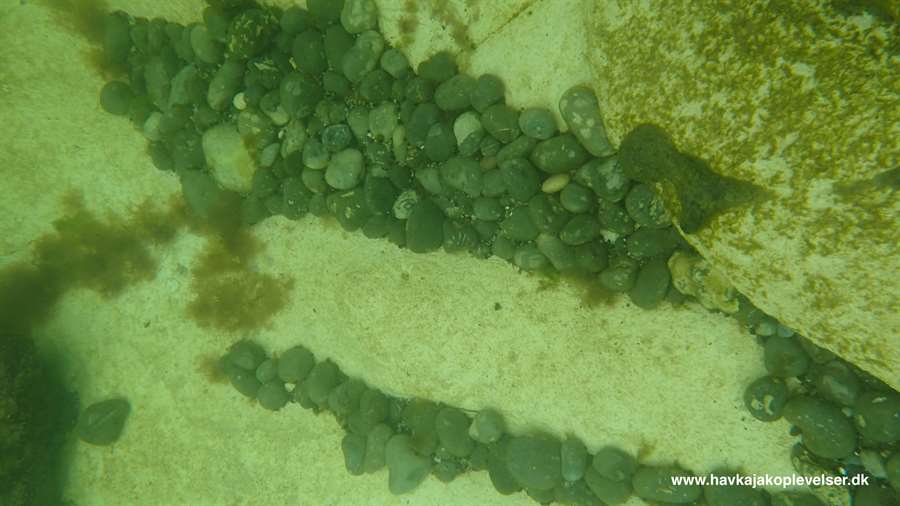 - Jeg spekulerede lidt på om det kunne være menneskeskabt, men der er 2-3 m. dybt, og ingen mulighed for at komme her, med mindre man kommer fra vandsiden, som vi gjorde.
- I wondered a bit if it could be man-made, but there is 2-3 m. deep water, and no possibility to get here, unless you come from the water side, as we did.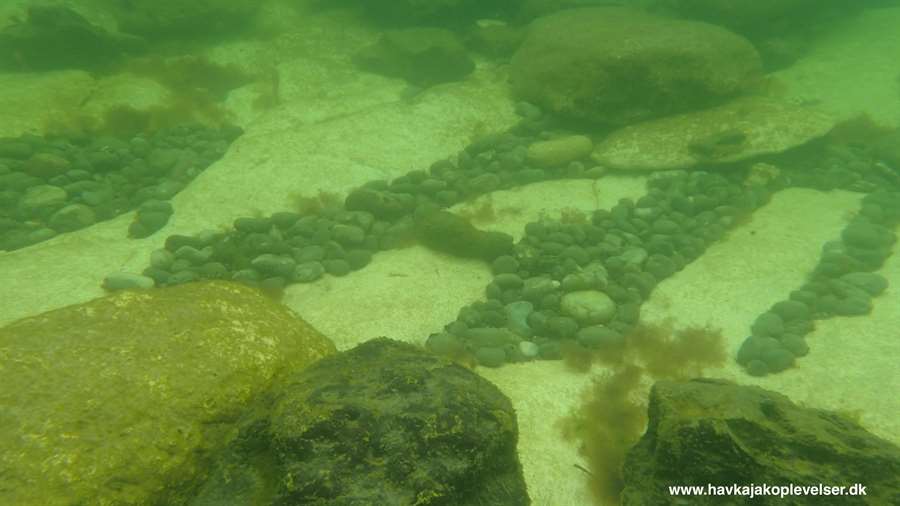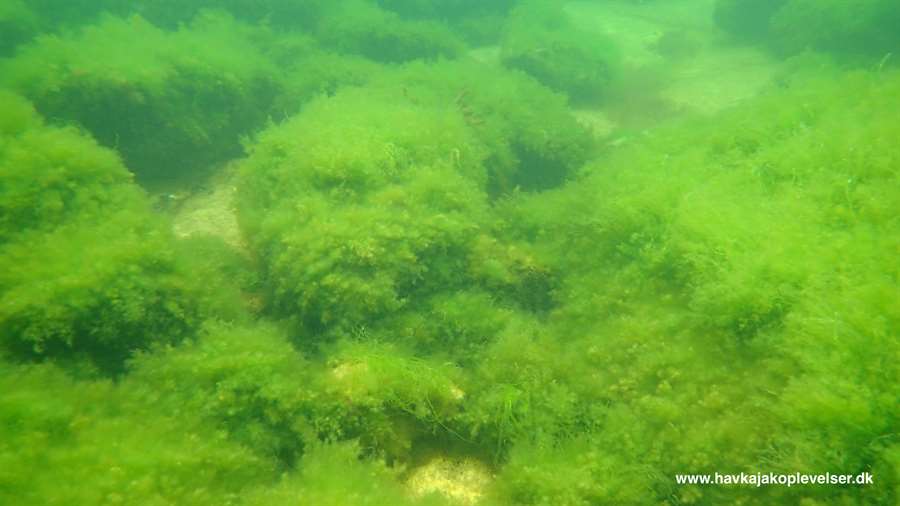 - Vi nyder det klare vand.
- We enjoy the clear water.
- Endnu en par de mange alternative adgange til vandet.
- A few more the many alternative accesses to the water.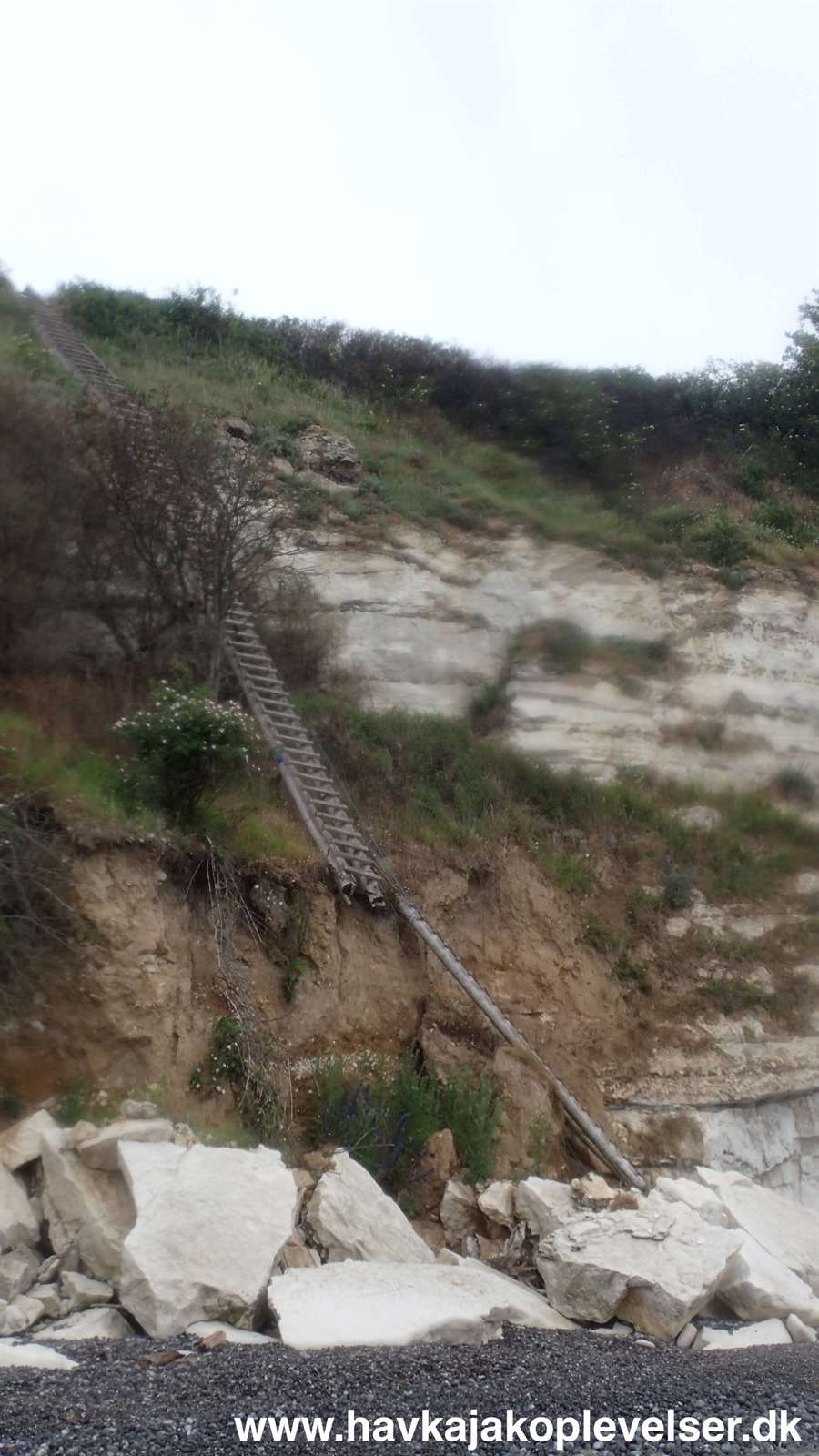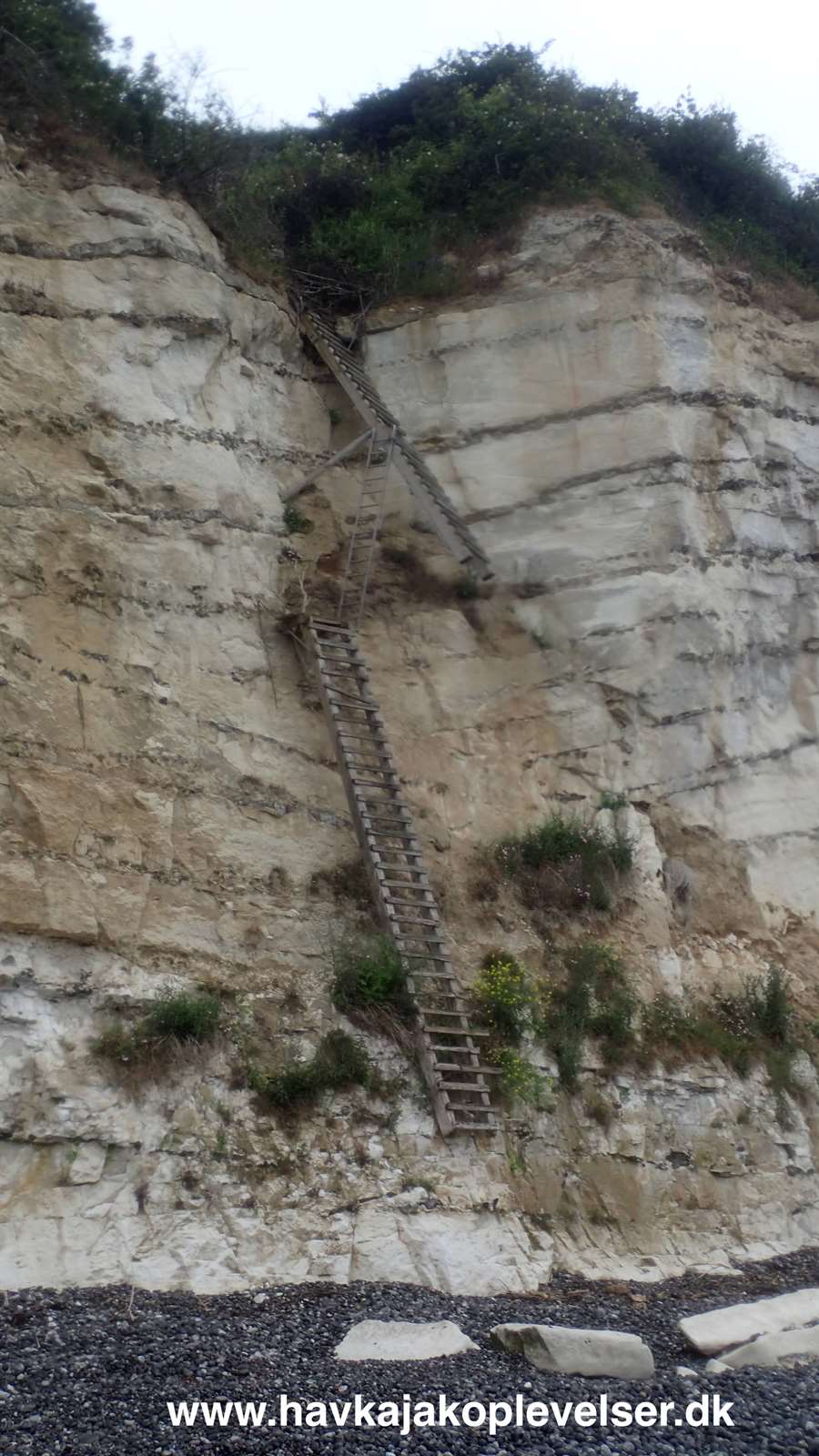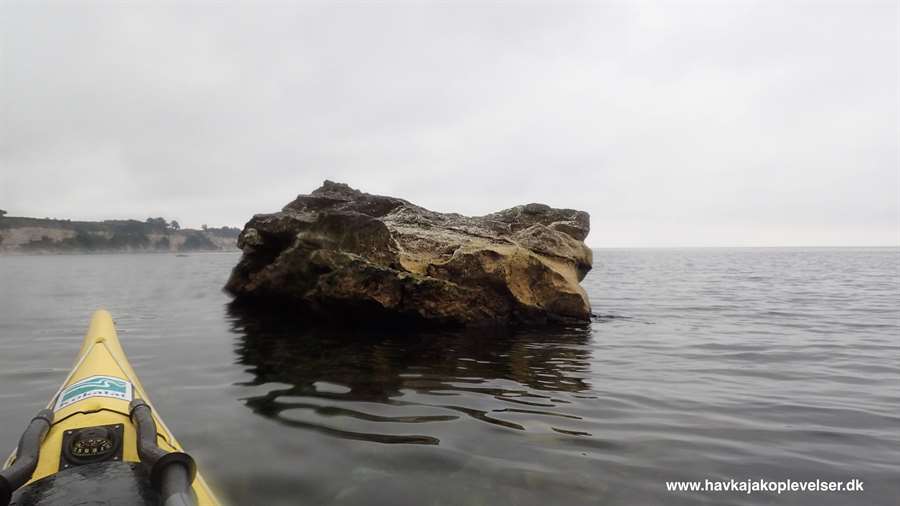 - Kystlinjen ændre sig igen, og store stykke fra klinten ligger i vandet.
- The coastline changes again, and large stretch of the cliff lies in the water.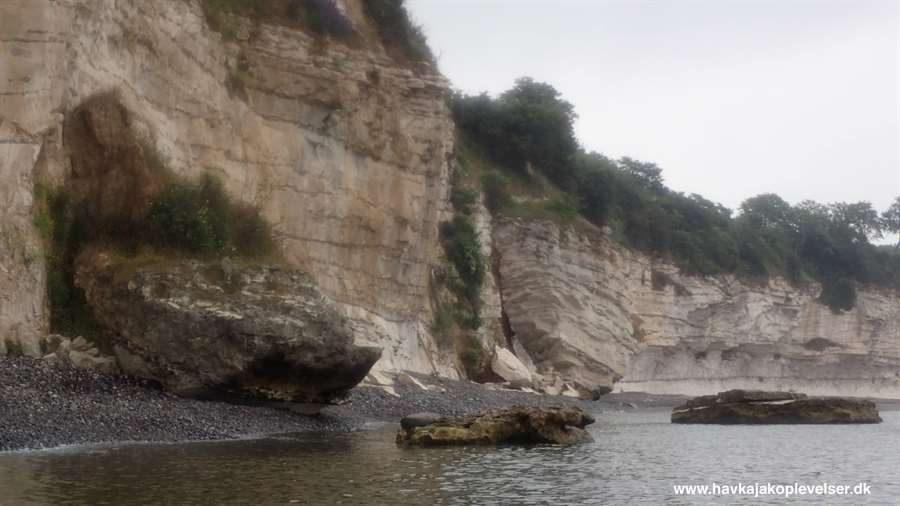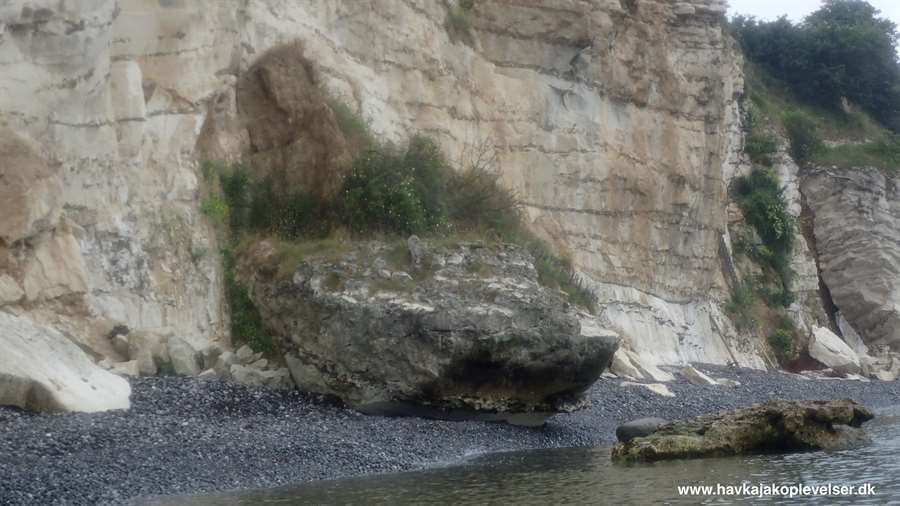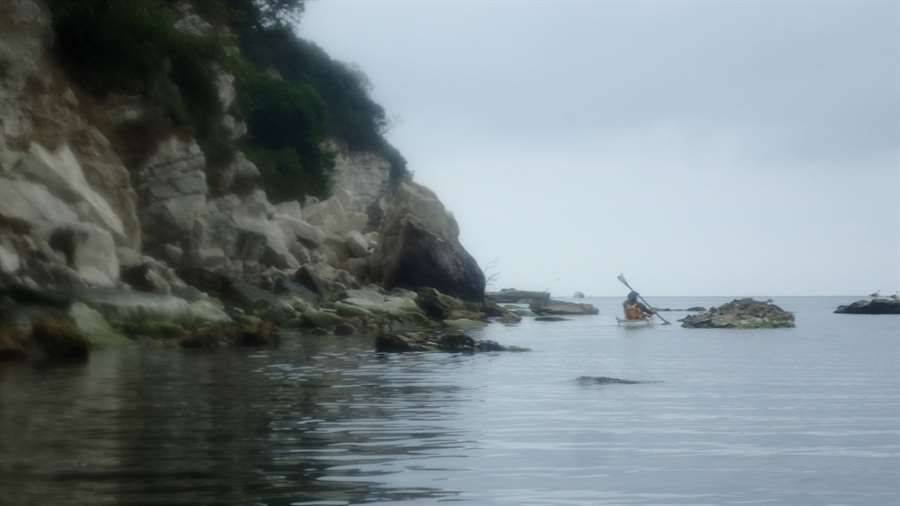 - Vi kan ikke lade være med at rockhoppe lidt.
- We can not help to do a bit of rockhopping.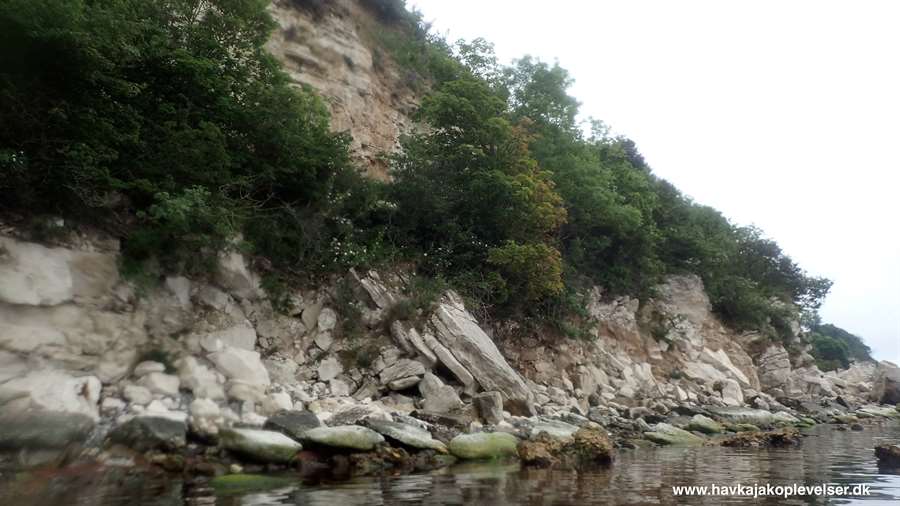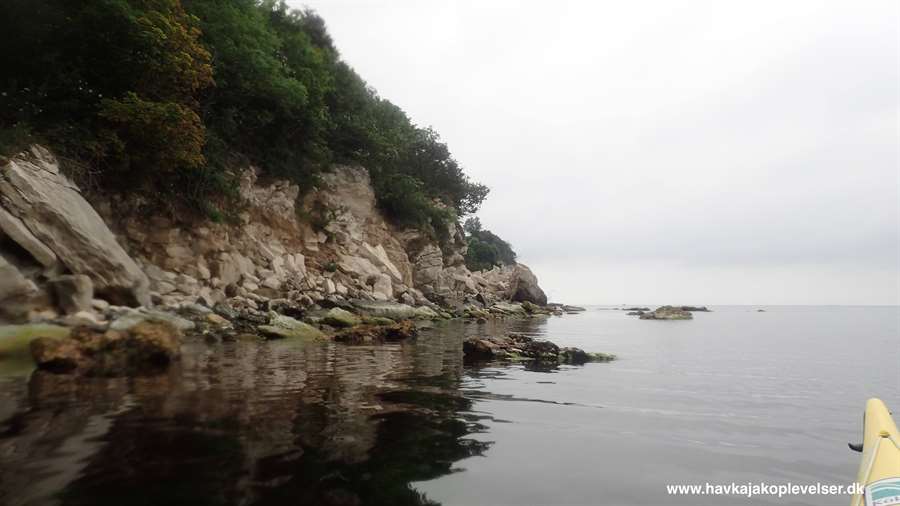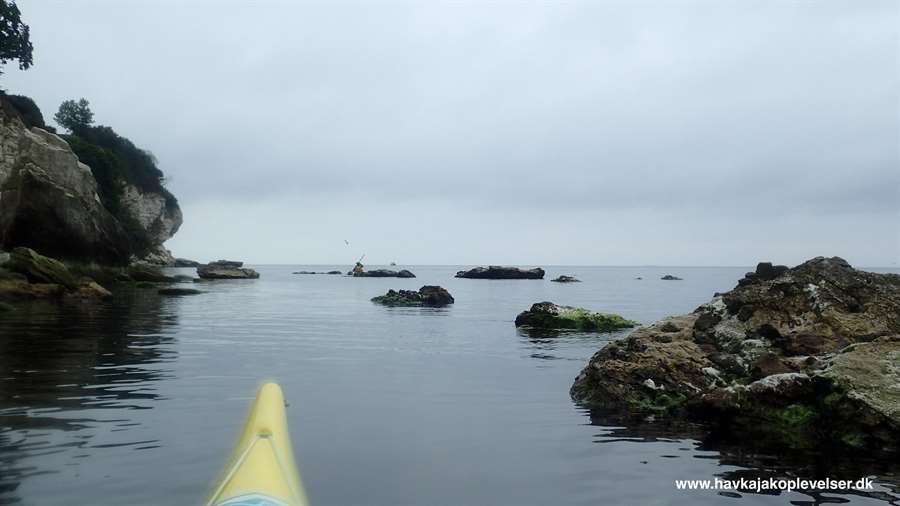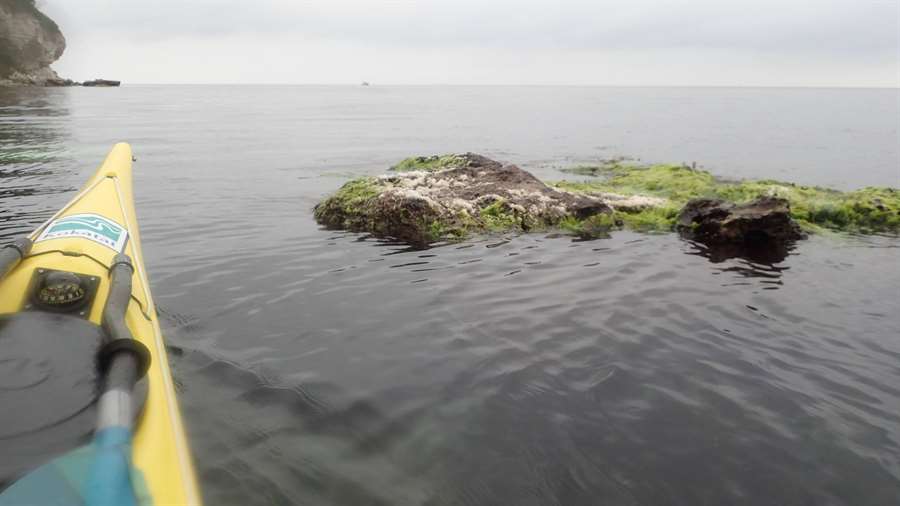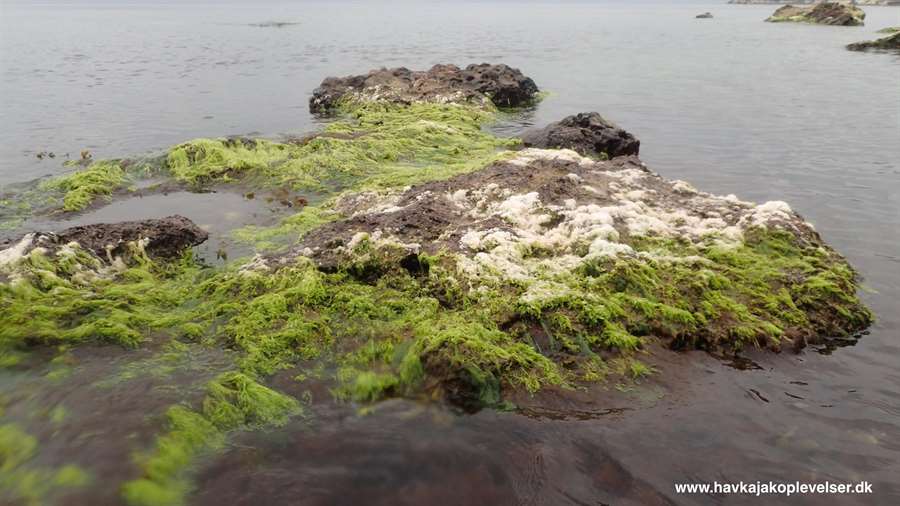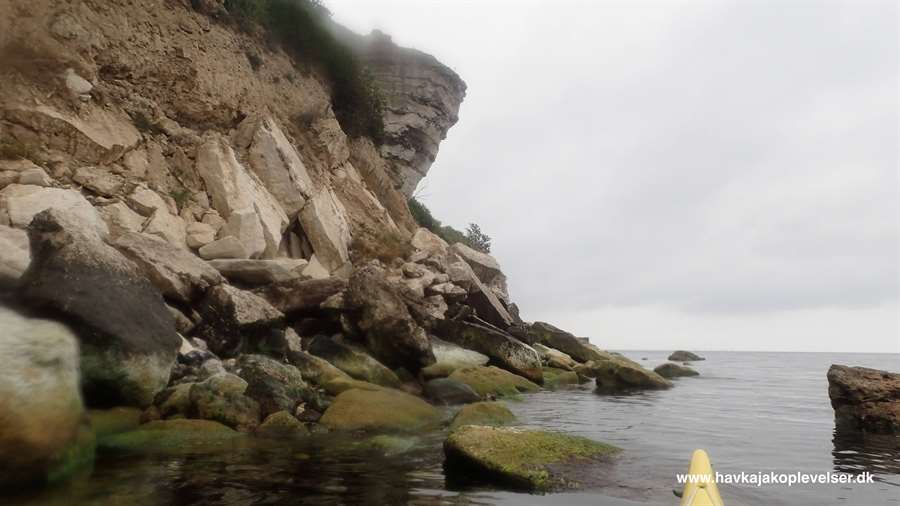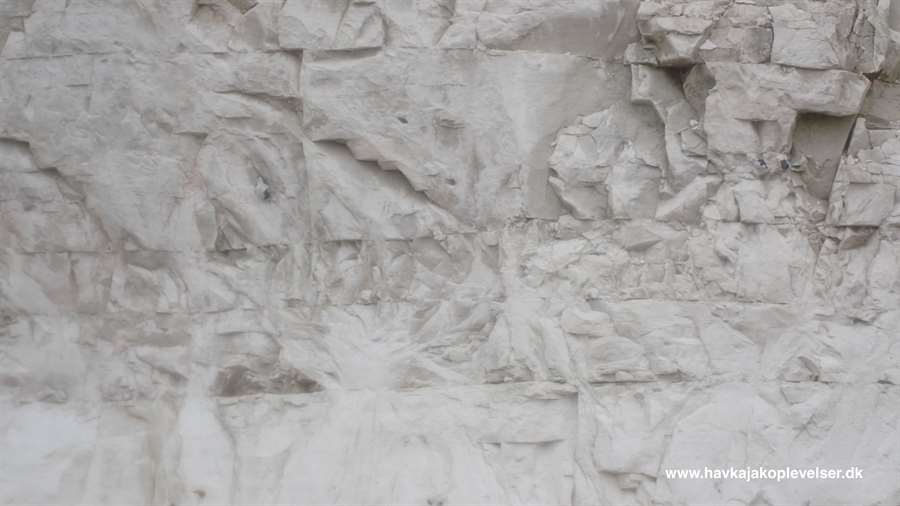 - Naturligt skabt "abstrakt kunst", denne gang på selve klinten.
Naturally created "abstract art", this time on the cliff itself.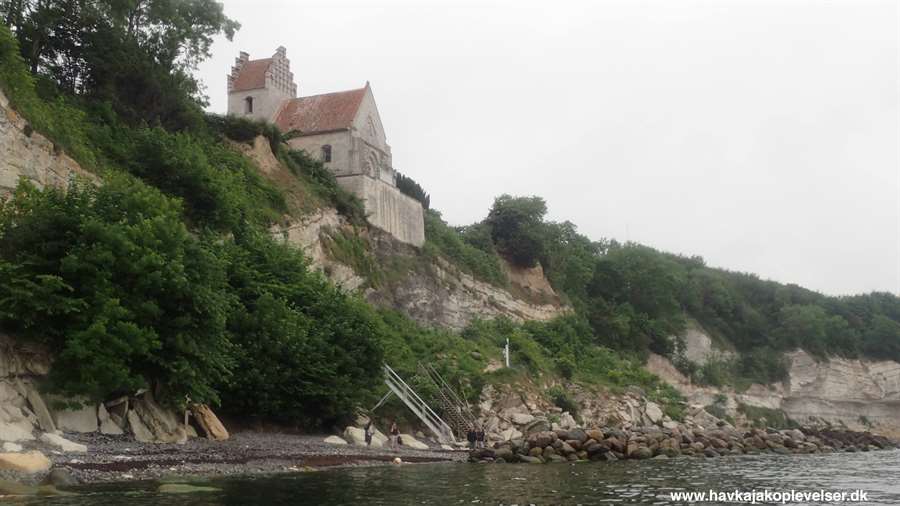 - Vi når frem til Hørup kirke. Kirkens historie er noget helt for sig selv, kirkegården er for mange år faldet i havet, lige som noget af kirken. Der er mulighed for at lande på stranden, og gå op og se selve kirken og historien om den. Så vidt jeg husker, er der et hyggeligt sted ved siden af kirken hvor der severes mad og drikke. Har man ikke været der oppe, så vil jeg anbefale man gør det.
- We reach the church of Hørup. The history of the church is something in itself, the cemetery was taken by the sea years ago, just like some of the church. You can land on the beach, and have a walk up to see the church itself, and its history. As far as I remember, there is a cozy place next to the church, where food and drink are served. If you have not been up there, I would recommend you to do it.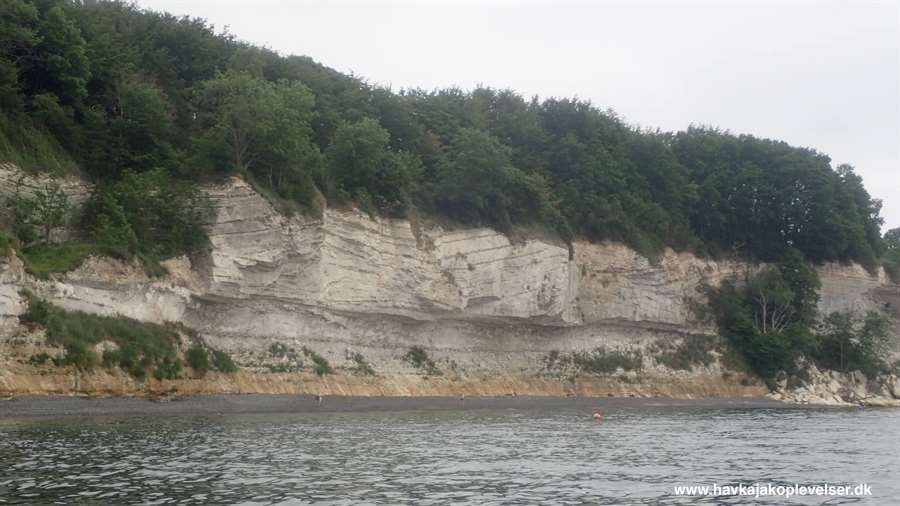 - Vi vil dog holde frokost nede på stranden denne gang.
- However, we was to do lunch on the beach this time.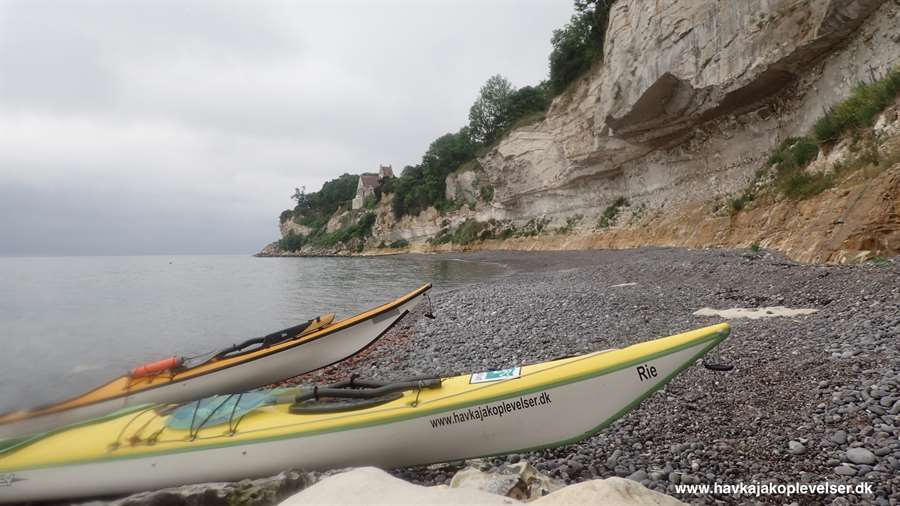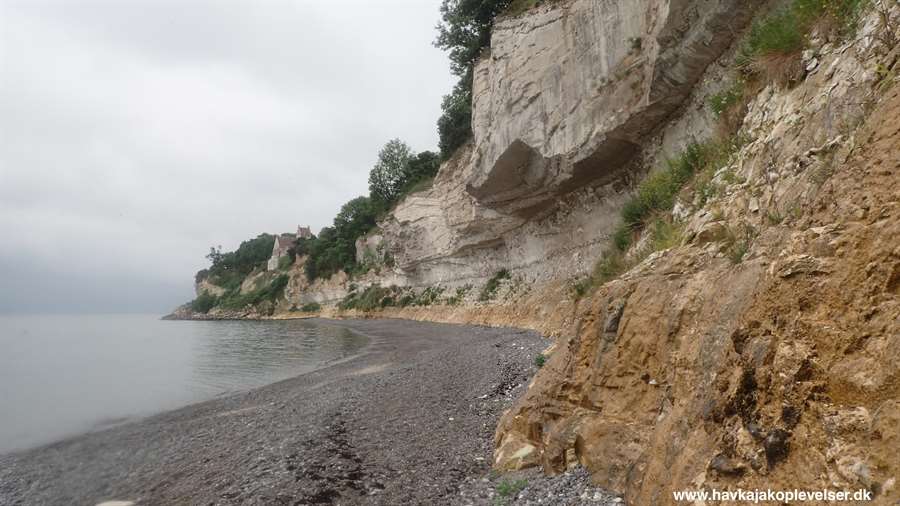 - Vi lander lige nord for selve kirken.
- We land just north of the church.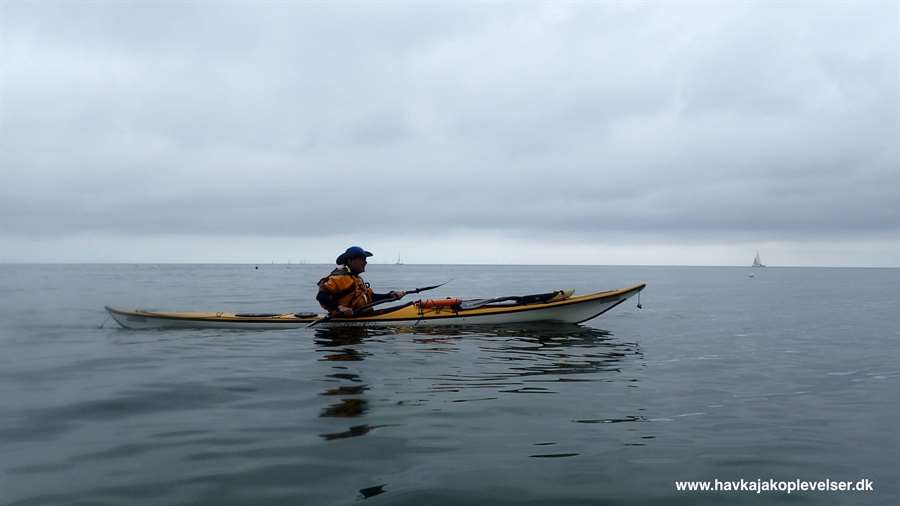 - Tilbage på vandet, og et kig ud i Østersøen, inden turen går tilbage.
- Back on the water, and looking out the Baltic Sea, before heading back.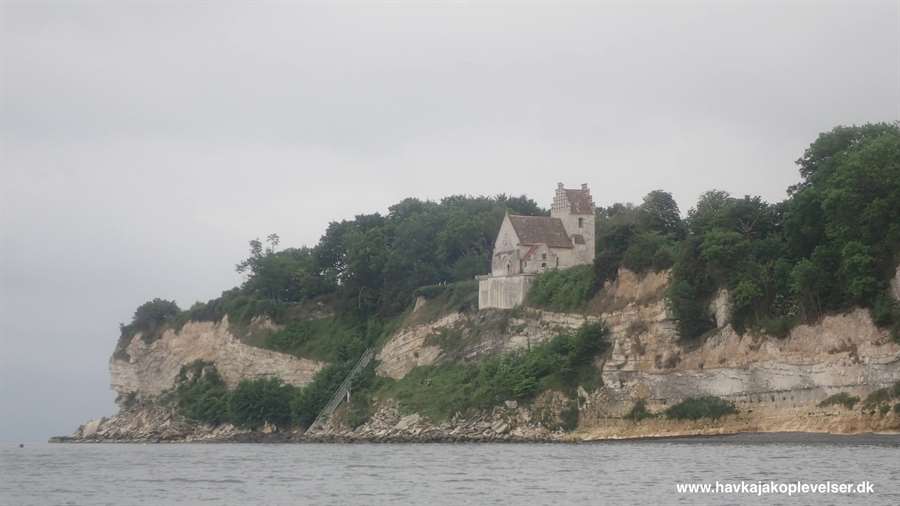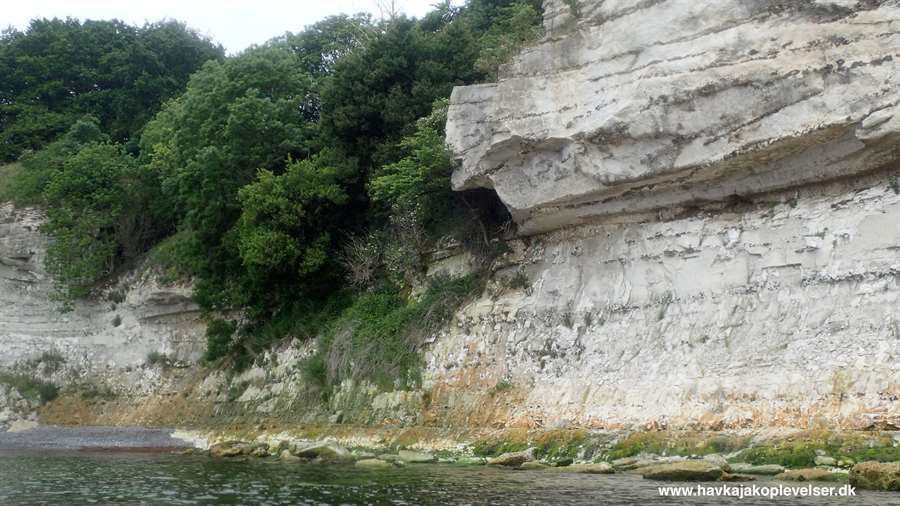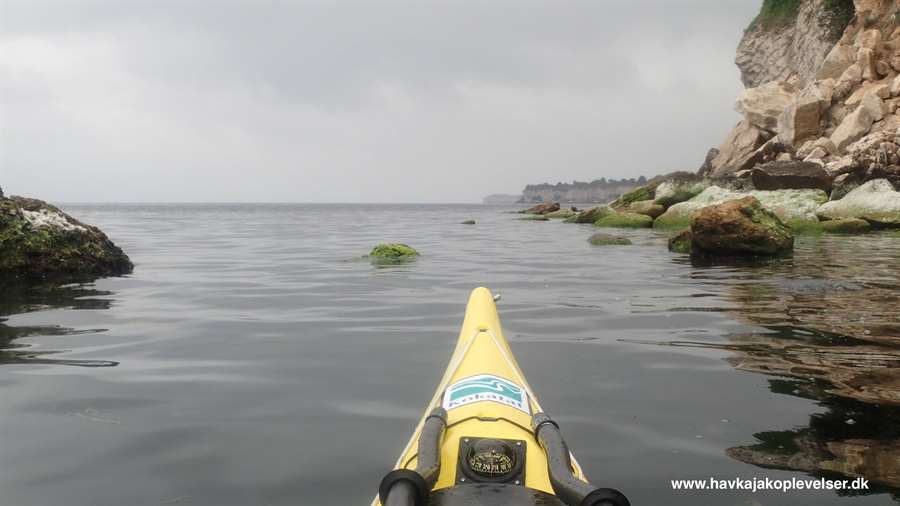 - Kig mod syd og Rødvig.
- Looking toward south and Rødvig.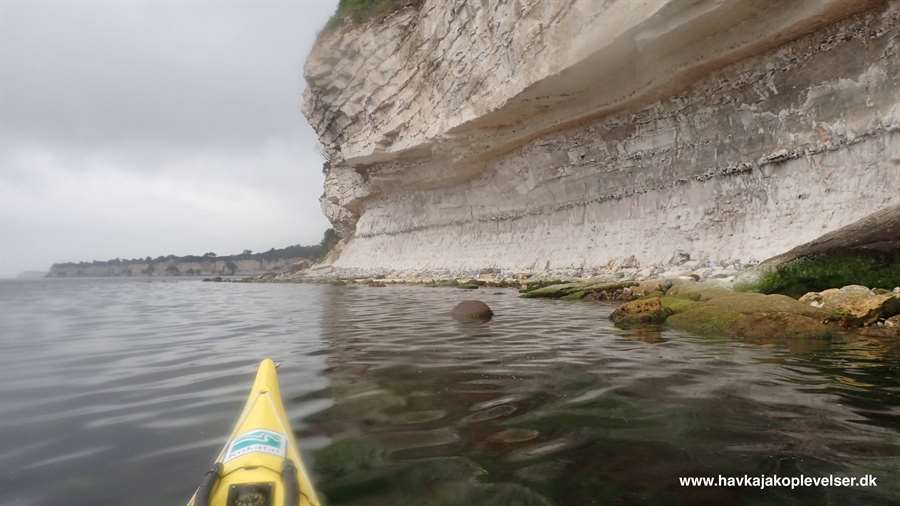 - Igen er vi helt betaget af det smukke sceneri på vejen tilbage.
- Again, we are completely captivated by the beautiful scenery on the way back.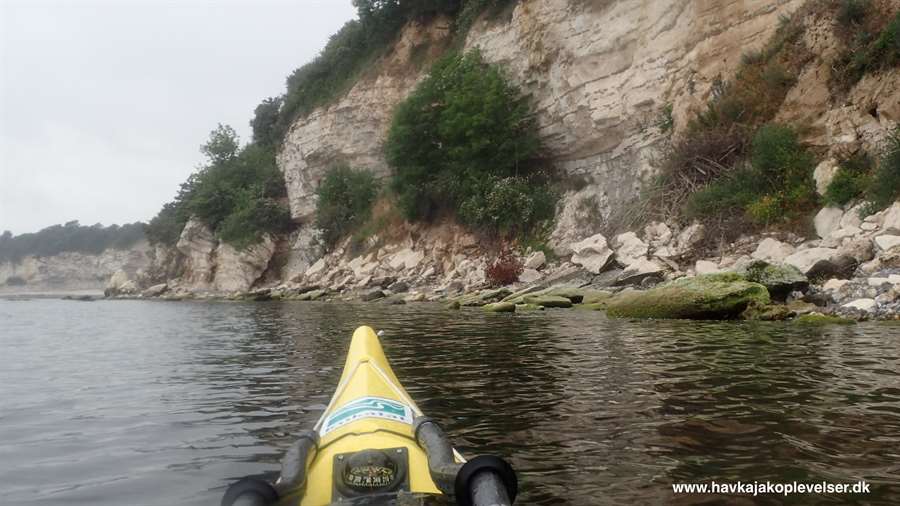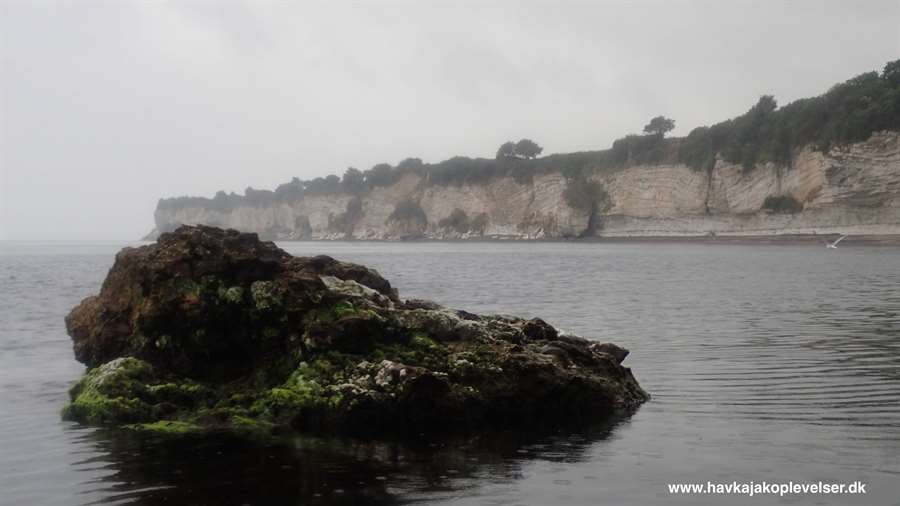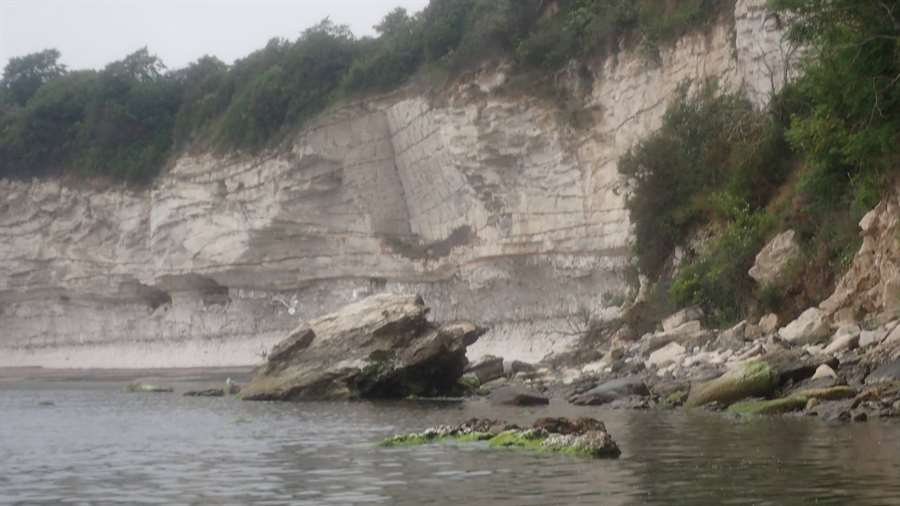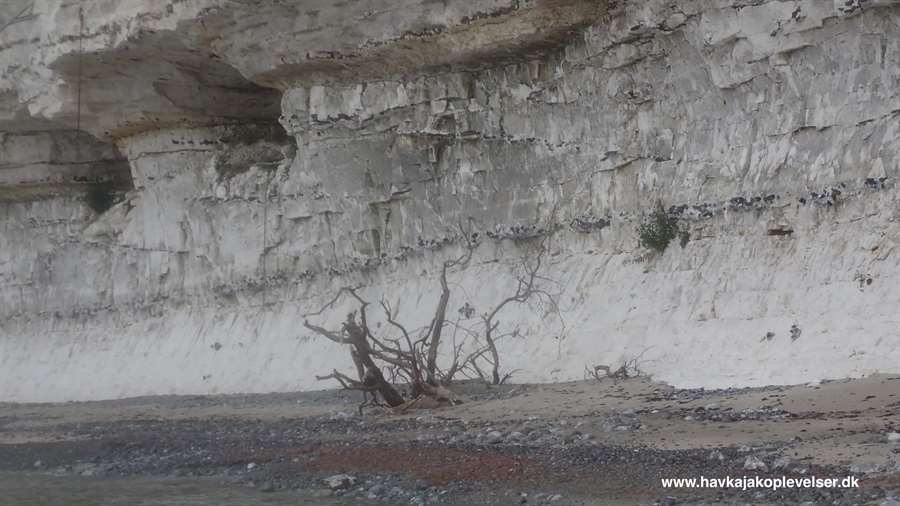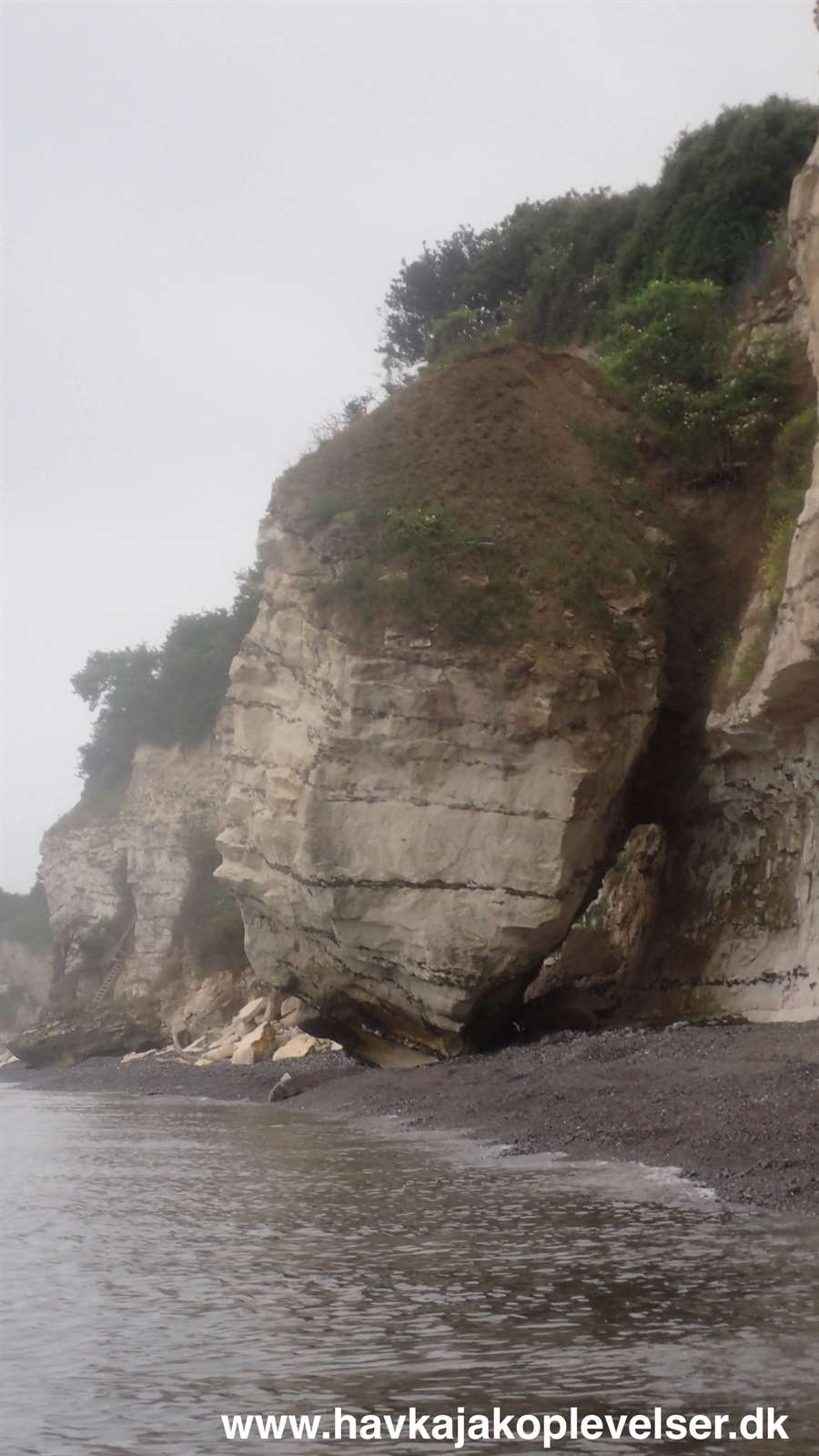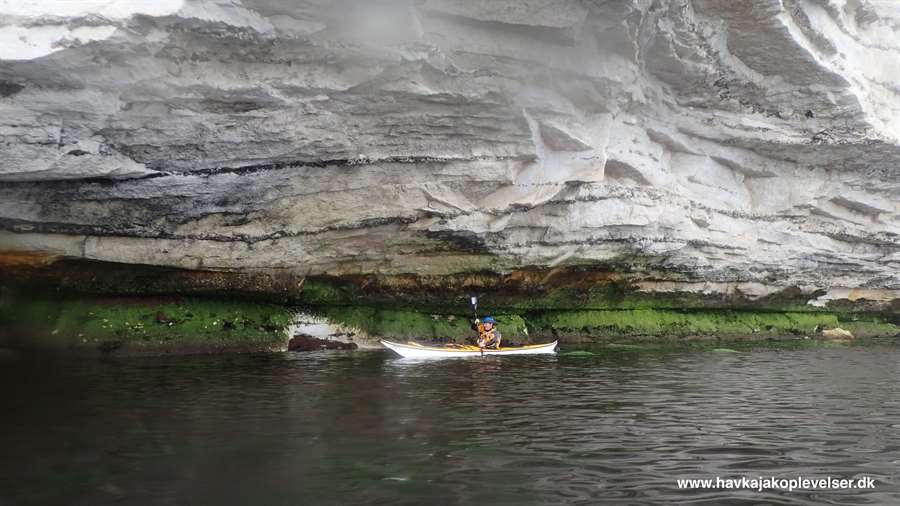 - Det er en speciel oplevelse at ro inde under klipperne, noget jeg ikke har oplevet andre steder i Danmark.
- It is a special experience to paddle inside the rocks, something I have not experienced anywhere else in Denmark.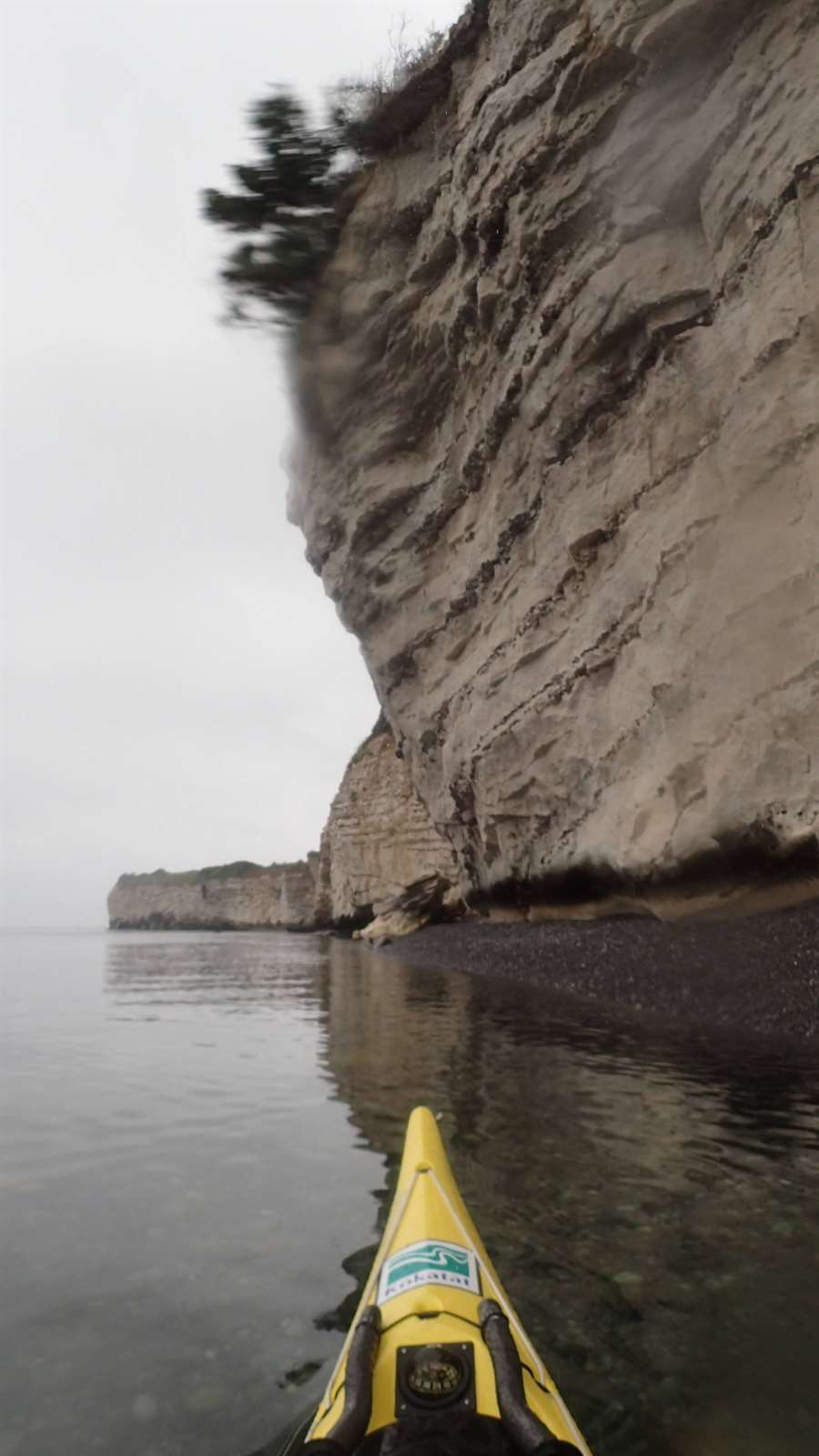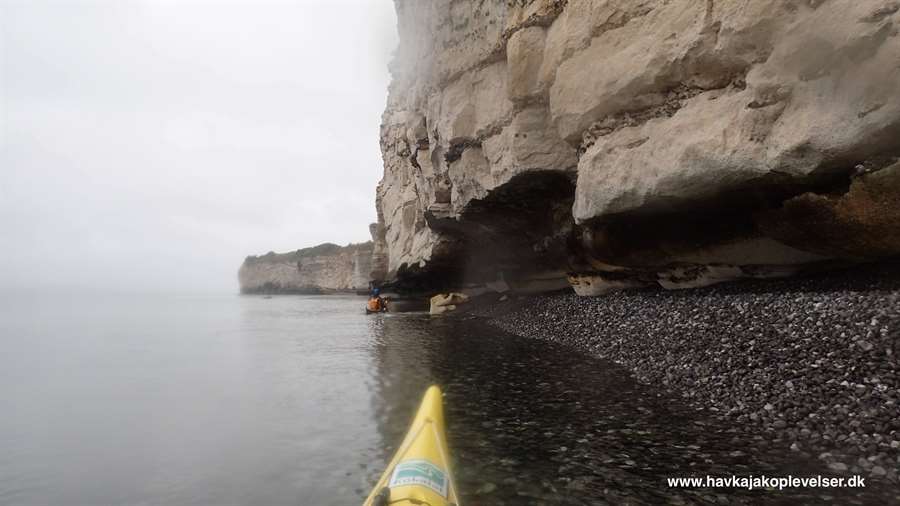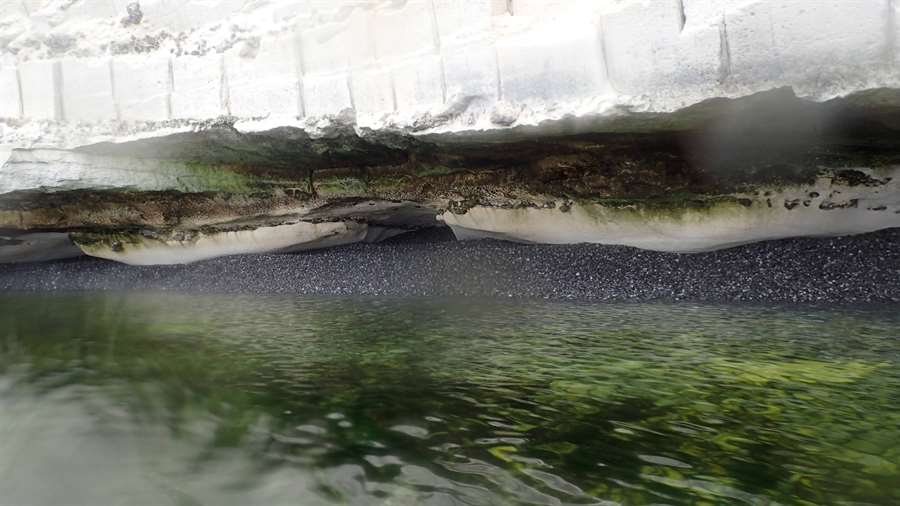 - Et virkeligt spektakulært sted at bruge en dag på vandet.
- A truly spectacular place to spend a day on the water.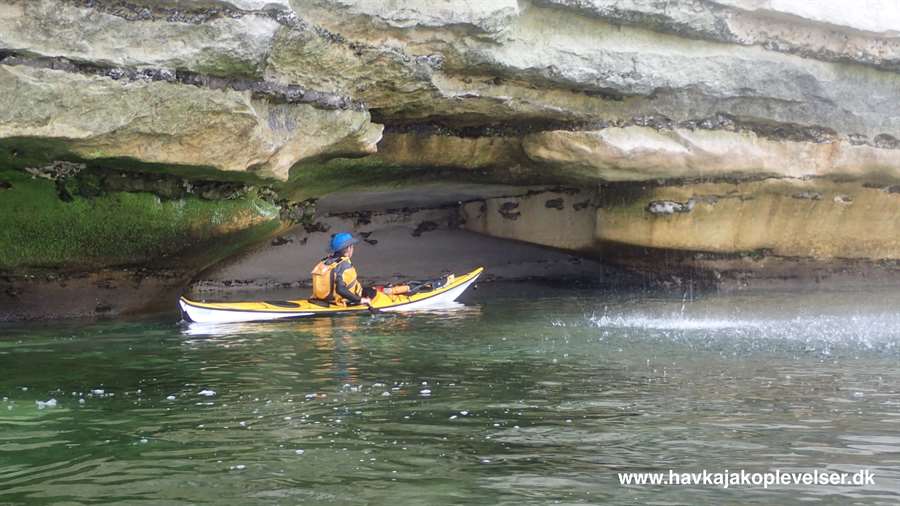 - Det lille grotte og vandfaldet, skulle lige rundes en gang mere på vej retur.
- The littel cave and the waterfall, just had to be rounded once more on the way back.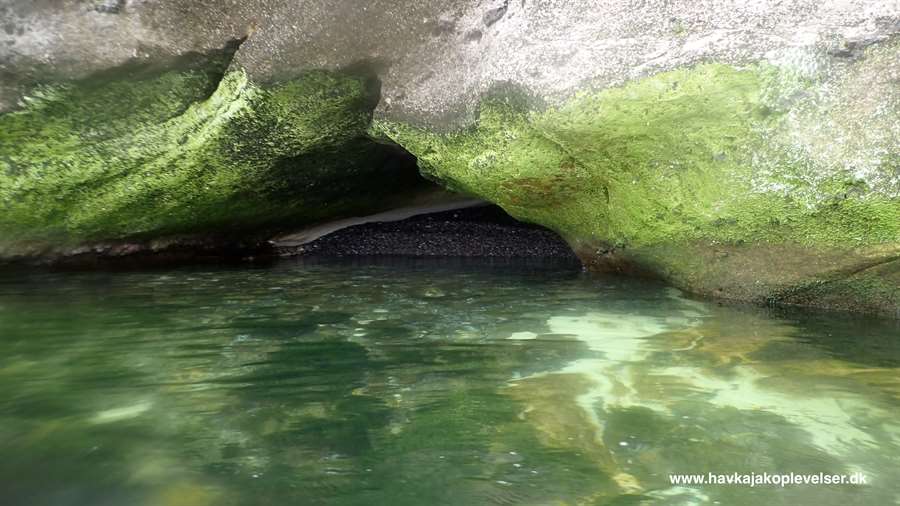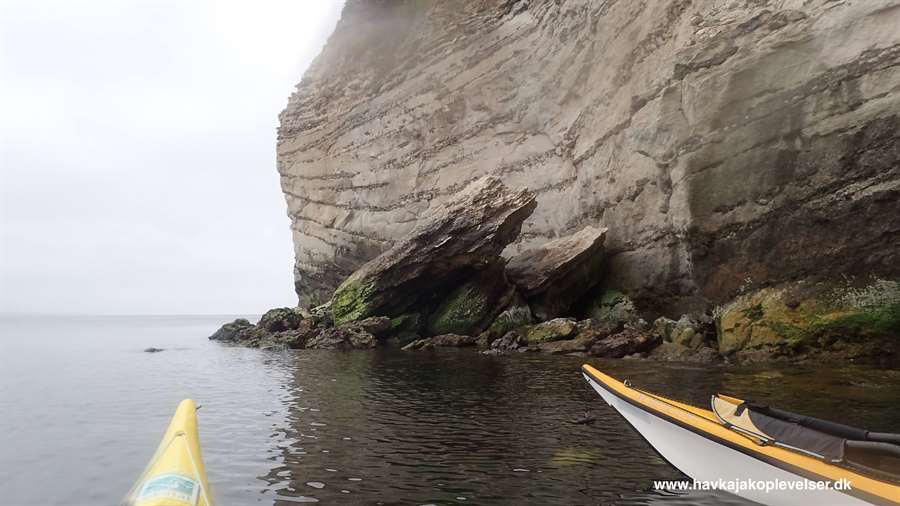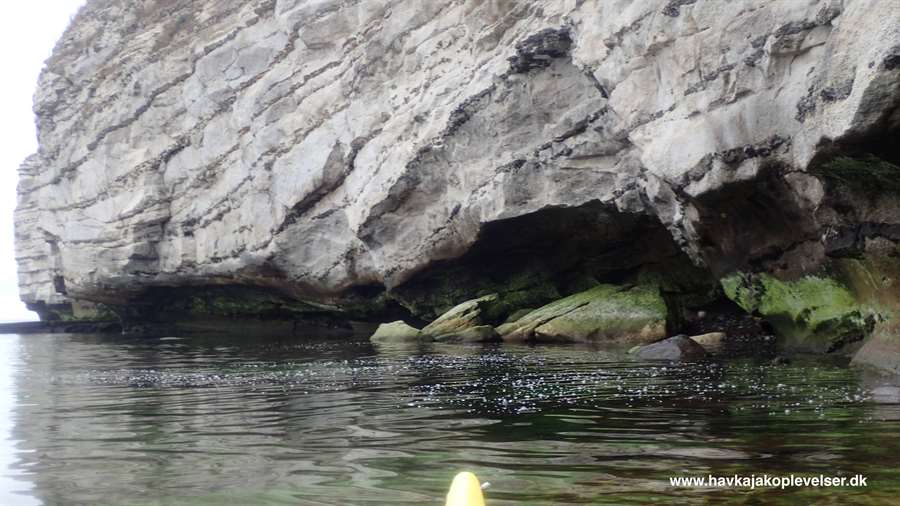 - Vi nærmer os Rødvig havn, og klintens lag begynder at ligge som bølger igen.
- We are approaching Rødvig harbor, and the cliff's layers are starting to lie like waves again.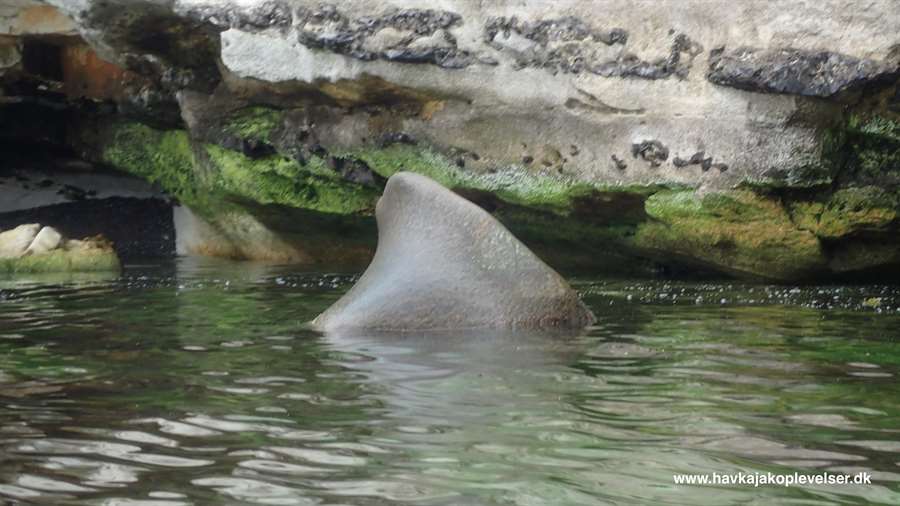 - Der er fundet fossiler efter blandt andet store hajer - med lidt fantasi, har naturen skabt en skulptur, der kunne lede tankerne til helt andre vande.
- Fossils from large sharks have been found - with a little imagination, nature has created a sculpture, that could lead the mind to completely different waters.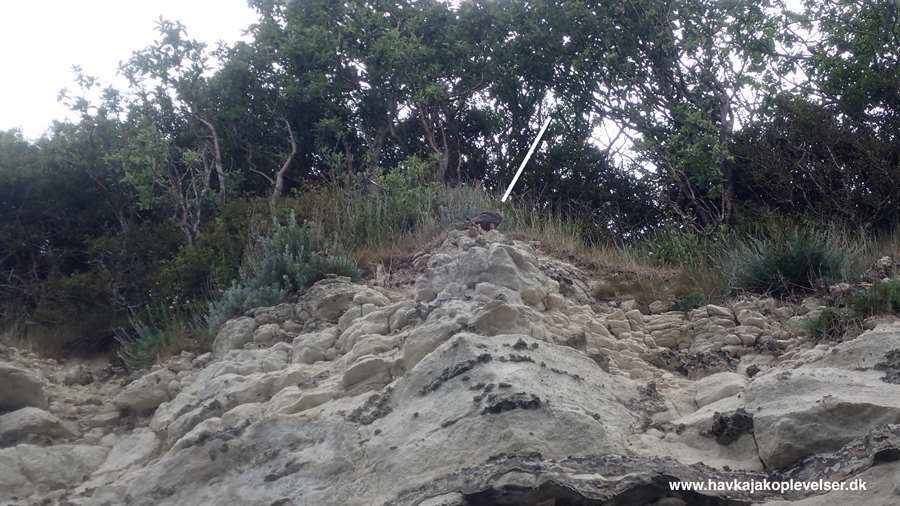 - Vandrefalken yngler på Stevns klint, og vi havde fornøjelsen af at se både forældre og unger, mit lommekamera har dog sine begrænsninger, men vandrefalken er på klippen.
- The peregrine falcon breeds on Stevn's cliff, and we had the pleasure of seeing both parents and chicks, my compact camera does have its limitations, but the peregrine is on the cliff.
- Langs selve klinten er det meget begrænset med muligheder for overnatning, der er dog en rigtig fin plads nord for Rødvig, lige hvor klinten begynder, søg efter Naturlejerplads Boesdal Kalkbrud. Et smukt område, der bestemt også er værd at gå i land for at se nærmere på.
- Along the cliff itself, there are very limited opportunities for camping, however, there is a really nice place north of Rødvig, right where the cliff begins, look online for "Naturlejerplads Boesdal Kalkbrud". A beautiful area that is definitely also worth going ashore to take a closer look at.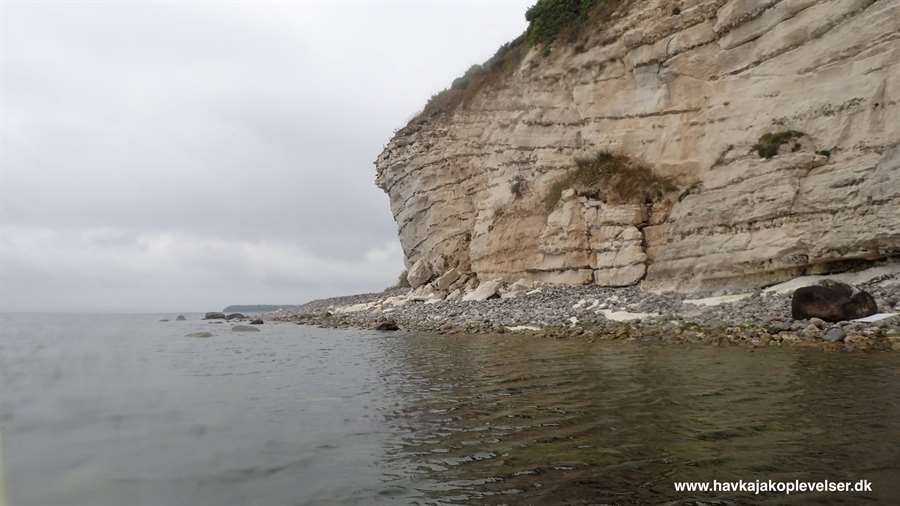 - Den sidste lille pynt på klinten inden vi er ved at være tilbage fra dagens tur.
- The last small headland before we almost are back from today's paddle.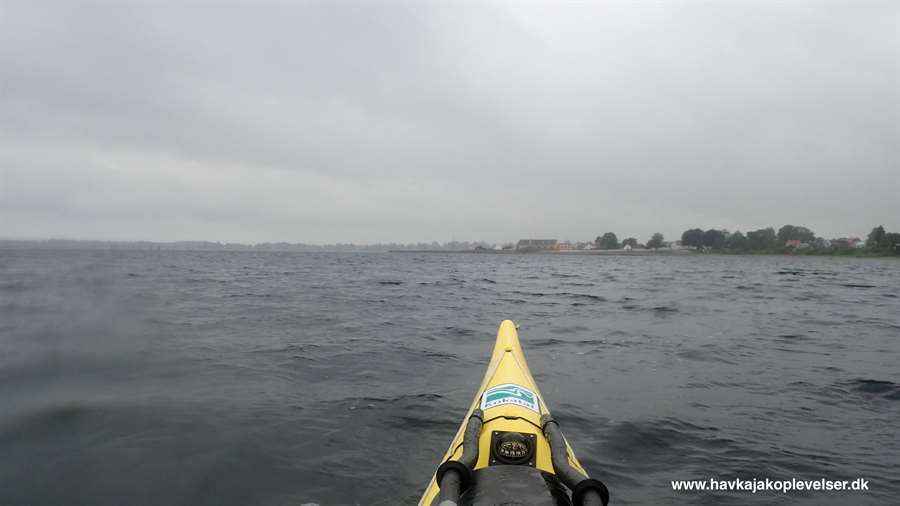 - Vi krydser det lille stykke over til havnen.
- We do the small crossing to the harbor.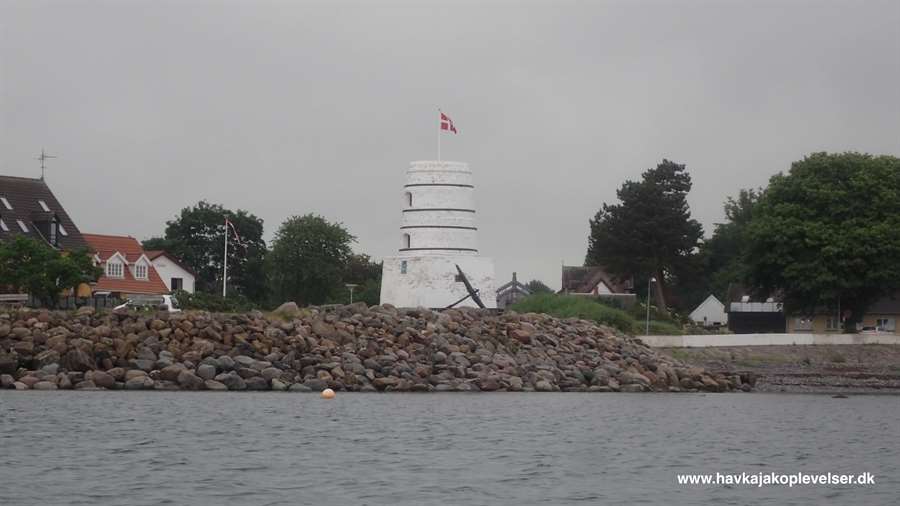 - Det gamle sømærke på molen ved Rødvig havn.
- Old beacon on the pier at Rødvig harbor.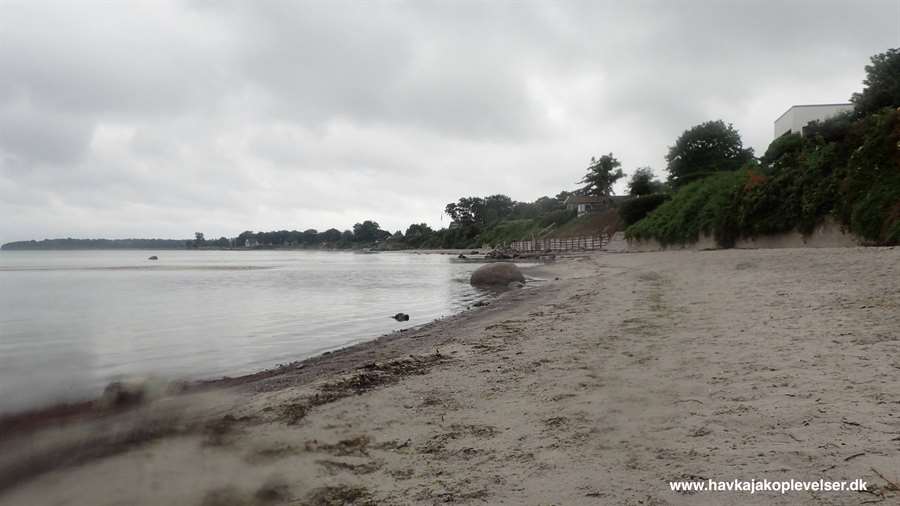 - Dagens tur slutter tilbage på stranden, hvorfra vi var taget afsted. Stevns klint er en speciel oplevelse.
- The paddle of the day ends back on the beach from where we had left. Stevns klint is a special experience.
Venlig hilsen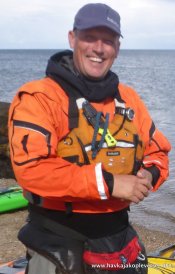 Christian Wiegand

www.havkajakoplevelser.dk
Facebook: Tosset med havkajak / Mad about Sea Kayak
Instagram: cwseakayaking
Twitter: @cw_sea

Sponsored by Teamkayak - www.teamkayak.dk
Sponsored by Kokatat - www.kokatat.com                                                                                          Sponsored by Expeditionfoods - www.expeditionfoods.com