2021-10-11 / 15 Dag 3 ud af 5 dage i Havkajak omkring Anglesey, Wales - 2021-10-11 / 15 Day 3 out of 5 days sea kayaking around Anglesey, Wales
Danish / English:
- Dag 3 skulle bruges på nordvestkysten af Anglesey, hvor vi blandt andet ville komme forbi det ikoniske fyrtårn, South Stack.
- Day 3 was to be spent on the northwest coast of Anglesey ,where we would, among other things, pass the iconic lighthouse, South Stack.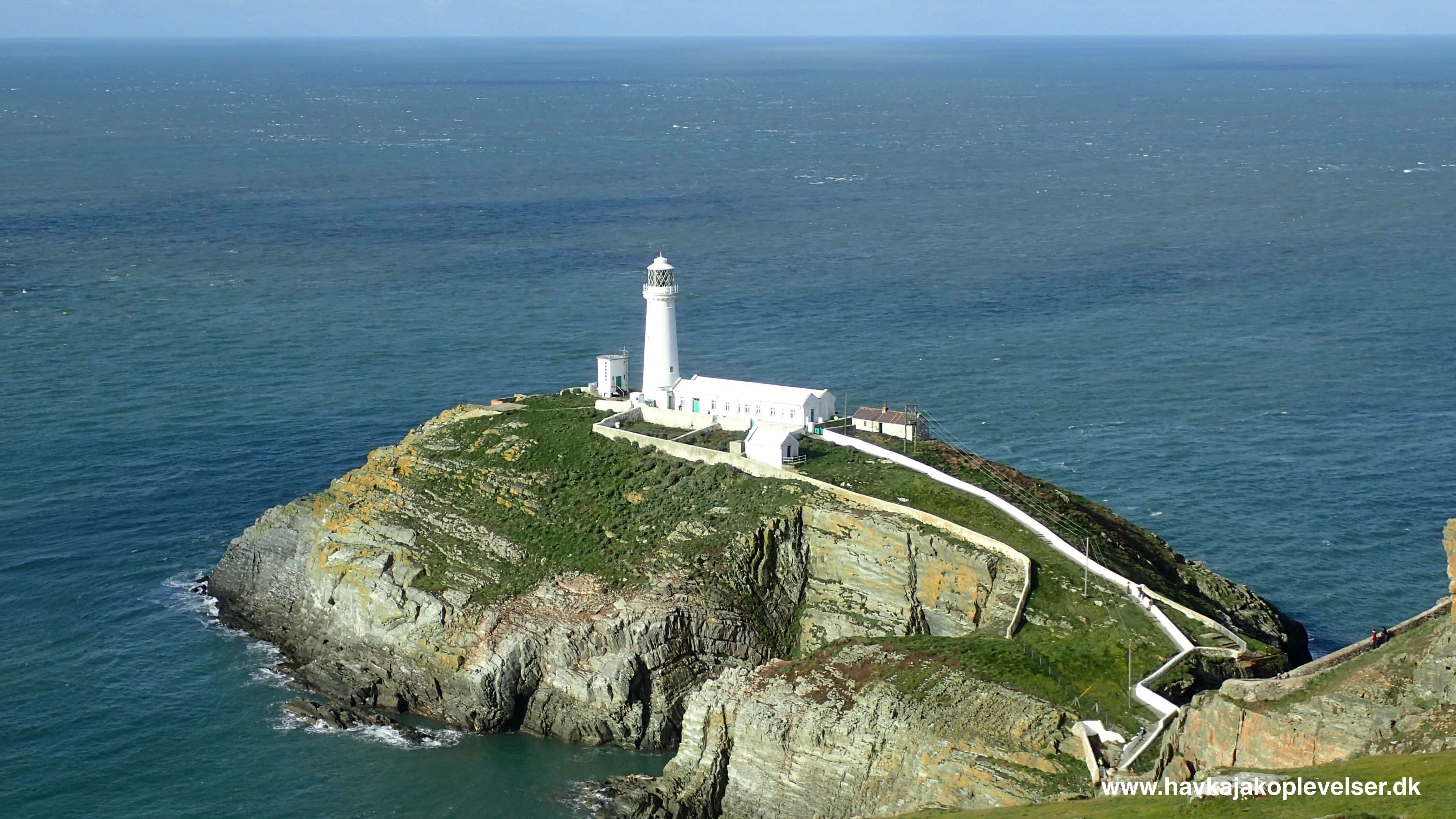 - Dagens tur skulle starte fra Soldier's point ved Holyhead forbi North Stack, South Stack for så at slutte i Porth Dafarch.
- Today's paddle was to start from Soldier's point at Holyhead past North Stack, South Stack and then end at Porth Dafarch.
- Der var sat 2 biler i Porth Dafarch, inden vi kørte til Soldiers Point, ved Holyhead harbor, hvorfra dagens tur skulle starte. Fra p-pladsen er der et kort stykke at bære kajakkerne ned til stenstranden lige neden for havnemolen - Den er den største i Storbritangnen og er ikke mindre end 2,7 km. lang.
- There were 2 cars parked at Porth Dafarch before we drove to Soldiers Point, at Holyhead harbor, from where the day's tour was to start. From the car park there is a short distance to carry the kayaks down to the pebble beach just below the harbor pier - It is the largest in the UK and is no less than 2.7 km. long.
- Vi kommer på vandet - den lange mole er ikke flot arkitektur, men en imponerende konstruktion - jeg tænker på hvor store krafter den skal kunne modstå når elementerne virkelig raser.
- We get on the water - that breakwater is not beautiful architecture, but an impressive construction - I think about how great forces it have to withstand when the elements really rage.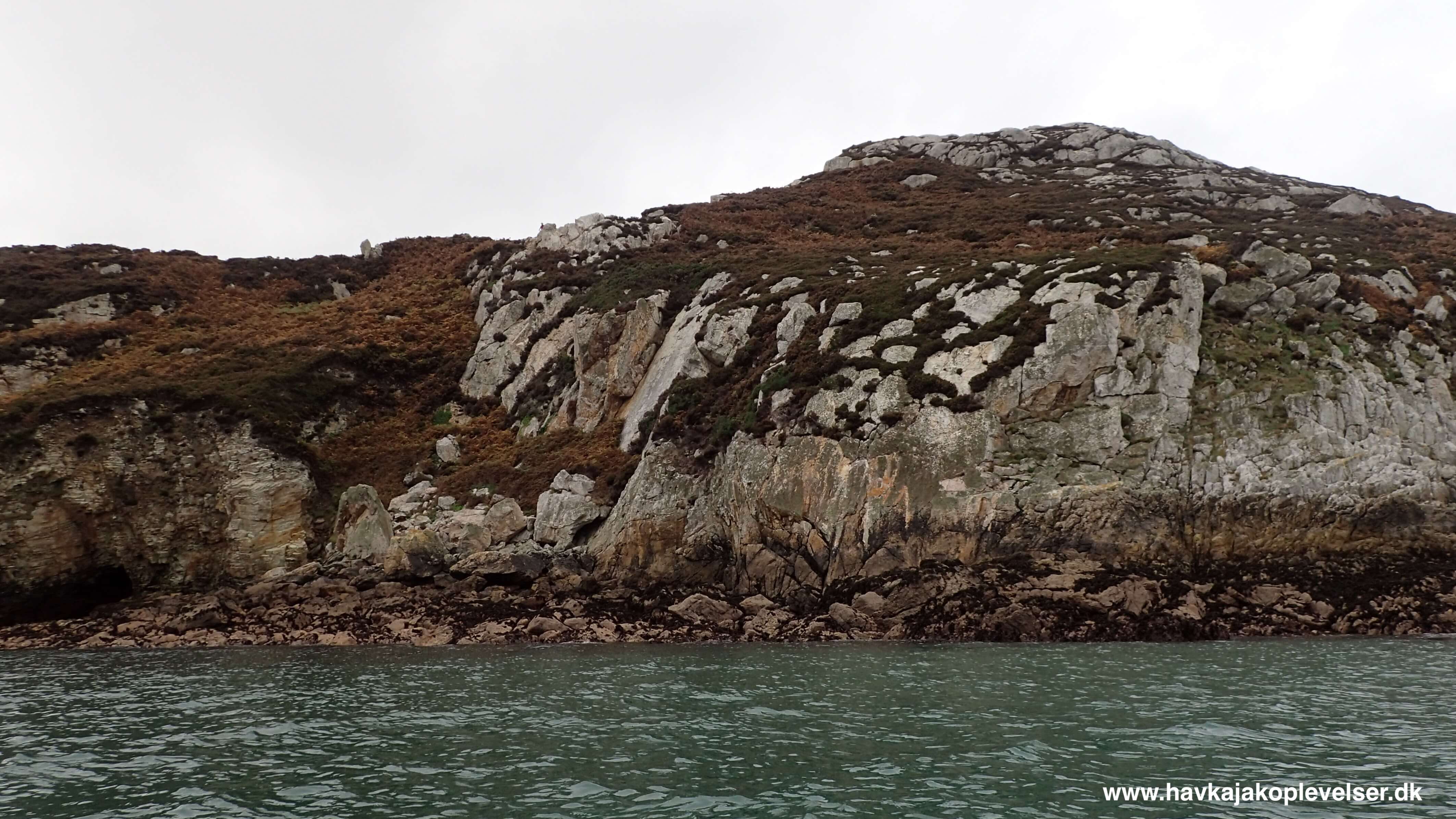 - Klippekysten er helt fra turens start spetakular.
- The rocky coast is spectacular from the very beginning of the trip.
- Som jeg forstod det, så er stenene der er brugt til molen i 1873 hugget ud af klipperne i baggrunden af billedet.
- As I understood it, the stones used for the breakwater in 1873 were carved out of the rocks in the background of the picture.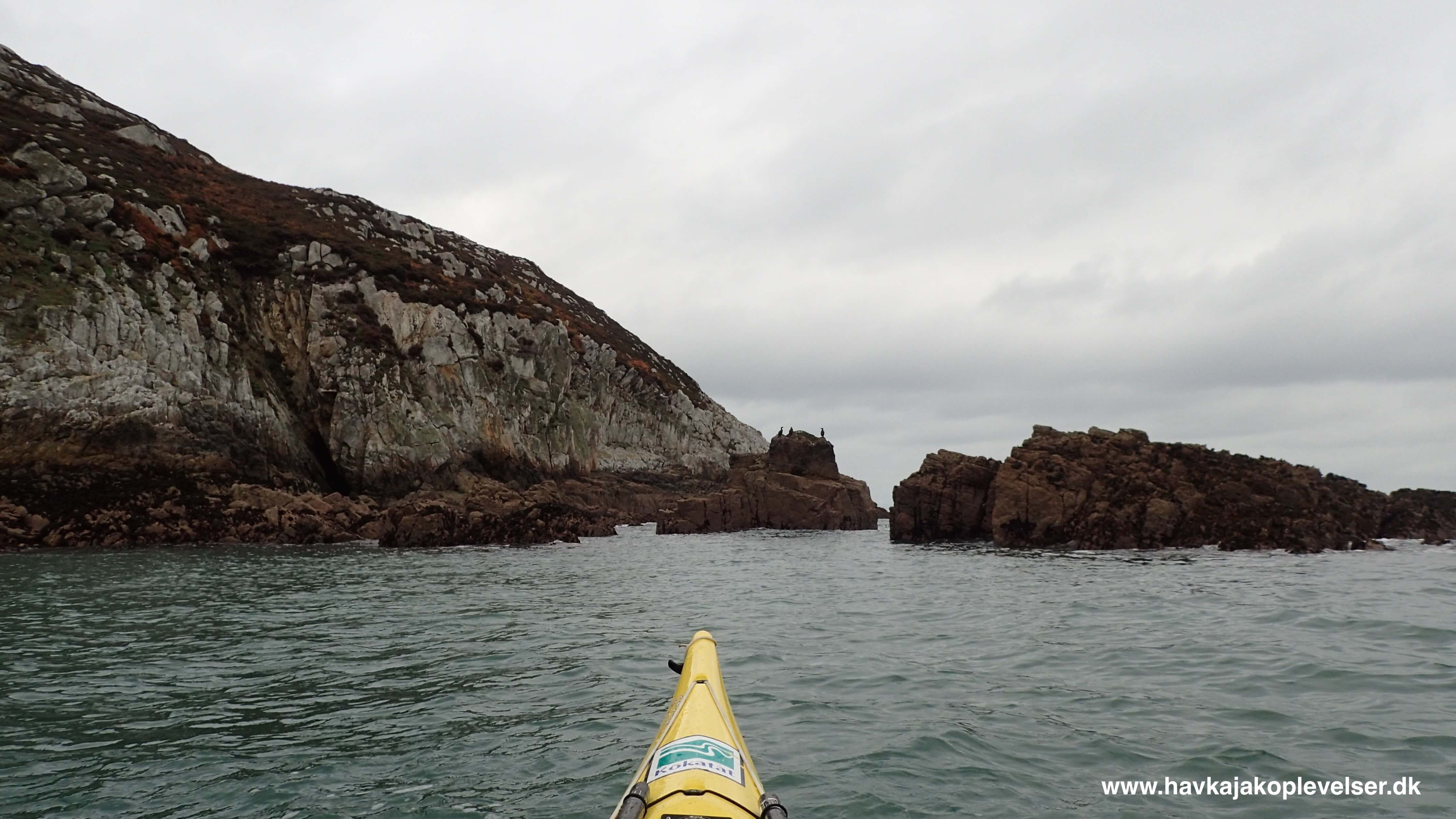 - Kystlinjen byder på masser af muligheder for rock hopping.
- The coastline offers plenty of opportunities for rock hopping.
- En fisker tjekkede sine hummertejne mens vi ror forbi.
- A fisherman checked his lobster pots as we pass.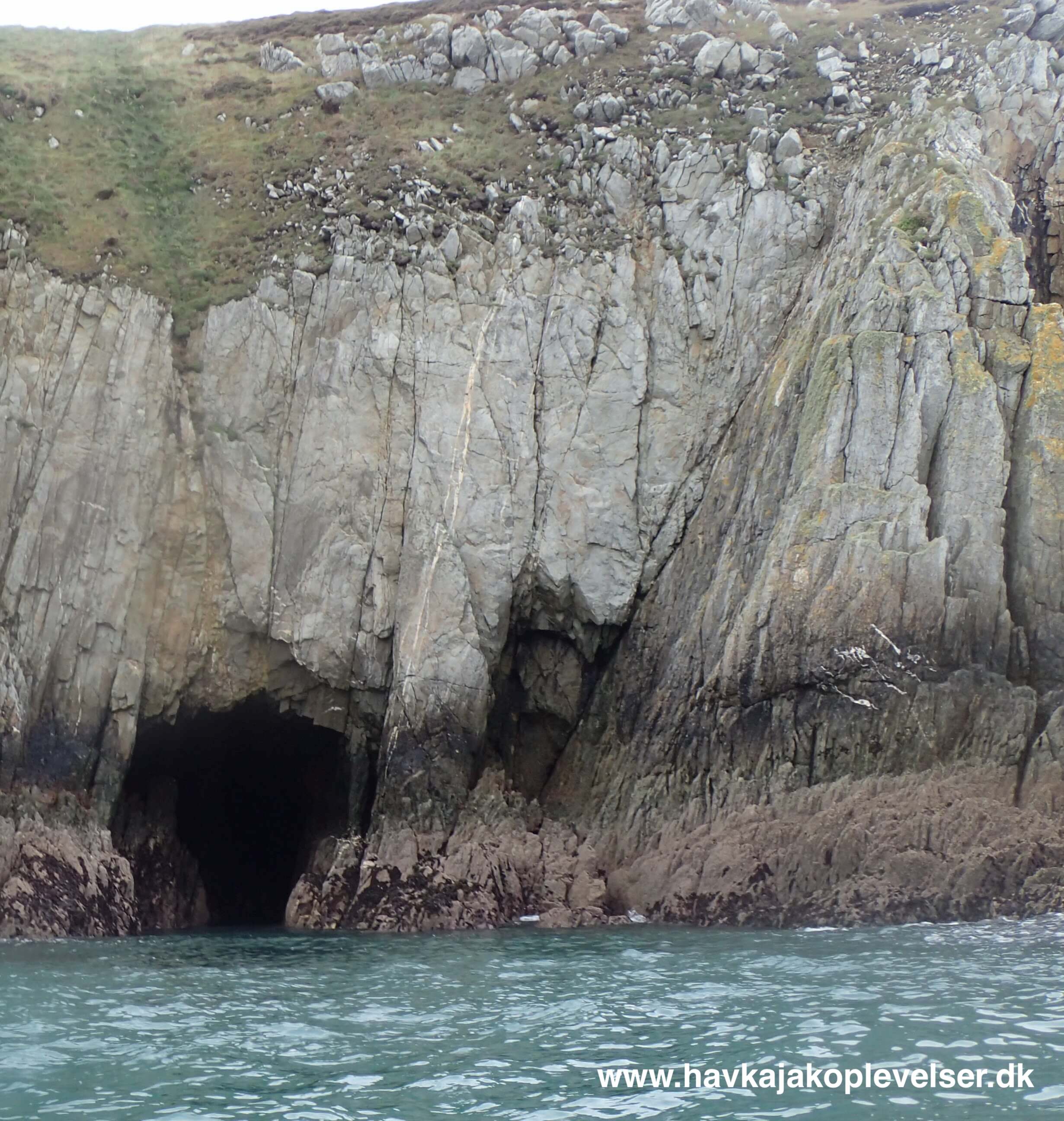 - Der er en del grotter langs denne del af kysten.
- There are quite a few caves along this part of the coast.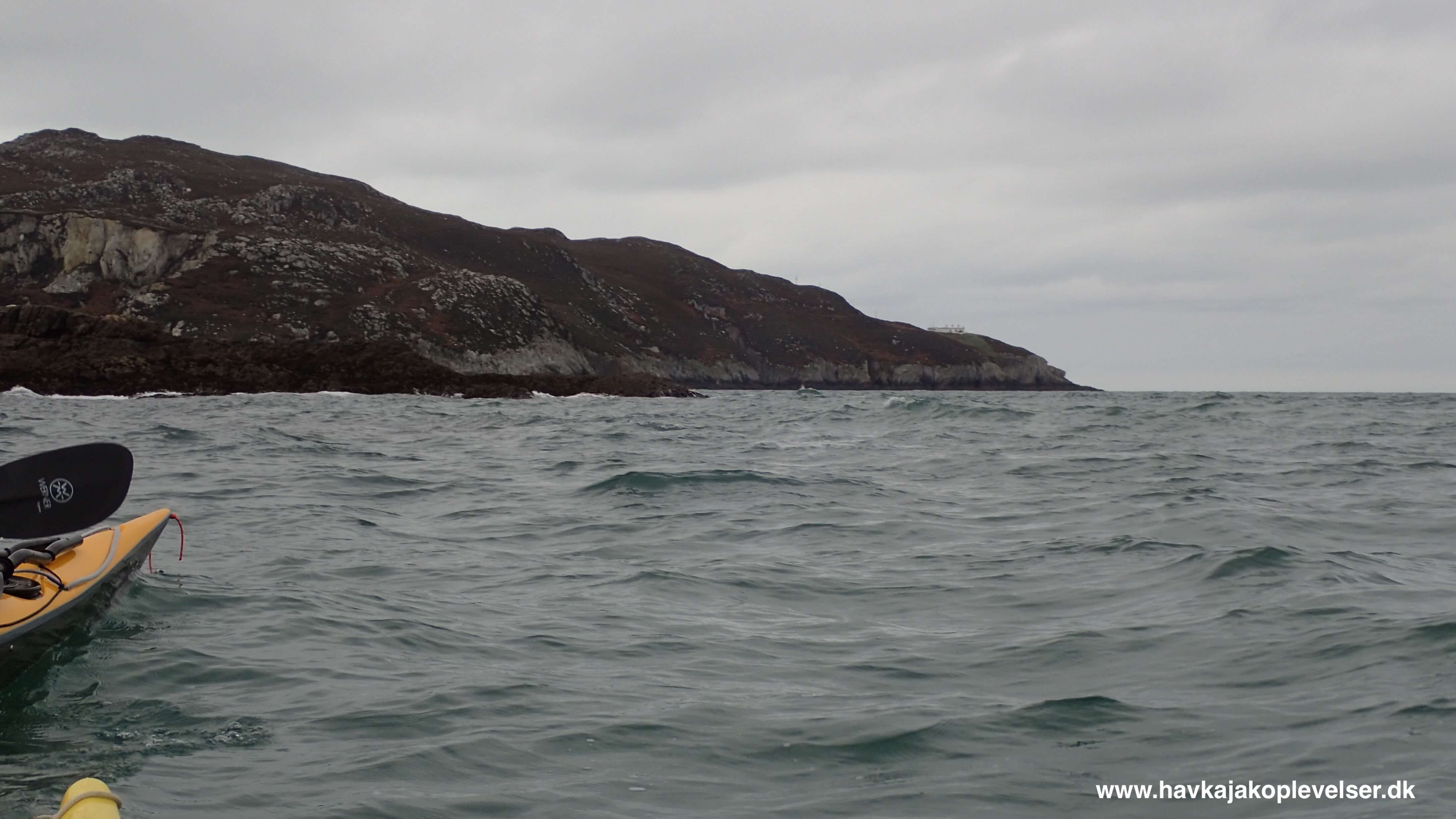 - Dagens første fikspunkt er North Stack.
- Today's first fix point North Stack.
- Den første tågevarslingsstation på North Stack er tilbage til omkring 1780 hvor man signalerede ved hjælp af en stor klokke. I 1867 blev signalet udskiftet med to kanone der blev brugt som advarsels signal i tågen. I 1895 kom det første tågehorn, drevet af en oliemotor som i 1950erne bliv afløst af elektrisitet. Historen om North Stack vidner om den barske klippekyst samt vigtigheden Hollyhead har haft som maritimt knudepunkt langt tilbage i tiden.
- The first fog warning station on North Stack dates back to around 1780, when a large bell was signaled. In 1867 the signal was replaced with two cannons used as a warning signal in the fog. In 1895 came the first foghorn, powered by an oil engine which in the 1950s was replaced by electricity. The story of North Stack tells the story of the rugged rocky coast as well as the importance Hollyhead has had as a maritime center way back in time.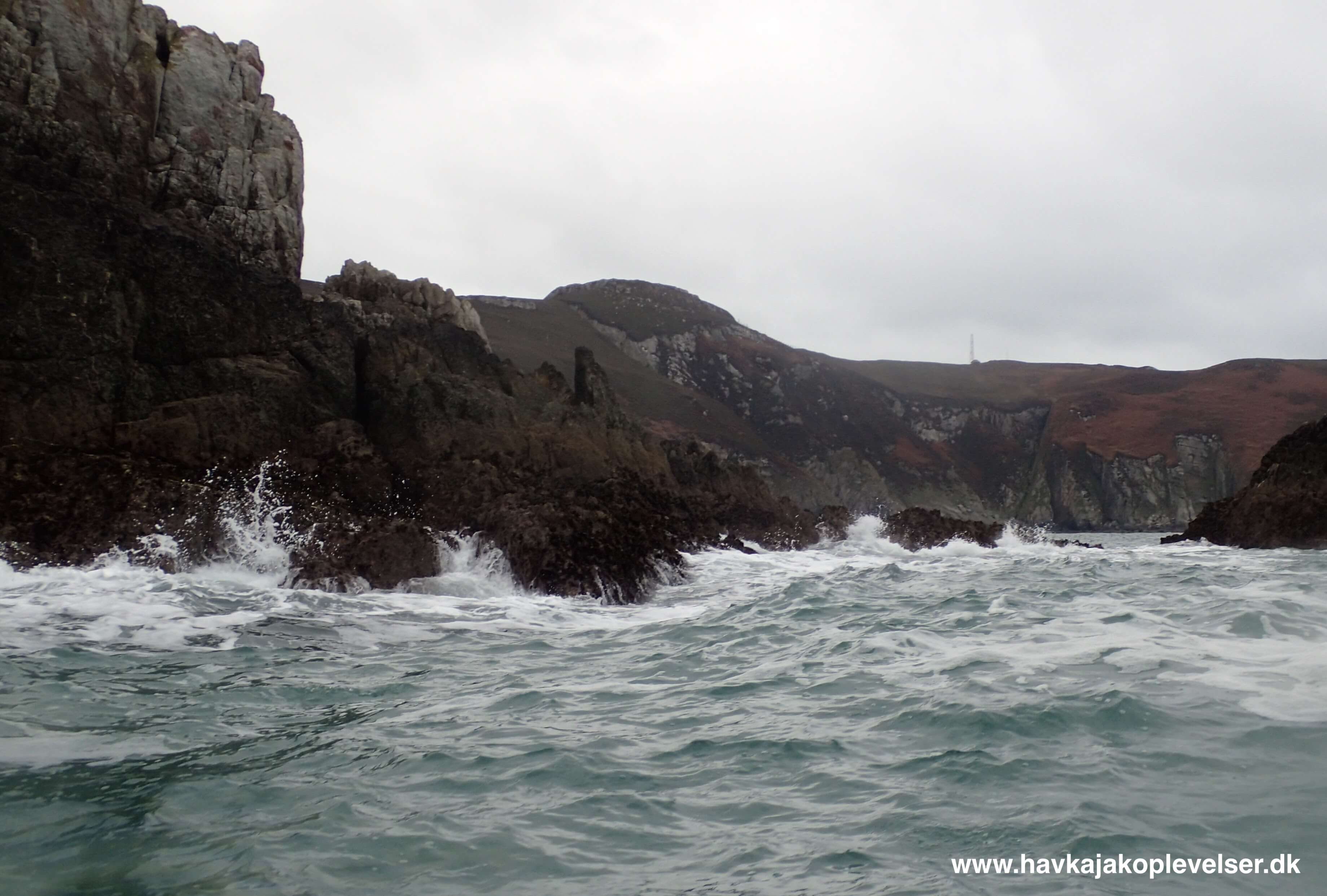 - På en stille dag som denne, er klippekysten altid en stor oplevelse. Jeg facineres af tanken om de store og enorme naturkræfter der udløses når elementerne raser.
- On a quiet day like this, the rocky coast is always an experience. I am fascinated by the idea of the great and enormous forces of nature that are unleashed when the elements rage.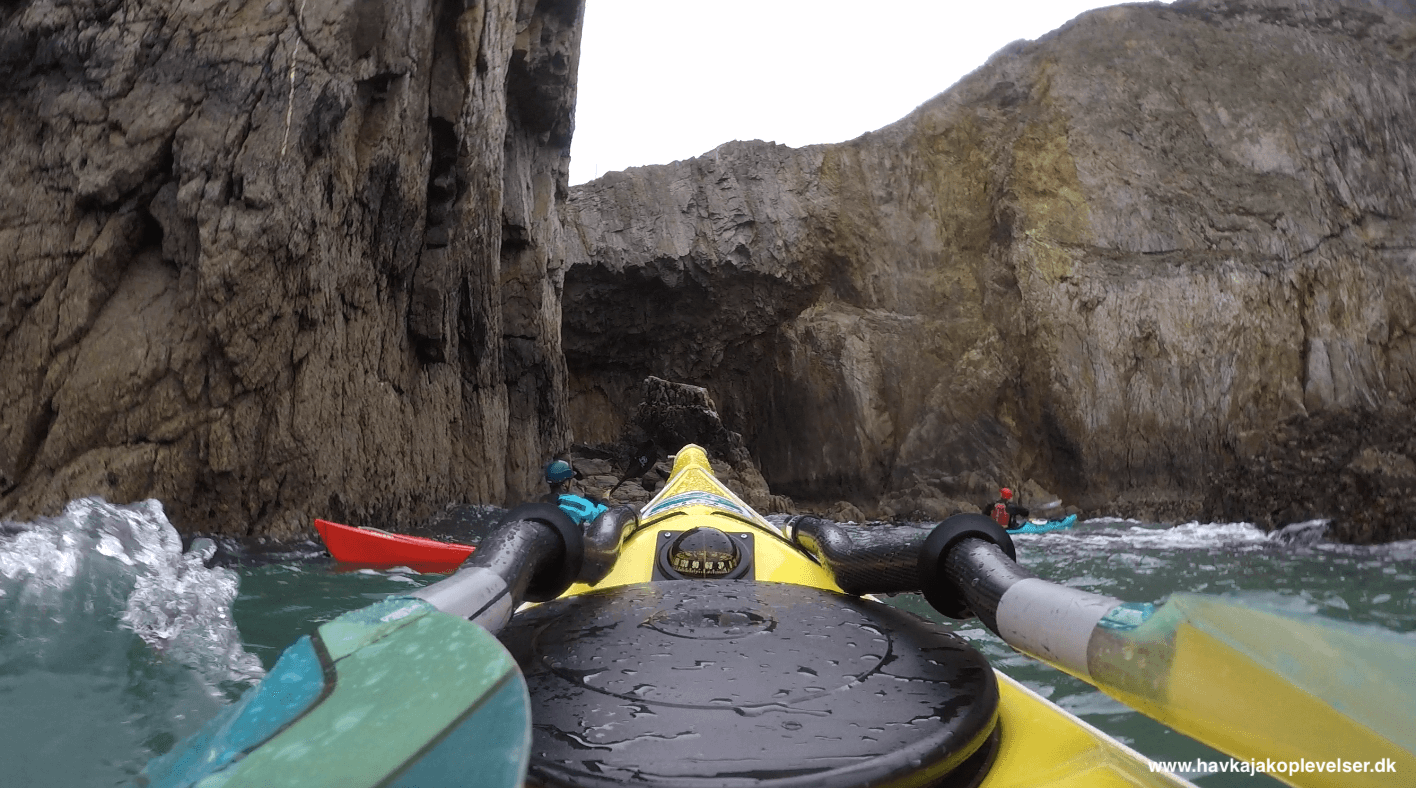 - Vi kommer forbi Parliament House Cave, en enorm grotte hvor der er ikke mindre en 30 meter op til grottens loft. Vi vælger dog ikke at lande i grotten, men forsætter for at ro ind i nogle af de andre grotter da dagens forhold er så stille at vi har mulighed for at ro inde i selve grotterne.
- We pass Parliament House Cave, a huge cave where there is no less than 30 meters / 100 feet up to the cave ceiling. However, we choose not to land in the cave, but continue to enter some of the other caves as the conditions of the day are so quiet that we have the opportunity to paddle inside the caves themselves.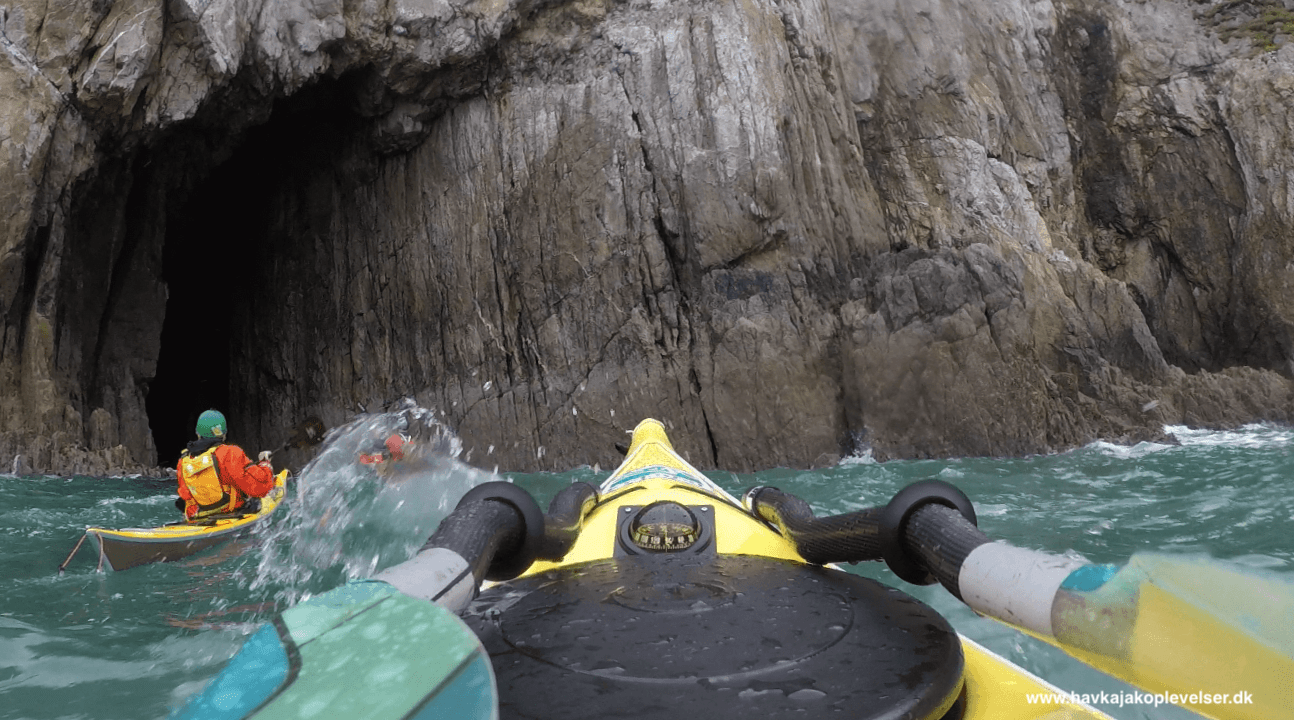 - Vi kommer kort efter til en smal og noget mere lavloftet grotte.
- We soon arrive at a narrow and somewhat more low-ceilinged cave.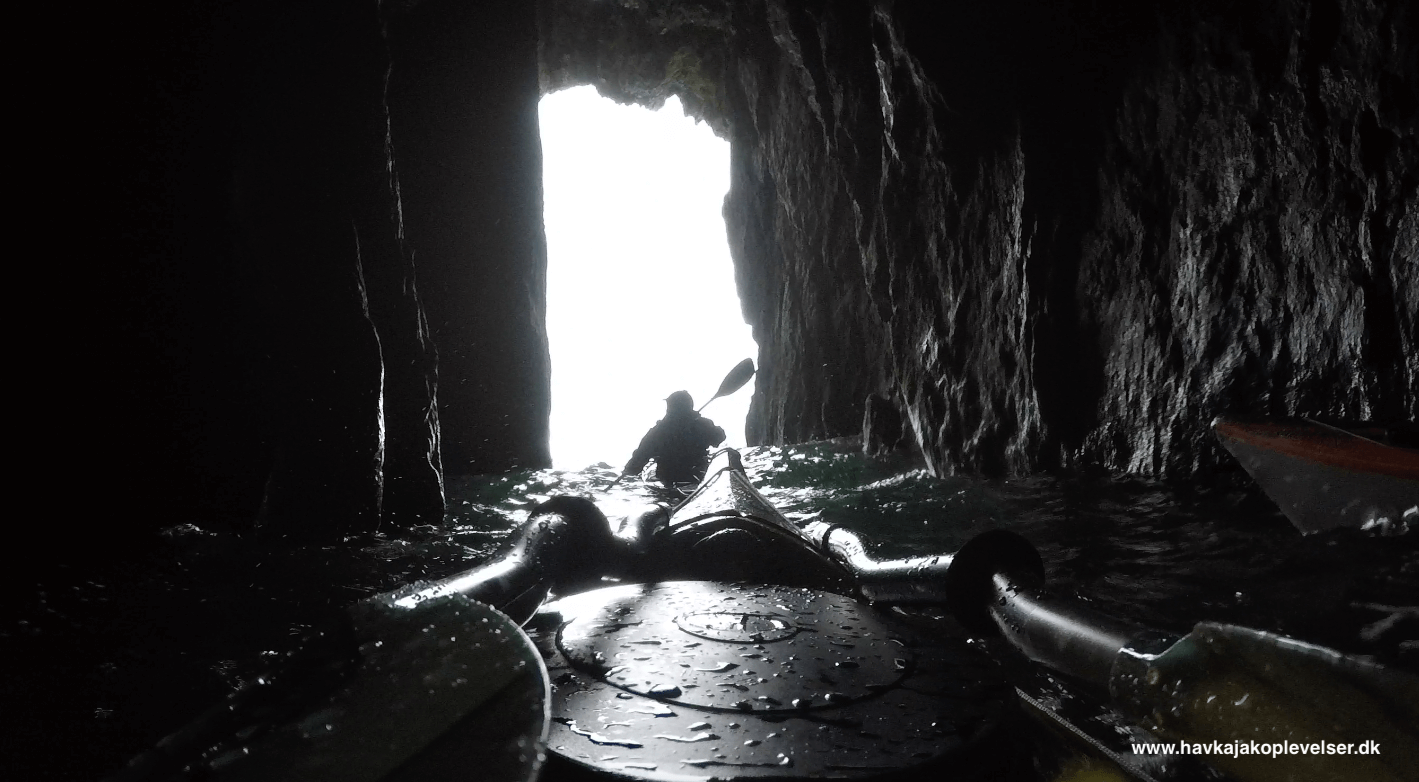 - Grotten er ikke særlig dyb men jeg har stadig fornemmelsen af at ro "ind" i selve Anglesey.
- The cave is not very deep but I still have the feeling of paddling "into" Anglesey itself.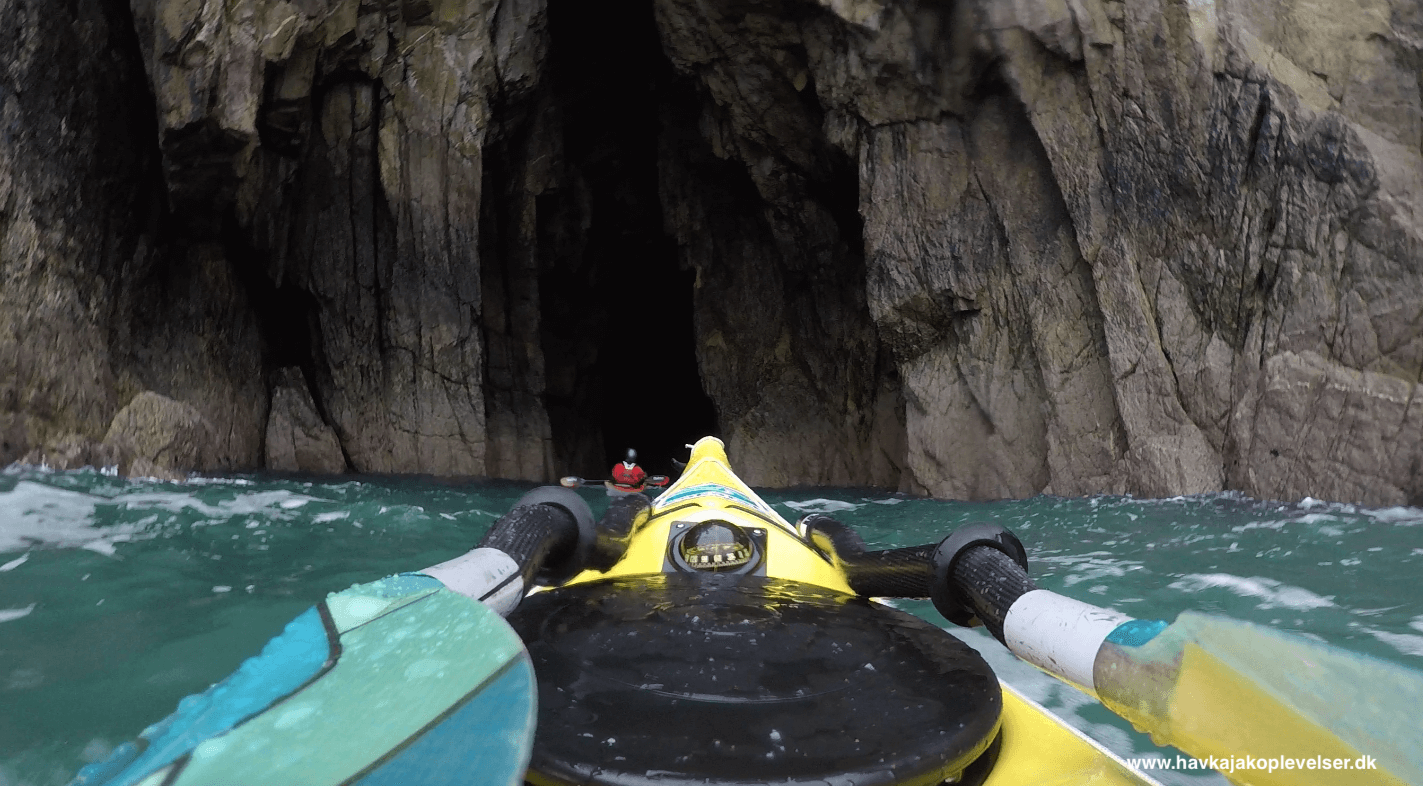 - Den næste grotter er noget bredere og højere op til loften.
- The next cave is somewhat wider and higher up to the ceiling.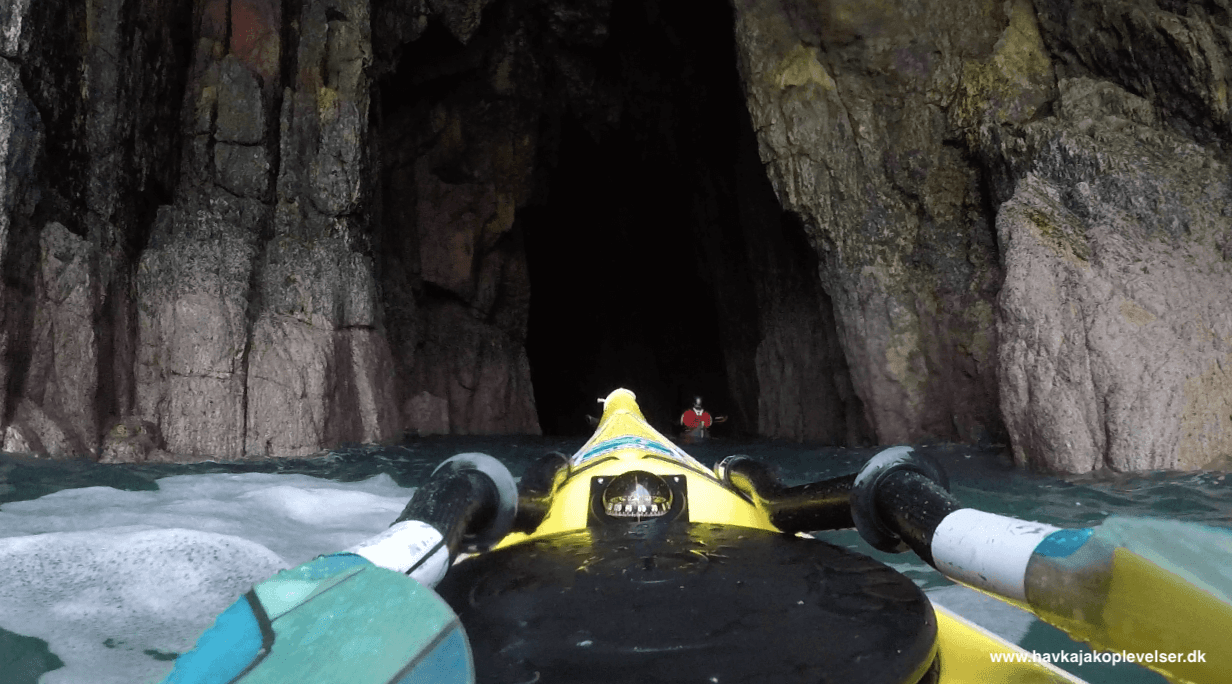 - Det er altid med lidt ærefrygt jeg padler ind i grotter, jeg får en føgelse af at være meget lille og sårbar.
- It is always with a little awe that I paddle into caves, I get the feeling of being very small and vulnerable.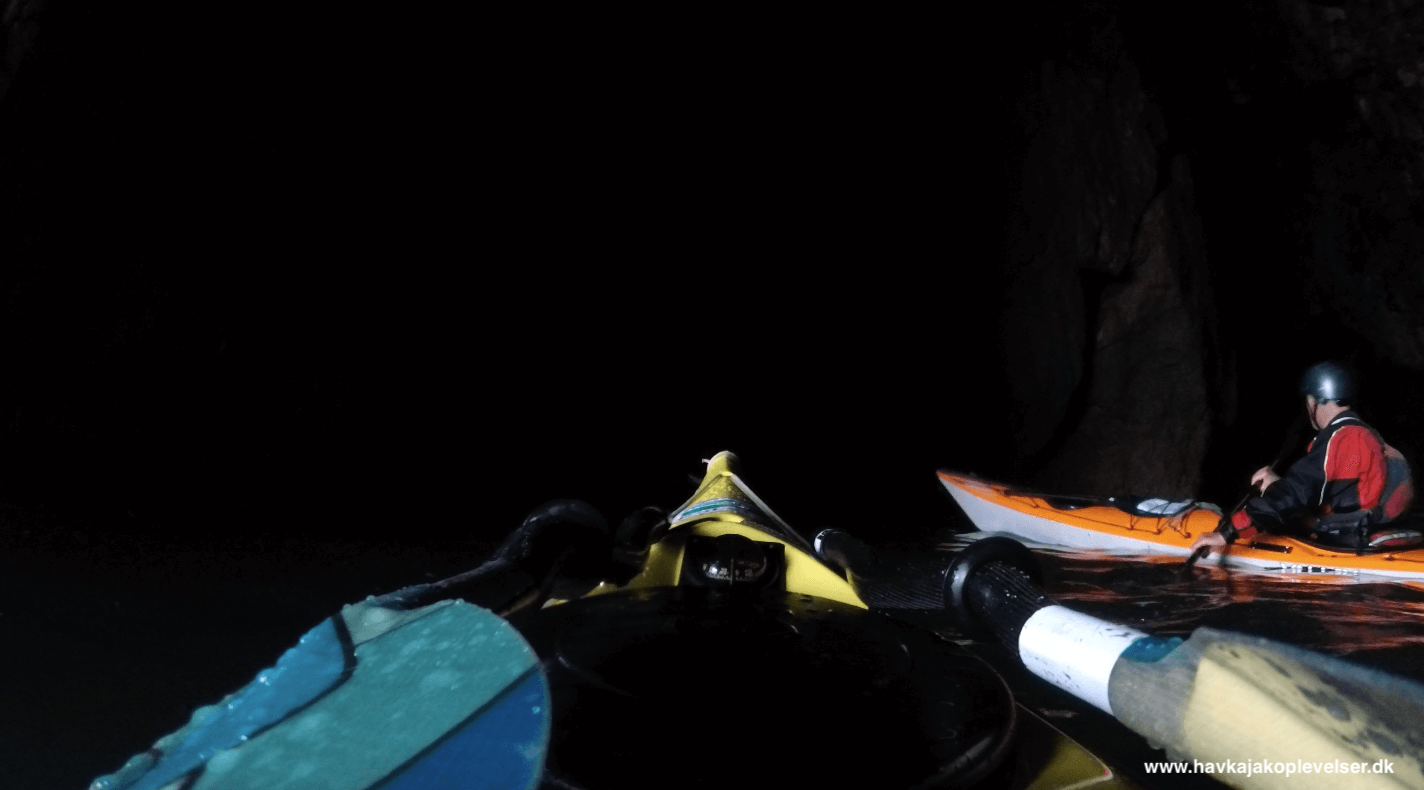 - Endnu ikke helt inde i bunden af grotten, men da vi kommere dybere ind i den kan mit kamera ikke længer fokusere i mørket.
- Not yet inside the bottom of the cave, but as we get in deeper, my camera can no longer focus in the darkness.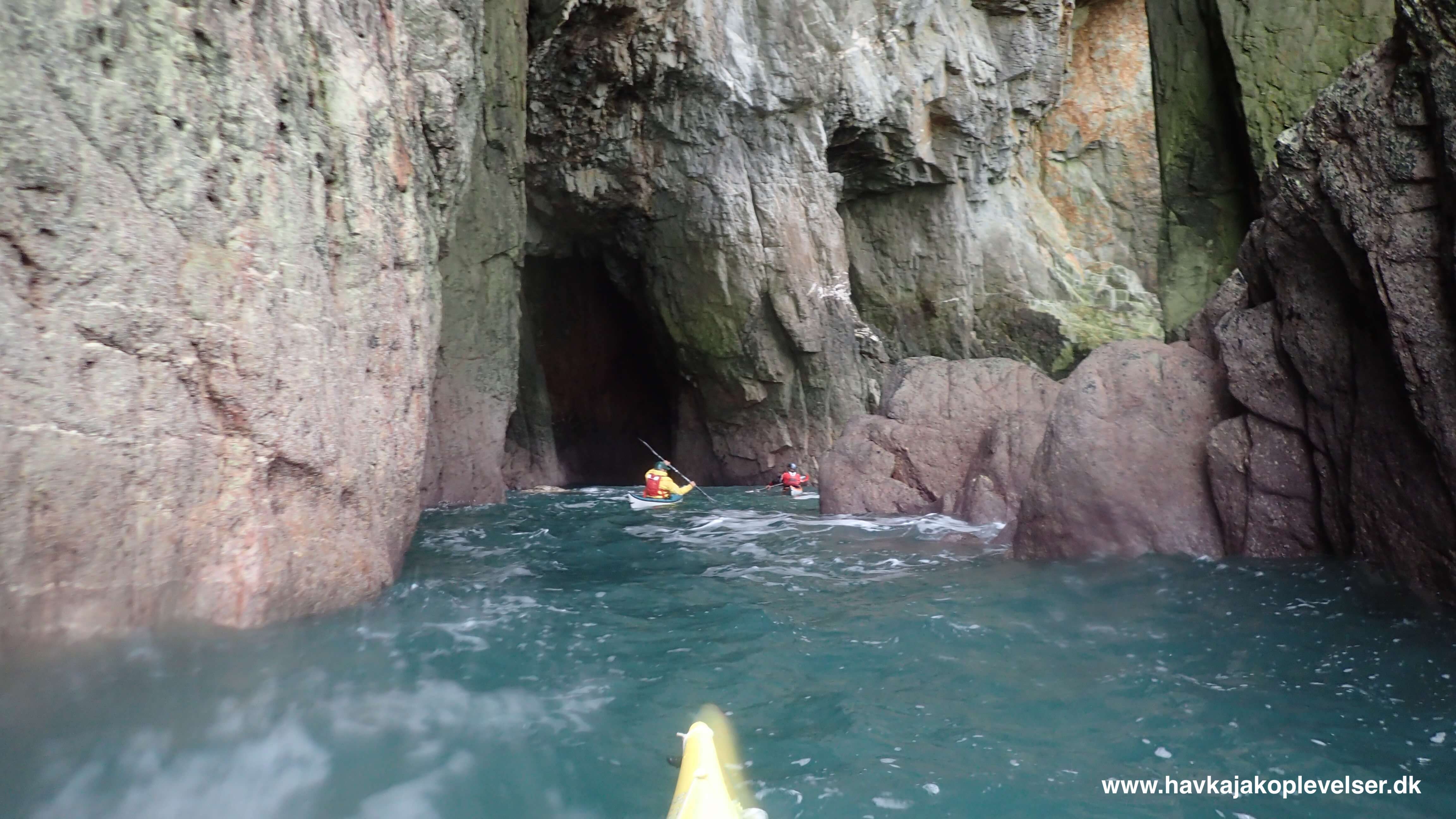 - Langs med denne strækning af turen ligger grotterne som perler på en snor. Forholdne er rigtig fine så vi ser nærmere på dem alle sammen, samtidig med der er masser af muligheder for rock hopping.
- Along this stretch of the trip, the caves lie like pearls on a string. Conditions are really nice so we take a closer look at them all, while having plenty of opportunities for rock jumping.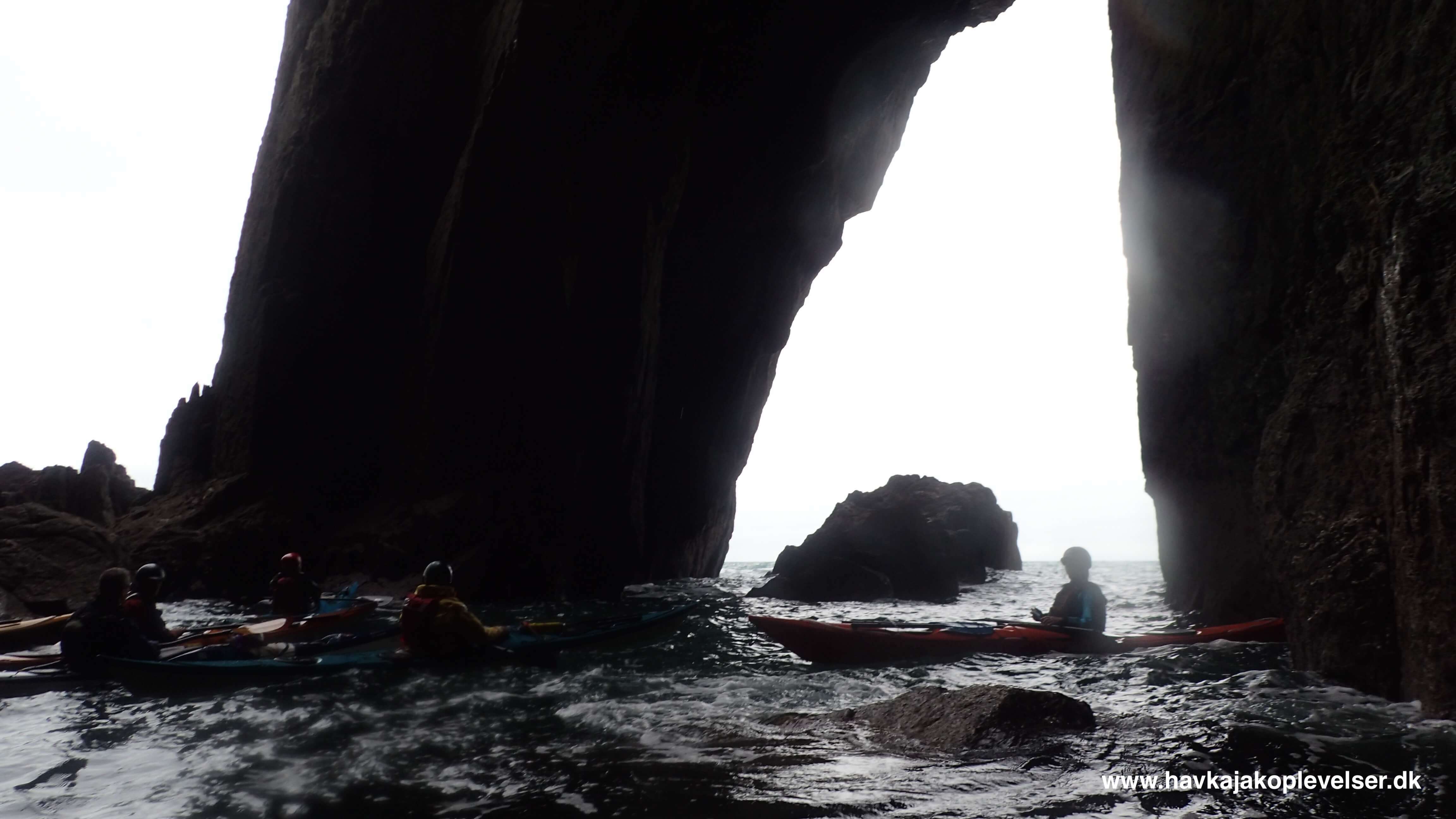 - Et af stederne er en blanding af både grotte og en arch.
- One of the places is a mix of both cave and an arch.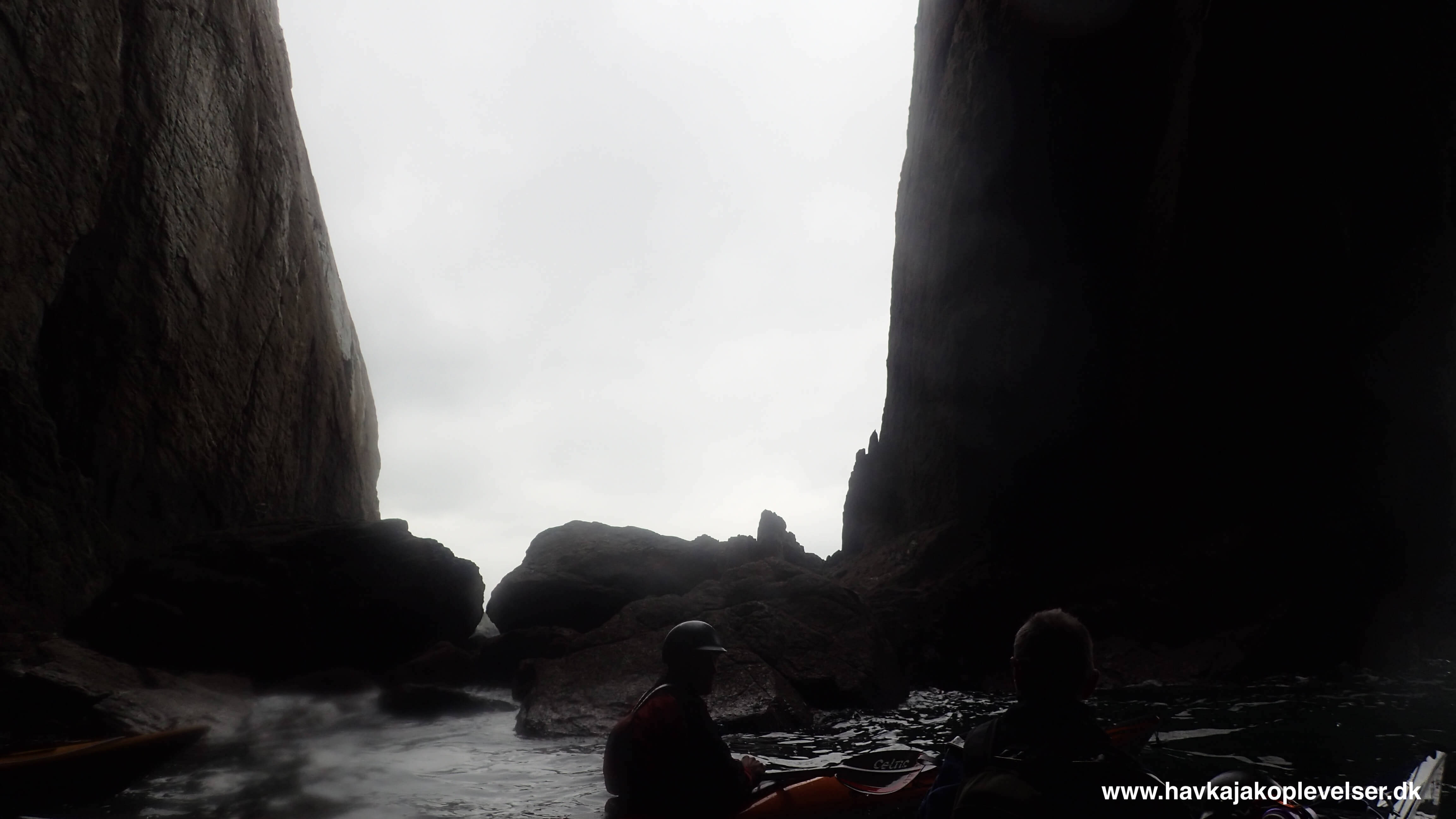 -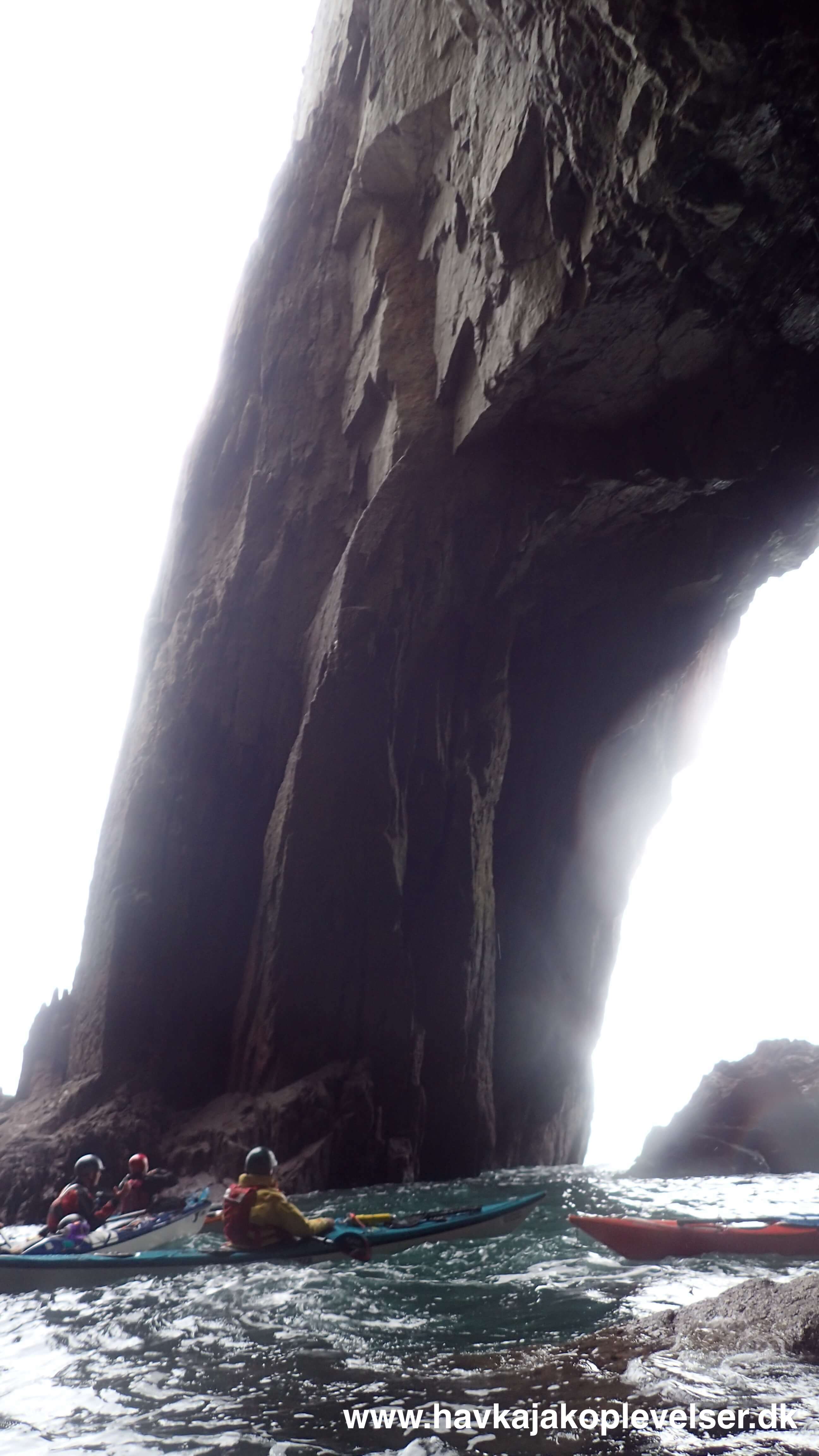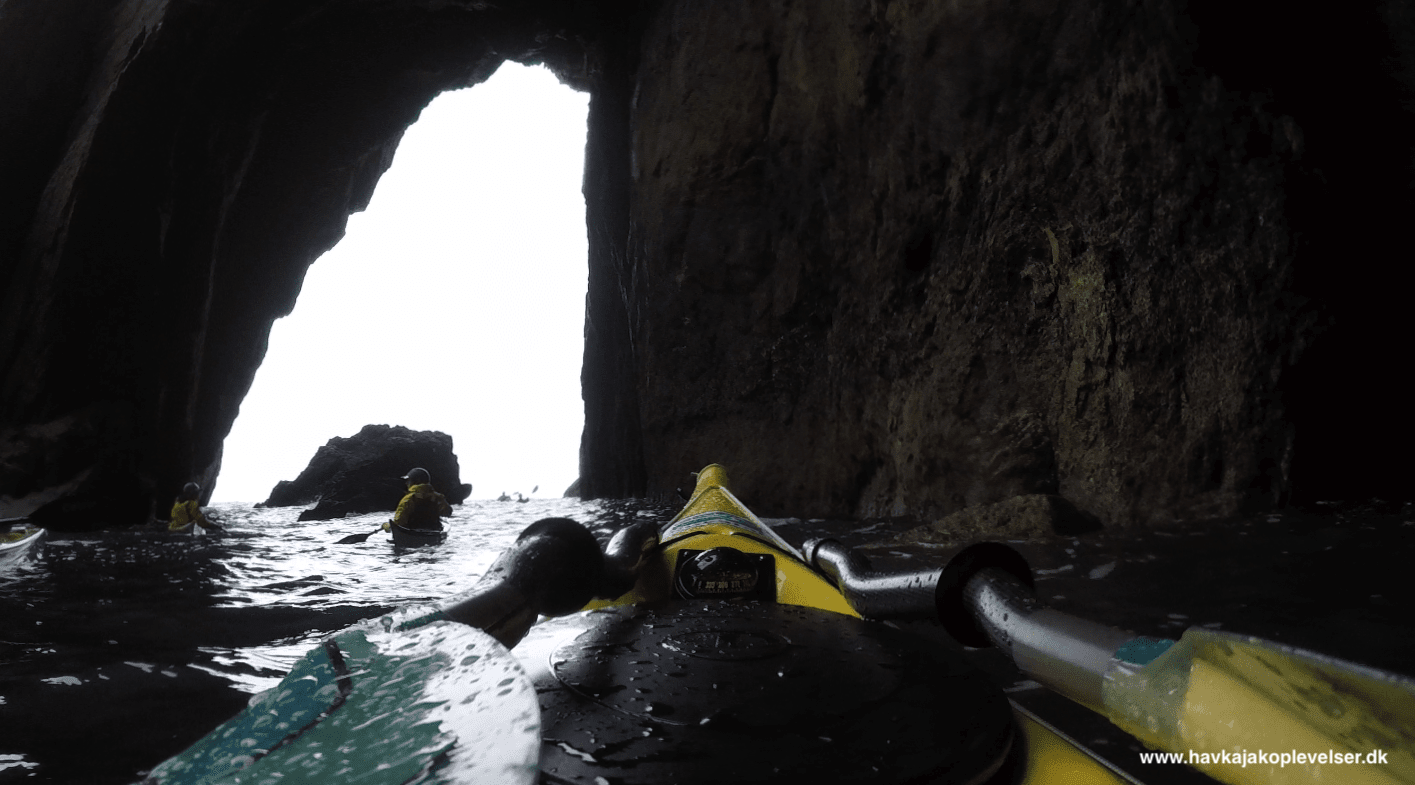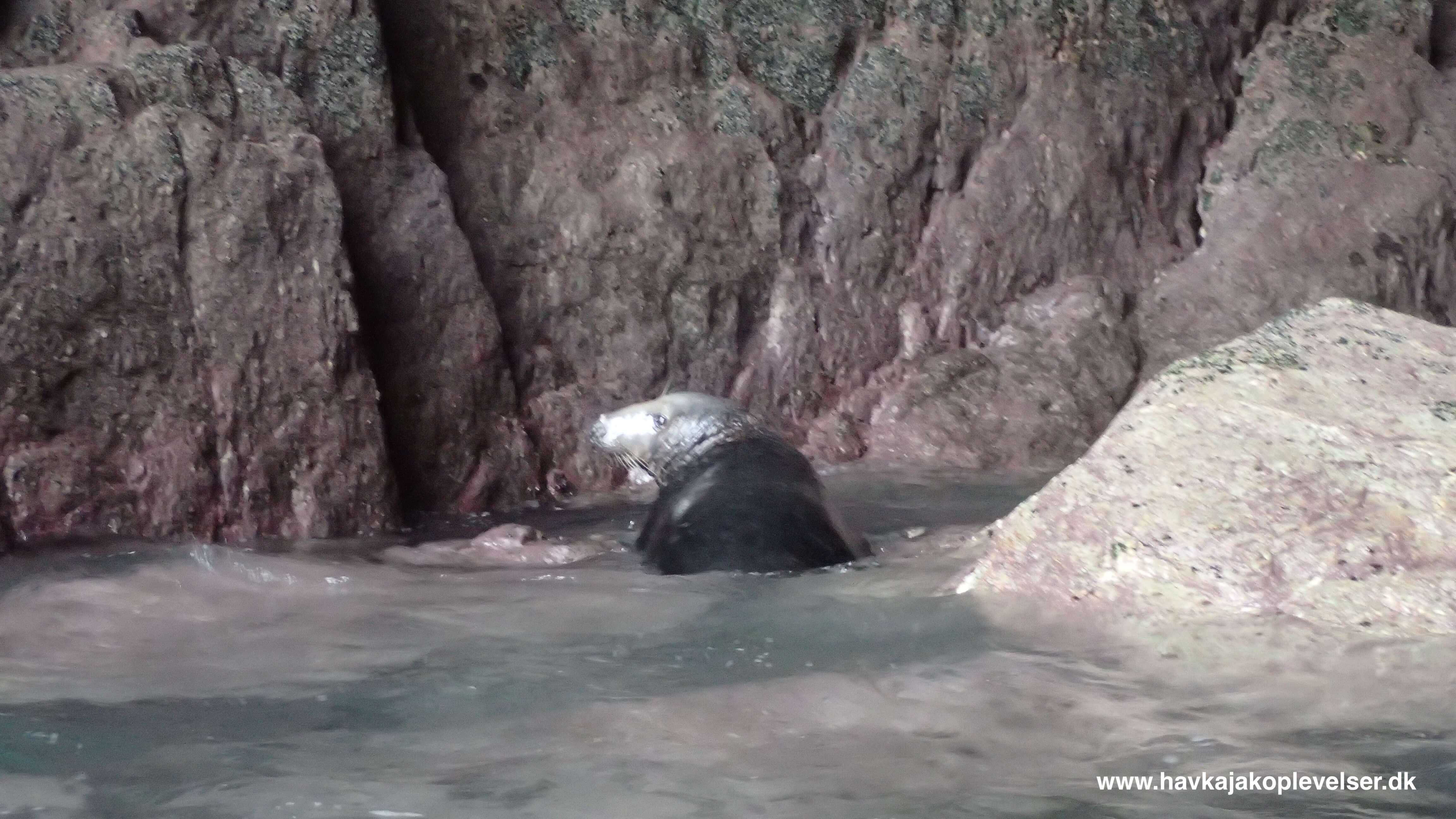 - Der er lys så langt ind som vi kan komme i kajakkerne, ikke desto mindre gav det noget af et gib i mig da denne meget store gråslæ pludselig dukkede op bare 2 m. fra mig.
- There is light as far in as we can get in the kayaks, nevertheless it gave something of a gib when this very large gray seal suddenly appeared just 2 m. from me.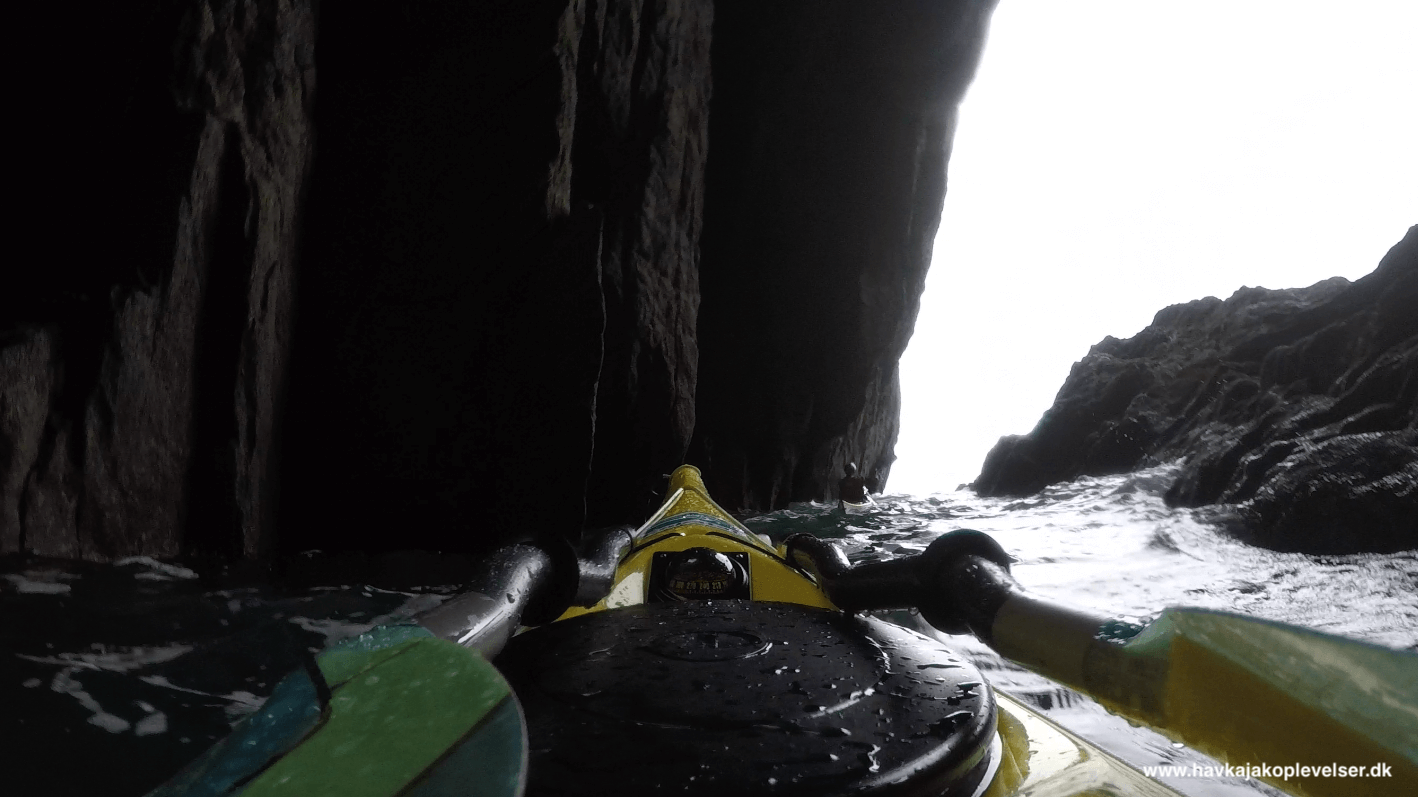 - Vi vælger en anden vej ud end vi kom ind - timing i passagen mellem klippevægen og klippen til højre er ikke helt uvæsenlig.
- We choose another way out - timing in the passage between the rock wall and the rock to the right is not entirely unimportant.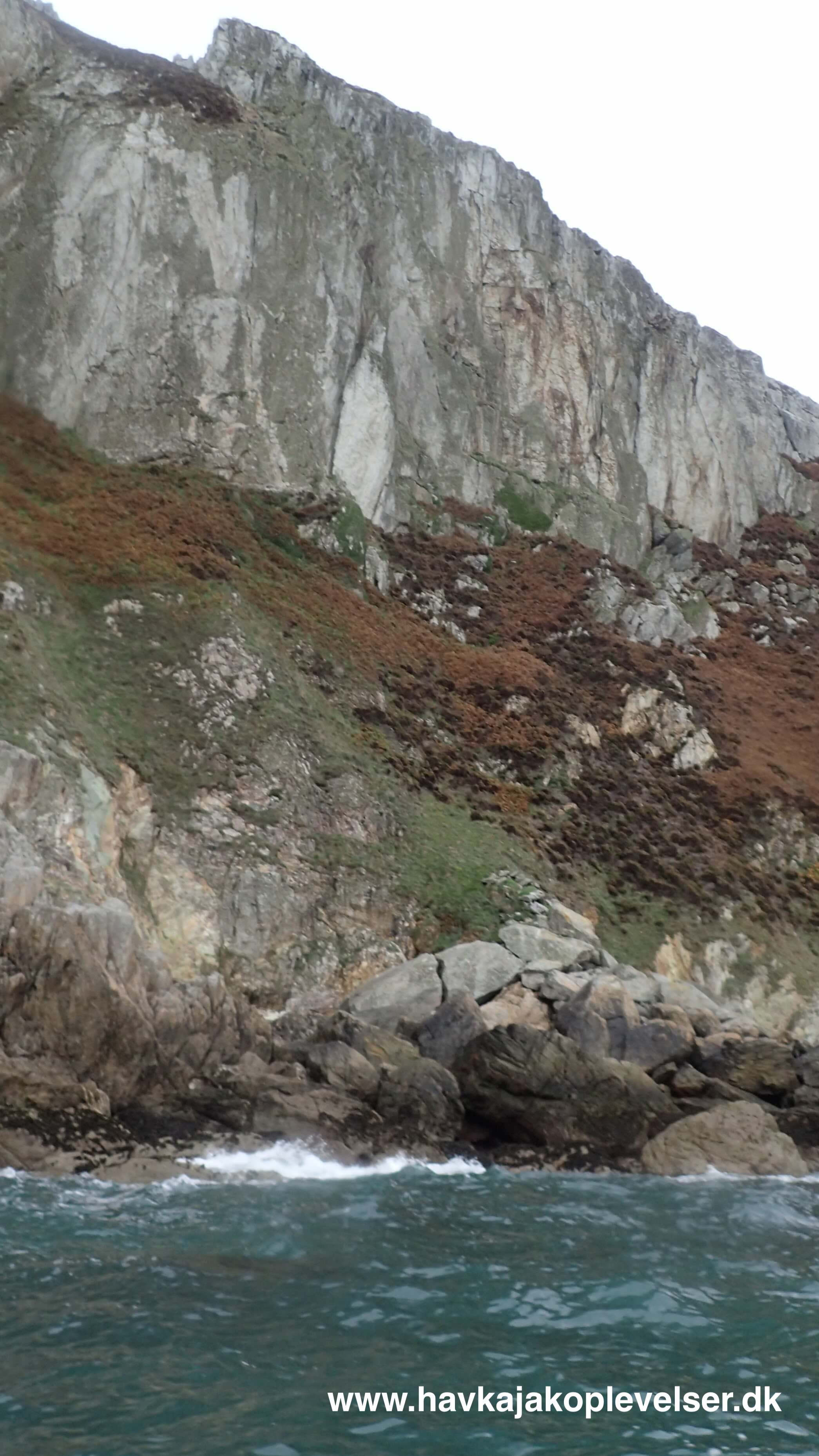 - Efter den sidste grotte ændre kystlinjen sig.
- After the last cave, the coastline changes.
- Høje lodret klippevægge. Jeg har roet turen mange gange, og hver gang får jeg en wau føgelse.
- High vertical rock wall. I have paddled this trip many times and each time I get a wau feeling.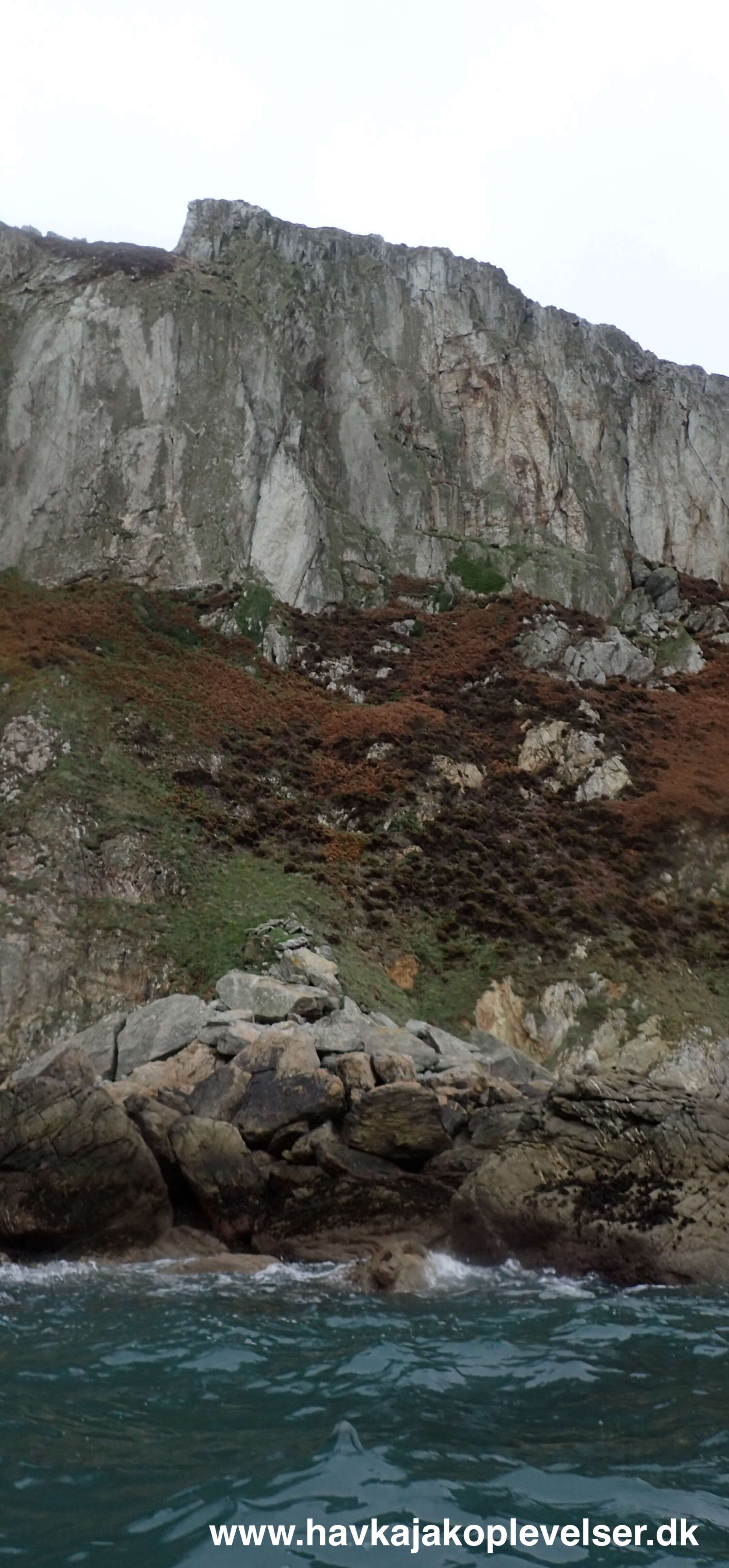 - Videre på vej imod South Stack fyrtårn.
- Further on towards the South Stack lighthouse.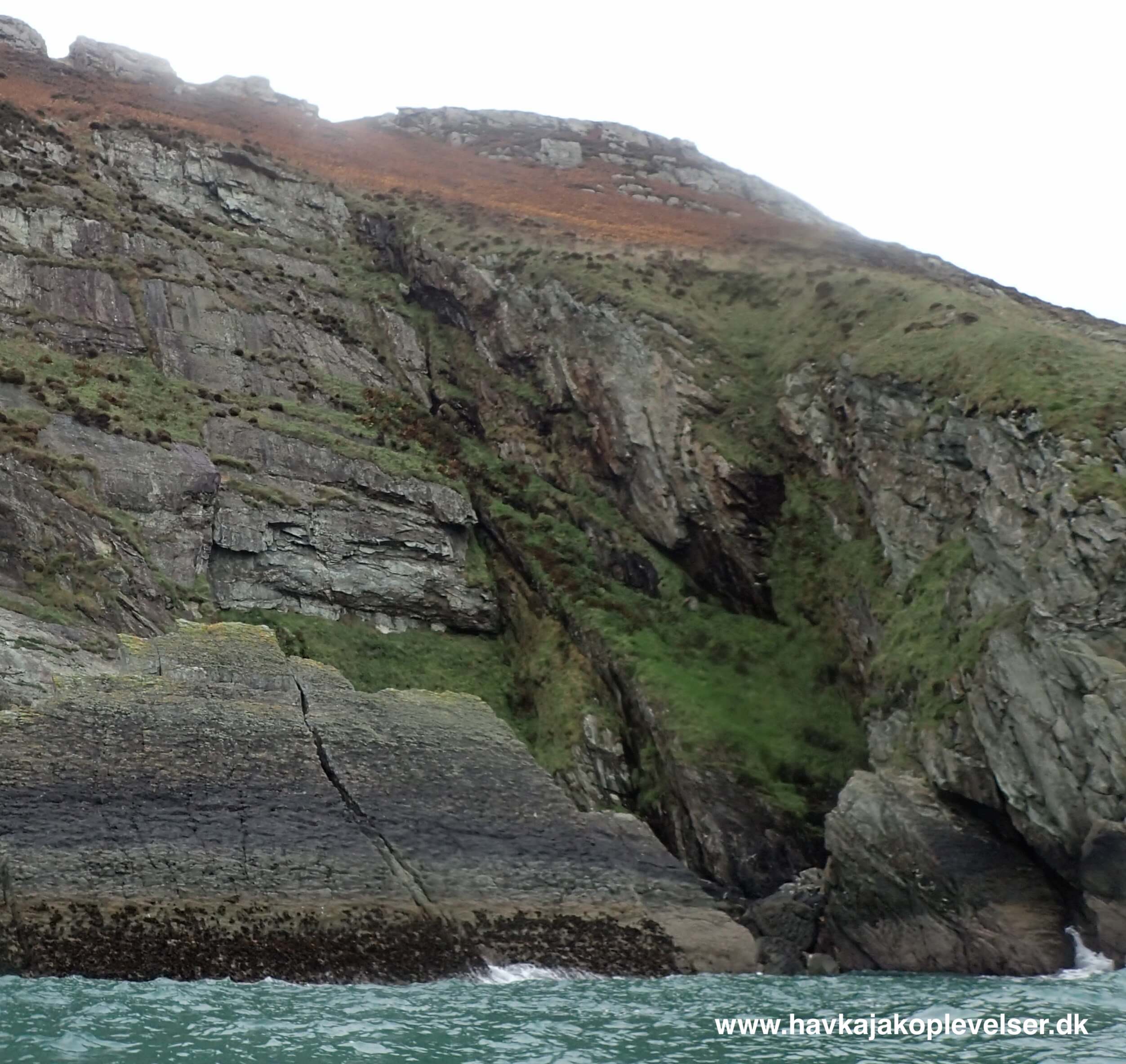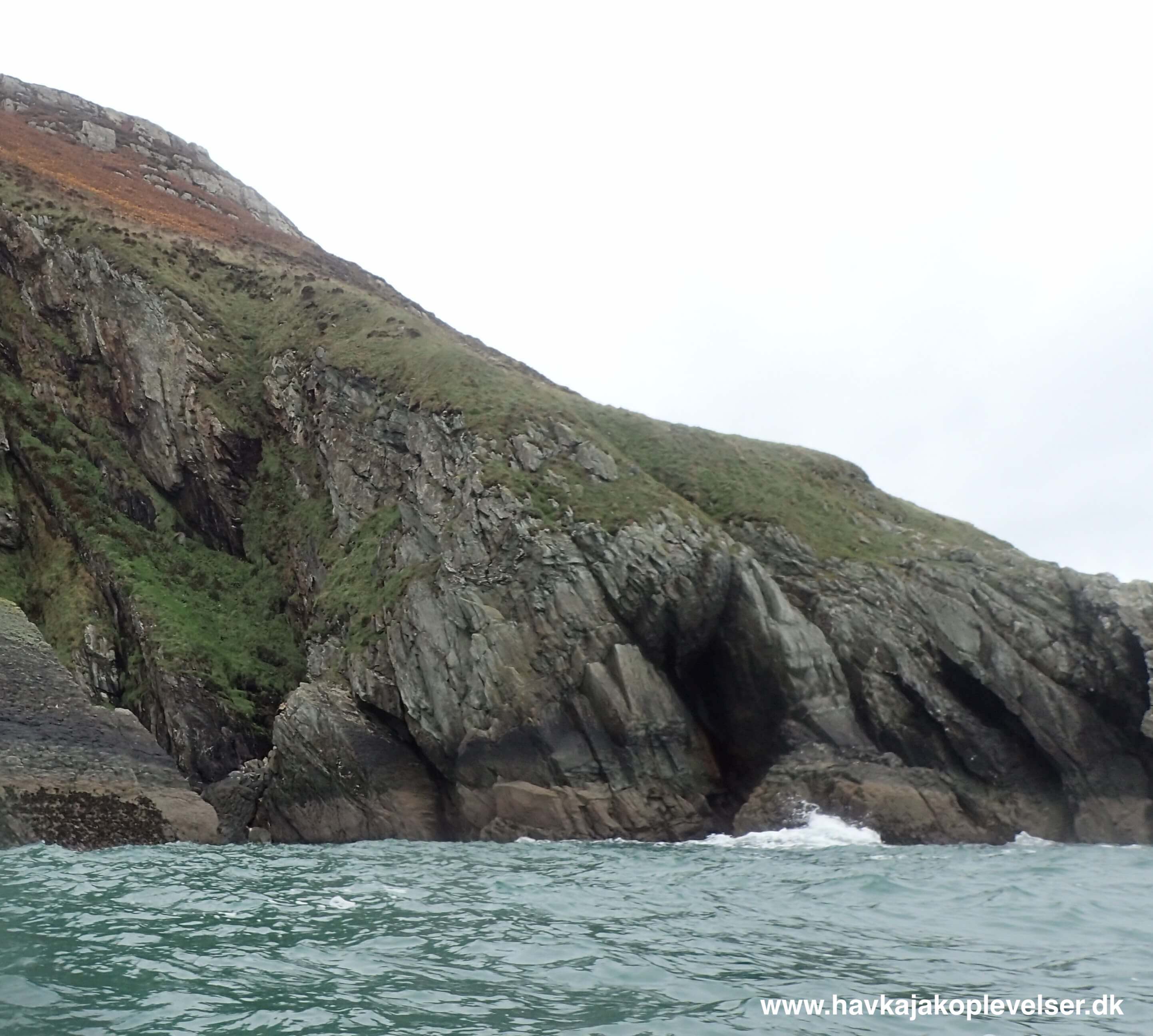 - Klippekysten bliver mindre stejl, men stadig ikke nogle særlig oplagte steder man kan lande, hvorfor denne tur bruges blandt andet også kan bruges til BCU Advanced Leader Sea / BCU 5 Star Leader training og assessment.
- The rocks becomes less steep, but still no particularly obvious places to land, which is why this trip, among other things, is also used for BCU Advanced Leader Sea / BCU 5 Star Leader training and assessment.
- Som vi nærmer os South Stack på Angleseys nordvestkyst får vi lidt bølger ind mod klipperne.
- As we get closer to South Stack on the northwest coast of Anglesey, we get a little waves towards the rocks.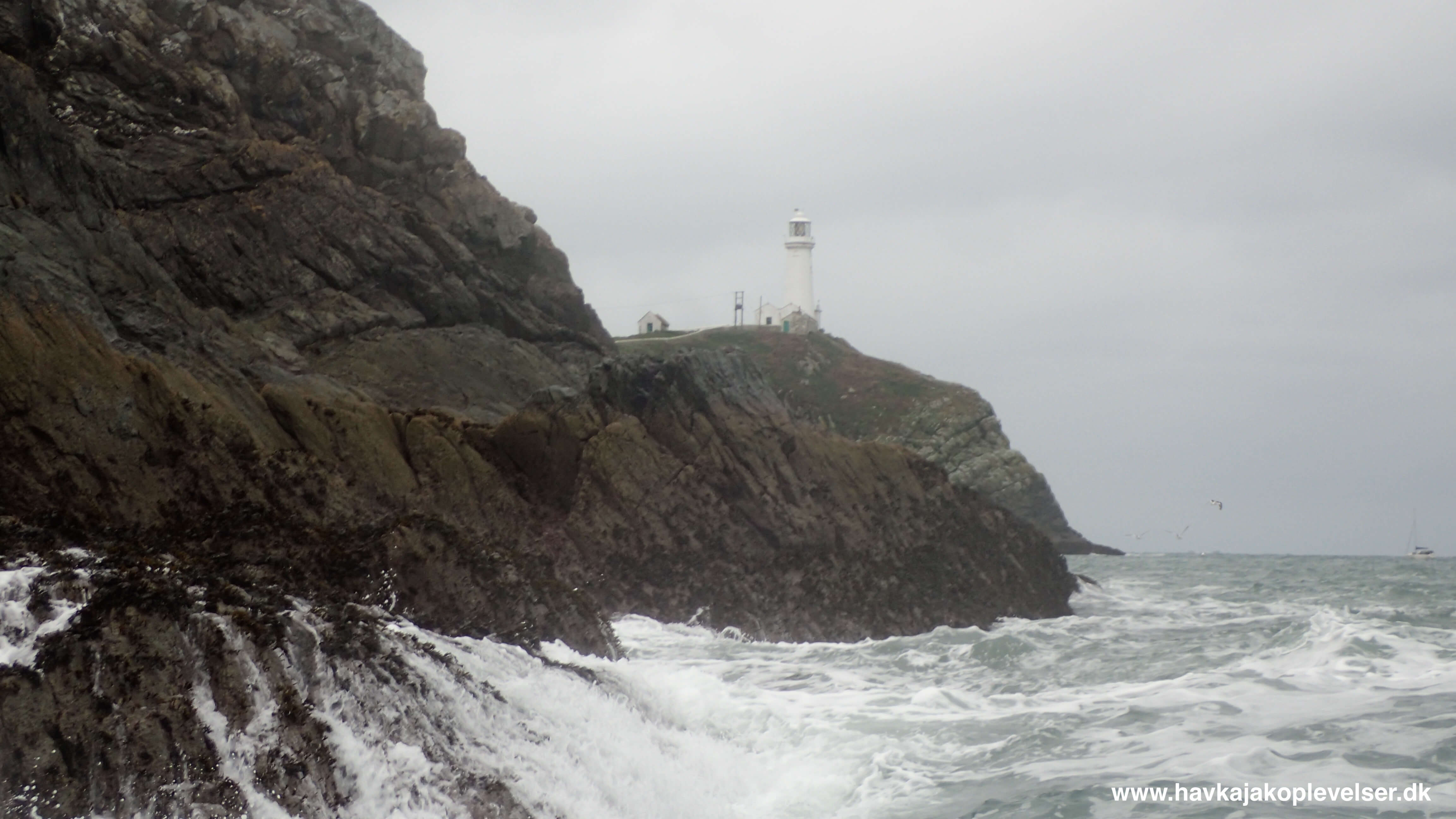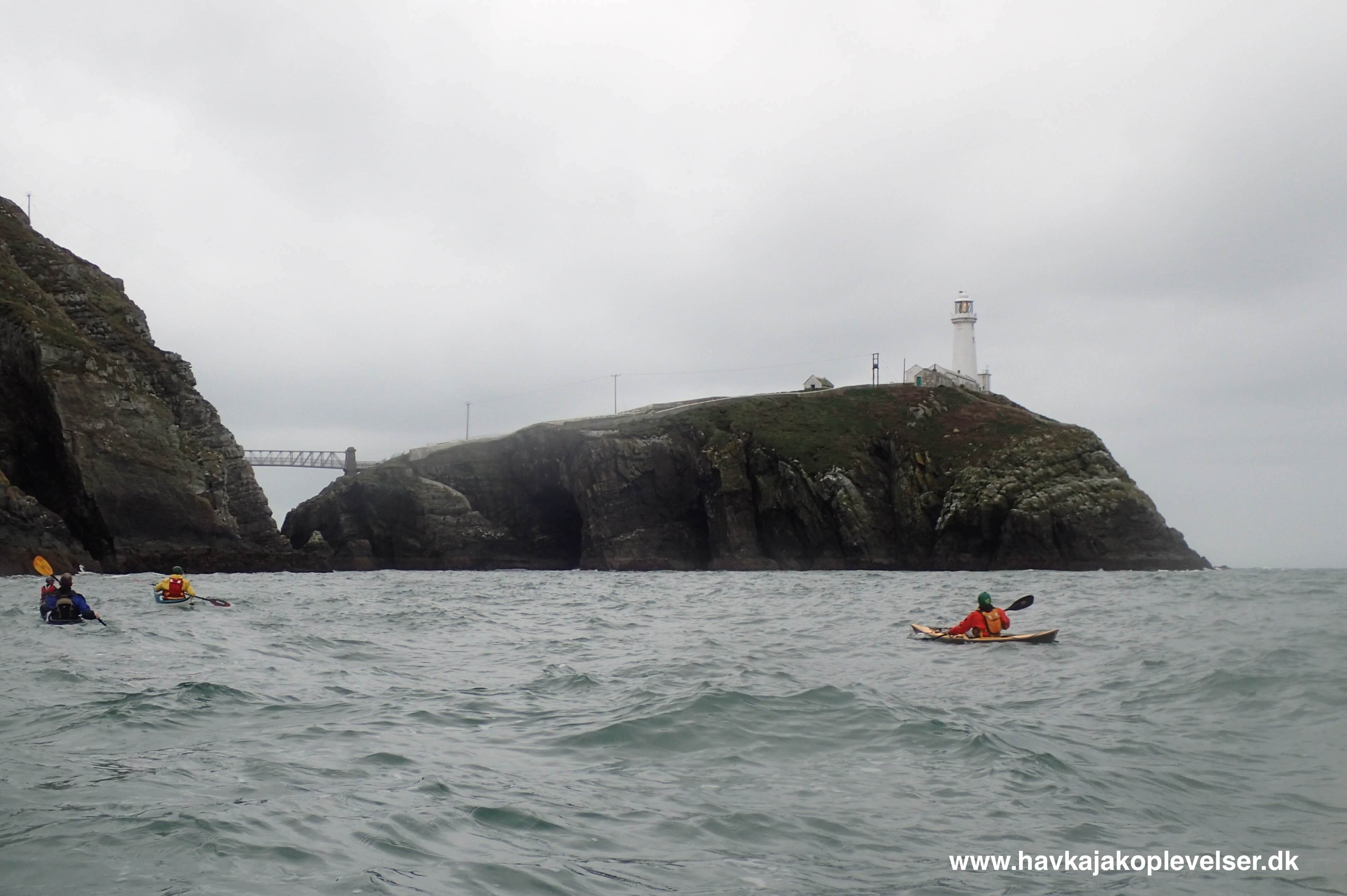 - Fyrtårnet på den lille klippe ø er helt tilbage fra 1809, og har sammen med North Stack, været en del af en række advarsels stationer for skibstrafikken mod de lumske klippeskær langs kysten.
- The lighthouse on the small rocky island dates back to 1809, and together with the North Stack, has been part of a series of warning stations for the ships against the treacherous skerries along the coast.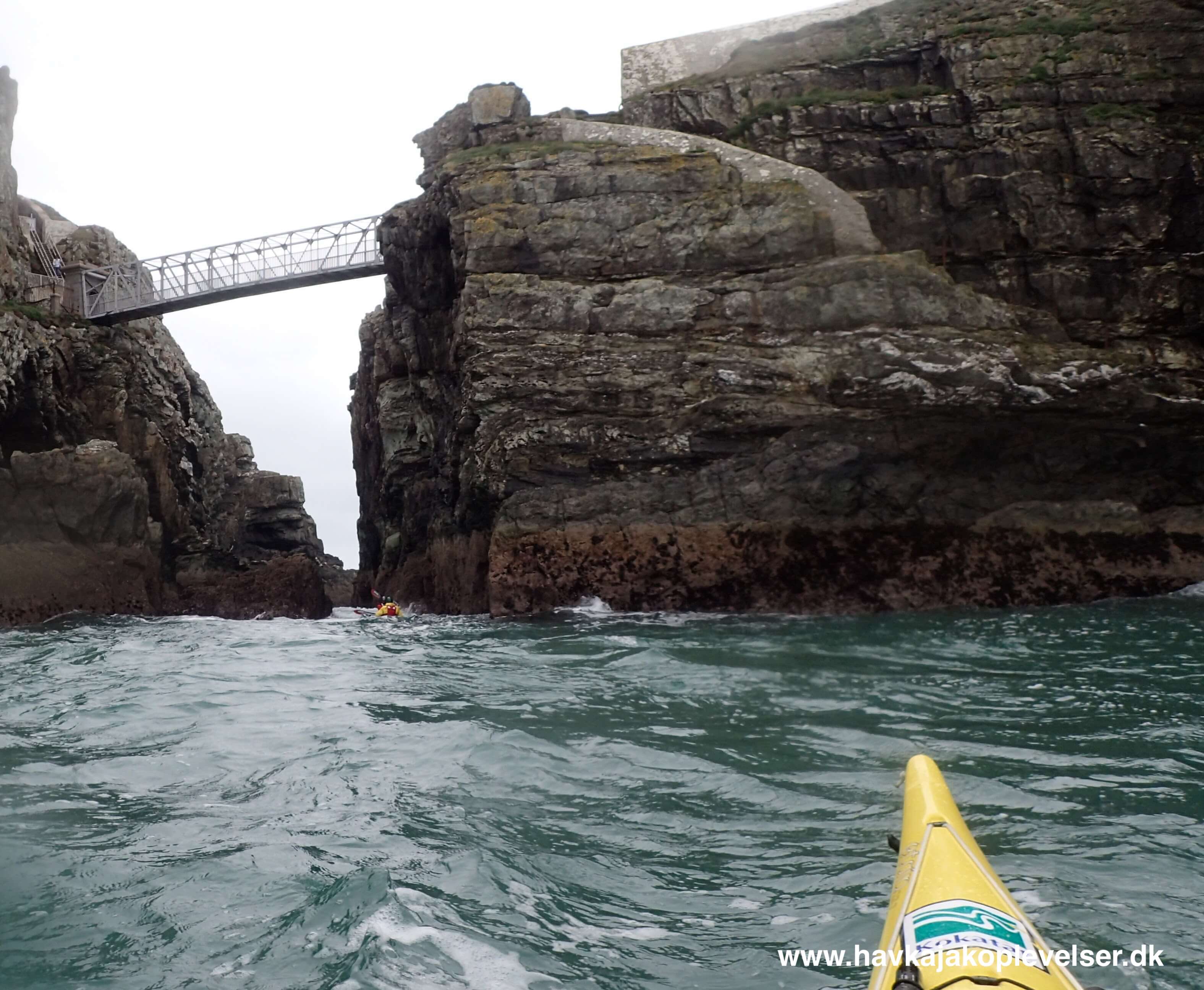 - En gangbro føre over til selve fyrtårnet.
- A footbridge lead to the lighthouse itself.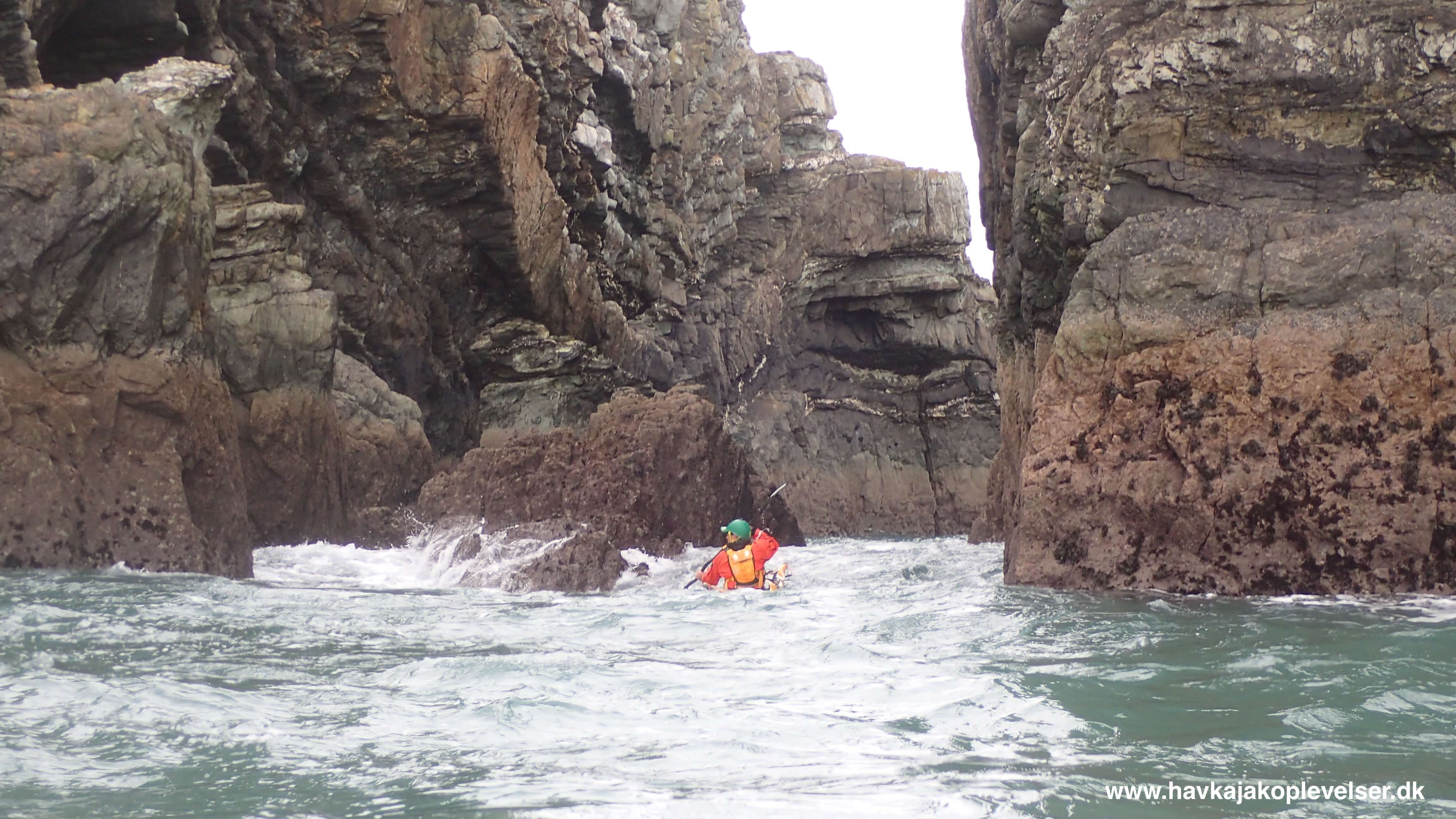 - Passagen er smal og igen er timingen vigtig.
- The passage is narrow and again the timing is important.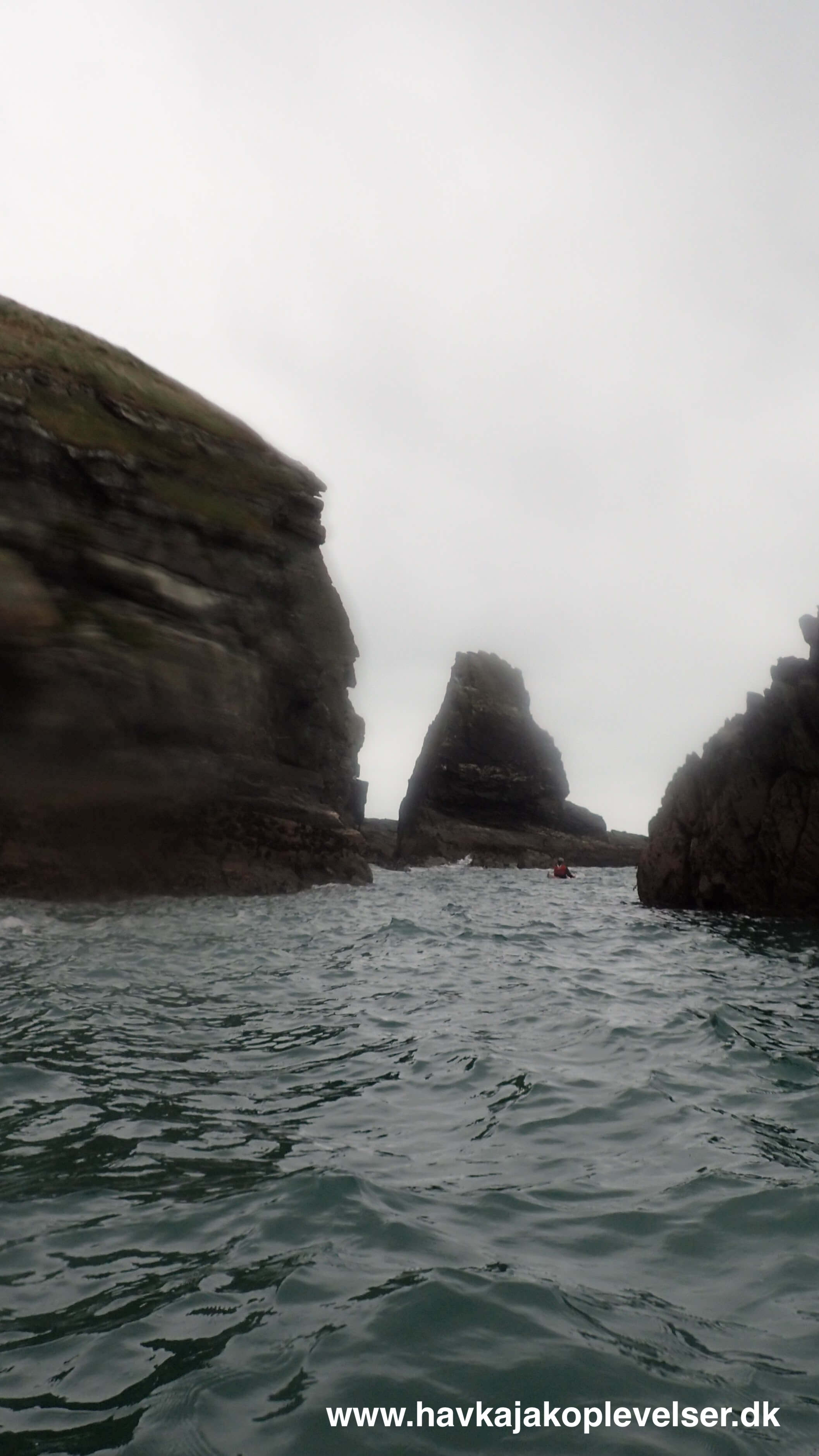 - Efter fyrtårnet er der roligt vand og det er så småt ved at være tid til frokost.
- After the lighthouse there is calm water and it is almost time for lunch.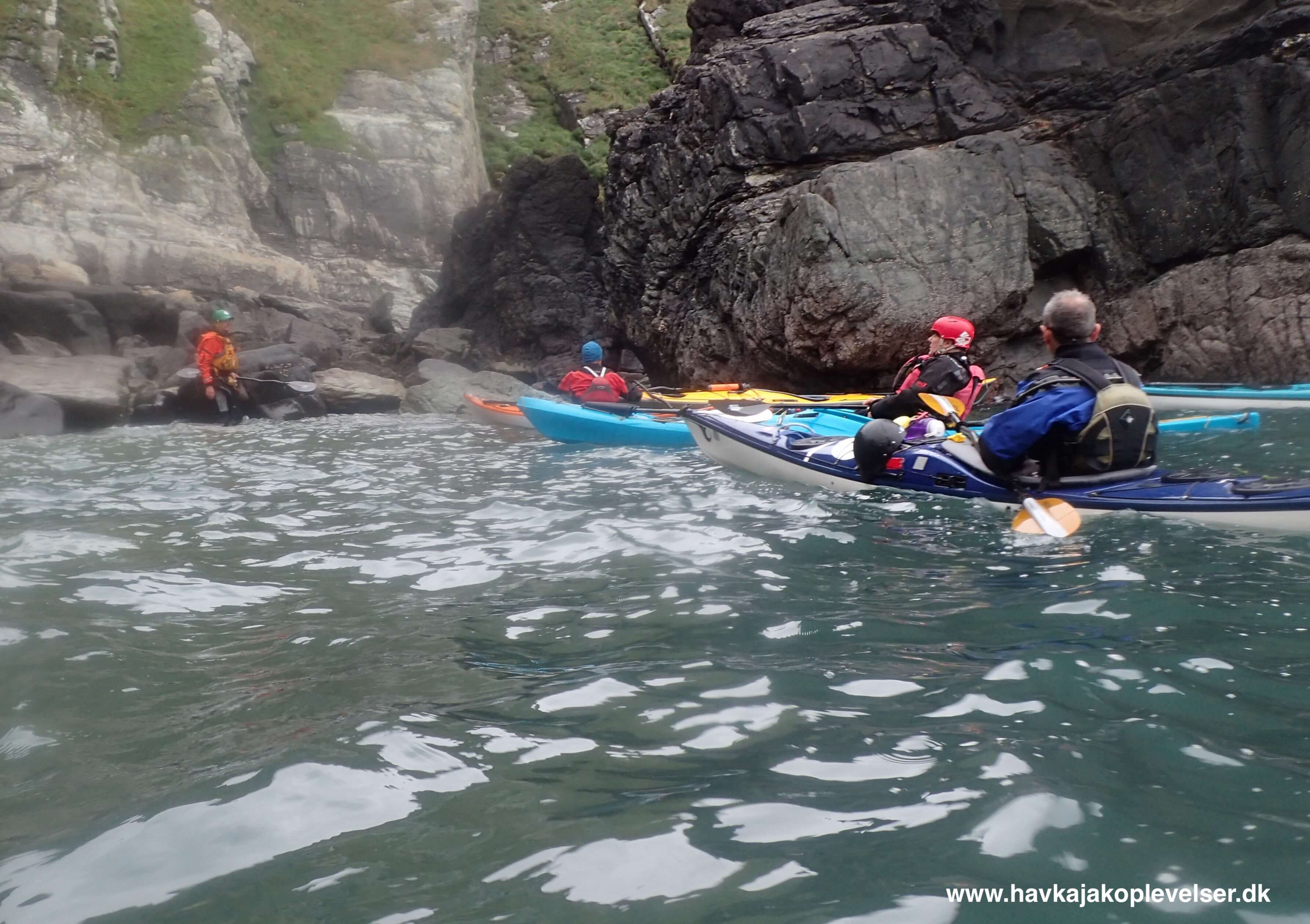 - Landing mellem store klippeblokke og en smal kløft betyder frokost.
- Landing between large boulders and a narrow gorge equals lunch.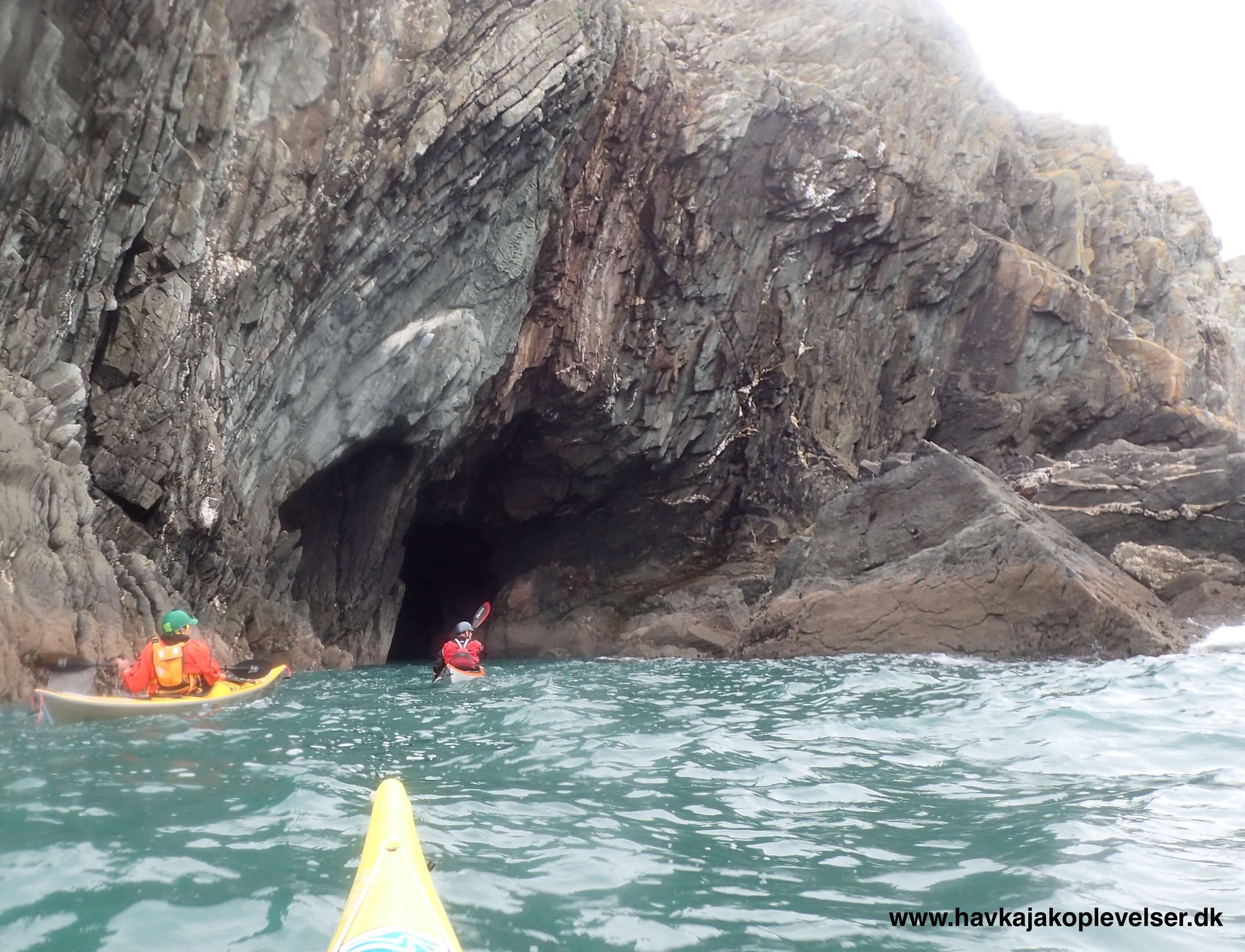 - Efter frokost giver vi os igen god tid til at nyde kysten så dagen kunne sluttes af med leg i tidevands racet ved Penrhyn Mawr.
- After lunch we again give ourselves plenty of time to enjoy the coast so the day could end with a little play in the tidal race at Penrhyn Mawr.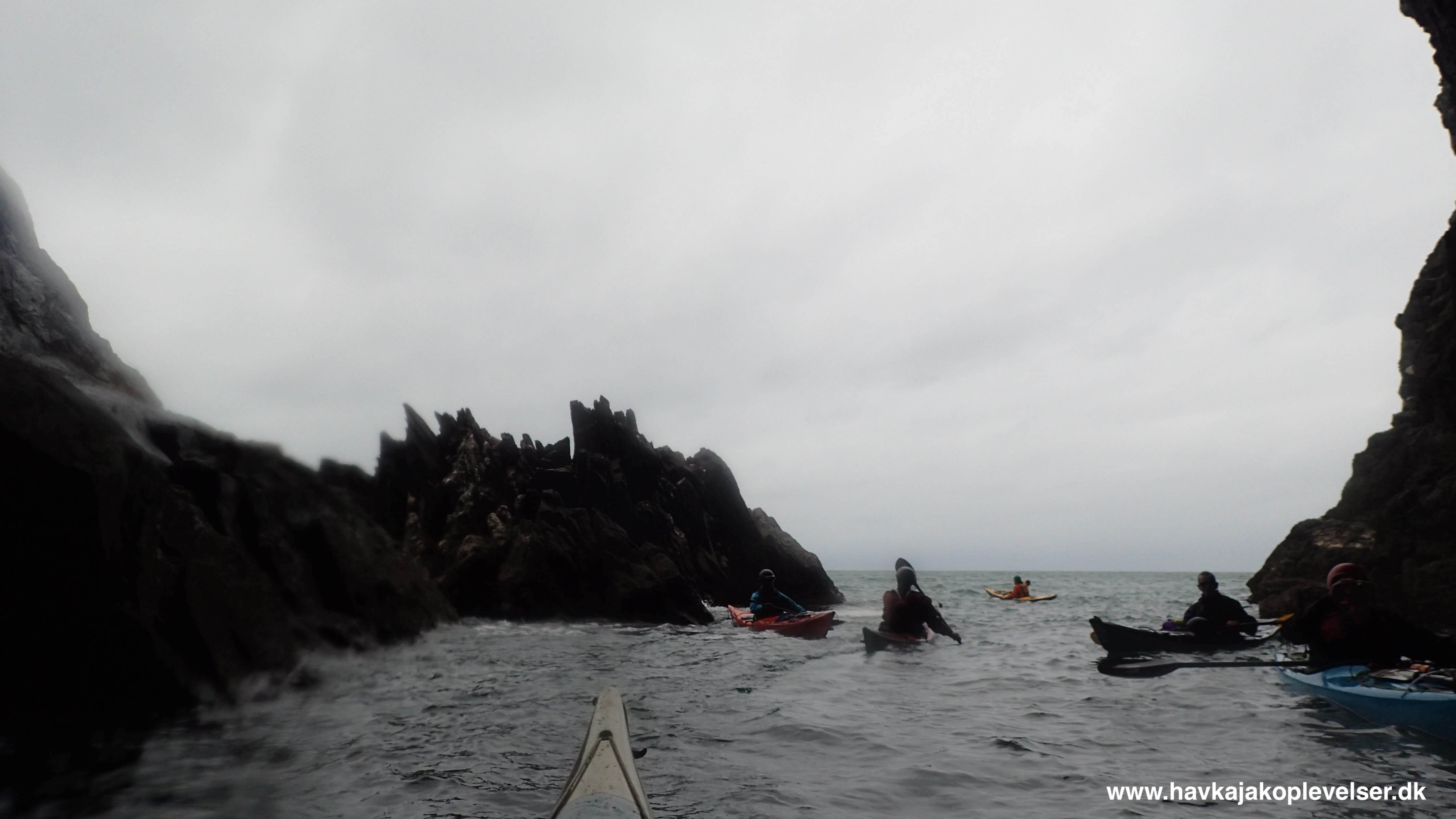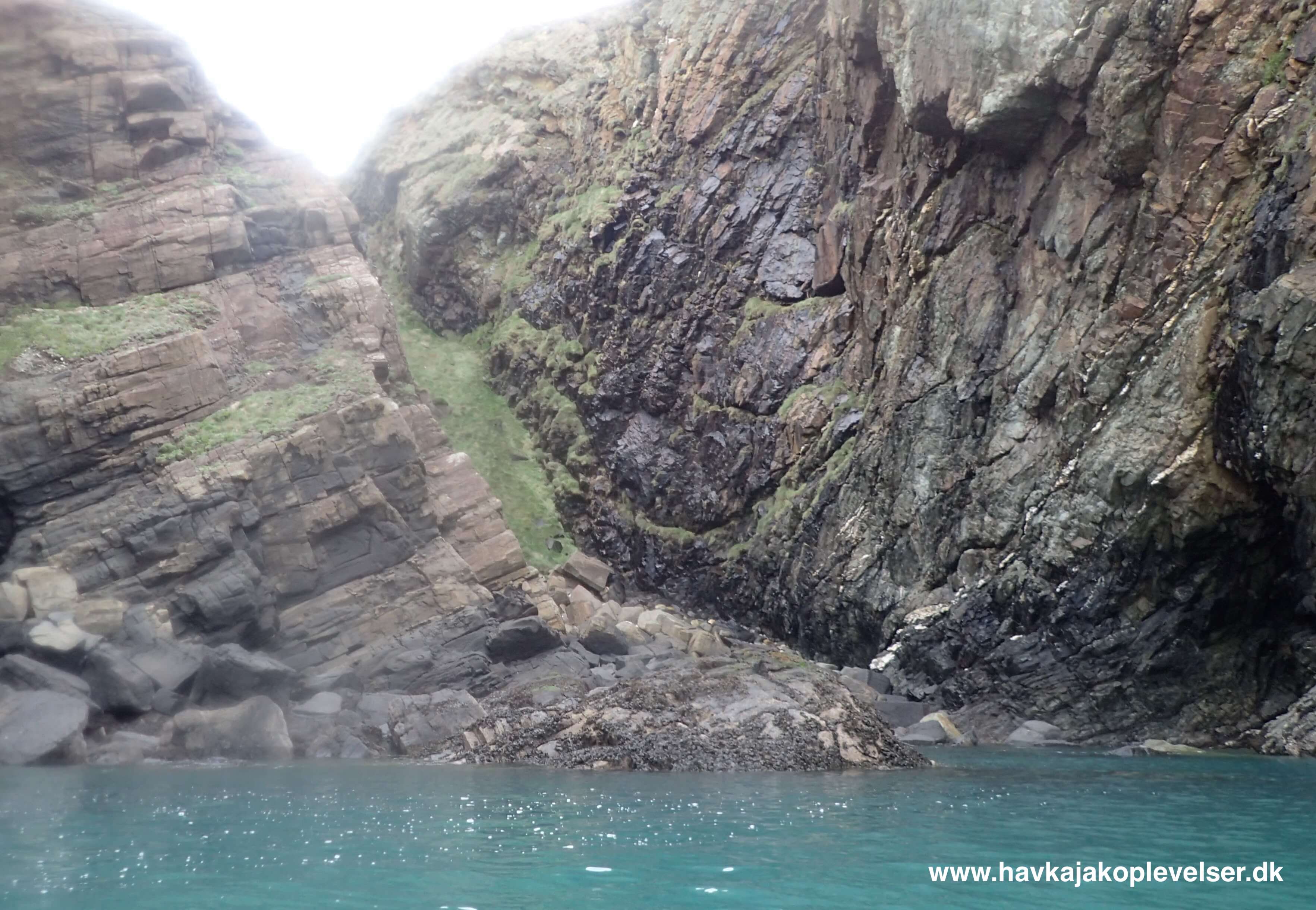 - Igen er sceneriet meget afvekslende.
- Again, the scenery is very changing.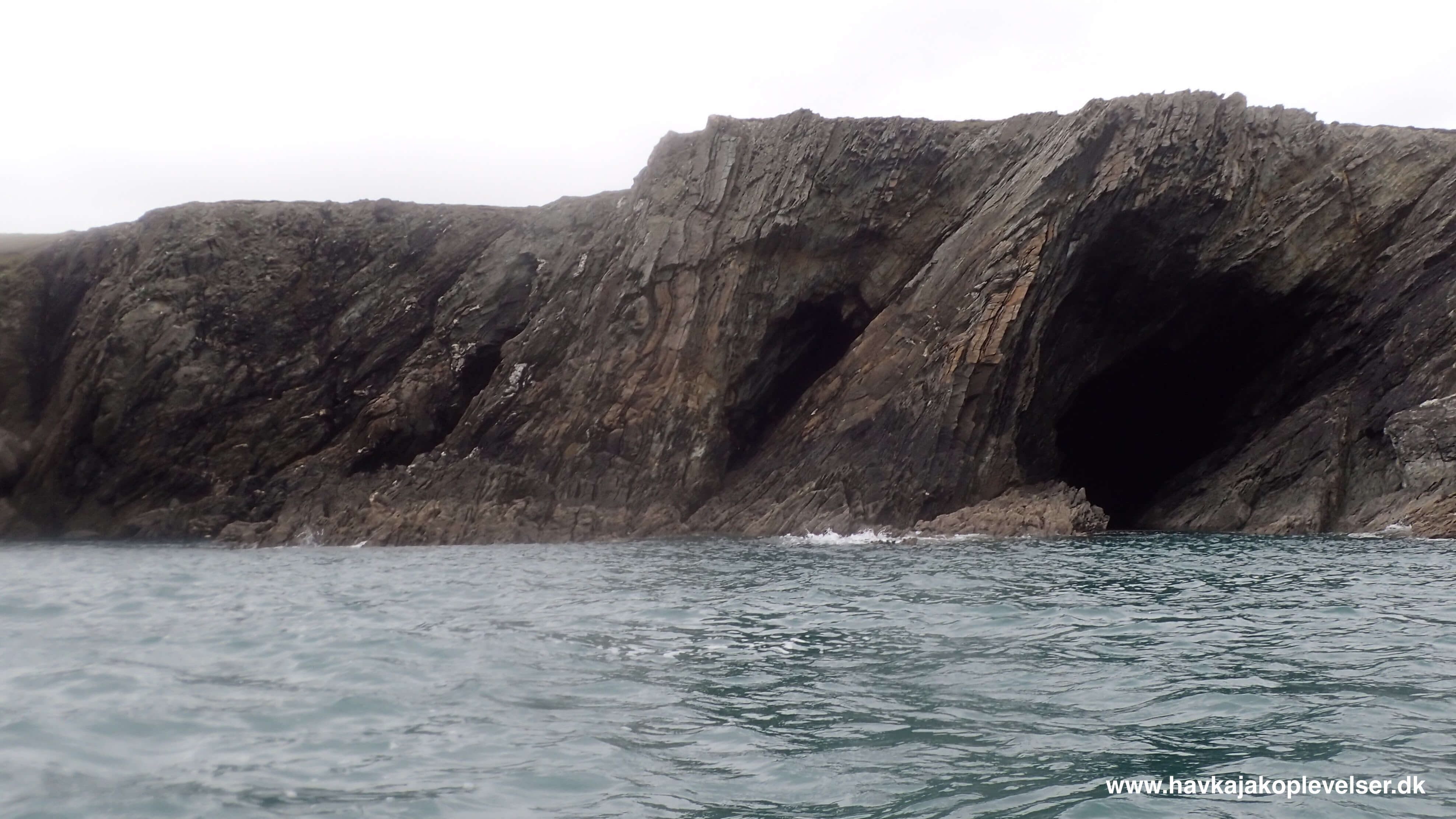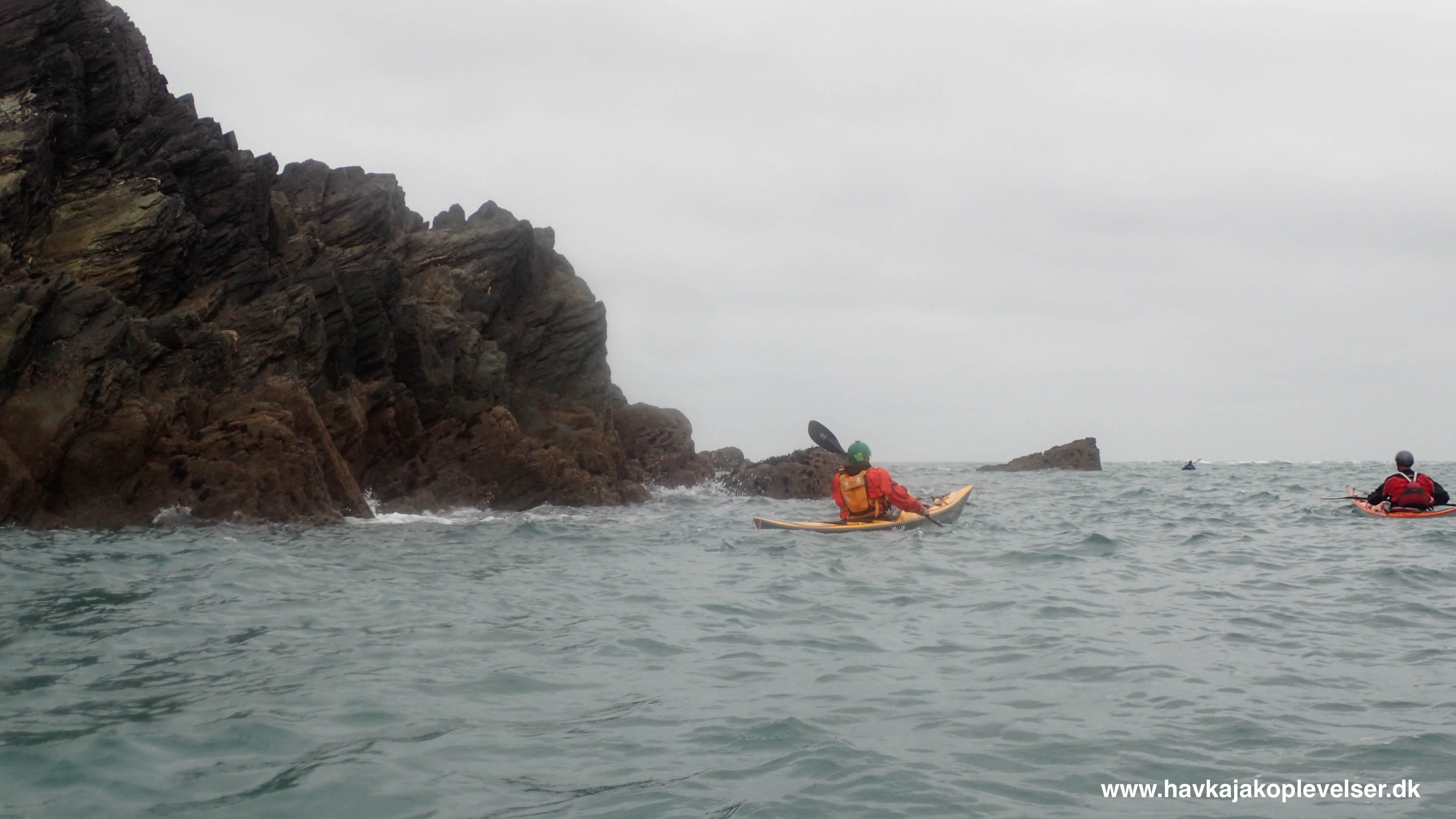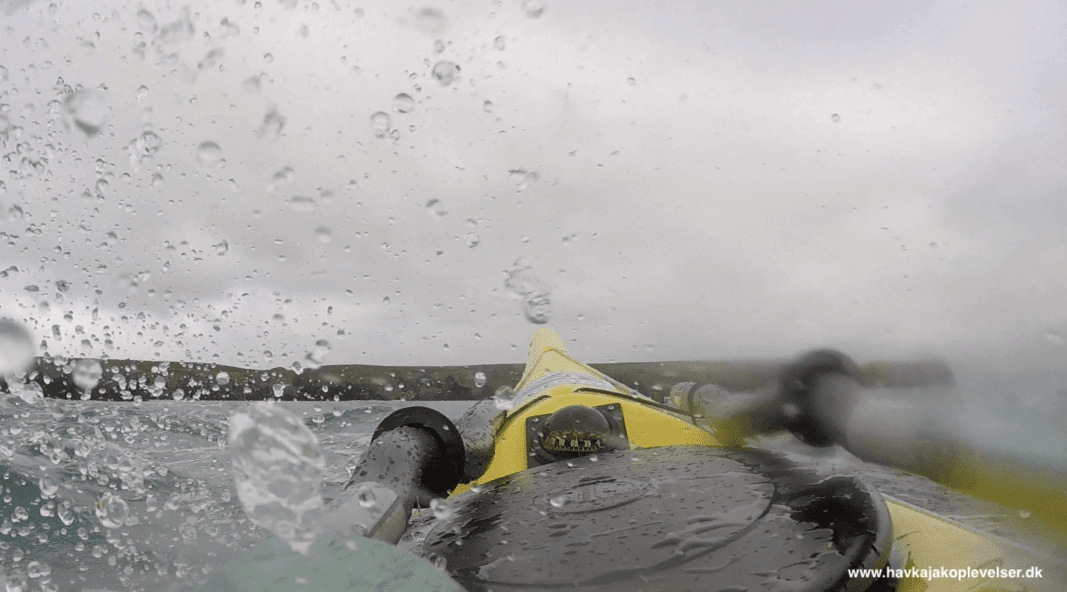 - Vi krydser bugten, Abraham's Bosom.
- We cross the bay, Abraham's Bosom.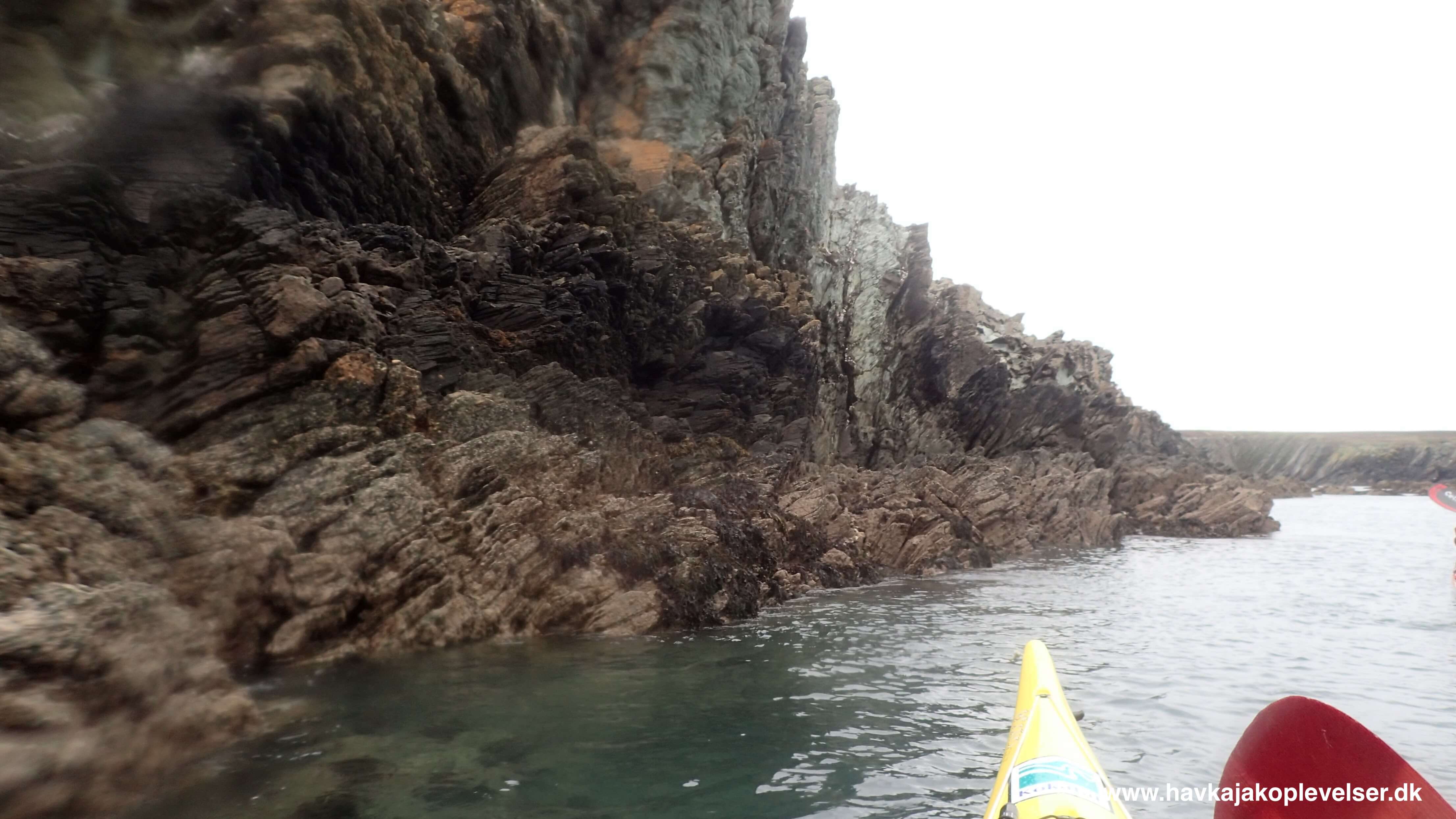 - Vi holder os helt tæt til klipperne.
- We stay very close to the rocks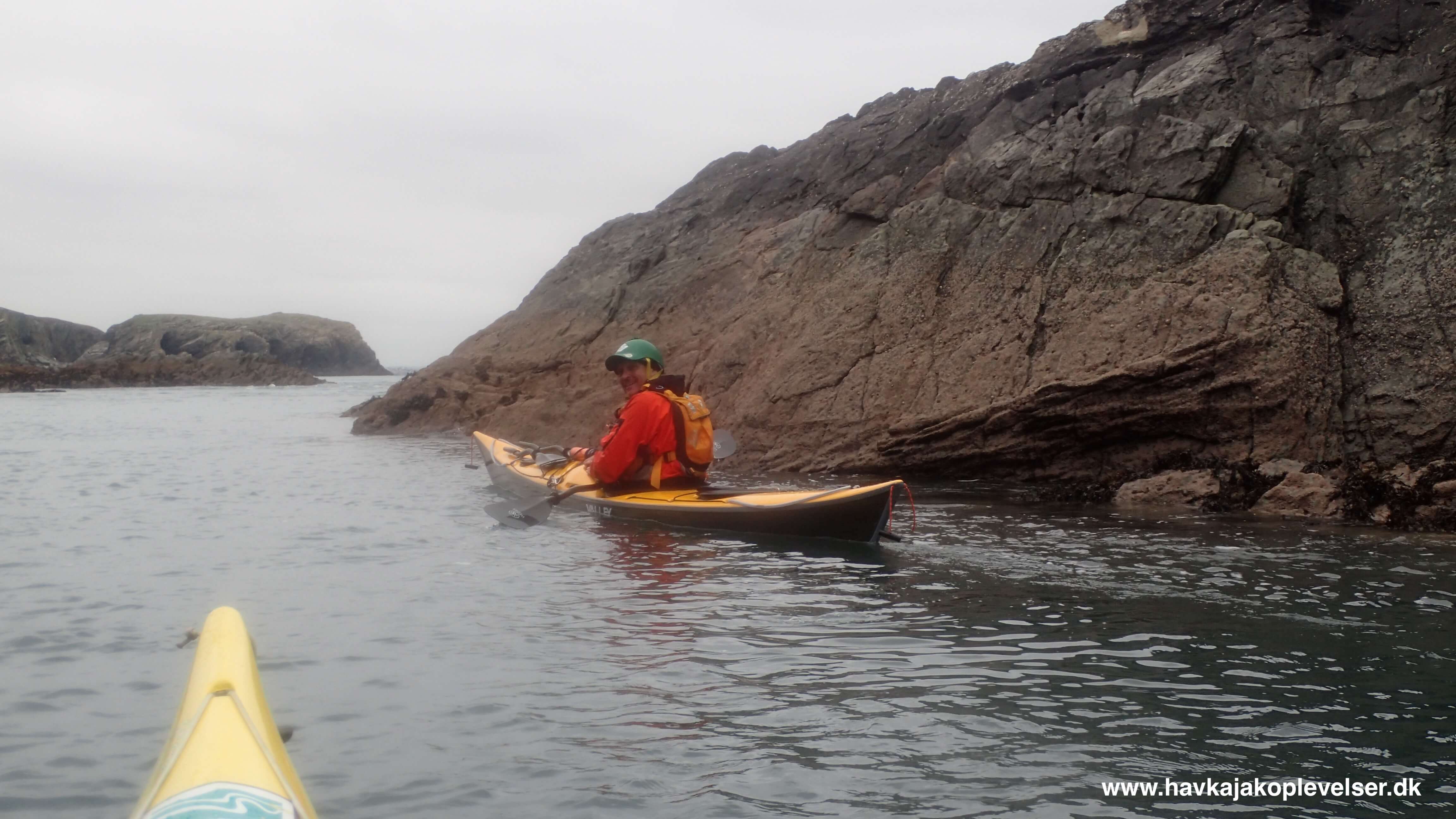 - Og prøver at finde så mange passager dem som muligt.
- And try to find as many passages between them as possible.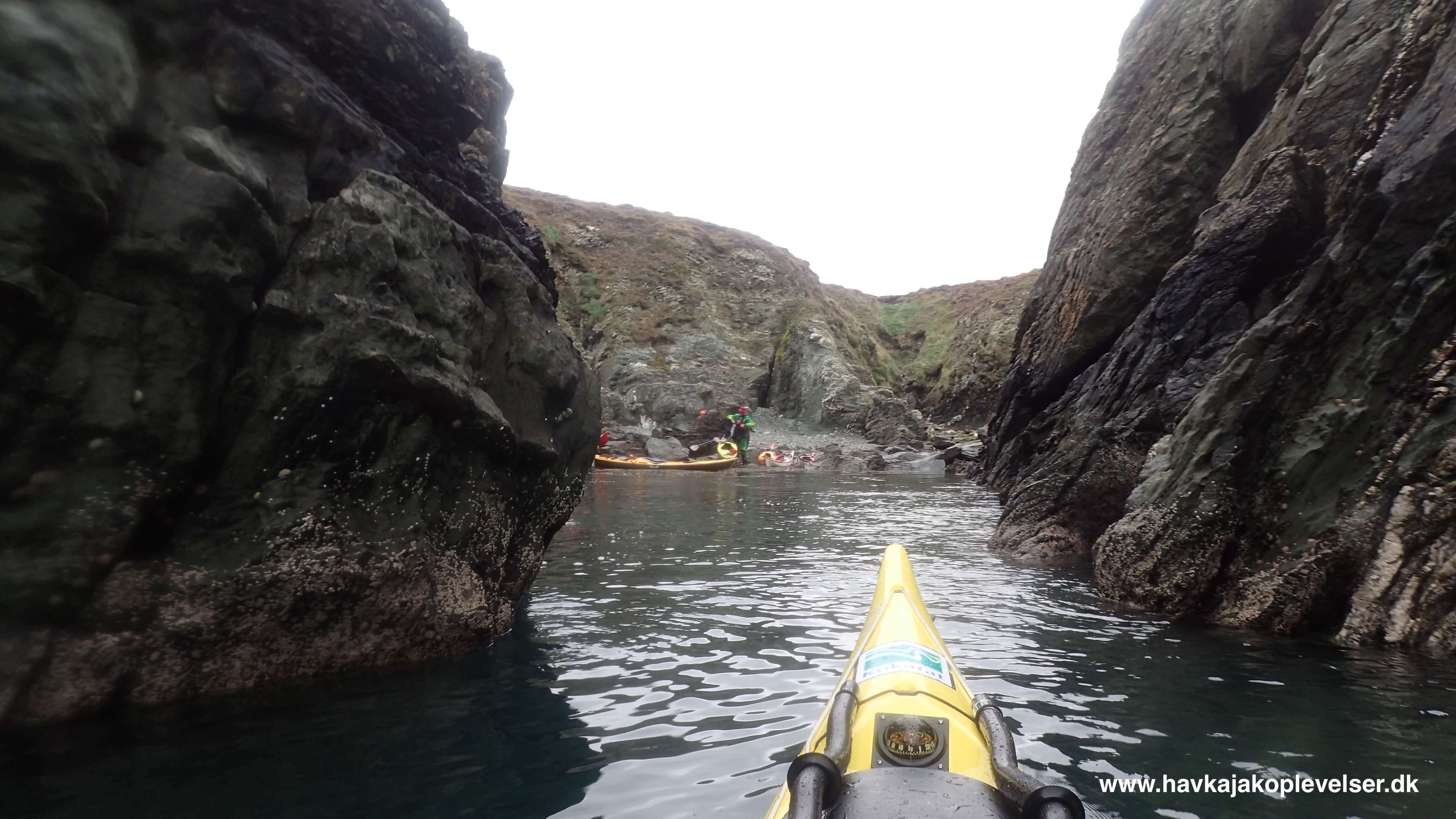 - Ved Penrhyn Mawr er en meget smal sprække i klippevægen, som leder ind til en lille stenstrand. Den forsvinder stort set når det er højvande, men vi kan lige nå en kort pause inden vi skal ud i tidevands ræset
.
- At Penrhyn Mawr is a very narrow crack in the rock wall, which leads into a small pebble beach. It pretty much disappears when it's high tide, but we can just get a short break before we head out into the tidal race.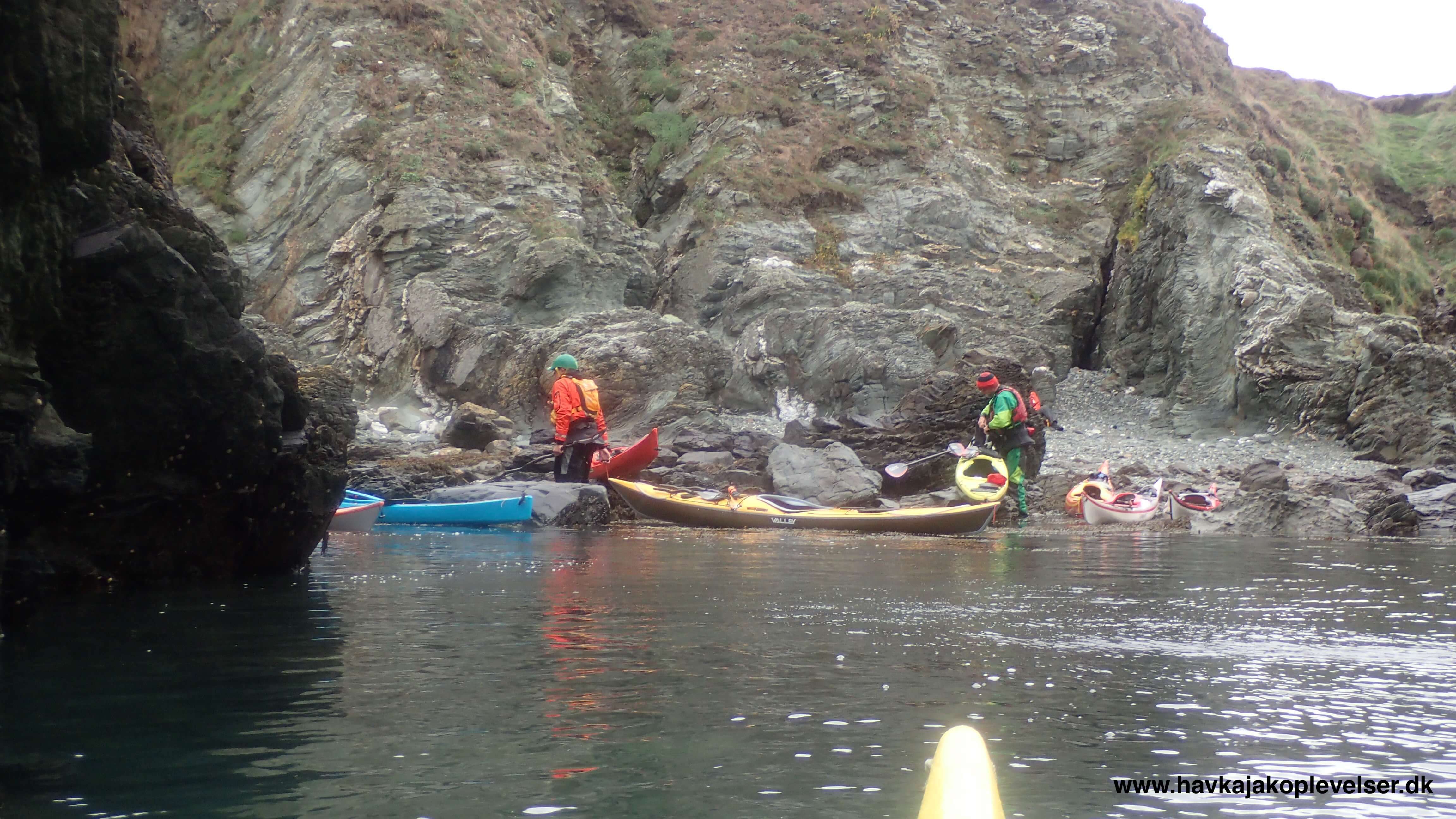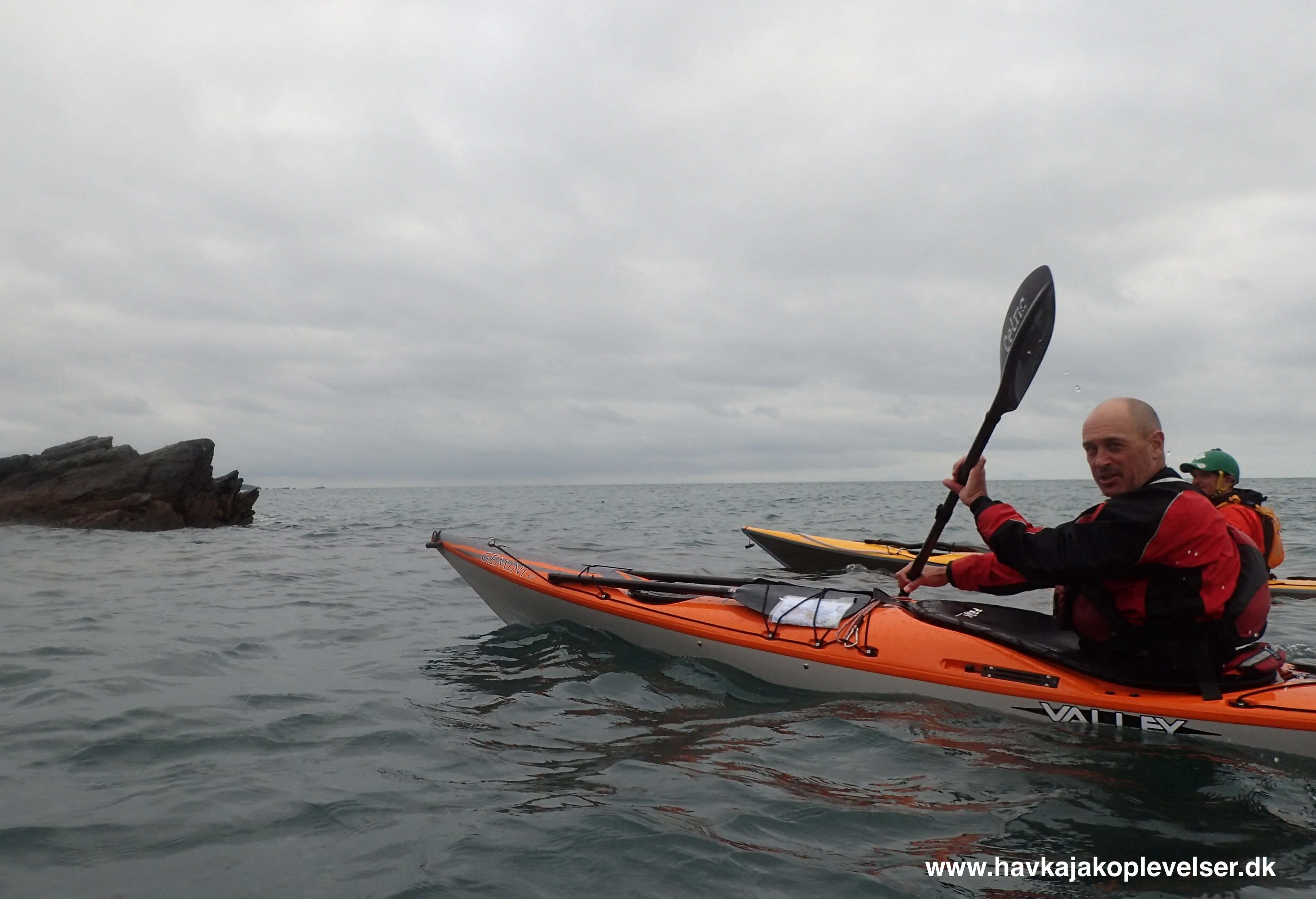 - Det blev ikke til billeder fra race i denne omgang men det sidste stykke tilbage til bilerne gik snakken lystigt om dagens mange oplevelser.
- It did not take pictures from the race this time, but on the last stretch back to the cars, the talk went merrily about the day's many experiences.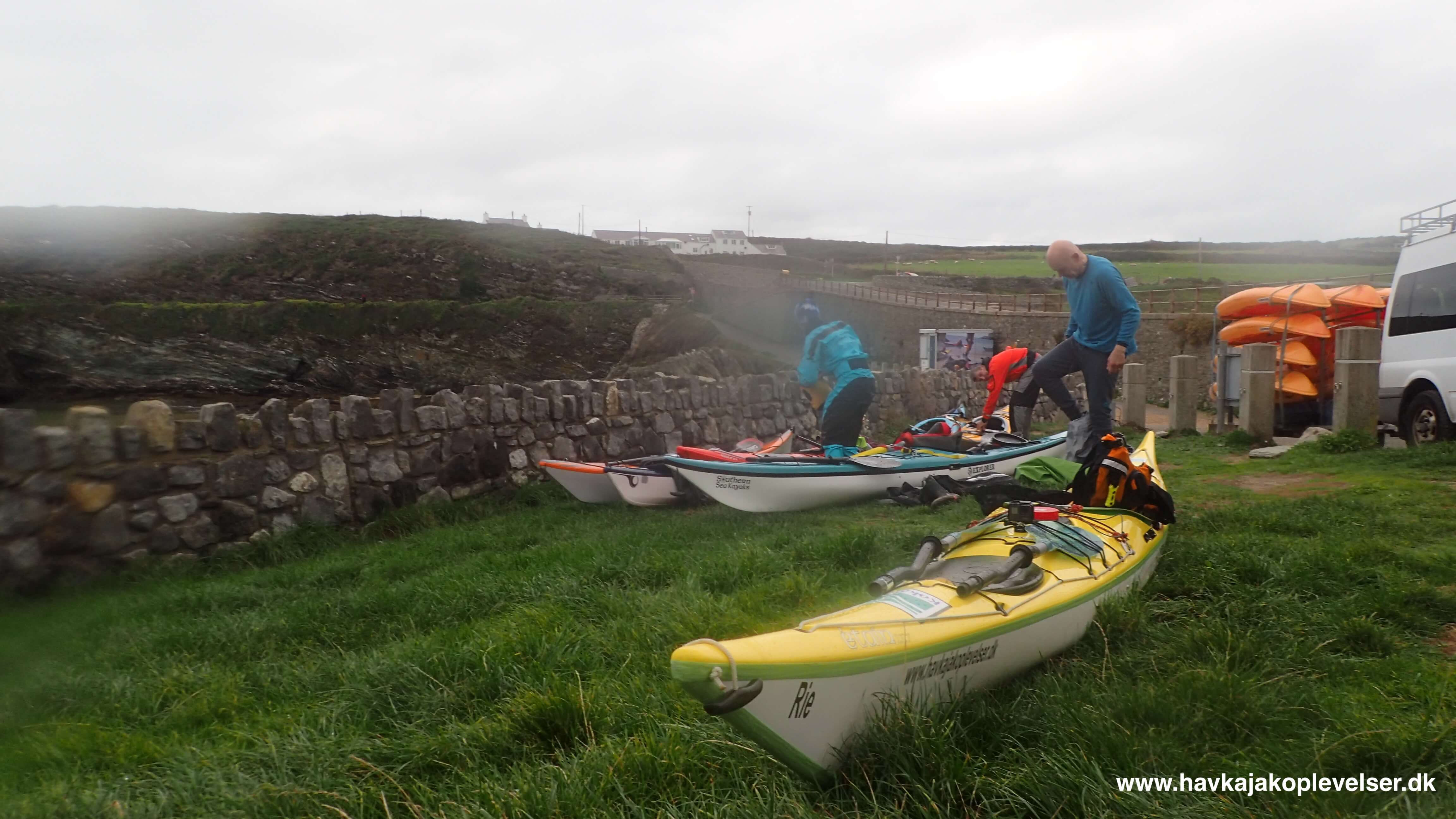 - Tilbage i Porth Dafarch efter endnu en dejlig dag på vandet. Turen mellem Soilders Point ved Holyhead og Porth Dafarch er fantastisk og bestemt en der bør være helt oppe i toppen på ønskelisten når man besøger Anglesey.
- Back in Porth Dafarch after another amazing day on the water. The trip between Soilders Point at Holyhead and Porth Dafarch is fantastic and definitely one that should be at the very top of the wish list when visiting Anglesey.
Venlig Hilsen / Best Regards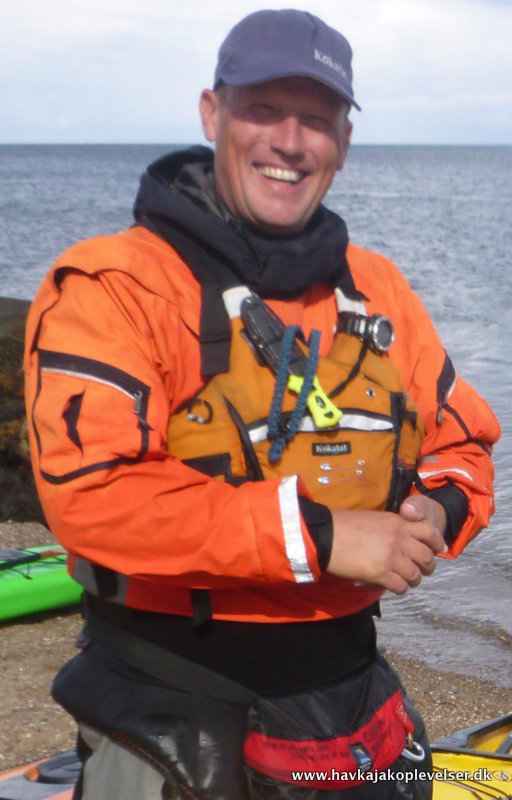 Christian Wiegand
Facebook: Tosset med havkajak / Mad about sea kayak
Instagram: cwseakayaking
#comevisitdenmarkforapaddle