3 dags Navigation, for begynder, i den syd Svenske skærgård - Beginners nav. Swedish archipelago
Formålet med weekenden er at give dig evnerne til at du kan navigere sikkert ved hjælp af kort og kompas under ukomplicerede forhold. Du lærer hvordan du kan bruge kompas og forskellige typer af kort til at finde ud af hvor du er og hvordan du nemmest kommer fra A til B når du er ude i kajakken.
Hvor:
Den syd Svenske skærgård i området omkring Tärnö og Ekö
Inkluderet i prisen er:
- To turledere/instruktører til max 6 deltager
- Andre navigationshjælpemidler
- Undervisning/workshop
- Fri kaffe / the alle dage
- Alle måltider, morgenmad, frokost, eftermiddagskage, aftensmad med et godt glas rødvin
- Overnatning i telt, på lejrpladser (Du medbringer selv udstyr til overnatning)
- Fælles madlavning over bål
- Godt samvær og hygge i friluftlivets ånd

Antal pladser: 6
Ledige pladser: 0

Pris pr. person, inkl. navigation, forplejning osv. iht. overstående kr. 900,00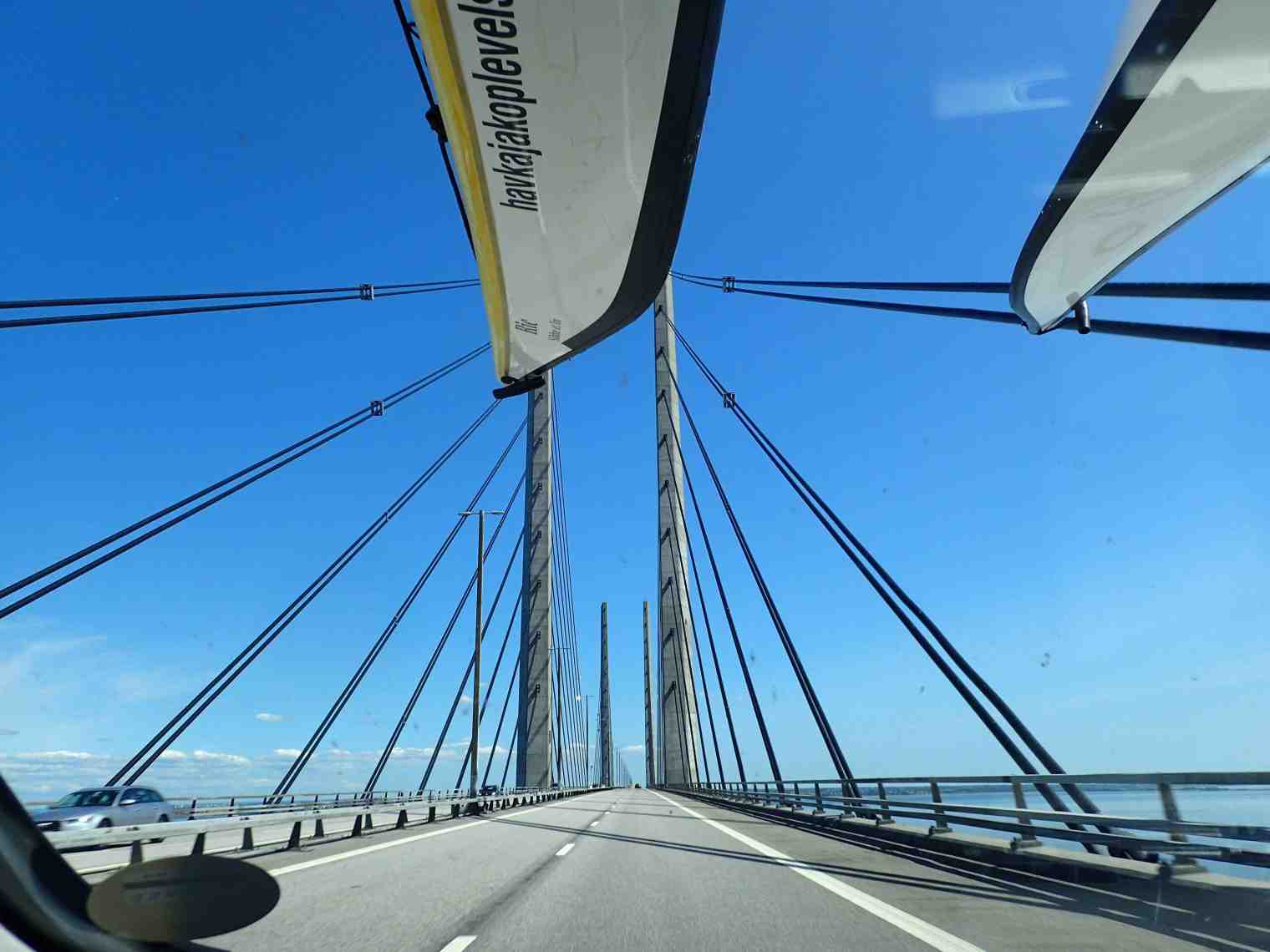 - På vej til en weekend med navigation for begynder, Sverige forude, Sjælland er nu lagt bag os.
- On our way to a weekend with navigation for beginner, Sweden ahead Zealand is now behind us.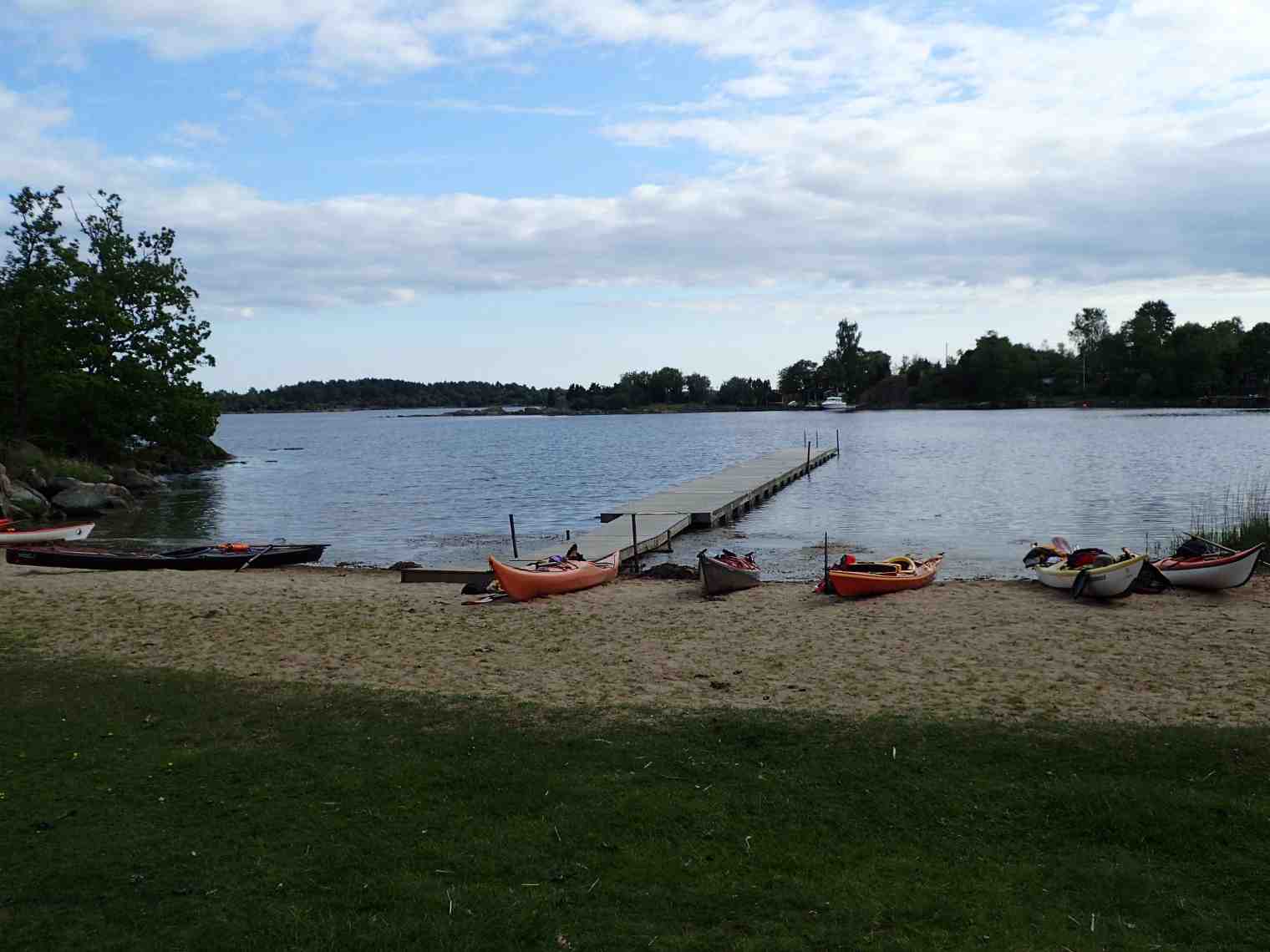 - Mødested var Nytäppet i Blekinge skærgård.
- Meeting place was Nytäppet in the archipelago in Blekinge.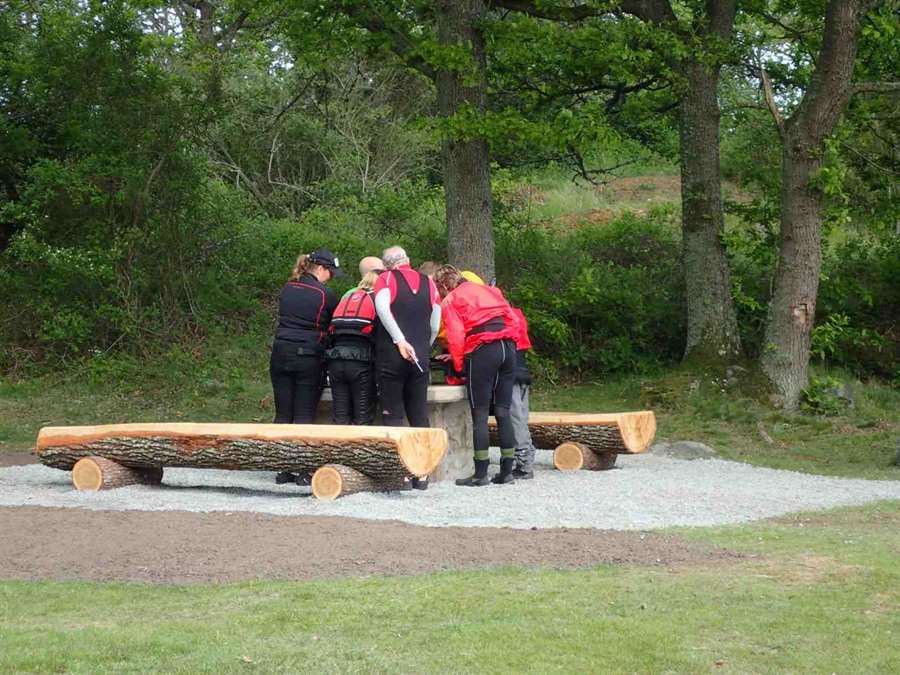 - Vi startede med uddeling af kort over området. Opgaven gik ud på at følge med på kortet på vej til lejerpladsen, og så fortælle hviken ø vi skulle overnatte på.
- We started with the distribution of maps of the area. Assignment was to follow on the map, the way to island wher we should camp and then tell witch island we were to stay on.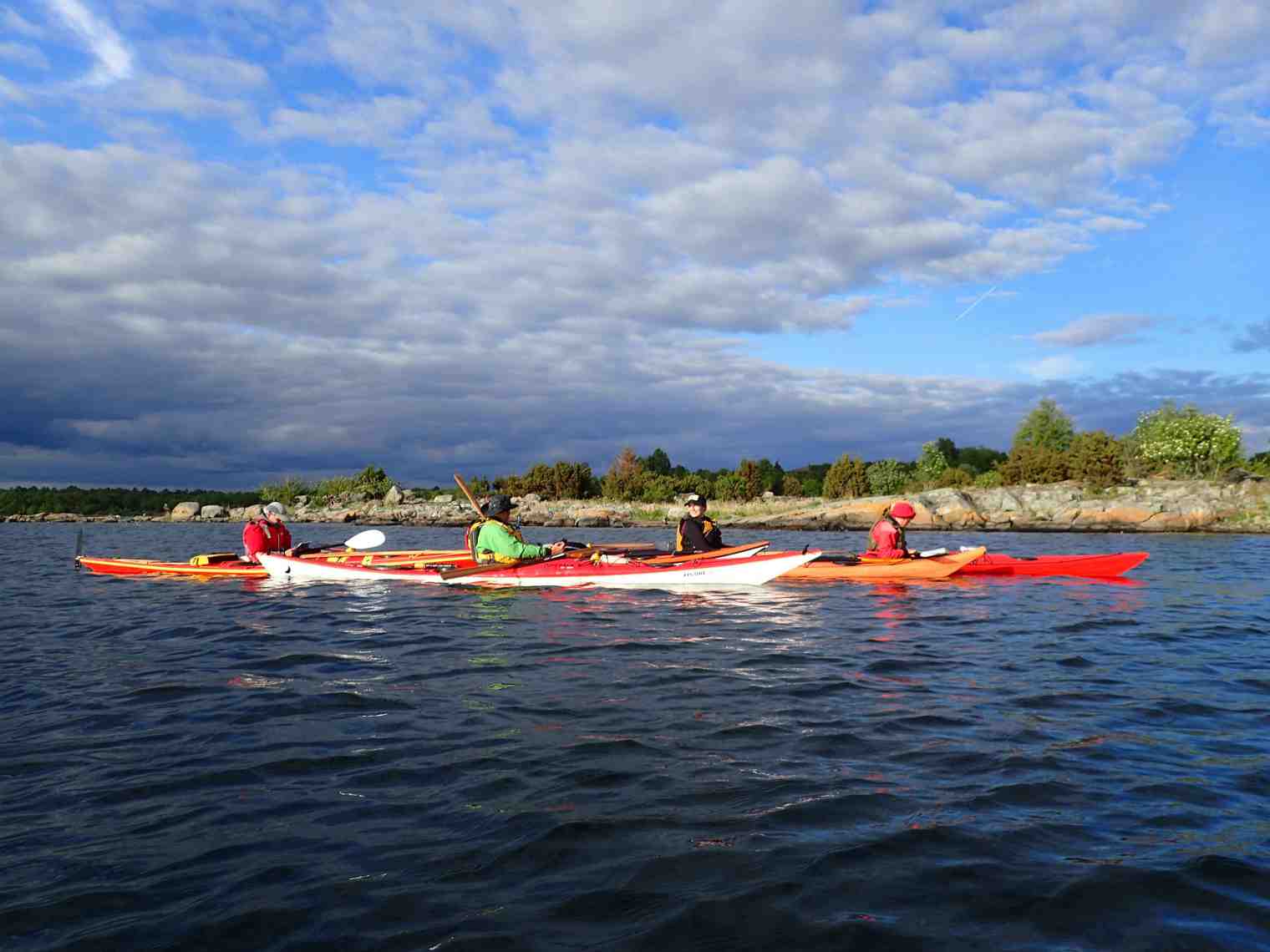 - Smuk eftermiddag og et fantastisk lys.
- Beautiful afternoon and amazing light.
- Koncentration mens der følges med i kortet.
- Concentration while follow and look at the map.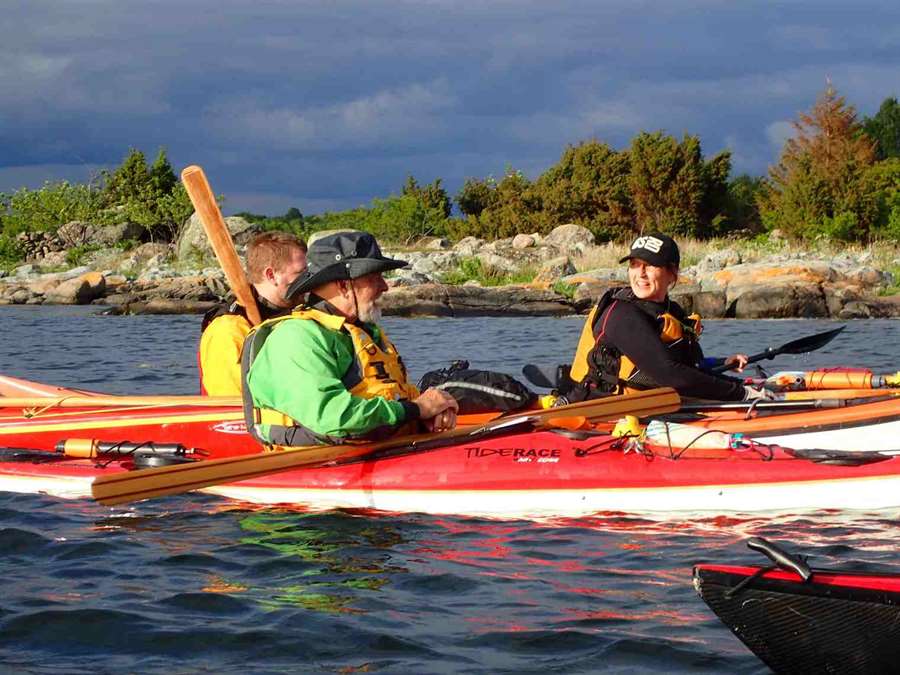 - Det gode vejr og området nydes.
- The good weather and the area being enjoyed.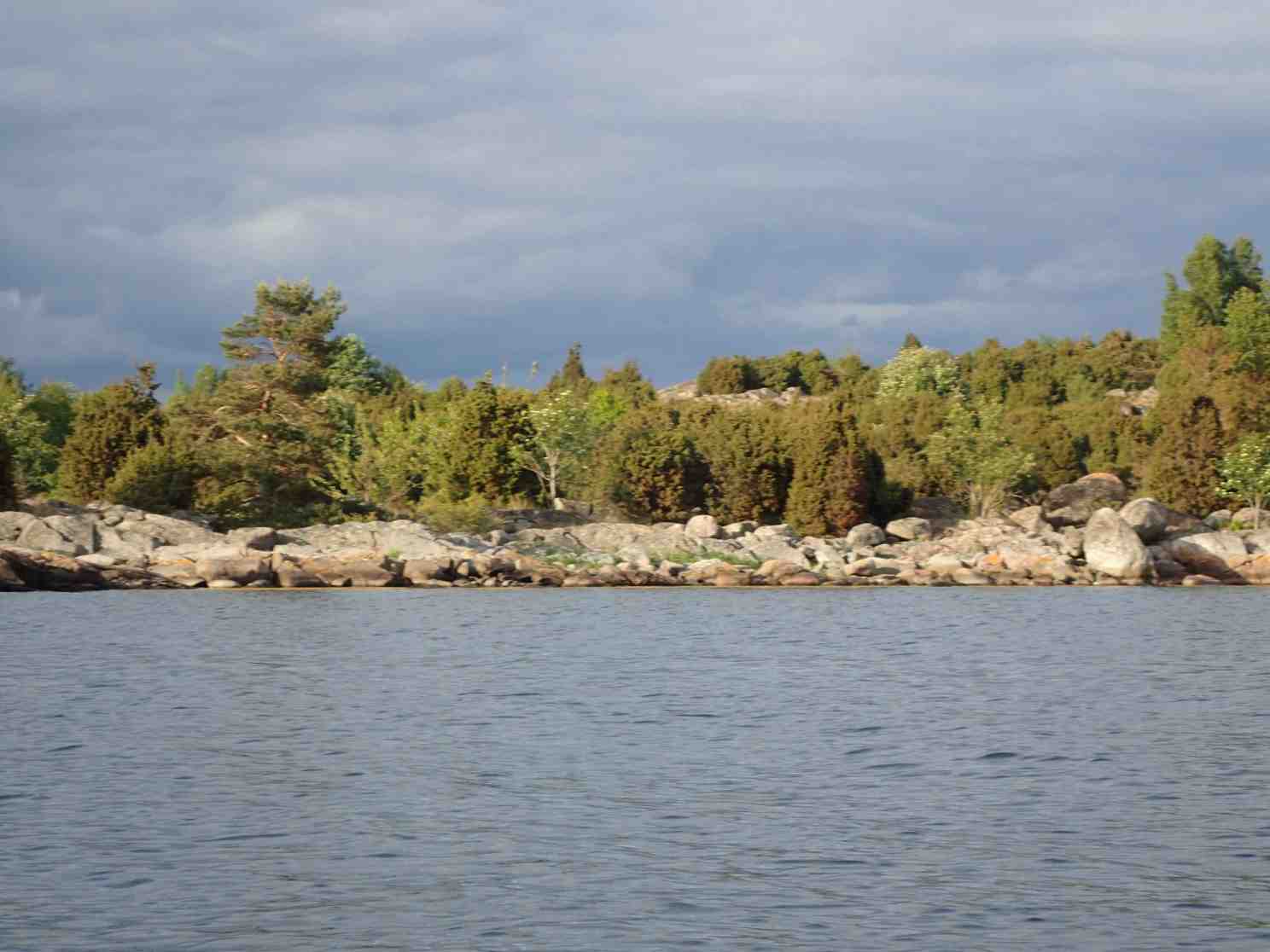 - Meget anderledes end det vi kender hjemme fra i Danmark.
- Very different from what we know from back home in Denmark.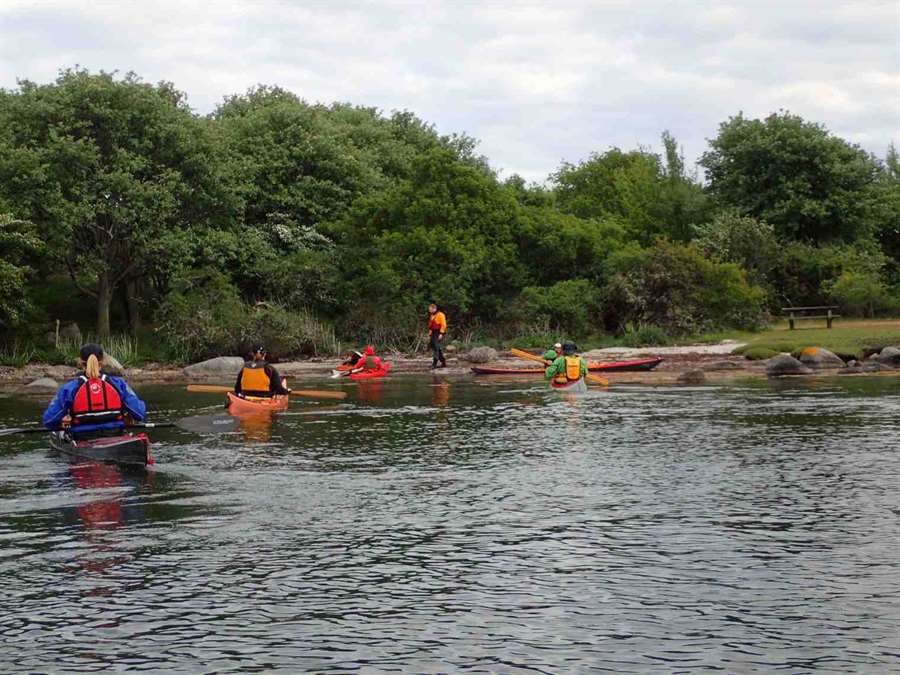 - Ankomst til den lille ø hvor vi skal overnatte.
- Arriving at the small island where we ar to stay for the night.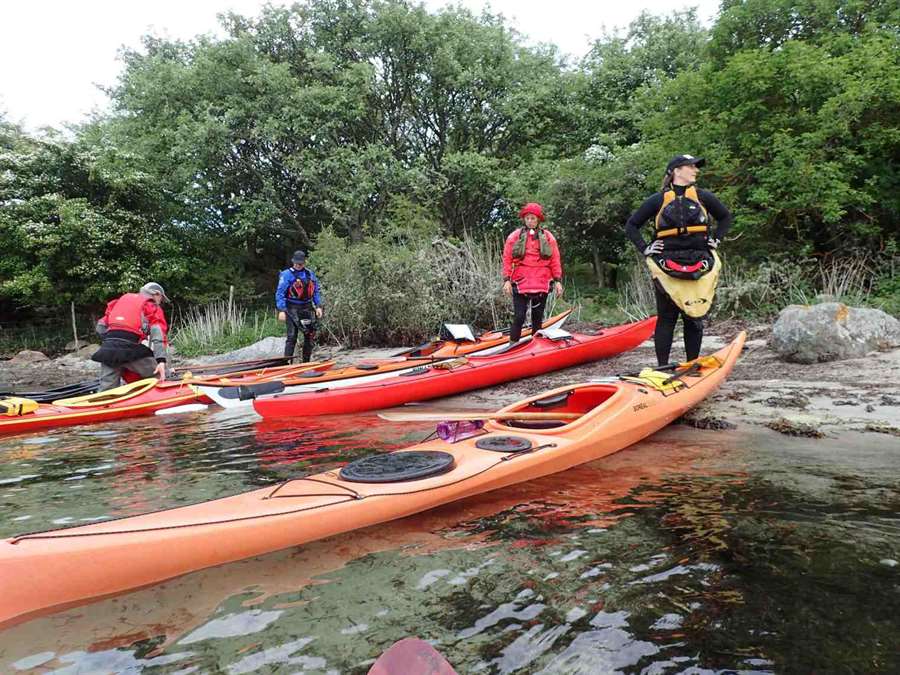 - Her ser dejligt ud.
- Looks nice.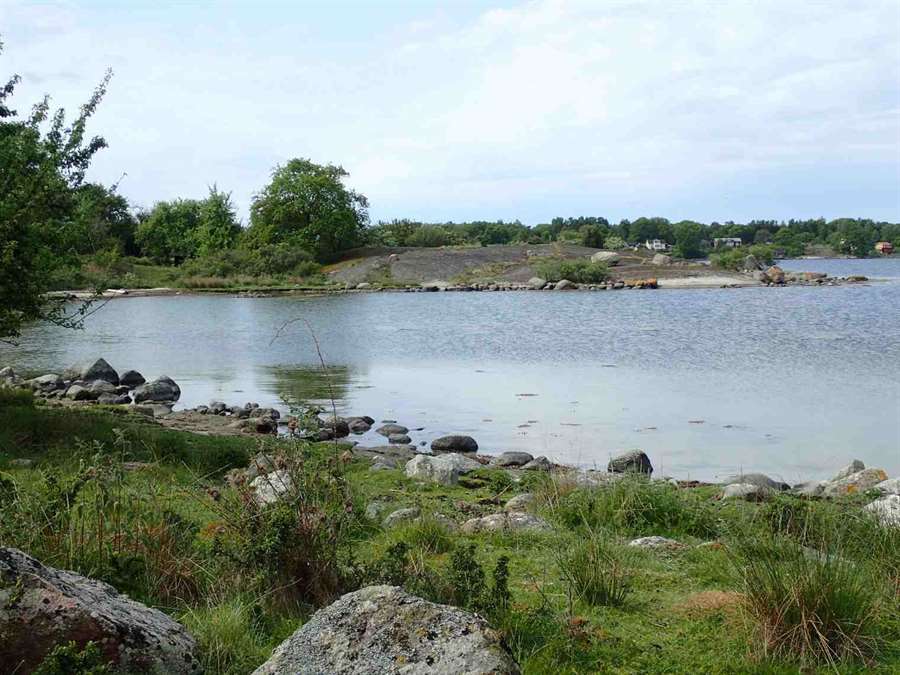 - Ikke et dårligt sted at kalde " hjem " for de næste par dage.
- Not a bad place to call "home" for the coming days.
- Et godt og idylisk sted at bo.
- A good and idyllic place to stay.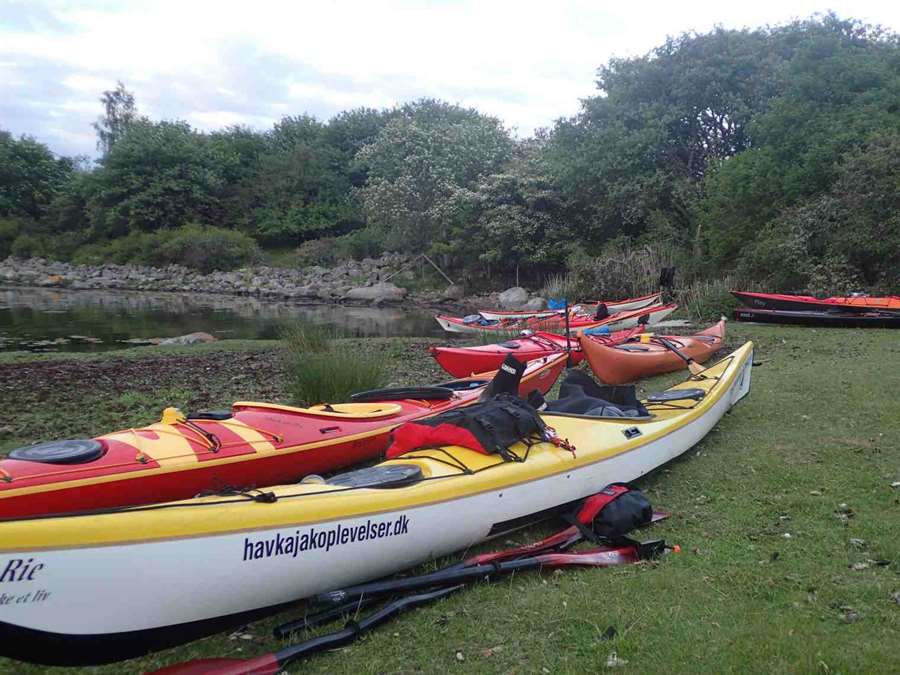 - Kajakker lagt op på land og tømt so vi kunne få slået telte op og begynder med undervisningen.
- Kayaks put on land and emptied so we could get set up thetents and begin teaching.
- Da teltene var slået op begyndte undervisningen i navigation mens der lavede mad.
- After the tents were pitched, began teaching in navigation while dinner was cooking.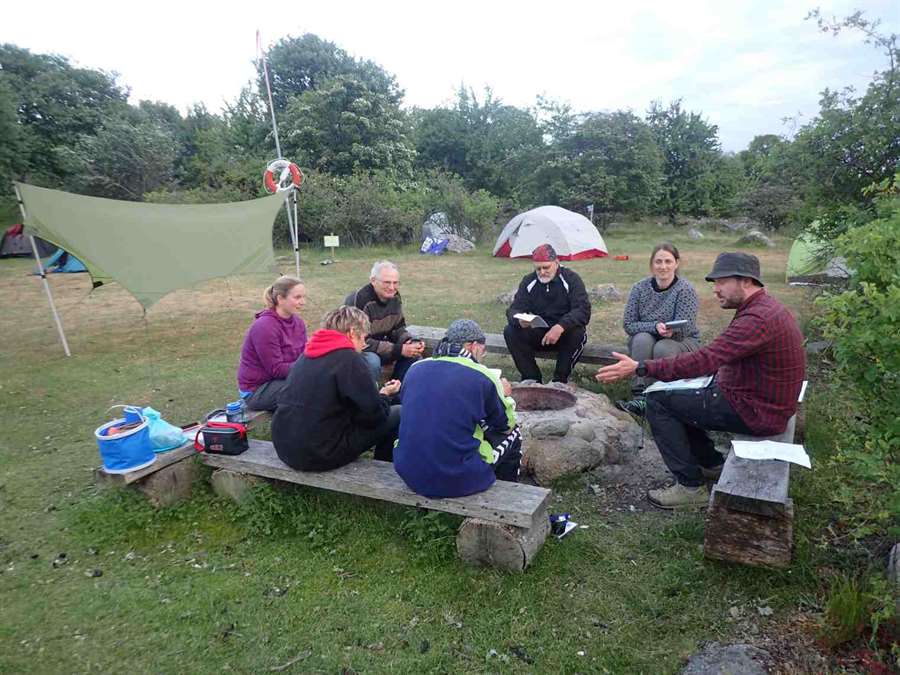 - Der fortælles, forklarer og stilles spørgsmål.
- Teaching, explains and questions are asked.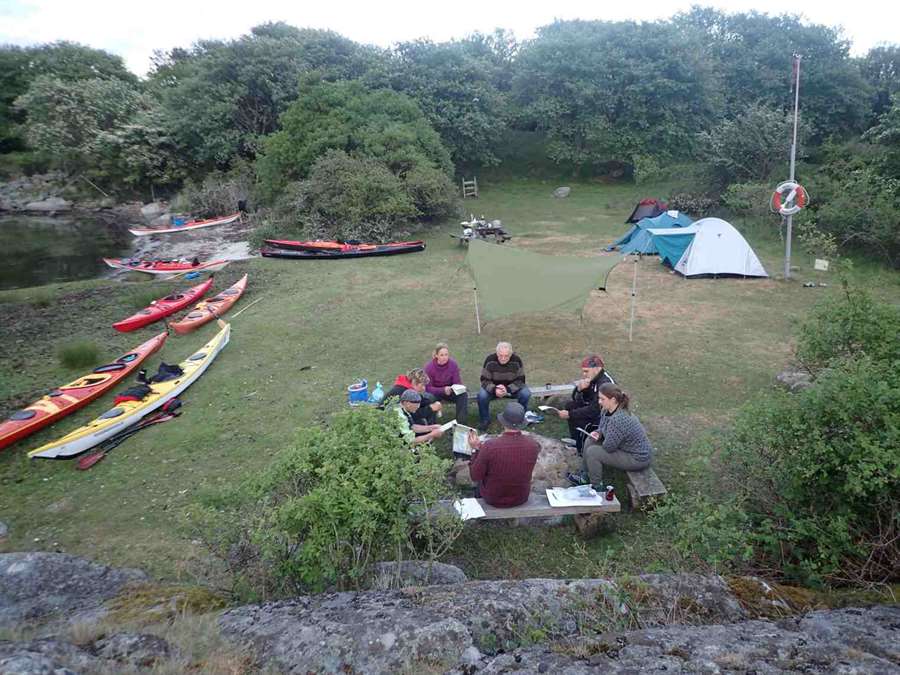 - Overblik over vores lejer og "klasselokale". Det bliver ikke meget bedre.
- Overview of our camp and "classroom". It does not get mutch better.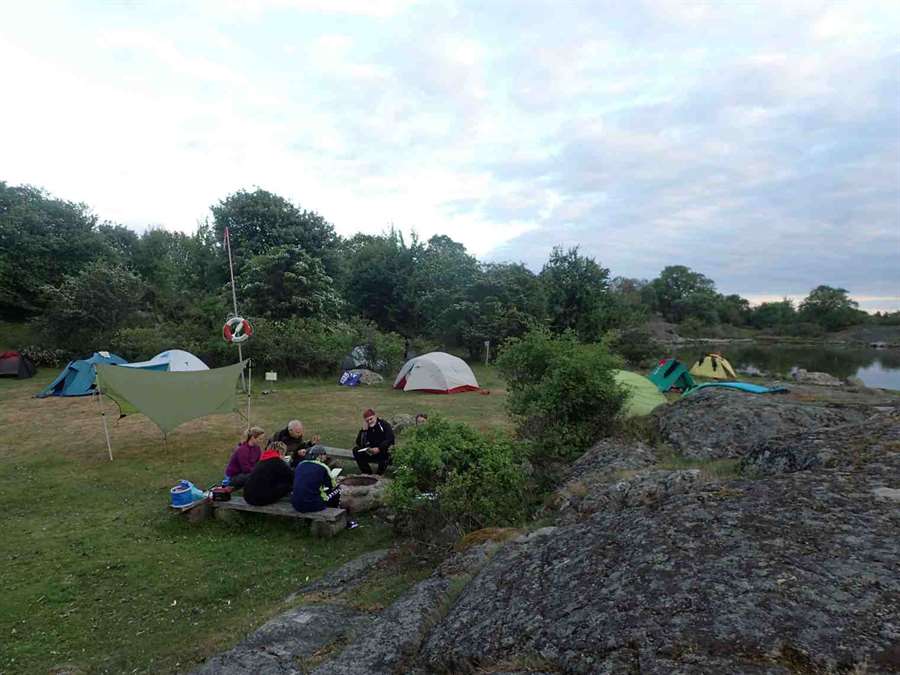 - Overblik over vores lejer og "klasselokale". Det bliver ikke meget bedre.
- Overview of our camp and "classroom". It does not get mutch better.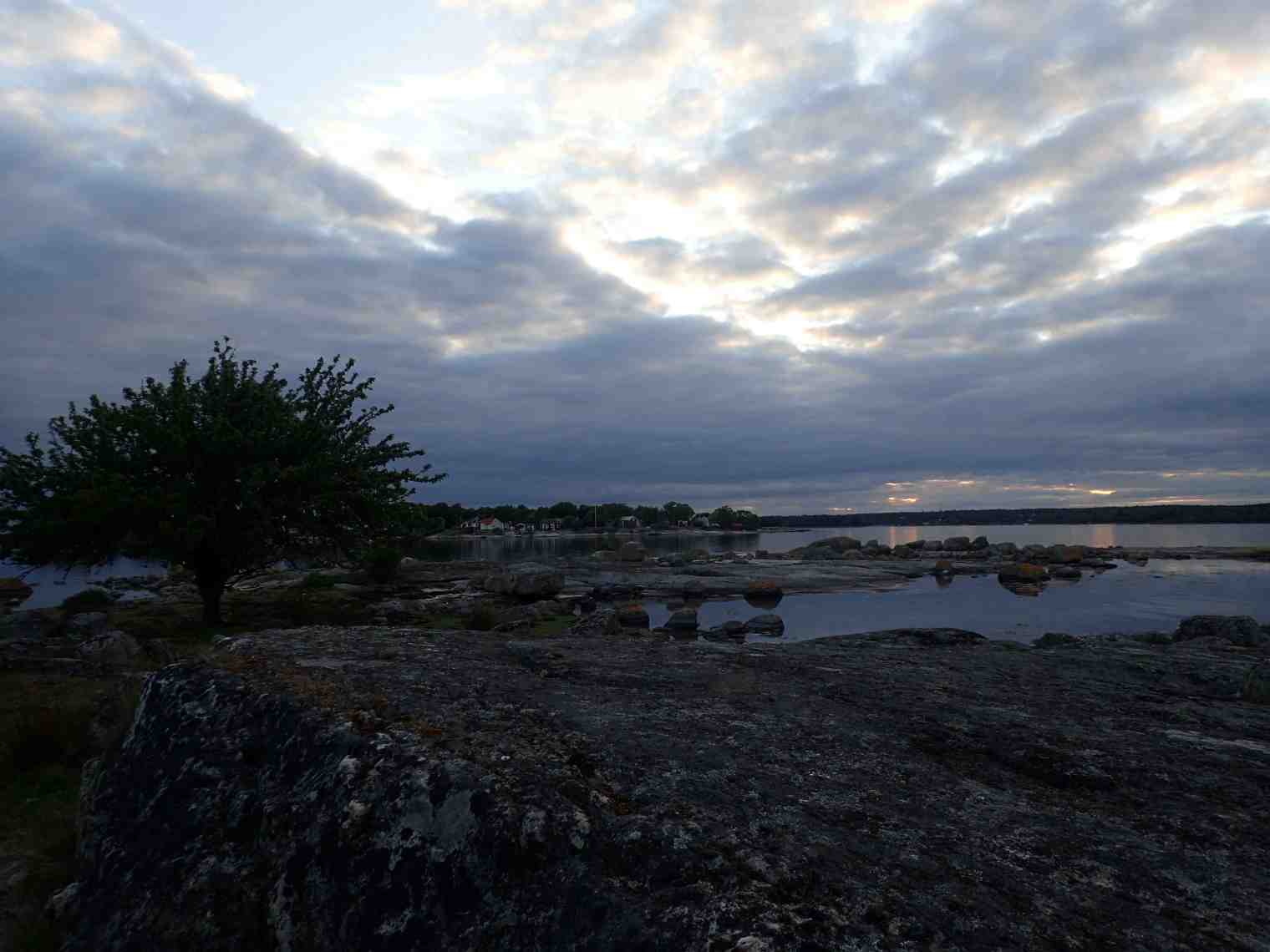 - Solnedgangen var lig med fri fra undervisning.
- The sunset was equal to break from teaching.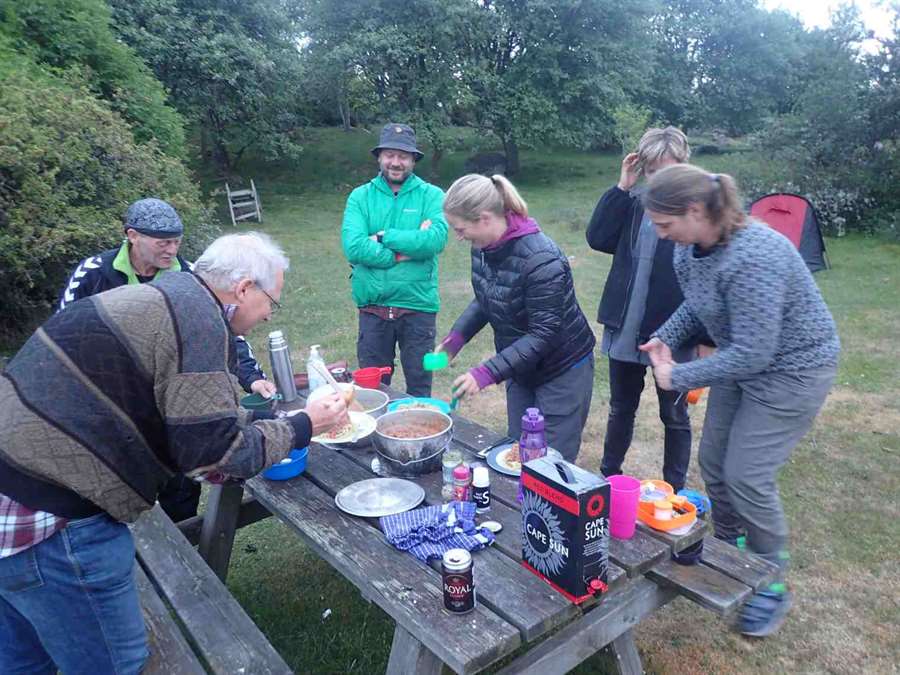 - Tid til aftensmad. Herefter kaffe, historier og hygge.
- Time for dinner. Then coffee, stories and fun.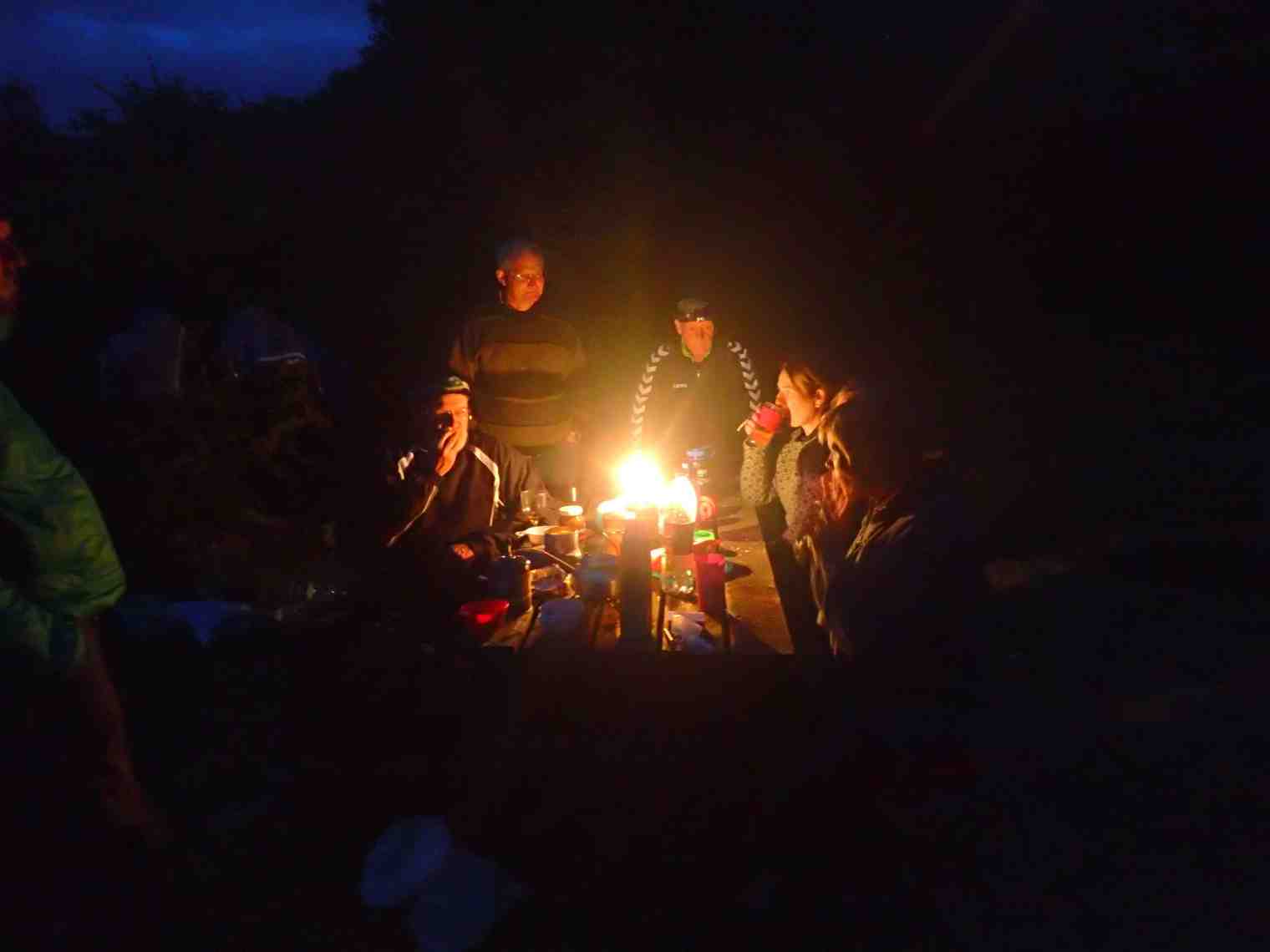 - Aftenstemning omkring bordet og en lille lampe. Snakken gik lystigt, det tegnede godt for de to næste dage.
- Evening atmosphere around the table and a small lamp. The talk went merrily, it a promising sign for the next two days.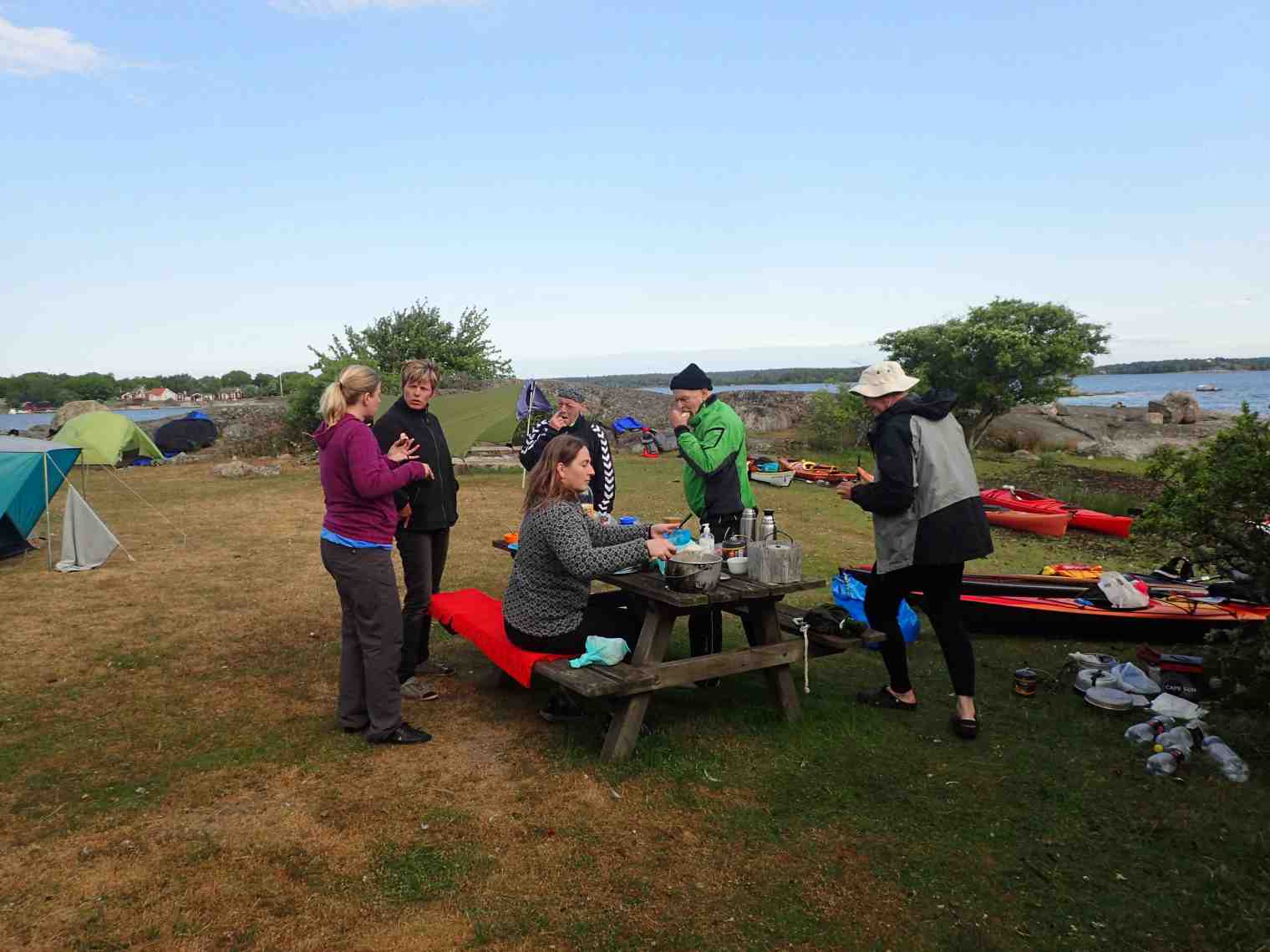 - Morgenmad efter en god nats søvn. Dagens kommende udfordringer venter.
- Breakfast after a good night's sleep. Today's challenges waiting ahead.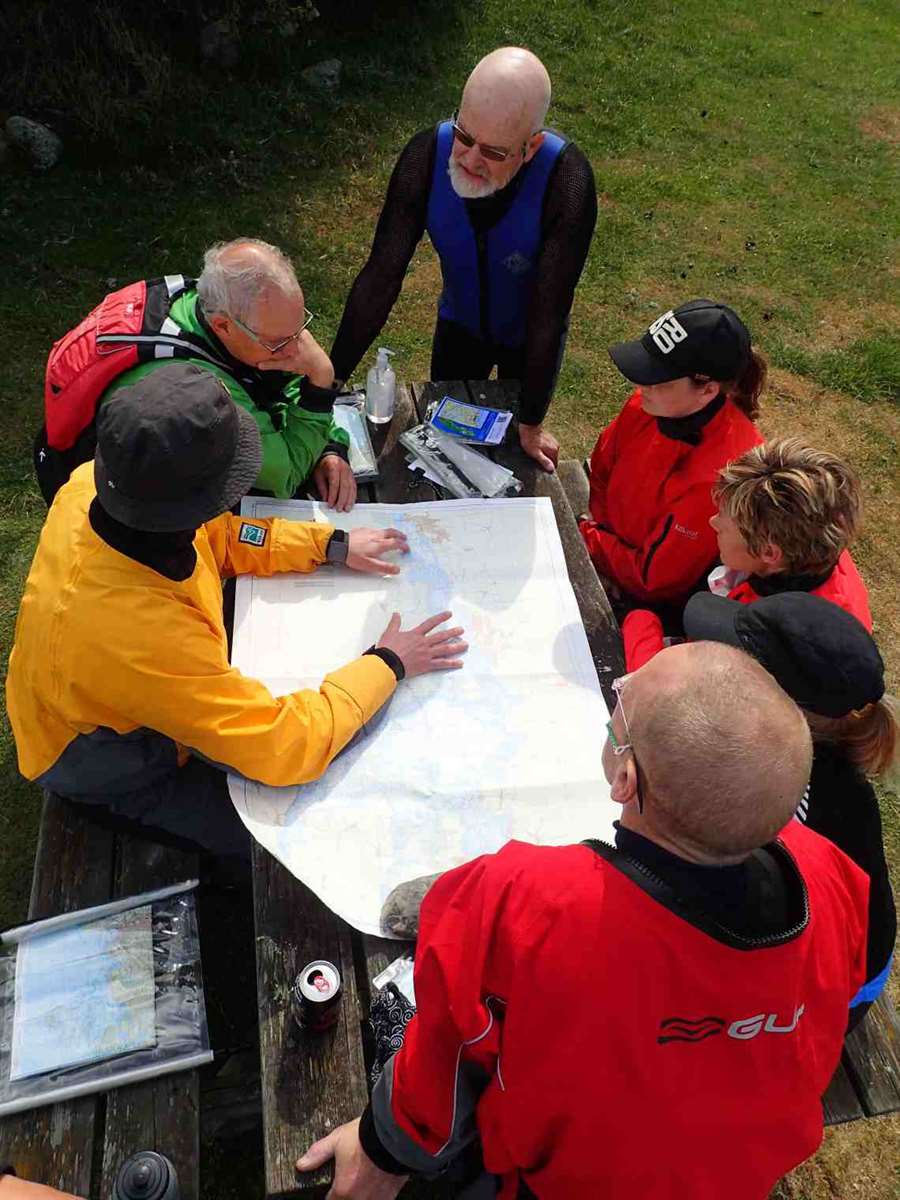 - Der bliver set på forskellige kort, og på hvad der skal arbejdes med idag
- Looking at various charts and maps and what is to worked with for today.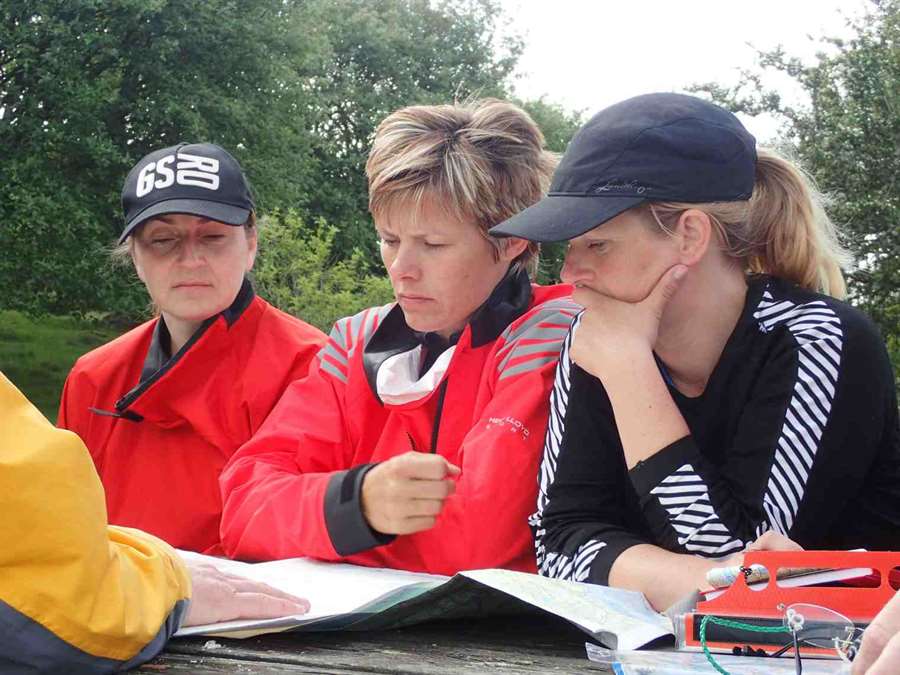 - Koncentration, der er mange informationer på de forskellige kort.
- Concentration there is a lot of information on the various charts and maps.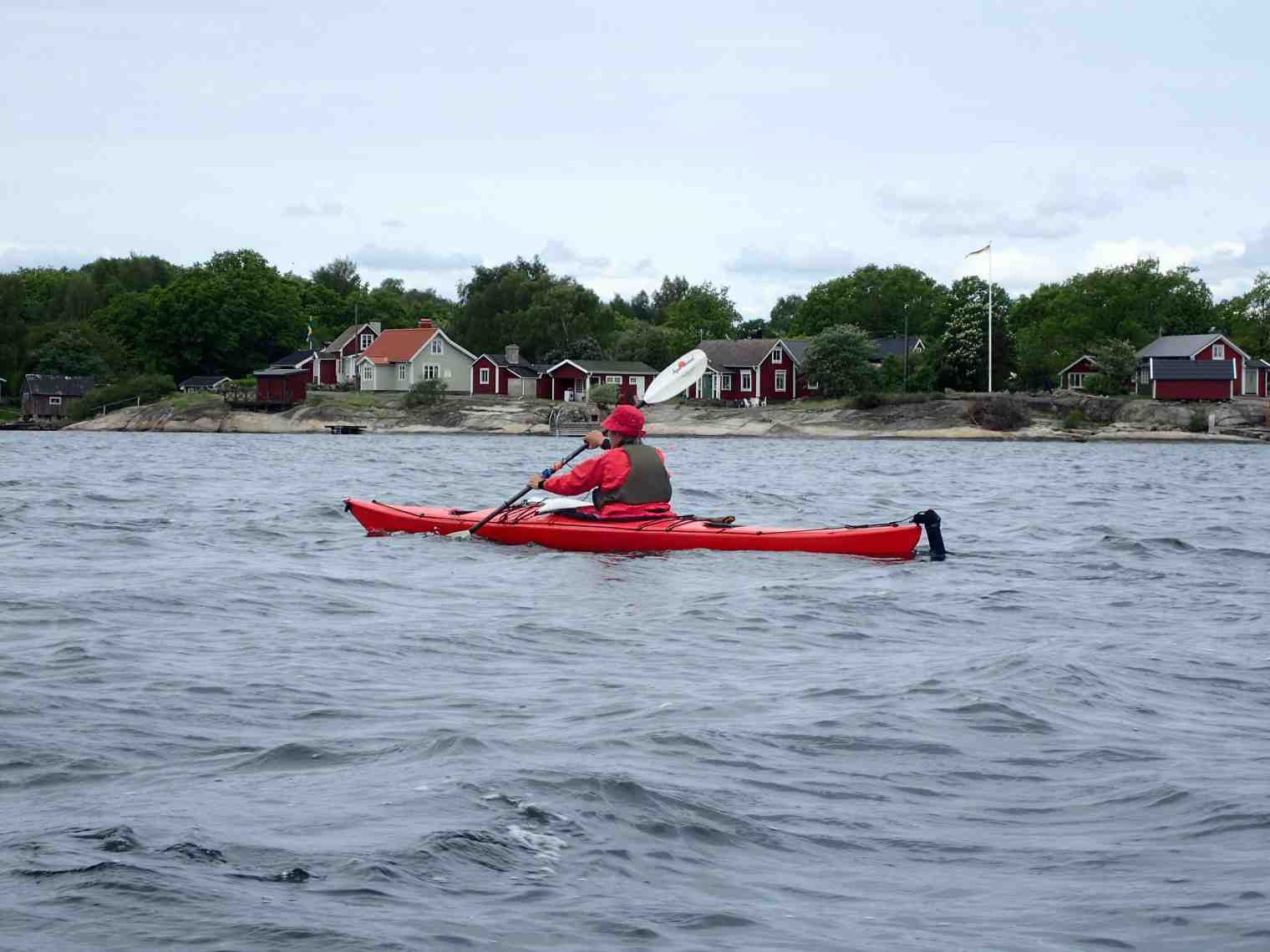 - Så på vandet og navigere rundt mellem de små øer med de karakteristiske Svenskrøde træhuse.
- Then on the water and find navigate between the small islands with the characteristic Swedish Red wooden houses.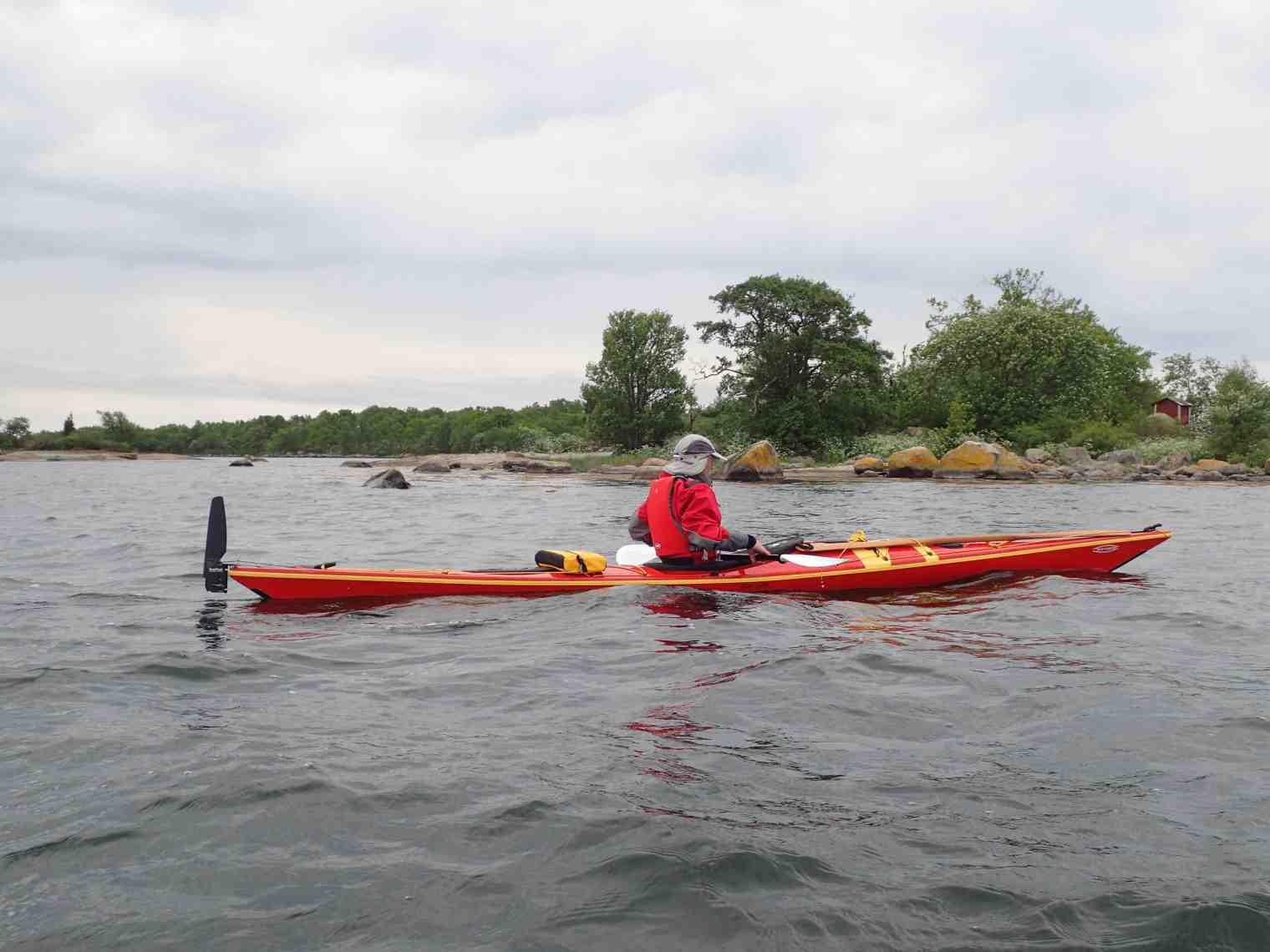 - Ikke alle øerne er beboet, nogle er for små, andre er reservat men tilladt at gå i land på, andre er helt fredet og ingen adgang tilladt.
- Not all islands are inhabited, some are too small, others are nature reserve but still allowed to land on, others are completely protected and no access allowed.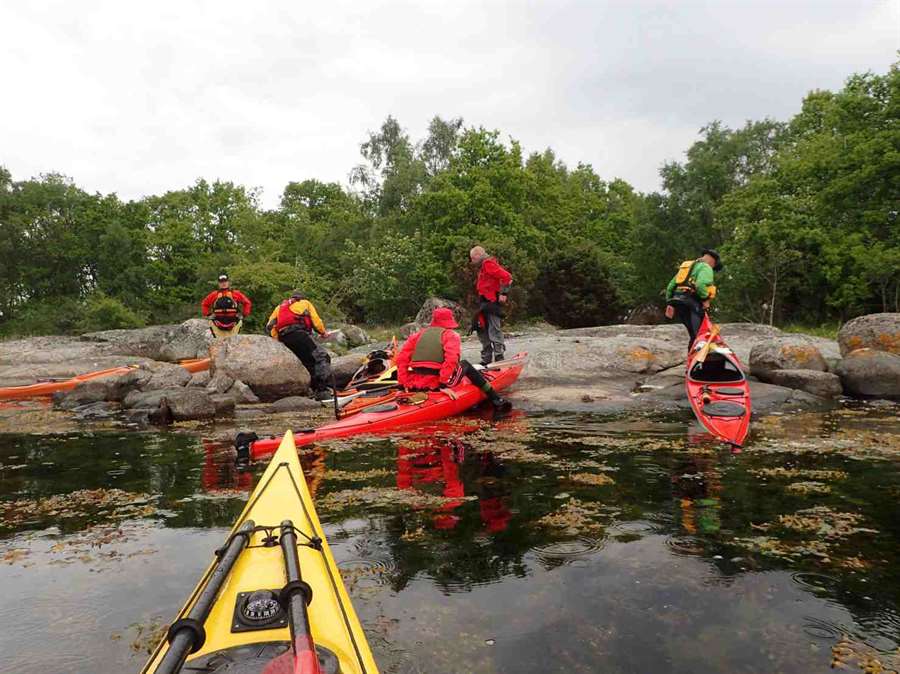 - Vi går i land på en lille ø for at holde pause, og samtidig tale lidt mere om hvordan kort kan hjælpe os til at bestemme vores position.
- We land on a small island to pause while talking a bit more about how charts and maps. can help us to determine our position.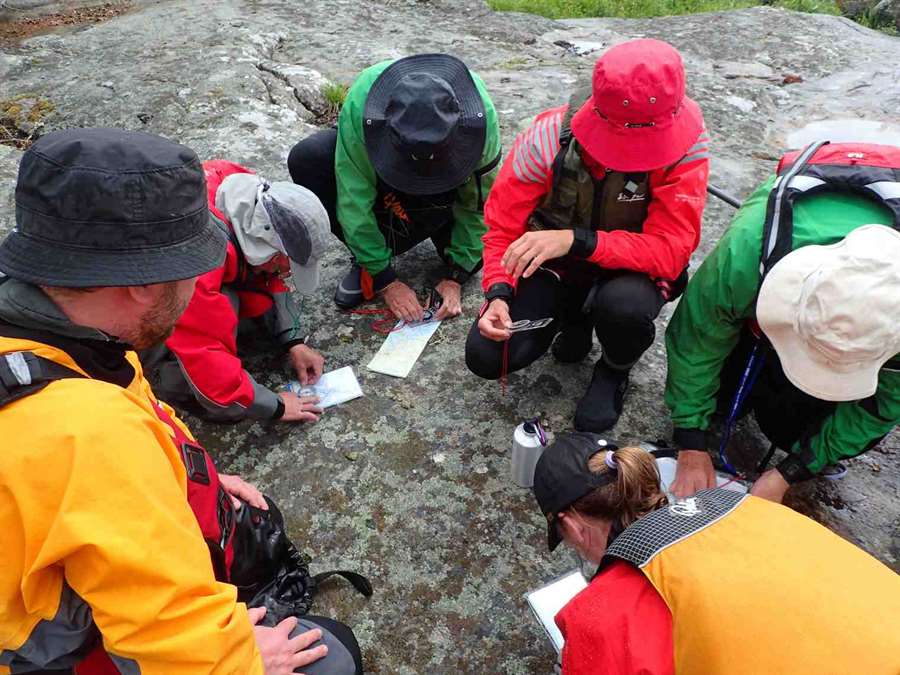 - Der tages pejlinger , beregnes afstand og ligges kurser.
- Bearings, calculate distance and courses.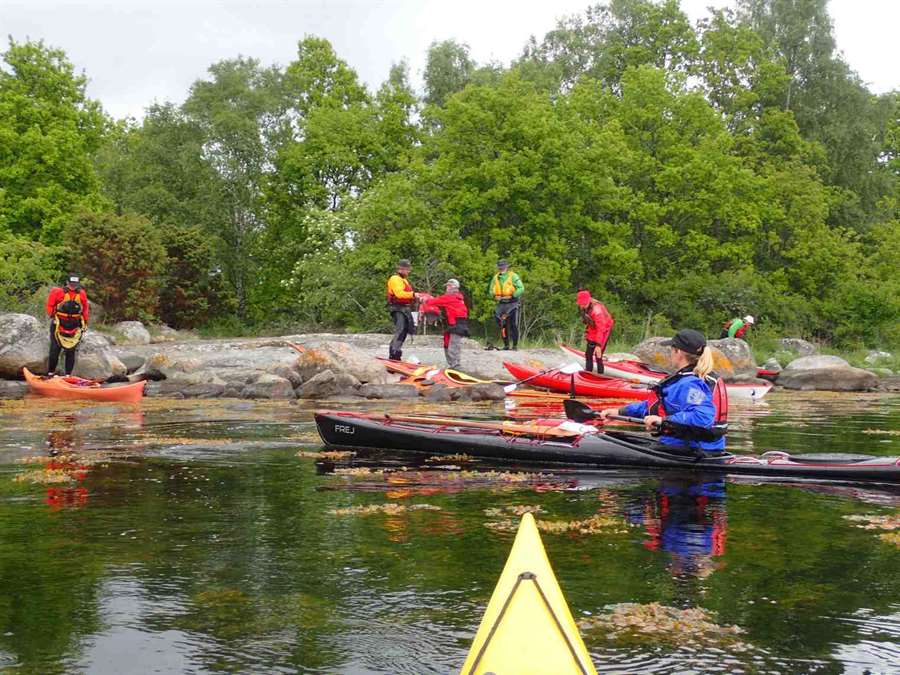 - På vandet igen og teste om pejlinger, kurser og afstand passer.
- Back on the water, checking if the bearings, distance and courses are correct.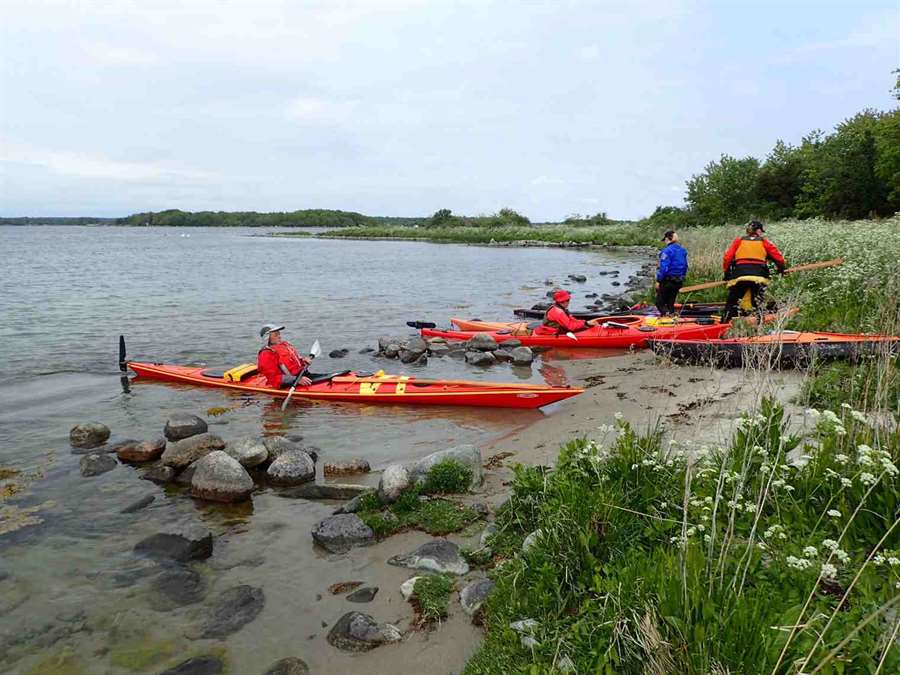 - På land igen, denne gang tid til frokost.
- Landing again, this time time for lunch.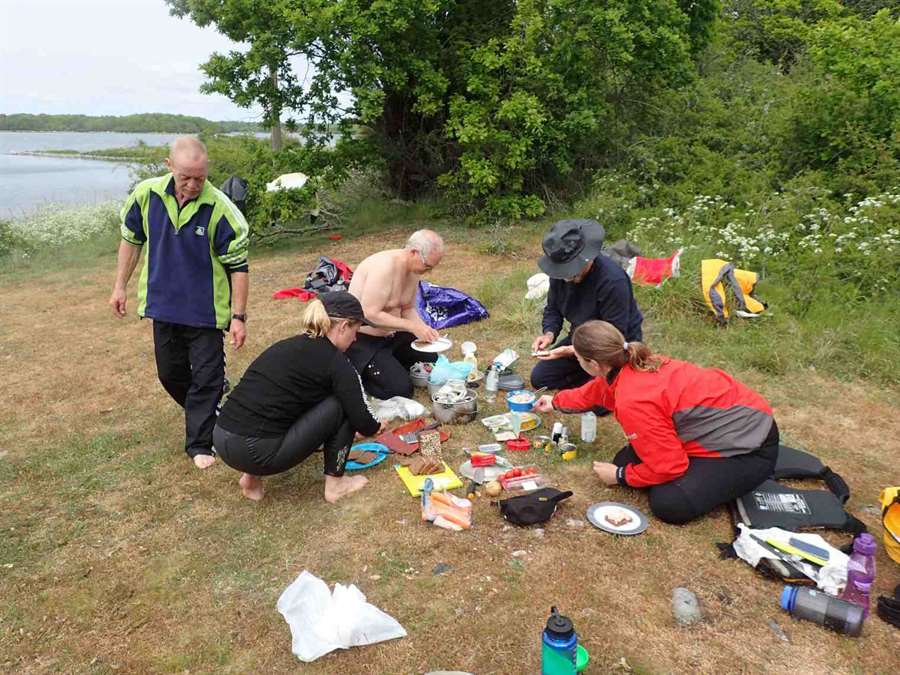 - Frokost i godt vejr.
- Lunch in good weather.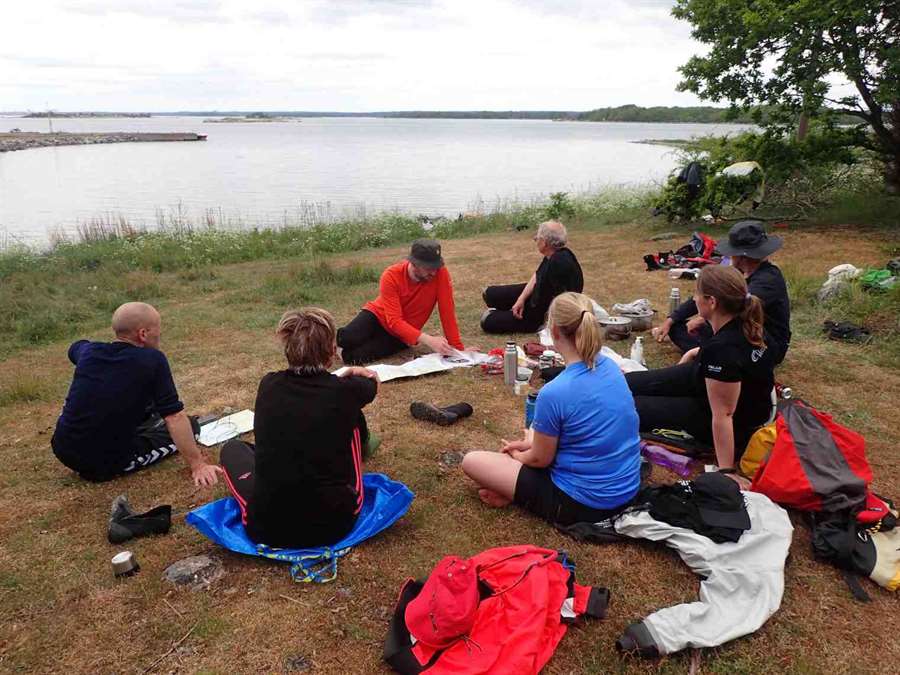 - Kaffe efter frokost og udsigten nydes. Livet er godt ved os
- Coffee after lunch and enjoying the view. Life is good.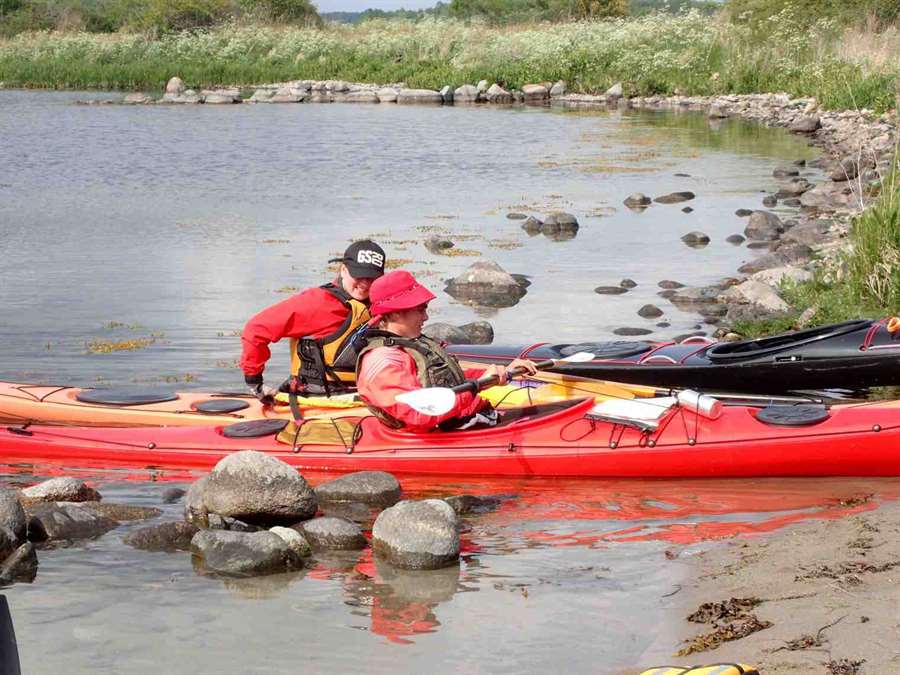 - På vandet igen, der skulle nu findes vej til en vandhane.
- Back on the water again, now finding the way to a water tap.
- Venlige svensker i en lille motorbåd syntes godt om vores gruppe på 8 kajakker.
- Friendly Swede in a small motorboat like our group of 8 kayaks.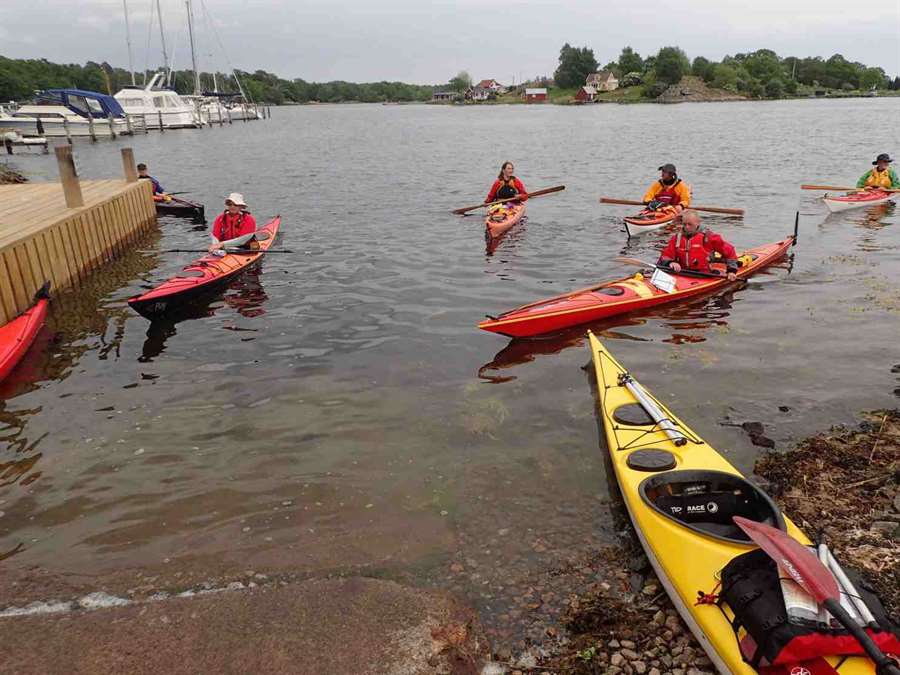 - Der blev fundet vej til Matvik havn hvor vi kunne få frisk vand.
- We found the way to Matvik harbor where we could get fresh water.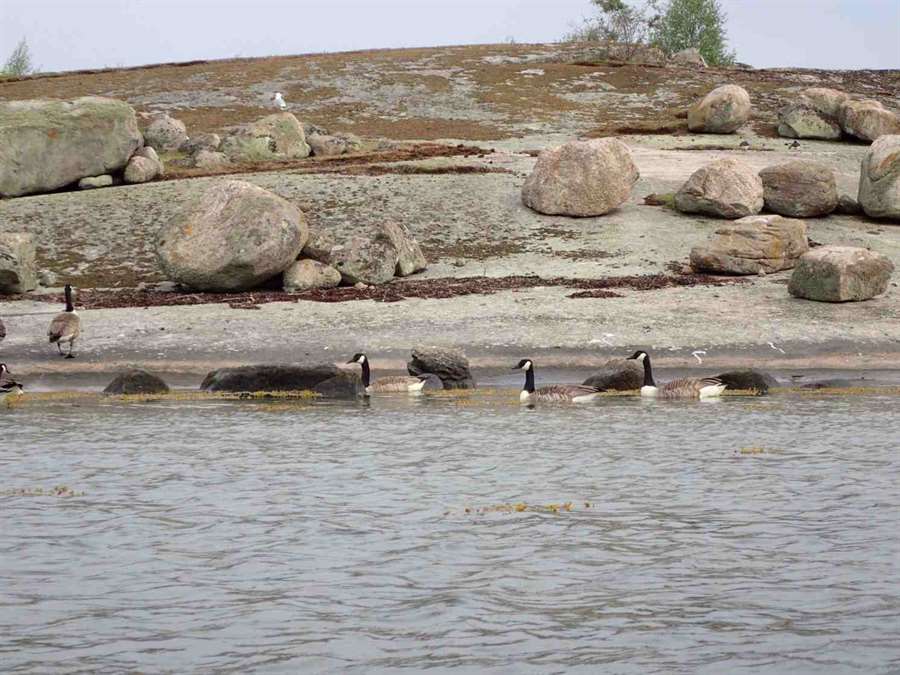 - Der var et utal af Canadiske gæs i skærgården.
- There were a myriad of Canadian geese in the archipelago.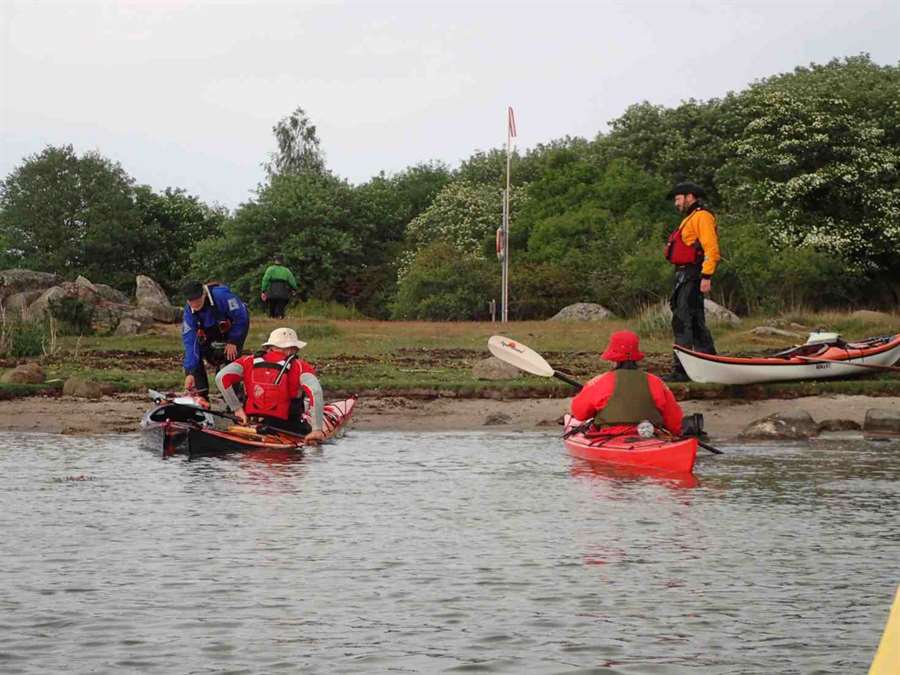 - Tilbage til øen hvor vi havde sovet natten før, denne gang kom vi bare fra den anden side. If. reglementet må man kun overnatte men skal tage teltet ned næste dag, man må dog godt komme tilbage senere samme sted.
- Back to the island where we had slept the night before, this time we just landed from the other side. According to the regulations one must only stay on night, and the you have to take down the tent the next day, you can however come back later, and stay in the same place.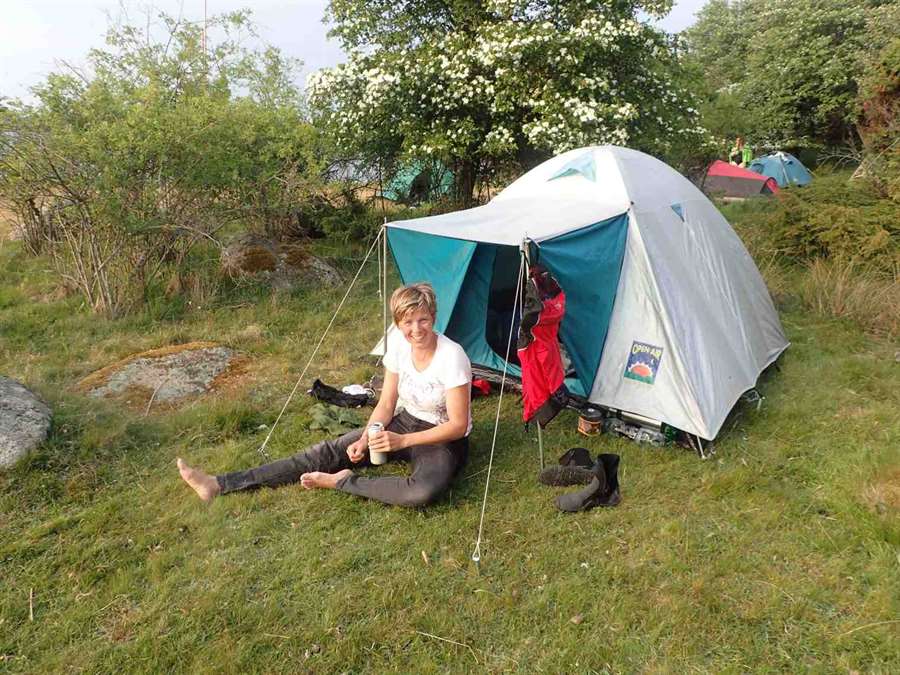 - Teltet er slået op, og den sene eftermiddag nydes efter en dejlig dag på vandet.
- The tent is pitch and enjoying the late afternoon after a great day on the water.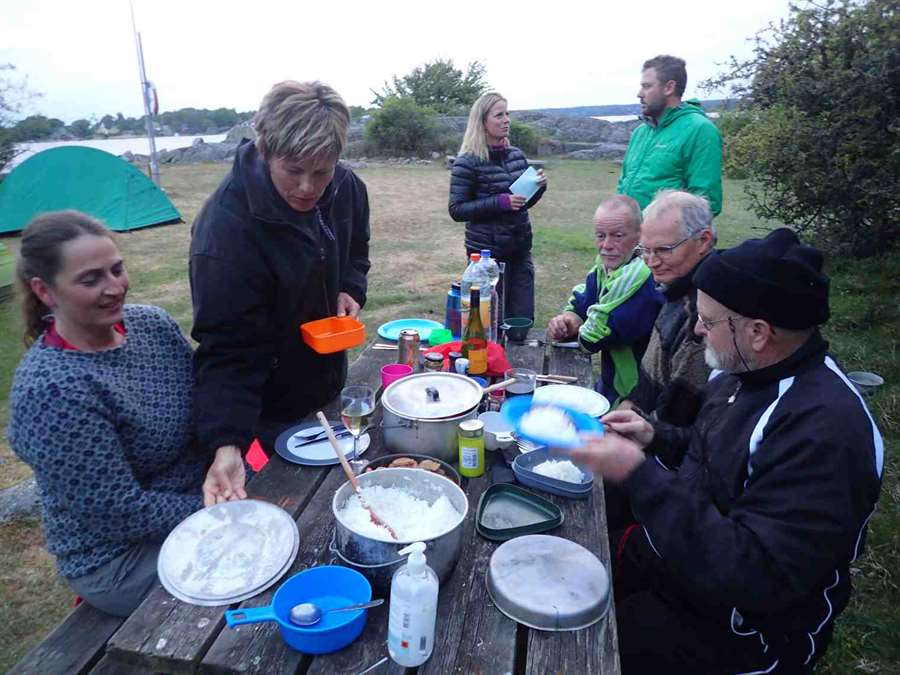 - Samling omrking middagsbordet, denne gang spiste vi ikke så sent.
- Around the dinner table, eating not as late as the evening befor.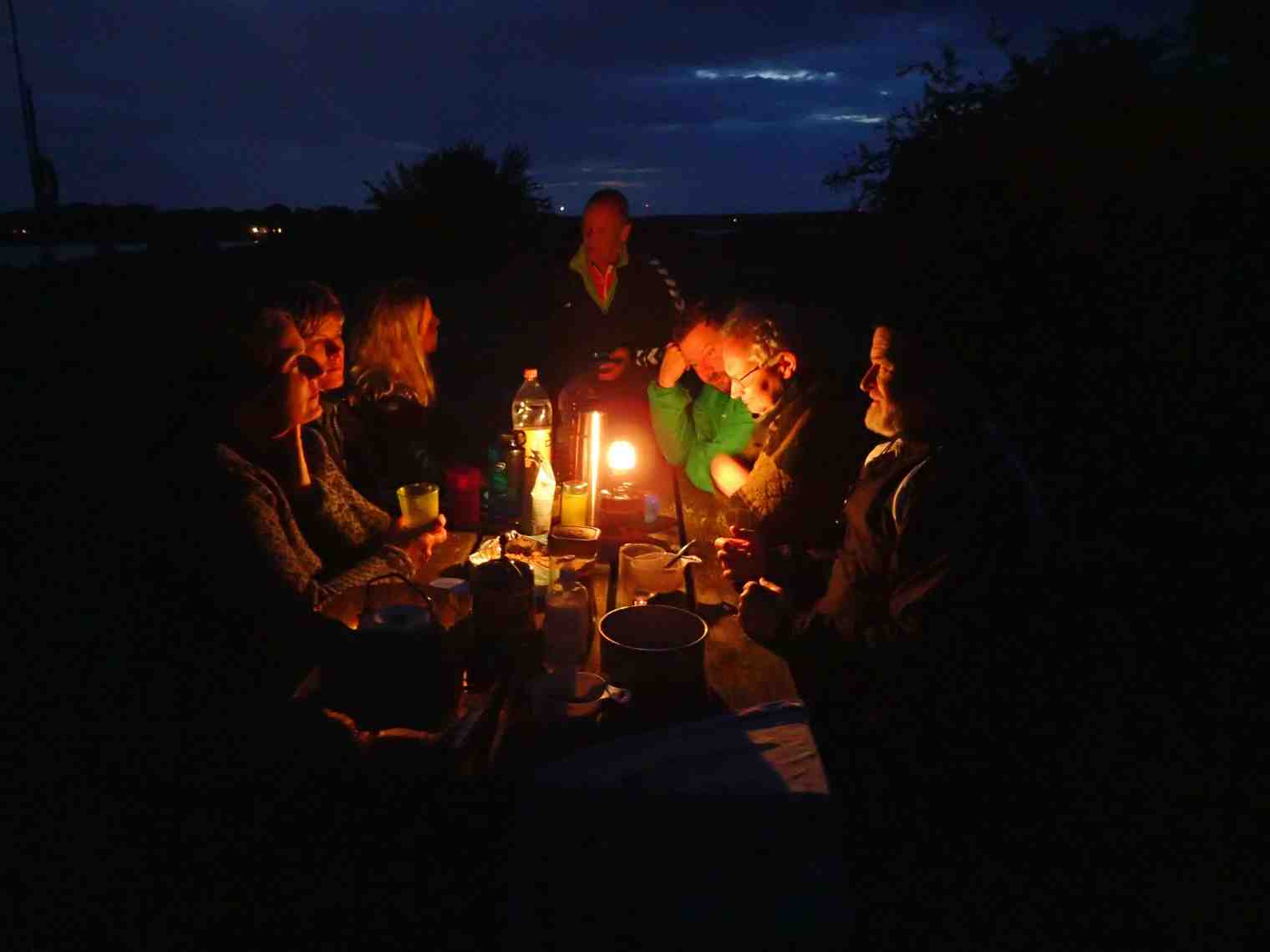 - Den gode stemning foresatte efter solnedgang.
- The good atmosphere continued until after the sunset.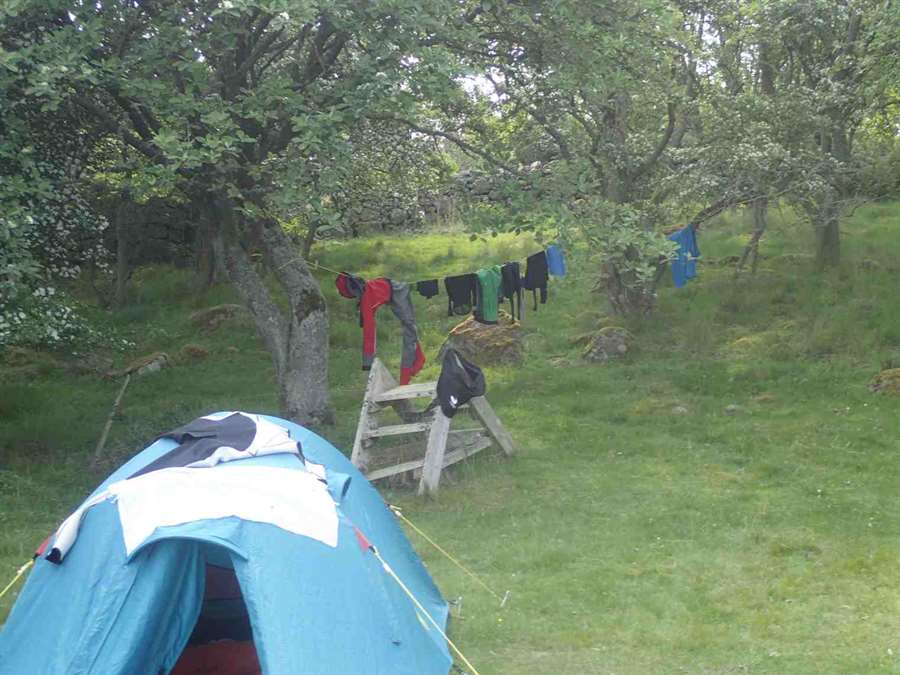 - Morgen stemning under træerne.
- Morning scene under the trees.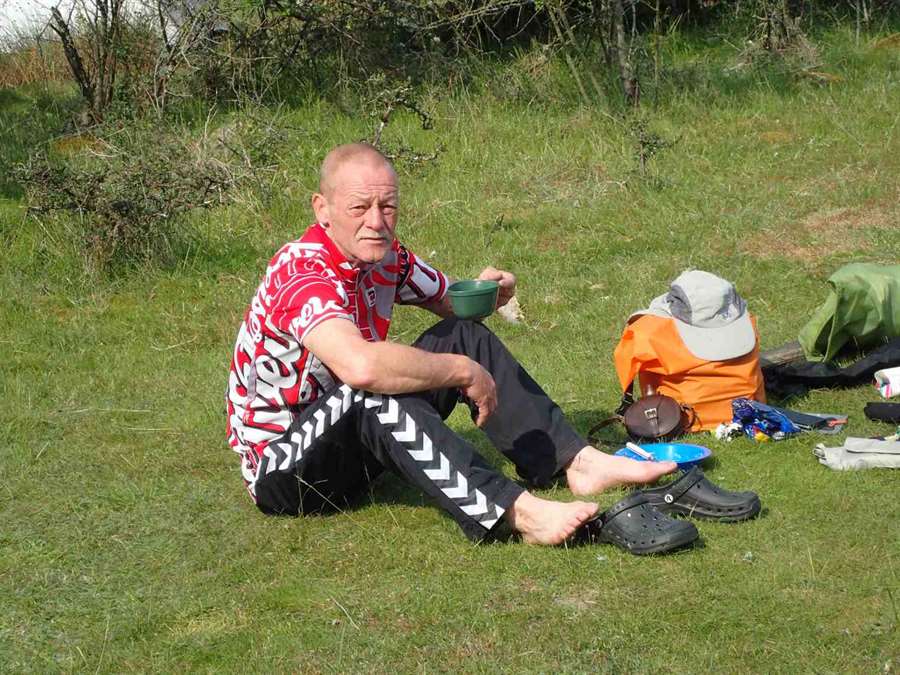 - Morgenstunden nydes med frisk kaffe.
- Enjoying the morning with fresh coffee.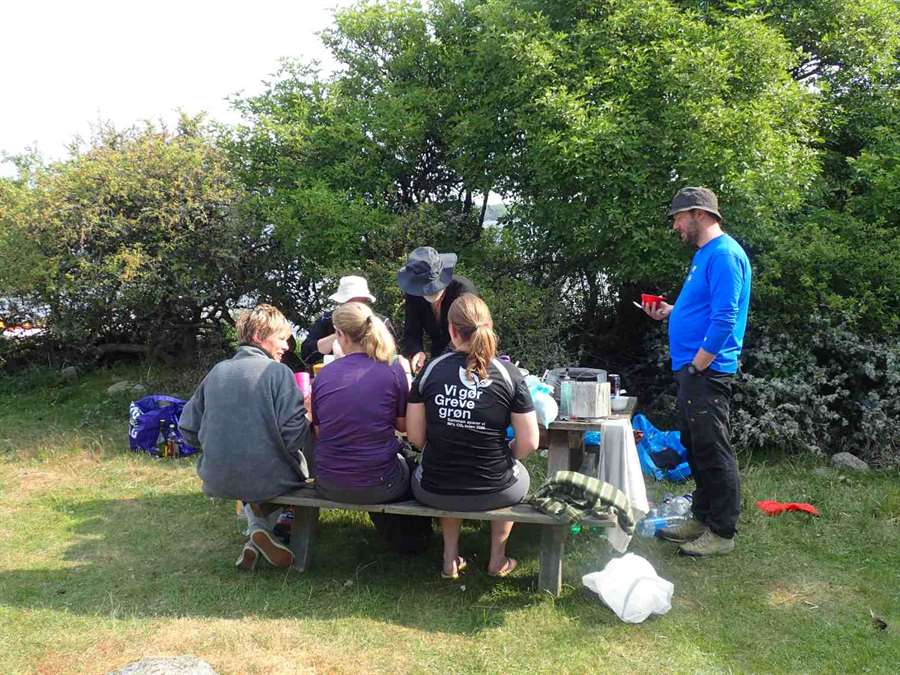 - Der blev talt om dagens opgave mens vi spiste morgenmad. Opgaven var orientering-navigation.
- We talked about the days assignment while we had breakfast. The assignment was orientationrace / navigation.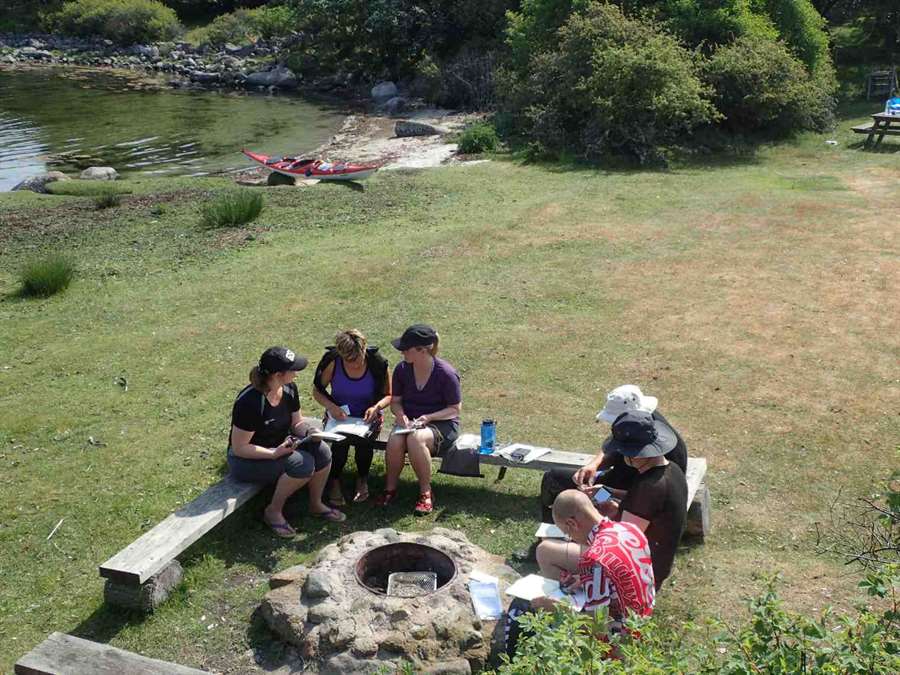 - Deltagerne skulle deles i to hold, og det blev en damehold og et mandehold.
- Participants were split into two teams, a ladies team and a men's team.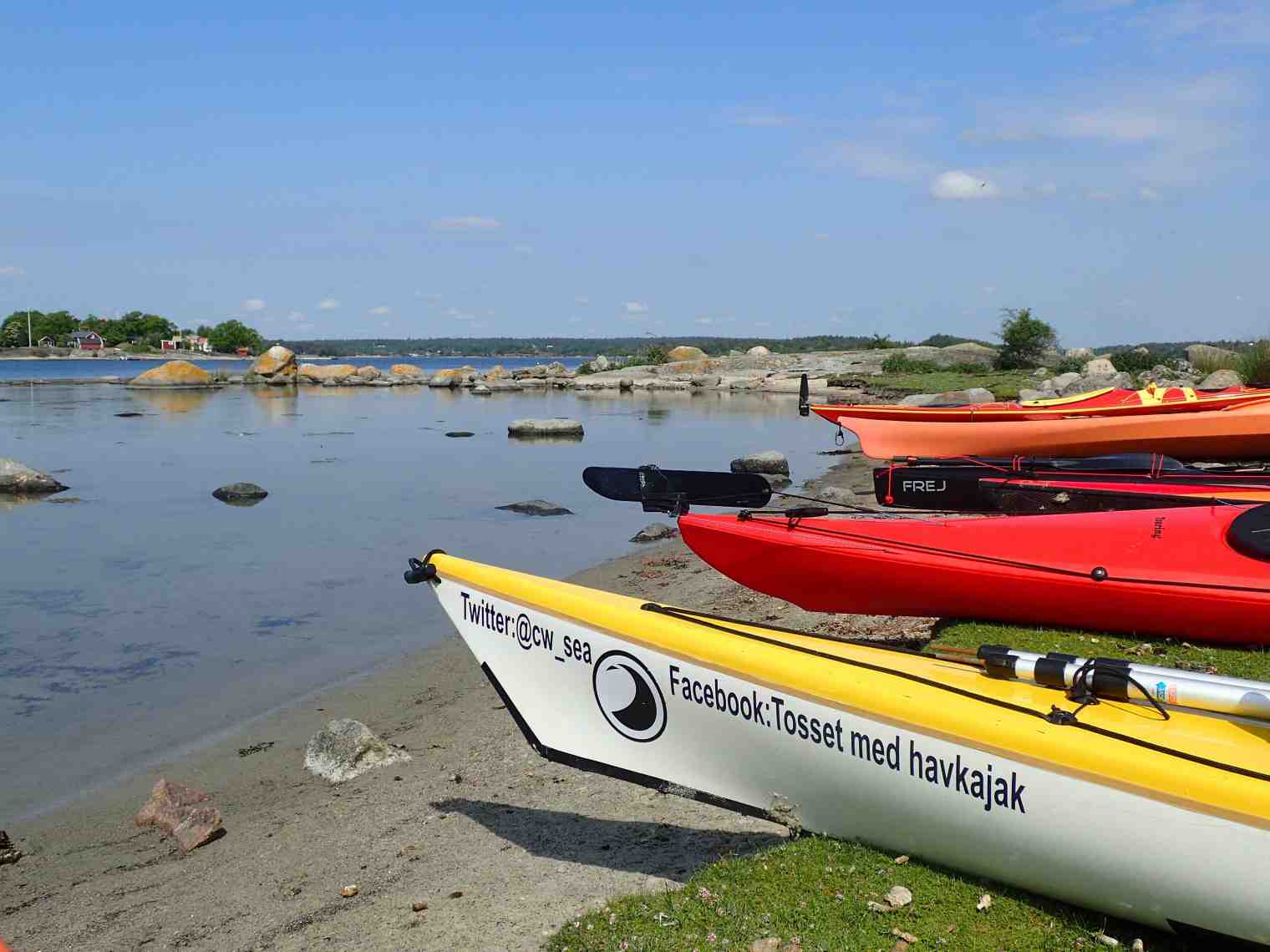 - Mens deltagerne lagde planer, kurser osv. tog jeg lidt stemnings billeder.
- While participants made plans, courses and etc. I took pictures of what had been home the last to days.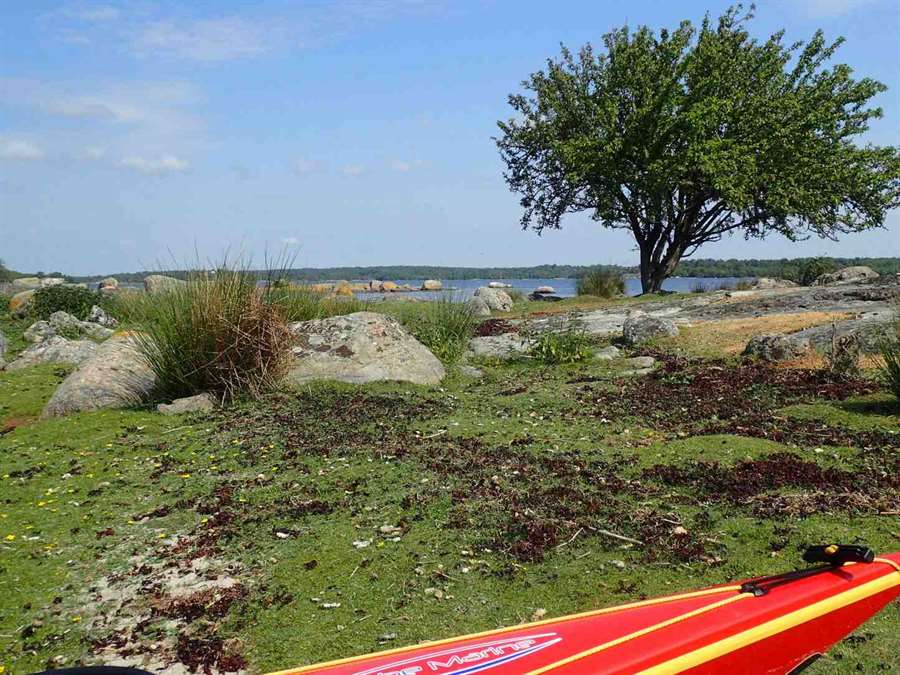 - Skærgården i Blekinge, Sverige.
- The archipelago, Blekinge, Sweden.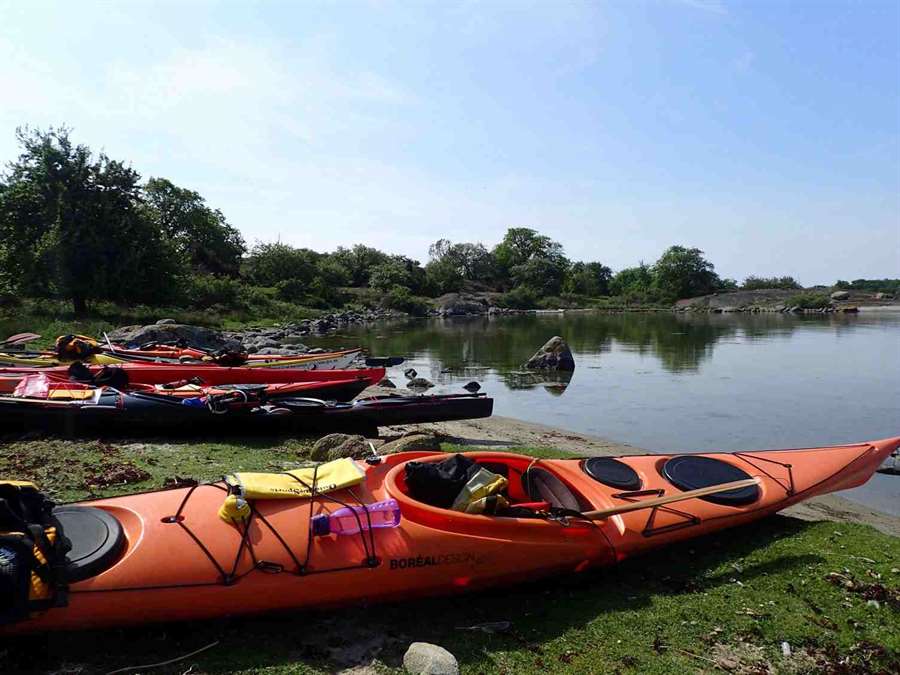 - Skærgården i Blekinge, Sverige.
- The archipelago, Blekinge, Sweden.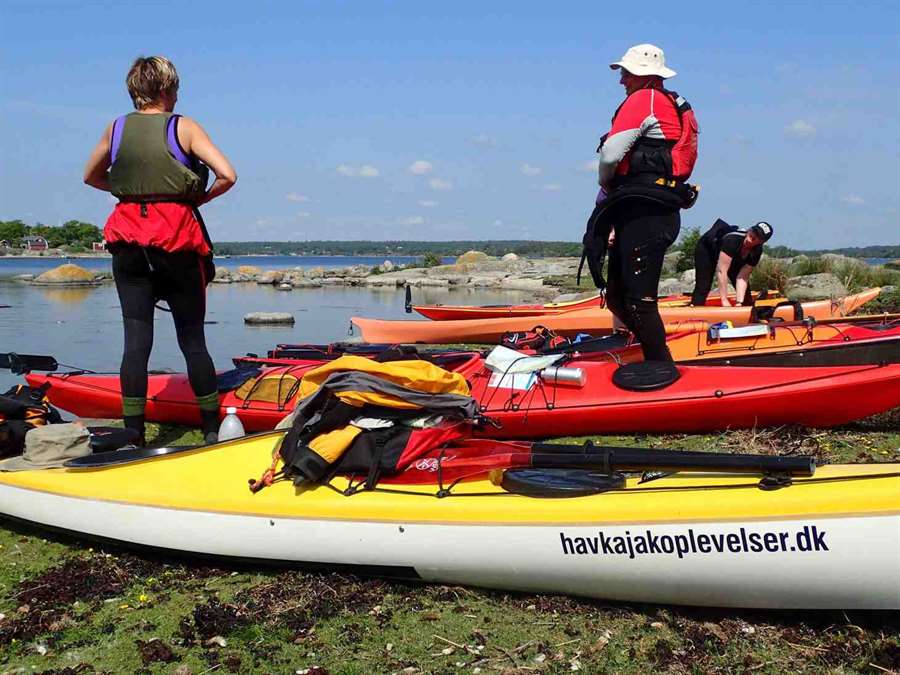 - Kajakkerne er pakket og der gøres klar til " konkurencen ".
- The kayaks are loaded and ready to "competition".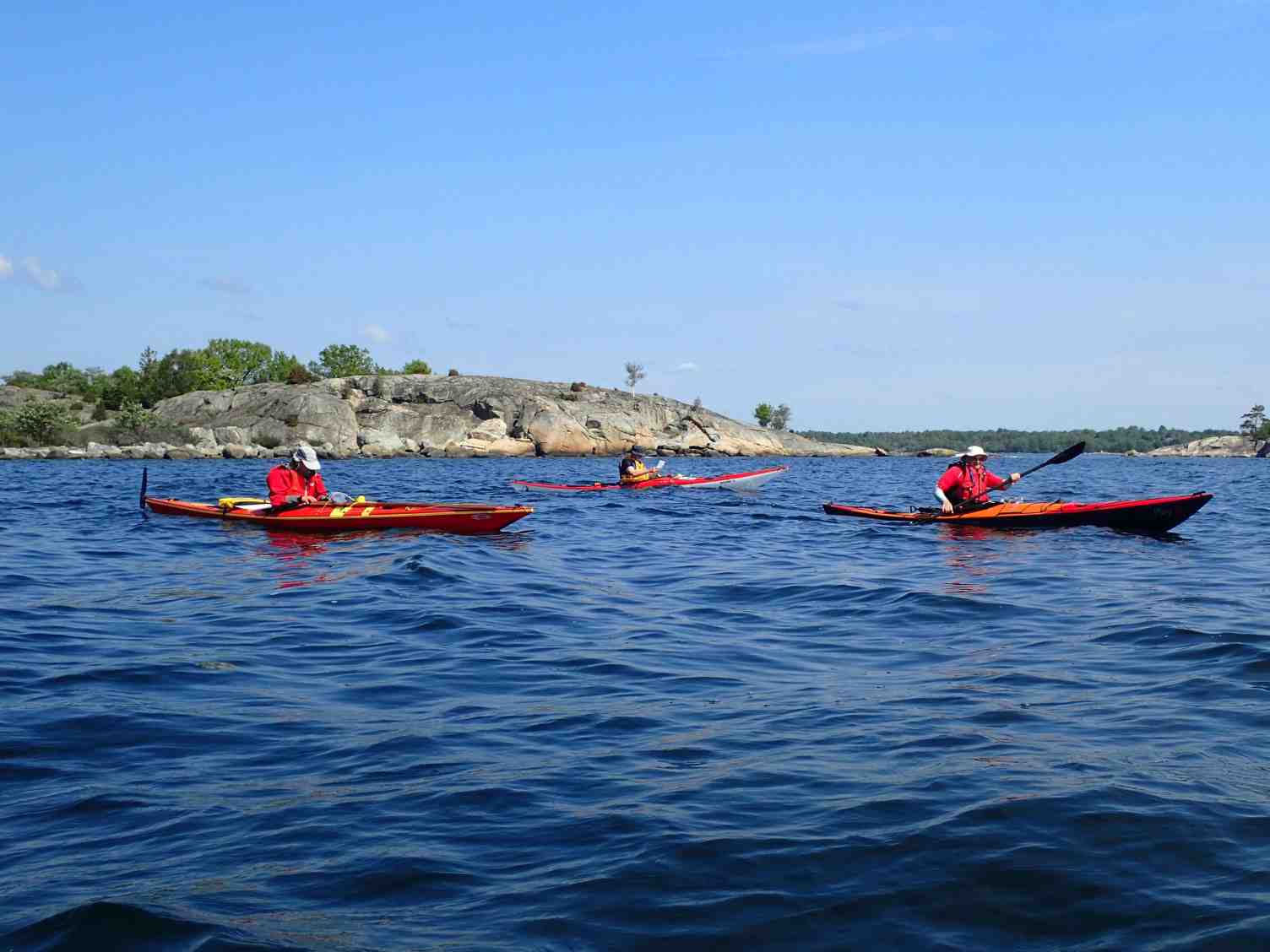 - På vandet og klar til afgang.
- Launch and ready to go.
- Kortet følges med koncentration.
- Following the map.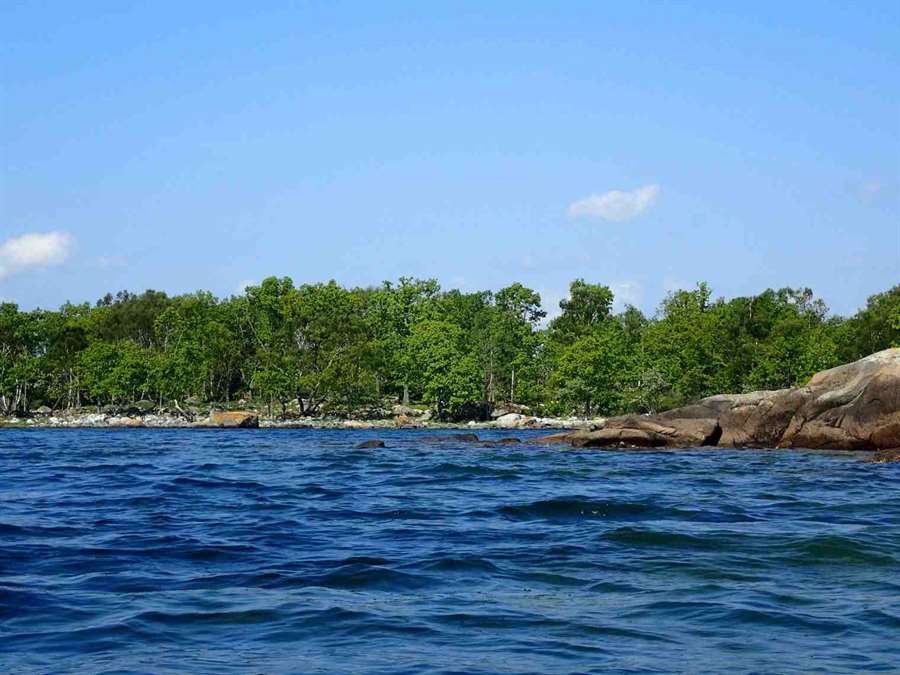 - Området er meget flot og anderledes den det vi kender i Danmark.
- The area is very beautiful and different that what we have in Denmark.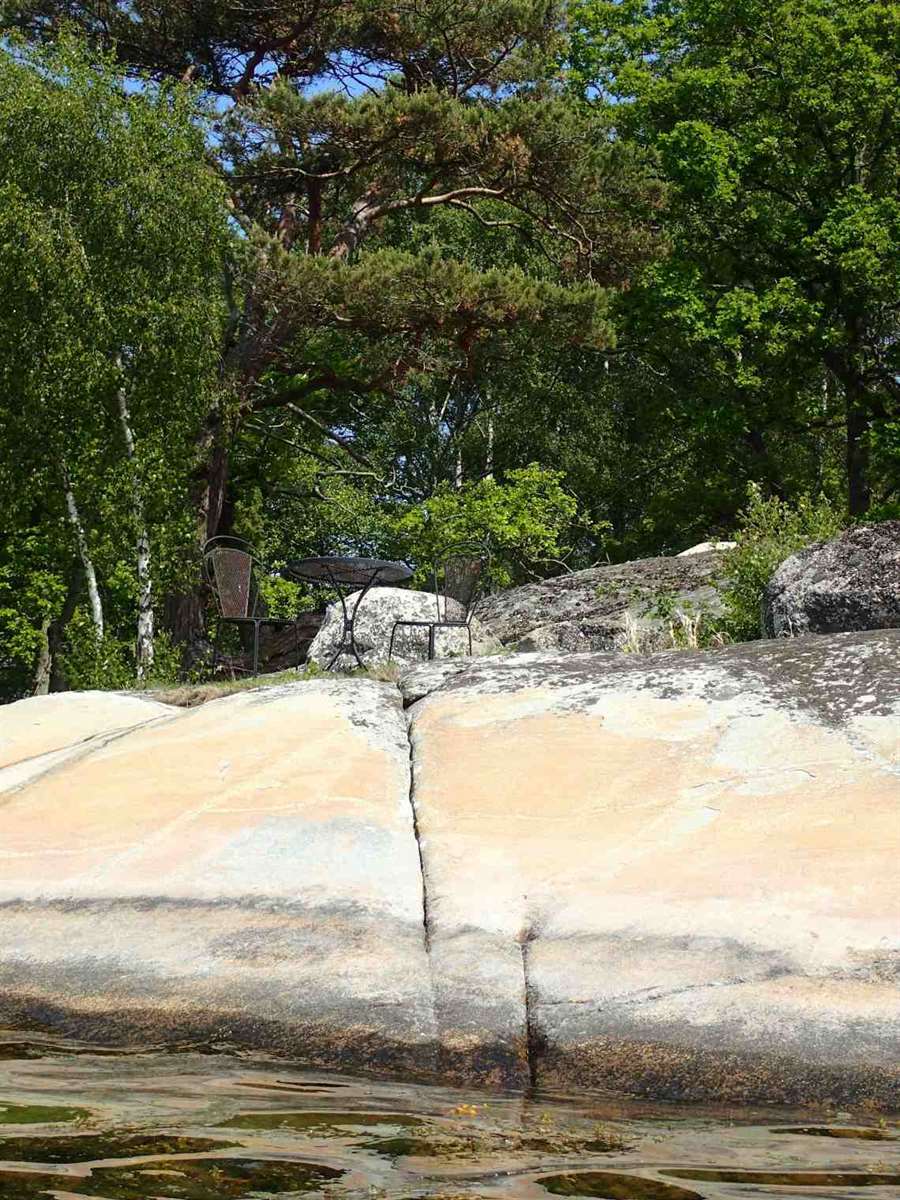 - Svenskerne forstår også at leve det gode liv, bemærk det lille bord og de to stole.
- The Swedes also know how to live the good life, notice the little table and two chairs.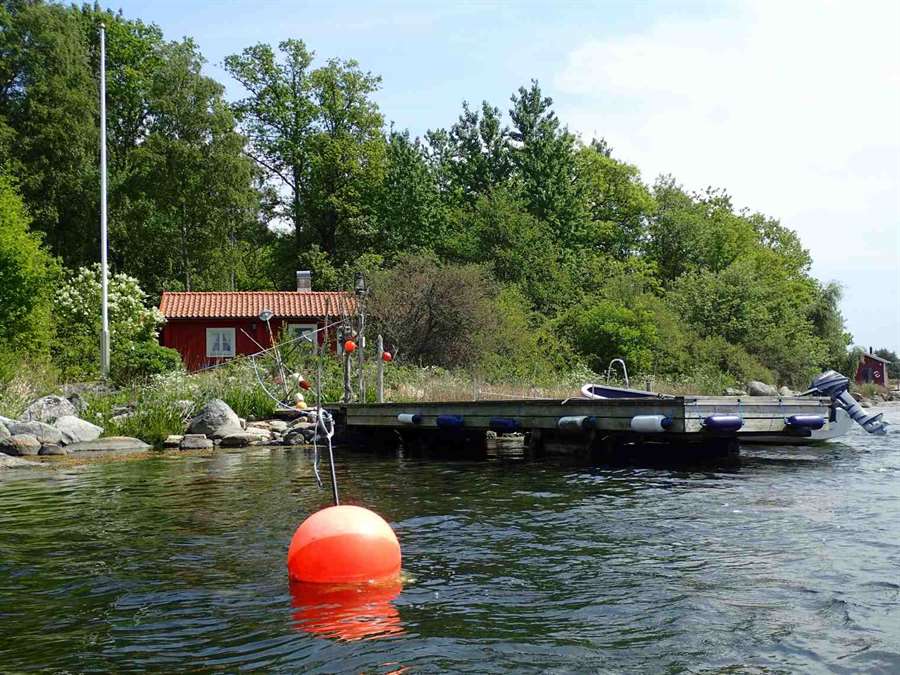 - Mange steder ligger der små hytter og mindre både og joller.
- In many places there were small huts with small boats and dinghies.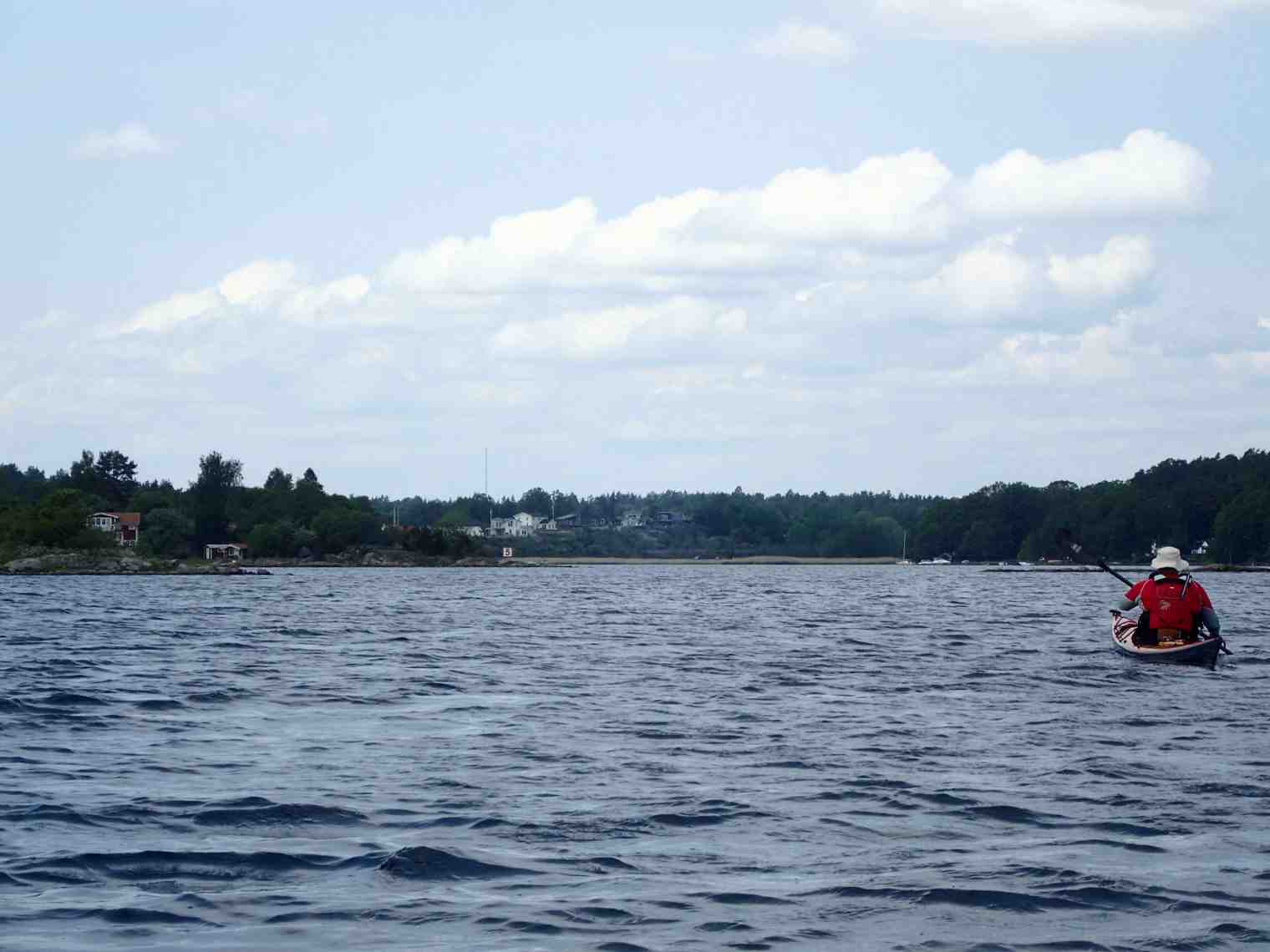 - Den sidste post ledte os tilbage til bilerne. Herre holdet fik en meget flot 2. plads.
- The last post led us back to the cars. Men's team came in on a nice 2nd place.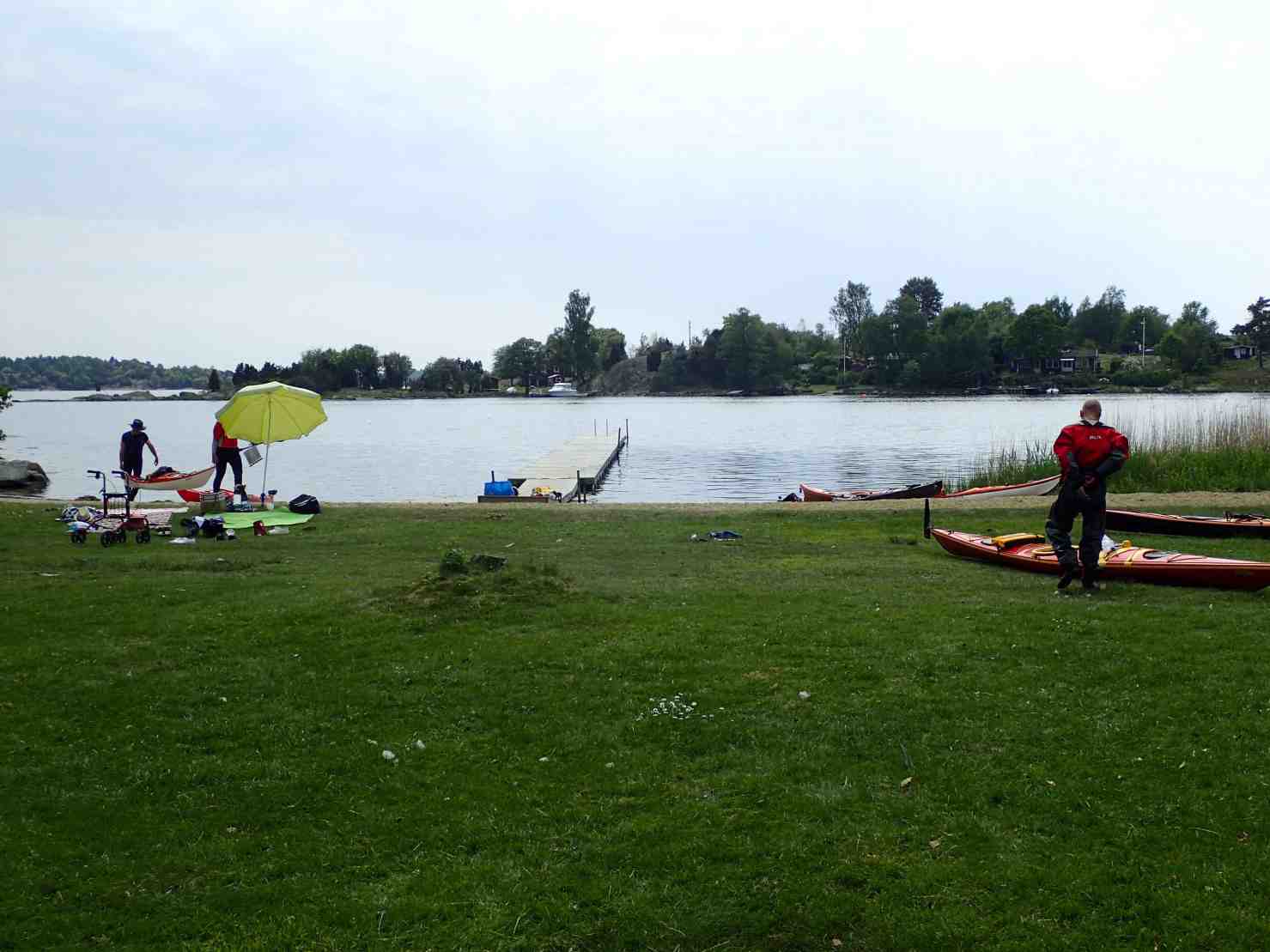 - Tilbage på stranden hvorfra vi starte og bilerne var parkeret.
- Back on the beach from where we launch and the cars was parked.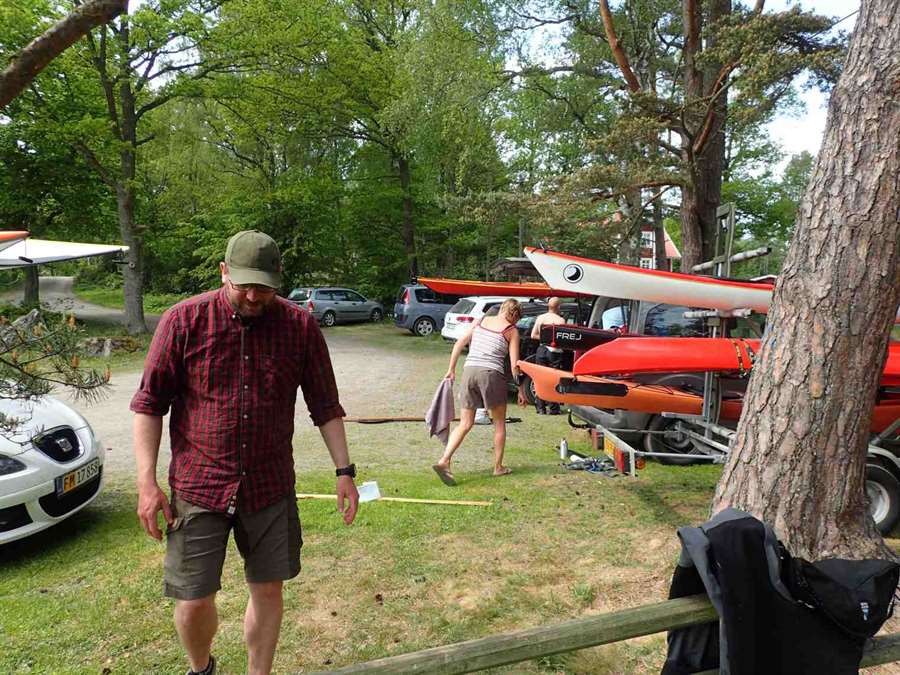 - Kajakkerne blev tømt og lagt på biler og trailer.
- The kayaks were emptied and put on cars and trailer.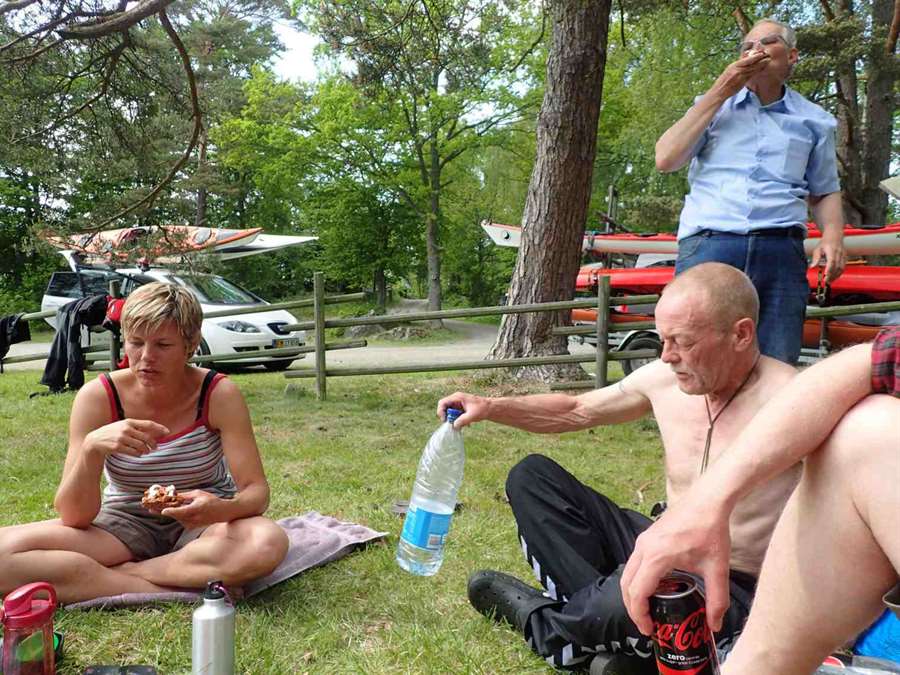 - Vi spiste sen frokost.
- We had a late lunch.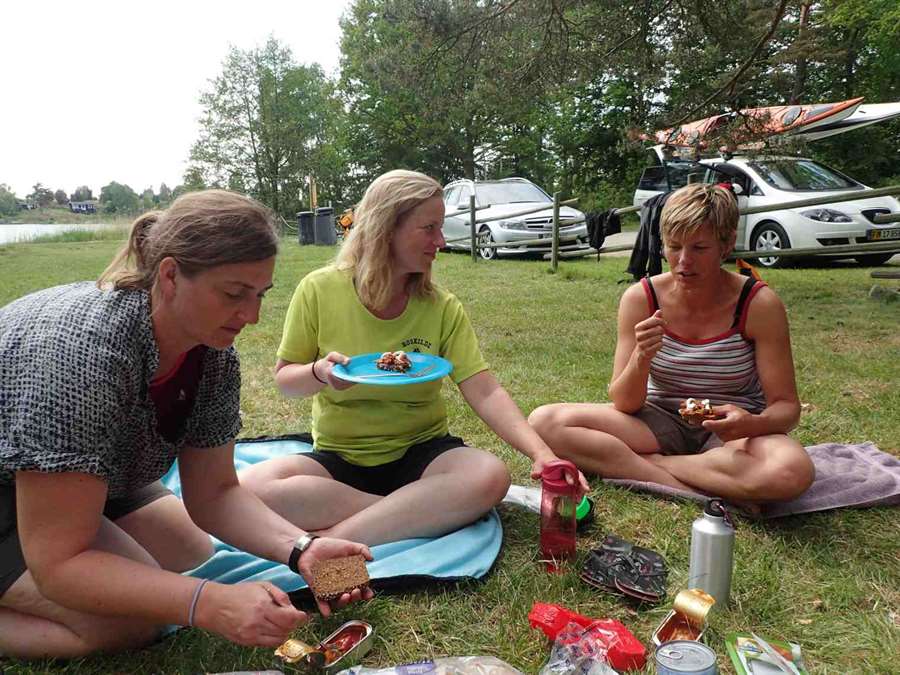 - Og evaluerede med vi fik en kop kaffe og spiste den sidste kag.
- And evaluated while we had a cup of coffee and the last cake.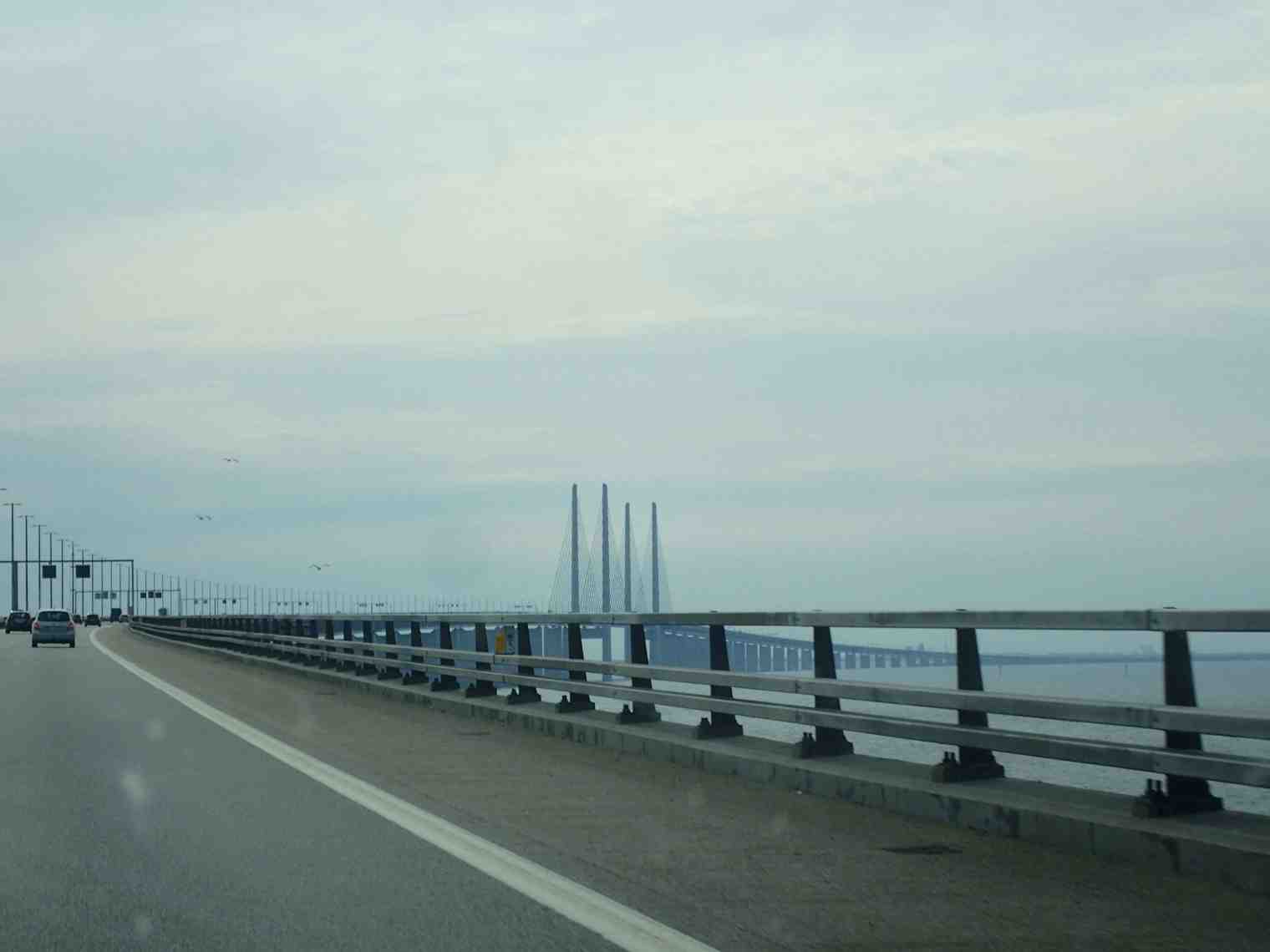 - Efter en dejlig weekend med en fantastisk gruppe er det tilbage fra Sverige til Sjælland.
After a lovely weekend with a fantastic group we are heading back to Zealand from Sweden.