2020-08-12 Mariagerfjord, Nordjylland, Danmark - Mariagerfjord, North Jutland, Denmark
Danish / English:
- Som så mange andre, måtte vi også ændre planer for sommerferien, så vi havde fundet en dejlig campintplads lige ned til Mariagerfjord. Havkajakken var naturligvis med, så efter et par dage på land med dejlig udsigt til vandet, og skønne solnedgange, fandt vi frem til at i morgen skulle være dagen til en tur på vandet.
- Like so many others, we also had to change plans for the summer holidays, so we found a nice campsite right down to Mariagerfjord. The sea kayak was of course on the roof of the car, so after a few days on land, with a nice view over looking the water, beautiful sunsets, we decided that tomorrow should be the day for a day paddle.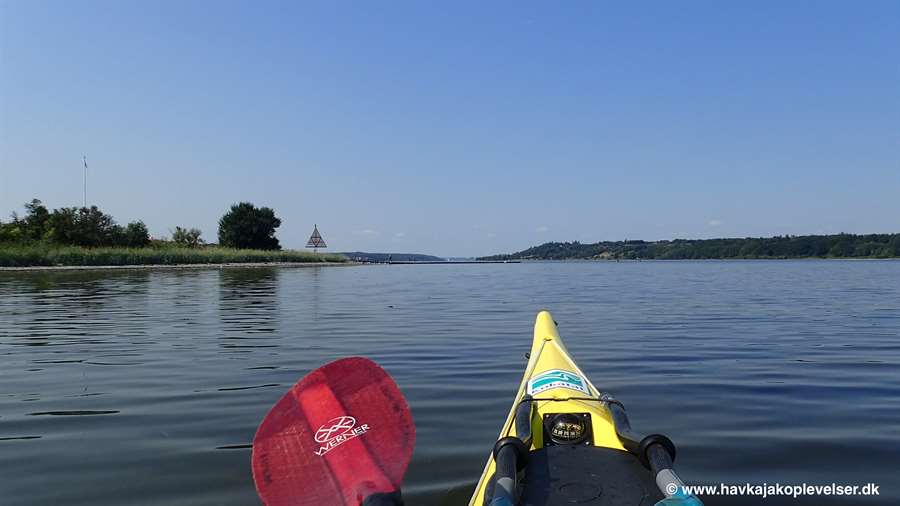 - Jeg var et par dage tidligere faldet i snak med nogle fra den lokale kajakklub, som havde sagt at turen fra Mariager, ind mod Hobro, efter deres mening var det smukkeste stykke på hele fjorden. Jeg valgte at følge deres anbefaling, og det viste sig at være en virkelig smuk tur.
- I was a few days earlier I talked to with some from the local kayak club, they had said, that the section from Mariager, towards Hobro, in their opinion, was the most beautiful part of the whole fjord. I chose to follow their recommendation, and it turned out to be an absolutely beautiful day trip.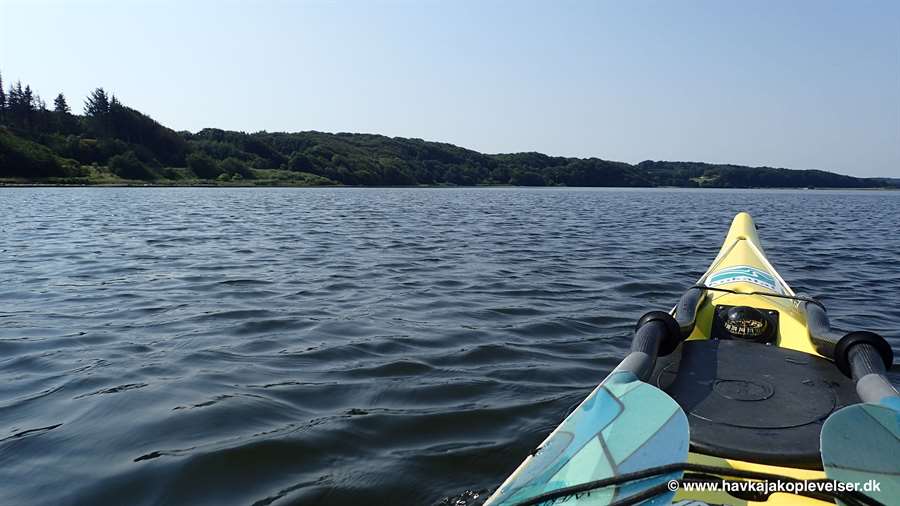 - Kystlinien bugter sig, så nogle steder er den forholdsvis bred, andre steder meget smal.
- The coastline meanders, so in some places it is relatively wide, in other places very narrow.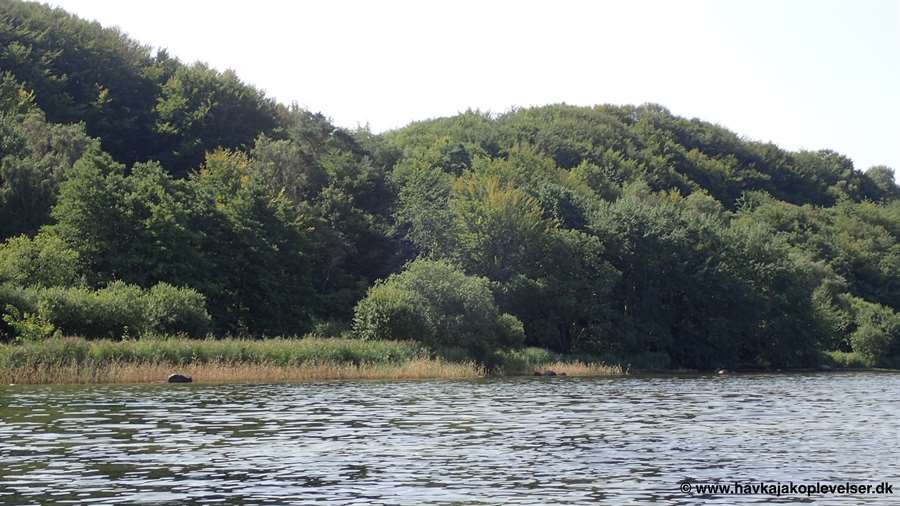 - Bøgeskov og siv helt ned til vandkanten.
- Beech forest and reeds all the way to the water's edge.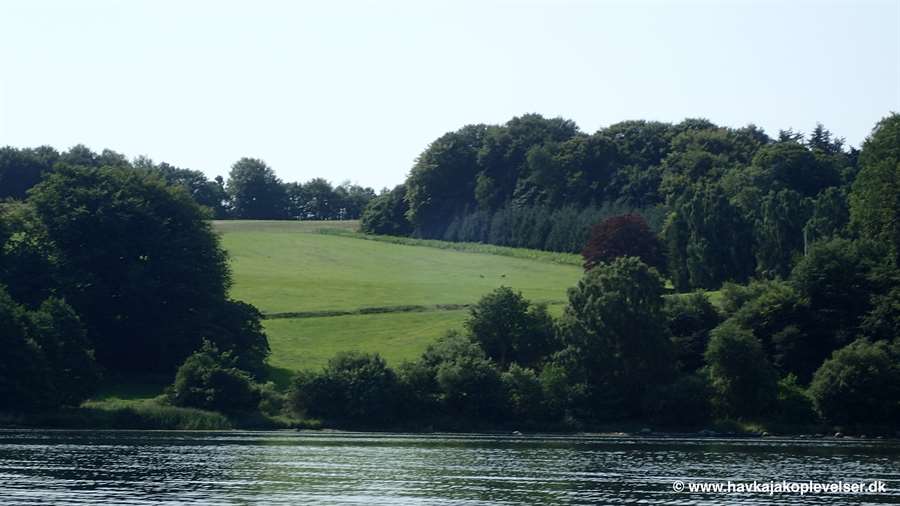 - Her og der, skære marker sig ind mellem skoven, og også helt ned til vandet.
Here and there, fields cut in between the forest all the way down to the water.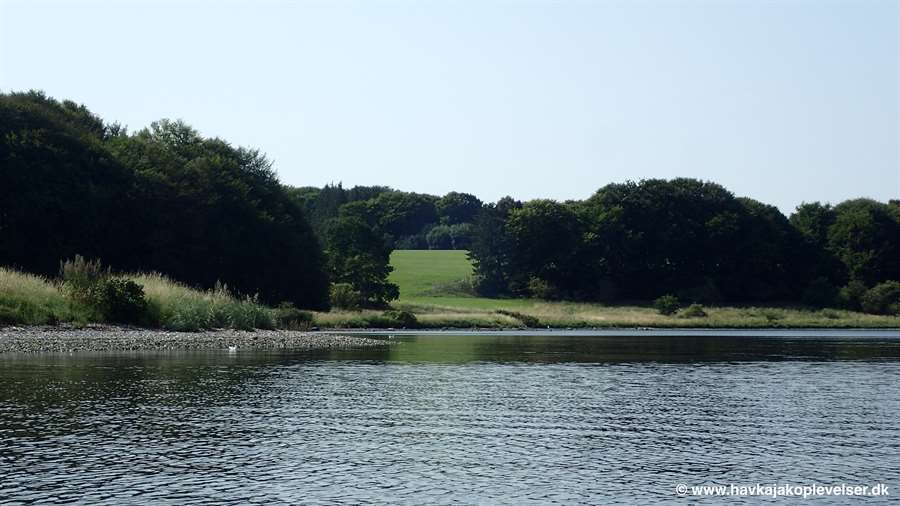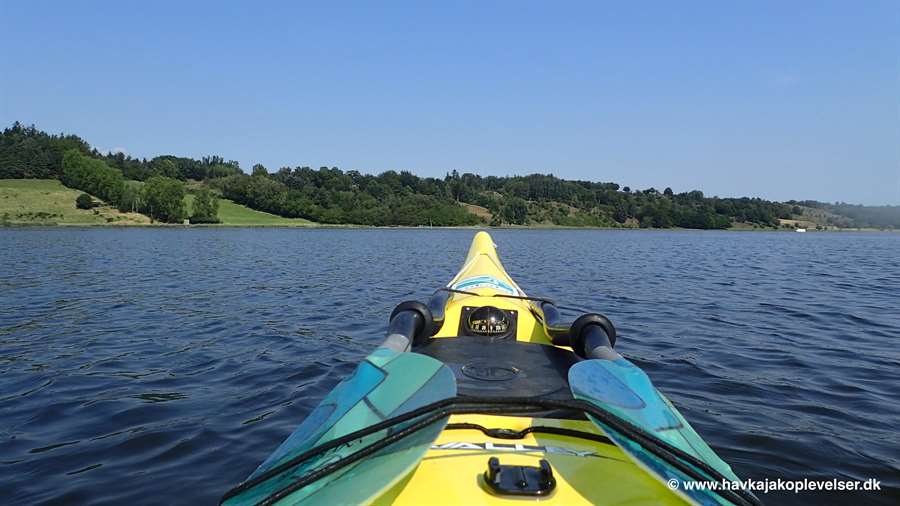 - Jeg har ikke tidligere været i dette område, men det er bestemt et besøg værd.
- I have not been to this area before, but it is definitely worth a visit.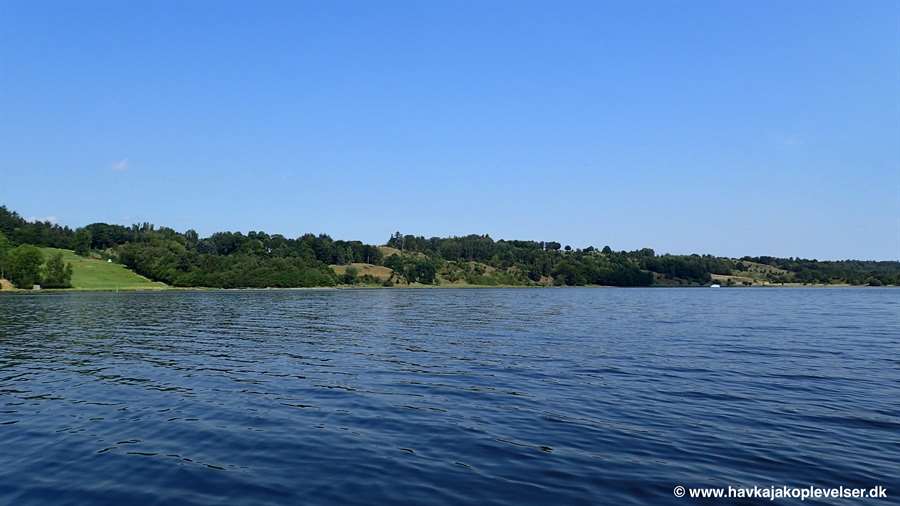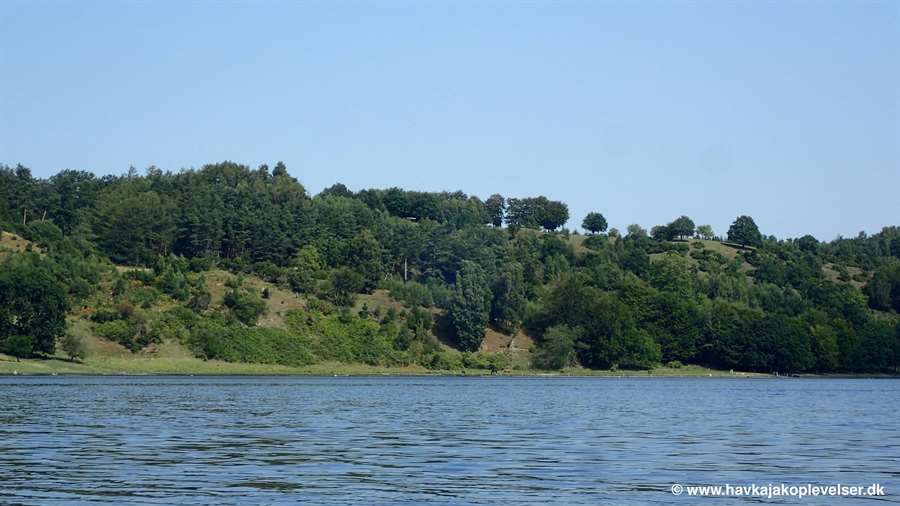 - Smuk og kuperet kystlinje.
- Beautiful sloping coastline.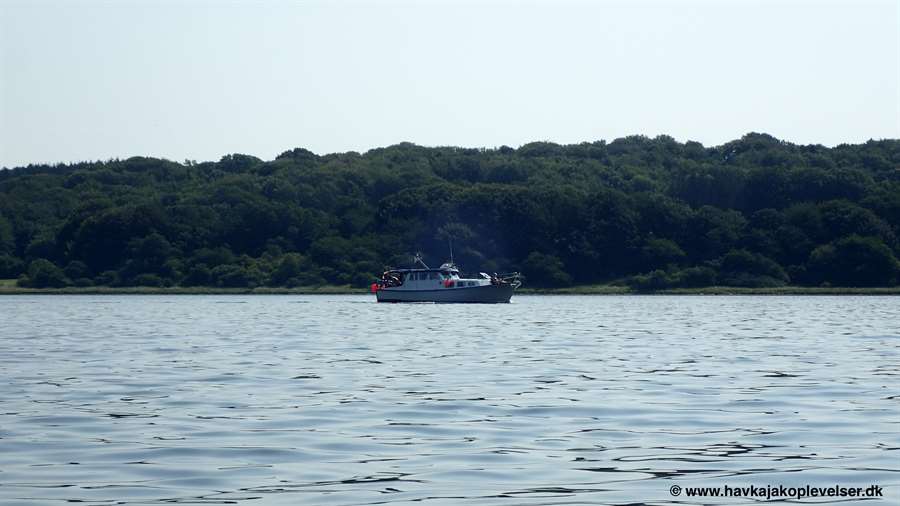 - På trods af det fantastiske sommervejr , var det overraskende få både jeg mødte.
- Despite the fantastic summer weather, there were surprisingly few boats I met.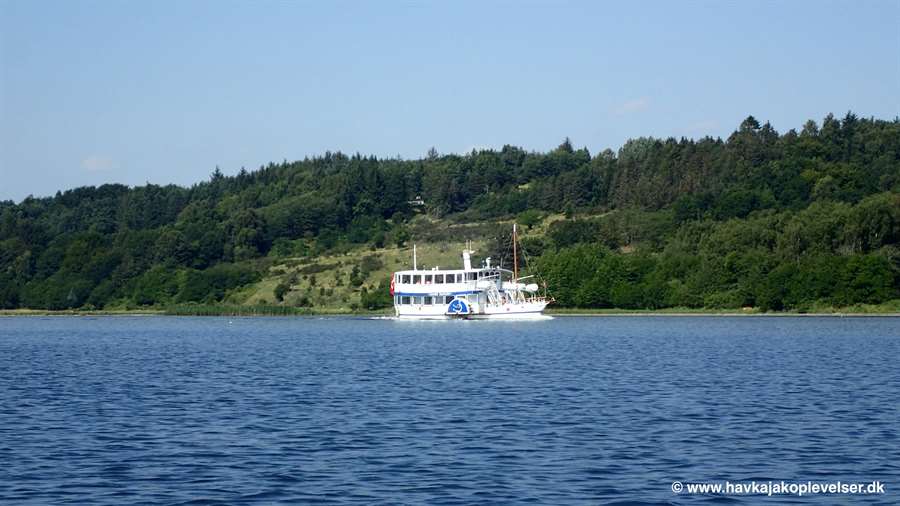 - "Hjuldamperen" Svanen sejler med turister på fjorden.
- "The wheeled steamer", the Svanen sails with tourists on the fjord.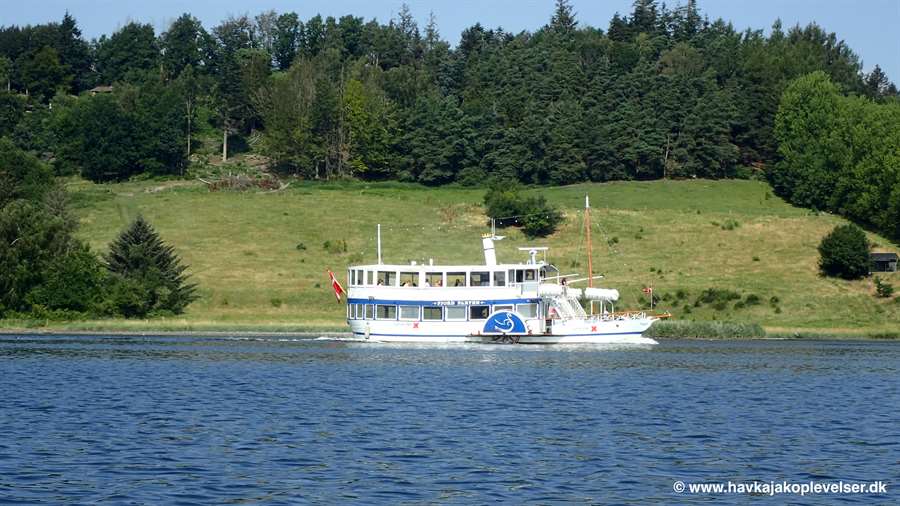 - "Hjuldamper" fordi det ikke er en hjuldamper der drives frem ved hjælp af skovlhjul, men en dieselmotor med skibsskrue der ligger i Svanen - men hyggeligt ser det ud, selv om det er snyd.
"Wheel steamer" because it is not a wheel steamer that is propelled by paddles, but a diesel engine with a ship's propeller in the Swan - but it looks nice, even if it is cheating.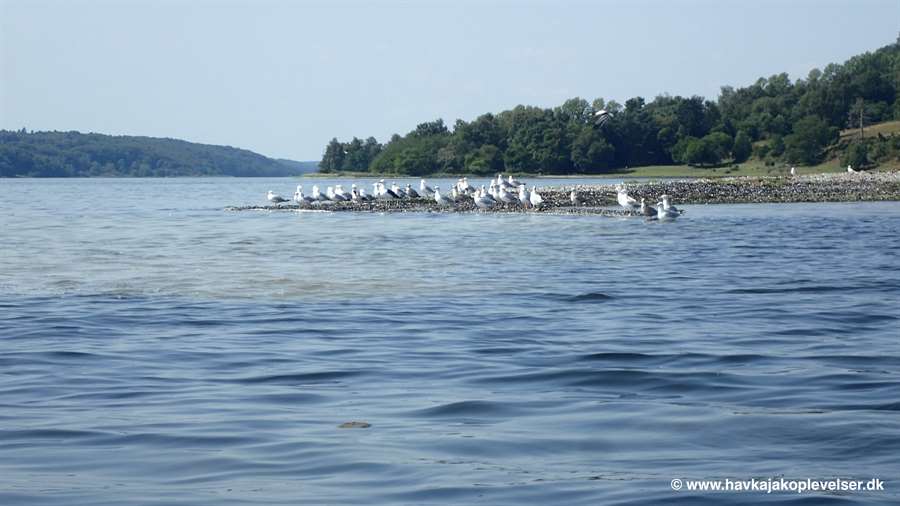 - Jeg krydser fjorden og ror helt tæt på kysten.
- I cross the fjord and paddle very close to tthe coast.
- En sejlbåd for anker der nød de godt 30 gr. varme vejr.
- I cross the fjord and said hello to a sailboat anchored up, they enjoyed + 30 degrees warm weather.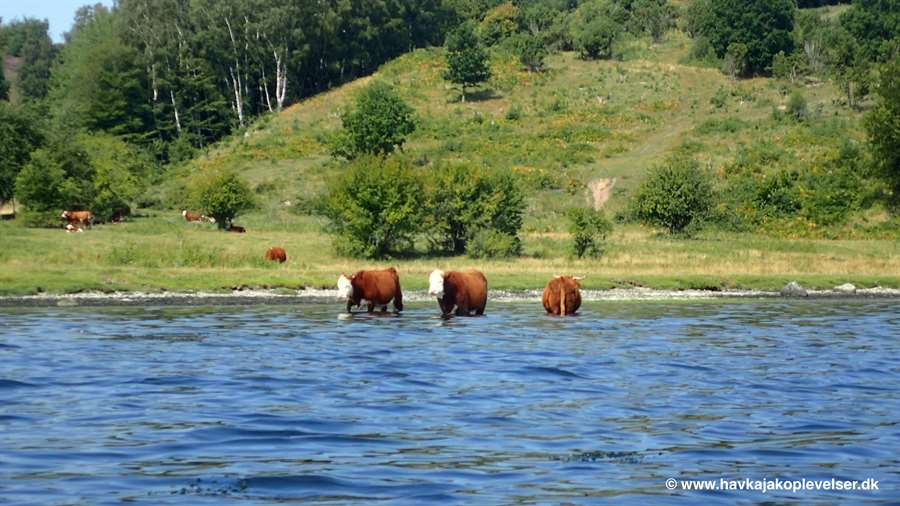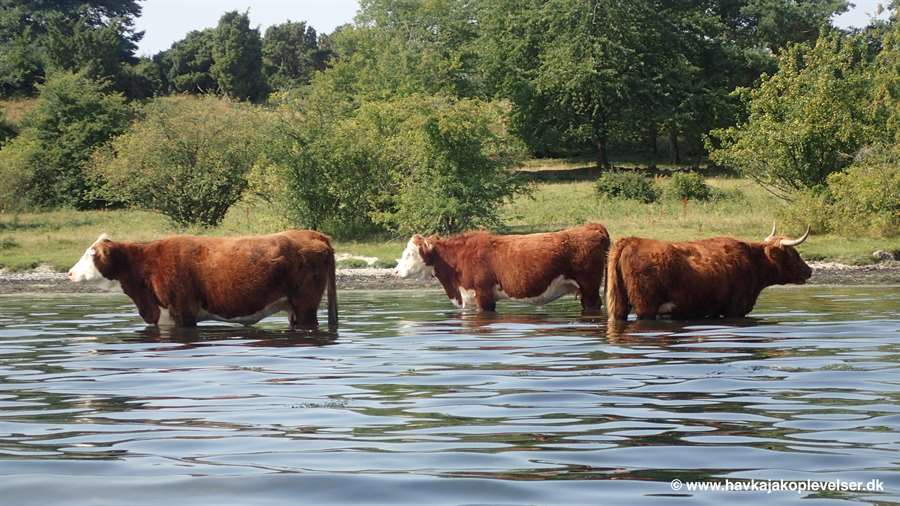 - Selv kvæget var ude og køle af.
- Even the cattle were out cooling off.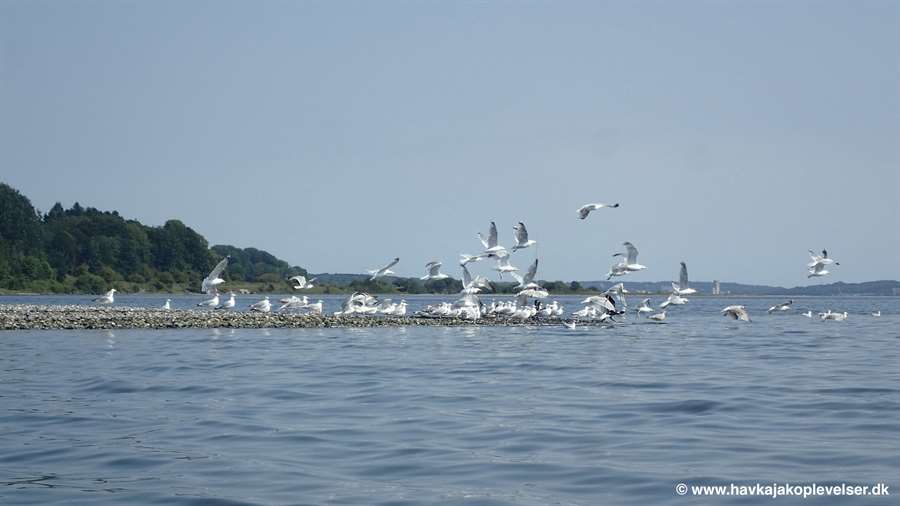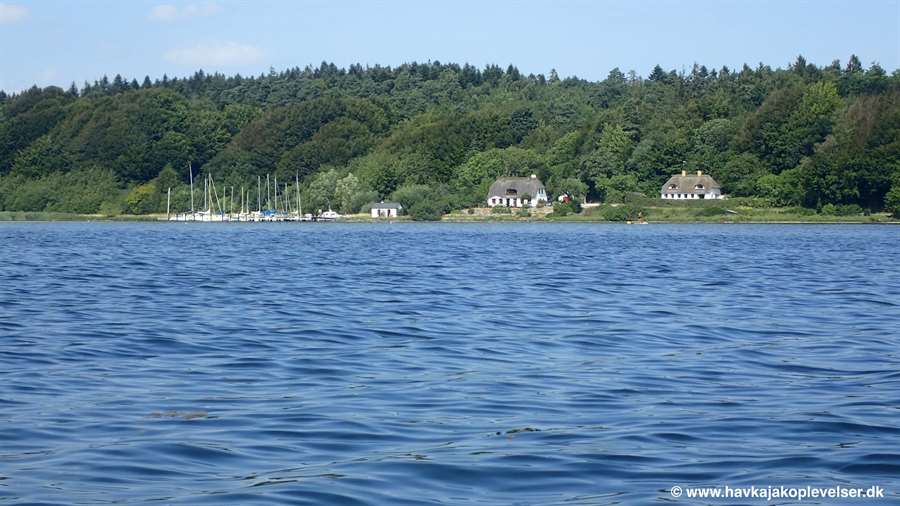 - Dansk sommeridyl - stråtækte ejendomme og lille lystbådehavn.
- Danish idyll - thatched properties and small marina.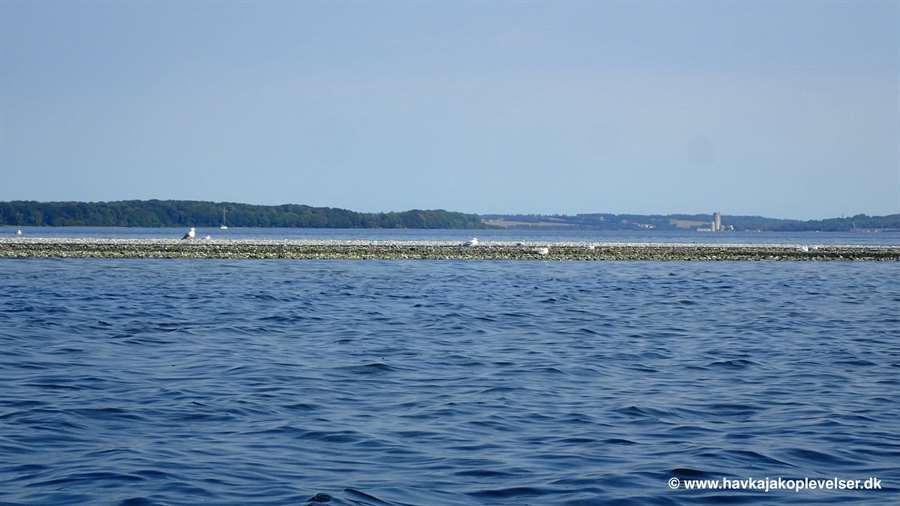 - Kig mod øst, ud af fjorden.
- Looking east, out of the fjord.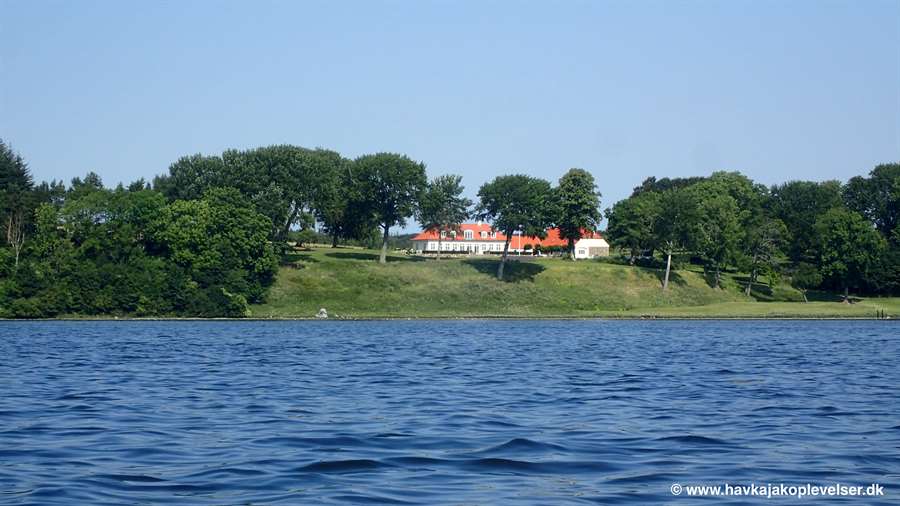 - Vi havde siddet på campingpladsen og beundret denne smukke ejendom, så jeg måtte lige se den inden turen gik tilbage mod Mariager.
- We had sat on the campsite, and admired this beautiful property, so I had to have a look before heading back towards Mariager.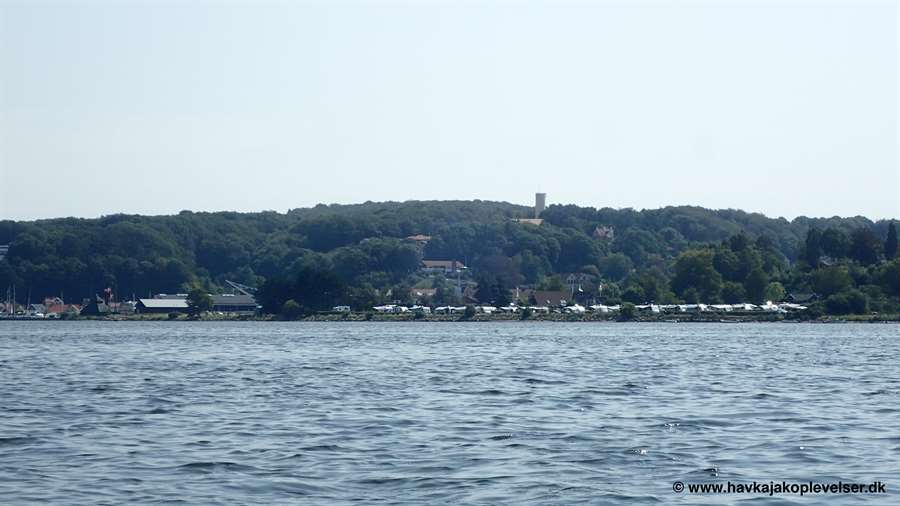 - Jeg ror mod syd og krydser fjorden mod Mariager.
- I paddle south and cross the fjord towards Mariager.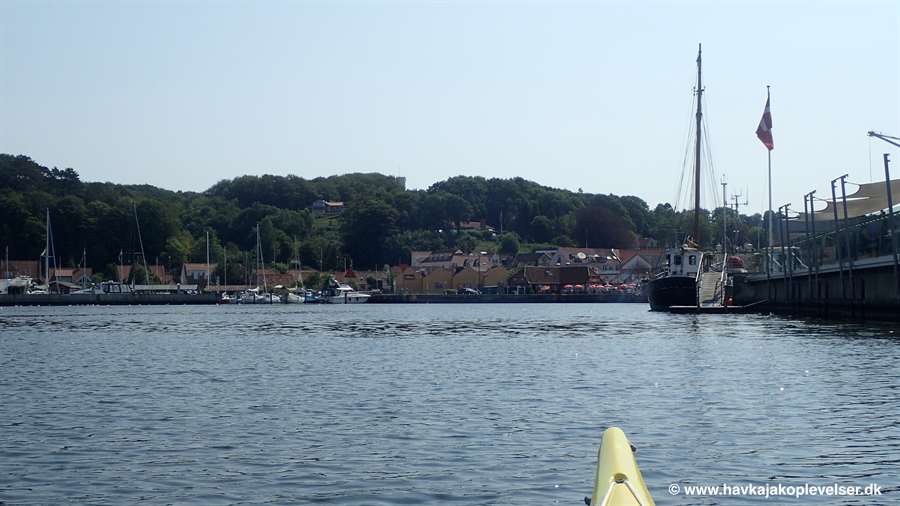 - Indsejlingen til Mariagers gamle havn.
- The entrance to Mariager's old harbor.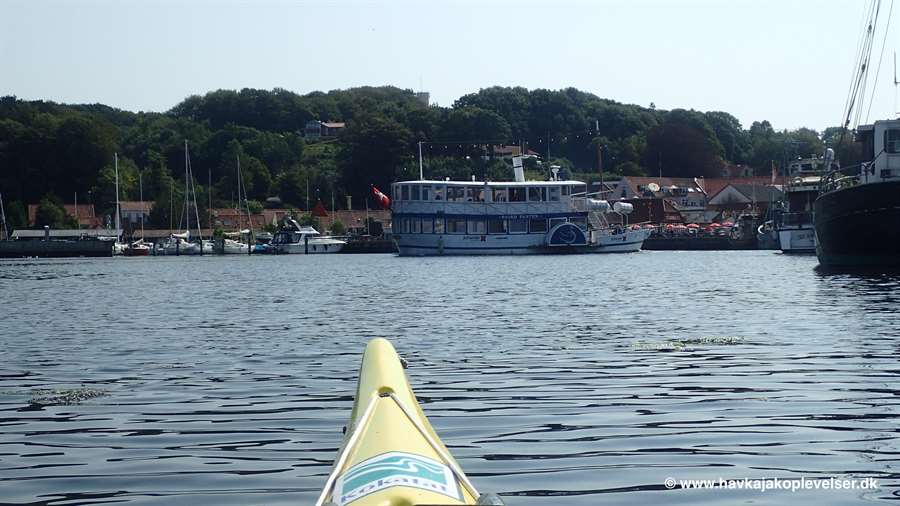 - Samtidig ligger "hjuldamperen" Svanen fra kaj.
- At the same time, "the wheel steamer" the Svanen sails out.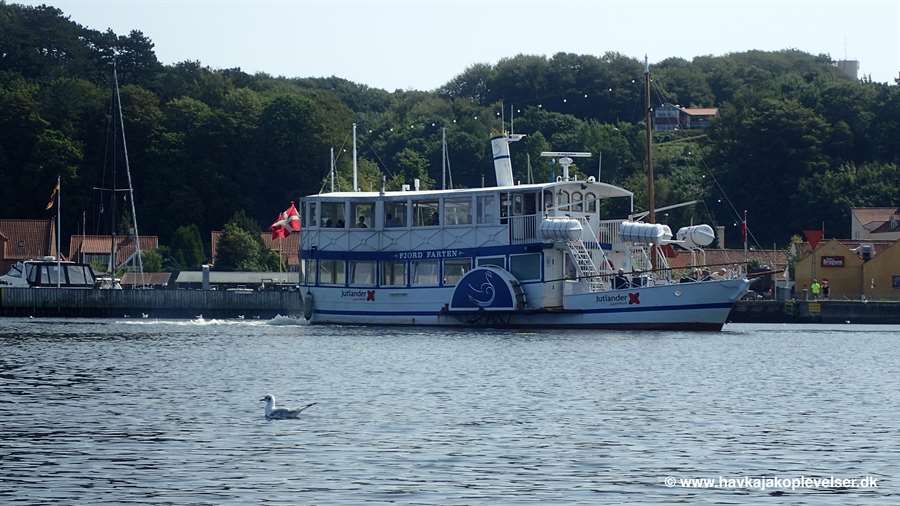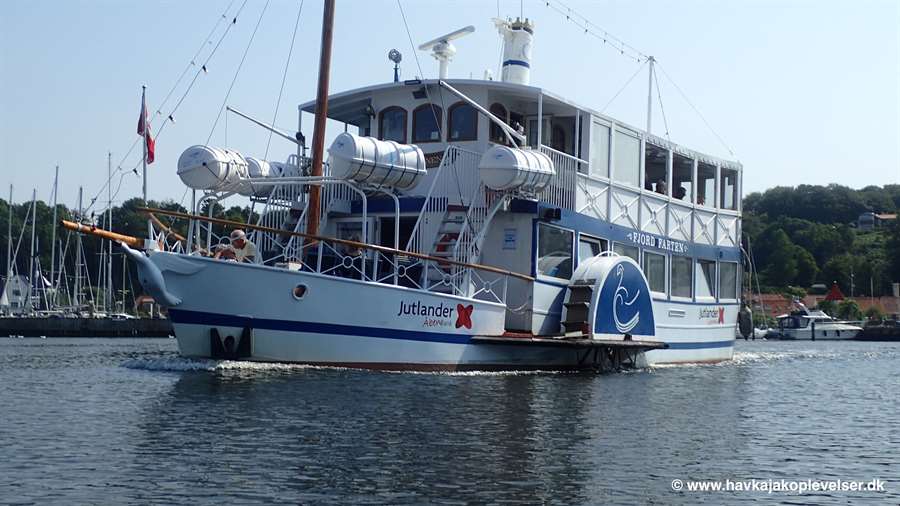 - Selv om den ikke er helt rigtig, så er det stadig hyggeligt.
- Even if it's not quite right, it's still nice.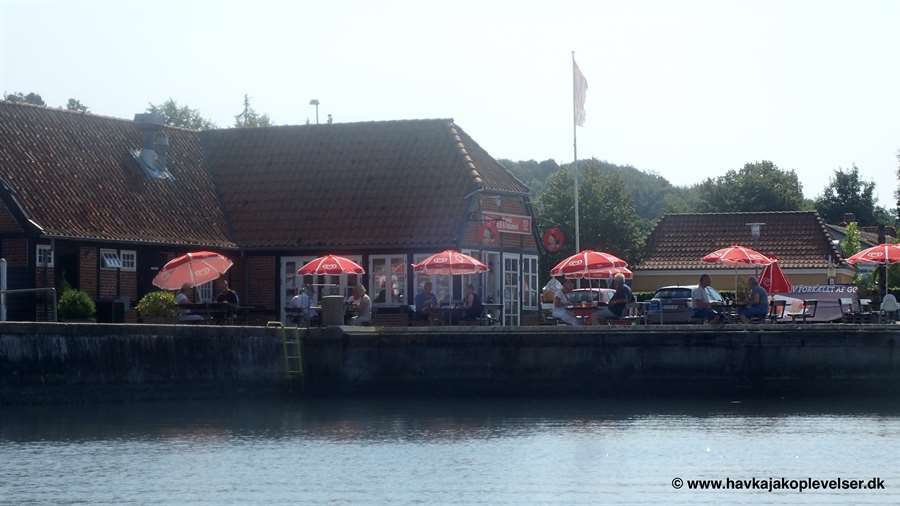 - Fra den hyggelige stemning på havnen, ror jeg de ca. 150 m. tilbage til campingpladsen efter en utrolig varm dag på vandet, tempereturen lå lige omkring 30 gr. Det stykke af fjorden jeg roede, var virkelig en smuk oplevelse, kuperet kystlinie, skov og marker helt ned til vandkandten, idyliske ejendomme og små havne. Bestemt et smukt sted i Danmark.
- From the cozy atmosphere at the harbor, I paddle the 150 m. Back to the campsite after an incredibly hot day on the water, the temperature was just around 30 degrees. The part of the fjord I paddled was really a beautiful experience, hilly coastline, forest and fields all the way down to the water's edge, idyllic properties and small harbors. Definitely a beautiful place in Denmark.
Venlig Hilsen / Best Regards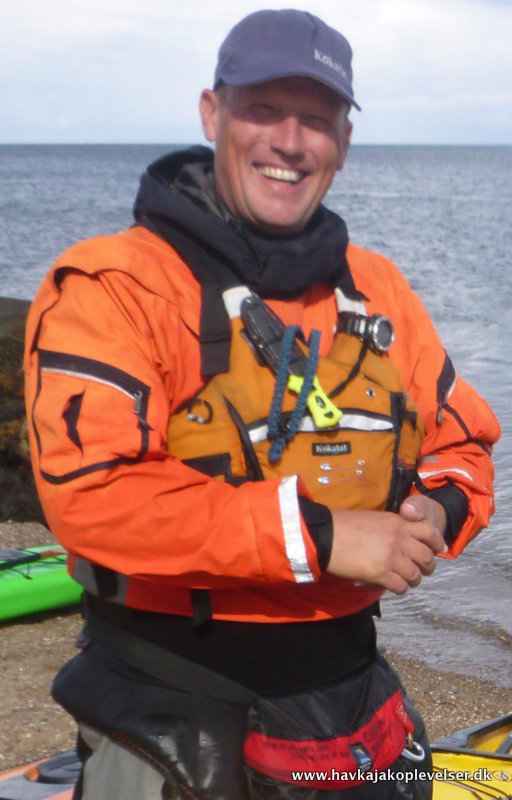 Christian Wiegand
Facebook: Tosset med havkajak / Mad about sea kayak
Instagram: cwseakayaking
Twitter: @cw_sea
Sponsored by Teamkayak - www.teamkayak.dk
Sponsored by Kokatat - www.kokatat.com Sponsored by Expeditionfoods - www.expeditionfoods.com